Our American Safari itinerary
Travel For Wildlife hit the road for an epic three-month journey to visit some of North America's greatest wildlife watching hotspots. Here is a complete itinerary of our trip and links to all the posts we created about watching wildlife in the United States and Canada. From snorkeling with beluga whales to hiking with grizzly bears, from the Atlantic Coast, to the Hudson Bay, to the Pacific Ocean, we covered a lot of ground, so strap yourself in and enjoy the ride! Read more about the top wildlife hotspots we hoped to hit on our post Wolves Whales & Bears: The American Safari 2013 Expedition Series.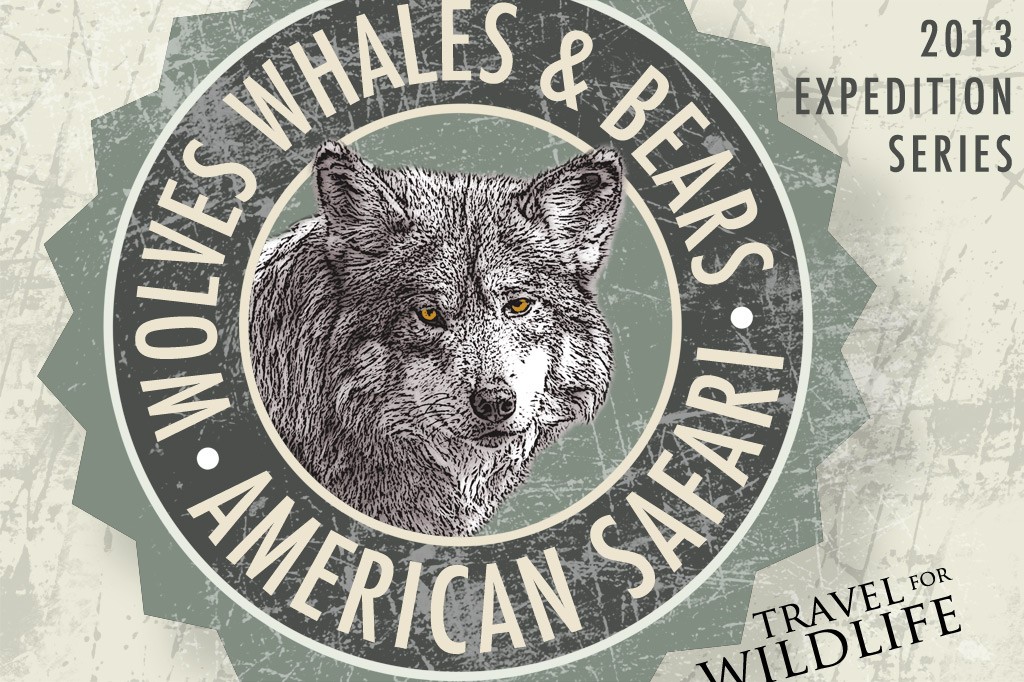 The Route
When designing our American Safari we had a few anchor points that we din't want to miss. Then we filled in as much as we could along the way. We started from our home in Asheville, North Carolina, spent a few days in the North Carolina outer banks, drove up to Thompson Manitoba where we took a train to Churchill and back, drove to Yellowstone National Park, drove through the Canadian Rockies to British Columbia where we visited some wilderness lodges by boat and by car, then hightailed it back home across the country.
Thursday, July 18. We are now in Rodanthe, North Carolina. Yesterday we had an amazing day full of wolves, whales & bears! Started the day with a dolphin tour from Nags Head Dolphin Watch.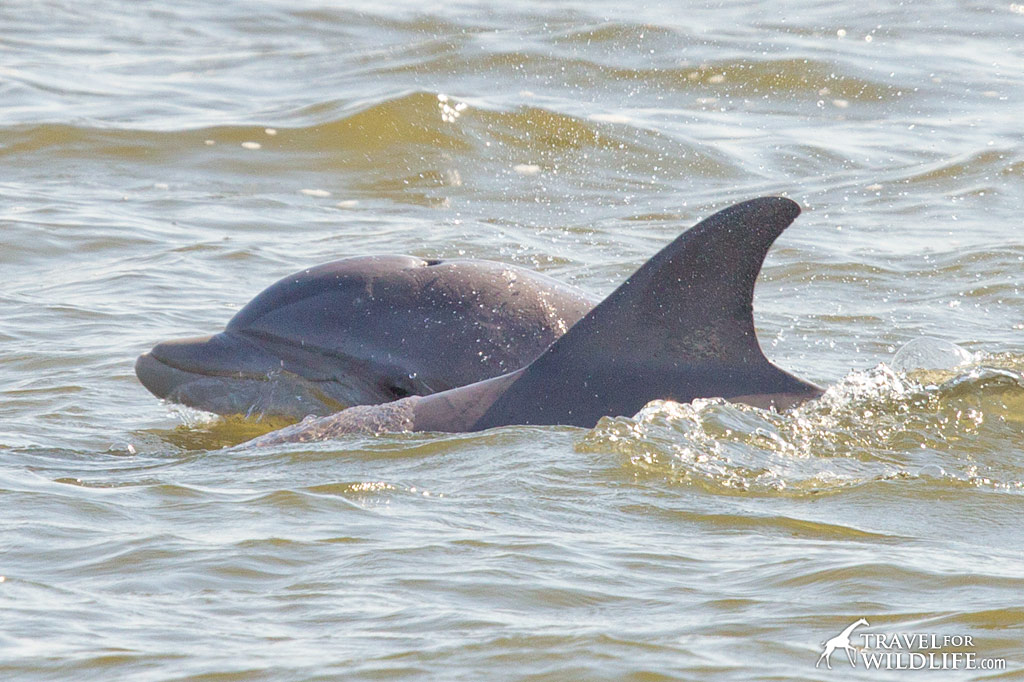 Then we watched baby black bears galore on a black bear tour in the Alligator River NWR. Read our tour review of the Black Bear Tour, Alligator River National Wildlife Refuge.
And finally, a Red Wolf howling with the red wolves in the US Fish and Wildlife captive breeding program. Read our tour review of Howling With Red Wolves for the full story. What a day!
Other fun sightings included two Cotton Mouths (aka Water Moccasins) on the road (a venomous snake)
and a manatee crossing under a bridge! For more, read our post Launching the American Safari at the Alligator River National Wildlife Refuge.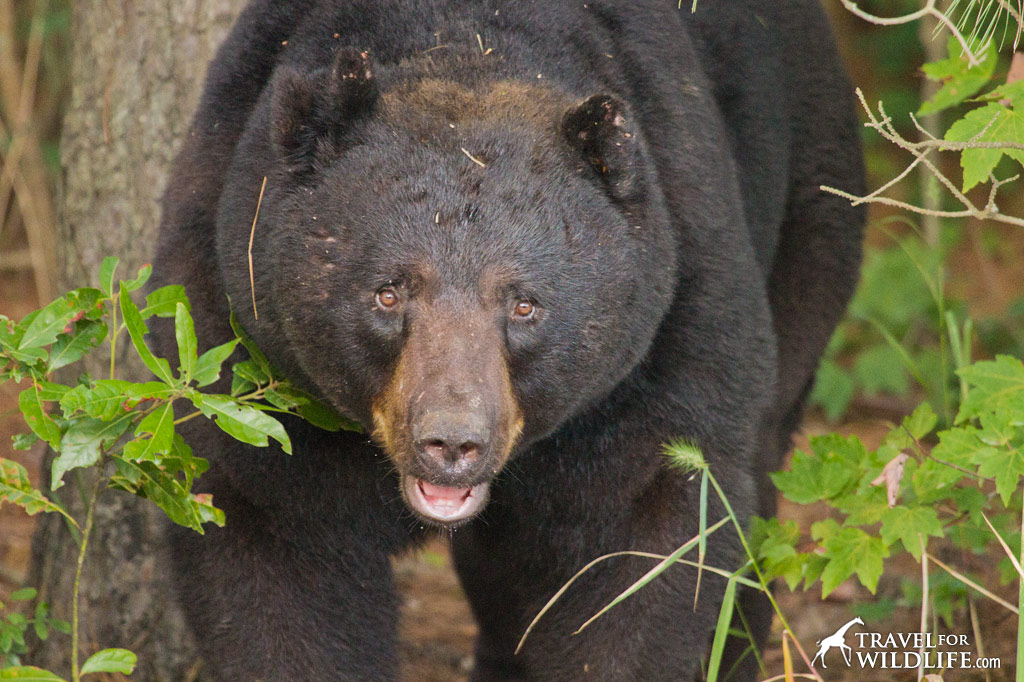 Friday July 19. My favorite sighting of the day, baby Ospreys! Read our post Osprey feeding chicks Nags Head, NC for more photos.
Saturday, July 20. Our last day in the Outer Banks of North Carolina. Yesterday we visited the Alligator River NWR again. Favorite sightings were a big male black bear who walked quite close to us, more mother bears with cubs, and another nice sighting of a huge cottonmouth. Today I built a bear sand sculpture to say goodbye to the beach.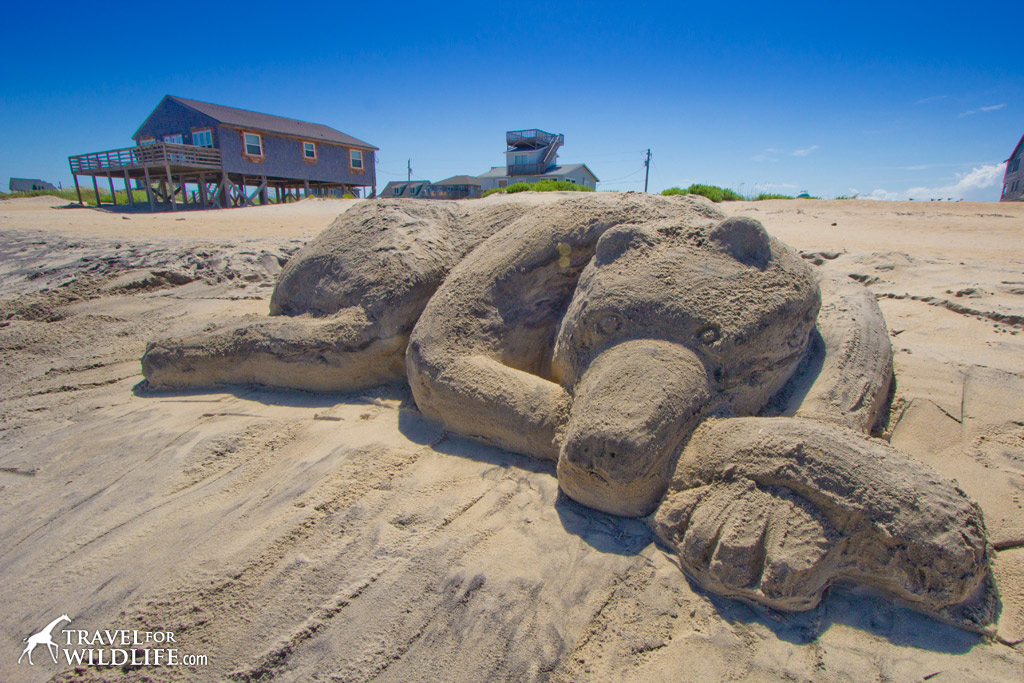 Sunday-Monday, July 21-22. We are spending two days driving from the Outer banks of NC to Ely Minnesota. We'll be camping at some state parks along the way. Can't wait to get there! Check out some of the cool places we stopped in our post The Long (and Beautiful) Way to Ely, Minnesota.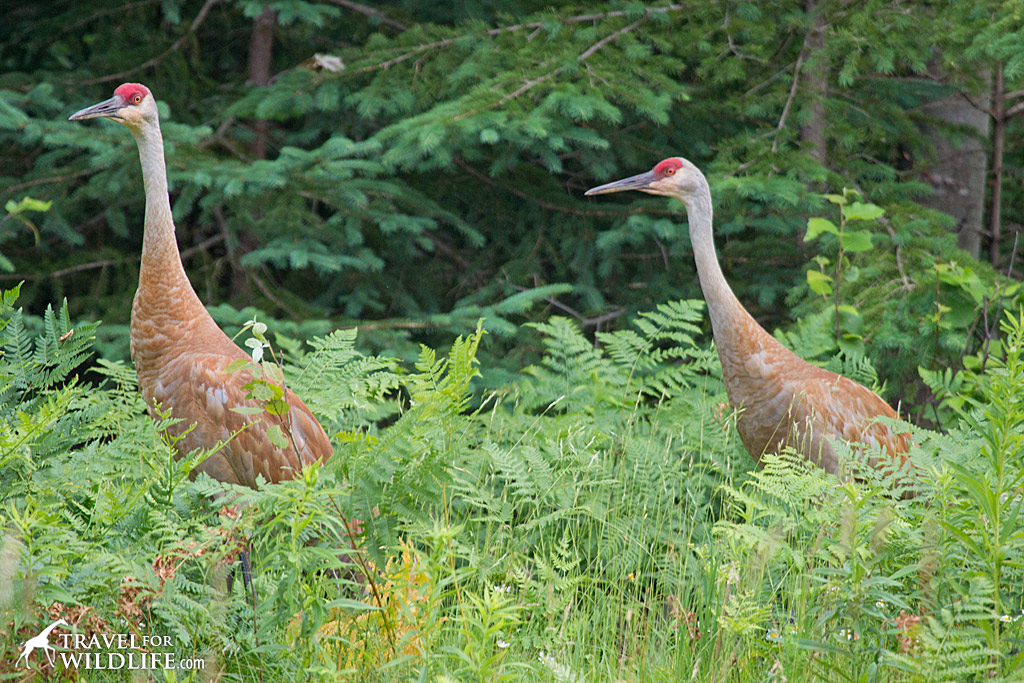 Wednesday, July 24. Right now we're in Ely, Minnesota. We're staying on a house boat courtesy of Timber Bay Lodge and it's awesome. Tied up on the shore of Birch Lake last night, saw an amazing full moon rise over the water and listened to the loons as we fell asleep. Read all about this great experience on our review Houseboat Rentals, a Dream Vacation on a Minnesota Lake.
Just visited the International Wolf Center! Back to the house boat tonight. To learn more about Ely and a nearby free campsite we loved, check out our post Wolves, Bears and Lakes: a Two Day Trip to Ely, Minnesota.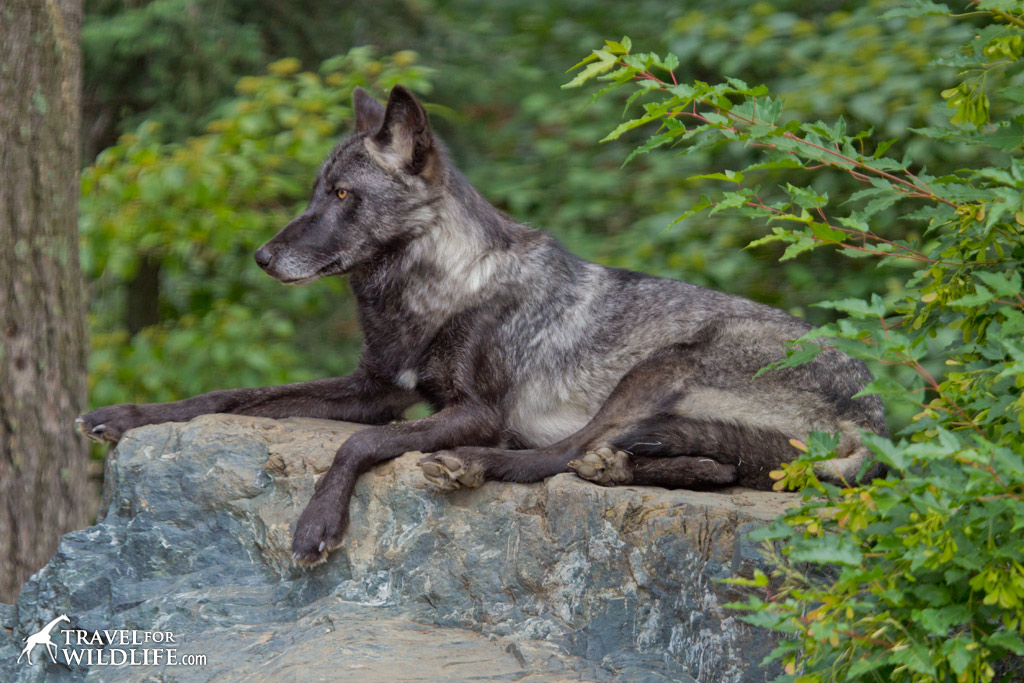 Friday, July 26. We made it to Canada! Just arrived in Winnipeg, Manitoba. Saw a black bear on the road on the way in! He was a lanky yearling and stood up to look at us before diving back into the woods. 20 minutes into Canada and already saw a bear! Today we visited Fort Whyte Alive in Winnipeg and checked out their bison herd. The cultural programs were especially interesting.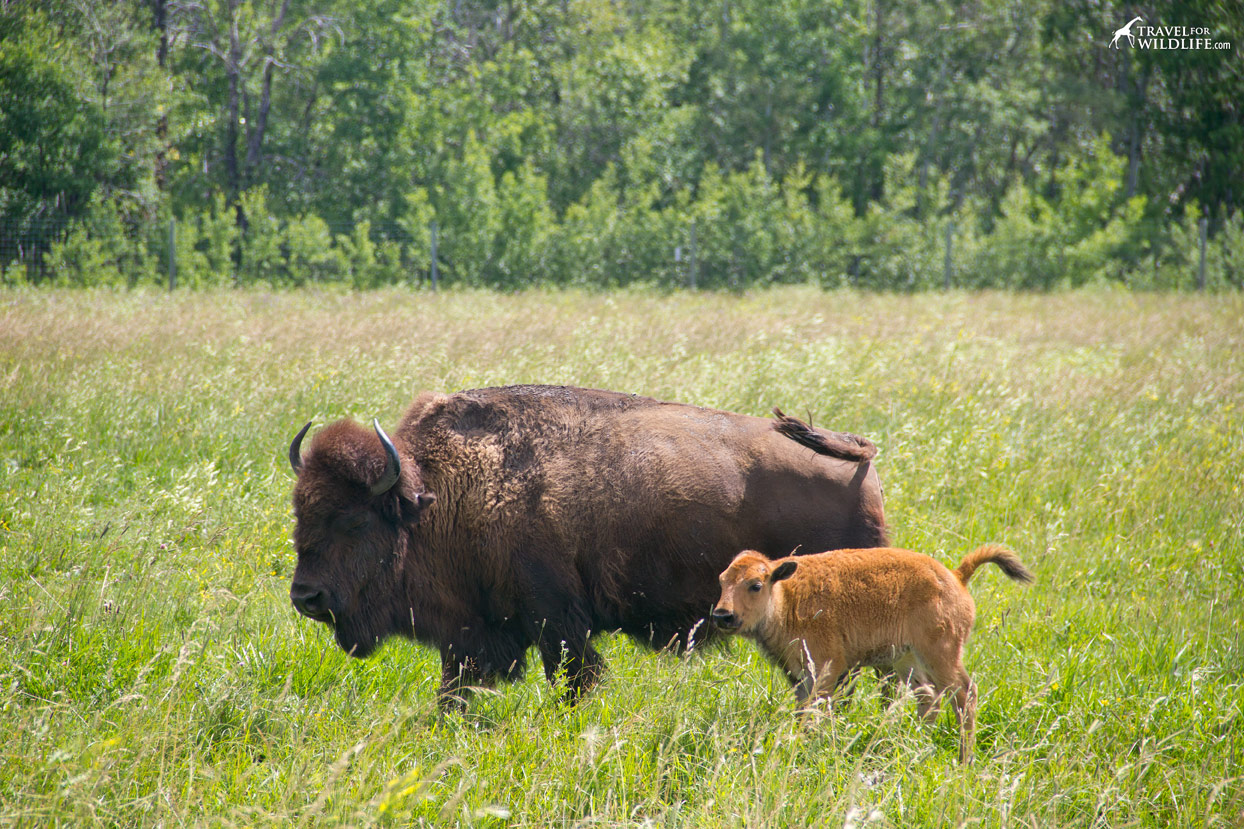 Saturday, July 27. Winnipeg, Manitoba. Had a fun morning at the International Polar Bear Conservation Centre at the Assiniboine Zoo. We were honored to get our tour from the head of conservation and research himself, Dr. Stephen Petersen. Tonight is dinner at Deseo Bistro (courtesy of Tourism Winnipeg. Thanks guys!)
Sunday, July 28. Winnipeg, Manitoba. This morning we visited the Manitoba Museum and saw the world's largest trilobite. (Cristina posed with her trilobite ring, see more in her post Where the Biggest Trilobite in the World Lives). We were given a highlights tour and it was surprisingly riveting considering it lasted nearly two hours. We learned one fascinating fact after another. If you get to Winnipeg, take that tour. This afternoon we're visiting The Forks, meeting with friends from Churchill Wild, and then having dinner with our new friend Stephen Petersen of the International Polar Bear Conservation Centre! All in all we've had a great weekend! Learn more about all the fun things we did in our post Wildlife Weekend in Winnipeg!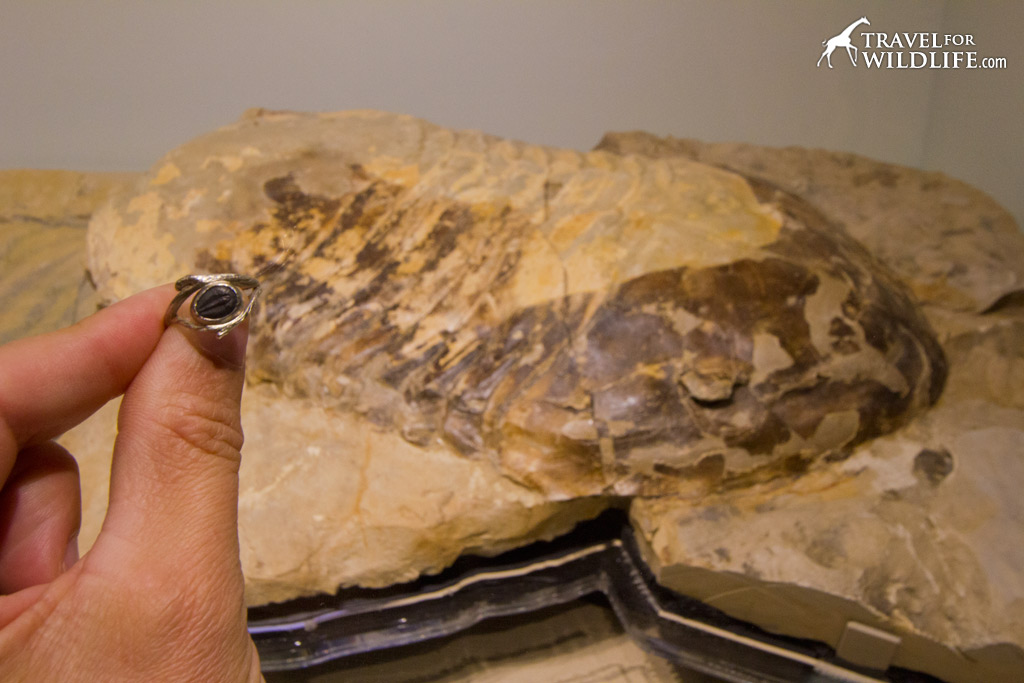 Monday, July 29. Driving North from Winnipeg. Today we leave our comfy room at the Radisson in downtown Winnipeg and head north into the wilderness. We'll stop to see the snake dens in Narcisse, then look for a pretty place to camp. I'm hoping to see some moose along the drive! (a wolf would be nice too)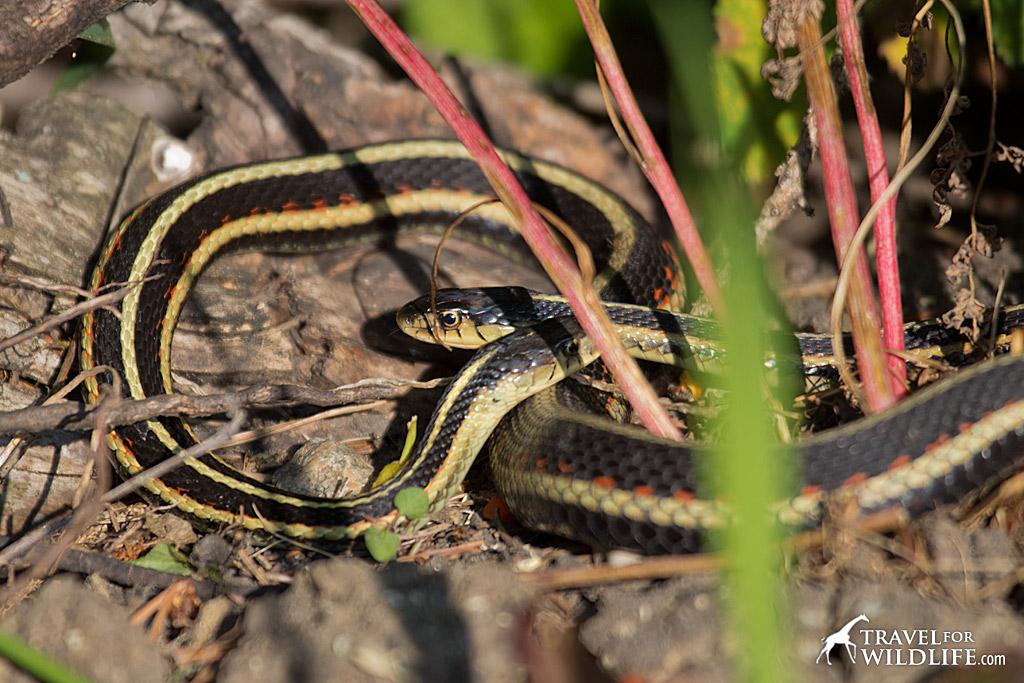 Tuesday, July 30. We spent the night camping at Setting Lake in the middle of nowhere Manitoba and it was beautiful. Along our drive we spotted two more black bears and more than a hundred huge ravens (one at a time) sitting along the side of the road, spread out every few miles.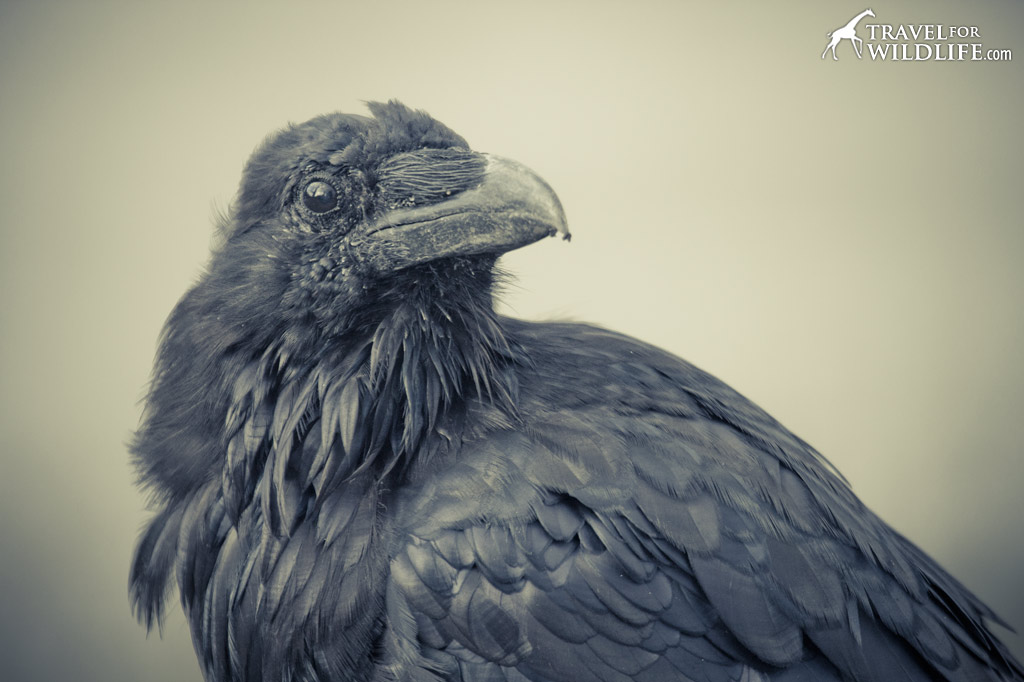 Upon arriving in Thompson we went for a drive to look for wolves and wound up watching beavers instead!
Wednesday, July 31. Thompson, Manitoba. We had a great tour this morning of the Spirit Way and learned a lot about the steps that Thompson is taking to become "The wolf capital of Canada." We even spoke about our trip and wolf tourism at the Chamber of Commerce lunch meeting today! Many thanks to Volker Beckmann for his hospitality and to the Lakeview Inn & Suites for the great stay. For more great info about Thompson, read our post How to Get to Churchill Manitoba the Cheapest and Fastest Way.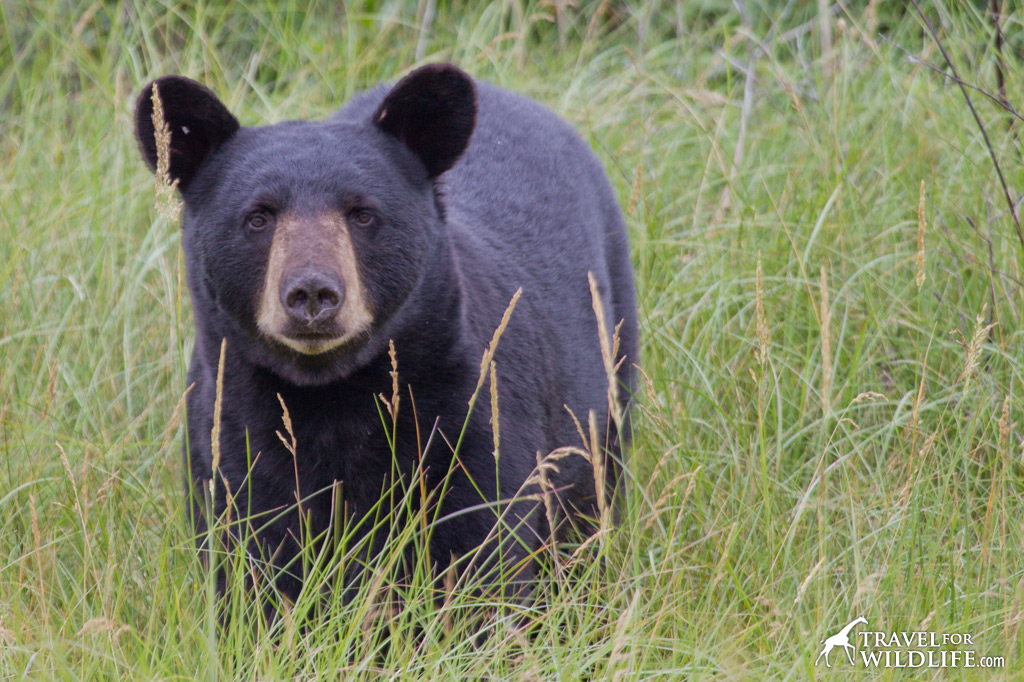 Thursday, August 1. Churchill, Manitoba. We've finally arrived at the northernmost point of our journey! We had a long slow train ride up from Thompson but thankfully we each had our own single cabin courtesy of VIA rail. For more fun info about the train ride, read our post Slow Travel in Manitoba. We had cabins right across from each other and had fun jumping back and forth across the aisle.
It's a surprisingly cold, windy, cloudy day here in Churchill. Just taking care of chores today and preparing to get out tomorrow. Staying at the Tundra House Hostel thanks to Frontiers North Adventures.
Friday, August 2. Churchill, Manitoba. Wow. What an awesome day. We took a full day Tundra Buggy Tour with Frontiers North Adventures and we saw polar bears galore! FIVE of them! Pretty incredible considering this isn't even bear season here in Churchill. Check out a photo gallery of all the bears we saw. My favorite sighting was watching a bear climb into the bay and go for a swim. He was rolling around and sticking his paws in the air.
We also saw four Woodland Caribou and tons of birds including willow ptarmigan. Big thanks to Neil for being an awesome Tundra Buggy driver.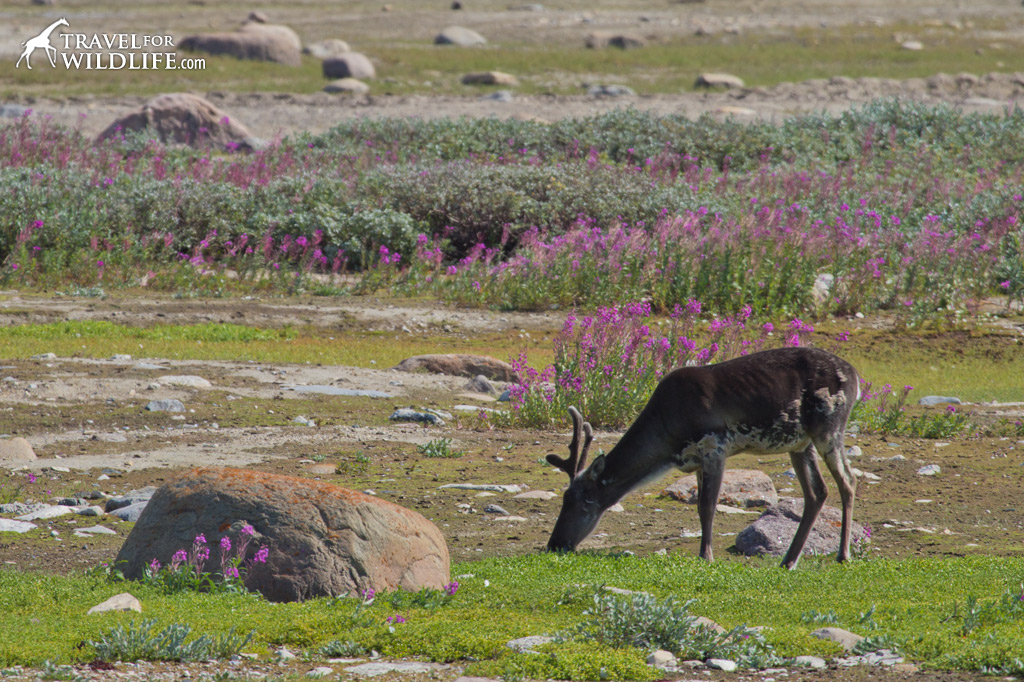 Saturday, August 3. Churchill, Manitoba. Today was our first day ever seeing beluga whales in the wild. We went kayaking with Sea North Tours in the Churchill River and saw hundreds. I had one very special encounter!
Read more about Kayaking with Beluga Whales. Can't wait to snorkel with them!
Sunday, August 4. Churchill, Manitoba. Today we got a rental car from Tamarack Rentals and went for a drive around Churchill. We drove to Cape Merry and watched belugas from shore, down to the weir where we saw harbor seals, and along the bay where we spotted a sleepy polar bear.
Then we took a Fort & Beluga tour with Sea North Tours & spotted a polar bear on the island by the fort, and then had an awesome time watching beluga whales all around our zodiac in the river!
Monday, August 5. Churchill, Manitoba.This morning we did a snorkeling with beluga whales tour with Sea North Tours and it was one of the most awesome wildlife watching experiences we've ever had. Our guide towed us slowly from the zodiac and for an hour we were totally surrounded by curious whales, including several small babies! For more info, read our post How to Swim With Belugas in the Wild. It was so moving that when Cristina came out of the water she actually cried. How awesome is that?
Then we drove around in our rental and scoped out more of the roads around Churchill. We sighted two more polar bears and a bunch of great birds. What a day!
Tuesday, August 6. Churchill, Manitoba. Cold rainy day here in Churchill but we had the pleasure of getting a tour with Nature 1st Tours. Paul Ratson is one fascinating fellow to talk to and he showed us all around Churchill. We had our first direct evidence of wolves! Paul showed us the tracks in his backyard where a large male black wolf frequently visits! We also sighted a few polar bears including a mother with cub. Paul showed us some fox dens but we're a couple weeks late to see the kits. Dang! I learned a lot about life in Churchill. Thanks Paul!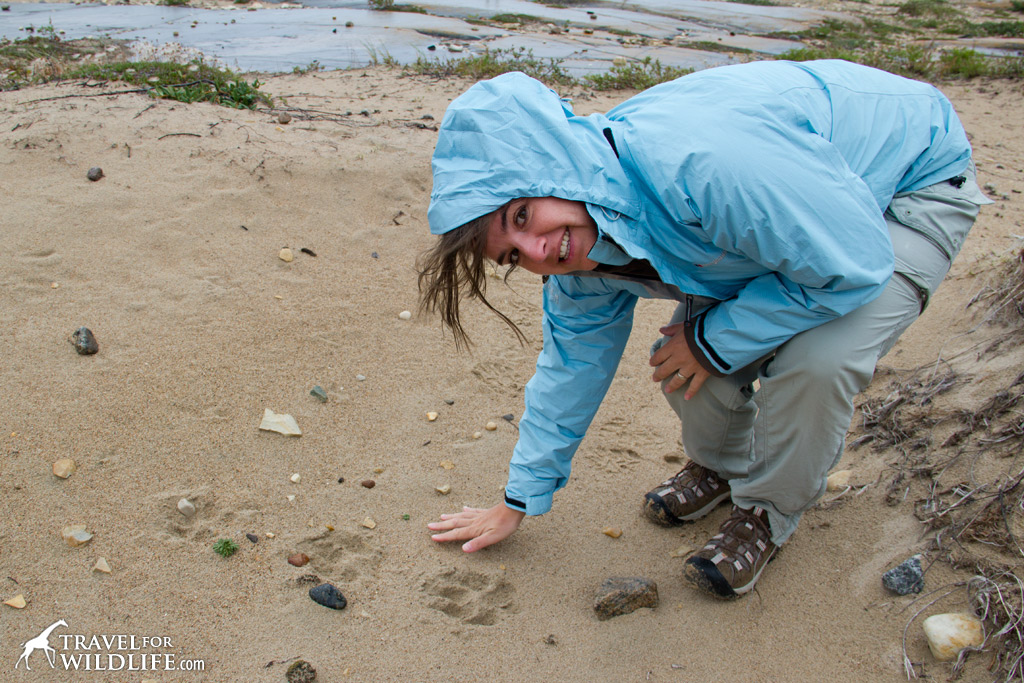 Thursday, August 8. We've had an awesome week here in Churchill, Manitoba. Now it's time to get back on the train and head to Thompson. We'll be sleeping on the train tonight.
Friday, August 9. Thompson, Manitoba. Spent the night on the train coming back from Churchill (saw the Northern Lights!) and arrived in Thompson to get a SeaDoo tour of Paint Lake and search for wolves! Dang those things are fast! We covered over 70km and hardly saw a single house. Serious wilderness. We didn't spot wolves but saw a bunch of eagles & loons and it was super beautiful. Many thanks to Marion of Spirit Way in Thompson
Tuesday, August 13. Riding Mountain National Park. We spent the past four days wandering southward from Thompson, camping at Clearwater Prov Park and then two nights in Duck Mountain Prov Park. Duck Mountain was awesome!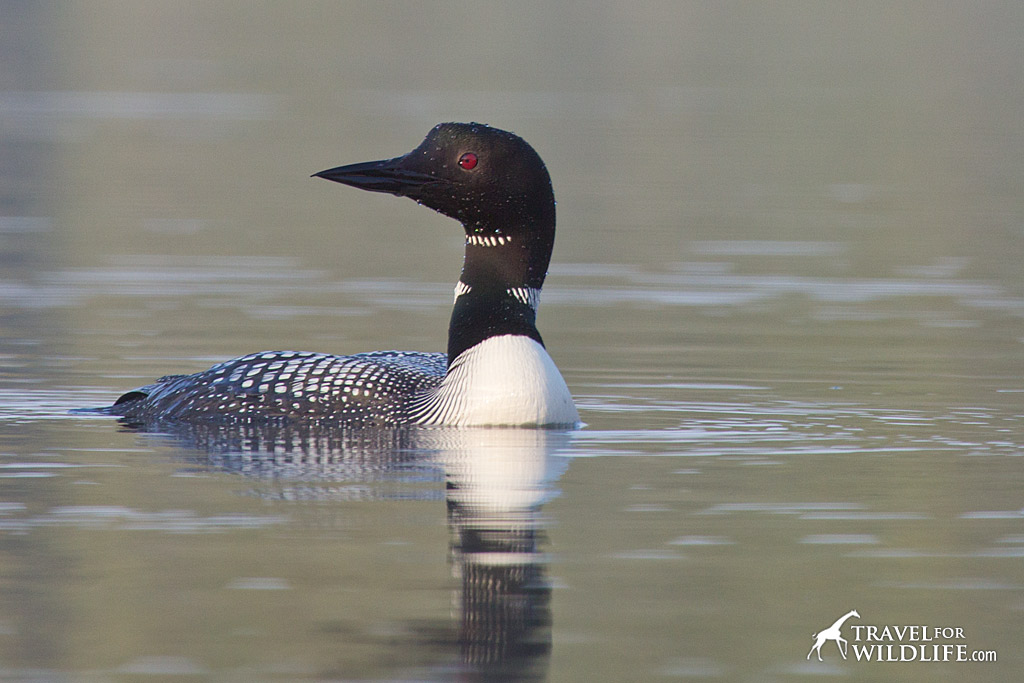 We had a close encounter with a pair of Great Gray Owls as well as sightings of a black bear with three tiny cubs, 2 coyotes, beavers, muskrats, white pelicans, elk, white-tailed deer, and lots of very cute red squirrels.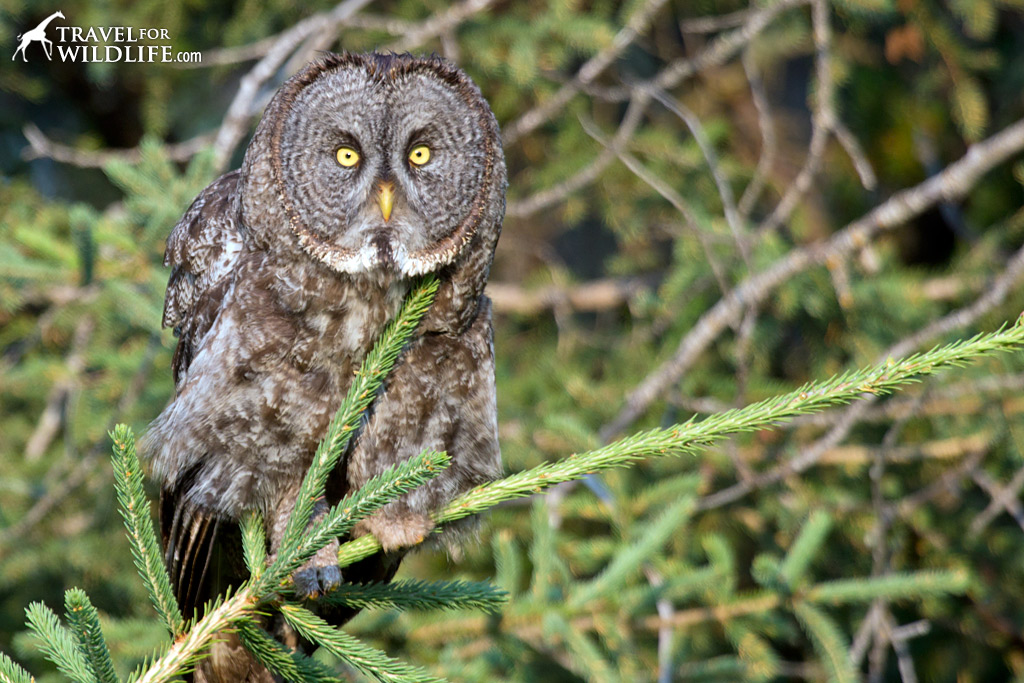 Wednesday, August 14. Riding Mountain National Park, Manitoba. Wow. What an incredible day. This morning we did a five hour hike to see the cabin of the great naturalist Gray Owl (read our post The Trail to Grey Owl's Cabin in Riding Mountain National Park), then we had a super rare sighting of a FISHER at 4 pm! (a large member of the weasel family and an awesome predator). And then for a grand finale we spent nearly an hour watching a Canada lynx hunting by the side of the road!
Does it get any better than this? For more about our lynx sighting, read our post How to Tell the Difference Between a Bobcat and a Canada Lynx.
Friday, August 16. Winnipeg, Manitoba. We're back in Winnipeg again to do a brief appearance on a live morning television show called the Global Morning Show. If you're in Winnipeg, tune in around 8:20 AM! Then we drive south to the U.S. of A. on our bee-line to Yellowstone.
Sunday, August 18. Theodore Roosevelt National Park, North Dakota. After our TV interview in Winnipeg, we entered the U.S. and drove most of the way across North Dakota. On a whim we stopped in Theodore Roosevelt National Parkk and we loved it so much we stayed two nights! (first north unit, then south unit). It turned out to be an awesome place to watch huge prairie dog towns and lots of bison.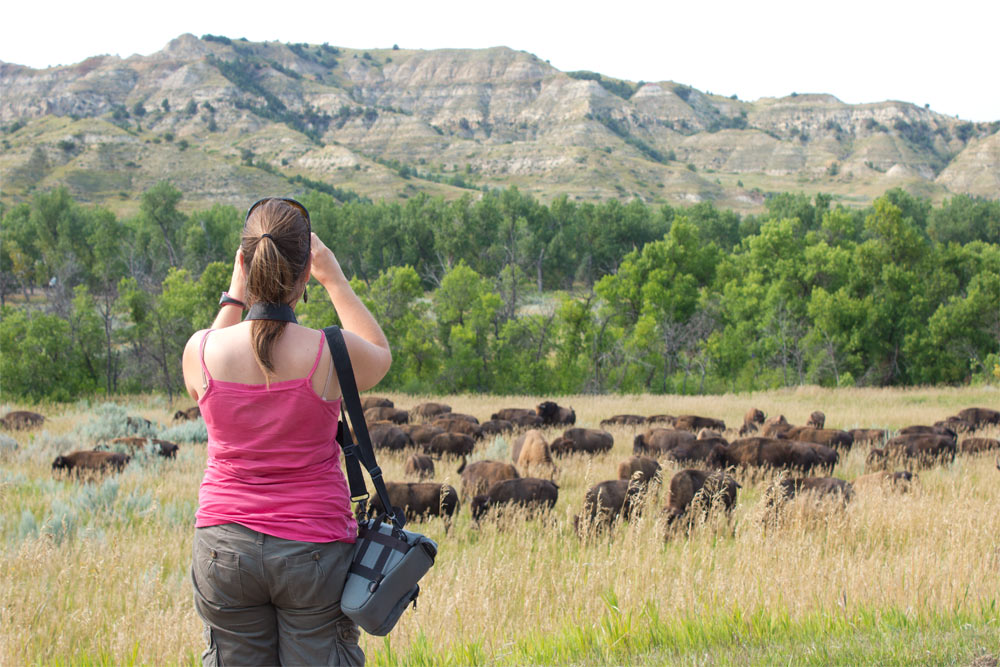 It was nice to spend some time with prairie wildlife before hitting the mountains. Other cool sightings included a coyote, white-tailed deer and wild horses. Also surprised to see a porcupine road-kill in the middle of the prairie! Read our post Searching for the American Cheetah While Camping in Theodore Roosevelt National Park.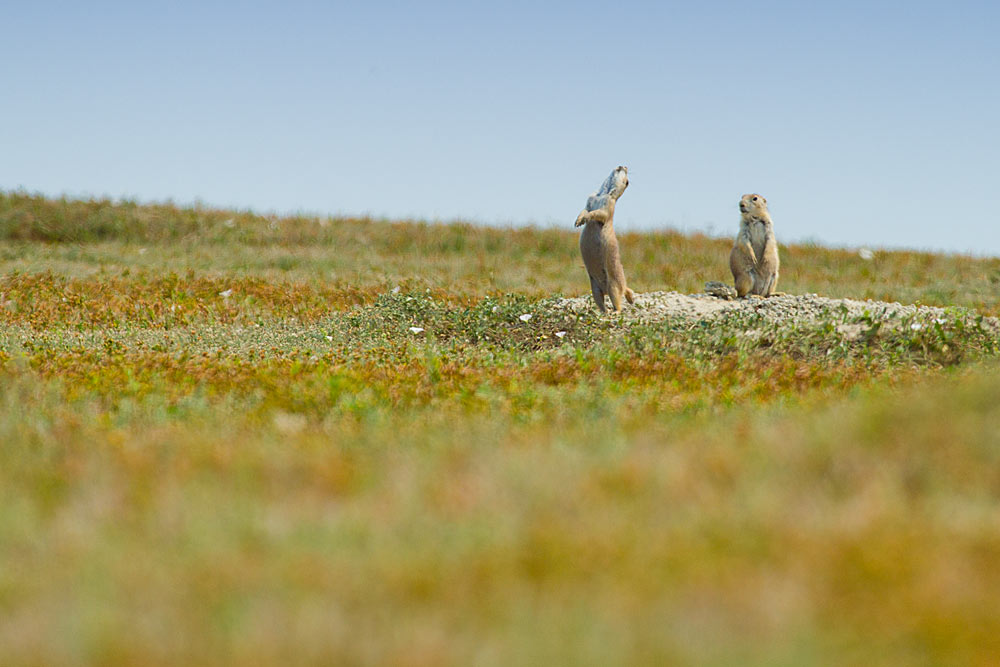 Monday, August 19. Yellowstone National Park. We're very excited to be settled in to our cozy cabin at the Elkhorn Lodge in Cooke City, Montana. Great little hotel, great view, great town. We took our first drive into the park today and sighted loads of bison as well as our first pronghorns! Yesterday's drive over the Beartooth Highway was stunning. And of course we visited with the over-tame chipmunks and squirrels at the pull-offs.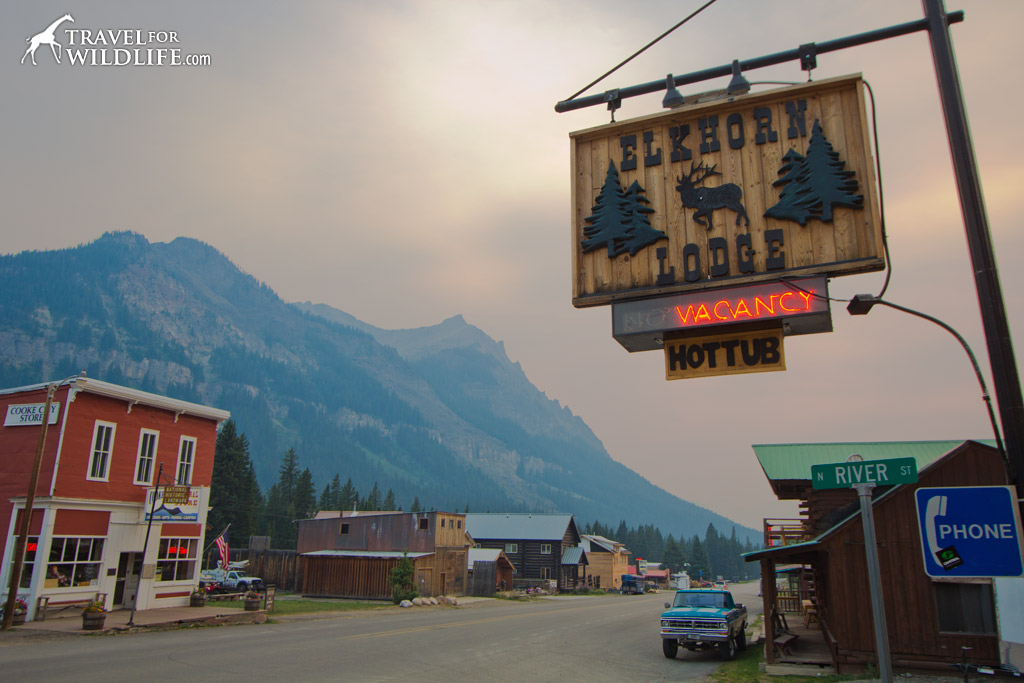 Wednesday, August 21. Yellowstone National Park. We've spent the past two nights at the Grizzly Bear Lodge in Silver gate and we love this town. Been eating awesome meals at the Log Cabin Cafe, taking care of chores, and visiting the park. We always stay in Silver Gate & Cooked City when we come to see wildlife. Find out why you should to in our post Yellowstone's Hidden Havel for Wildlife Watchers: Cooke City & Silver Gate. So far in the park we've seen loads of bison, some pronghorns, a couple deer and even a couple mountain goats! No predators yet, but we're holding out hope for our five day high-country hike that starts tomorrow!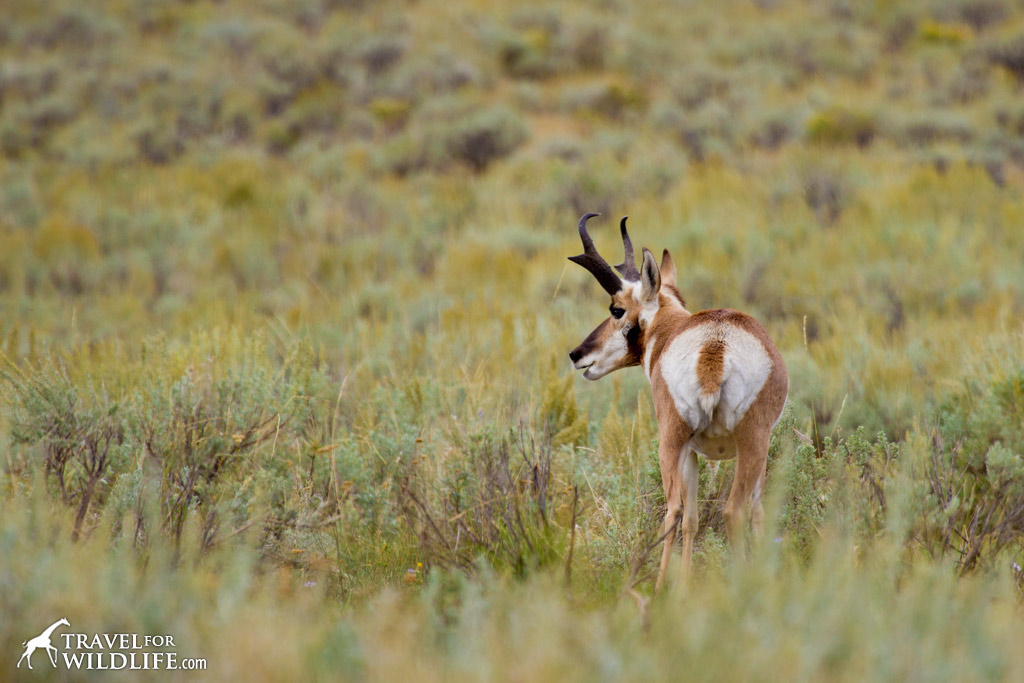 Thursday, August 29. Bozeman, Montana. We had an incredible week hiking to The HooDoo Basin in a remote corner of Yellowstone National Park. Over 6 days we covered 52 miles and climbed 3,500 feet of elevation. It was exhausting but rewarding. We spotted moose and elk along the trail, helped the park service haul a dead bison,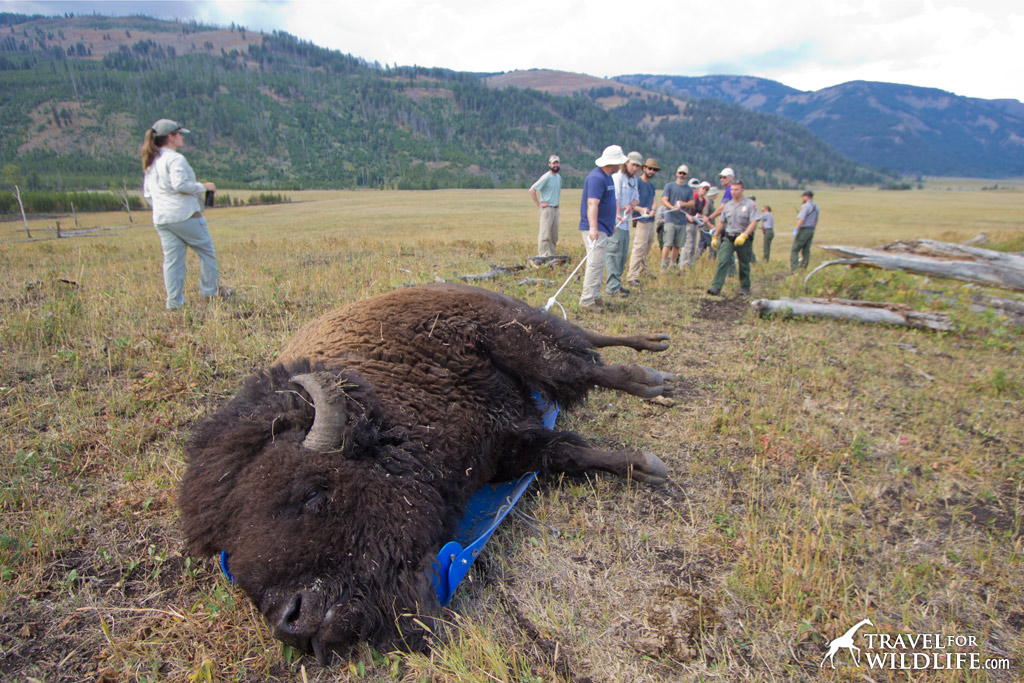 spotted a mountain goat, and found tracks of wolves and bears constantly (though none were sighted!) A huge thanks to Nathan Varley and his crew (MacNeil, Mike, and Nathan) for all the great meals and for taking such good care of us on the trail. We definitely recommend you use Yellowstone Wolf Tracker for all your Yellowstone wildlife watching needs! Check out more photos from the hike in our post Yellowstone Wolf Adventure.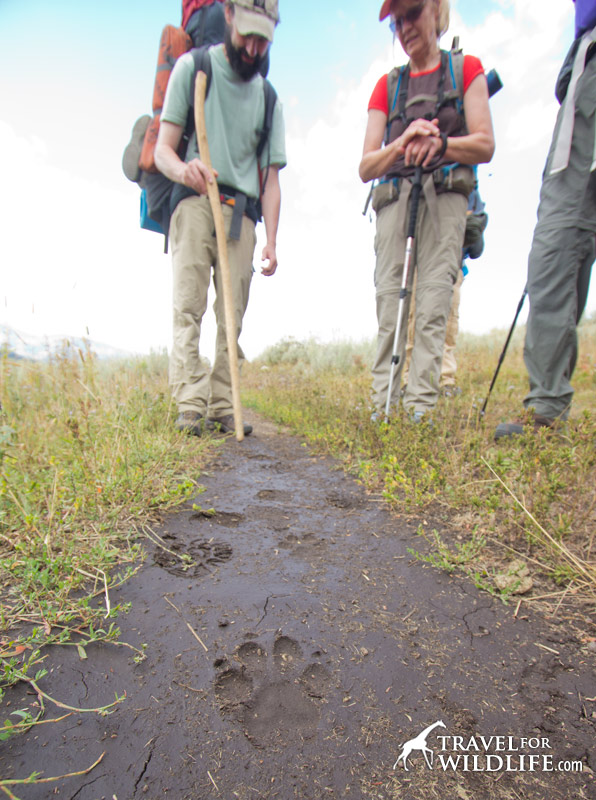 We spent the past day getting our car repaired in Bozeman and resting up. Now we head north!
Monday, September 2. After a couple relaxing nights camping in the Lewis & Clark National Forest, we took a lap through Glacier National Park. Target species: Mountain Goats and Marmots. We were not disappointed. A hike up Hidden Lake Trail in Logan's Pass lead us to extremely close viewing of 5 or 6 goats, including nannies with little kids! It was pretty great. I love mountain goats. For more great pics of mountain goats check out our post Mountain Ghosts: a Mountain Goat Photo Gallery!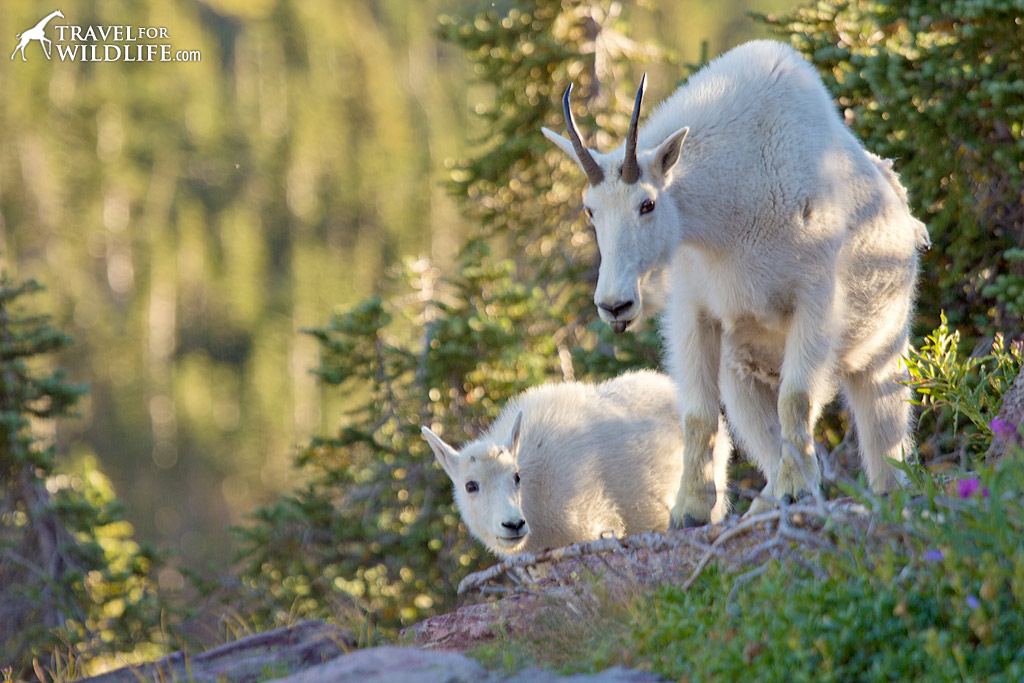 We also saw our first grizzly bear of the trip in the Many Glaciers area (about half mile away up a mountain!) Last night we drove back into Canada and arrived in Waterton Lakes NP without realizing it was Labor Day weekend. Wow this place is crowded!
Thursday, September 5. Mount Engadine Lodge, Spray Valley Provincial Park, Alberta. A few days ago we took a beautiful back country drive up through the Rocky Mountains Forest Reserve here in Alberta. We stopped at Frank Slide ("Canada's DEADLIEST Rock Slide!") and got to watch some very cute Pikas harvesting plants in the boulder field.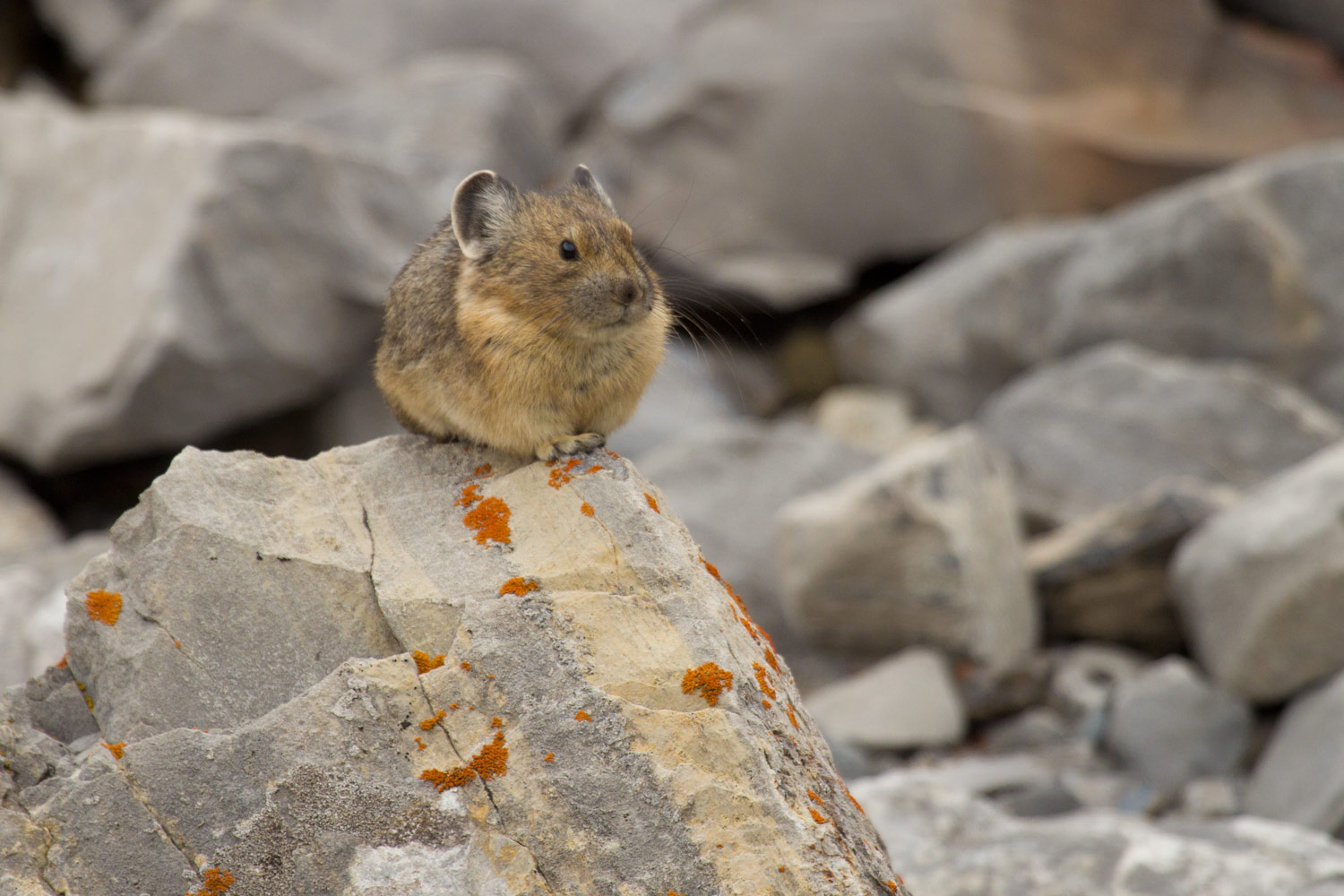 Then a drive through a remote pass revealed our first Bighorn Sheep of the trip (read about it in Cristina's photo of the week post Bighorn Sheep, Rocky Mountains Forest Reserve).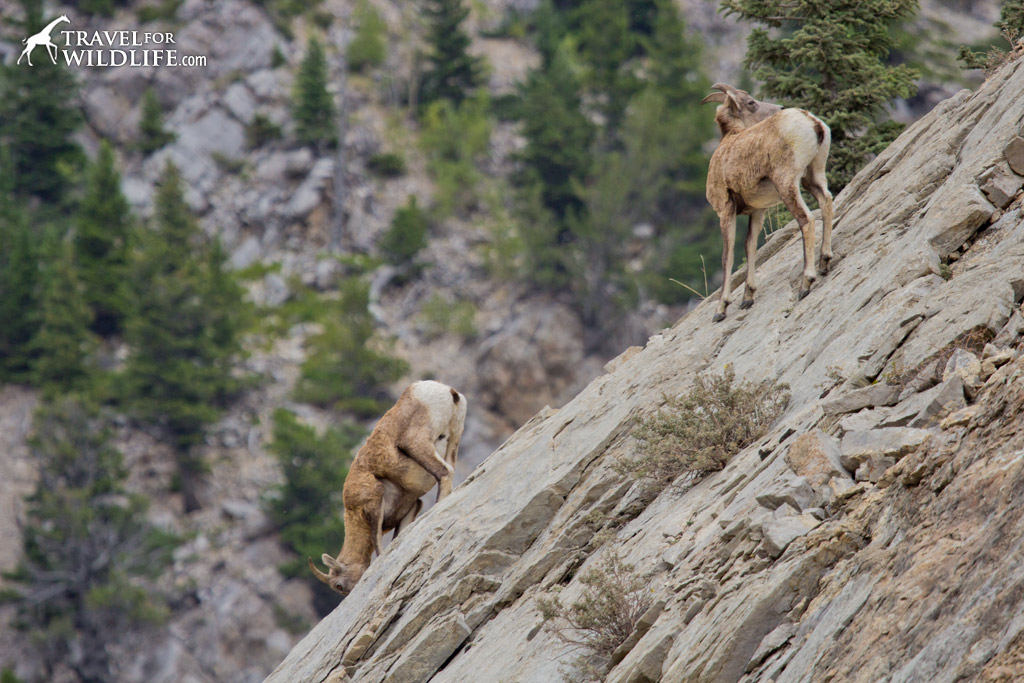 And finally we wound up at the Mount Engadine lodge. What an amazing, remote and gorgeous spot this is. Best of all, the mud pit in front of the lodge is a favorite haunt for local moose! We saw two this morning, a big bull who had just shed his velvet, and a cow. Awesome! Read all about it in our review The Mud-Munching Moose of Mount Engadine Lodge, Alberta.
Sunday, September 8. After three great days at the Mount Engadine Lodge (here's a better look at the lodge in the video below)
we drove up to Banff National Park. Today we hiked around Lake Louise and Morraine Lake. Stunning views! Also excited to see all the wildlife overpasses and underpasses constructed to allow animals to cross the highway safely. Very cool.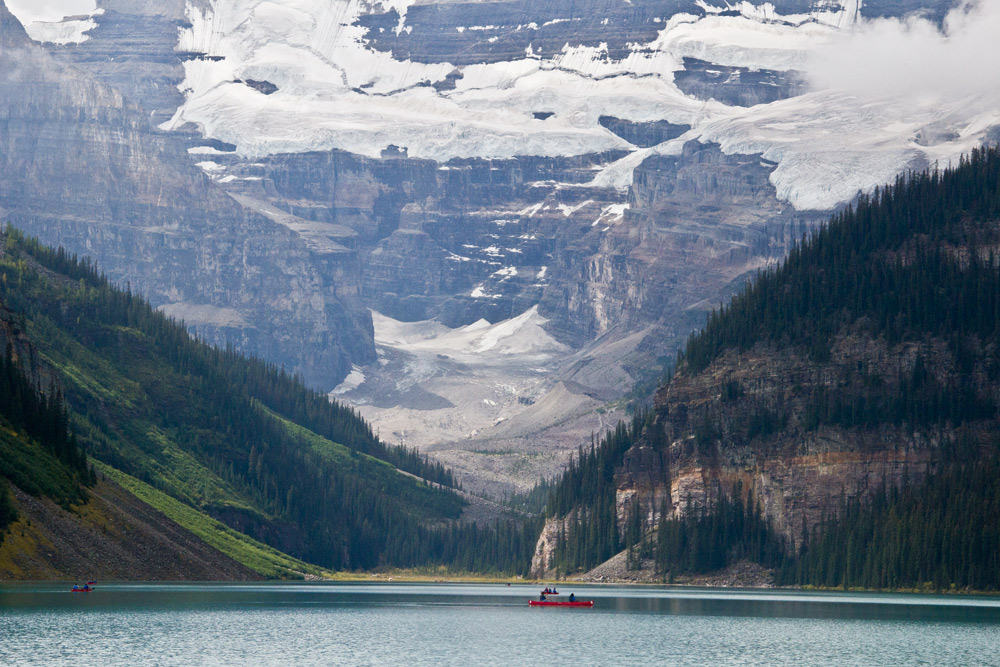 Monday, September 9.Banff National Park, Alberta, Canada. Had a fun day at the Lake Louise Gondola and saw a grizzly bear! Read our post Where to See Grizzlies in the Canadian Rockies: Lake Louise Gondola.
September 11. Yoho National Park. We camped at the stunning Takakkaw Falls campground in Yoho National Park. After the crowds at Glacier and Lake Louise, this remote site was a great relief. Around the campground we spotted some elk and some very cute golden-mantled ground squirrels. Read all about this beautiful park in our post Camping Amongst Glaciers at Takakkaw Falls Campground.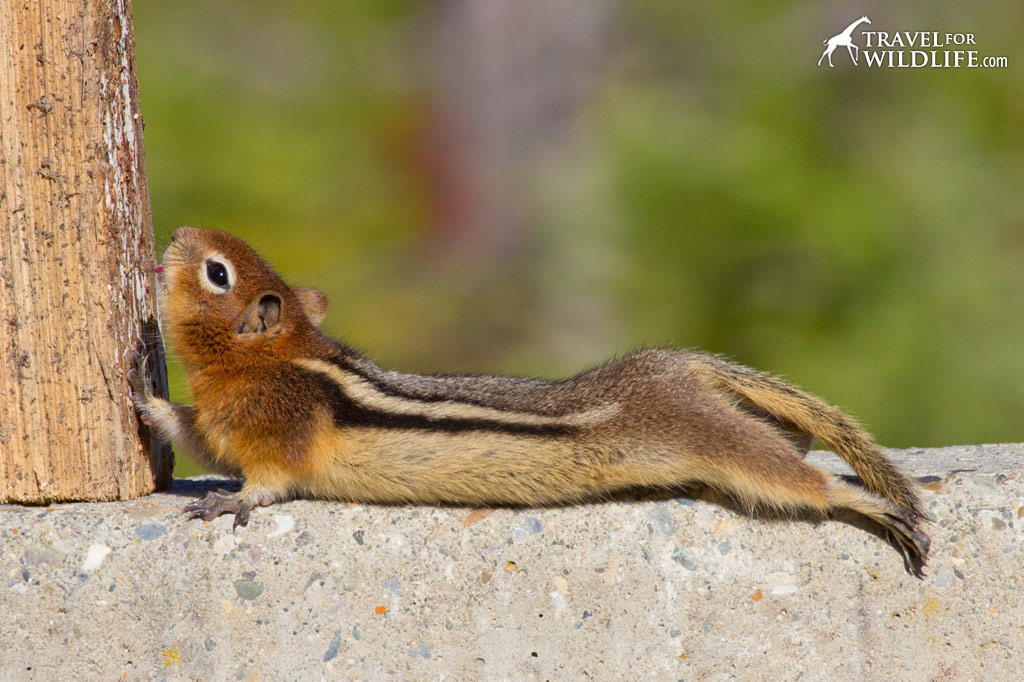 Saturday, September 14. Tweedsmuir Provincial Park, BC, Canada. After several days of free camping in British Columbia's excellent Recreation Sites, (read our post Free Camping in BC) we've arrived in the Bella Coola area. It's a remote town at the west coast of British Columbia, one of the few central coast towns accessible by road. Heading back into Tweedsmuir Provincial Park now to look for grizzly bears at the salmon run!
Tuesday, September 17. Tweedsmuir Pronvincial Park, BC. We're staying at the beautiful Great Bear Chalet and it's right in the center of the park on the Atnarko River. We've seen bunches of grizzly bears already! On Sunday we watched five different bears (two cubs!) from the Belarko viewing platform. Yesterday had a fun time watching and filming Pink Salmon spawn, then our guide and host Jeff Bray took us out to a bunch of his favorite sites on the river and we a very peaceful close encounter with a mother grizzly with cub! Read more about it in our post Bear Encounter: Lessons From a Mother Grizzly.
Sunday, September 22. Nanaimo, Vacouver Island, British Columbia. After two days of free camping in BC rec sites, we hopped on a ferry and landed in Nanaimo on Vancouver Island! True to form it is raining. That's why they have rainforest here! Many thanks to my old friend Dylan who's given us a place to shelter from the rain.
Tuesday, September 24. Tofino, Vancouver Island. We're staying at the awesome Wickininnish Inn. Read our lodging review Visiting Vancouver Island: the Wickaninnish Inn to learn more about this beautiful oceanfront lodge in Tofino. The tide pools here are full of life!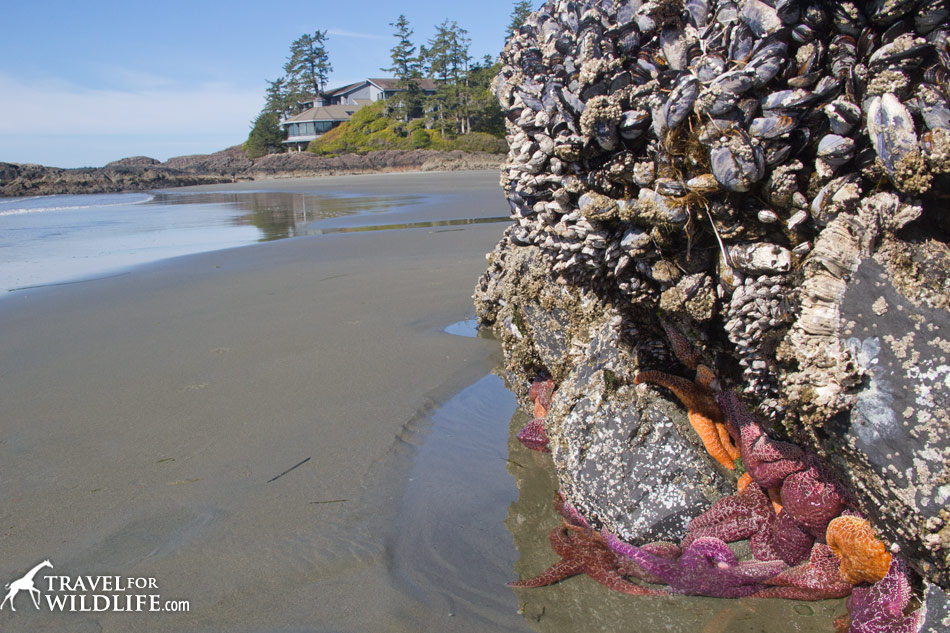 This morning we went whale watching with the Whale Centre. Sighted gray whales, sea otters, harbor porpoises, and stellar sea lions! Check out all the cool animals we saw in this Wildlife of Tofino Photo Gallery!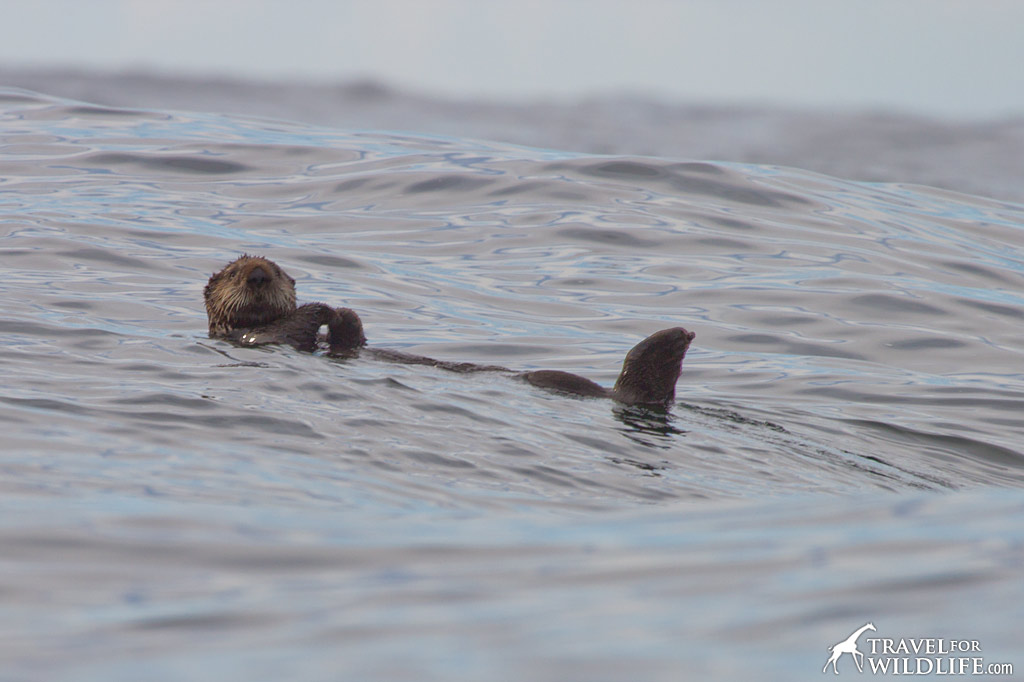 Thursday, September 26. Tofino, Vancouver Island. Had a great bear tour with the Whale Centre of Tofino. We saw harbor seals, harbor porpoises (they're tiny!) and yes, three black bears! We watched them tipping over rocks along the shore and searching for crabs. It was awesome! Read all about this great bear tour and the whale watching tour in our post Wildlife and Whale Watching in Tofino, BC.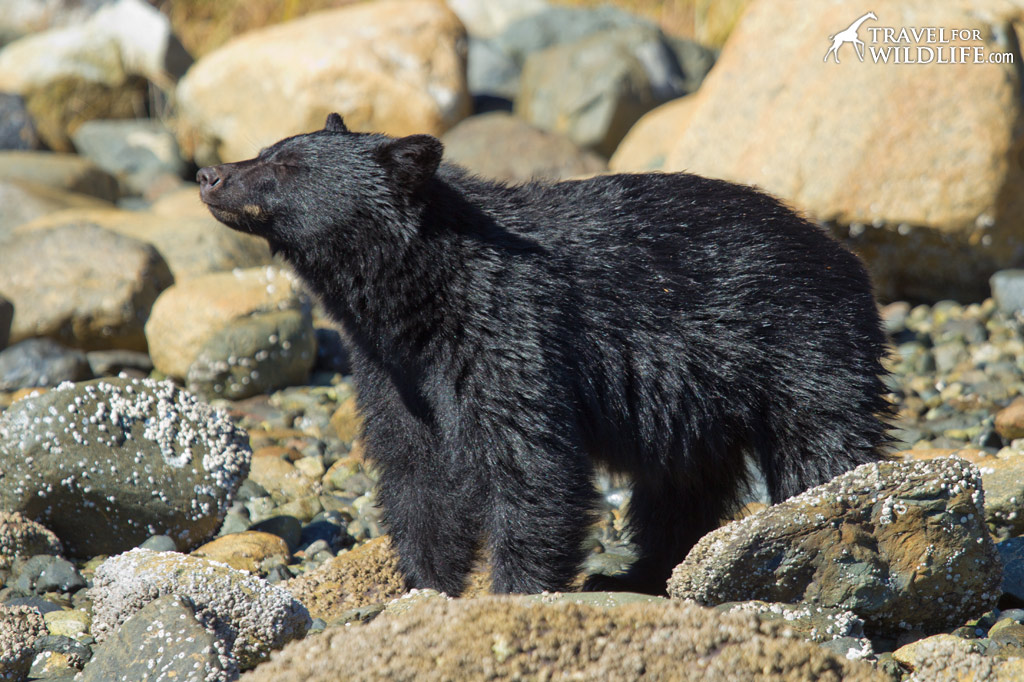 Sunday, September 29. Port McNeill, Vancouver Island. Spent the past couple nights camping in the Pacific Rim National Park and visited the Ucluelet Aquarium, one of the only aquariums in the world that uses a "catch and release" system. They let all the animals go back into the ocean at the end of the season. Read more in our post Is Ucluelet Aquarium the Best Aquarium in the World? It was really cool. Now we've just arrived in Port McNeill and catching a boat to Nimmo tomorrow!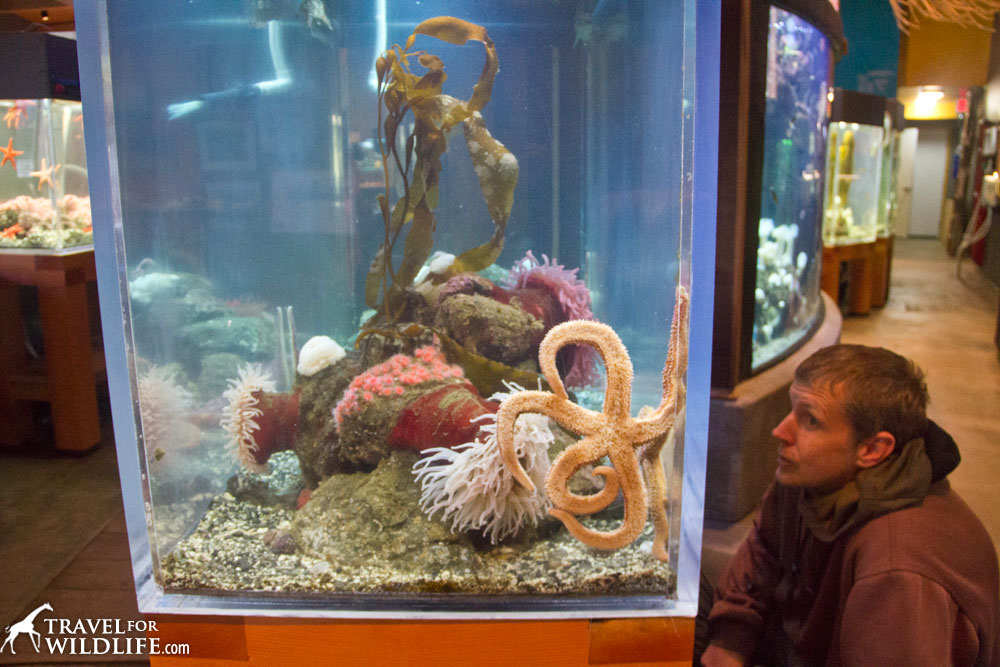 Wednesday, October 2. Nimmo Bay, British Columbia. Just completed our second day at Nimmo Bay Wilderness Resort. We spent all day on the water yesterday watching seals, sea lions, porpoises and loads of humpback whales!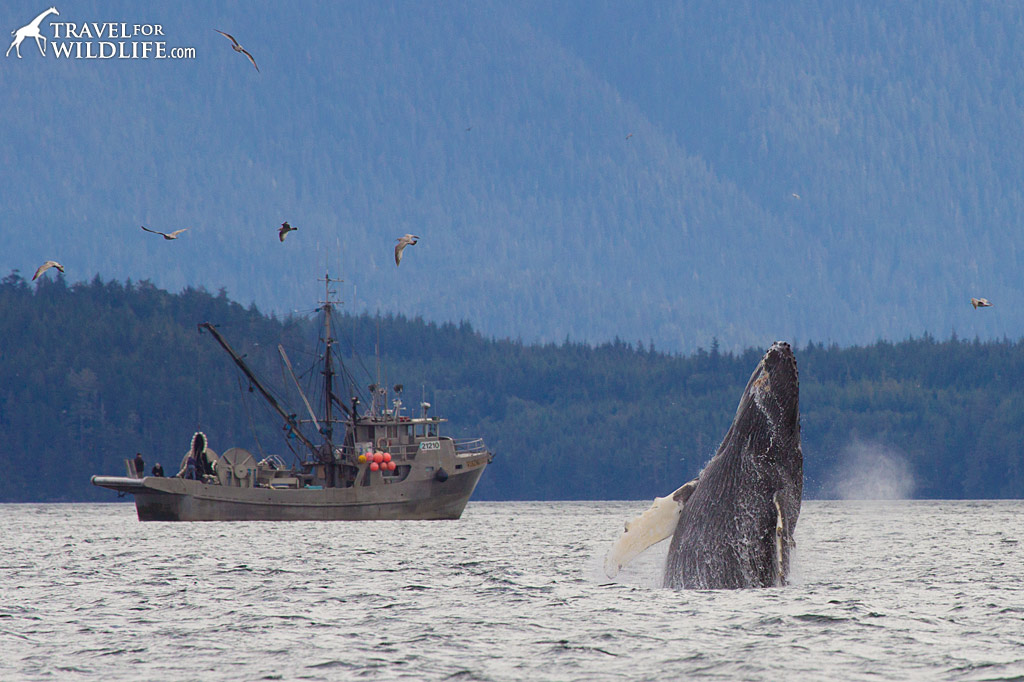 The whales were incredibly active, slapping their tales and flippers, breaching and even gape-feeding with their mouths wide open. It was incredible. If you want to see all the incredible wildlife that the Great Bear Rainforest has to offer, then check out our lodging review: Nimmo Resort, a Wilderness Lodge in the Great Bear Rainforest.
October 3-13. Nimmo Bay! We've been so lucky to spend two weeks here at the amazing Nimmo Bay and it has been a perfect grand finale to our American Safari. One of my favorite activities was taking a wilderness survival tour with Nikki Van Schyndel (read our review of her book Becoming Wild with Nikki Van Schyndel) where we got to forage for wild greens on remote islands. Another highlight was having the chance to try out some underwater time-lapse experiments. My first great success was with starfish! Read our post How to Shoot and Underwater Time-lapse of Starfish for more info on how I did it.
Even more fun for us was getting to watch the many kinds of nudibranchs (brightly colored sea slugs) in the beautiful clear waters. My next successful underwater time-lapse was shooting the very-cool hooded nudibranchs. It's so great to see all the different creatures thriving in this rich marine habitat! (we saw tons of amazing huge jellyfish too.)
On another boat tour we had some great views of the local Orca pods hunting!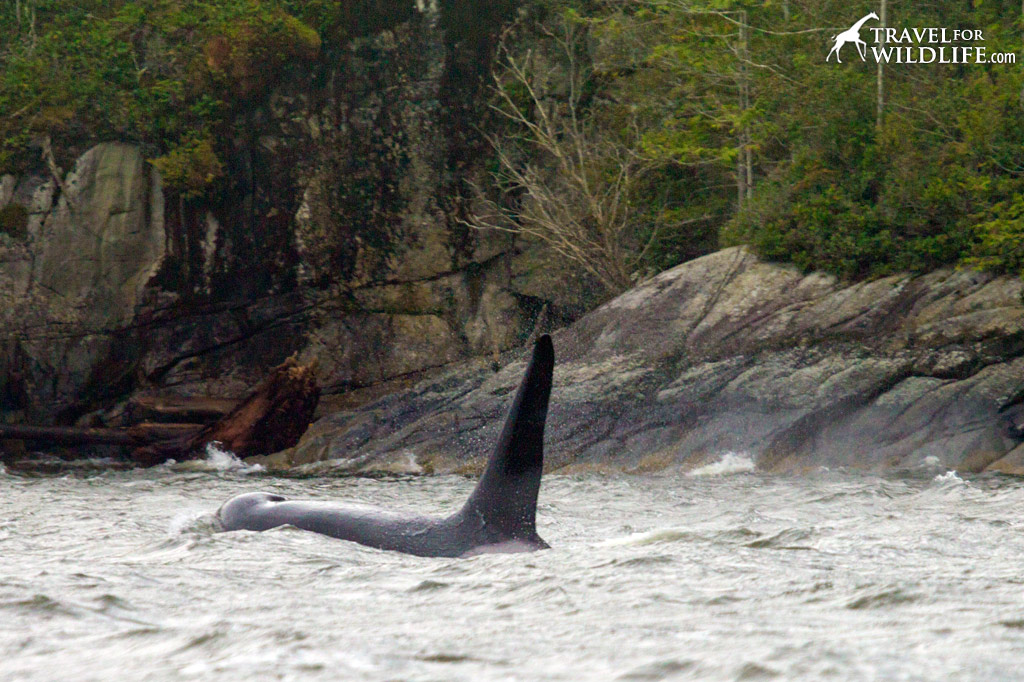 We also spent a lot of time kayaking around the bay and searching for black bears. Read about it in our post A Quest For Bears: Kayaking the Great Bear Rainforest. Over the course of several days we set up our camera trap in a beautiful forest where black bears fish for salmon in the river. Here is some of the cool bear activity we captured!
I even got to take a helicopter ride to search for grizzly bears!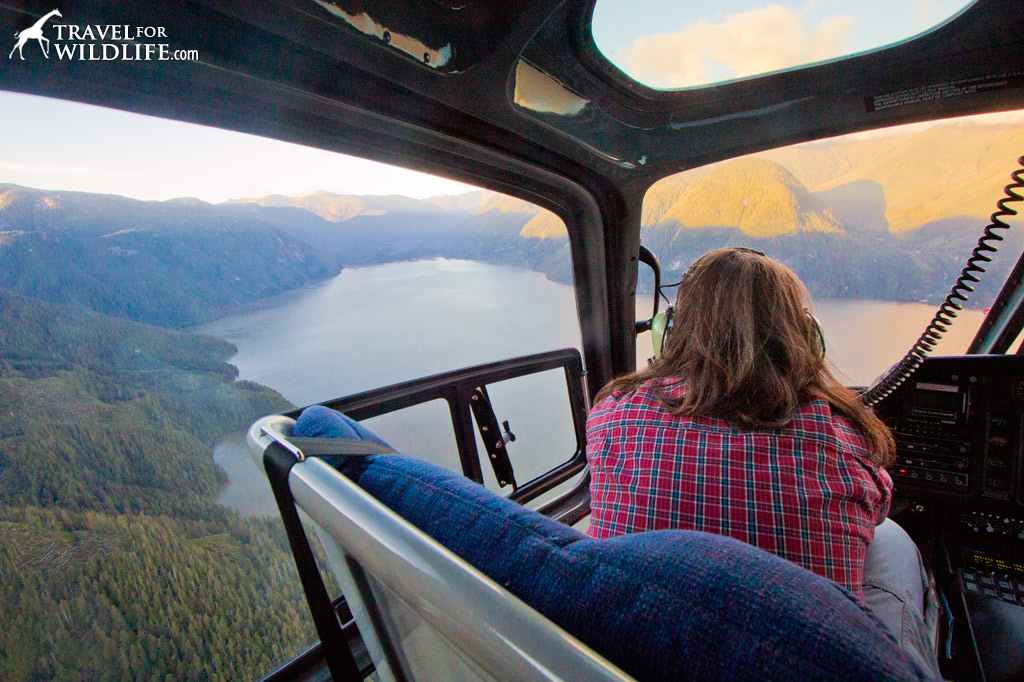 A huge thank you to the wonderful folks at Nimmo Bay. It was our favorite place we stayed on our entire American Safari!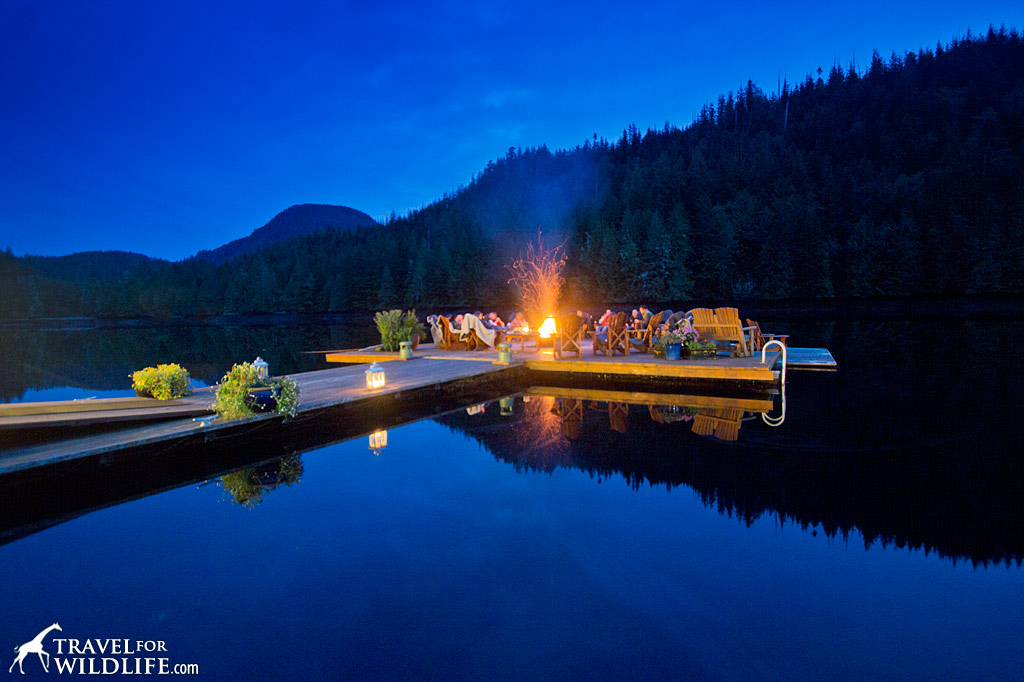 Sunday, October 20, 2013. Back Home! After a five-day drive across the continent we've arrived back on the east coast. We sighted elk in Washington, pronghorns in Wyoming, and lots of deer across the midwest. We visited Native American historical sites like the grave of Chief Joseph in WA and the Little Bighorn battle site in SD. Unfortunately national parks were closed and we couldn't stop in Yellowstone, but we are happy to be back in NC just in time for spectacular fall colors. A huge thanks to all our sponsors who made the American Safari possible! What an amazing journey!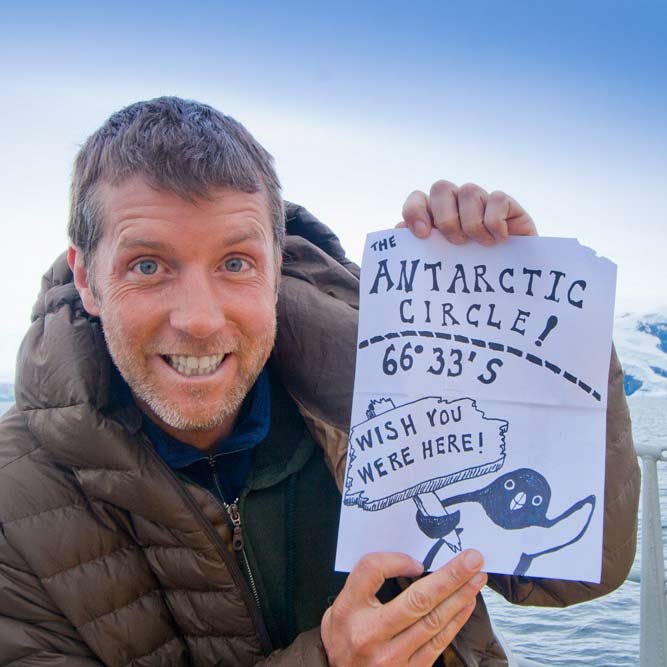 Hal Brindley
Brindley is an American conservation biologist, wildlife photographer, filmmaker, writer, and illustrator living in Asheville, NC. He studied black-footed cats in Namibia for his master's research, has traveled to all seven continents, and loves native plant gardening. See more of his work at Travel for Wildlife, Truly Wild, Our Wild Yard, & Naturalist Studio.