Houseboat Rentals on a Minnesota Lake
Whenever I think of houseboat rentals on a lake, the first thing that comes to mind is can you rent a houseboat? then the next thing is on a lake? We were ecstatic to find that you can actually find houseboats for rent in the beautiful wilderness of Minnesota. Just a stone's throw away from the incredible The Boundary Waters Canoe Area Wilderness (BWCAW).
This was our experience staying at a pontoon houseboat on a lake. Even if its a pontoon boat this is not one of those many small pontoon boats you might see around. This is a proper houseboat with everything you need!
The Loon and the Moon over Birch Lake
We were quietly eating dinner by propane gas lamp when I glanced up at the large picture window across from the table. I was dumbfounded by what I saw. A huge orange circle was emerging from behind the black pointed treetops. My first thought was UFO. It took me several seconds to realize that I was actually looking at the full moon. The brilliant disc shuffled and reshuffled itself into dozens of orange slices in the water below. Our house boat rocked lazily against the shore as Cristina and I turned toward each other with identical looks of moronic glee.
We quickly washed the dishes and climbed into the cozy capsule of a bed. The strange orange glow spread through the tiny window in the center of the side wall. Wriggling my toes excitedly, I shifted downward to align my head with the view. I felt Cristina snuggle up behind me and peer over my shoulder. The only sound was the tiny humming chorus of voracious mosquitoes testing the window screen. We watched the rising moon in awe, hopeful. Suddenly we heard it: that lonely, mournful cry of the loon. We had officially arrived in the north woods.
How did we end up in Ely, Minnesota?
When Cristina was a teenager growing up in Barcelona, Spain, she sent off by mail to become a member of a new organization across the ocean in a tiny town called Ely, Minnesota. The organization's goal was to educate people about a creature that prowled its local woods: Cristina's favorite animal, the wolf.
Now, nearly twenty years later, I was accompanying Cristina to this same mythical town with the sole purpose of visiting that very organization: The International Wolf Center. Our American Safari lead us from North Carolina to Manitoba, so Ely wasn't too far out of the way. We contacted Ely Tourism to find lodging in the area and learned (thanks to a tip from Jessie of Wandering Educators) that we could stay on a houseboat in the nearby town of Babbitt. This prospect was even more exciting to us than visiting the center itself, as we would be able to tie up at night on the shores of Birch Lake surrounded by wild state forest in the center of gray wolf habitat. We had the chance of actually hearing a howl or catching an image of one on our camera trap.
Staying on a Houseboat on a Minnesota Lake
When we arrived at Timber Bay Lodge and Houseboats we were given a map with all the wilderness campsites along Birch Lake where we were allowed to camp overnight. Timber Bay is one of the many fishing resorts in Minnesota and you can even rent small boats to take you fishing if you are just here for the day. They also have a number of cabin rentals in Minnesota, which would be perfect for those fall chilly nights!
We headed to the dock where we were given a quick briefing before we stepped onto our new 38-foot floating home. I admit I was a quite nervous as I revved up the engine and threw it into reverse. I just knew I was going to smash it into a rock right in front of the friendly dock attendant. But all went smoothly and after an hour of cruising the lake, we chose a remote spot near North Bay to tie up to shore. We spotted bald eagles flying over head, while delicately painted loons bobbed on the surface.
We lounged on the top deck of our houseboat rental and breathed in the intoxicating air. It felt as if we had the whole lake to ourselves but we soon realized we were far from alone as a thousand tiny winged vampires arrived to sip our blood. We made our way indoors, prepared our supper and that's when the astonishing July full moon caught us off guard.
I awoke the next morning to the gentle lapping of waves. In my pajamas I walked the plank to shore and unstrapped our Bushnell NatureView trail camera that I had fastened to a nearby tree. Imagining a large wolf staring into the lens, I crawled back into bed and woke Cristina so we could scroll through the photos together. There was nothing but pictures of us wandering the shoreline, so it seemed our only chance of spotting a wolf that day was to head up to the International Wolf Center. We motored back to the dock and drove the fifteen miles up to the hallowed halls of the institution that hosts the world's most eminent wolf biologist David Mech. We did indeed watch wolves that day and learned a lot from the impressive exhibits, yet we found ourselves anxious to return to the peaceful lake and our houseboat. So after a quick visit to the Front Porch Coffee Shop in Ely, we hurried back to Timber Bay Lodge.
The Details
Would I stay on a houseboat again? In a heartbeat. It was without a doubt one of our favorite lodging experiences ever. Though the houseboat we stayed on seemed a bit outdated, the bed was very comfortable, the kitchen extremely functional, the water in the shower was nice and hot, and everything worked as it should. The map of the lake was clearly marked with dozens of beautiful campsites, and even a novice like myself felt comfortable behind the wheel almost instantly. A supply boat will even come out twice a week to fill you up with gas, bait, ice or whatever you might need.
Kayaks and canoes are available to rent and you can bring them out with you on the lake. My only regret was that we couldn't stay longer. (And I wouldn't have minded some hot weather so I could try out the cool slide attached to the back.)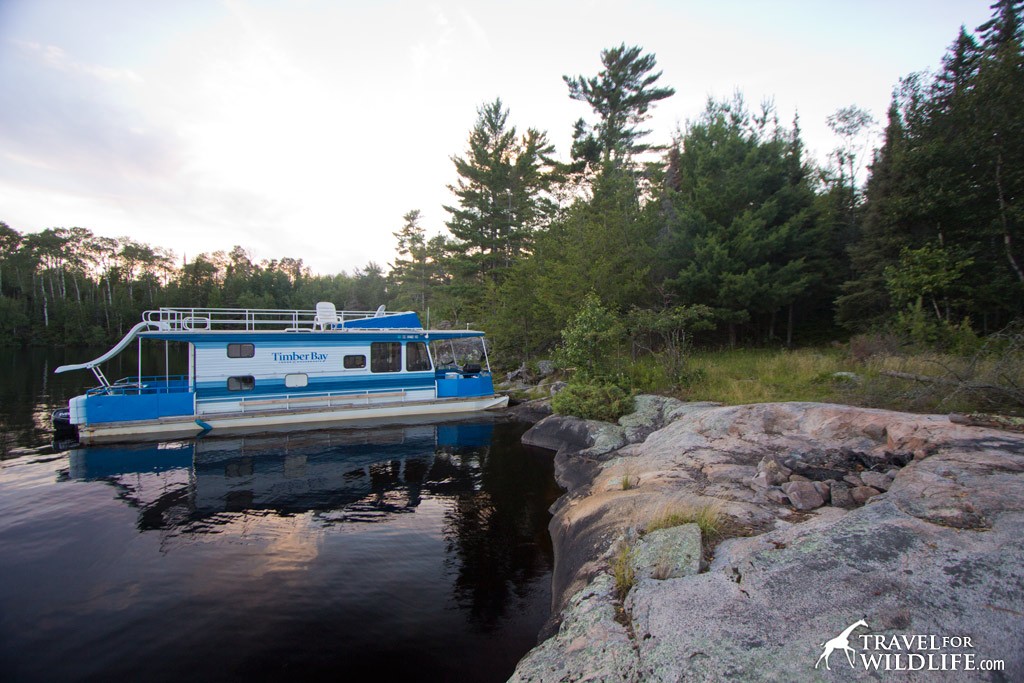 If you're heading to Ely for an outdoor adventure, to visit the Boundary Waters Wilderness Canoe Area (BWCA) or looking for lodging near the International Wolf Center, we highly recommend you try out Timber Bay Lodge and Houseboats. It is said they are one of the best Minnesota fishing resorts! Check them out if you are ready for a houseboat vacation!
For rates and more information on a Minnesota cabin rental or houseboat rentals visit the Timber Bay Lodge website.
Disclaimer: Free accommodation was provided in exchange for this article but the opinions expressed herein are all our own.

---
Did you enjoy this article? Pin it!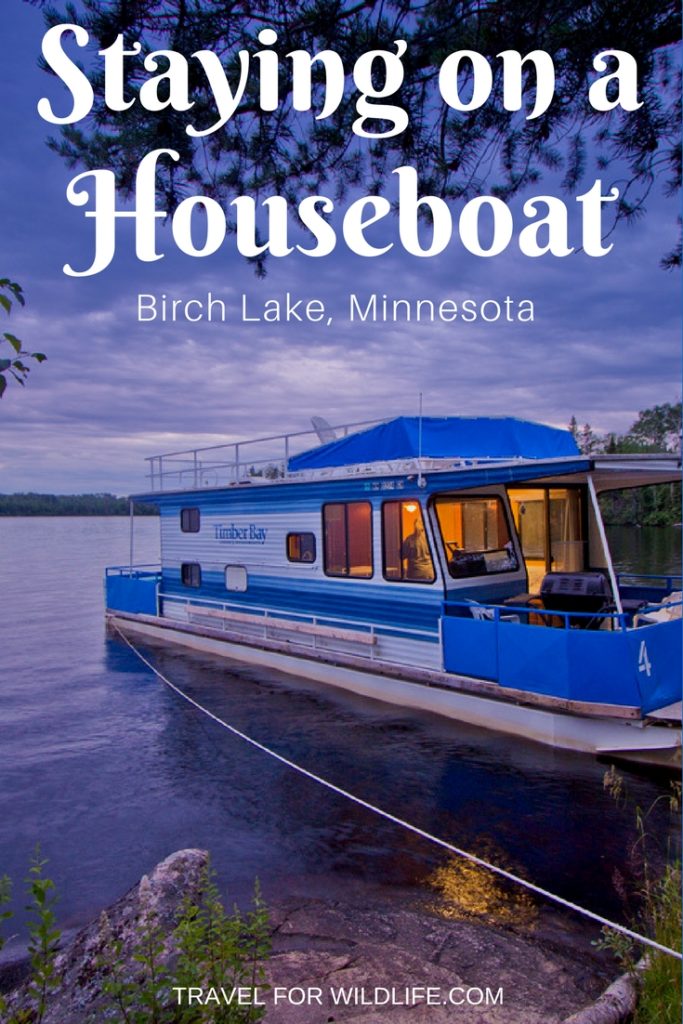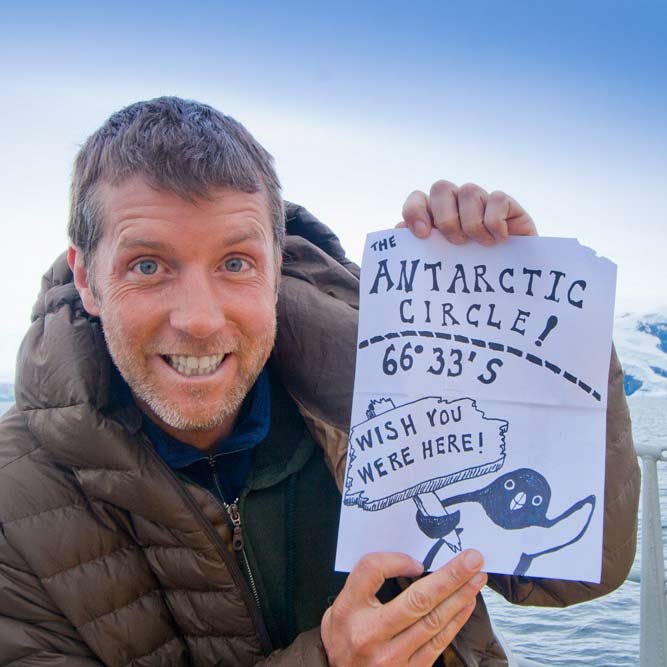 Hal Brindley
Brindley is an American conservation biologist, wildlife photographer, filmmaker, writer, and illustrator living in Asheville, NC. He studied black-footed cats in Namibia for his master's research, has traveled to all seven continents, and loves native plant gardening. See more of his work at Travel for Wildlife, Truly Wild, Our Wild Yard, & Naturalist Studio.