About Travel For Wildlife
Hi everyone! We are so glad you found us!
We are Hal and Cristina and we are crazy about wildlife. Our passion is to travel and explore the wilderness and all the animals that live in it. This is what we love to do and we want to help you plan your wildlife adventures. It's easier than you might think!
With our articles, videos and stories we want to promote conservation through responsible wildlife tourism. You can travel responsibly and have amazing experiences in the wild.
---
Awards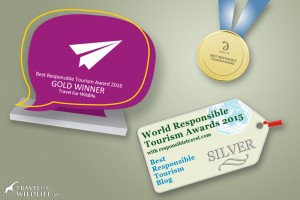 We are so excited to report that we've received the following awards for our efforts in responsible tourism! Read more on our Awards Page.
• Gold for Best Responsible Tourism Blog at the Cinnamon Travel Blogger Awards, TBC Asia in Sri Lanka 2016
• Silver for Best Responsible Tourism Blog at the World Responsible Tourism Awards in London 2015.
---
Here's a little more about us.
Cristina Garcia

I was born and raised in Barcelona and now live in the United States. Since earning my zoology degree I've worked with a jackal study in Namibia, a wolf project in Romania, and a cheetah and leopard tracking project in South Africa. I learned English while living in England, Scotland and Ireland which causes some Americans to be totally confused by my accent. If you meet me just pretend you understand me and we'll be friends.
My biologist/zoologist friends call me a poologist because I am obsessed with scats. I'll often make Hal stop the car just so I can examine a poop and see what that animal ate. It is fascinating. One of my dreams was to do a Phd in poo (probably bear poo). For real.
I am proud to be on the Board of Directors of SEE Turtles, a non-profit sea turtle conservation organization.
My favorite animal encounter? Swimming with beluga whales in Manitoba, no doubt!
---
Hal Brindley

I am an American wildlife photographer, film-maker and writer. I have a passion for animals of all kinds, even though I was afraid of kittens and chipmunks when I was a kid. My famous photo sequence of a leopard attacking a crocodile has been published in newspapers, magazines and books around the world. I founded a small production company called Dodo Films which produced the critically acclaimed digital series "The Enviro-Mentals".  Some of my photos can be viewed at HalBrindley.com. My photos & writings have recently appeared in Ranger Rick Jr, Asian Geographic, and Getaway Magazine. My video clips have appeared in several National Geographic television shows. In my previous life I owned BMX clothing companies 2B Homecooked and PLAY Clothes. Then one day I decided to sell the business and become a wildlife photographer. Woo hoo!
That is a question that everyone asks us since we come from different continents. It was the good old internet. Kinda.
A few years ago I (Cristina) was working in Dublin, Ireland as a GIS consultant. I was basically analyzing data and making maps on a computer. One day I picked up the free Dublin newspaper and there it was, an incredible photo of a leopard killing a crocodile. At my lunch break I googled (is this even a verb?) the photographer's name: Hal Brindley. I went to his photography page and there he was, smiling at the camera with some walruses in the background. I thought he was smiling at me so I emailed him! To my surprise, he emailed back and we started an online conversation.
A few weeks later we decided to meet up in South Africa and travel around for 7 months without ever having met or even spoken on the phone!
So we met in Cape Town, bought an old 4×4 and hit the road. We had the best trip ever exploring the Kalahari desert, swimming with wild dolphins in Mozambique and tracking cheetahs in Zululand. Along the way we fell in love and after the trip Hal asked me to marry him!
And here we are! Crazy stuff, huh?
We hope you enjoy hanging out with us while we explore the wild!