About Travel For Wildlife
Hi everyone, we're so glad you found us!
We are Hal and Cristina and we are crazy about wildlife. Our passion is traveling the world in search of amazing animals. We want to help you plan your next great wildlife adventure. It's easier than you might think!
With our articles, videos and stories our goal is to promote conservation through responsible wildlife tourism. You can travel responsibly and have amazing experiences in the wild.
We are also the founders of Truly Wild, a sustainable clothing company dedicated to wildlife conservation. And don't forget to check out our sister website Our Wild Yard, where you can learn how to turn your own backyard into a wildlife paradise!
---
Awards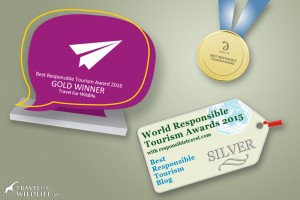 We're excited to report that we've received the following awards for our efforts in responsible tourism! Read more on our Awards Page.
• Gold for Best Responsible Tourism Blog at the Cinnamon Travel Blogger Awards, TBC Asia in Sri Lanka 2016
• Silver for Best Responsible Tourism Blog at the World Responsible Tourism Awards in London 2015.
---
Here's a little more about us.
Cristina Garcia

Born and raised in Barcelona she now lives in the United States. I have a BSc(Hons)Zoology from Liverpool John Moores University and a Msc in Geographical Information Science from The University of Edinburgh.
Since earning my zoology degree I've worked with a jackal study in Namibia, a wolf project in Romania, and a cheetah and leopard tracking project in South Africa. I also participated in a wild dolphin behavior study in the Canary Islands. I learned English while living in England, Scotland, and Ireland which causes some Americans to be totally confused by my accent. If you meet me just pretend you understand me and we'll be friends.
I am proud to be on the Board of Directors of SEE Turtles, a non-profit sea turtle conservation organization.
My favorite animal encounter? Swimming with beluga whales in Manitoba, no doubt!
Read more of Cristina's posts on Travel For Wildlife.
---
Hal Brindley

I began photographing wildlife in 1999 and have since traveled the world in search of wild places and wild creatures. I've had the great privilege of visiting all seven continents, including five weeks of sailing in Antarctica, road-tripping around Australia, back country camping in Alaska, extensive tours of Central America, hiking in the Russian steppes, and multiple visits to Southern Africa. I've spent several years volunteering for a wildlife rehabilitation centers in North Carolina and California and have since volunteered for wildlife conservation projects around the world, from monitoring sea turtle nesting beaches in Costa Rica, to assisting with a swallow-tailed kite tracking study in the wilds of Brazil, as well as three months of cheetah and leopard monitoring in South Africa.
I recently completed a master's program in Conservation Biology at the FitzPatrick Institute of African Ornithology (University of Cape Town) in South Africa and had the awesome experience of studying black-footed cats in Namibia for my research project. I'll link to the paper once it's been published!
As a photographer I've worked on assignment for the Nature Conservancy Magazine in Panama, RARE Conservation in South Africa, and SEE Turtles in Costa Rica and Nicaragua. My photos and writing have appeared in magazines around the world including Asian Geographic, Getaway Magazine in South Africa, and Ranger Rick Jr in the United States. My video and photo work have appeared on television shows ranging from National Geographic Channel's "Caught In the Act", to 50/50 in South Africa, Q-Sama Quiz Show in Japan, and most recently a children's show in Germany. I also have the distinction of being the only person in history to have documented a leopard attacking a crocodile. The photo sequence of this event is actually what lead me to meet Cristina. (Read more about that below.)
Read more of Hal's posts on Travel For Wildlife.
---
So how did we meet?
That is a question that everyone asks us since we come from different continents. It was the good old internet. Kinda.
A few years ago I (Cristina) was working in Dublin, Ireland as a GIS consultant. I was basically analyzing data and making maps on a computer. One day I picked up the free Dublin newspaper and there it was, an incredible photo of a leopard killing a crocodile. At my lunch break I googled (is this even a verb?) the photographer's name: Hal Brindley. I went to his photography page and there he was, smiling at the camera with some walruses in the background. I thought he was smiling at me so I emailed him! To my surprise, he emailed back and we started an online conversation.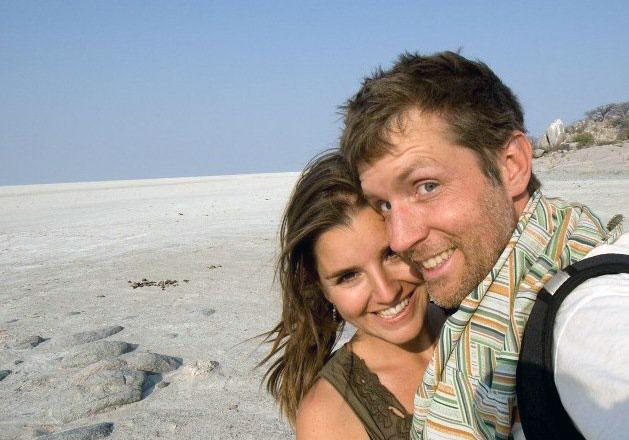 A few weeks later we decided to meet up in South Africa and travel around for 7 months without ever having met or even spoken on the phone!
So we met in Cape Town, bought an old 4×4 and hit the road. We had the best trip ever exploring the Kalahari desert, swimming with wild dolphins in Mozambique and tracking cheetahs in Zululand. Along the way we fell in love and after the trip Hal asked me to marry him!
And here we are! Crazy stuff, huh?
We hope you enjoy hanging out with us while we explore the wild!