Adventure wildlife travelers have two great reasons to get to Churchill, Manitoba on Canada's Hudson Bay: to swim with beluga whales in the summer (update: this is no longer allowed) and to see polar bears in the fall. Some even will venture on a walk with polar bears safari!
There's no place in the world more accessible or more predictable to see either of these creatures in such great numbers. (Watch our videos about snorkeling with belugas and kayaking with belugas and How To See Polar Bears in the Summer) But accessible is a relative term.
*This article may contain affiliate links. We receive a small commission at no extra cost to you.*
You see, there is no road running to Churchill. You have only two choices and neither one is cheap: airplane or train. Generally airplane is the fastest and train is the cheapest, but there are a few other options to consider if you want to come up with the perfect hybrid of cheap and fast. (The following scenarios assume you are traveling through Winnipeg to Churchill.)
By the way, there are lots of things to do in Churchill, not just see polar bears and belugas!
What is the Fastest Way to Get to Churchill?
Traveling by plane is certainly the fastest and easiest way. You catch a plane from somewhere in the world to Winnipeg, Manitoba. While there you can get psyched up by visiting some of their local wildlife-related attractions (read our article Wildlife Weekend in Winnipeg). We recommend you stay at the Fairmont in downtown (I mean, they have an indoor salt-water pool!).
Then you jump on a smaller plane and make the short flight, approximately two hours, and land in Churchill. That's it, Winnipeg to Churchill done. But it is also outrageously expensive for the distance traveled.
At the time of writing, a round trip ticket from Winnipeg to Churchill in polar bear season (November) cost around $1300. However, if you sign up for the Calm Air Newsletter you can be one of the first to hear about discounted seat sales. Visit the Calm Air website for current fares and schedules for flights to Churchill Manitoba.
AIRPLANE: Total Cost: $1300. Total Time: 2 Hours
---
What is the Cheapest Way to Get to Churchill?
Traveling by train is definitely the slowest way, and though it's often considered the cheapest, that's not necessarily true. The Via Rail Train from Winnipeg to Churchill takes almost 45 hours (two full days!). In fact, some have dubbed it "the slowest train in the world" and you can pick up a postcard to that effect in Thompson.
Why is it so dang slow? Because the repeated freezing and thawing of the marshy ground causes the tracks to buckle and heave, and traveling too quickly will almost certainly derail the train. I'm writing this on the train right now (read our post about Slow Travel in Manitoba) and we seem to be moving at about a brisk walking pace.
TIP: If the train isn't too crowded in economy seating, ask the attendant to turn the seats around in front of you and it will create something vaguely resembling a bed.
However, taking the train is substantially cheaper than flying. In fact a round trip ticket between Winnipeg and Churchill on an economy seat at the time of writing costs only $340 If you feel like living it up you can get a sleeper cabin. A single costs $928 and a double cabin costs $1392 (or roughly $700 per person).
One big benefit to taking the train the whole way is that it is certainly the most environmentally friendly mode of transportation with far lower carbon emissions than a plane. Unless of course you manage to sail into the Hudson Bay under wind power or walk straight through polar bear country (which I wouldn't recommend.) Visit the Via Rail website for rates and schedules.
TRAIN: Total Cost: $340. Total Time: 45 hours.
---
IMPORTANT NOTICE: TRAIN SERVICE REINSTATED
As of June 9th 2017, the train service between Gillam and Churchill is suspended indefinitely. According to the press release issued by Via Rail, service will resume when the track reopens. Due to catastrophic flooding (caused by two huge March blizzards), the track has been damaged in at least 19 locations and may take more than a year to repair.
Update: After 18 months of hard work, the train from Winnipeg to Churchill was reinstated on the 4th of December, 2018.
---
What is the Cheapest AND Fastest Way to Get to Churchill?
1) Drive to Thompson, Train from Thompson to Churchill
But there's one more option that most people don't think of. Drive your own car to Thompson and then get an economy seat on the train the rest of the way. This is actually the cheapest way to get to Churchill if you're driving your own vehicle, especially if there are two or more of you in the car. Plus it's much faster than taking the train all the way from Winnipeg.
Driving the 475 miles between Winnipeg and Thompson takes only about 8 and a half hours, as opposed to the 24+ hours it takes the train to cover the same distance (because it veers all the way into Saskatchewan and back).
If you drive to Thompson, then you'll only have a 16-hour overnight train ride remaining to Churchill. Yes the train from Thompson to Churchill is still painfully slow for covering only 300miles, but it's much better than starting on the train in Winnipeg. The roads are fast and well-maintained, the scenery is beautiful and the attractions are many. We saw two different black bears along the drive and camped by a beautiful lake.
We took our time and spent two days but it could easily be done in one. We drove up during beluga whale season (July-August) and the weather was great, although the mosquitoes were fierce. Keep an eye on weather and road conditions if driving up during polar bear season (November)
Here's my scenario (based on 2-person occupancy, $1.30/liter gas, and my car which gets 24 miles per gallon):
Gas from Winnipeg to Thompson round trip = $190 (For two people in a car this = $95 gas per person)
Economy train fare Thompson to Churchill round trip = $118
As you can see this is even cheaper than an economy train ticket all the way from Winnipeg (depending on your fuel efficiency and how many are in your car), and with proper planning, the trip can theoretically be done in only 24 hours instead of 48. If you have to rent a car at a minimum of $50 a day, then the cost gets prohibitively high again and it doesn't really make sense.
DRIVE TO THOMPSON, THEN TRAIN FROM THOMPSON TO CHURCHILL: Total Cost: $213. Total Time: 24 hours
---
2) Bus to Thompson, Train to Churchill
A roughly equal alternative to this technique is to take a bus from Winnipeg to Thompson and then an economy seat on the train from Thomson to Churchill.
The bus rate when I just looked it up was $178 round trip and the time in transit was about 9 hours. This means it is about the same price as a single person driving a car (though you'd still have to fly yourself to Winnipeg) and only marginally slower. Plus it is even more environmentally friendly. BUT NOTE: even though total time in transit is still roughly 24 hours, according to my research the bus arrives at 6:30PM and the train leaves at 5:00PM so you can't actually catch them back to back and make the full journey in under 24 hours. I do see an overnight arriving in Thompson at 7AM (leaving a ten-hour layover in Thompson) making a total travel time of about 36 hours.
See below about what to do when you're hanging around in Thompson. Visit Greyhound Canada for current rates and schedules.
BUS, THEN TRAIN Total Cost: $296. Total Time: 36 hours
---
3) Drive to Thompson, Fly Standby to Churchill
This is the best kept secret about the cheapest and fastest way to get to Churchill. You can actually drive (or take a bus) to Thompson and then fly standby on Calm Air to Churchill for substantially cheaper than the published fares. Simply call reservations (1-888-CALM-AIR) to inquire about availability and rates on standby fares flying from Thompson to Churchill. These unpublished fares are only available in Thompson and farther north; you can't get them from Winnipeg. So if you have a little flexibility and a little luck you can cut your transit time by quite a bit, without paying the full painful airfare from Winnipeg.
Here's how I estimated total cost. Gas for two people round trip Winnipeg to Thompson is about $190 so for two people in the car that's $95 each. I just called the number and was told that current round trip standby airfare between Thompson and Churchill is $589. Visit the Calm Air website to find other current deals between Thompson and Churchill.
DRIVE, THEN FLY STANDBY Total Cost: $684. Total Time: 10 hours
---
Where Do I Leave My Car in Thompson?
You can just leave your car at the train station for free, and many people do just that. Don't let reports of crime in Thompson scare you. This is a pretty safe option. However, if you're really paranoid, there is another great option: leave your car at the McCreedy Campground and catch their shuttle to the train station. They will only charge you $8 per day to leave your car in their parking area and included in that price is shuttle service to and from the train station. This is your ONLY good option if you're driving an RV.
That's what we chose to do and Colleen was very friendly and helpful. Contact Colleen at mccreedycampground@mts.net for more info or call 204-778-8810 or 204-677-4837. I've also read you can leave your car at the Thompson City Hall with 24 hour security, provided you make a small charitable donation (phone 204-677-7910).
Where To Stay in Thompson?
Trains only leave for Churchill on Monday, Wednesday, and Friday. If you don't plan your arrival correctly, you may find yourself hanging around for a day or two. Don't fret. There are lots of great lodging options in Thompson.
Budget travelers will enjoy the McCreedy Campground mentioned above because it's in a beautiful natural spot next to the river and very close to town. We stayed at the Lakeview Inns & Suites and thought it was excellent. The service was friendly, we used the coin-op laundry on site, and had a nice breakfast included (I love those waffle machines.) It also has a fitness center, but we are lazy and didn't check it out. Click here to check current prices and availability at the Lakeview Inns & Suites.
Other places to stay in Thompson:
What Do I Do In Thompson While I'm Waiting For the Train
If you're on your way to Churchill to see wildlife, then Thompson is a great destination of its own. It has begun to bill itself as "The Wolf Capital of Canada." Is Thompson actually the wolf capital of Canada? Well, maybe not quite yet. But it certainly is well on its way to becoming so. It all began with the world's largest wolf mural (10 stories tall!) and has bloomed into a series of projects aimed at making Thompson a world-class wolf tourism destination.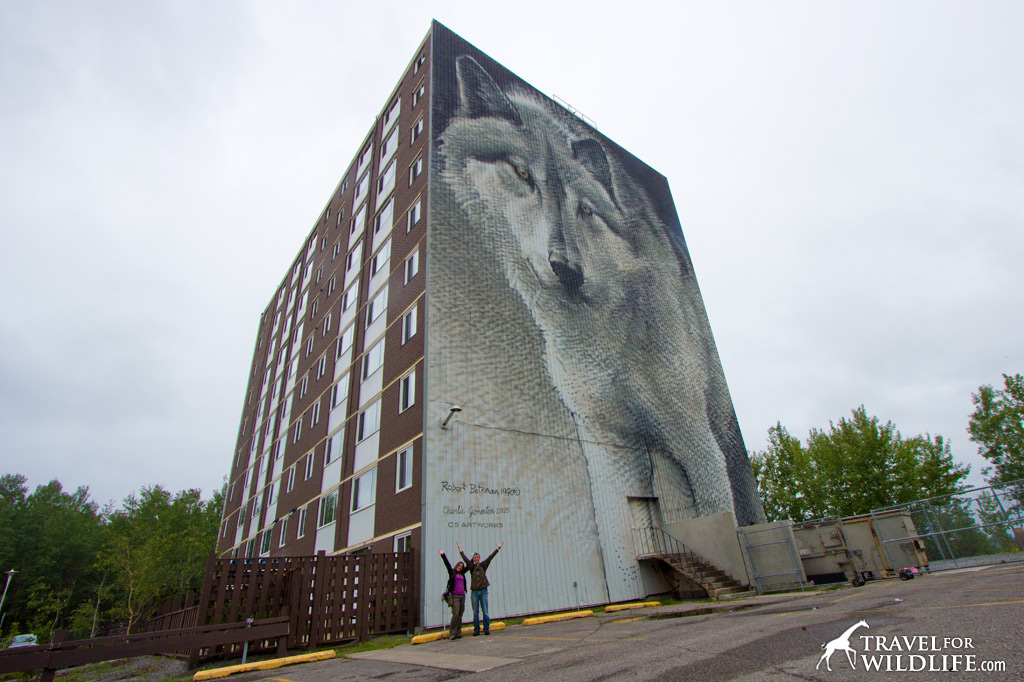 First of all, there are plenty of wolves around. We spoke at a Chamber of Commerce luncheon and I asked by show of hands how many had seen wolves around Thompson. All fifteen of them had, except for one guy who had only lived in the area for a week.
Roughly half of them had seen a wolf this year alone, and that was without actually trying. Secondly, plans are under way to lure international wolf research projects to the area and to construct an impressive nature center with a world-class wolf enclosure. Throw in a few excellent wolf tracking tour guides and Thompson just might pull it off.
After speaking with some of the dedicated volunteers behind these projects, I have no doubt that they will. Until then you can walk the Spirit Way and check out the wolf mural and visit the museum. And if you have your own car, take a short drive north of town and watch beavers working on their lodge, or head south to look for otters near the Pisew Falls.
Summary of How to Get To Churchill
In short, if you're long on money and short on time, take a plane. If you love slow trains and want to minimize your carbon footprint, take the train from Winnipeg. If you want to save a few bucks and want to see some beautiful destinations along the way (including the up-and-coming wolf capital of Canada) then drive yourself to Thompson and take a train the rest of the way.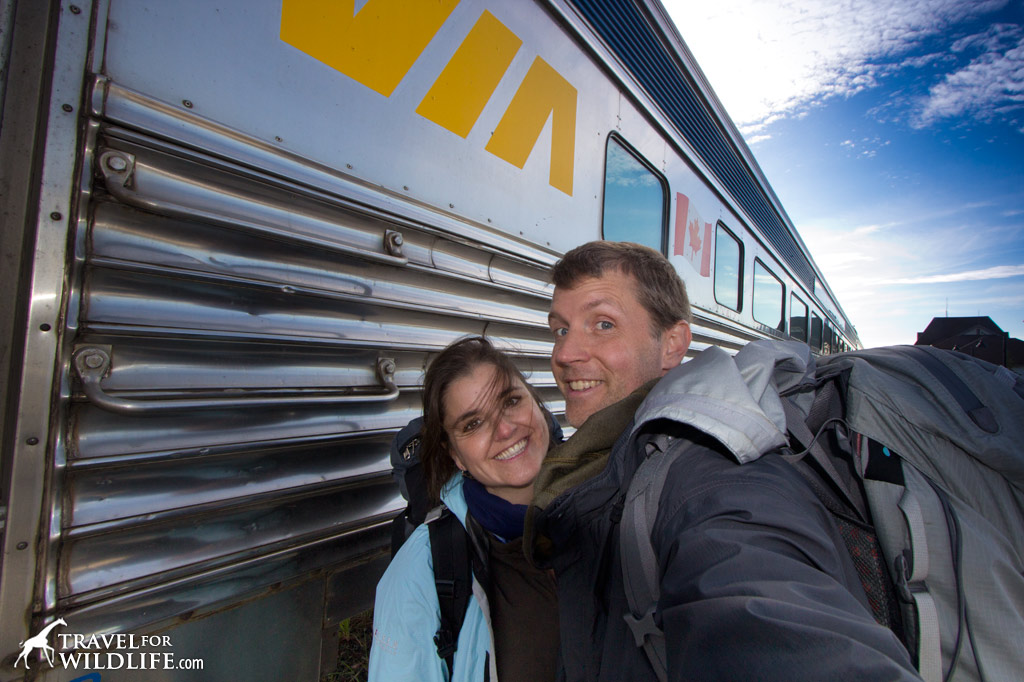 Disclosure: We had several sponsors that made this trip possible for us. Namely Travel Manitoba who provided our stay in Thompson and Tourism Winnipeg who provided our lodging in Winnipeg. Our train ride was provided by VIA Rail. However, all the opinions expressed herein are entirely our own.
---
Did you enjoy this article? Pin it!