We like to travel slow. Whenever possible we prefer to drive instead of fly. Mainly because it's cheaper, but also because it's a lot easier to pull over and take a photo in a car than in an airplane. We enjoy discovering new roads, new camp sites, and new places to eat along the way. And, as an environmental bonus, driving produces less CO2 per person than a flight of the same distance.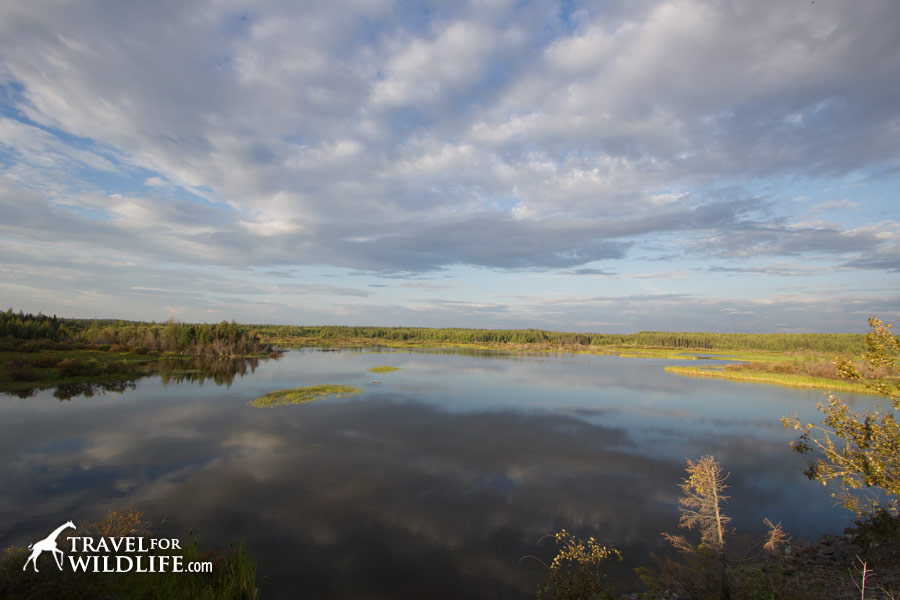 However, on this particular leg of our journey, driving was not an option. That's because there are no roads leading to Churchill, Manitoba. Our choices were either fly to Churchill or take the train to Churchill. This time we opted to hit the tracks.
What would normally have been a 5 hour drive was actually going to take us 15 hours by train. I was really looking forward to the ride. I wanted to enjoy the views and see how the landscape changed as we traveled north. I wanted to see Northern Manitoba and not just fly over it. And I wasn't disappointed.
While in Thompson many people warned us about the speed of the train, "Oh, you're taking the train to Churchill. The slowest train in the world!". But locals aren't complaining or putting it down, they're embracing it. You can even get your own Slowest Train in the World postcard in Thompson. It features a butterfly racing the train, and winning.
Taking the Train to Churchill
We didn't really want to leave our car untended at the train station for a week so we parked it at McCreedy Campground where (for a small daily fee of $8) the owners will keep it and give you a lift to and from the train station. Not a bad deal. (To contact McCreedy Campground, phone 204-679-6315 or email mccreedycampground@mts.net)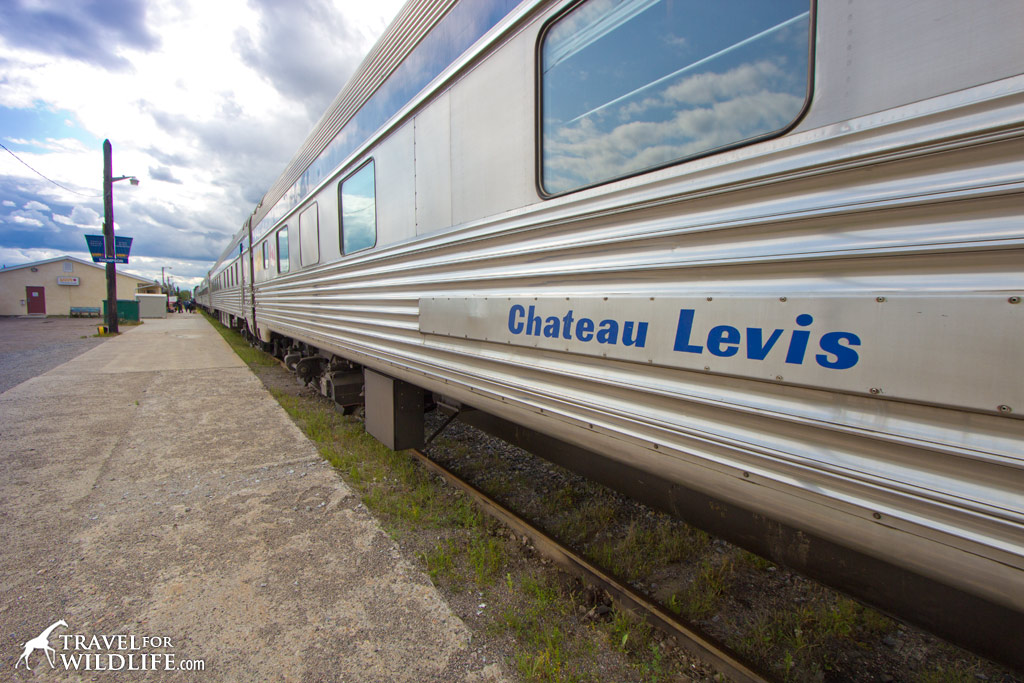 Our train pulled out of Thompson at 5:30pm. We each had our own individual sleeper cabin which we were pretty excited about. Each had a seat, a bed, a sink and a toilet. (Your own toilet for the ride!) There was also a shower toward the front of the sleeper car (towels and soap are provided). The restaurant car is in the middle of the train where you can get coffee, soft drinks, wine, beer, and even dinner and breakfast. This was going to be fun.
We were told by one of the passengers that the meals were boring TV dinners. "Bleah!", she said over and over. "They used to have a cook on board but not anymore. Now it's just microwave food. Bleah!" Thankfully we had brought our own bread and cheese.
For the first hour or so, Hal ran around both of our cabins and the train like a five-year old. He was full of excitement and was exploring every single thing in the cabins. He looked in every nook and pushed every button.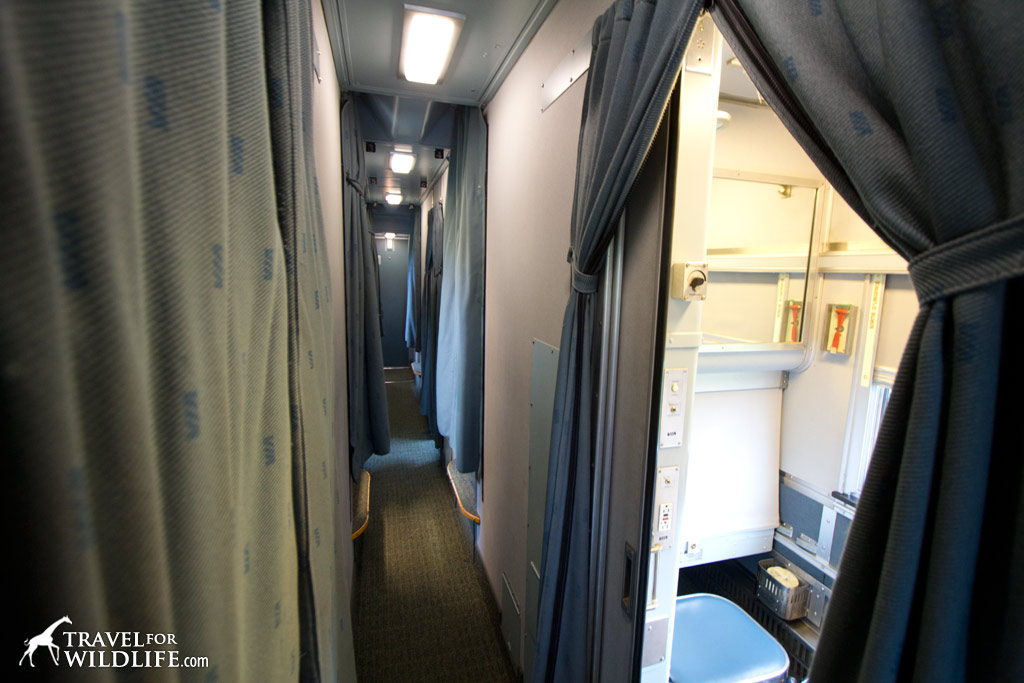 Then he finally settled down and we sat together in my cabin and watched northern Manitoba pass by. We crossed bridges, lakes, and many miles of forest. We stopped at a couple of little settlements where we were allowed to get out for a couple of minutes. I wondered how life must be up here in the winter. There are no official roads north of Thompson and the ski doo is the vehicle of choice when the snow takes over. I always fantasized about living a whole winter in a remote place like this.
After dinner, we decided to treat ourselves to a $6 carton of what was labeled as Spanish wine, but I'm pretty sure it was just the liquid they used to clean out the barrels. Classy stuff. But it successfully put me to sleep.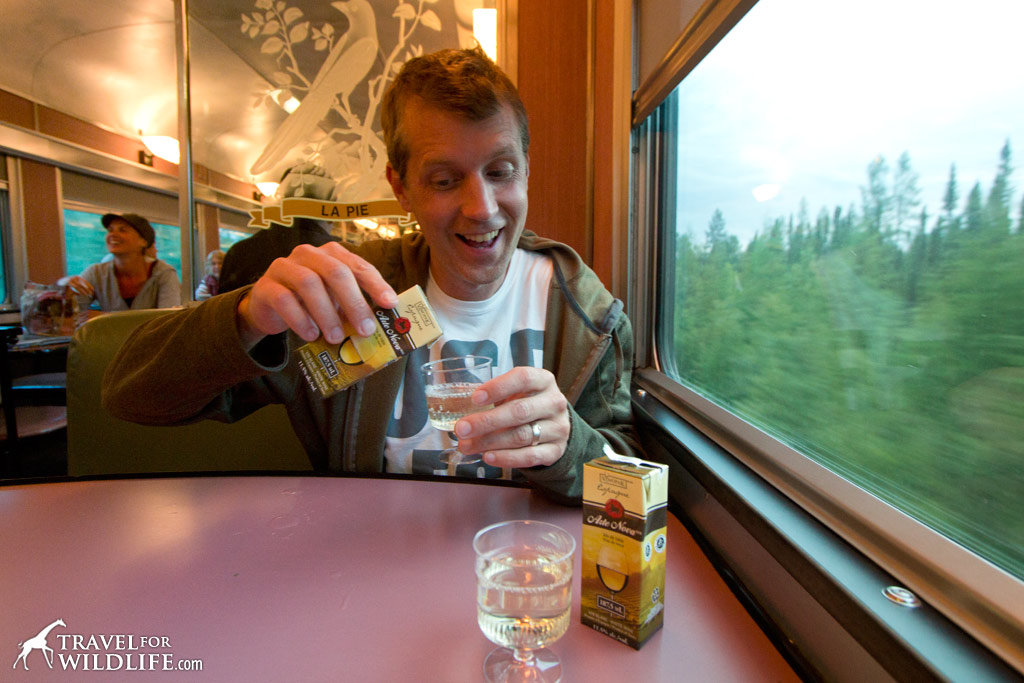 We crammed into the bed in one of our single compartments and watched the forest pass by in the night. It was OK for the first hour, then I got a cramp in my leg and Hal got one in his arm, so we decided to retire to our own cabins.
I didn't even remember to look up and see if the northern lights had made an appearance…
"Ding, ding, dinnng…", the cheerful attendant sang through the speakers, "Goooood morning! We'll be arriving in Churchill in just over an hour. We have fresh coffee and egg muffins. Come and get 'em!"
By then the change in the landscape was striking. I sat on my bed and realized that the boreal forest was slowly transforming into Canadian tundra before my eyes.
"Did you see the caribou this morning? On the right side of the train?" one of the attendants asked a passenger. Nope, nobody saw the caribou. "No? What were you doing? Sleeping on the train?"
We looked at each other with excitement. Wildlife!
Then suddenly, we were in Churchill. Polar bears and beluga whales here we come!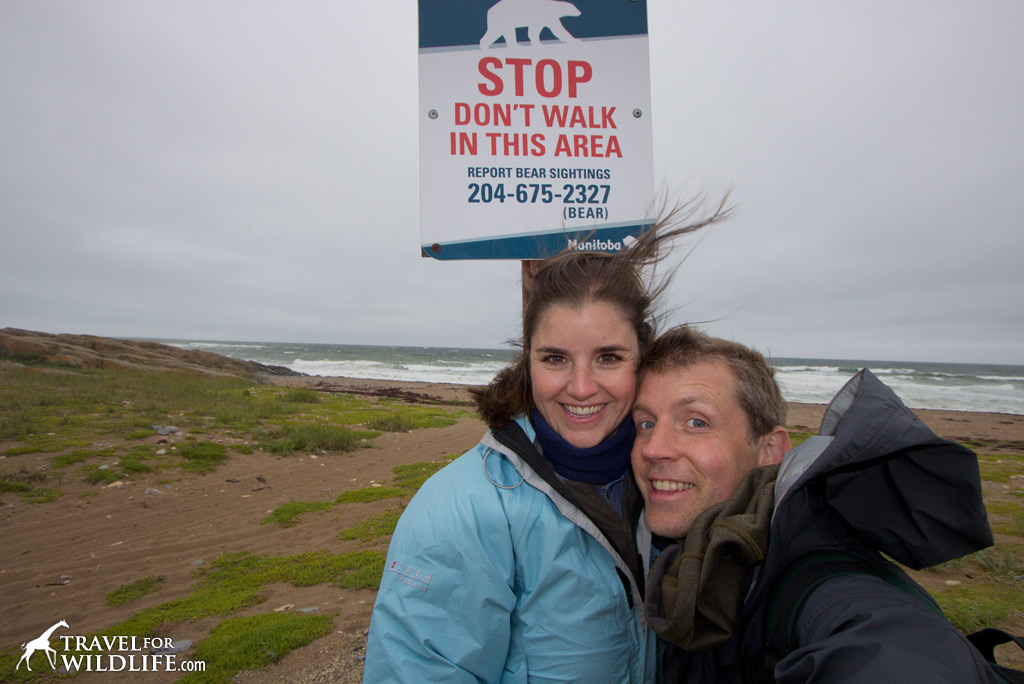 Disclosure: Via Rail provided our train tickets for us, but the opinions expressed herein are entirely our own.
---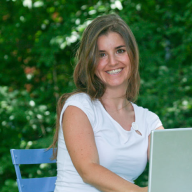 Cristina Garcia
Zoologist and wildlife photographer. She has worked in the field with jackals, wolves, cheetahs, & leopards. She serves on the Board of Directors of SEE Turtles, a non-profit sea turtle conservation organization.
Read her posts at Travel For Wildlife and see more of her work at Truly Wild, & Our Wild Yard.