Tofino may be tiny and remote, but it is world-famous for three reasons: surfing, storm watching, and whale watching. This charming little town sits at the end of the Trans Canada Highway on Vancouver Island where the mountainous coastal rain forest meets the pounding waves of the Pacific.
Bears, bald eagles, and cougars mingle side by side with grey whales, sea lions, killer whales, and sea otters, making Tofino one of Canada's top wildlife-watching destinations. Most of the people visit to go whale watching in Tofino, bear watching, surfing, and to visit the hot springs in Tofino. But you can find plenty of other activities in our things to do in Tofino post. You won't get bored in this incredible place!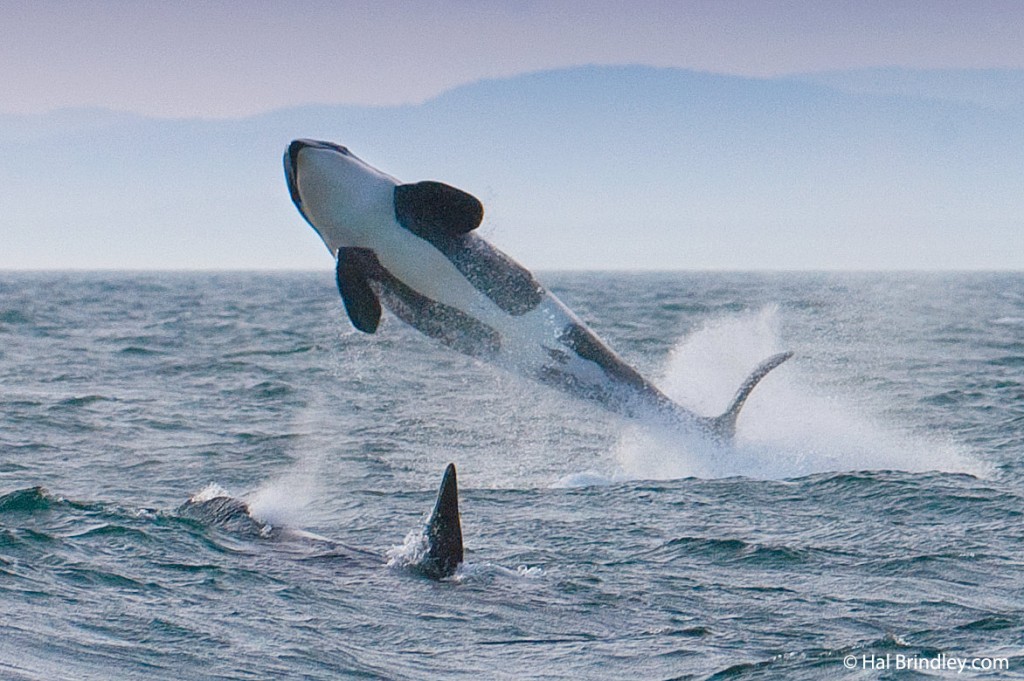 *This article may contain affiliate links. We receive a small commission at no extra cost to you.*
Each March, the town holds its Pacific Rim Whale Festival. For 26 years, the locals have celebrated the arrival of the Grey Whales who migrate from Mexico in great numbers. They are on their way to the summer feeding grounds along the coast of Alaska.
Dozens of activities from photo contests to documentary presentations bring the whole community together to see the whales gliding along the coast. The festival fundraiser is one of the main events. The Wickaninnish Inn's Gala Dinner and Silent Auction is a sold-out yearly event where they present the finest local cuisine and west coast treasures made by local artists to support whale education and research.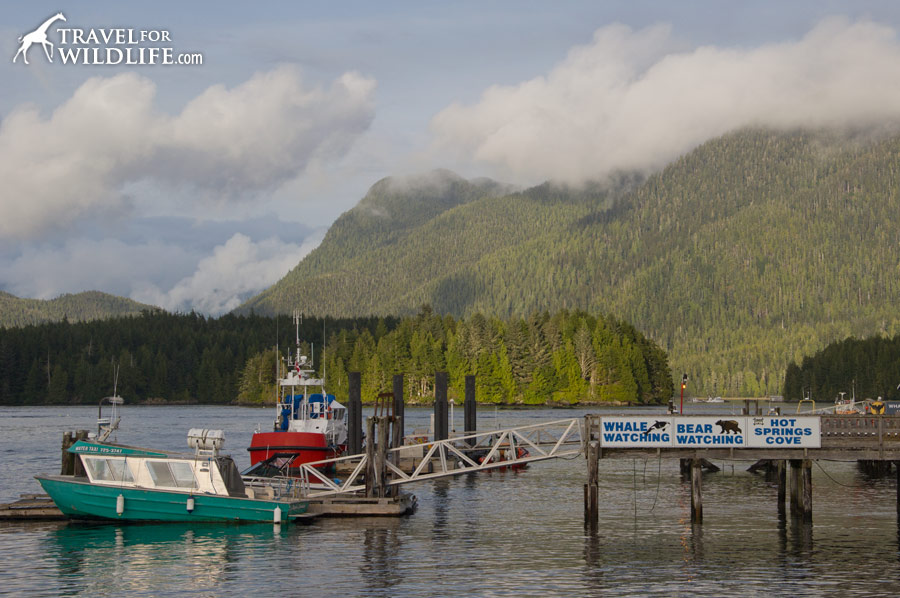 What Type of Whales Will You See In Tofino
When you go on a whale watching tour in Tofino you have a chance of seeing humpback whales, grey whales, and orca whales. You are most likely to see grey whales, while killer whales are a bit trickier to spot (orca whales are technically not whales but the largest of the dolphins!).
Humpback whales are in the Tofino area from June to September. If you do see a whale during your tour, will you be able to tell them apart? Check out our post How to Identify a Grey Whale and make the most of your outing. Hint: Grey whales don't have a dorsal fin.
What Other Wildlife Will You See?
The Tofino area (Clayoquot Sound included) is one of the top wildlife destinations in Canada. And you'll see why when you take your whale watching trip. On your whale tour, you can also see steller sea lions, sea otters, and harbor porpoises among other sea mammals, as well as a wide variety of sea birds and bald eagles.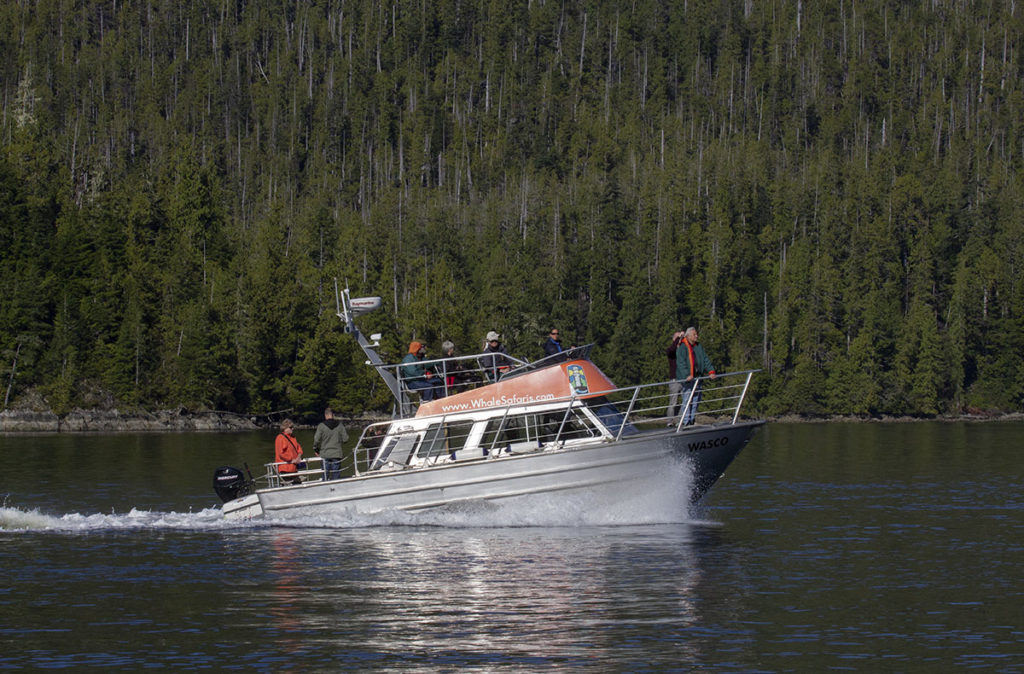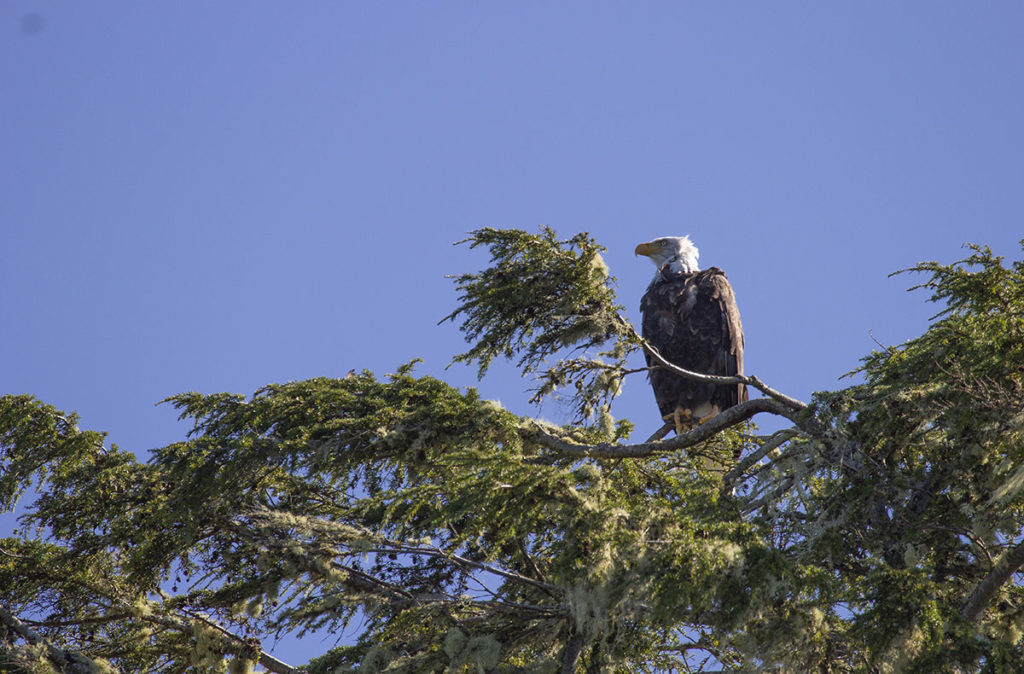 Some times of the year are better than others if you want to see other wildlife in this pristine wilderness.
For example, if you want to see bears in their natural environment, April to October is the best time. And during low tide is better, as you'll find black bears foraging on the beaches. We saw the black bear in the photo below flipping large rocks in search of lunch.
If you want to see Tufted puffins, time your tour from June to the end of August. We didn't get to see Tufted puffins as our trip was in September and we had just missed them.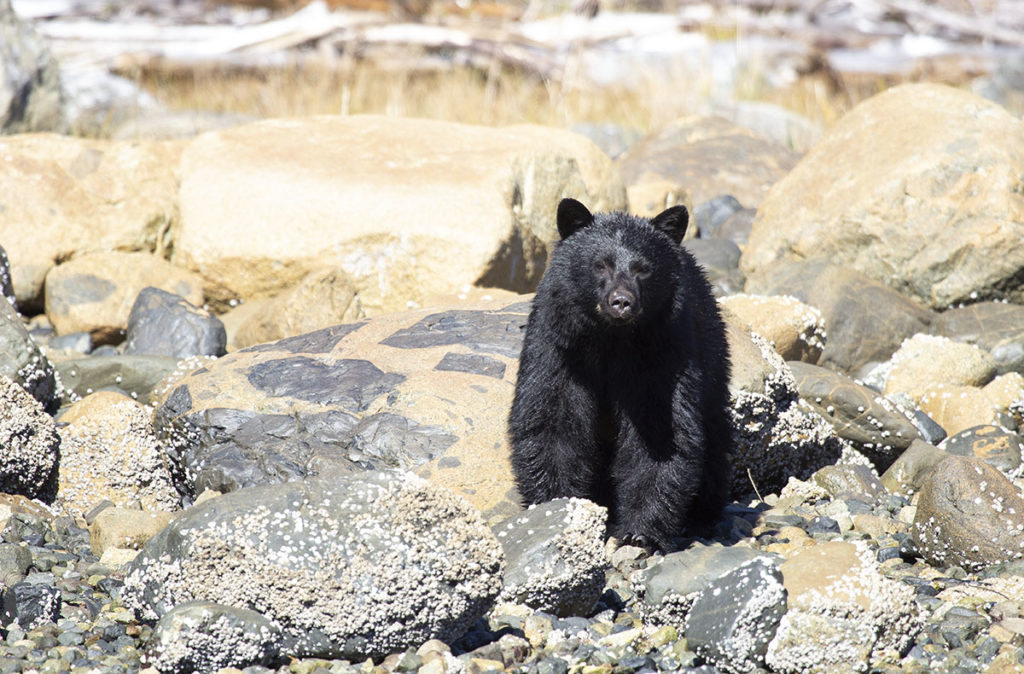 So, if I was visiting again and I could choose the best time of the year, I'd probably go during the summer months, specifically in late July, to make sure I got the most wildlife sightings out of our trip.
Our Tour
We took our tour with The Whale Center, and while it wasn't a private tour, ours was one of the small groups that went out that day. There were maybe 8 people on it.
Their 2.5-hour whale watching trip takes you to the unsheltered bays surrounding Tofino where the open Pacific Ocean can be a bit rough. It's a small price to pay to watch Pacific gray whales feeding and lobtailing. Our boat was definitely heaving a bit, but we got to see some resident Stellar sea lions.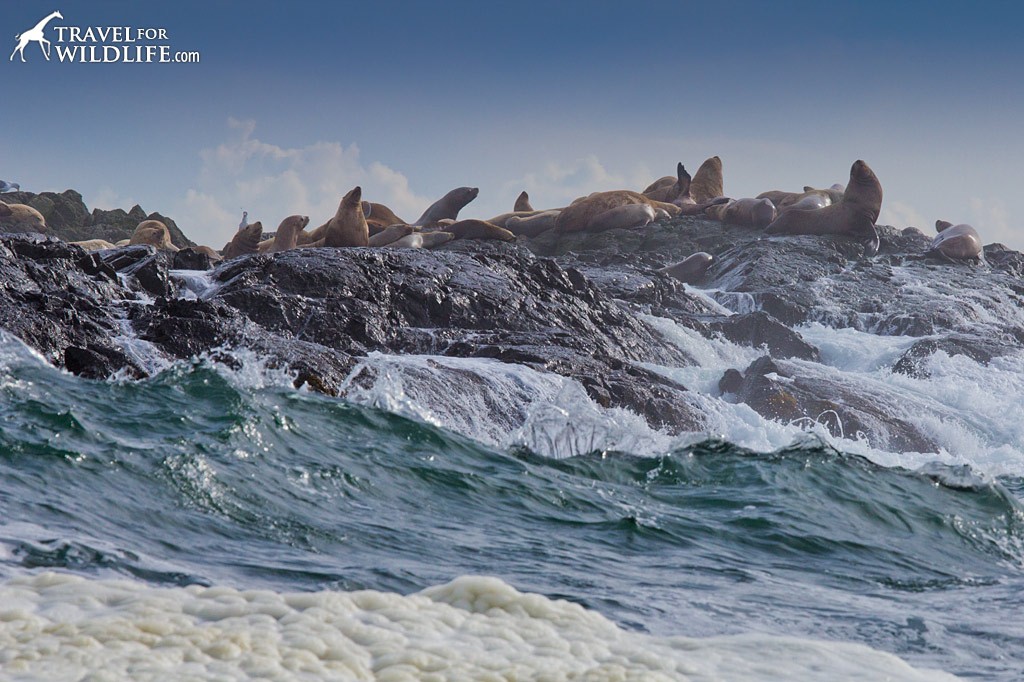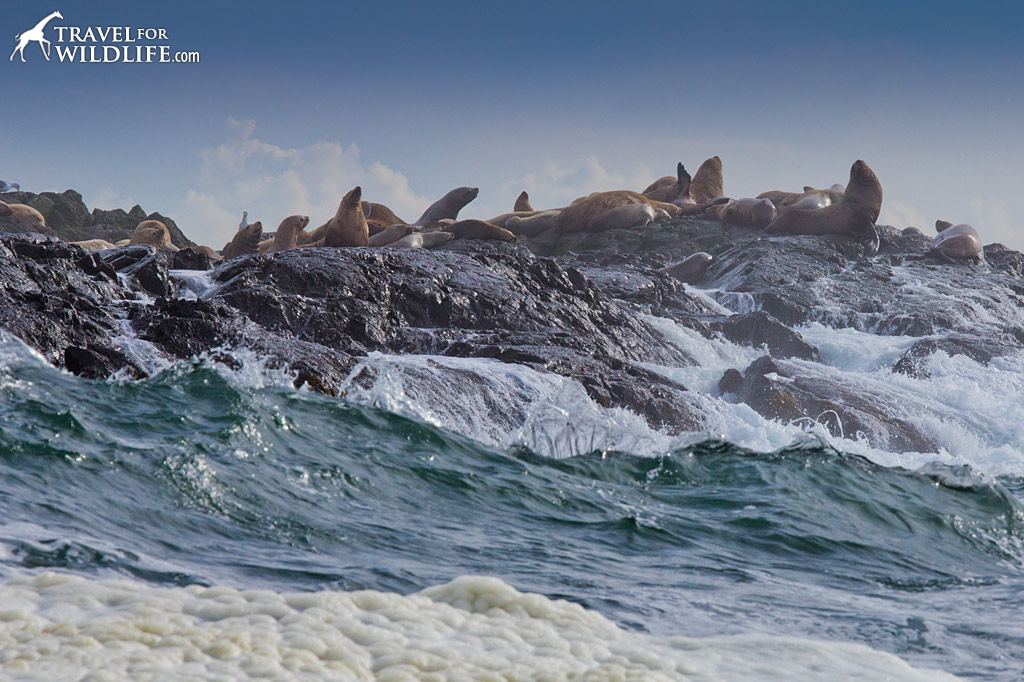 Then we had a few magical whale sightings with a couple of Gray whales and Humpback whales. That's all you need to forget seasickness.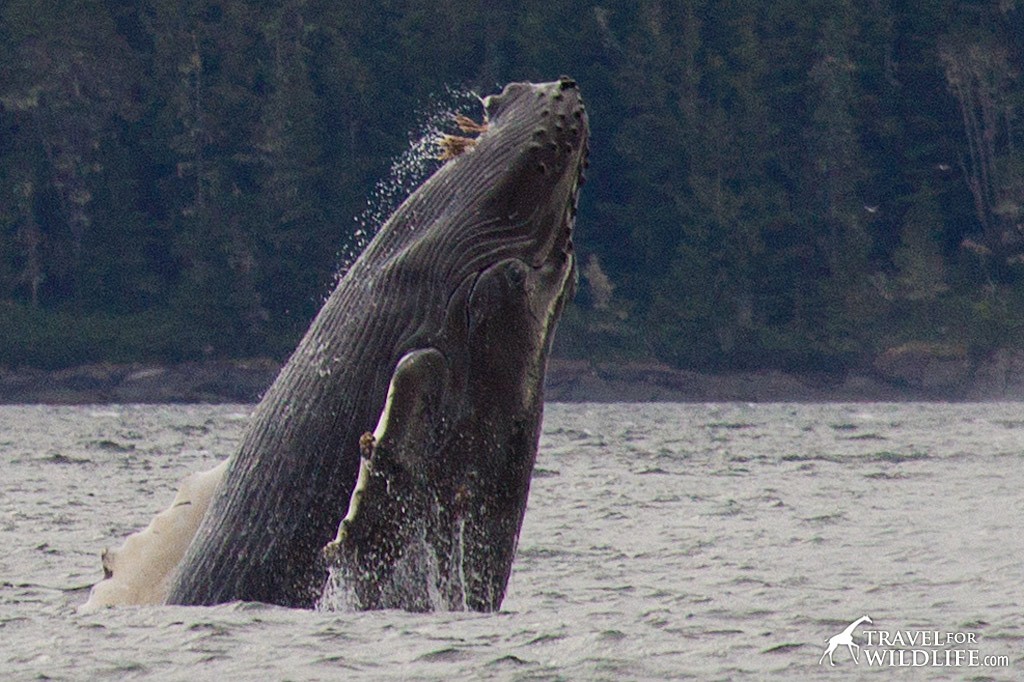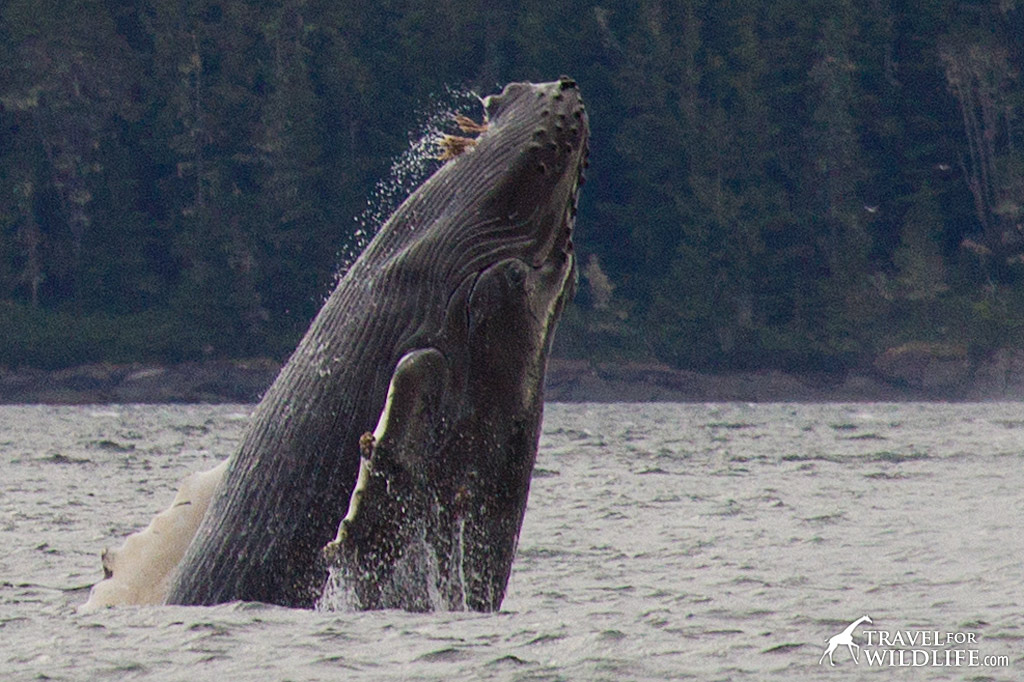 I shouldn't forget about the cutest sea otter we saw floating in the ocean!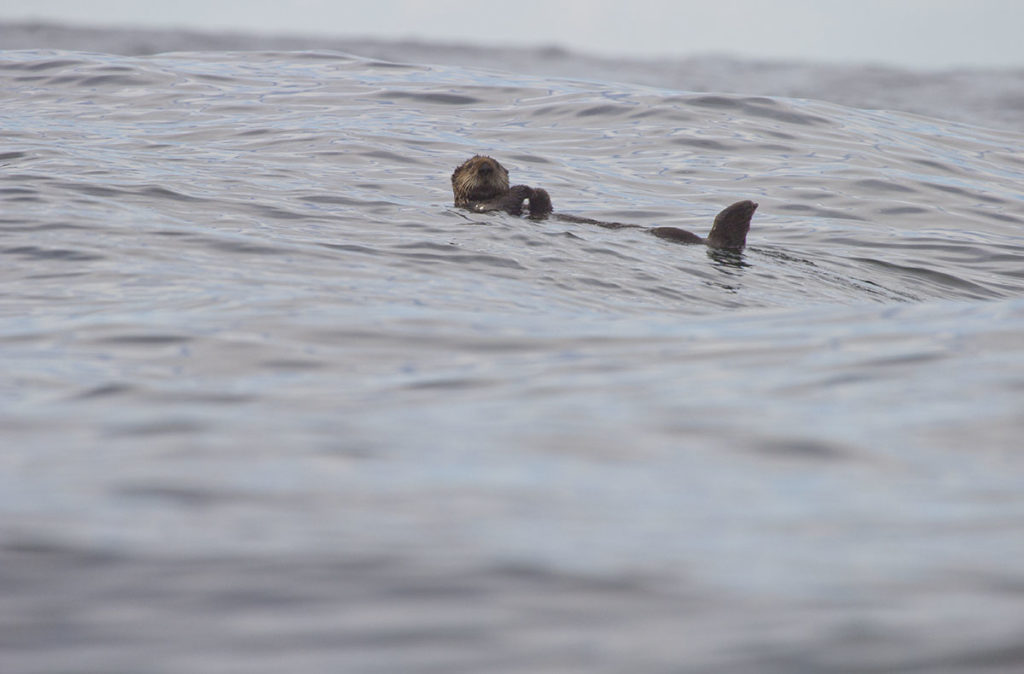 After some time in the open ocean, the tour retreated to the more sheltered inland bays. This is where you normally go on a bear-watching tour. The water is calmer than in the open sea, so photography and video work are much easier. Black bears emerge on the rocky beaches at low tide to search for crabs under the barnacle-encrusted stones. (Grizzly bears are only very rarely spotted on Vancouver Island, in the rare occurrence that a grizzly swims over from nearby islands.) Watch how easily they flip huge rocks over and how effortless it seems! The bears don't seem to be bothered by boats near the shore, but they will leave if another bear approaches their feeding area.
Whale Watching Tours in Tofino
There are a number of tour operators in the Tofino area. We used The Whale Center and we recommend them, but here's a list with others in case The Whale Center is booked up. Some of these outfitters will arrange a private charter too.
Weather conditions will affect whether your tour is a go or not. Normally, tours are not canceled if it's raining. They'll only cancel if the ocean conditions are too rough and unsafe. Most of the outfitters will give you a 'rain check', meaning you can come back another day and use your ticket. Check with your tour operator.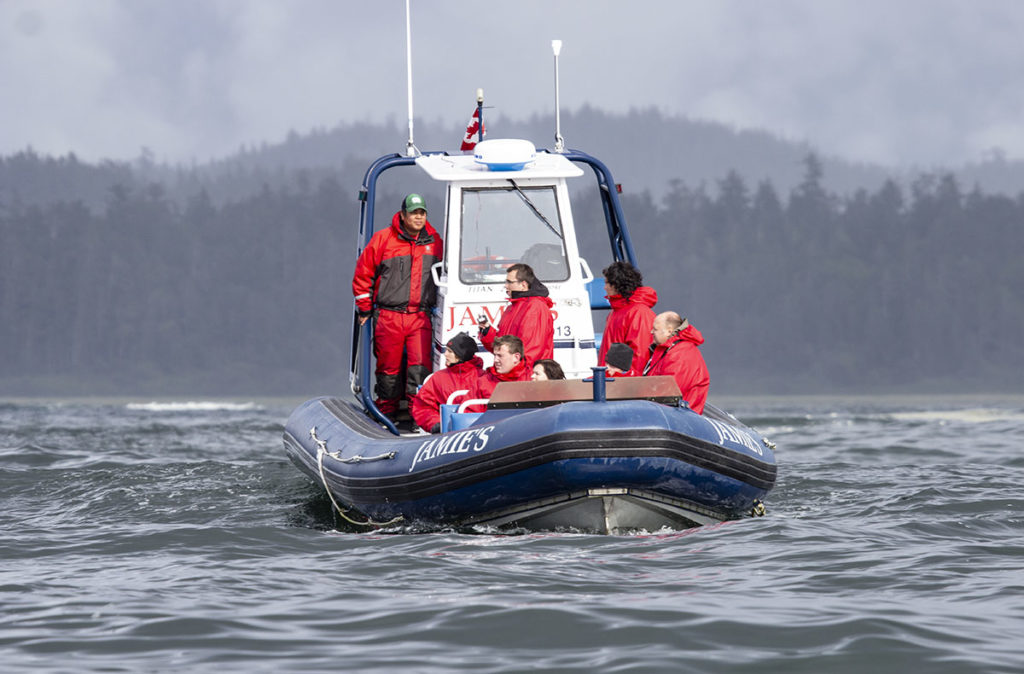 Kayak Whale Watching
It is possible to see whales from a kayak. For that, of course, you'll need to book a sea kayaking tour. Majestic Ocean Kayaking offers day trip and multi-day kayaking tours. While whale watching is not the main focus of this tour company, there is a chance you'll have an unforgettable close encounter while kayaking. Note that these tours operate from Ucluelet.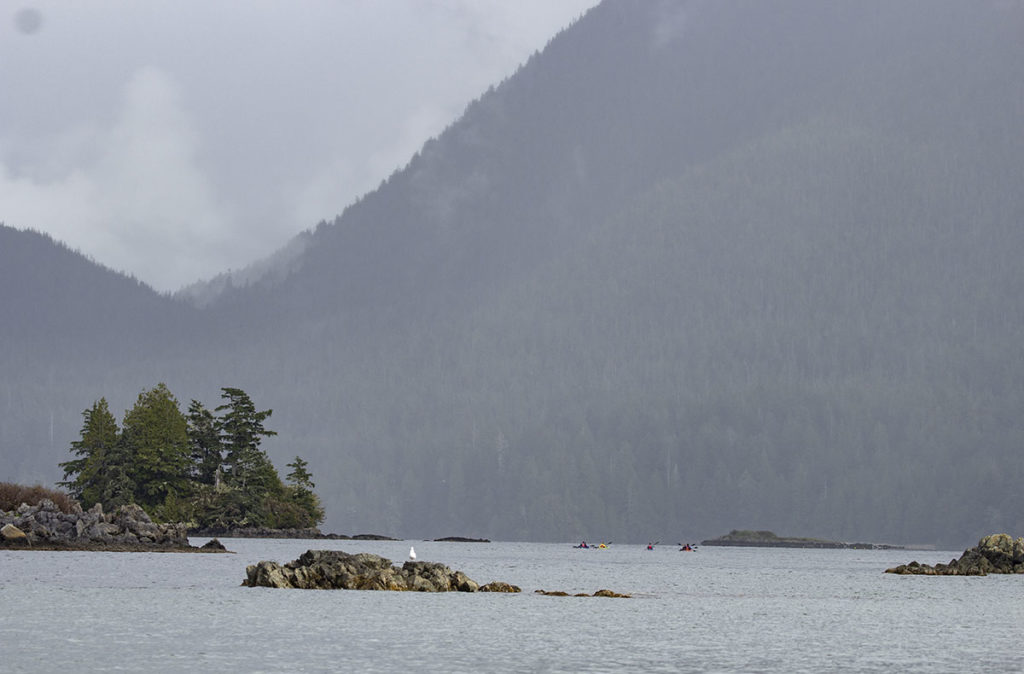 Where to Stay in Tofino
There are many types of accommodation in Tofino, from camping to motels to upscale establishments, and of course you can find beautiful cabins in Tofino.
Now that you've seen whales and bears, you need to check out the beautiful North Pacific tidal pools. Colorful sea anemones, shy hermit crabs, and the many-legged sunflower stars, all live in these pools and the best place to see them is at the Wickaninnish Inn. The beaches in Tofino and mudflats around the inn are also vital for shorebirds like the Western Sandpiper, Whimbrel, Short-billed Dowitcher, and the Semi-palmated Plover who stop in the area to feed and rest during their annual migration. We stayed here for a night and it was a great place to put your feet up after a hike, you can check out our Wickaninnish Inn review here.
It does get wet around the pools as the tide comes back in, but don't worry about getting your feet soaked. The Wick (as the inn is locally known) has rain boots for you to borrow, as well as raincoats, and umbrellas. If you do climb on the rocks, make sure you don't step on top of the barnacles and mussels. They are much more fragile than you'd expect.
After your busy day of wildlife watching and hiking, settle down in your cozy room, where you can storm watch by the warmth of your own fireplace, or enjoy a world-class dinner at The Pointe Restaurant with panoramic oceanfront views.
Other incredible places to stay in Tofino include the Pacific Sands Tofino and the Ocean Village Beach Resort with cute cabins right on the beach. Or how about staying in the equally cute Ucluelet village? Check out these Ucluelet cabins, just a few miles down the road from Tofino.
If your budget is tight we recommend the Green Point campground at Long Beach in the Pacific Rim National Park Reserve (open May 1 to mid-October). If you ever wanted to camp with gnomes, this forest fairyland is probably your best chance!
Have you been to Vancouver Island? Share your wildlife adventures in the comments below! And don't forget to PIN IT!

---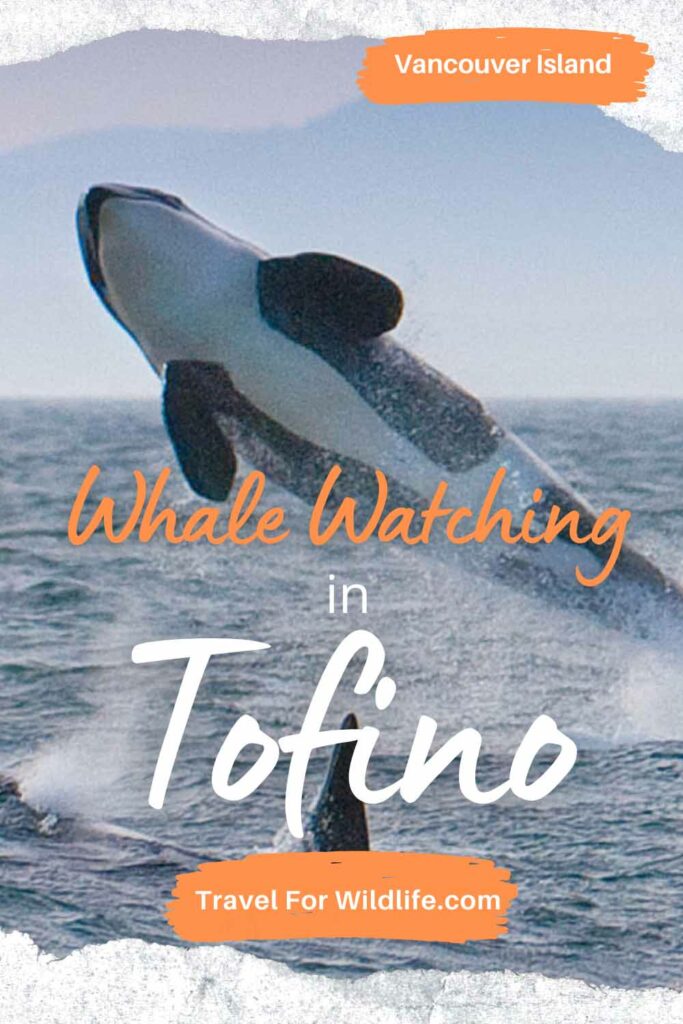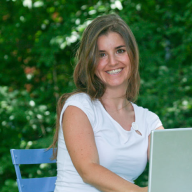 Cristina Garcia
Zoologist and wildlife photographer. She has worked in the field with jackals, wolves, cheetahs, & leopards. She serves on the Board of Directors of SEE Turtles, a non-profit sea turtle conservation organization.
Read her posts at Travel For Wildlife and see more of her work at Truly Wild, & Our Wild Yard.