Visiting Vancouver Island is on every wildlife traveler's list. Think whales, sea otters, bald eagles, orcas, black bears, wolves, cougars…all together in the same place. It seems unbelievable, right?
Welcome to Vancouver Island.
This wildlife watching paradise offers a wide range of accommodations. From free camping in remote locations to quaint cabins, from wilderness lodges to luxury inns. We tried several different options during our visit to Vancouver Island including couch-surfing at a friend's house, camping in free Rec Site campgrounds, staying at a comfy motel, and best of all: the elegant Wickaninnish Inn in Tofino.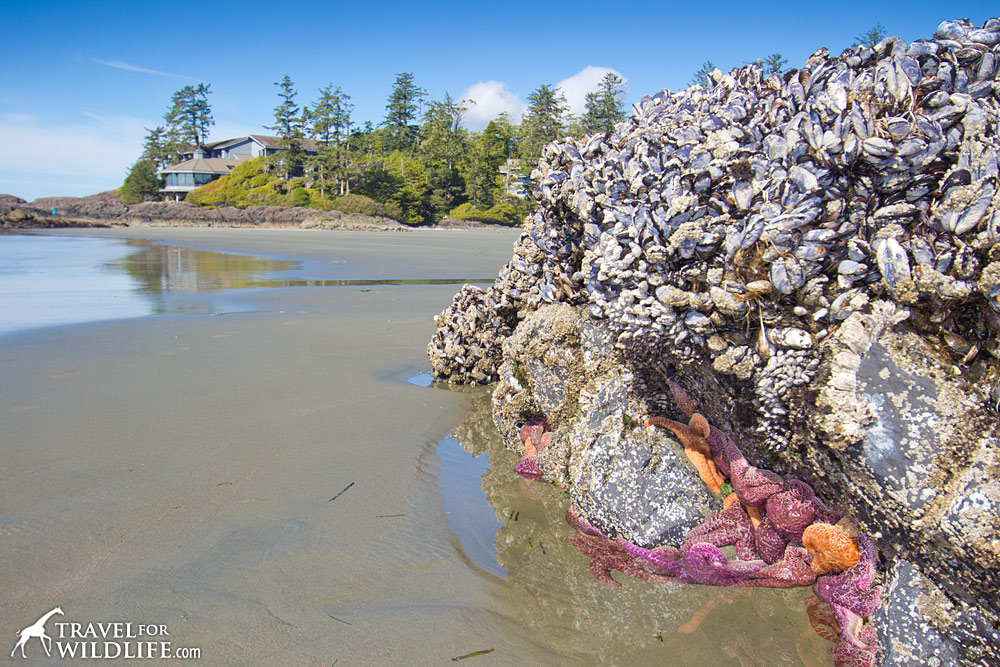 *This article may contain affiliate links. We receive a small commission at no extra cost to you.*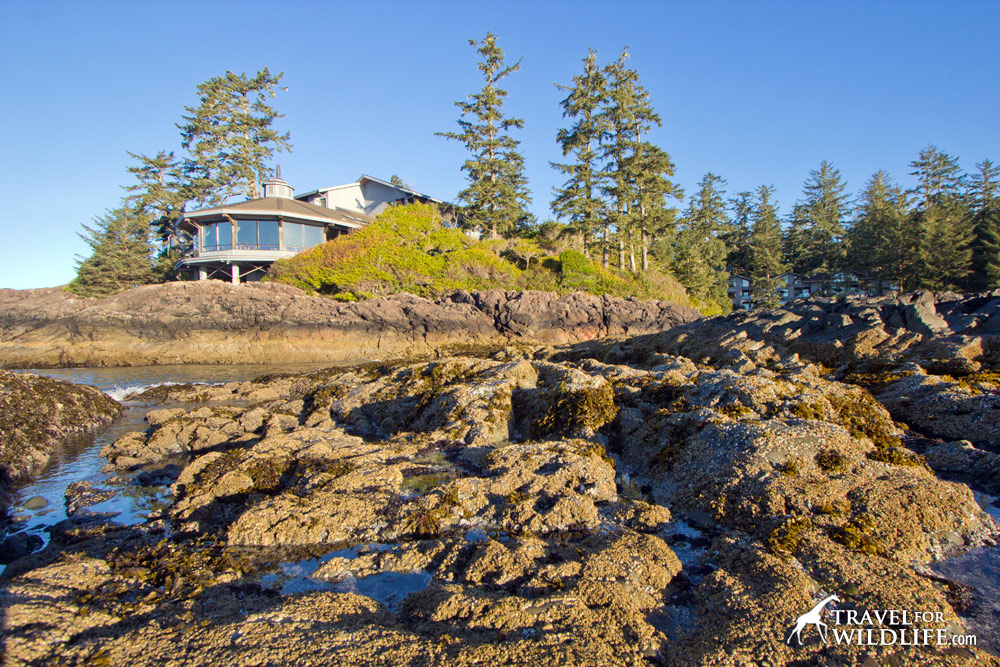 A Relais & Châteaux property, the Inn is also a member of the Hotel Association of Canada's Green Key Eco-Rating Program. In other words, the Wick (as it is known) is a charming and sustainable hotel. Their motto says it all: Rustic Elegance on Nature's Edge.
The Inn is also a proud sponsor of the Pacific Rim Whale Festival which happens every March in Tofino. The Wickaninnish Inn's Gala Dinner and Silent Auction is a sold out yearly event where they present the finest local cuisine and West Coast treasures made by local artists, to support whale education, awareness and research. If you are thinking on attending this fantastic festival there is nowhere else you'd rather stay!
Eco-Sensitive Architecture
The first thing you realize when you drive onto the Wickaninnish Inn grounds, is how much they have respected their surroundings. Trees have been left in the middle of pathways and weren't cut in the building process. We were even told that one of the building's plans had to be changed because of the trees.
Once you are on the beach and looking back at the inn, it is obvious how much work has been done to blend in with the environment. The buildings, surrounding by trees, look like driftwood and are not an eye sore.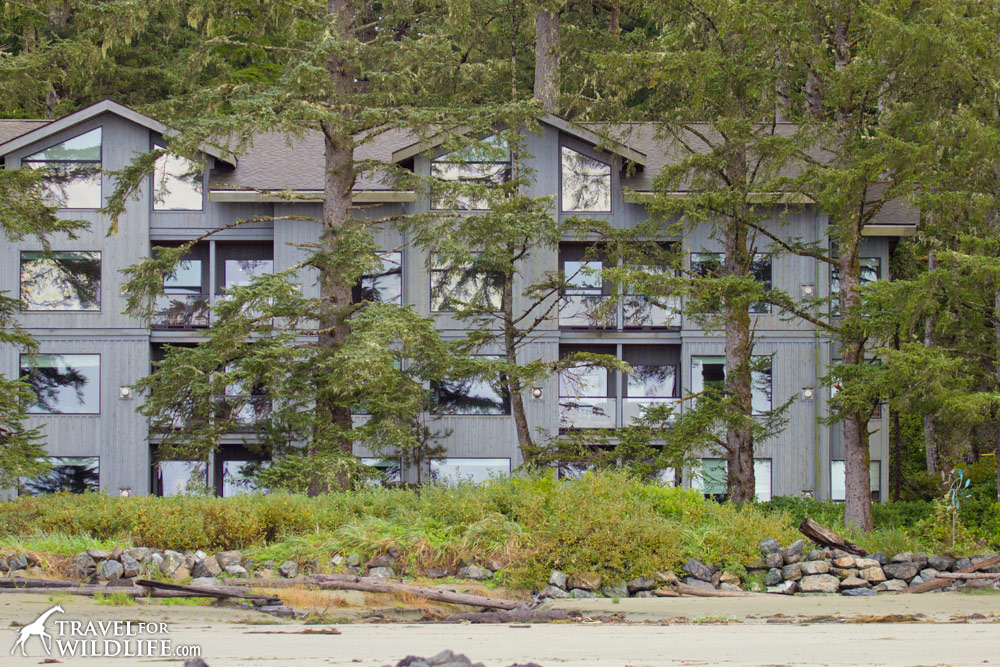 Once you are inside, the outside natural world is brought inside with wood carvings, driftwood, stones and beautiful sculptures that share a natural theme. Not to mention the garden pathways that are lit with lights made out of stone.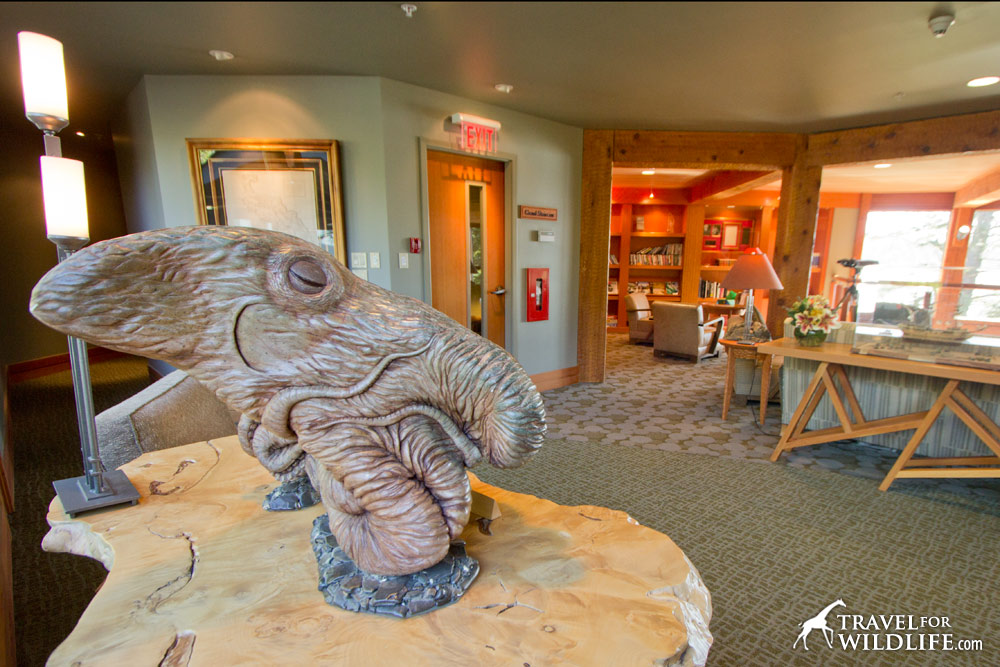 Even though, you'll feel like you are in the woods, there is no lack of light. Big windows reign at the Wickaninnish Inn. In the rooms, in your bathroom, in the corridors and at reception. Everywhere you look there is natural light coming in through huge custom-built windows that make you feel as if you were still outside. This is especially true in the restaurant which is entirely surrounded by glass. It is perched on a rocky outcrop that juts out into the sea with panoramic views in every direction.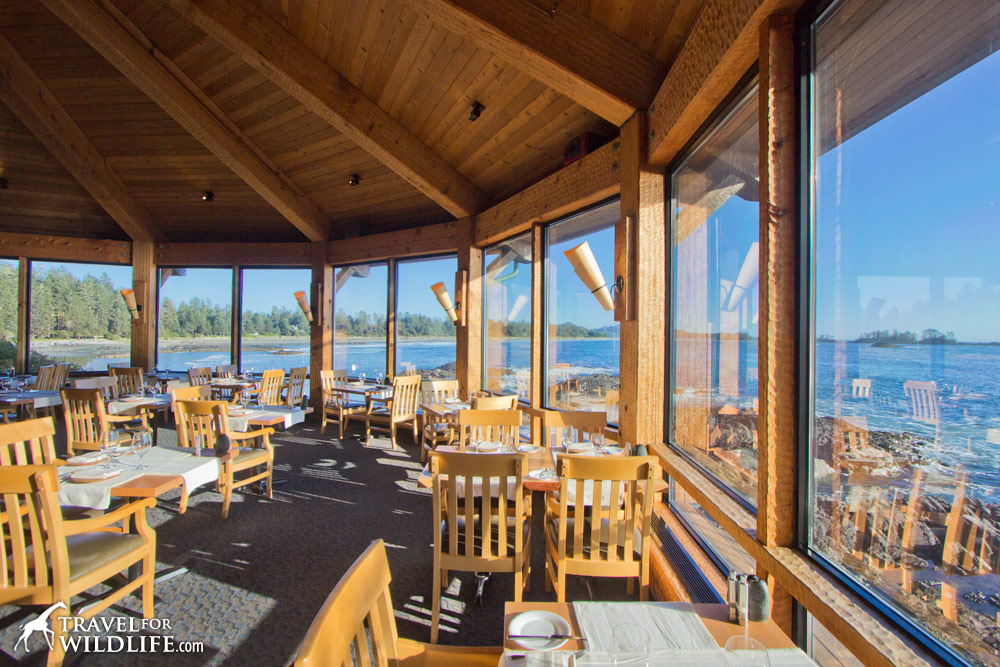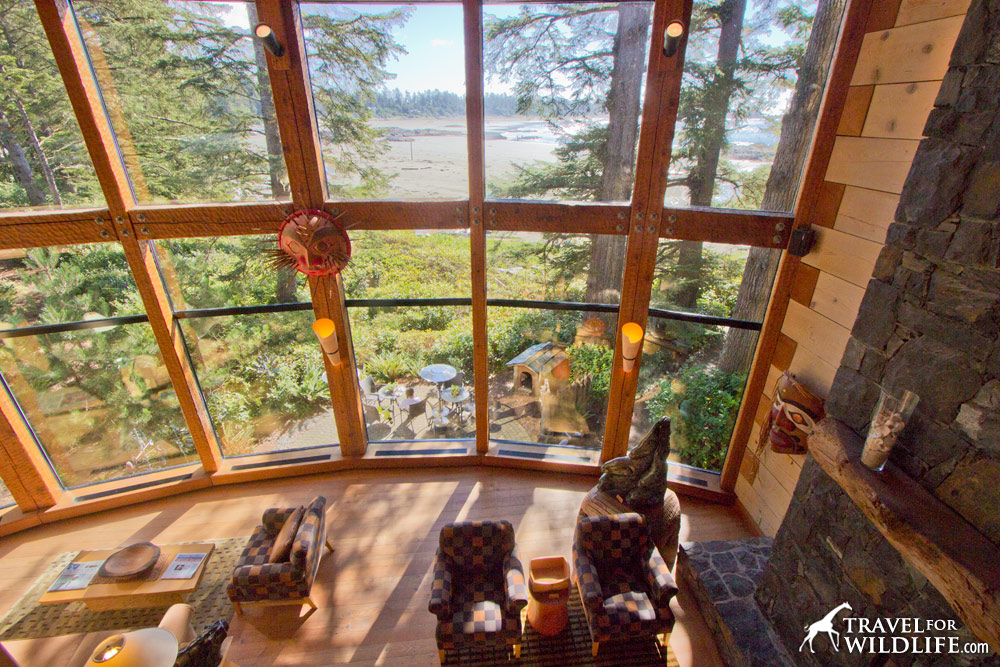 Meet Me at the Beach
We couldn't have asked for a better room. Ours wasn't located in the main building (Wickaninnish-at-the-Pointe), but on the secondary building (Wickaninnish-on-the-Beach) that sits right on Chesterman Beach. Located on the ground floor, and with beach views, it felt as if were sitting right on the sand, thanks to the huge windows.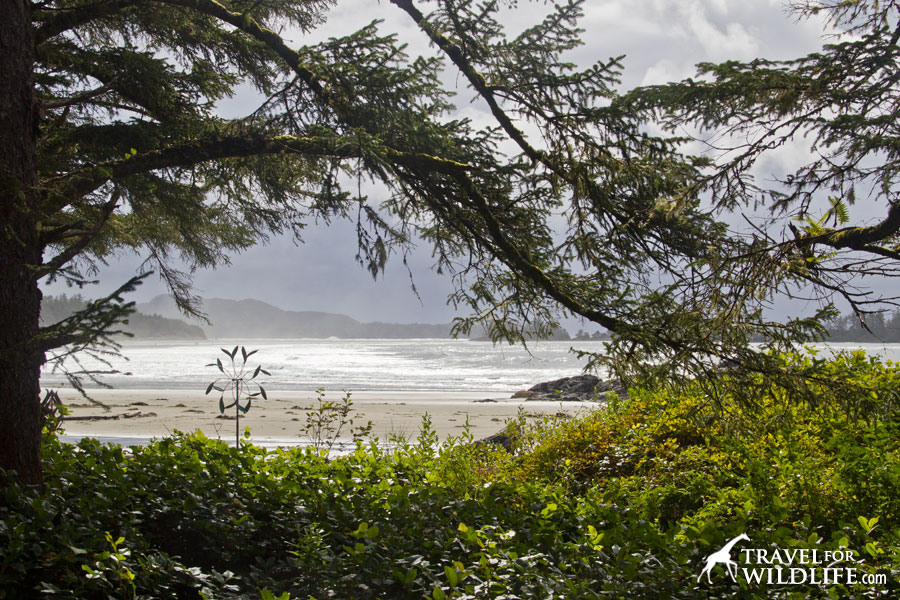 I love fireplaces. I love beaches. So when I opened our room's door and saw we had our own fireplace by the big bay window overlooking the beach I thought I had died and gone to heaven! Get some room service and cozy up next to that great view while the sun sets by the warmth of your fireplace.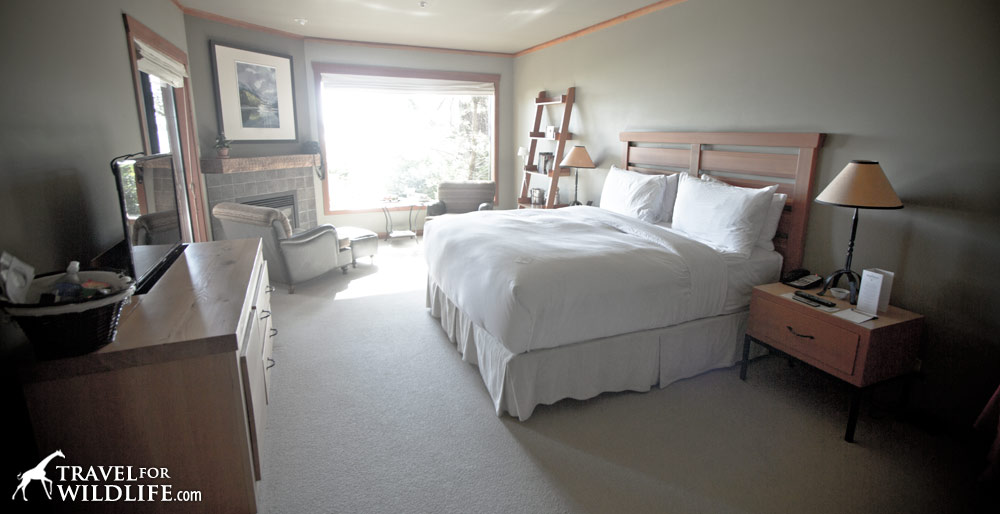 The Restaurant at the Inn
We were on the last leg of our four-month road trip and by that time we only had enough money for the gas to get ourselves back home to the east coast (crazy!) so we didn't have the opportunity to try the famous restaurant The Pointe Restaurant. But it is clearly the perfect spot to watch the sun go down over the water, or to watch a monster storm rolling in (storm watching may be the next best thing after wildlife watching!)
If you don't feel like having a big meal, then head out to the Driftwood Cafe for a light snack and drink. Cozy up next to the fireplace with a coffee on a chilly day, or have a cocktail on their patio area overlooking Chesterman Beach.
Wildlife Watching at the Wickaninnish Inn
Can you actually watch wildlife while staying at the inn? Yes! This was a great surprise as I thought we would have to drive somewhere to see any wildlife at all. Bald eagles patrol the beach regularly looking for dinner, while oystercatchers are easily spotted on the rocks in front of the inn.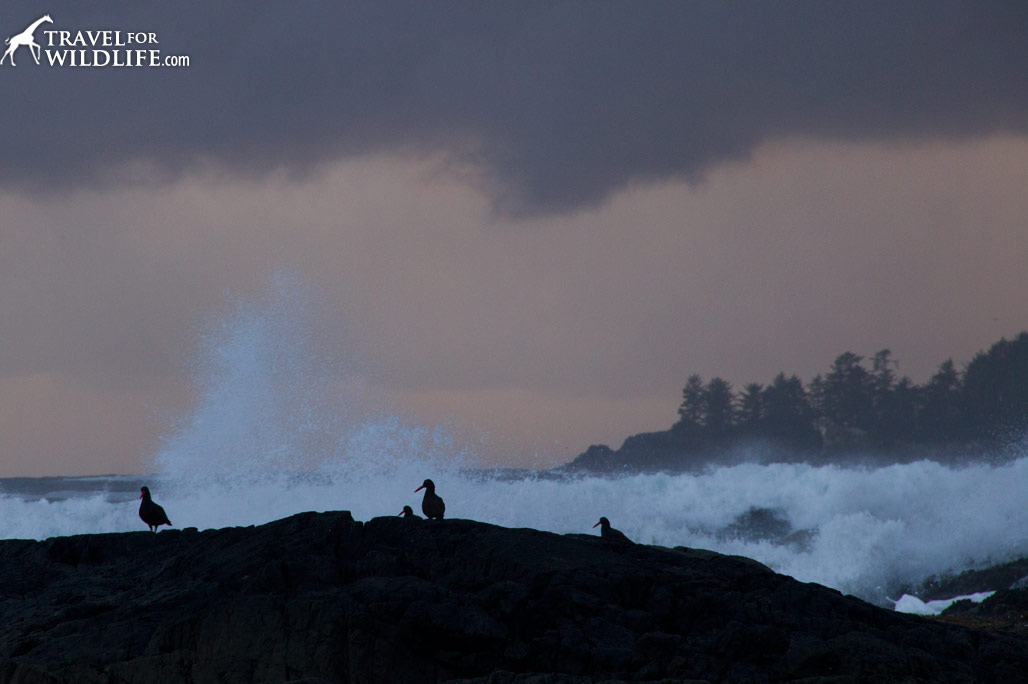 But what I really enjoyed was searching for tidal creatures right in front of the inn. Colorful starfish and bright anemones are exposed on the rocks at low tide. The beaches and mudflats around the inn are also vital for birds like the Western Sandpiper, Short-billed Dowitcher, Whimbrel, and the Semi-palmated Plover are one of the shorebirds who stop in the area to feed and rest during their annual migration. You don't even have to worry about getting wet feet while looking for tidal creatures. The Wickaninnish Inn has rain boots for you to borrow whenever you want!! Now, that is a great detail.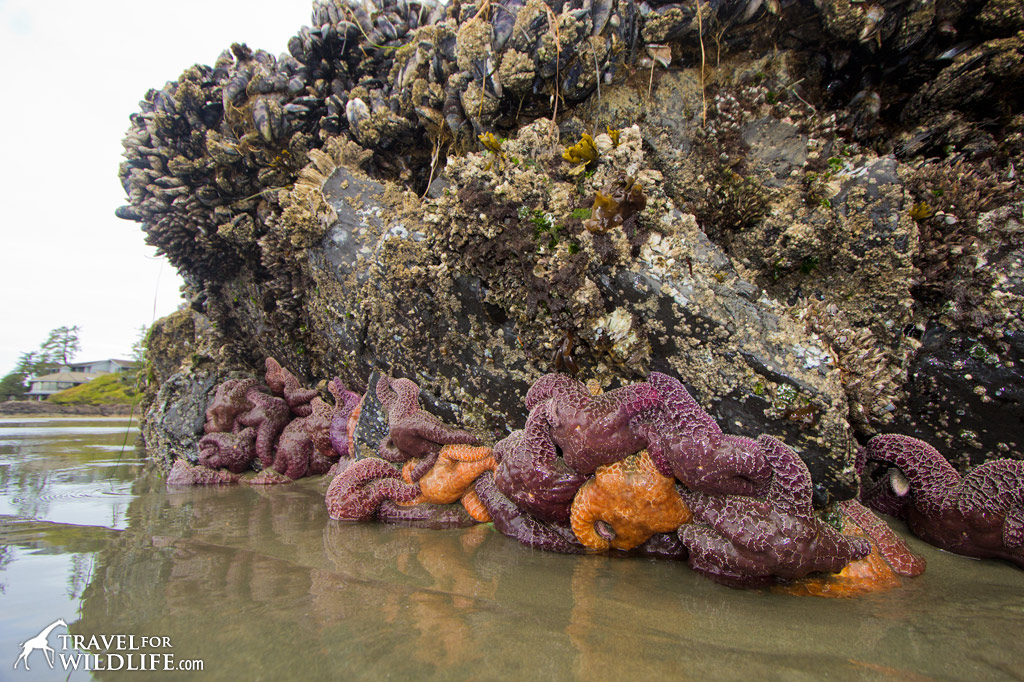 We found the inn to be very naturalist-friendly. Apart from the wellies and umbrellas you can borrow, you'll find binoculars and a wide range of wildlife guides in your room. From birds to anemones, you'll be able to identify any creature that you find. This is a really great idea; you won't need to pack those bulky guides and rain boots in your luggage.
Another great in-house service is their association with Long Beach Nature Tours who conducts tours of the Wickaninnish Inn grounds and the nearby region utilizing naturalists from Pacific Rim National Park.
The Wickaninnish Inn is also a great base while you explore the wildlife of Vancouver Island. You are only minutes away from Tofino, which is famous for their whale watching and bear watching trips. Contact The Whale Center, and they'll take you to see whales, orcas and bears! (if you are lucky you might spot a wolf too!)
Definitely, definitely, definitely! I would go back to The Wickaninnish Inn anytime!
If you're heading to Tofino on Vancouver Island, be sure to check out these posts: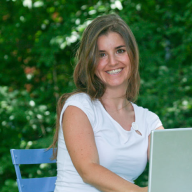 Cristina Garcia
Zoologist and wildlife photographer. She has worked in the field with jackals, wolves, cheetahs, & leopards. She serves on the Board of Directors of SEE Turtles, a non-profit sea turtle conservation organization.
Read her posts at Travel For Wildlife and see more of her work at Truly Wild, & Our Wild Yard.