Alberta occupies more than a quarter of a million square miles, but is home to just 4.2 million people. Consequently, it's not surprising that the best places to visit in Alberta are mostly natural, especially when you consider that the Canadian Rockies cut right through the western half of the province.
What is remarkable is just how beautiful Alberta is, from the fluorescent glacier lakes that fill its valleys, to the lunar-looking rock landscapes that carpet its prairies, to attractions whose physical features intertwine with the story of First Nations people. These are the best outdoor experiences to enjoy your your next trip to Alberta.
1) Banff and Jasper National Parks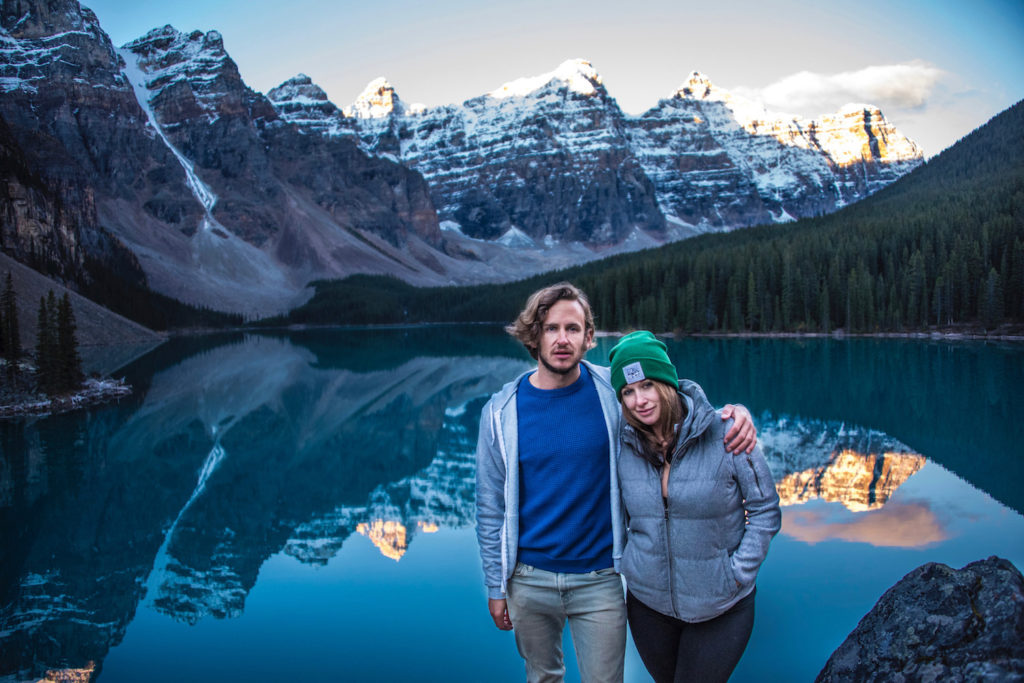 When it comes to beautiful places in Canada, the pair of national parks within Alberta's portion of the Canadian Rockies almost always top the list. Among these, Banff (which is further south, not far from Calgary) is probably more visited than Jasper, which sits in the north. Lake Louise, and its adjacent Fairmont Hotel, is one of the most Instagrammed natural sites in the world.
Of course, there are dozens of places to enjoy the Alberta mountains that aren't so well know. In Banff, enjoy sunrise at Moraine Lake, or take a short hike through the forest to reach a viewpoint where you can appreciate stunning Peyto Lake. For a cozy mountain experience, rent one of these cabins in Banff, where you'll be a stone's throw away from almost everything. The top sites in Jasper, meanwhile, are Athabasca Glacier and Maligne Lake, the latter of which is like actually stepping into a postcard!
2) The Icefields Parkway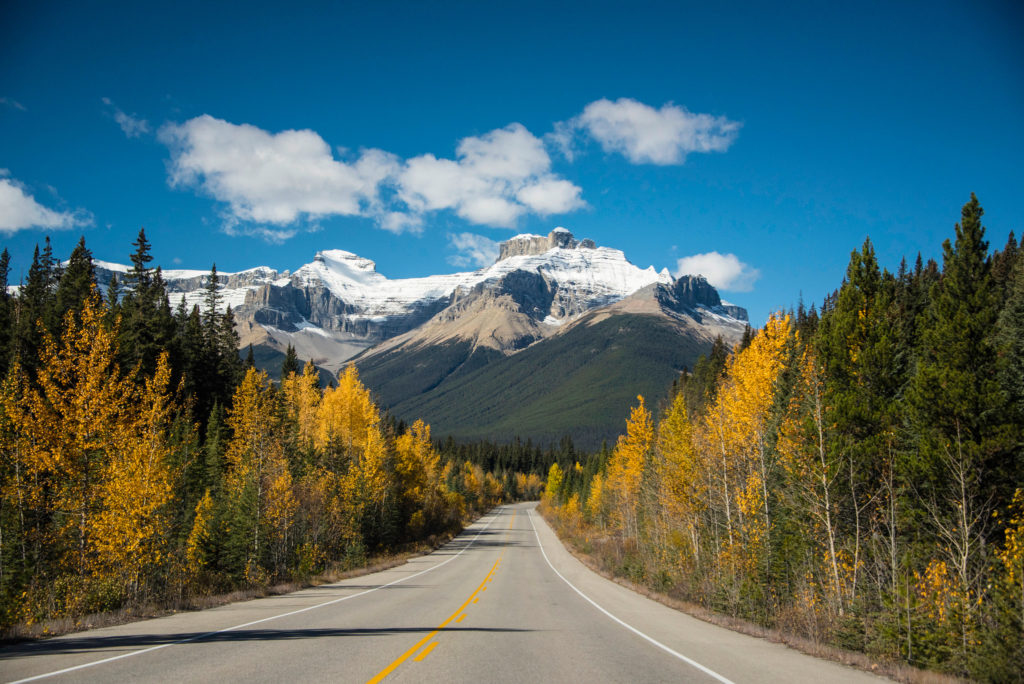 Although this road connects the Alberta National Parks I mentioned in the previous section, I think it's worth separately calling attention to. Many of the beautiful vistas along this 150-mile long road, after all, are unmarked, unnamed and there for you to discover. (TIP: Check out my Alberta photo post for even more of these awesome images!)
Which is not to say there aren't specific attractions you should see on your drive—Bow Lake, the Saskatchewan River Crossing, Glacier Sky Walk, and the Columbia Ice Field should be enough to get you started. While this part of Alberta is exceptionally, well, wild, Canadian wildlife seems to stay off the Icefields Parkway in my personal experience, though you should be on a particular lookout for large animals like bears and moose.
3) Canadian Badlands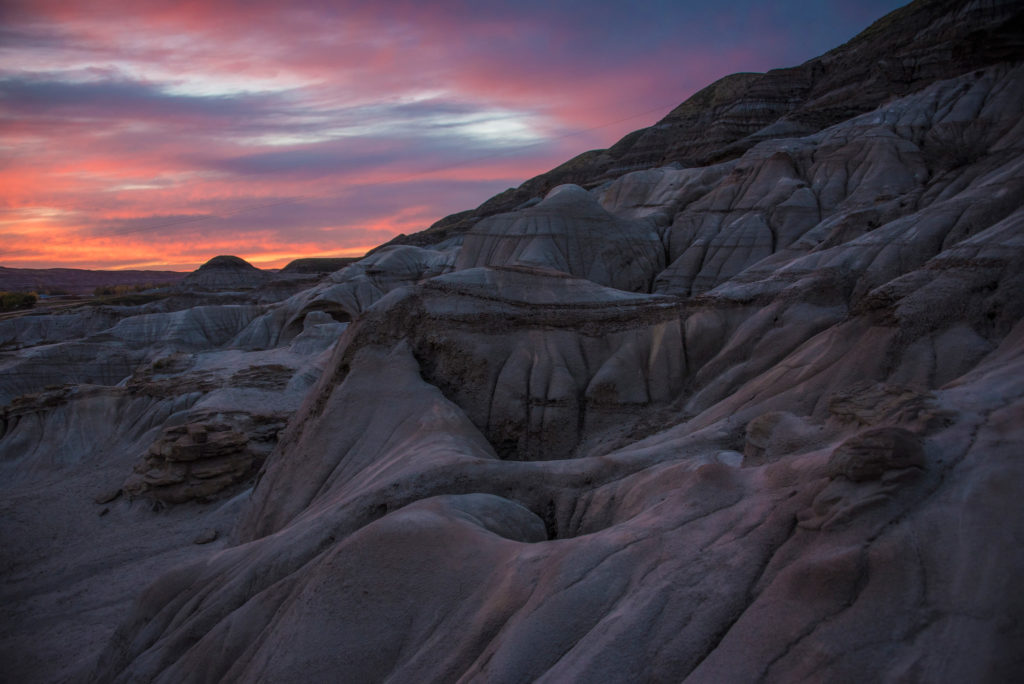 When most people think of Alberta nature, dramatic mountain scenery is what comes to mind. The Canadian Badlands, which sit near the city of Drumheller to the east of Calgary on the way to Saskatchewan, can come as a complete surprise (and that's even discounting the World's Tallest Dinosaur statue, which sits in Drumheller's town center).
The bizarre hoodoo rock formations here are nonetheless among the best places to see in Canada, as far as I'm concerned. They're also very personally special to me, as I saw one of the most beautiful sunsets in my life here, with my sister (who joined me on my trip to Alberta) by my side.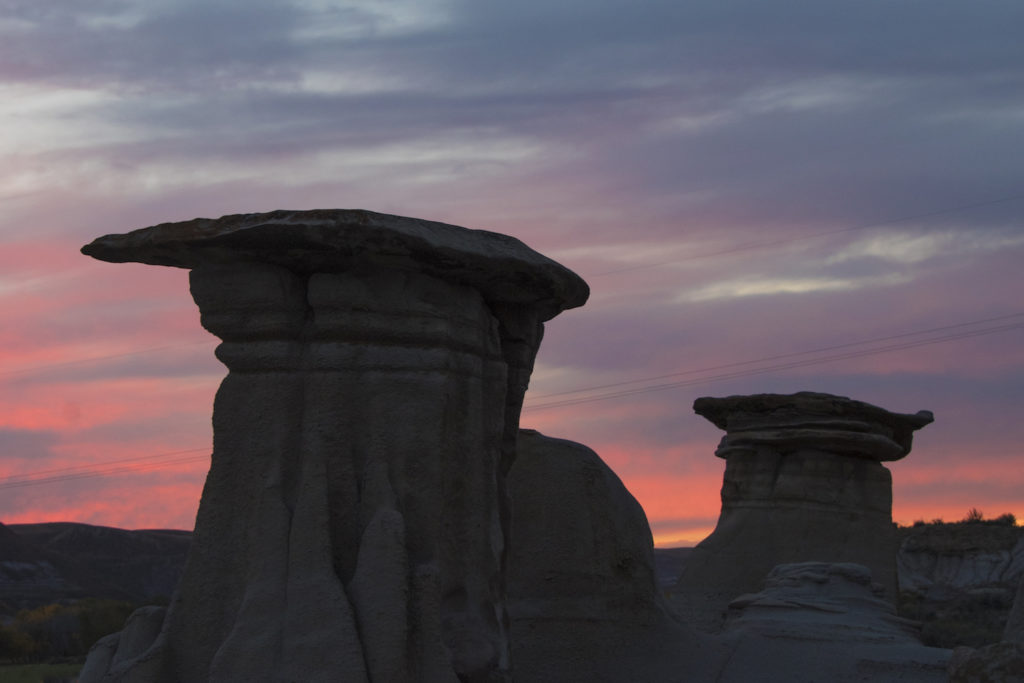 4) Dinosaur Provincial Park
Another of the amazing places to visit in Alberta that surprises some travelers is not far from the Badlands, neither in terms of the scenery you see nor physical distance. A trip to Dinosaur Provincial Park takes you way back in time, to millions of years ago when an ancient salt water sea covered this part of Canada.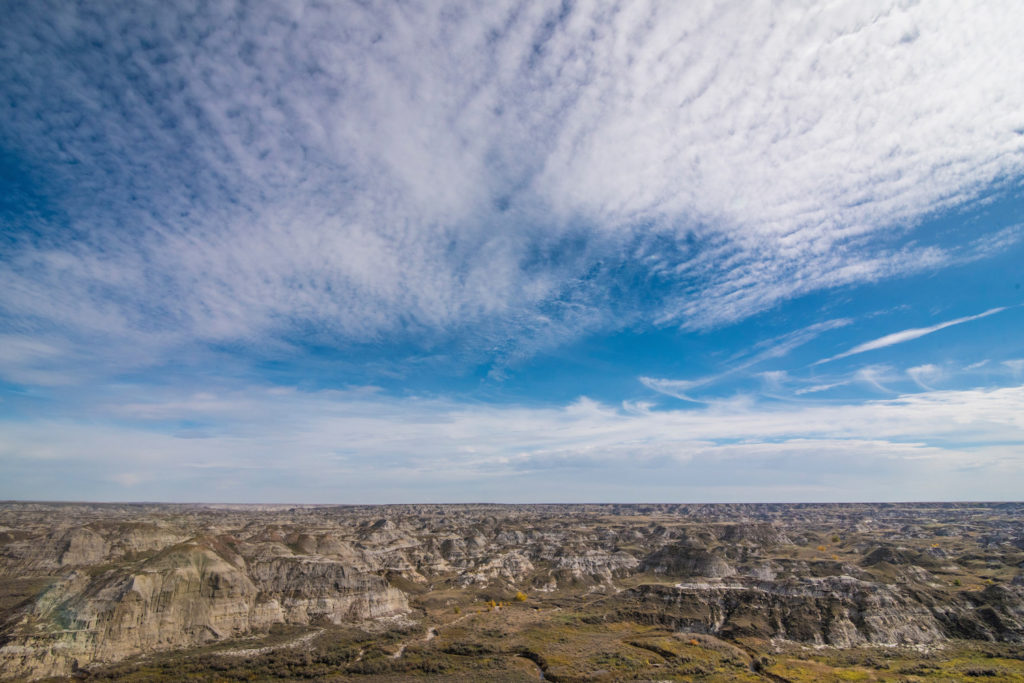 Obviously, the museum at the park paints a more vivid picture of this than wandering through the archaeological area itself, unless of course you're a scientist and know what to look for. Over 150 complete dinosaur skeletons (from 50 different dinosaur species!) have been discovered here in Dinosaur Provincial Park. If you are a fossil enthusiast, plan a day trip across the border a few miles into British Columbia and you can visit the Burguess Shale in Yoho National Park (only 20min from Lake Louise).
While you visit Dinosaur Provincial keep an eye for mule deer, white-tailed deer, golden eagles, pronghorn antelopes, and coyotes.
5) Waterton Lakes National Park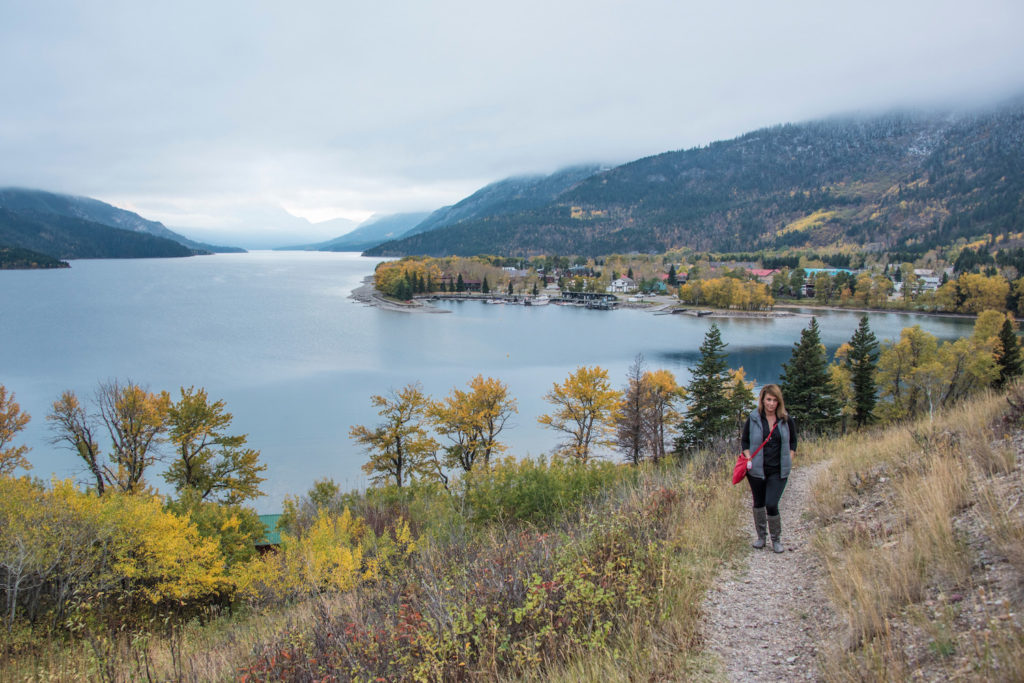 As you head south from Dinosaur Park, the Alberta landscape suddenly looks more similar to how it did in Banff and Jasper. There are some notable distinctions, namely that the waters of the Waterton Lakes aren't as bright are dramatic as those farther north and west. Nonetheless, Waterton Lakes is a wonderful place to visit—you can even take a boat trip that travels into adjoining Glacier National Park, in Montana, USA.
There's plenty to explore in Waterton outside the main town center, from Cameron Falls (which sometimes turns pink—it's one of the best waterfalls in Alberta) to walking along the Crypt Lake Trail. I'd also recommend walking up to the historical Prince of Wales Hotel, where you can enjoy an awesome panorama in spite of the relatively easy trek.
If you are camping in Waterton remember this is bear country. Carry bear spray and storage your food appropriately.
6) Head-Smashed-in Buffalo Jump
Although it doesn't often make lists of must-visit places in Canada, I would argue that Head-Smashed-in-Buffalo Jump is very much worth a trip. Located 90 minutes south of Calgary (and about halfway between the provincial capital and aforementioned Waterton Lakes), this UNESCO designated World Heritage Site it's not only convenient, but tells an important story whose seriousness belies its somewhat silly name.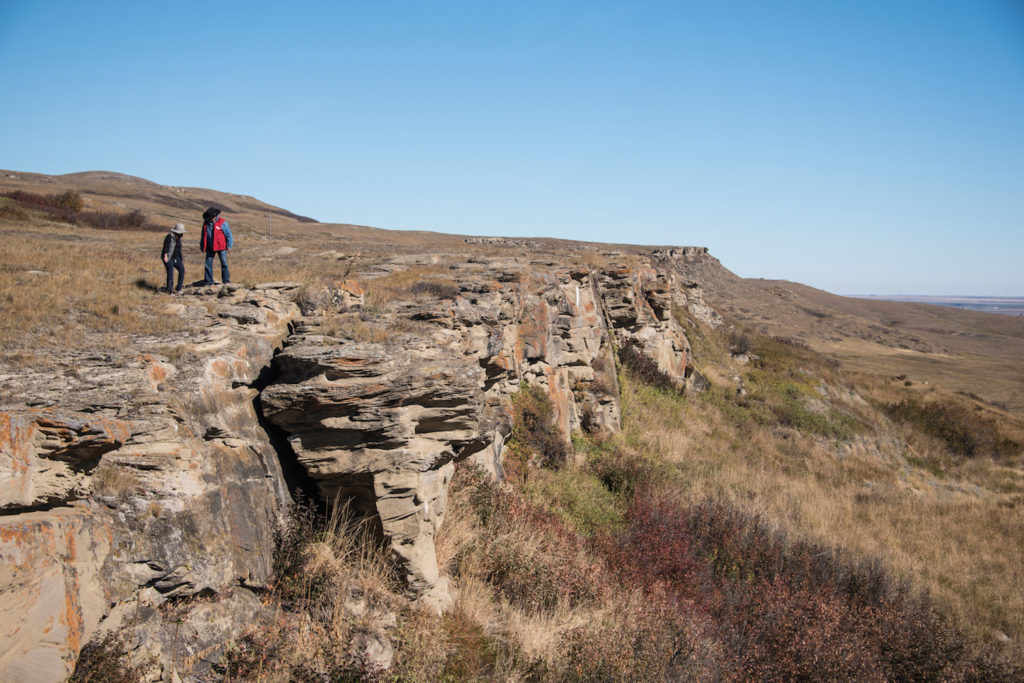 Actually, the name is not silly at all—it's literal! When First Nations people freely roamed this land, they'd run buffalo over the cliff here, and the meat would feed their people for months and even years. From both a historical and natural perspective, this is one of the most fascinating Alberta attractions you can see on your trip.
How to Get Around in Alberta
Alberta has some public transportation, but your best bet by a long shot is to rent a car in Alberta, ideally at Calgary or Edmonton airport so you can have it the entire time. Highways in Alberta are well-maintained and generally have high speed limits, so provided you're familiar with driving on the right side of the road, your journey should be a relatively easy one.
I've actually listed the items in this post in an order you can follow, which should be apparent when you input each into your phone's "Maps" application. For a more specific idea of the route you can take, make sure to read the Alberta road trip itinerary I've put together.
The Bottom Line
Most the best places to visit in Alberta are of the natural sort, but the ones on this list are positively transcendental. From relatively mainstream entries like Banff and Jasper National Parks, to the bizarre hoodoo rock formations of the Canadian Badlands, the majesty of the Canadian Rockies is Alberta's most defining feature, but only the beginning of the province's beauty. The best part? If you've got a rental car and at least a week to explore, you can see all these attractions in a single trip.
Robert Schrader is a writer, photographer, and creator of the award-winning travel blog Leave Your Daily Hell. When he's not out exploring the world (his travels have thus far taken him to nearly 100 countries, most recently the Sultanate of Oman), he bases himself in Bangkok, where he's currently learning the Thai language. Follow Leave Your Daily Hell on Facebook, Instagram or Twitter.
---