*This article may contain affiliate links. We receive a small commission at no extra cost to you. If you enjoy our content and want to support Travel For Wildlife, please visit our shop Truly Wild.
Banff National Park is Canada's oldest national park and is visited by millions of tourists every year. Beat the crowds and stay at one the many stunning Banff cabins found in the area. Cozy up and find your dream cabin!
People visit Banff for numerous reasons. To marvel at the emerald waters of Lake Louise, to hike amongst glaciers, to drive along the Icefields Parkway, and to watch wildlife. It is an outdoor enthusiast's dream. Canoe, hike, ski, fish, camp, mountain climb, bird-watch,…you can actually fit all these activities into one trip! Banff is also a place where predators still roam, and if you are lucky you can see grizzly bears in Lake Louise, or wolves along the Bow Valley.
If you are looking for accommodation for your Banff vacation, you'll find lots of motels, lodges, and camping sites. But wouldn't you rather stay at a gorgeous cabin with a hot tub and incredible mountain views? Yes, I'll take any of the Banff luxury home rentals available, thank you.
Whether you visit Banff for a family retreat, a business meeting, a romantic break, or even for a wedding, one of these Banff cabins will be a perfect fit. We have researched many cabins and have compiled a list of the most stunning Banff cabins for rent!
Or if you prefer to avoid the bustling town of Banff, head to out to Canmore. Only a 20 minute from the town of Banff, Canmore is quieter, cuter, and the natural surroundings are stunning. A bonus is that there are many fabulous Canmore cabins for rent as well. In fact, the cabins around Canmore are some of the best I've seen. I'm still oohing and aahing after making this list of Banff cabins to rent! I mean, indoor pool? Seriously?
If you visit Yellowstone National Park, check out our list of Yellowstone cabins for rent! Or check out these Vancouver Island Cabins if your road trip takes you there!
(Photos ©VRBO unless otherwise stated)
Our Favorite Banff Cabins For Rent
If you want to stay in the town of Banff, there are a few cabins where you can spend your vacation at. It was challenging to find Banff cabins that were not outdated, not in a big complex (a lot of the cabins in Banff are in a couple of huge residential complex, and I don't find those appealing), or that had all that cabin charm that we are looking for. But I did it! Aren't these Banff cabin rentals gorgeous? (click on the photos for a large picture).
1) Beautiful Renovated Home in the Heart of Banff
Stunning large home in the heart of Banff. Maybe not quite a cabin (I consider this one of the best cabins in Banff), but it is just gorgeous, beautifully updated, and a fantastic place for large families or big groups. It sleeps up to 12 people, this fabulous home has something for everyone. For the little ones, a huge playroom. For the grown ups, a gym, an infrared sauna, steam room, and a cedar hot tub.
For the outdoor people, the house has bikes for guest use, and a fireplace-heated mud room to keep your winter coats and gloves dry and toasty warm! The roomy kitchen is fully equipped with 3 ovens (yep, 3!), espresso maker, stand alone ice maker, and a beverage center. Prepare your favorite drink (hot or cold) and enjoy it either outside on the spacious deck or by the fireplace.
Check Prices & Availability on VRBO
---
2) Class A Heritage Home, one of the Banff cabin rentals on the Banks of the Bow River
Classical beauty. This is one of the Banff cabin rentals that sits on the banks of the Bow River and it comes with beautiful river views and spectacular mountain views. All of this conveniently located within a short walk of the shops. With five large bedrooms, this class A heritage home is great for a large family or group of friends (it also has a pull out couch). It comes with a big gourmet kitchen, five bathrooms and parking for 4 cars. Ourdoorsy people will find this cabin the perfect place in Banff. The canoe rental place is just around the corner! And this home is a short hike from Bow Falls!
Check Prices & Availability on VRBO
Our Favorite Canmore Cabins for Rent
Canmore is one of our favorite areas in Alberta. Surrounded by craggy mountain peaks like the Three Sisters and natural spaces like Spray Valley Provincial Park and Banff National Park, Canmore is the perfect destination for outdoor enthusiasts. Hiking, skiing, mountain biking, and climbing make Canmore a year-round destination. Not as busy or touristy as nearby Banff, this quaint little town offers an array of accommodations. If you are looking for an exclusive lodge, head south to Mount Engadine Lodge, but if you'd rather stay closer to town, choose one these stunning Canmore cabins for you and your group.
1) Chateaux Elise, A Luxury Mountain Home
Located in the exclusive resort of Silvertip, this stunning home has incredible unobstructed mountain views. It is so stunning that it got features in HGTV as one of Canada's top retreats. So here's your chance! With four bedrooms, this is the perfect place for a family or a group of friends looking to relax.
---
2) Ultra Luxury Cabin with Stunning views of the Three Sisters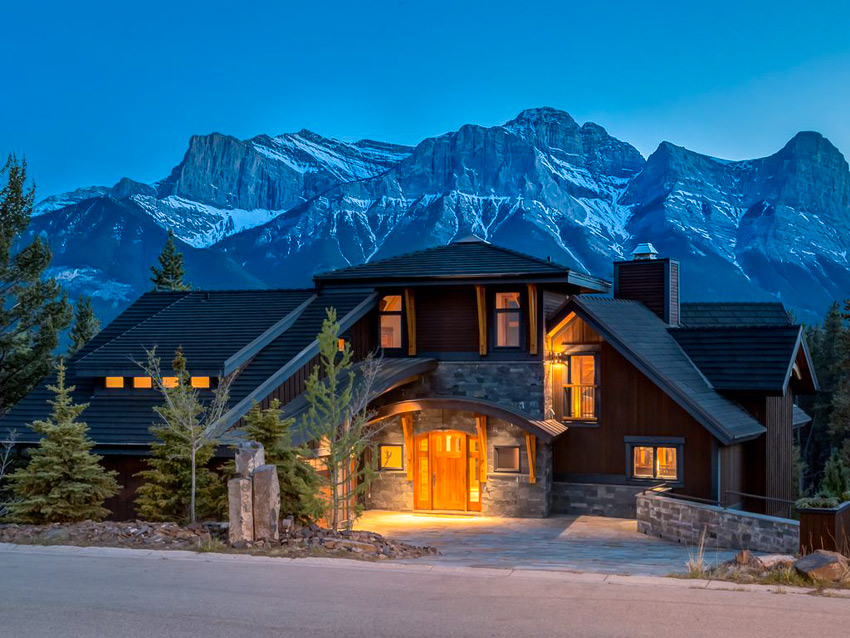 If you are looking for the best of Banff luxury cabins, this is it.
Elegant cabin with endless mountain peak views. By far the most luxurious cabin on our Banff cabins selection. This is the ultimate luxury cabin mountain retreat, perfect for family reunions or a wedding party. All five bedrooms in this luxury home feature private en suite bathrooms. Want a fireplace? This beauty has a total of 8 (5 indoor/3 outdoor). Lap pool? No worries, the pool even comes with stunning mountain views. Wine tasting cellar? check. Gym? check. Billiards room with bar? check. 10 person steam room? well, of course! If you are looking for a covered hot tub with stunning mountain vistas, you are also in luck. This home comes with all of it. If your party needs additional services such as pre stocking, private chef/catering, babysitting, domestic arrangements. This is one of the best Banff cabins with hot tub available on the market. This is a mountain holiday you'll remember forever.
Check Prices & Availability on VRBO
---
3) Cozy Canmore
This stunning 3 bedroom home is located in a peaceful neighborhood in Canmore within easy walk to downtown.
Enjoy the spacious kitchen, perfect for dinner parties, the mountain views, and the outdoor jacuzzi, surrounded by trees.
---
4) Luxury Home in Downtown Canmore
Located in downtown Canmore, this beautiful 3-bedroom home is family friendly. The spiral staircase has baby gates at the top and bottom so the little ones are safe. The master bedroom has stunning views, a double shower, double sinks, and a Victoria + Albert bathtub. The back deck has a dining table, a firepit, sofas, a hammock, and a hot tub.
---
5) Mountain Home in SilverTip Neighbourhood
This stunning home in the SilverTip neighborhood is located in a quiet road with views of the Three Sisters & Ha Ling peaks. All four bedrooms in this home have en suite bathrooms. The spacious living area is complemented by a stone fireplace, 16 ft vault ceilings, pine beams and a front deck with stunning views to the Three Sisters, which is a popular place for sunrise coffee and sunset cocktails. There is also a separate cozy tv room with a fireplace. The patio offers a private dining area and a built-in BBQ. This home is perfect for a group of friends or a family to relax and enjoy the outdoors. Parties and big gatherings are not allowed. The price is pretty amazing considering this home is for 10 people (less than $100 per person per night!). This home is getting lots of 5-star reviews too, so go check it out!
---
Isn't it time you treat yourself to a memorable mountain vacation in Canada? These stunning Banff cabins will make you want to grab those hiking shoes and skis and head out to Banff.
---
Liked these stunning Banff cabins? Pin this article!