If you're taking a dream trip to one of the most famous national parks then why not stay in one of the many dreamy Yellowstone cabins available for rent?
Imagine going on one of the best hikes in Yellowstone, seeing wolves and grizzly bears along the way, and coming home to a warm cozy cabin, all to yourself. You grab a cup of coffee and step outside to your private deck to watch wildlife strolling right by. That's what a Yellowstone adventure should be all about! Adventure and cozy time at one of the dreamy Yellowstone cabins!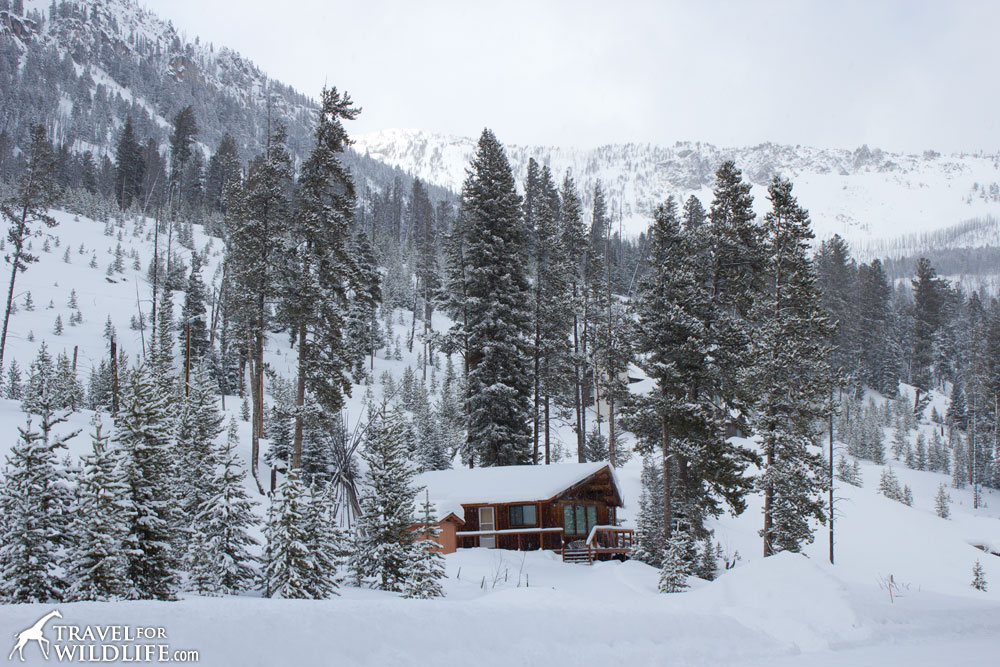 Yellowstone Cabins Dreaming
I have a confession to make: I am obsessed with searching for the best cabins near Yellowstone. I am always surfing the web looking for Yellowstone cabin rentals or cabins for sale. (One can dream, right?) So I decided to make a list of my favorite Yellowstone cabins so you don't have to go through the many hours of researching that I did!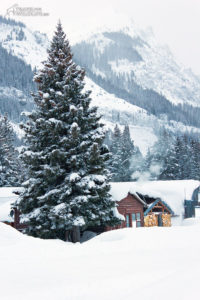 Remember that the best time to visit Yellowstone will vary depending on what activities you are interested in. Late spring is baby time, when the park is flowering and wildlife babies abound. Summer is good backpacking time, while Fall is time for beautiful colors and the elk and bison rut.
Our favorite time of the year in Yellowstone is winter, when the park is covered in a white blanket, animals are easy to find, and it is the least crowded. If you are thinking about visiting Yellowstone in the winter, remember it is very cold and make sure you wear the proper winter gear. Here is a video we made a couple of years ago about the wildlife of Yellowstone in the winter.
Here is the final list of Yellowstone cabins available for rent that I found! (You can click on the small photos to view a larger size.) This inspiring collection of authentic cabins and cabin rentals of all sizes are in Silver Gate, Cooke City, Gardiner, and West Yellowstone.
(Photos ©Vrbo unless otherwise stated)
*This article may contain affiliate links. We receive a small commission at no extra cost to you.*
Silver Gate Lodging
Silver Gate is our favorite place to stay while in Yellowstone. Right at the wilderness edge, close to the Lamar Valley, it is only a short drive (one mile!) from the northeast entrance to the park, or take a scenic drive in the other direction and discover the Beartooth Highway during summer. A great spot to be based at.
Silver Gate is super cute (all log cabins), small, and it feels kind of wild. Here is where you can find our favorite luxury cabins in Yellowstone National Park.
These are also some of the reasons why any of the Silver Gate cabins are some of the best around: most of them have creek views and mountain views, wildlife utilize the Silver Gate corridor so you can watch wildlife right from your deck, and the Silver Gate area is quiet, even in peak season. Plus most of Silver Gate is just a two minute walk to the Log Cabin Cafe, which you cannot miss for a hearty breakfast before venturing in to the park! And this is where the best cabins in Yellowstone are located.
These are my favorite cabins in Silver Gate that are available for rent:
1) Alpen Glow lodge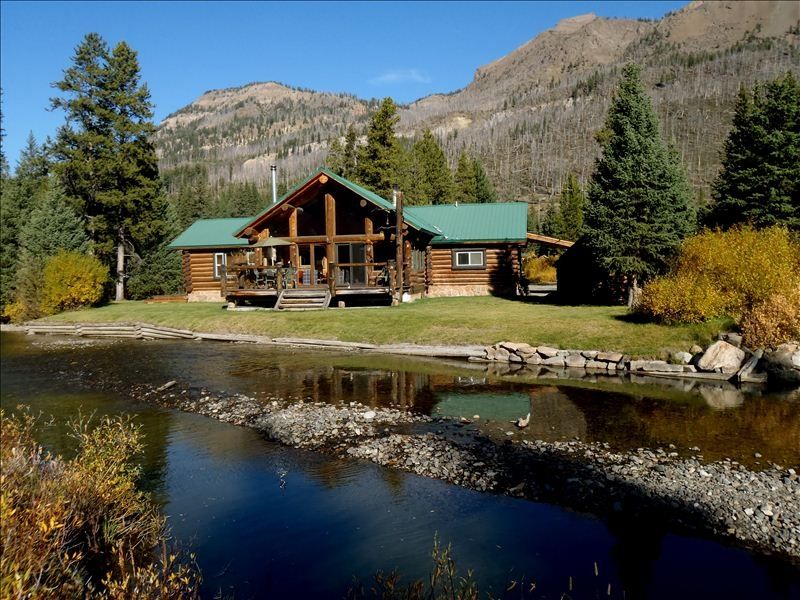 Stunning cabin in a stunning location. This three-bedroom cabin has all you need for your Yellowstone cabin vacation. Great mountain views, private access to a creek, a rock fireplace, a log pool table, and all this in just a two-minute walk to the two shops.
Sadly, this cabin is not available in winter.
Check prices and availability for this cabin.
---
2) Ursa Cabin at Silver Willows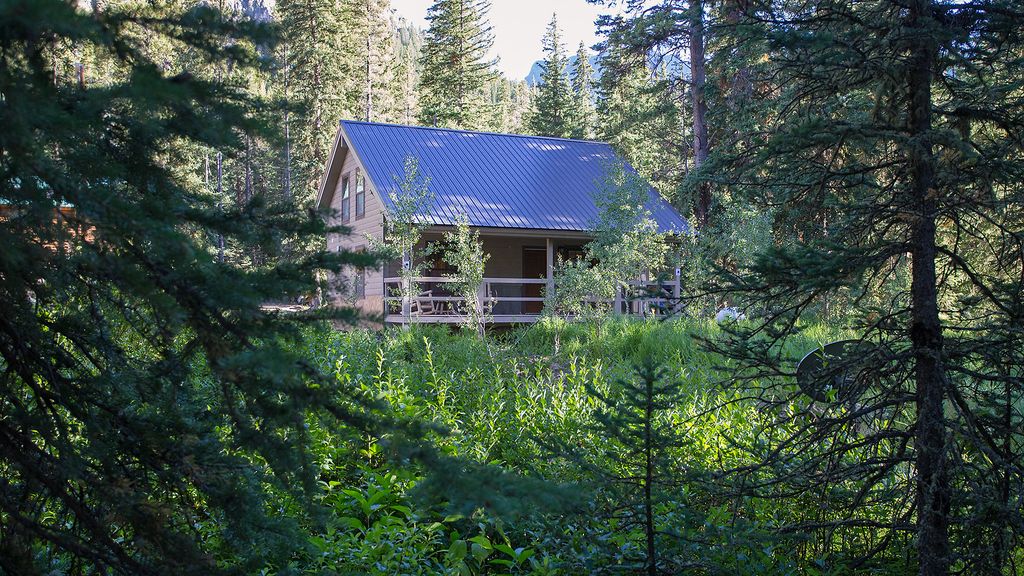 Ursa is a latin word meaning bear. This cabin could be your favorite den in Yellowstone. Right here in Yellowstone country.
The owners have four acres of land on which they built two cozy cabins, totally private from each other. Ursa is the small one, with two bedrooms (one in the loft). Spend your dreamy vacation surrounded by pine and aspen trees. Sit on the porch and watch wildlife walk by while sipping coffee or relax inside while the cozy wood stove keeps you warm.
Check prices and availability for Ursa cabin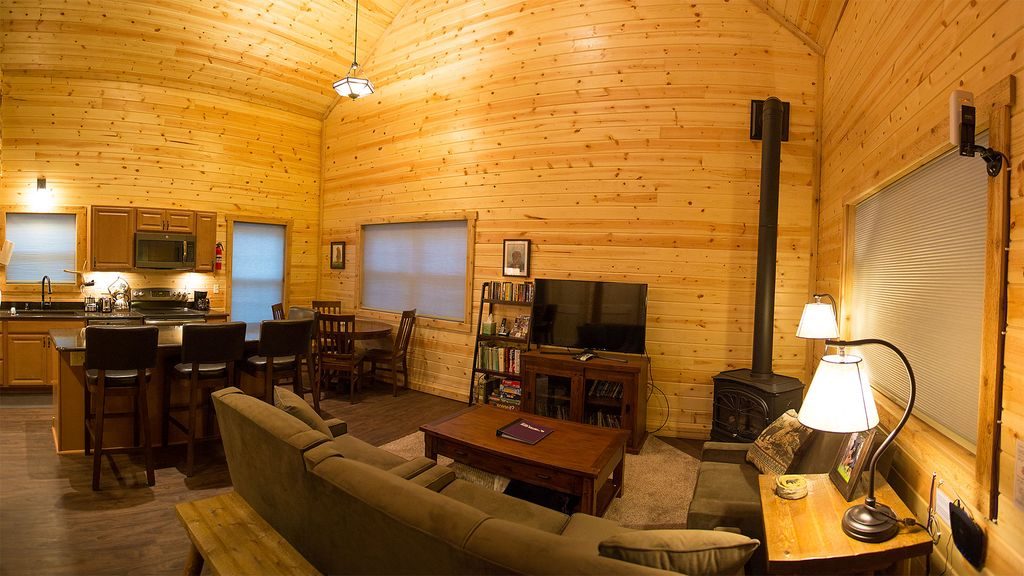 ---
3) Sarva Cabin at Silver Willows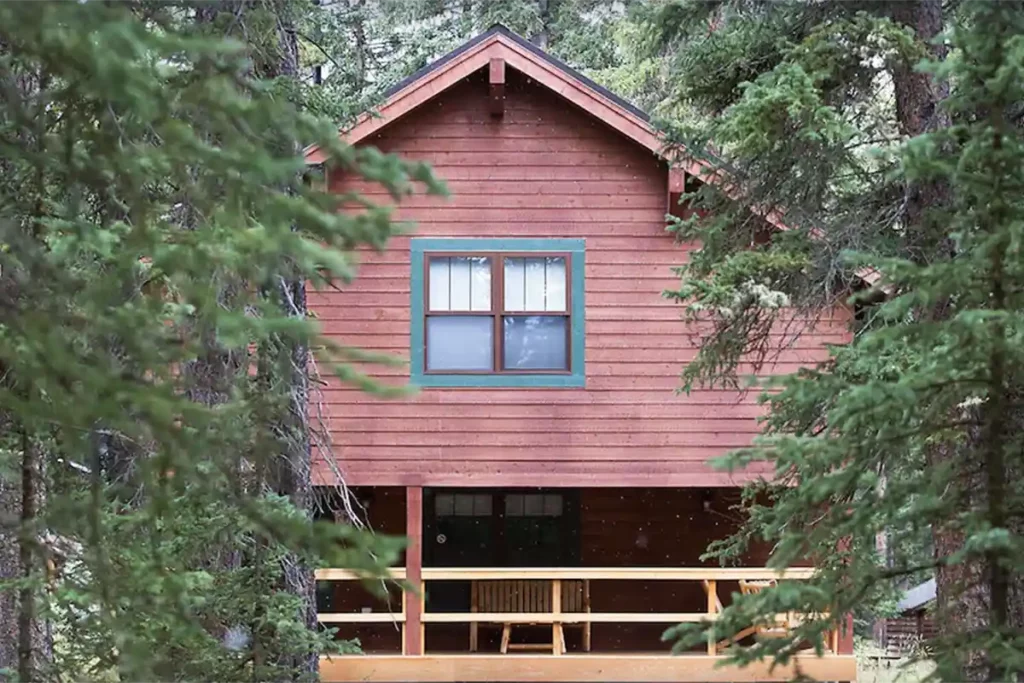 The owners of this cabin also own the Ursa Cabin (see above).
The interior is just immaculate. Cozy, modern, and functional. The owners are just lovely.
The price is very reasonable for this gem of a cabin! Winter accessible, private, incredible views of the creek and mountains. This is the perfect cabin for all year round but specially in the winter. If you visit Yellowstone in winter , this one is a dream. Within walking distance to the shops at Silver Gate, this is one of the best places to stay in the Yellowstone area. It is a two bedroom cabin but with extra beds, there is room for 9 people.
In the summer, have lunch outside at the picnic table by the creek, and in the winter enjoy your hot chocolate by the wood stove or watch the neighborhood bison walk by in the snow. Wildlife viewing right from your living room.
Check prices and availability for Sarva Cabin
---
4) The Mountain Hideaway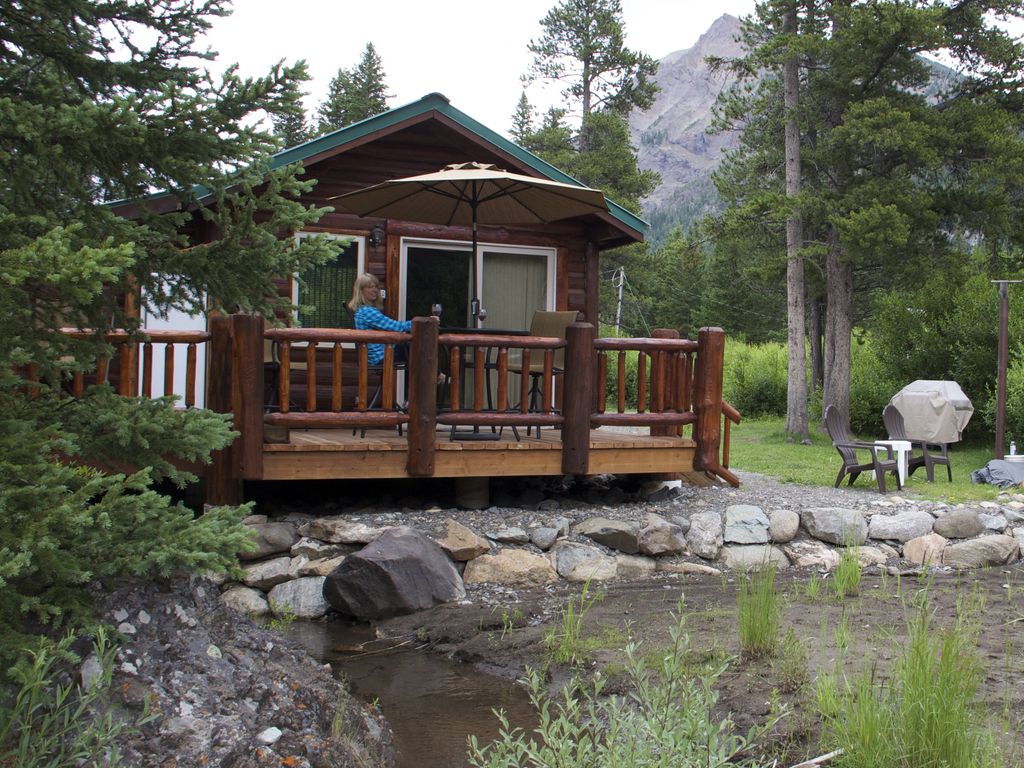 Stunning location for this rustic little cabin in Silver Gate. You get to have your own creek frontage with magnificent mountain views. The cabin is perfect for couples as it has just one room containing the bed and kitchenette and a separate bathroom.
Who needs a big cabin when you have this wonderful deck?
Check prices and availability for this cabin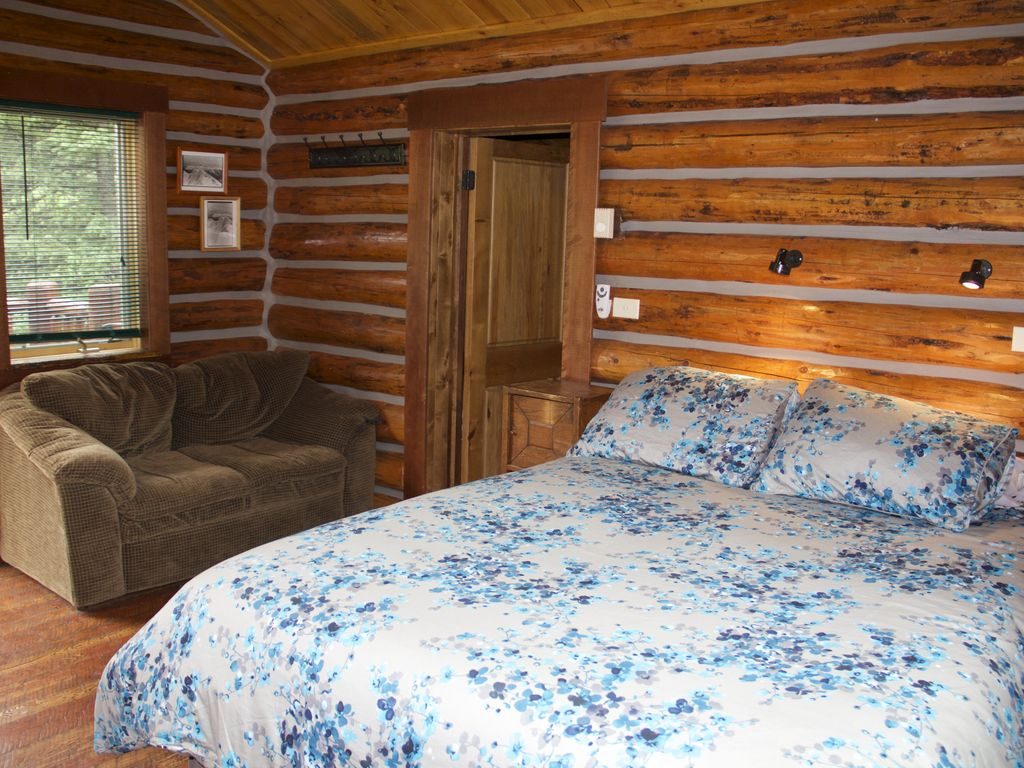 ---
5) Creekside Chalet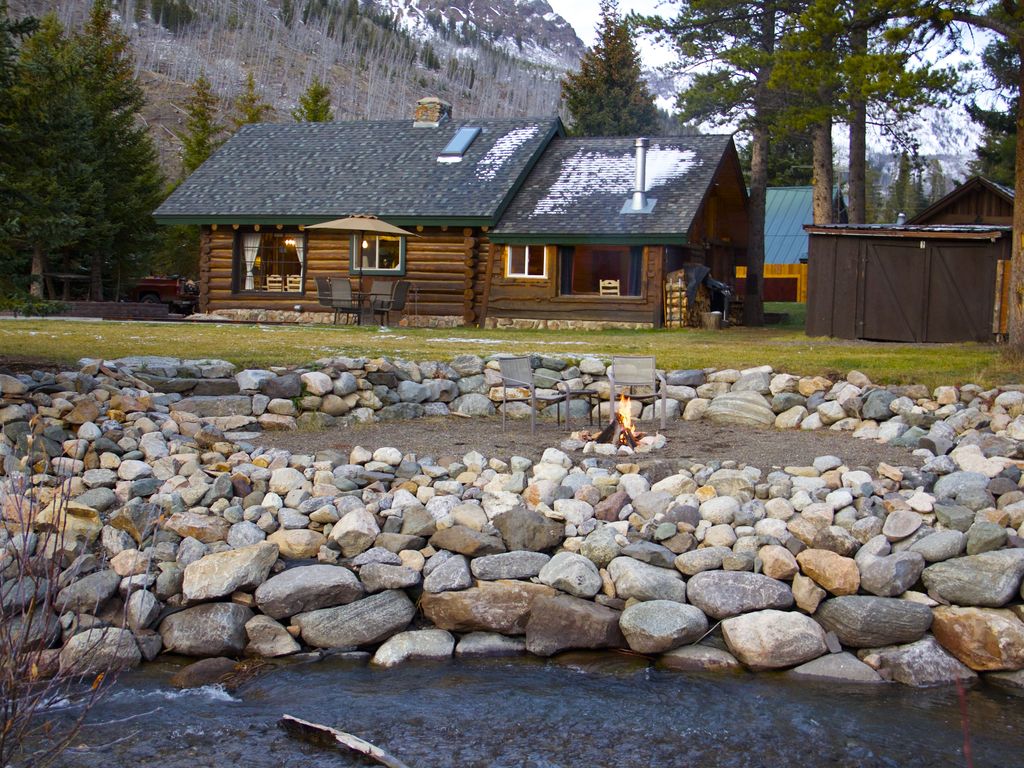 Silver Gate is all about that creek location!
This vintage one-bedroom log home (space for 4 people) has everything that Silver Gate has to offer. Creek side location, cozy wood burning stove, and incredible views. And don't forget the beautiful fireplace. Can you see yourself reading a book by the creek?
Check prices and availability for this creekside chalet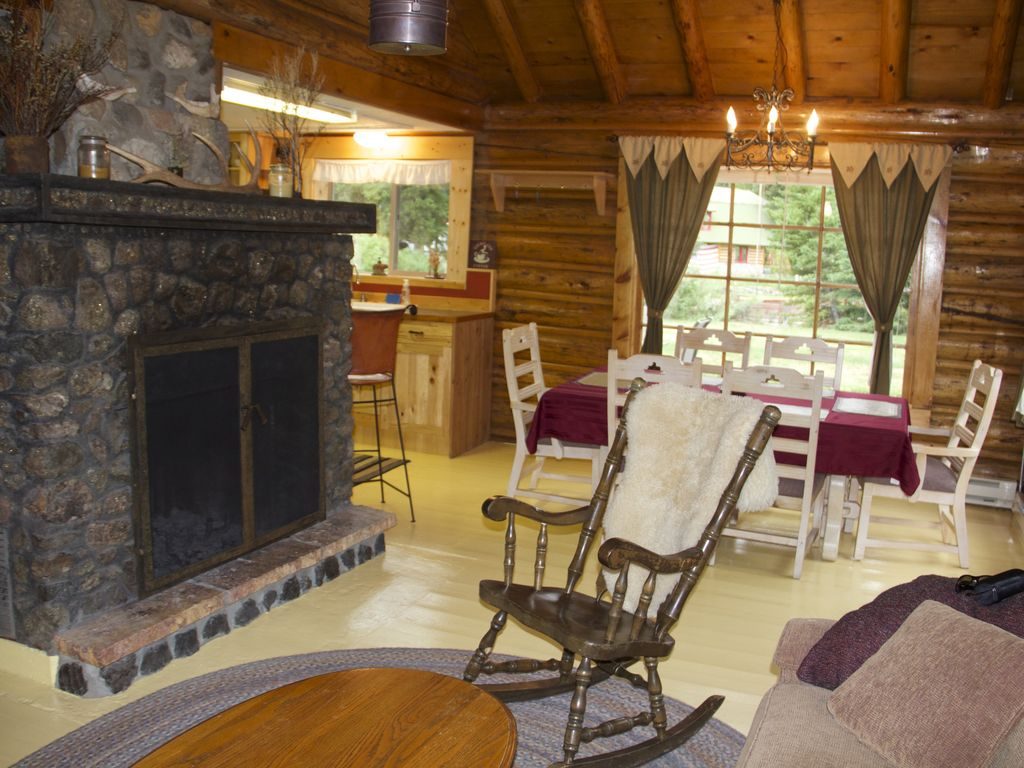 ---
Staying in Cooke City
Cooke City (Montana) is only three miles east of Silver Gate and four miles from the Northeast Yellowstone entrance. This is where the road ends in the winter making it a haven for snowmobile adventure enthusiasts. In the summer, this little town is buzzing with people driving through the Beartooth Highway (open only during summer months), which is considered by many to be one of the most scenic drives in the US. We agree, and if you are visiting during summer, consider driving into the park through the Beartooth Highway for some of the most spectacular alpine views in the country.
6) Best of the Yellowstone Luxury Cabins on the Bannock Trail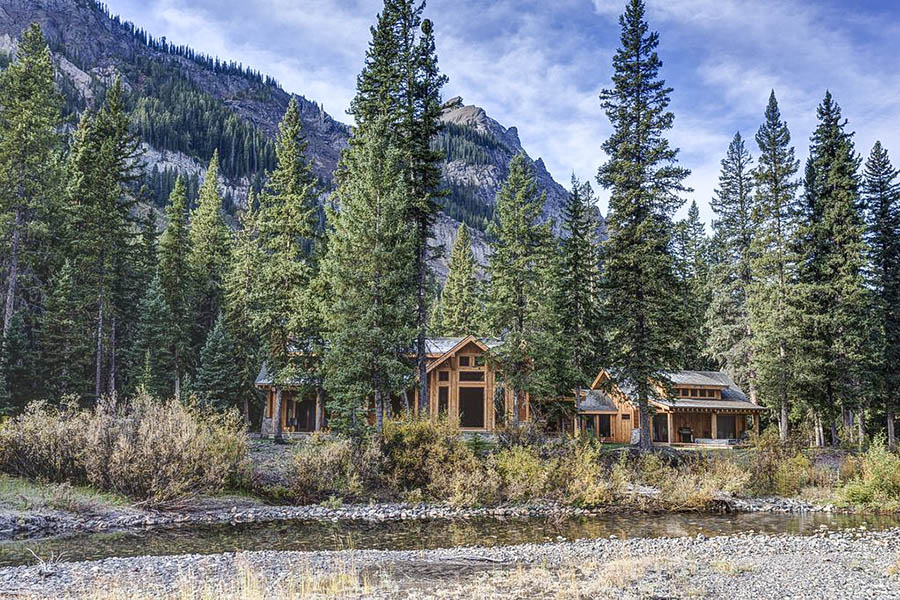 This craftsman luxury cabin near Yellowstone National Park is jaw dropping. The perfect mountain home. Four bedrooms, two stone fireplaces, three complete bathrooms, a great secluded creek location, and a hot tub and sauna. The luxury touch is given by the stunning cathedral ceilings, the radiant-heated hardwood floors, and the open rustic full kitchen complete with everything you'll need to make this a Yellowstone vacation to remember.
The master suite has a real rock fireplace, soaker tub, radiant heated floors, with an attached master bathroom. The master bedroom also has a walk-out french doors to the covered deck with stunning views of the creek and woods. The rest of the bedrooms have queen beds.
Bring your family and enjoy the wildlife that makes the Bannock trail their home like foxes, deer, elk, and the occasional black bears!
This is one of the most exceptional cabins in the area!
Check prices and availability for this luxury cabin on the Bannock trail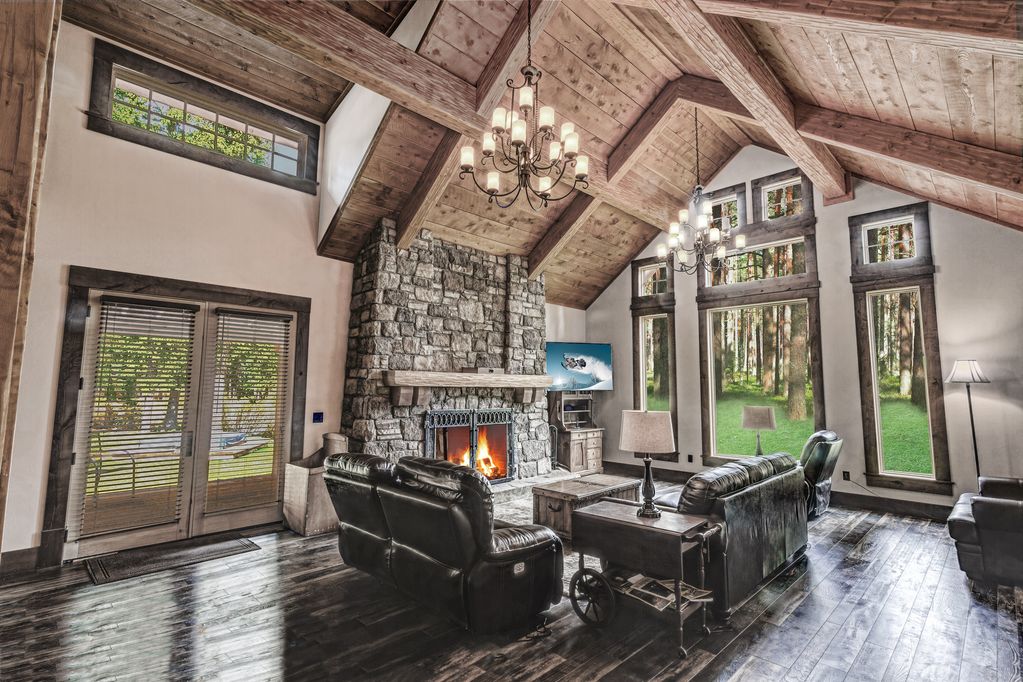 ---
7) Cooke City Lodging with Style, Log Cabin Rentals near Yellowstone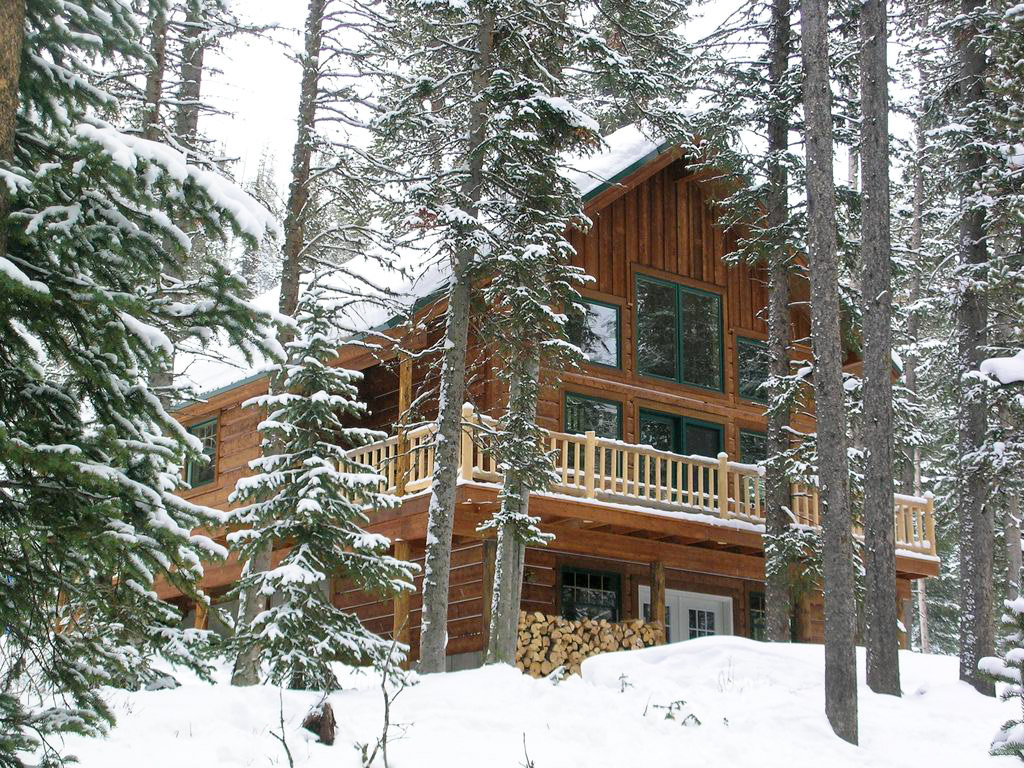 This is one of the two Cooke City cabin rental that I really like. I love the location, surrounded by trees, and it is still within walking distance from the shops and restaurants in Cooke City. Don't leave Cooke City without visiting the Bearclaw Bakery. This is one of our favorite breakfast places in the world. I am not exaggerating here.
The cabin is suited for a maximum of five people, as it has one bedroom and one loft (turned into a bedroom for three). The immaculate interior is cozy and inviting. One of the best great log cabin rentals near Yellowstone that you'll find.
That deck is perfect for watching pine martens scrambling around in the trees!
Check prices and availability for this cabin in Cooke City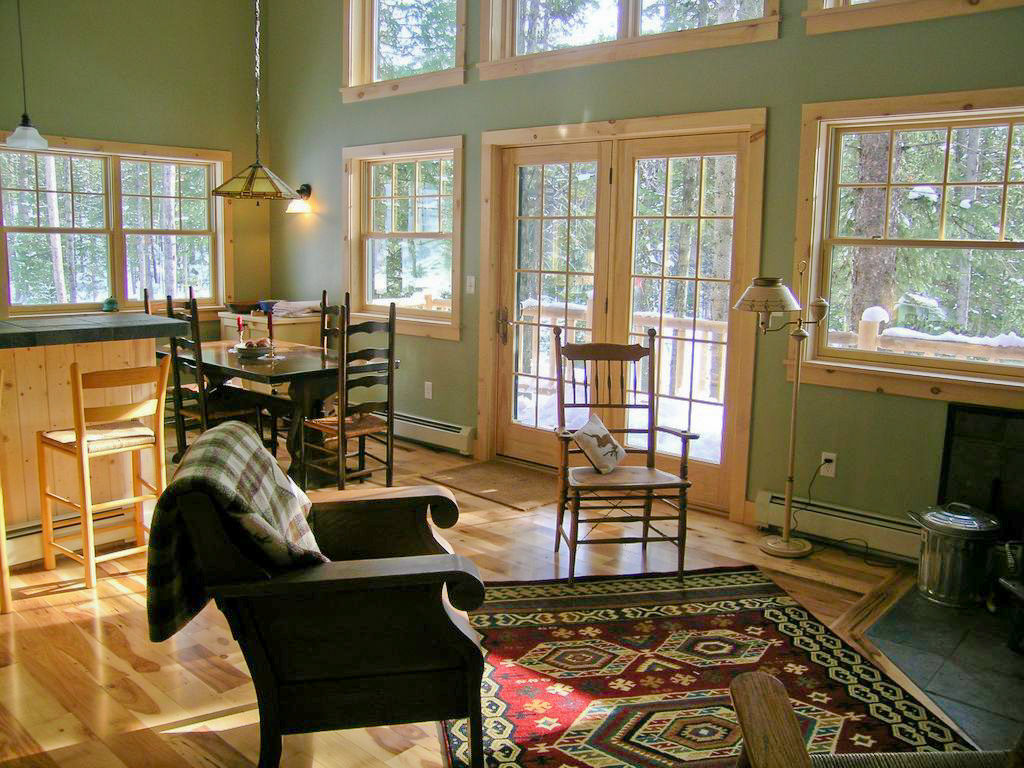 ---
Gardiner Cabins For Rent
The small town of Gardiner sits by the Yellowstone North Gate (the only park gate open to cars during winter) and overlooking the Yellowstone river. It is the base and starting point of many Yellowstone park tours, and is a good place to stay near Yellowstone in the winter if you don't want to find yourself snowed-in during a crazy storm.
These are my favorite Gardiner cabins:
8) Custom Log Lodge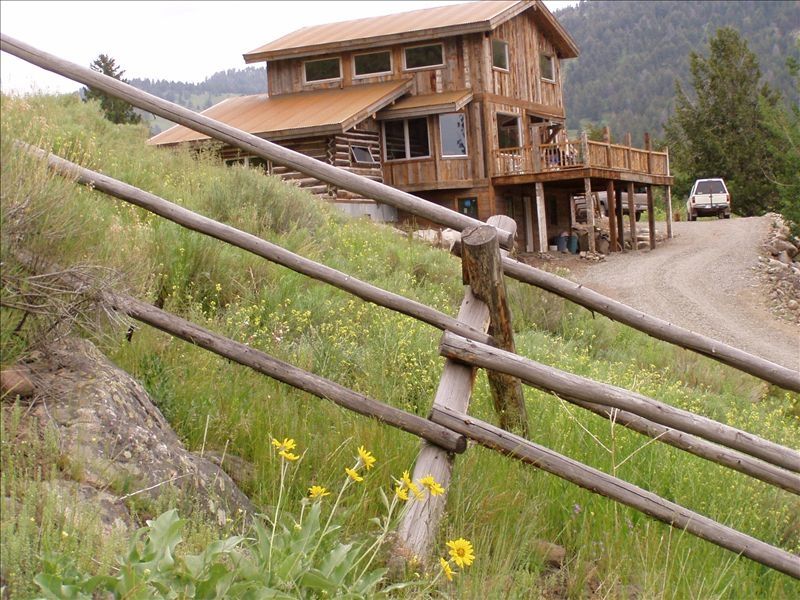 This cabin situated on the outskirts of Gardiner offers a rustic look outside, with a modern ambience inside.
It is five miles from the town of Gardiner, but it is situated so that you can see the steam from Mammoth Hot Springs from your deck. Imagine the views! Four bedrooms and three bathrooms complete this great cabin.
If you visit during winter you can snowshoe or cross country ski from the cabin.
---
9) Luxury Cabin on the Yellowstone River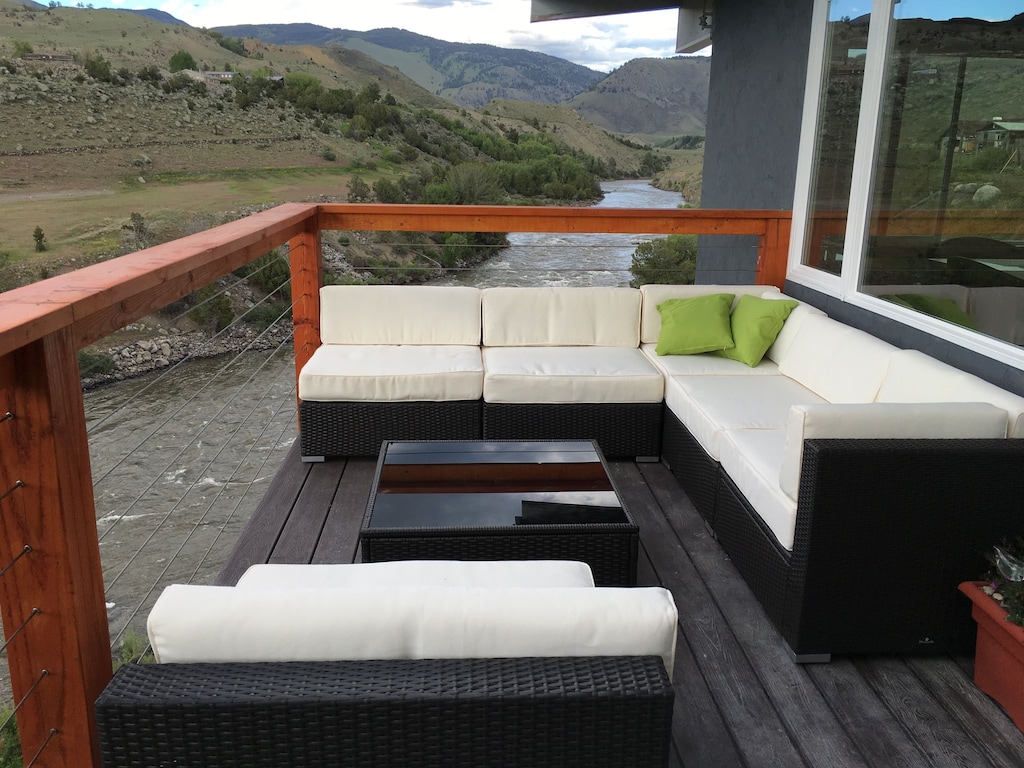 If you are looking for a cabin rental with incredible river views, this is the one for you. This is one of the most incredible views from any Yellowstone cabins in Gardiner that we found. From the deck you have Gardiner to your left, the Absaroka Beartooth Mountains as far you can see, and Yellowstone Park on your right.
Sitting on the banks of the Yellowstone River, this two-bedroom cabin is set up to welcome up to 6 guests. There is a private access river if you wish to fish. Note that this property is not suitable for children younger than 6.
Check prices and availability for this cabin with views of the Yellowstone River
---
10) Luxury cabin on the Yellowstone River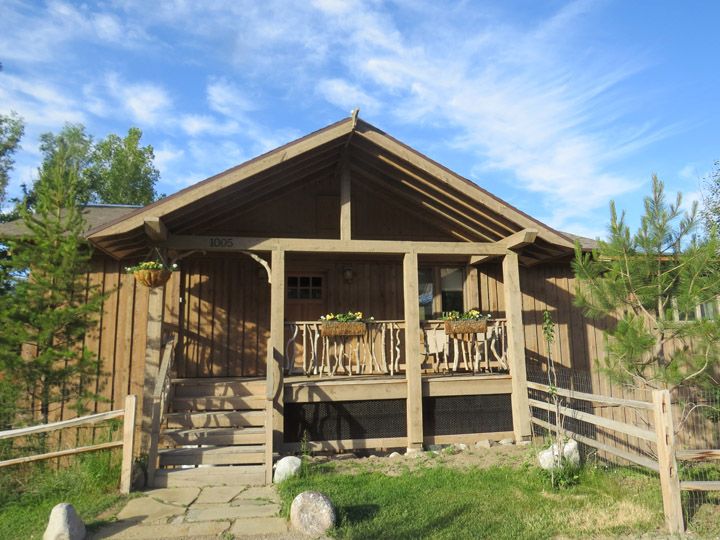 This recently-renovated and sunny cabin in Gardiner is perfect for big groups with five bedrooms that can accommodate up to 13 people. This is one of the few larger family log lodges around.
Perched on top of the Yellowstone river and overlooking the beautiful Yellowstone National Park, the owners have done an incredible job remodeling this spacious cabin. Granite counter tops, immaculate and modern bathrooms (five of them!), hardwood flooring, and even a game room.
The cabin is centrally located in Gardiner. You can walk to all the shops, restaurants, and coffee shops. This is the ideal place to stay in Gardiner, if you ask me. And being one of the large lodges in the area, you'll always have your own space.
Check prices and availability of this cabin in Gardiner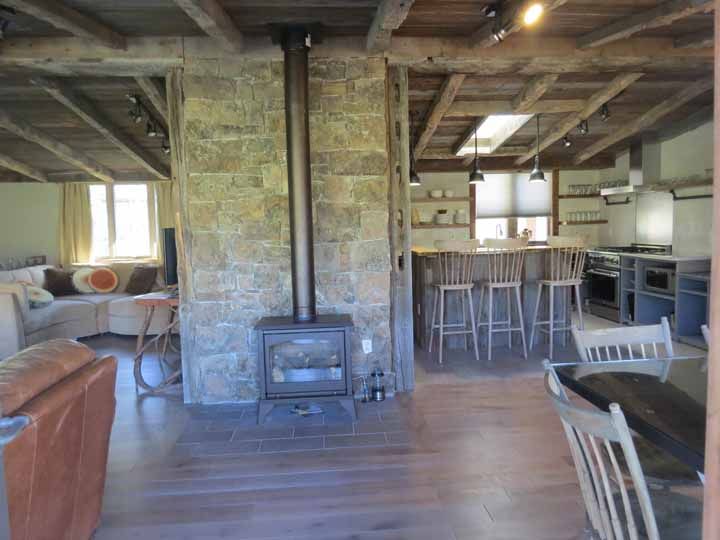 ---
West Yellowstone Cabins
West Yellowstone is a little town on the west side of Yellowstone. This is the perfect location if you want to go on a Yellowstone snowcoach tour in winter as most of these tours start in West Yellowstone. Remember that the West entrance gate to Yellowstone is closed to cars during winter, but tour operators are allowed in. There are plenty of cabins in West Yellowstone to choose from.
11) Explorer Cabins at Yellowstone, Ideal for Young Families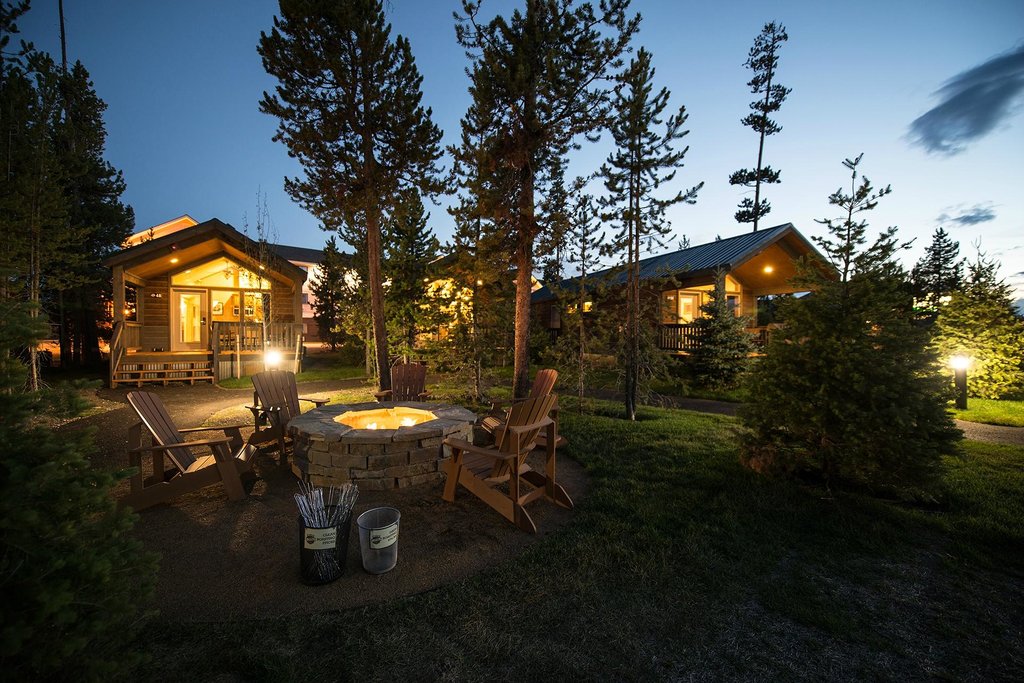 The Explorer Cabins at Yellowstone is a 50 cabin property right in the heart of West Yellowstone. These are the most affordable cabins in West Yellowstone, and only a 15min walk to the West park entrance. This is the perfect setting for a big family reunion when everyone needs their own space while staying at some of the best cabins near Yellowstone. Also ideal for couples looking for a West Yellowstone adventure or a weekend getaways.
Each of these cabins has their own front porch with seating area, and there's also a communal fire pit where you can cook some S'mores (no regular grilling allowed I'm afraid).
The Explorer Cabins at Yellowstone are ideally located, only a stone's throw away from all the adventure that West Yellowstone has to offer. And the main lodge has a fitness center.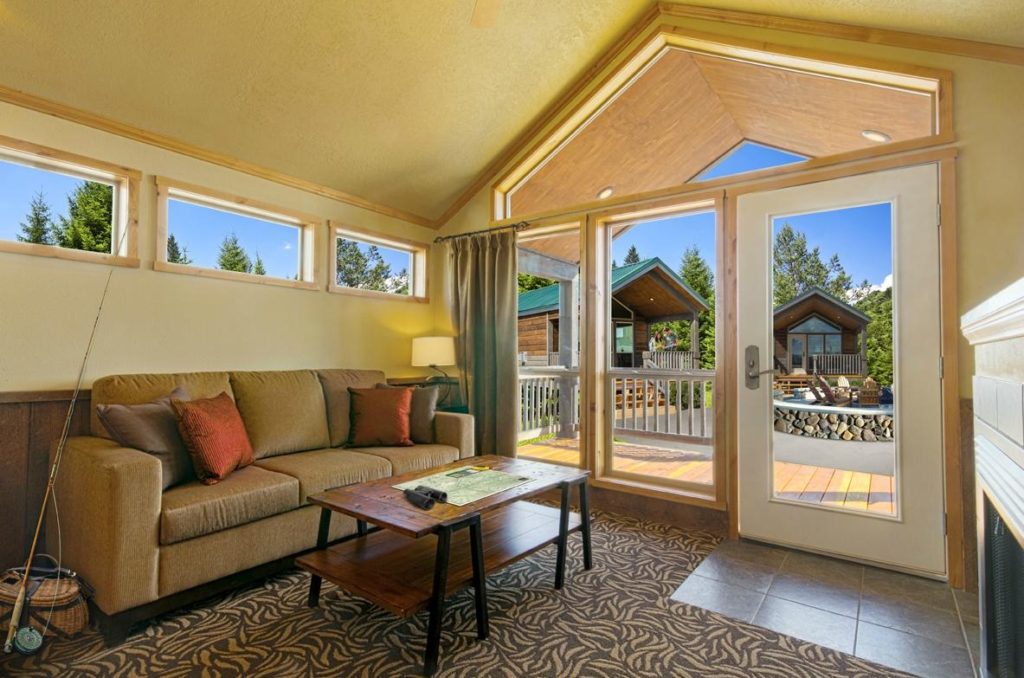 ---
What do you think of our list of Yellowstone cabins? Pretty sweet, huh?
We hope we've inspired you to rent a cabin next time you visit Yellowstone.
If you are visiting the Great Smokies National Park, check out our article about Gatlinburg cabins you can rent.
If you visit Banff National Park, check out these amazing Banff cabins we found. One of them even has an indoor pool. I so want to go there!
---
If you like this article, PIN IT!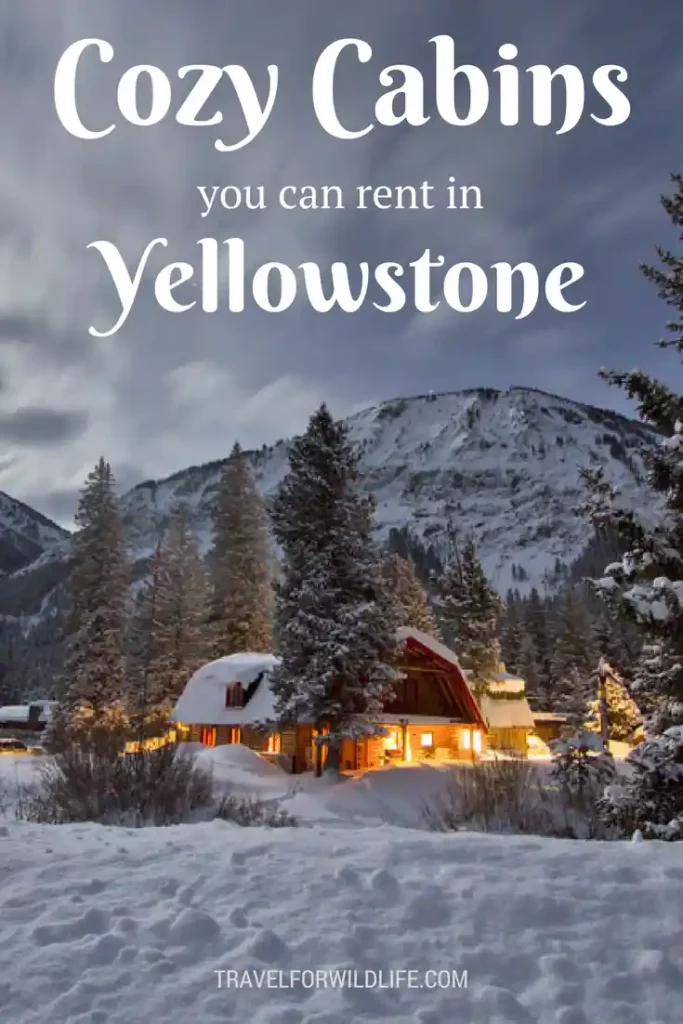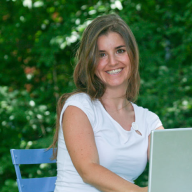 Cristina Garcia
Zoologist and wildlife photographer. She has worked in the field with jackals, wolves, cheetahs, & leopards. She serves on the Board of Directors of SEE Turtles, a non-profit sea turtle conservation organization.
Read her posts at Travel For Wildlife and see more of her work at Truly Wild, & Our Wild Yard.