There's no place I'd rather spend the winter than Yellowstone. For a person who grew up in a big, snowless city, visiting Yellowstone in the winter is like a dreamy winter wilderness fantasy come true. It's the white Christmas we never had. Add wolves, bison, coyotes, foxes, elk, and all the other inhabitants of this national park, and you have an unbeatable winter destination. It also happens to be where I saw my first wolf in the wild .
While Yellowstone is exceptional year round, winter is the perfect time for watching wolves. Wildlife is easily spotted against the white snow background, the animals are looking majestic in their beautiful fluffy winter coats, and best of all there are hardly any people in Yellowstone during winter. That's right, people don't travel to Yellowstone in the coldest months (January or February). My guess is that most are afraid of driving in snow or the extremely cold temperatures.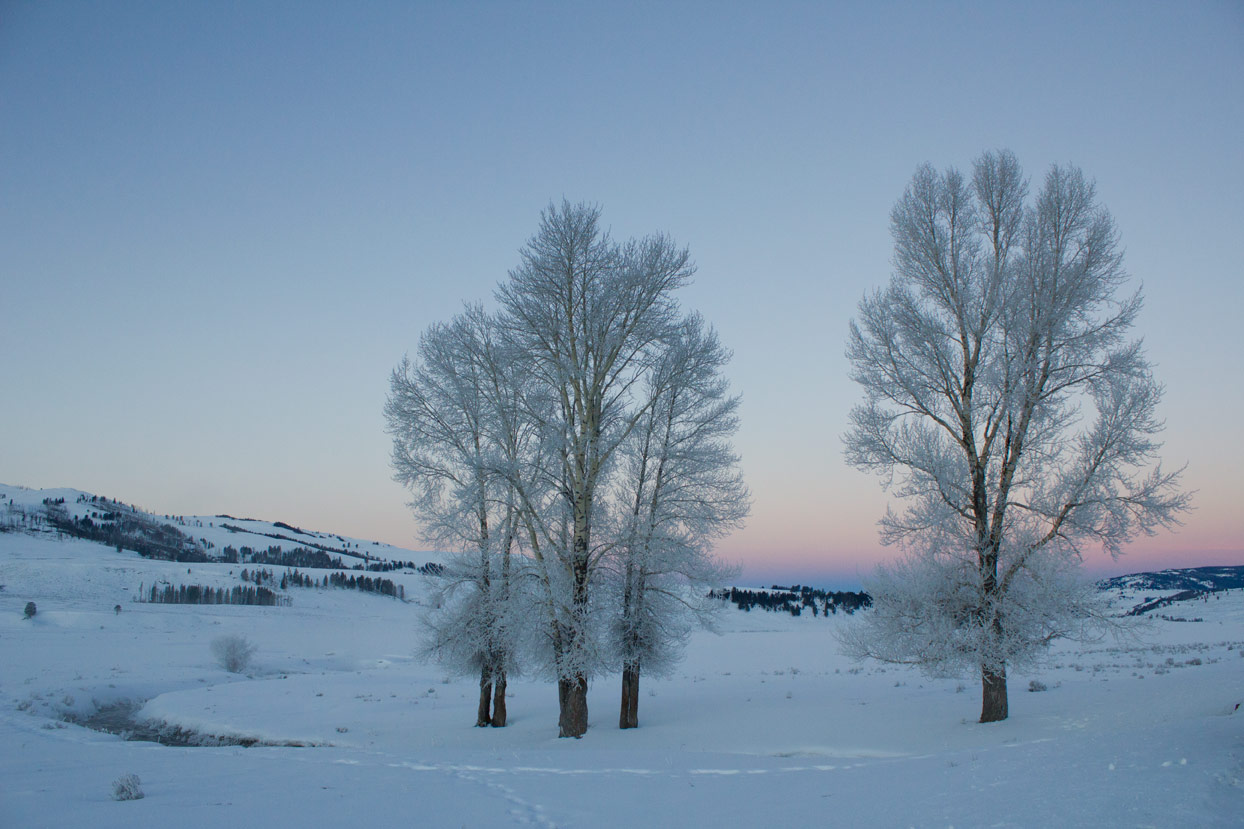 But if you have the proper travel gear for Yellowstone in the winter, you'll be more than fine! You just need to be prepared. This means making a Yellowstone packing list specially designed for winter temperatures. But what should you be packing for a winter vacation in Yellowstone?
So first of all, how cold does it really get in Yellowstone?
Temperatures often range from zero to 20F(-20 to -5C) throughout the day. Sub-zero temperatures are common, especially at night and at higher elevations. The record low temperature is -66F (-54C). Snowfall is highly variable. While the average is 150 inches per year, it is not uncommon for higher elevations to get twice that amount. – National Park Service
The last time we visited Yellowstone in February, it got down to -12F (-24C) one morning. It is COLD. January is COLDER. But don't let that keep you indoors! You just need to know what to pack for Yellowstone in the winter.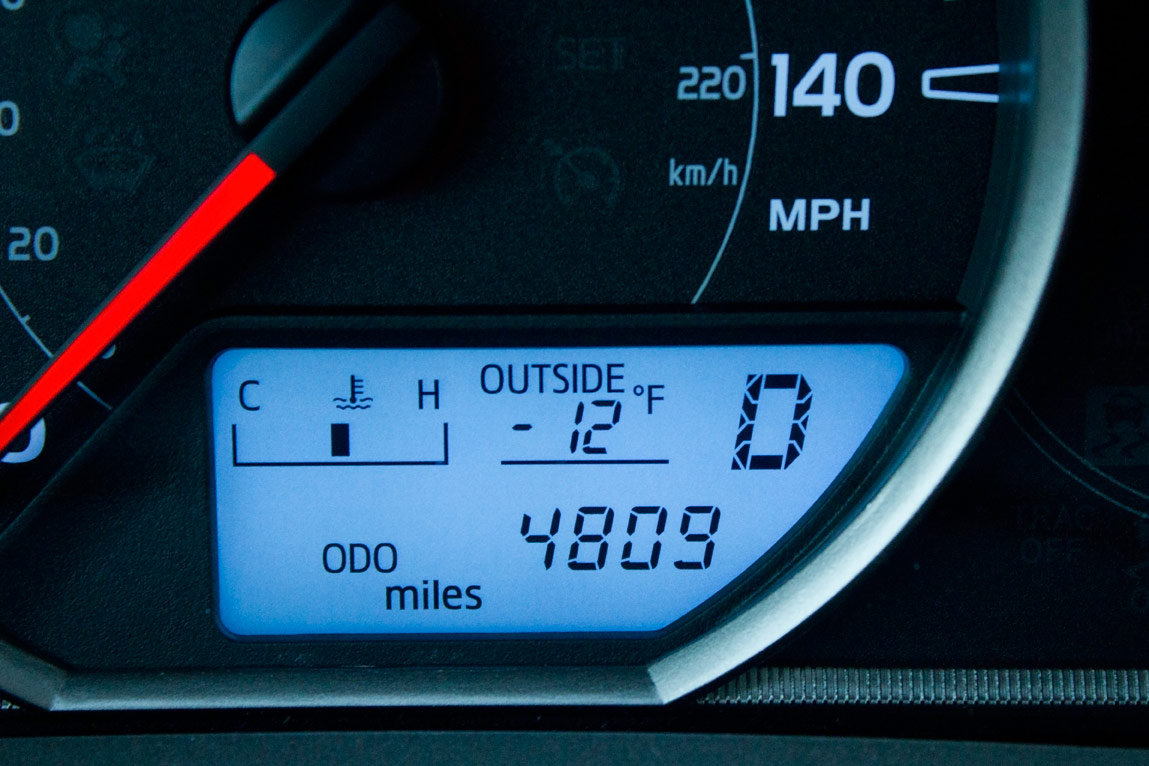 All you need is proper gear for winter extremes!
*This article may contain affiliate links. We receive a small commission at no extra cost to you.*
Yellowstone What to Pack for a Winter Trip
Whenever we are visiting Yellowstone in winter we make sure that our Yellowstone packing list includes the following items:
Clothing Gear for Winter Extremes
If you are heading to Yellowstone to watch wildlife, then it's very likely you'll be driving around in your car and stopping at different spots along the way to search for creatures. You'll be standing outside your car with binoculars, a camera, or a scope. You generally won't be moving around a lot as in cross-country skiing or showshoeing (although you should try them!) so you need to keep yourself very warm, focusing especially on your feet, hands, and head.
Yes, if you start shivering you can get in your car, turn on the heat, and drive to Cooke City to get a nice hot coffee at Bearclaw Bakery. But you'll last a lot longer at that amazing wolf sighting if you're wearing the right gear.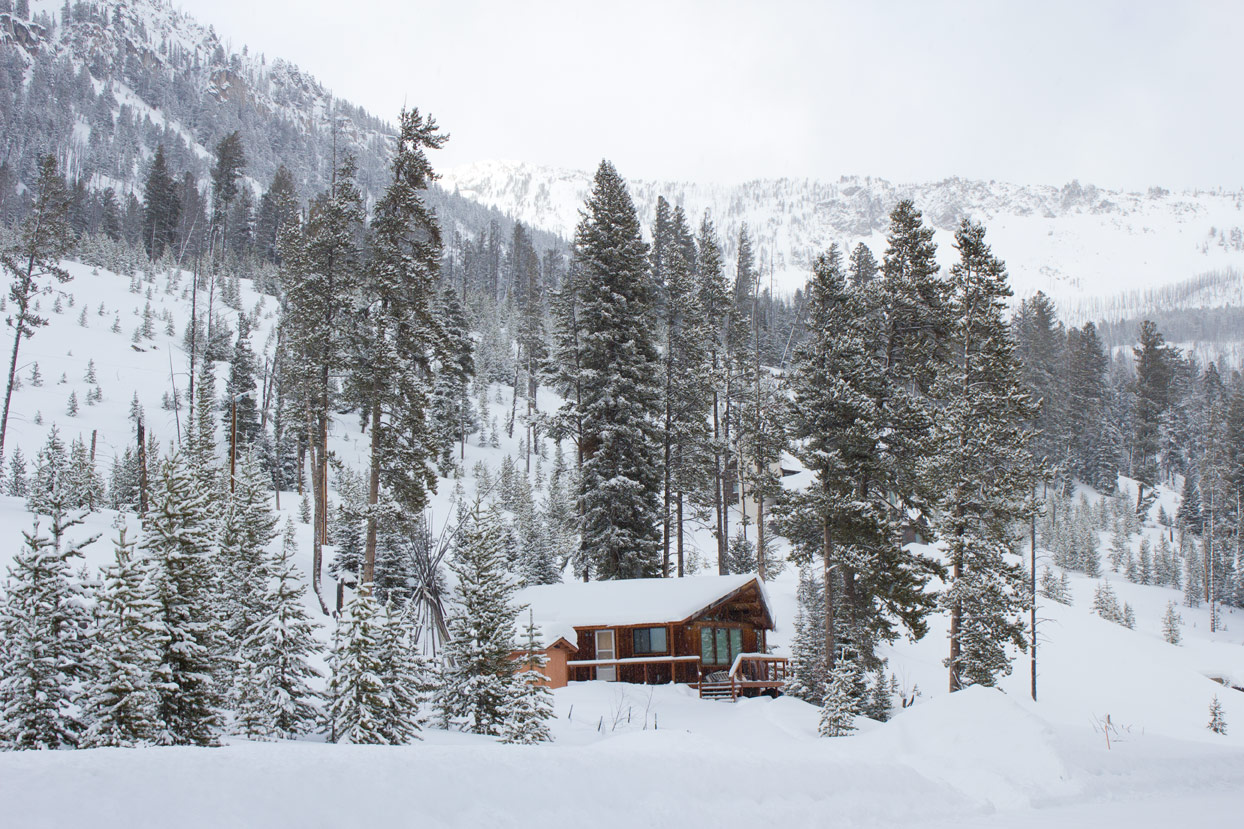 You should be aware of hypothermia symptoms, but if you follow our suggestions here, you will stay safe and toasty.
Want to stay at a cozy cabin in Yellowstone? Take a look at our favorite Yellowstone cabins available to rent.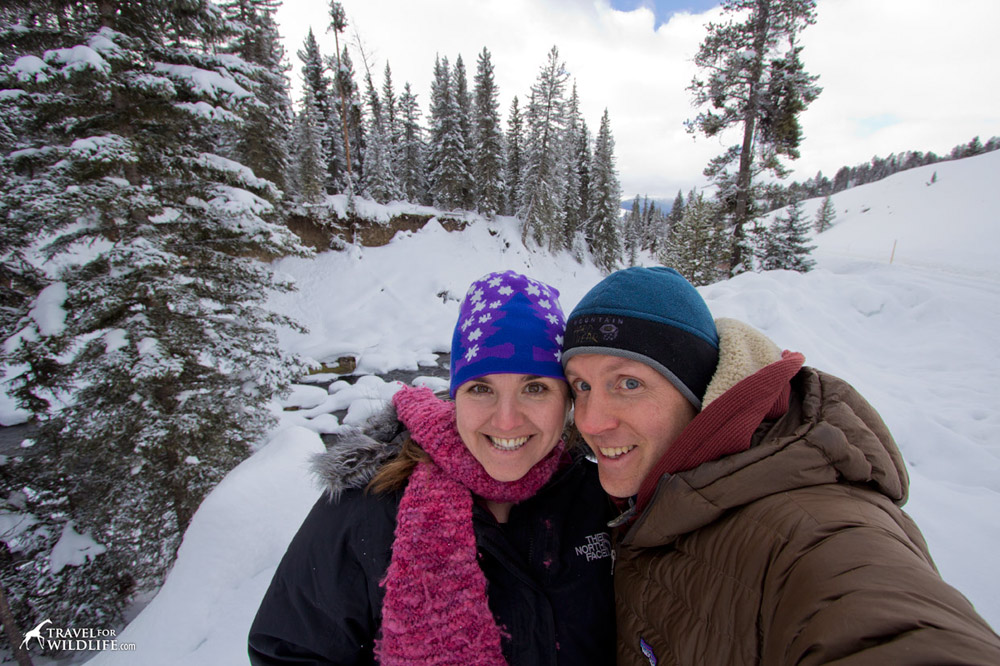 Keeping your feet warm
No one wants freezing toes. Believe me, I've been there. When your toes are exposed to very cold temperatures, they'll hurt a lot. You need to prevent that, so when packing for a winter vacation in Yellowstone make sure you won't get frostbite.
Choosing a boot for extreme weather: The first thing you want to look for in a snow boot is a thick sole and good insulation. I also like to wear high boots. That way I can walk in deep snow without the need for gaiters. My favorites are these Sorel Joan of Arc. They are pretty versatile and can even be worn fashionably with a cozy dress! It is like two boots in one. Snow adventure boot during the day and cozy cute boot in the evening. They are rated -25 Fahrenheit / -32 Celsius, which means your feet will keep warm up until the thermometer hits those low temperatures.
If you think you will need a warmer boot, check out these Kamik Canuck Boots. They are rated -40F / -40C, so if you think you'll brave those freezing temperatures, get these ones. Plus they are way cheaper than the Sorel ones. The Canuck are definitely on my list for whenever I need new winter boots. I just tried them on today and they feel really cozy and comfortable.
I always use my Smartwool ski socks.
If I was looking for a men's boot, I would choose this Pac Nylon Sorel Boot (rated -40F / -40C), but if you want to save 20 bucks I really like this Kamik boot too. It is not only cheaper but made from 100% recycled materials and are also rated rated -40F / -40C. I would also wear Smartwool ski socks.
Note: when buying snow boots, always get them a size up! You need that extra space around your feet for the air inside to warm up. If your boots are too tight there won't be any room for that vital insulating air. It also gives you the option of wearing thicker socks. A few years ago I was on a trip to Finland and temperatures dropped to -13F (-25C). My boots were too tight, my feet got too cold, and I was in pain all day. I had to sell those boots and get a new pair, this time a size larger. They kept me warm in even lower temperatures on my next journey.
Keeping your hands warm
Keep your hands warm by wearing the best winter gloves you can find. I wear the Heatwave Plus Beam gloves from Seirus. They have a long gauntlet and they also have a heater pocket. You can read my full review of the best extreme cold weather gloves and how they performed in -32F (yes we reached -32F in January '17). Columbia also has a very similar ones, the Bugaboo Interchange Gloves.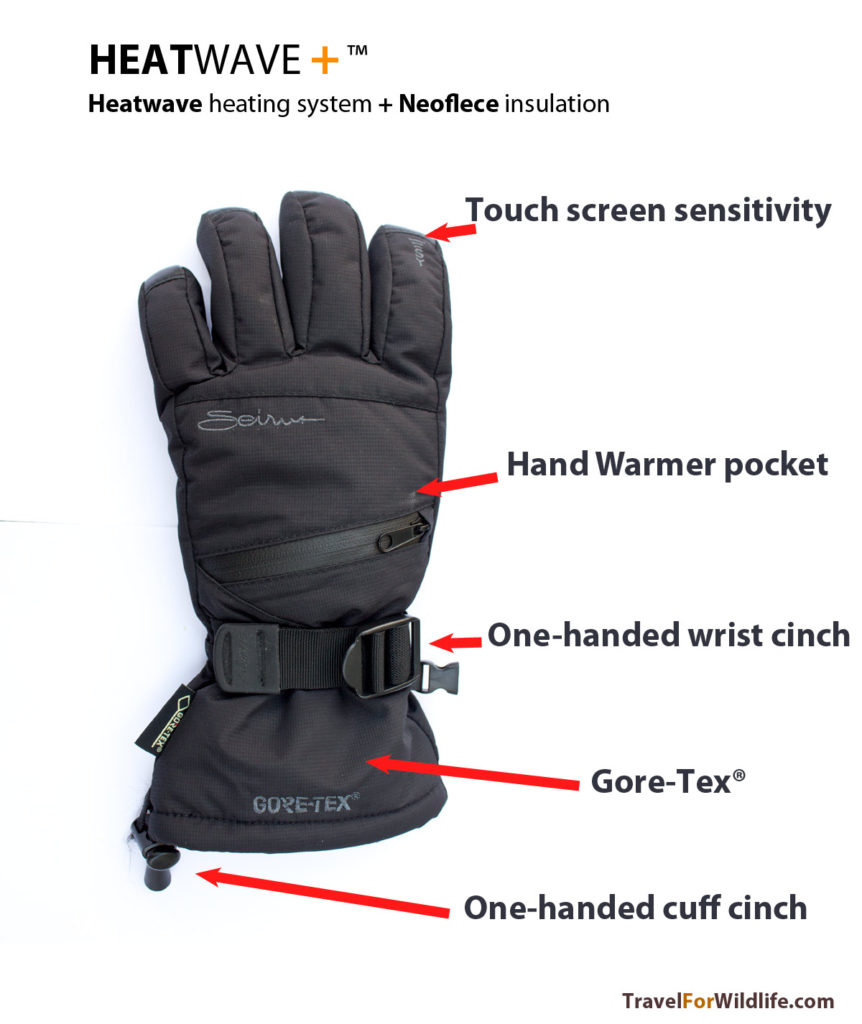 I also often wear a pair of fingerless fleece hand warmers, for those times when I need to take my gloves off to use my camera and I don't want my hands to be completely exposed to the elements. Why don't I use a pair of photographer's gloves? Well, because they are expensive.
If you are in the market for a pair of winter photography gloves for winter extremes, we have our eyes on the Heat 3 Smart Gloves. These are a mitten and a glove in one design. When you need to use your camera you can expose your fingers and thumb. The silver fabric on the thumb and index fingers allows you to use your phone or tablet. Plus, they have pockets so you can insert hand warmers. Don't they look sweet?
Hal wears a much cheaper fleece version of the same basic concept that he found at our local K-mart for under $15. They are fingerless gloves with a flip back mitten cover, and a flip top over the thumb. (Thumb access is essential for camera controls.) They're not as warm as the awesome gloves listed above (seriously, those are the warmest gloves), but Hal seems to get by with them whenever he's taking photos.
If you are ready to step up your game, learn from the Yellowstone experts. When you drive around the Lamar Valley you will start to recognize all the wolf researchers. They are out there every day, so they know what works and what doesn't. Look at their hands and you'll see a mysterious red light on their gloves. Yep, they are wearing some neato high-tech heated gloves. These gloves are powered by a rechargeable battery and with a push of a button your hands will start to warm up. If I wasn't happy with my gloves I would try the Seirus Inferno Heat Touch gloves.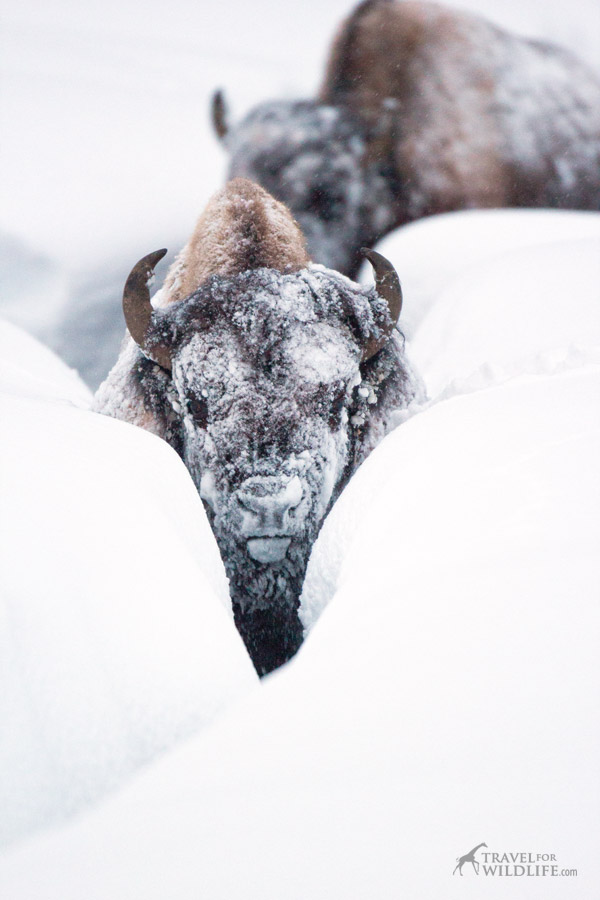 Keeping your head warm
You will need a winter jacket with a hood (more on that later), but still you need a hat. The perfect hat (for me, anyway) is a wool hat with a band micro fleece lining, like this Icebreaker hat.
A versatile neck warmer is also a must-have. You can use it as a neck warmer, pull it up as a facemask (which you will on those frigid Yellowstone pre-dawn mornings), twist it into a beanie (great backup if your hat gets wet), a sunshade, or fold it into a headband. This is one piece of gear that would be very useful, even if you don't go to Yellowstone.

If you are looking for a face mask too, I would get this facemask scarf combo by Seirus. I just got it and I am excited to try it on on my next trip! (update: I tried it and it is amazing! It kept my cheeks and nose warm. Will always take it with me back to Yellowstone!).
Keeping your body warm
Layers, layers, layers. You've heard this a million times. For visiting Yellowstone, I would modify this to merino layers, merino layers, merino layers. Forget cotton layers. When you shop for merino wool tops, get ones with a 250 weight since they are the warmest.
But first you need a good jacket. I got my jacket from North Face, they don't do that one anymore, but it was like this one. I got the insulated jacket from North Face for my trip to Finland and it has become my favorite jacket for extreme weather. I don't need many layers when I wear this jacket and it doesn't restrain my movements. Furthermore, they are Certified to the Responsible Down Standard (RDS), which means that their down "does not come from animals that have been subject to any unnecessary harm, such as force-feeding or live-plucking".
This past winter (2021) I got a parka, which is longer than the jacket above, and I must say I love it. Is like wearing a blanket. My jacket is exactly like this one at North Face. Well, the North Face one is better as it has that faux fur around the hood which is great for windy days.
You could get a longer jacket but I don't think it would be comfortable if you want to go snowshoeing. I also recommend getting a jacket with a faux fur lined hood as the fur creates a warm air pocket around your face. If you are looking for a men's jacket, I love the Barlow Pass jacket by Columbia.
Back to the layers, this is what you need:
A base layer (I pack two). I like this Smartwool base layer.
A middle layer for additional insulation (I pack two). SmartWool midweight layer. I like the ones with a zipper like this one, as sometimes when the sun comes out and you are all bundled up, you may want some fresh air.
Big comfy merino wool sweater normally stays in the back of the car, but you never know if or when you'll need it.
Keeping your legs warm
First rule: do NOT wear jeans. It might seem like an obvious rule, but I kid you not, we saw a young teenager wearing jeans and a light jacket when it was below zero. Obviously he did not last long outside the car. Jeans provide no insulation, take forever to dry, and are heavy for packing. Skip 'em.
Pants! I've owned ski pants and I've found them very uncomfortable to walk around in. Then one day I found these great winter trekking pants (they are less than $40!) from Mountain Warehouse and I decided to make them my snow pants. You can find the men's version here. They are fleece-lined and are super affordable and comfortable. They are not waterproof but I am still pretty happy with them and don't feel the need to buy any other pants outer layer for our next winter visit to Yellowstone. It is usually so cold that snow won't melt even if you sit on it.
In fact, we sat in the snow in one beautiful spot for half an hour and my pants stayed completely dry. Also, since these are designed for hiking, you'll be able to use them in other situations besides snowy conditions. Double check your size as I believe these are UK sizes.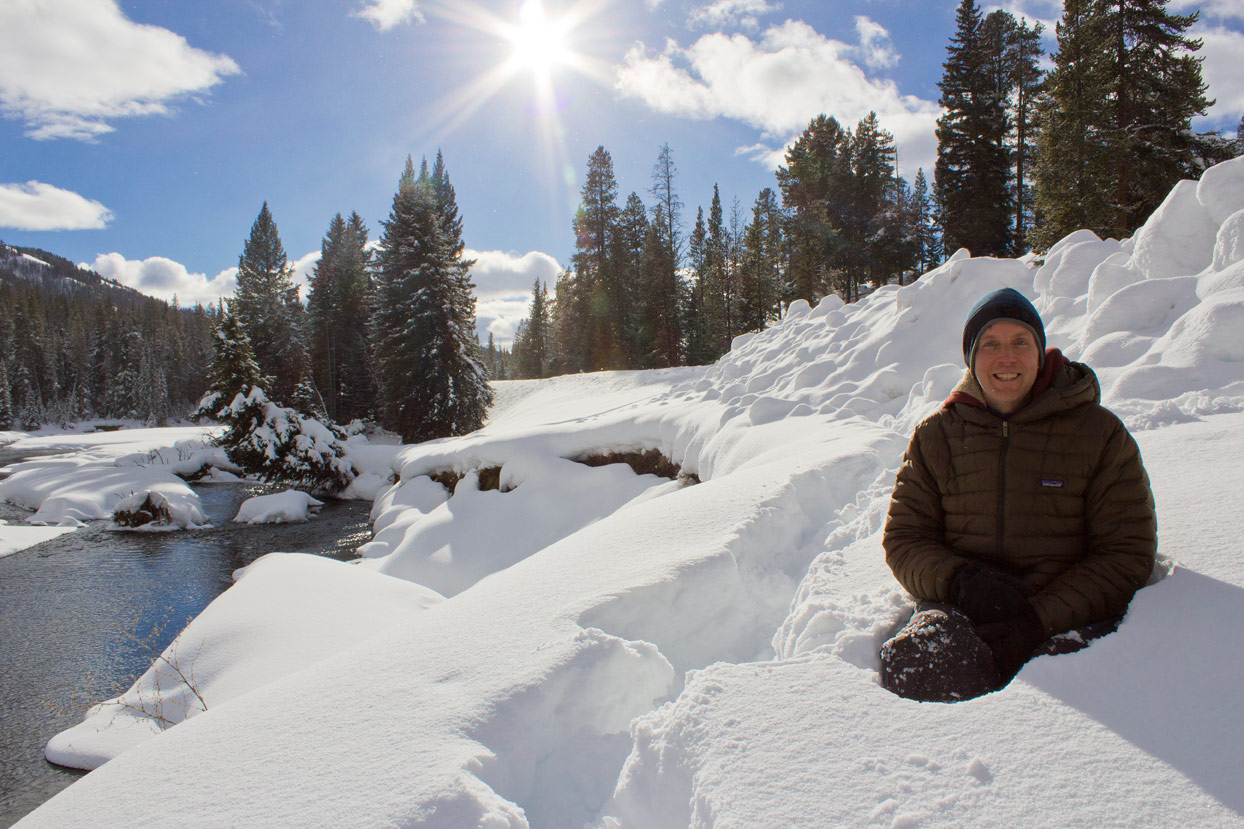 Even though the pants are fleece-lined, in Yellowstone you will still need another layer beneath. I take two Smartwool leggings, a pair of the 200 weight and a pair of the 250 weight for the coldest days. If I had to get another pair I would get the ones with the Taupe Heather pattern (so cute!), mine are solid black and pretty boring.
Wildlife Watching Essentials
If you are like us and the reason why we visit Yellowstone in the winter is to watch wildlife, then packing for a winter trip Yellowstone should include all the wildlife watching essentials.
The first and most obvious piece of wildlife watching gear is a good pair of binoculars. Since I've been using Hal's binoculars for years now, I'm going to let him pipe in on this one.
"After many years of traveling to watch animals, my motto has become: buy the smallest, lightest, and cheapest piece of equipment that will get the job done. As a result, I'm in the habit of carrying compact binoculars, like these Pentax 8×21 binoculars (Black). Sure there are plenty of bigger, better, and more expensive binoculars out there, but carrying a small pair has a lot of advantages.
The first is that you're more likely to have them with you when you need them. I carry mine in a small pouch on my belt and they never get in the way. Plus they can easily be thrown into a jacket pocket or left sitting between us in the car console. Secondly, binoculars tend to take a lot of abuse traveling, bouncing around in luggage and banged around in the car. I don't like to have to stress about destroying a $500 pair of binoculars. Thirdly, lower magnifications have less exaggeration of hand shake, yielding a more stable image.
As a photographer who often shoots with a 500mm lens, an 8x or 10x magnification gives me a good approximation of what I see through my camera and it's a great way to scout images. Best of all, you can hold them up comfortably with one hand for long periods without getting a sore arm!"
We do all our wildlife watching through binoculars or with our naked eyes. But the open terrain in Yellowstone allows for some exceptionally long views, which means a high powered spotting scope can also come in very handy.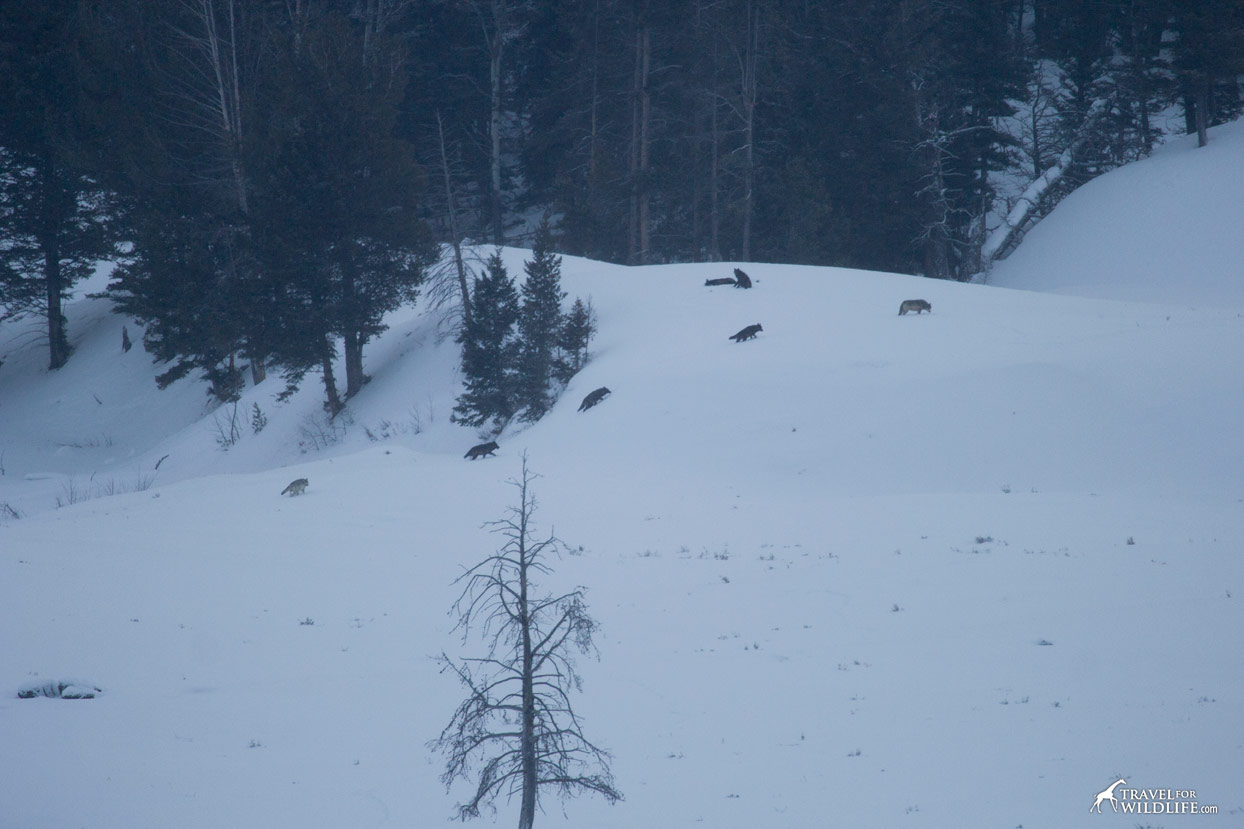 In Yellowstone, you'll see a lot of people with scopes, especially hardcore wolf watchers. As the wolves don't tend to get very close to humans, it gives you the opportunity to observe wolf behaviors that may be difficult to see with hand-held binoculars. But spotting scopes (especially good ones) can be pretty dang expensive. If you really want to get one, check out the great spotting scope reviews at Best Binoculars Reviews website.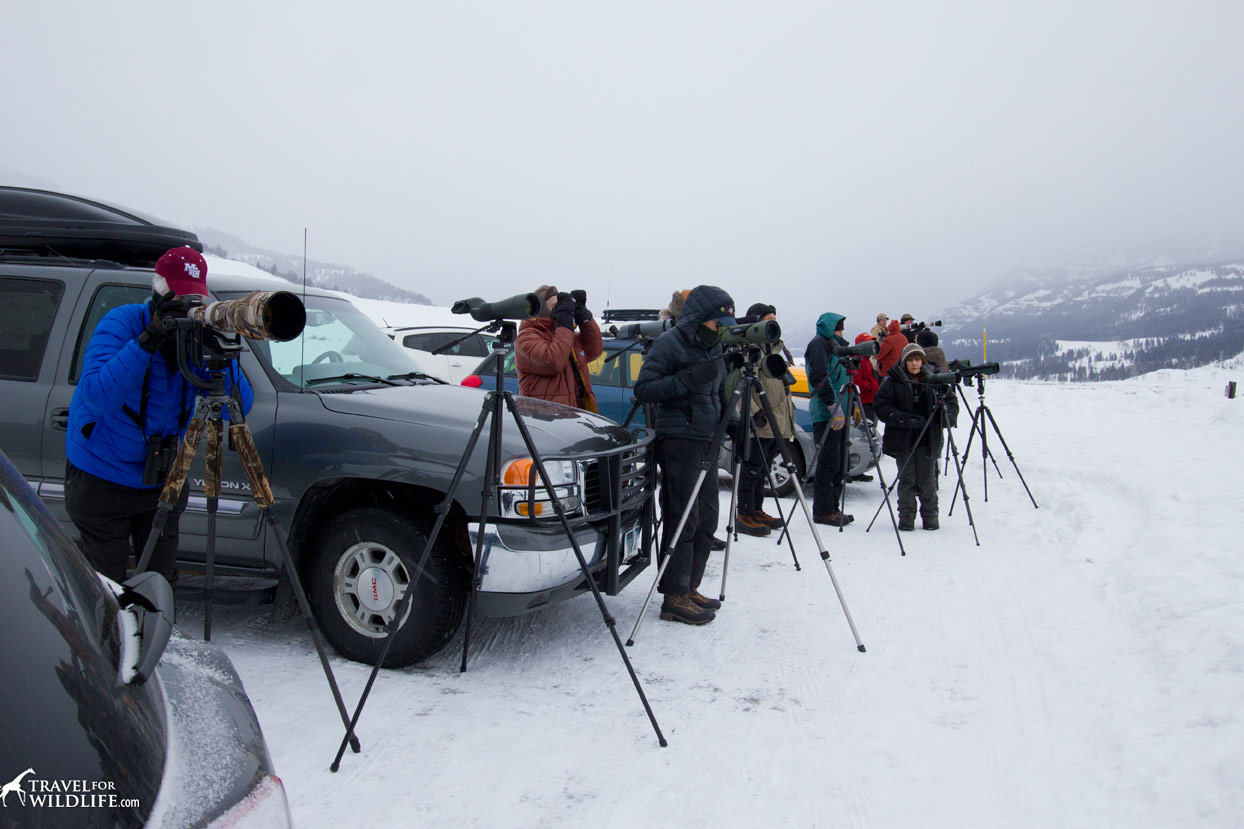 If you are planning on doing some photography, there are few things to keep in mind when shooting in extremely cold temperatures. One of them is your battery life.
Cold batteries don't last long. Make sure you take extra batteries with you. To extend the life of your batteries, keep them warm in your car (you can put them inside socks) or in your pockets close to your body heat. Or you can get a Tether Tools battery, which is an external battery often used by night photographers who need extra battery endurance. It only measures 7x7x2 inches and weighs 1.5 pounds. It's not practical for hand-held photography, but for those shooting on a tripod or for long periods (for example with a time lapse) this could come in very handy for extending battery life.
Another challenge is condensation forming on your lenses after leaving your cozy warm hotel room in the morning. One easy trick is to leave your gear inside a plastic bag while your camera adjusts to the outside temperature at the beginning of your drive. The same technique will work for your binoculars as well.
Snowshoeing in Yellowstone
If you are planning to go snowshoeing, you probably want to take your camera with you, right? You want a camera bag that is light. You need a camera bag where your gear is easily accessible. The Rotation 180 Trail by MindShiftGear is perfect. It comes with a beltpack which you can rotate to the front of your body in one swift motion. That way you can get your gear without clumsily taking your backpack off and without scaring wildlife. There's also a raincover available, so you have no excuse. You are all set!
What We Pack In Our Car For Our Yellowstone Outings
When you do a self-drive safari in Yellowstone in the winter you have to be prepared for all the "what-ifs". Even if they seem ridiculous, it is much better to be over prepared than under prepared. If you find yourself driving back to your Yellowstone cabin or motel after dark, you may end up being the last car on the road, especially if you're staying in the Silver Gate/Cooke City area.
What if your car breaks down? Cell phone signal is pretty spotty, particularly in a snowstorm, so there's no telling how long you could be stuck. Be over prepared. I normally throw extra layers of clothing in the car. We even pack our tiny camping stove in the back with some cans of soup, just in case. Don't forget the coffee or hot chocolate, you'll be glad you brought it. Who knows, you might be lucky enough to spot a pack of wolves while you sip a hot drink! What better way to turn a potentially disastrous experience into a pleasant one.
Essentially you are going to need three things:
Something to drink (lots of water)
Something to eat (energy bars, soups, cookies…)
Something to keep you warm (cozy blanket, sleeping bag, Hand Warmers, I prefer to use both Hot Hands and Hot Toes. You could use the Hand Warmers on your feet instead of the Toe Warmers, but they are a bit bulky and not too comfortable when walking.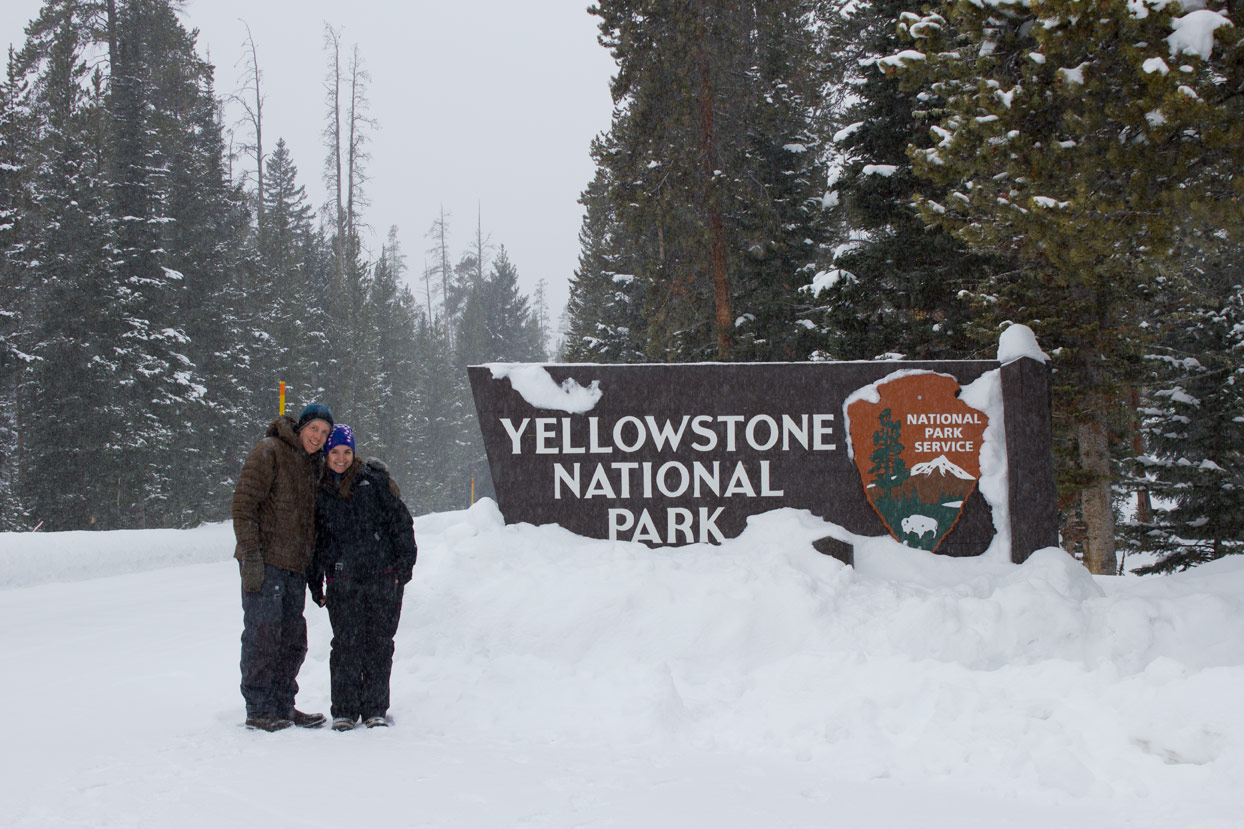 Don't let your winter vacation in Yellowstone be ruined by taking the wrong gear. Be prepared (make your winter packing checklist Yellowstone), dress smart, and have the time of your life!
Have you visited Yellowstone in the winter? What gear did you take? Did we miss any must-have's? Let us know in the comments below!
If you enjoyed this post, Pin it!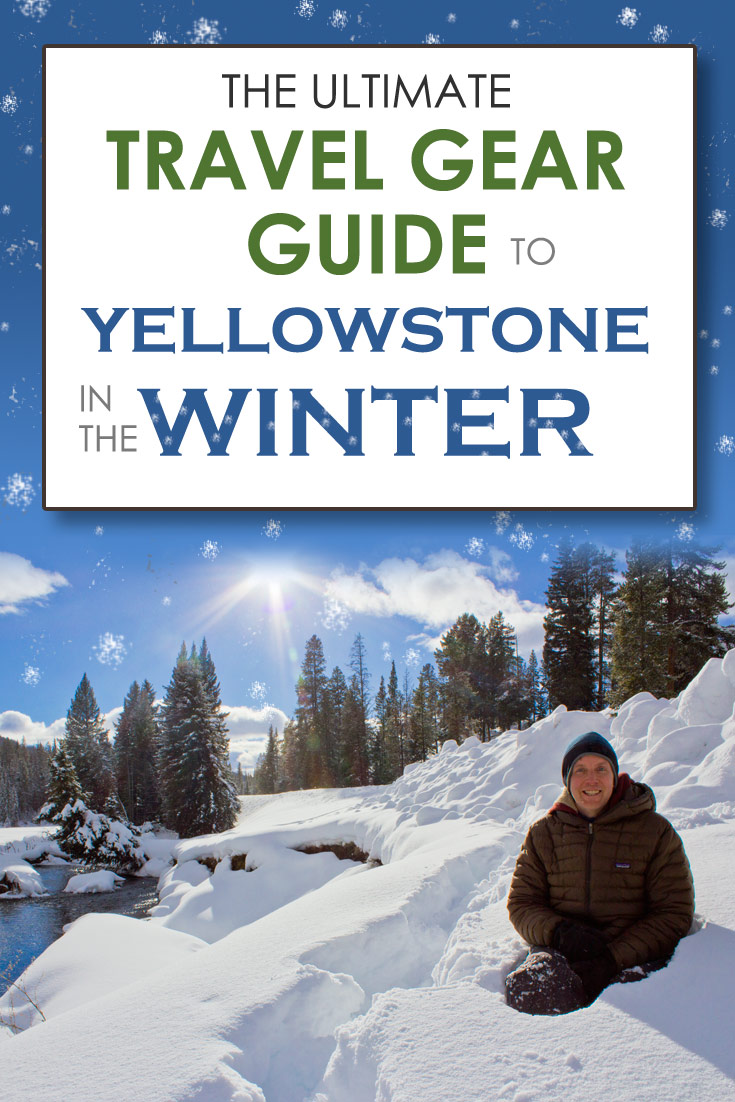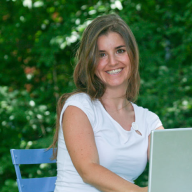 Cristina Garcia
Zoologist and wildlife photographer. She has worked in the field with jackals, wolves, cheetahs, & leopards. She serves on the Board of Directors of SEE Turtles, a non-profit sea turtle conservation organization.
Read her posts at Travel For Wildlife and see more of her work at Truly Wild, & Our Wild Yard.