Moose are the biggest members of the deer family but can be surprisingly difficult to see. Luckily, there are a few special places in the world where they regularly emerge from their forest hideaways. One of these special places is Mount Engadine Lodge in Alberta, Canada.
Tucked away from the main road that crosses the Spray Valley Provincial Park, and just south of the town of Canmore, Mount Engadine Lodge rests above a wildlife-rich meadow with breathtaking views of the surrounding mountains. It is the perfect place for visitors seeking seclusion, wilderness, and nature.
*This article may contain affiliate links. We receive a small commission at no extra cost to you.*
Mt Engadine is a member of Charming Inns of Alberta, and within minutes of stepping through their inviting doors, you'll know why. This is certainly one of the best lodges at Canmore. Every detail, every corner, every member of the staff, will make you feel like you are at home.
Explore the Spray Valley Provincial Park, hike its many trails, snowshoe in the winter, or sit by a lake and admire the wildflowers. You can find all of this just two hours outside of Calgary.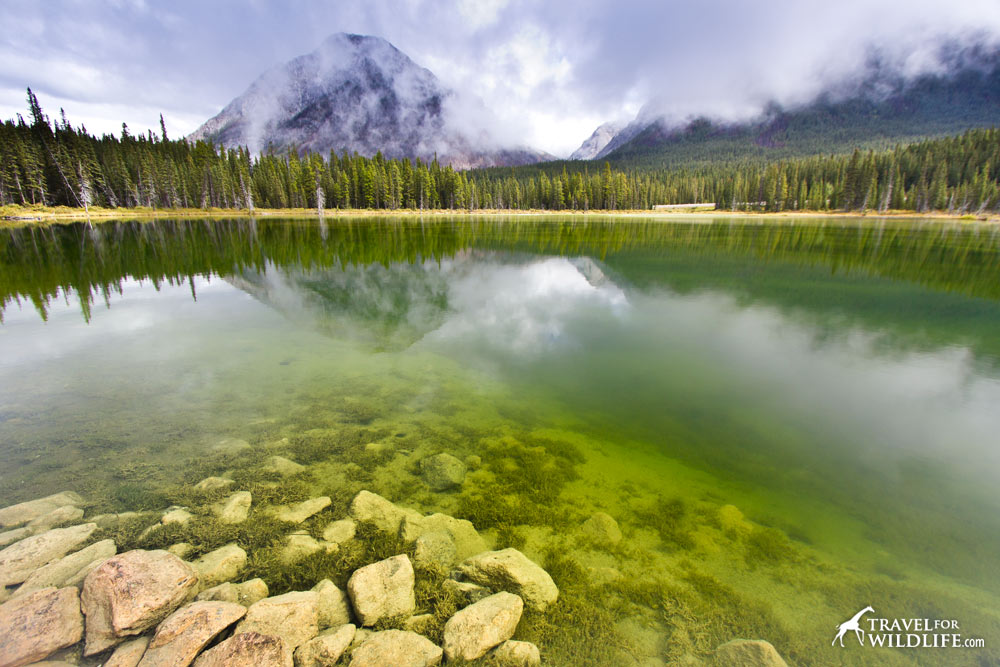 Staying at Mount Engadine Lodge
When you aren't out hiking the many trails in the area, enjoy a steam in the sauna or stuff your face with amazing food prepared fresh each day in the lodge. The two-course breakfast is followed by a buffet where you can build your own bag lunch for your adventure of the day. Come back around 3 for afternoon tea which includes cheeses, olives, chips, dips, fruits, and a wide array of scrumptious desserts. This famous afternoon tea is a reason in itself to stay at the lodge. Some people choose their hikes around this area of the Provincial Park just to catch the afternoon tea which is open to non-guests at a very reasonable price. But make sure to save room for a big home-cooked dinner served family style at 7PM in the spacious dining area that looks out across the valley. All this is included with your stay at Mount Engadine.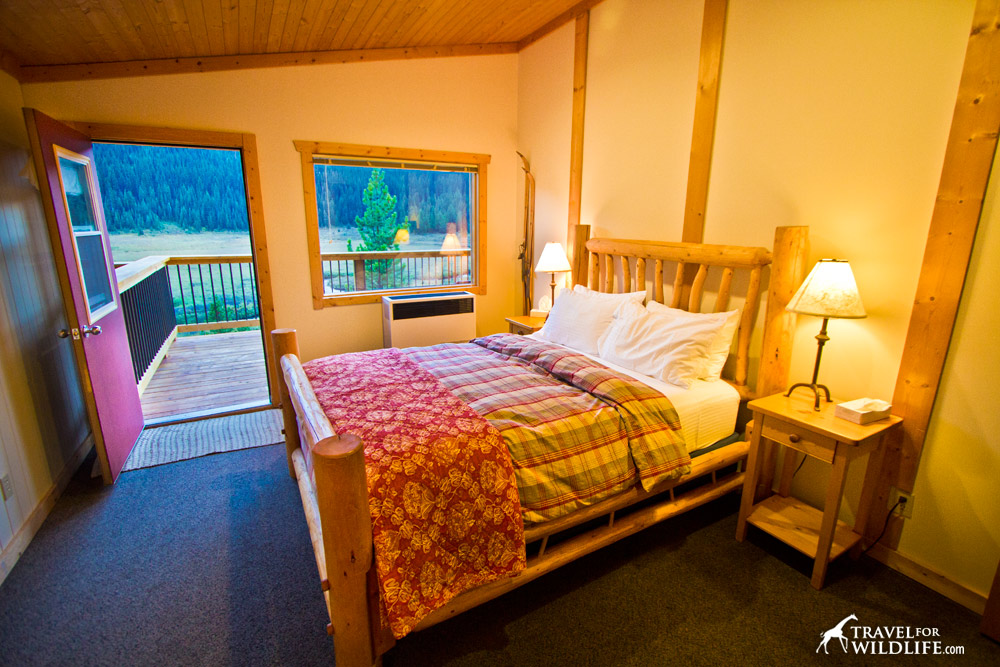 The rooms at the main lodge are recently remodeled and tastefully decorated. The large cozy common areas are patrolled by the sweet and friendly Nala, Mount Engadine's resident black and white cat. (The rocking chair is her favorite bed.) The managers are always available to answer your questions with a wealth of local knowledge.
If your dream is to stay in one of the many Canmore cabins, then you are also in luck. Mt Engadine is one of the few lodges at Canmore that has cabins. With your stunning view you will feel like you are deep in the wilderness even though these cabins are just a few steps away from the main lodge.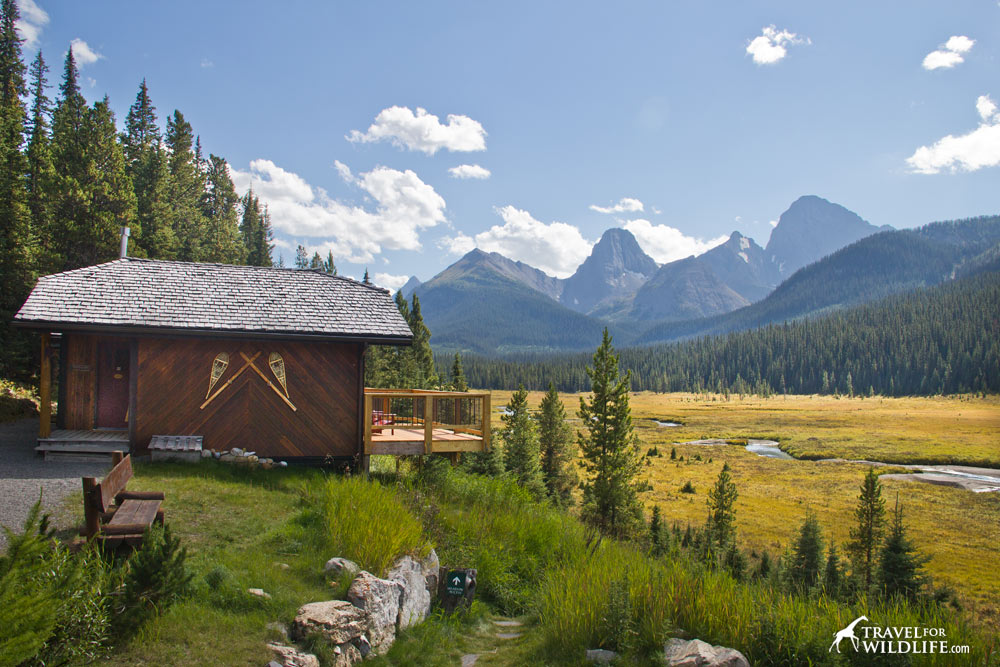 The Moose of Mount Engadine Lodge
What originally drew us to this Canmore lodge was the unusual prospect of seeing multiple moose congregating together in an open meadow.
Moose are normally solitary creatures that spend their time browsing in dense forests. So how do you go about finding this huge secretive beast? Well if you're in the Canmore/Kananaskis area of the Rocky Mountains in Alberta, then your best bet is to spend a few nights at the Mount Engadine Lodge. Moose behave in a somewhat strange manner here thanks to some unusual mud in front of the lodge.
What do moose eat?
Believe it or not, sometimes moose eat mud. Just below the spacious viewing deck is a large muddy pit that contains a special mineral called Selenium. The moose require this mineral to stay healthy and somehow know to find it in this soil. Each morning at sunrise, several moose materialize out of the fog, cross the meadow, and slosh their way into their favorite spots in the mud pit, sometimes sinking right up to their bellies, just to nibble bits of dirt and swallow it up.
It's a bewildering sight and sometimes highly entertaining as huge bulls and young calves alike navigate the mucky mess. We spent three nights at the lodge and set our alarm for 6:30 AM. Each morning we discovered a different set of moose swimming in mud. The first morning we saw a large bull with bloody antlers that had freshly shed their velvet, along with his friendly female companion. After a long munch they wandered off together into the woods. The second morning we saw two cows very early, followed by a mother and her calf. And this morning we sighted a lone cow, then another mother with a calf. This is predictable moose watching at its finest.
These guys give an entirely new meaning to Chocolate Mousse.
Picture a thousand-pound creature slogging through a giant bowl of chocolate pudding and eating as it goes. Then you'll have a good idea of what it's like to watch the amazing mud-munching moose of Mount Engadine Lodge in Alberta, Canada.
Moose aren't the only creatures you can see in the area. I saw a curious coyote wander up the driveway in the middle of the day. Numerous bird species frequent the area. Bighorn sheep are common in the rocky passes to the south, and the occasional bear or wolf may wander right across the meadow.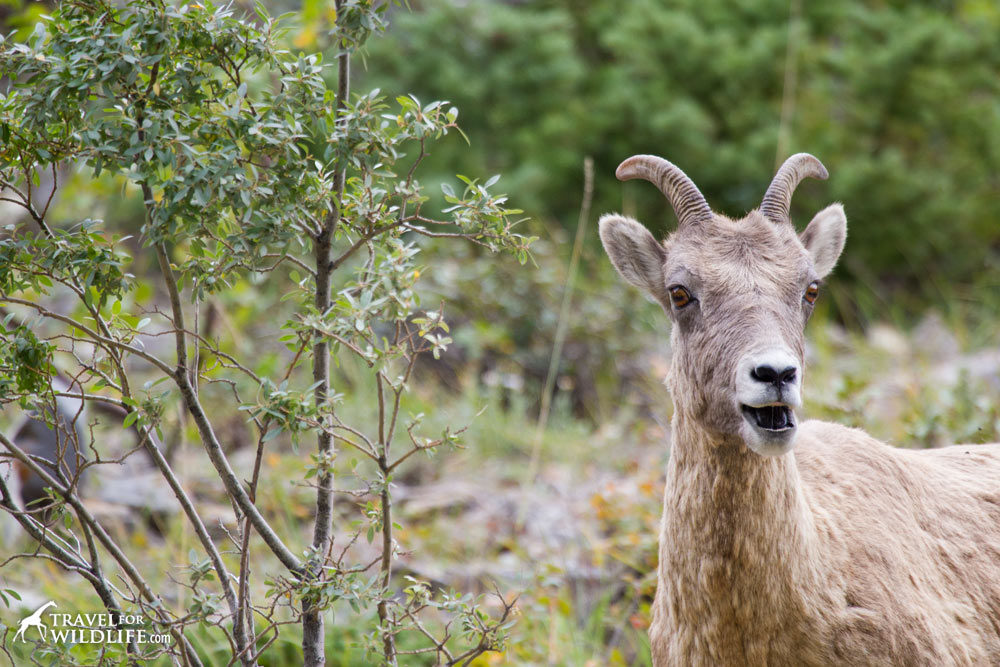 ---
If you're looking for moose in Alberta and want to have a comfortable and filling stay along the way, definitely consider spending a night or two at Mount Engadine. For more information about the Mount Engadine Lodge, visit their website MountEngadine.com or check their prices and availability here.
For more information about finding Canmore cabins or a Kananaskis lodge, check out TourismCanmore.com
Disclosure: Though lodging was provided in consideration for this article, the opinions expressed herein are entirely our own.
---
Did you enjoy this article? Pin it!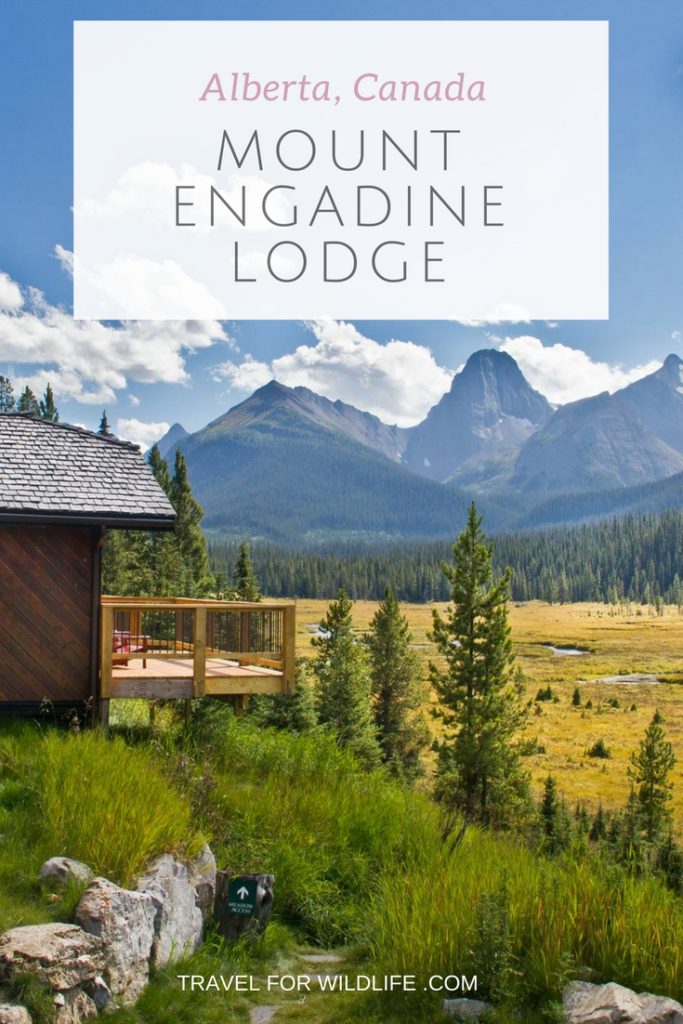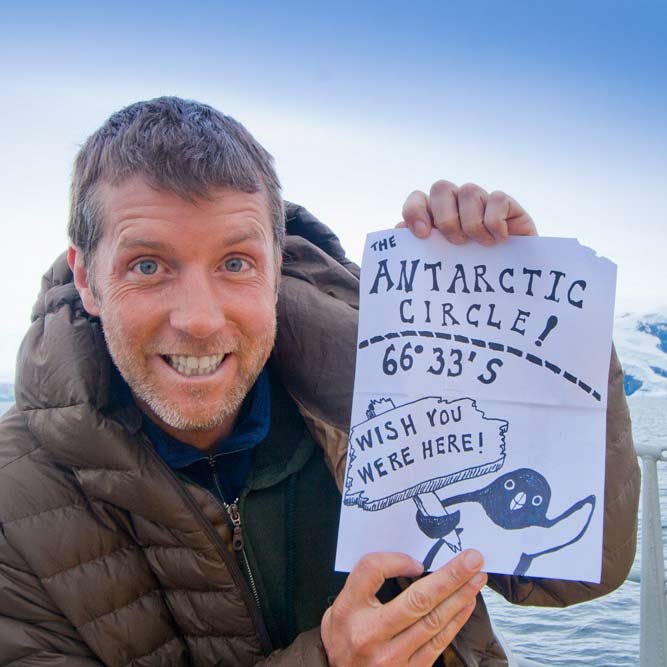 Hal Brindley
Brindley is an American conservation biologist, wildlife photographer, filmmaker, writer, and illustrator living in Asheville, NC. He studied black-footed cats in Namibia for his master's research, has traveled to all seven continents, and loves native plant gardening. See more of his work at Travel for Wildlife, Truly Wild, Our Wild Yard, & Naturalist Studio.