If you haven't heard of Tofino yet, once you visit you won't be able to stop talking about it. Located on the West Coast of Vancouver Island, British Columbia, Tofino sits right in the Clayoquot Sound, in the Traditional Territory of the Tla-o-qui-aht First Nation.
Tofino is a small coastal village surrounded by rocky pools, beautiful coves, and rainforest trails through old-growth forests. Tofino is also whales and bears, unbeatable surfing, and epic storms. Even though Tofino is pretty small, there are plenty of things to do in Tofino to keep you occupied for a few days, and we highly recommend it!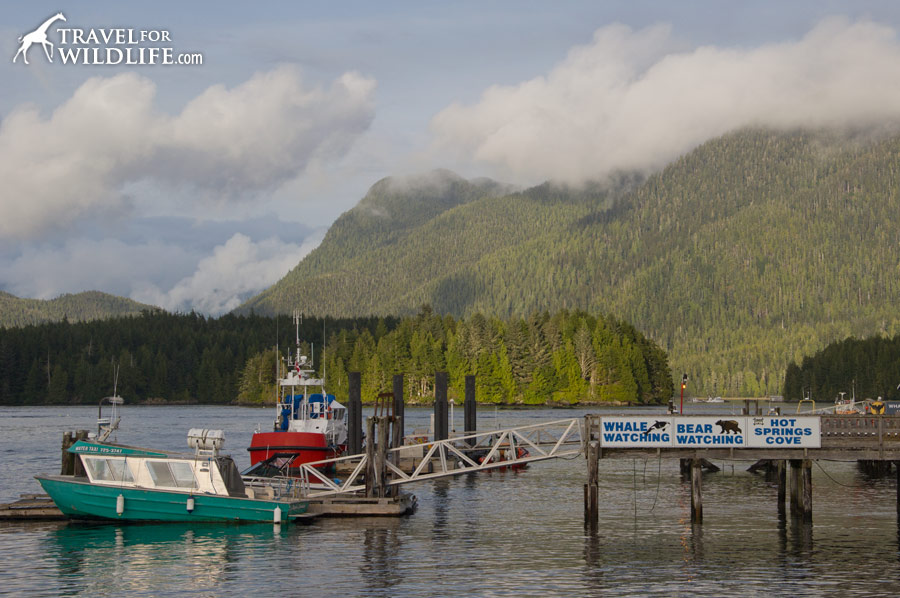 *This article may contain affiliate links. We receive a small commission at no extra cost to you.*
First of all, how are you getting to Tofino? From Vancouver, you can take a ferry to Nanaimo and then drive for 3hours to Tofino. Or you can take a floatplane from Vancouver! You are only allowed a 25lb bag, but this scenic flight takes one hour. You can get your floatplane ticket here.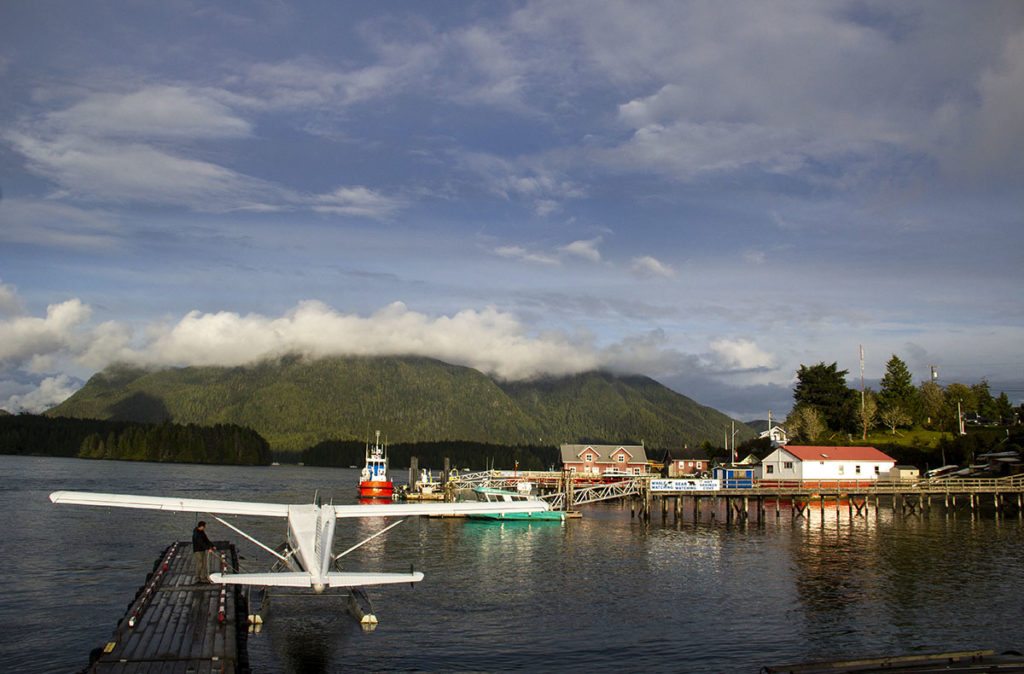 We've put together a list of the best things to do in Tofino, based on our visit there.
1. Kayak the Broken Group Islands
If you are an experienced kayaker, paddle around the Broken Group Islands, a part of the Pacific Rim National Park Reserve, where a few primitive campsites provide lodging along the paddle trail. Majestic Ocean Kayaking offers half a day and multi-day trips in the area.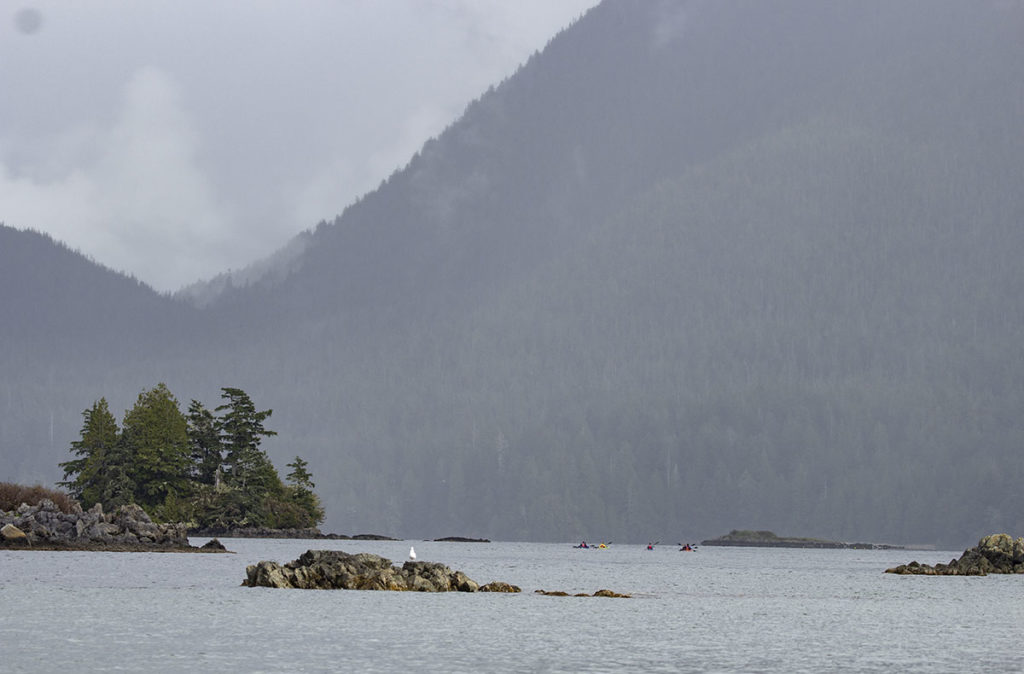 2. Go Whale Watching
Tofino is one of the best places to go whale watching in North America and to go wildlife watching in general.
Whale watching in Tofino is a must when you visit the area. When we visited we did a whale-watching boat tour with The Whale Center. Other outfitters will take you whale watching, like Jamie's Whaling Station, Ocean Outfitters, and Adventure Tofino Wildlife Tours. Most of them also offer excursions to Hot Springs Cove and around Clayoquot Sound. You can take a regular tour or a private one.
If you are staying in Vancouver this 3-day tour will take you to Tofino for some whale watching and you'll also visit MacMillan Provincial Park.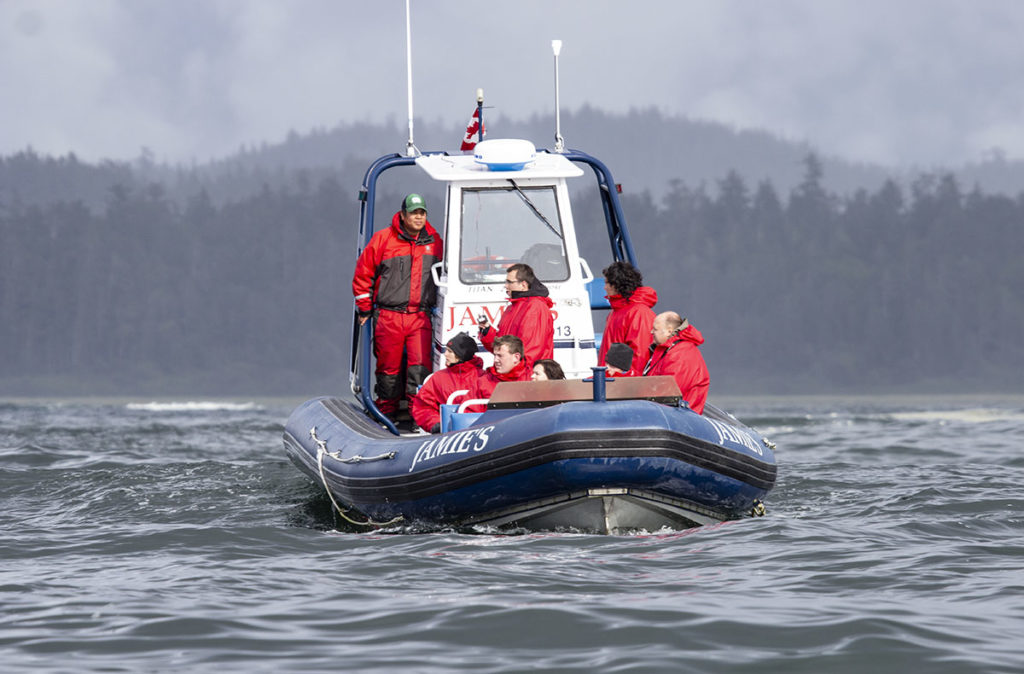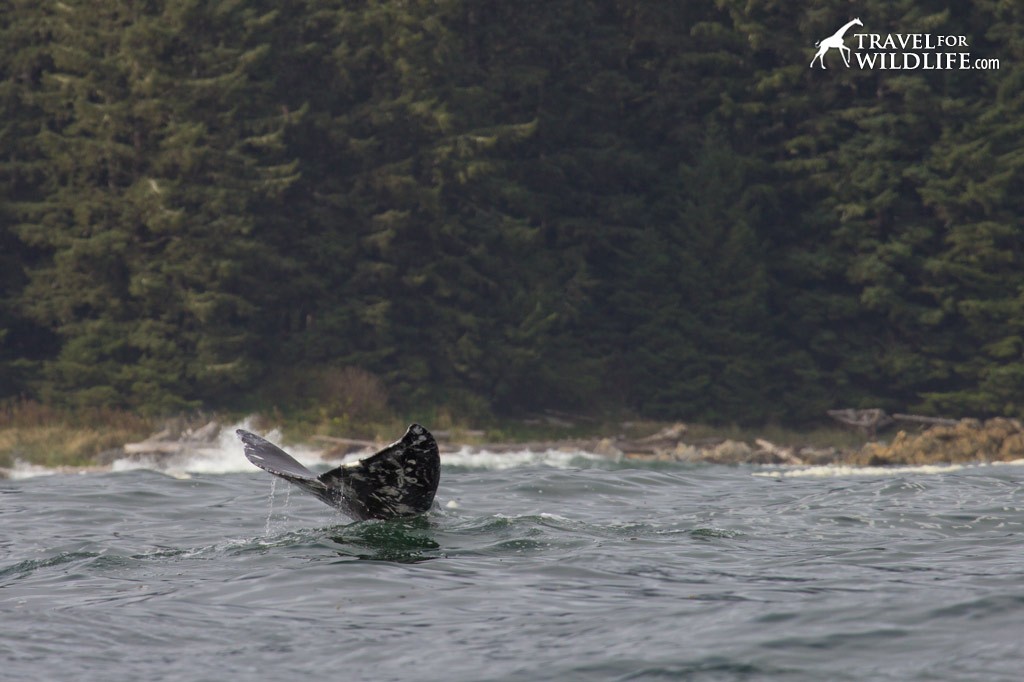 Aside from grey whales, you'll get a chance to see black bears foraging around the islands, like this one in the photo. We watched him for a long time as he was flipping rocks looking for tasty morsels. We were told that one of the tours saw a wolf a week before we got there, but we weren't so lucky!
By the way, if you are unsure if what you are seeing is a gray whale, check out our post on how to identify a gray whale.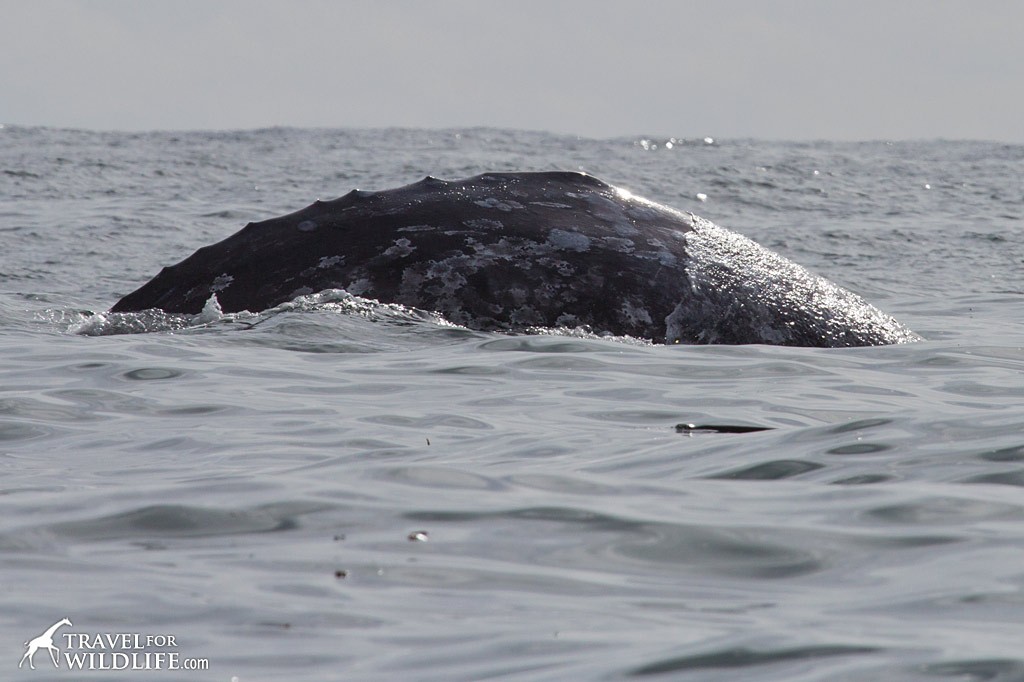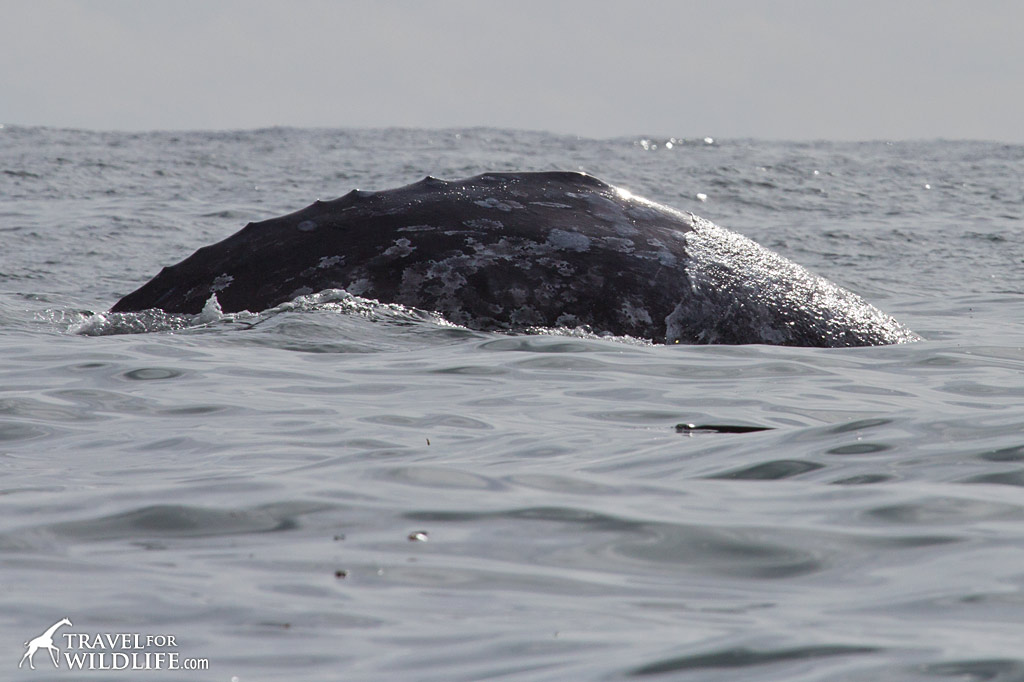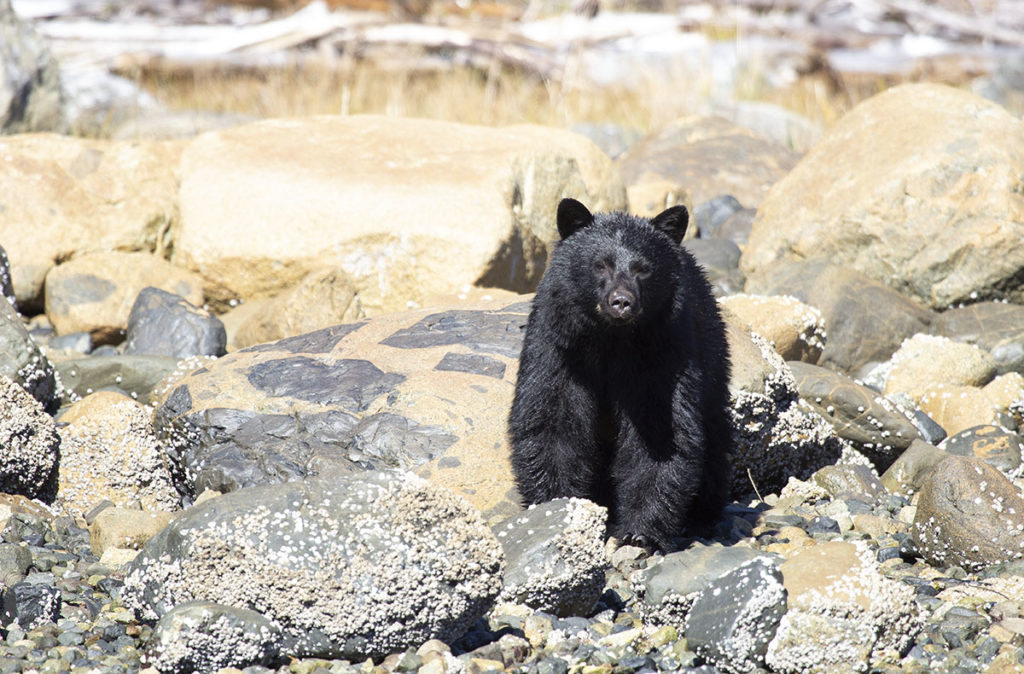 But…we were extra lucky to spot this adorable sea otter! It wasn't a raft of sea otters, but we were super happy to see this guy chilling. You can see all the wildlife was during our visit to Tofino here.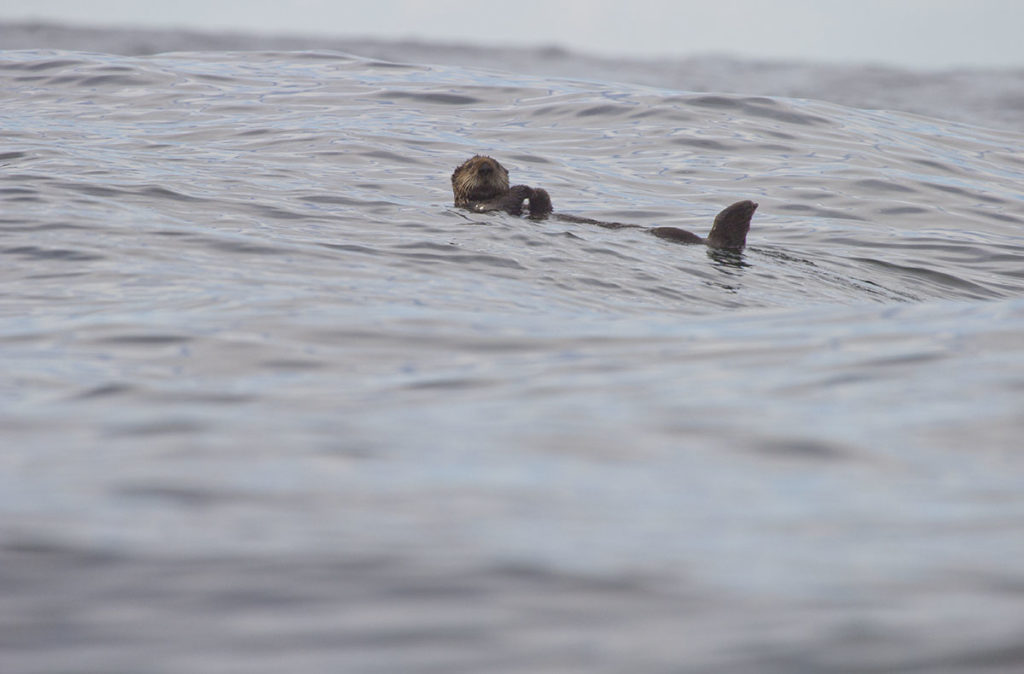 3. Visit a Native Art Gallery
The work of Roy Henry Vickers is one of the finest examples of Northwest Pacific First Nations art. His prints and carvings are admired around the world. Through his personal and unique art, Vickers's work reflects the soul of the west coast of Canada and its native wildlife. A not-to-be-missed stop in your travels around Vancouver Island, Eagle Aerie Gallery in Tofino has a little shop where you can buy prints and cards.
4. Take a stroll on Long Beach
A part of the Pacific Rim National Park Reserve, you can't miss the Long Beach unit. There are a few parking areas available along the Pacific Rim Highway with direct access to the beach. The Combers Beach Trailhead, the Wickaninnish Beach access, and the GreenPoint Campground are some.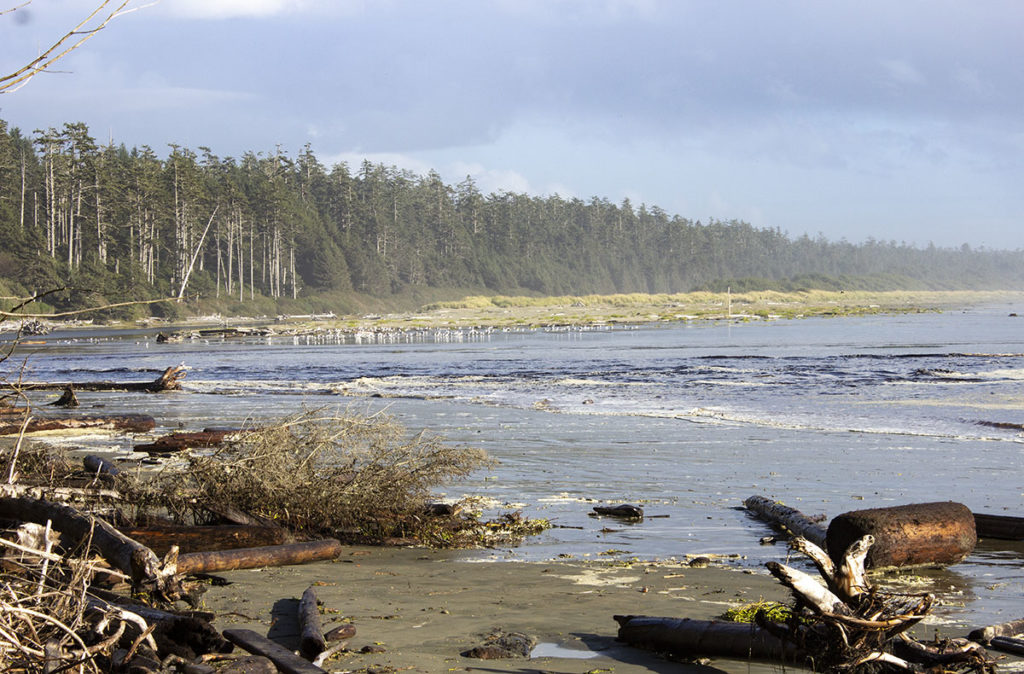 When you walk along Long Beach is very easy to feel like you are alone, even though it is a popular beach. Take your binoculars and your camera as you might see some wildlife along the way like bald eagles.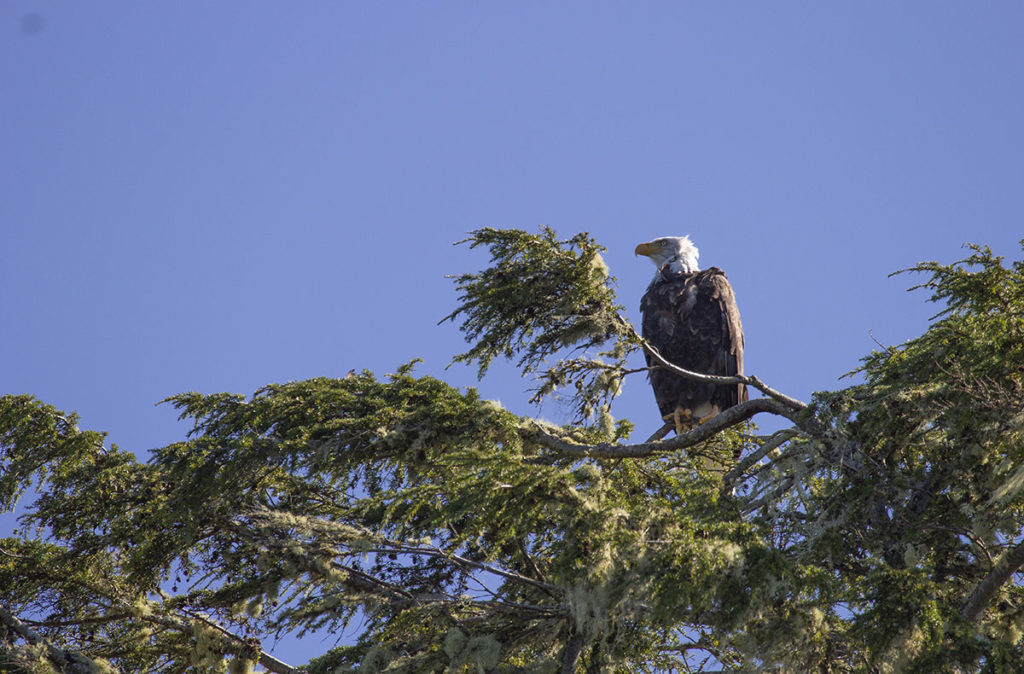 5. Storm Watch
Storm watching is serious business in Tofino. These are the storms that make for a great spectacle, and storm chasers come to Tofino to just watch.
For a successful Storm Watch adventure, you must book your accommodation overlooking the Pacific Ocean. A place with big windows where, even when you don't feel like going outside, the storming party is still with you.
If you want to do some storm watch, the time of year you visit is critical. Storm season is from October through April.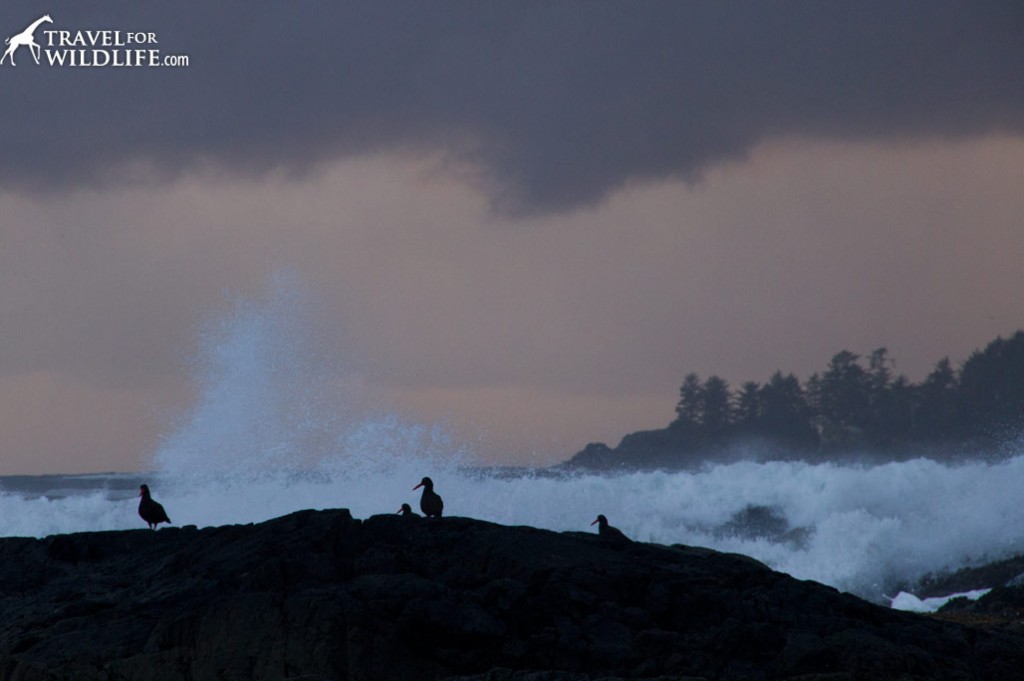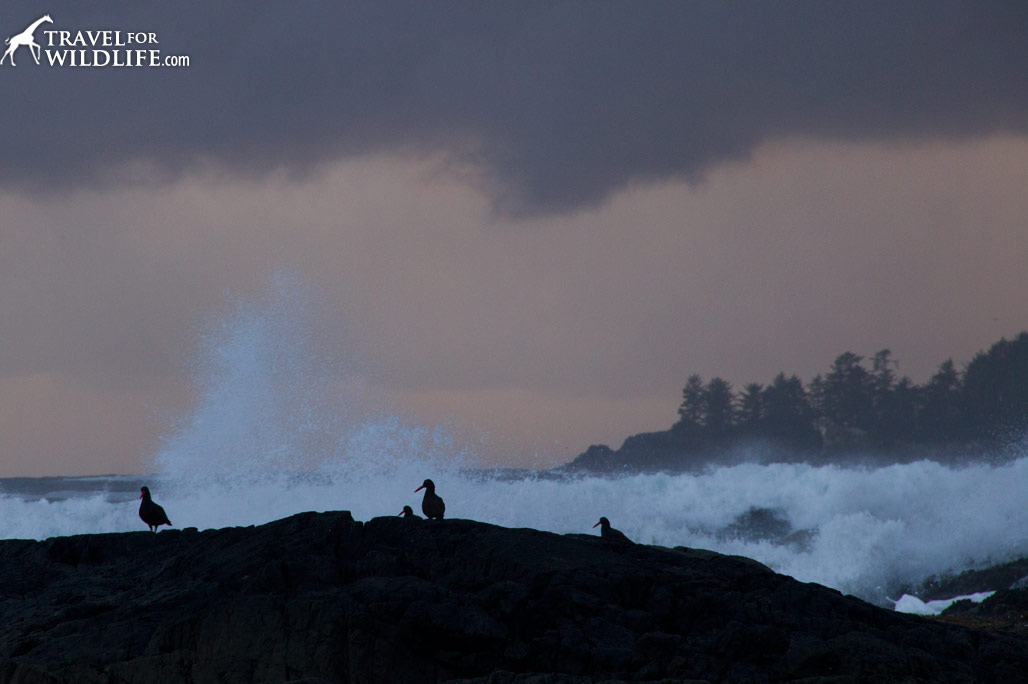 Pacific Sands Beach Resort has a Storm Package where you can save up to 25%! The package includes your ocean-front accommodation, daily hot chocolate, a bottle of wine compliment of the resort, and rain slickers that you can borrow for your walks on Cox Bay beach.
Another great place to stay for your Storm Watch adventure is The Wickaninnish Inn in Chesterman Beach. This Relais & Chateaux property has all you need for storm watching. Beach views, direct access to Chesterman Beach, and a restaurant with incredible ocean views. Quite a place to watch the storm from!
6. Visit the Tide Pools
Visit the natural aquarium that this area of Vancouver Island is famous for. At low tide, visit the many tide pools and search for the colorful anemones, ochre stars, and other marine invertebrates in their natural habitat.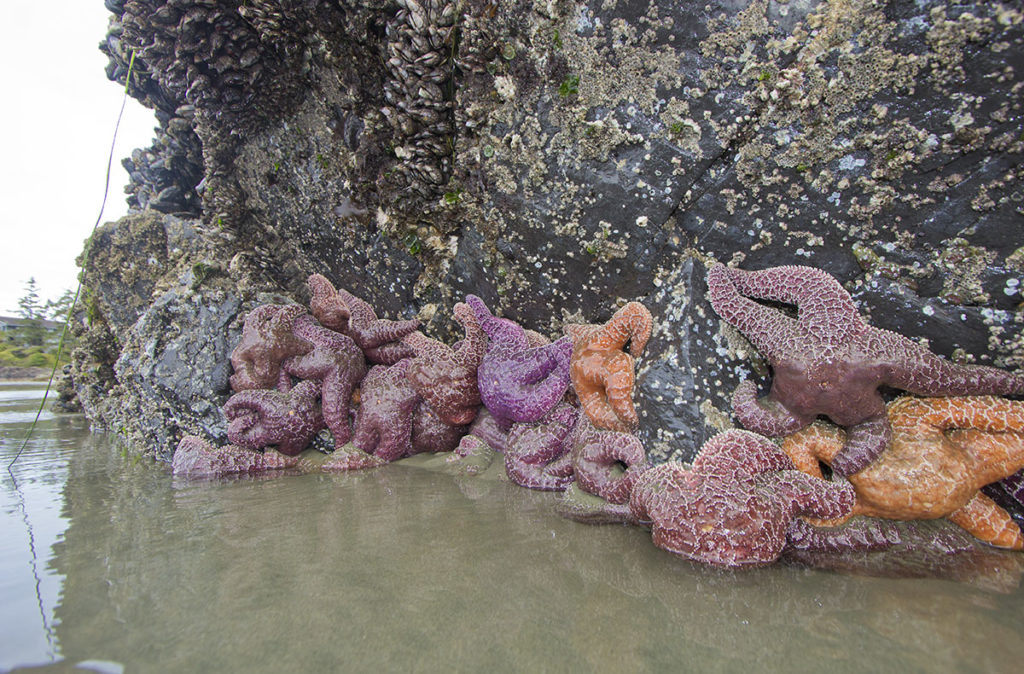 7. Dining Out in Tofino
Tofino might be a small village, but it has a big culinary scene.
Hit downtown Tofino and visit a food truck, like the famous Tacofino, sit on their picnic tables and try their fish tacos, sample local beer at the Tofino Brewing Co., or try other seafood at the casual Big Daddy's Fish Fry or at Schooner's.
Don't forget your post-surf donuts at the now-famous Rhino Coffee House!
Don't leave this small town without getting some chocolates or some gelato (they have vegan options!) from Chocolate Tofino.
If you are looking for a fine dining experience, head out to The Pointe Restaurant at the Wickaninnish Inn, where you can have dinner with panoramic views of the ocean.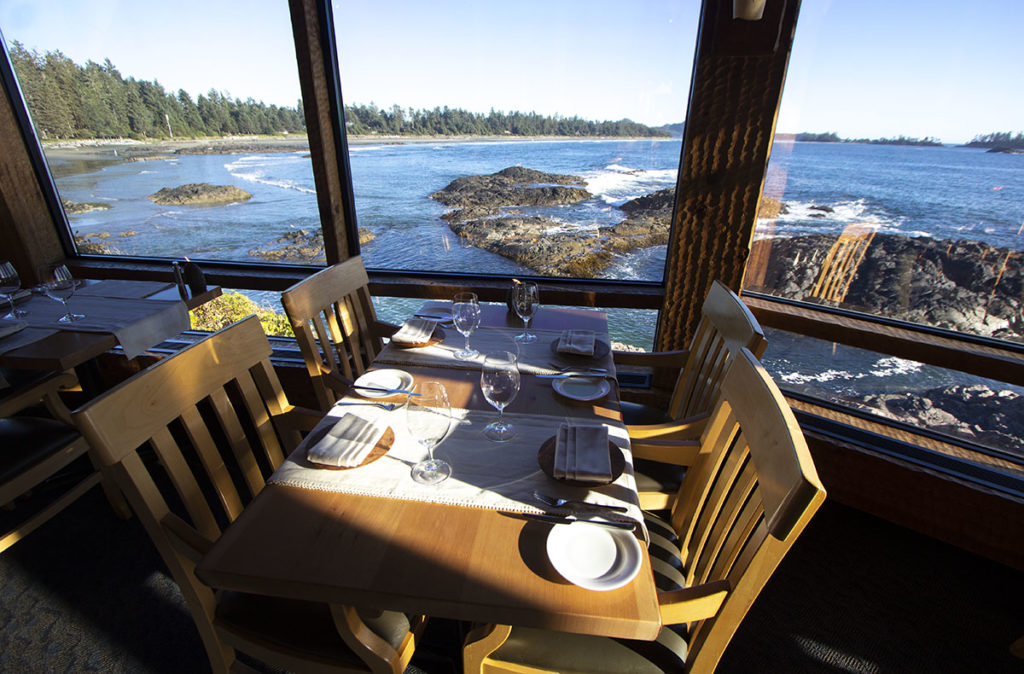 8. Walk the Rainforest Trail
Not far from the Pacific Rim National Park Reserve of Canada administration building, on the Pacific Rim Highway, there's a short trail where a boardwalk will take you deep into the forest.
There's a small parking lot for about 10 cars and camping is not allowed. Just bring your camera, binoculars, and even if it's a short hike, take some water.
9. Hike the Big Tree Trail
Take a water taxi to the Big Tree Trailhead and visit the ancient trees of Meares Island. The short walk on the boardwalk is just less than a mile while it meanders through the old-growth forest. The forest has Spruce, Hemlock, and Giant Cedar trees, some of them are about 20′ across and approximately 1,500-2,000! Oh, the things these trees have seen! Jamie's Whaling Station will take you there!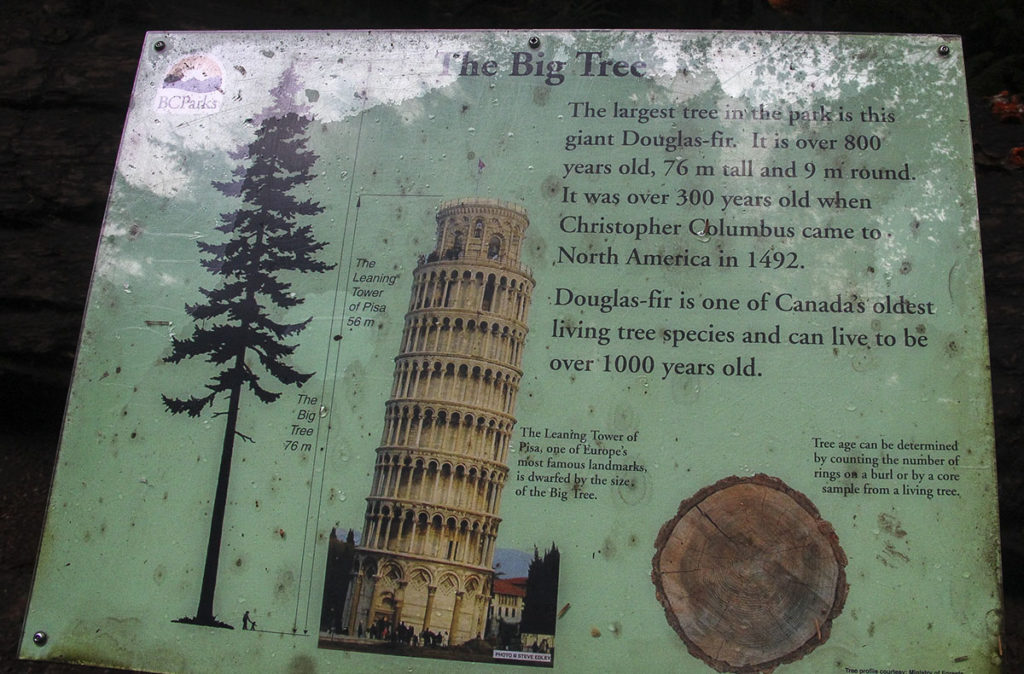 10. Ucluelet Aquarium
This is the best place to learn more about the area's abundant marine life. The Ucluelet Aquarium only houses local species and has no marine mammals. What is most unusual about the aquarium, and what we believe is an outstanding ethical practice, is that at the end of each season (early December) all the animals are returned to the sea! Release days are also a big community event as locals are invited to be involved in this magical experience.
While Ucluelet Aquarium is not in Tofino but in neighboring Ucluelet, we feel this should make the list!
Learn about colorful anemones, sea stars, and wolf eels. Don't miss feeding time for the Giant Pacific Octopus. It will make your jaw drop!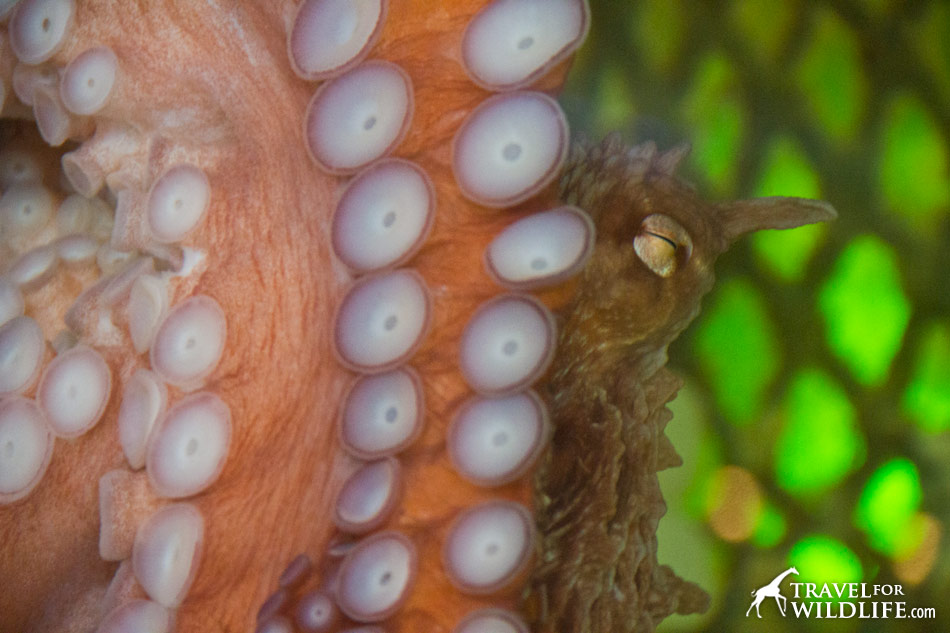 If you decide you love Ucluelet (spoiler alert: you will!) extend your stay in Vancouver Island and stay at one of these Ucluelet Cabins.
11. Visit the Hot Springs Cove
Hot Springs Cove is located in Maquinna Marine Provincial Park, around 30 miles northwest of Tofino. You can't drive to Hot Springs Cove, the only way to get there is either by floatplane or boat/water taxi. Once you arrive, there is a mile walk on a boardwalk through old-growth forest to get to the springs. Once there you can choose from seven natural geothermal rock pools.
Here's some of the Tofino outfitters offering Hot Spring Cove tours:
12. Visit Mark Hobson's Art Gallery
A recent addition to Tofino, Mark Hobson's outstanding artwork can be viewed and acquired in his gallery. If you are looking for original paintings, limited edition reproductions, and note cards, stop in. Giclee reproductions can also be purchased on his website.
Right on Campbell and a few doors down from fellow artist Roy Henry Vickers Gallery, don't miss this stop.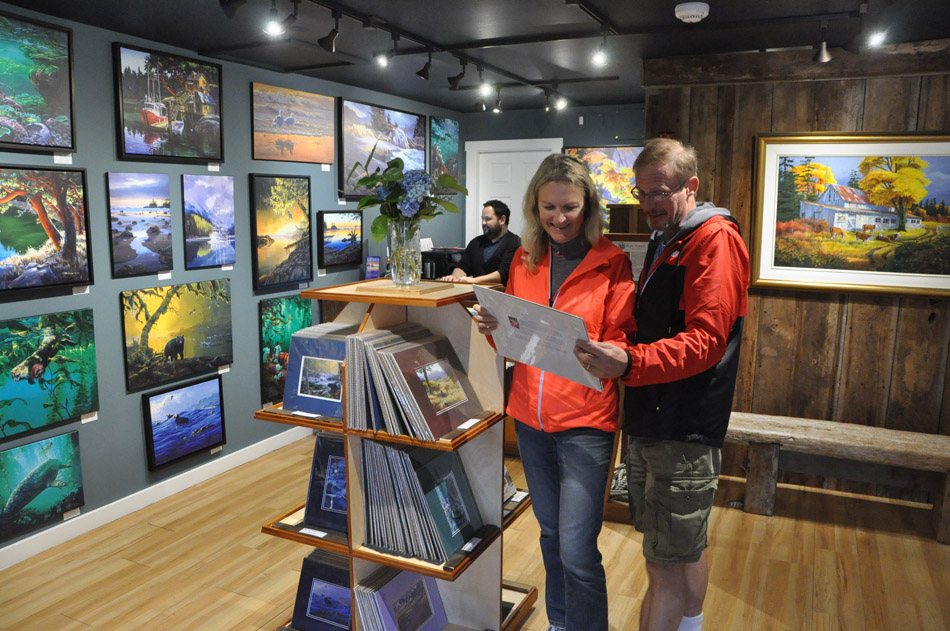 13.- Surfing in Tofino
Tofino is one of the best places in Canada to go surfing. Not only that, but Tofino is the home of the Canadian Surf Championship. You can smell the surf culture in Tofino! There is no place like Tofino to go surfing! There are plenty of shops in the area where you can rent a surf if you didn't bring yours.
To make your vacation easier, Pacific Sands Resort has its Surf Shack! With on-site surfboard rentals and lessons with Surf Sister Surf School (BCASI certified instructors). They'll provide you with fresh towels and outdoor showers. Feel chilly? Don't worry and warm up at the fire-pits. Epic. Their surf package includes ocean-front accommodations and semi-private surf lessons.
Staying somewhere else in Tofino? You can still take lessons from Surf Sister, and Tofino Surf Company.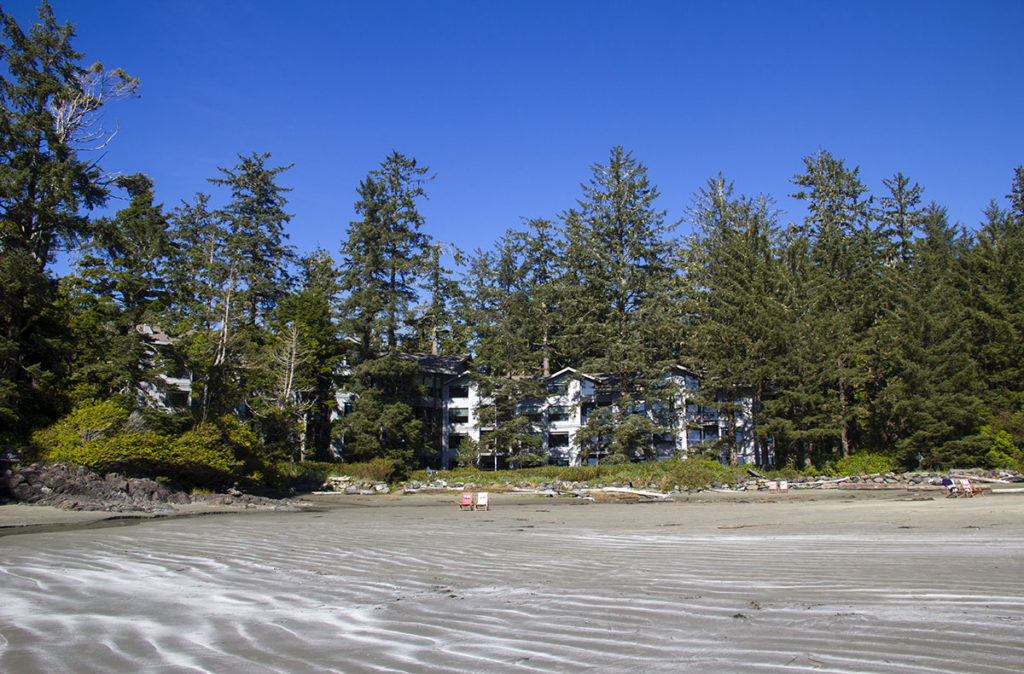 If you have your surfing gear with you, you can also stay at at cabin at the Ocean Village Resort as they have private patios where you can leave your stuff to dry. Not only this Tofino resort has a hot tub and on-site indoor pool, but just in case you didn't bring your gear, there's on-site access to Pacific Co. SUP Shack and access to the public MacKenzie Beach. It also has electric car charging stations.
14. Hike the Pacific Rim National Park Reserve
Sitting alongside the West Coast of Vancouver Island, between Tofino and Ucluelet, this reserve is a conglomeration of different regional parks, the West Coast Trail, the Broken Group Islands, and Long Beach.
For a full experience, hike one of the many hiking trails of the Wild Pacific Trail, or stay at the Green Point campground at Long Beach (open May 1 to mid-October) where you can put your tent in the middle of a lush, green, fairy-tale forest. The tent side of the campground is a rainforest trail, and you cannot drive to your site. The camper/rv side of the campground is on a forested patch closer to the beach.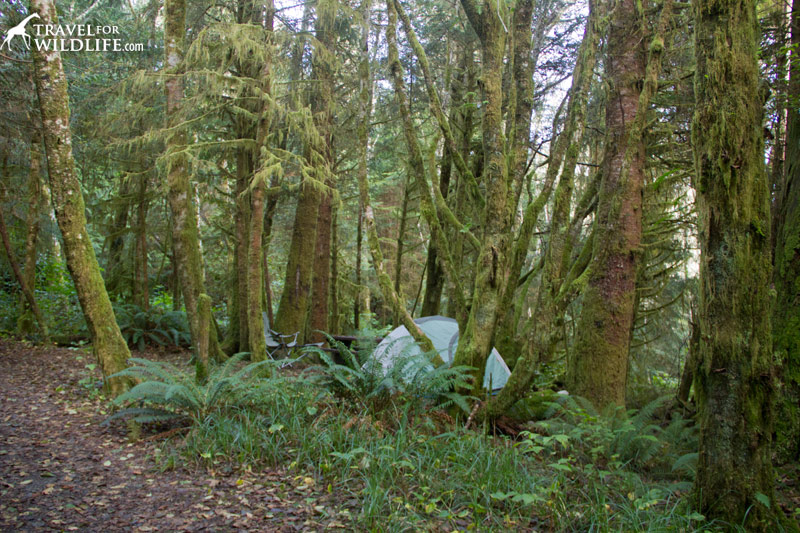 One of the things that surprised me during our many hikes at the Pacific Rim was the slugs! These are the Pacific banana slugs (Ariolimax columbianus). They can grow up to 10 inches and are the second-largest terrestrial slug in the world. You can identify them not only for their size but for the black spots on its tail. Sometimes their tails appear completely black because of how many spots they have.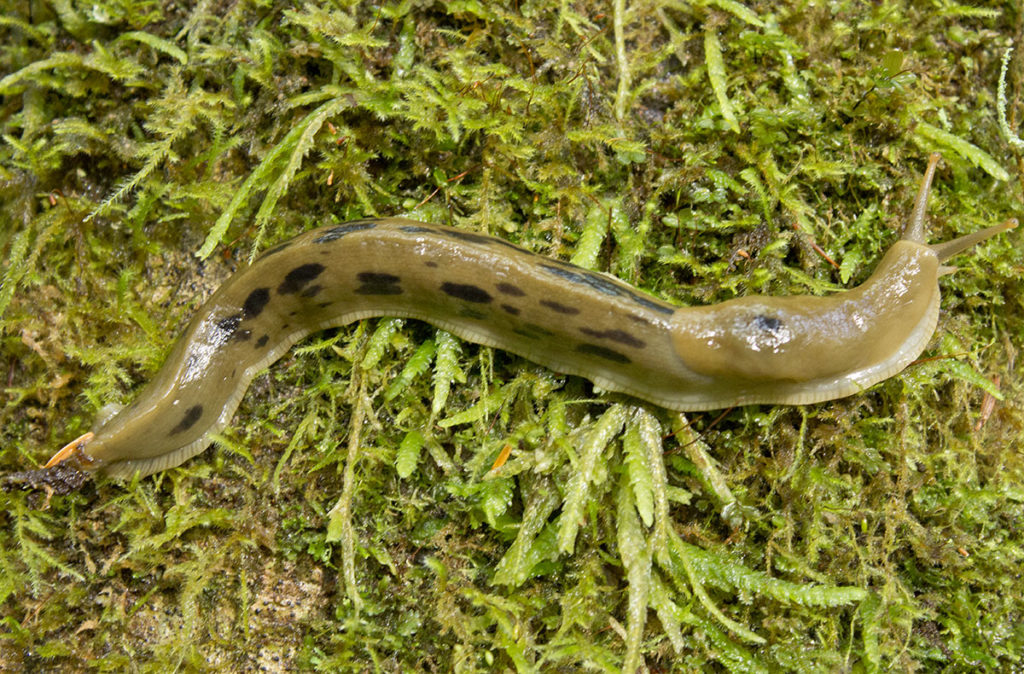 15. Bear Watching at the Thornton Creek Hatchery
In late September, this hatchery near Ucluelet is a busy place for black bears. As salmon swim up the creek to spawn, bears gather in big numbers to feast on them. If you are a responsible wildlife watcher and follow the rules of bear-watching, this can be a great place. Bears always have right of way, so make sure you have a place where you can retreat if a bear approaches down the walkway. Be aware that it gets very dark at the end of the creek and bears are hard to hear as they approach the noisy falls. Always look around you as they may come into the creek from the patch of forest behind you. Do not run; if you see a bear approaching, give way.
Never approach bears closely to take a photo. This scenario is not safe for either the bear or for you. A human-habituated bear is a dead bear. If you are not experienced around bears we recommend that you do not visit this hatchery. Take a guided bear-watching tour instead. Do it for the bears.
When we visited, somebody had brought their dog and it was barking at the bears from less than 30 feet away. This is very disruptive for the bears. Do NOT bring your dog please (leash or no leash). Others approached within 15 feet to take photos with their phones! Please, if you do not have a zoom or longer lens, do not endanger animals and people just to get a close-up photo on your phone.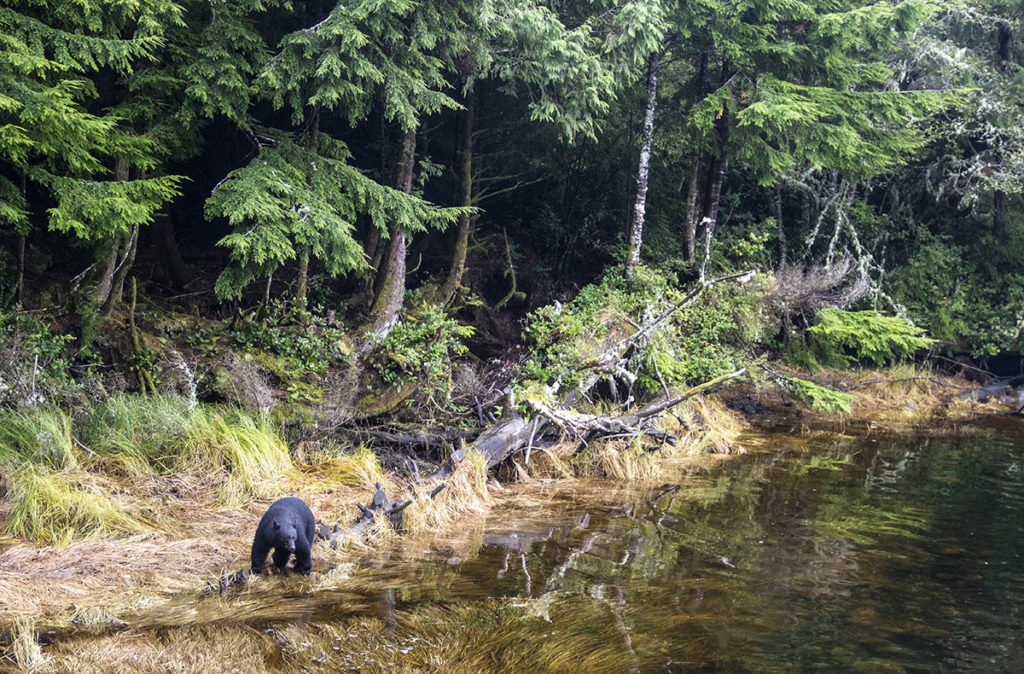 16- Visit Cathedral Grove at Cathedral Trail
If you are driving to Tofino, don't forget to take a break and visit Cathedral Grove at MacMillan Provincial Park. Stand next to the impressive 800-year-old cedar trees on your way to Tofino!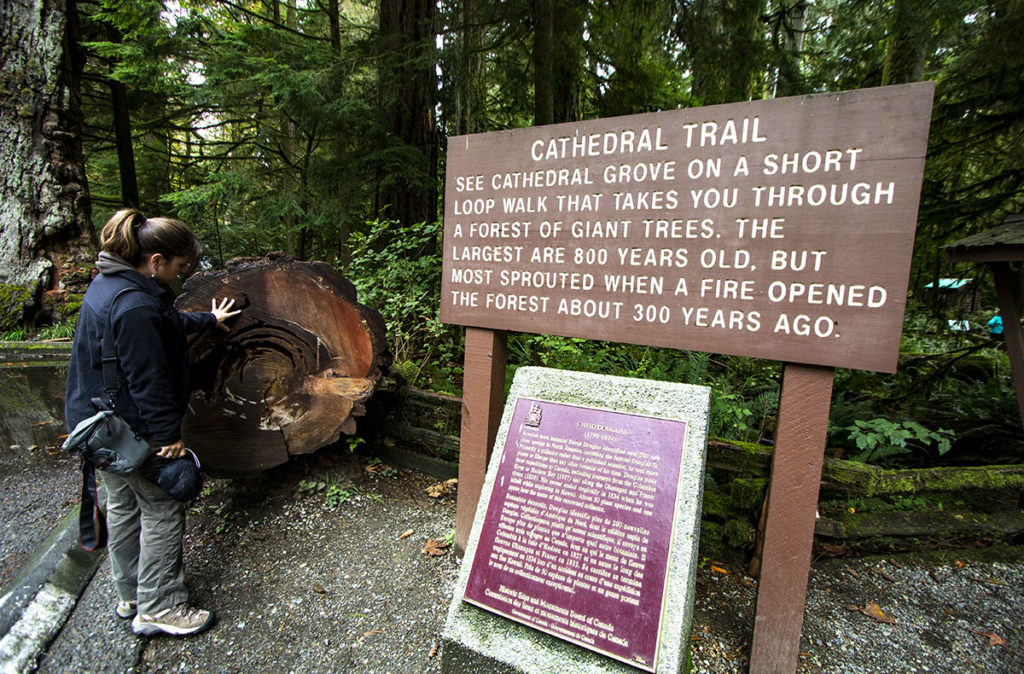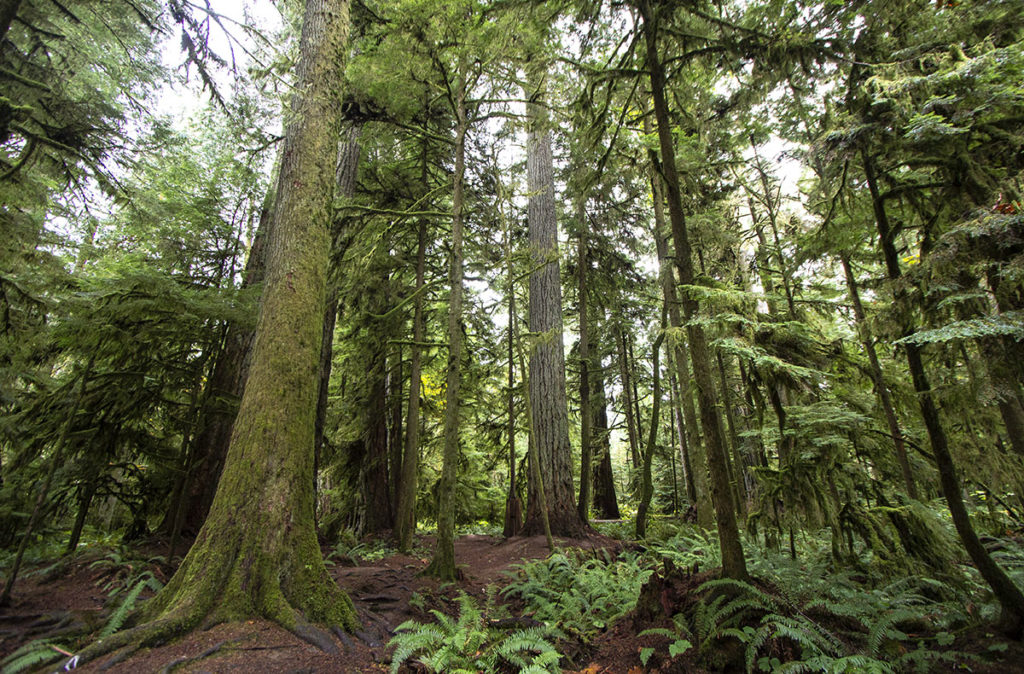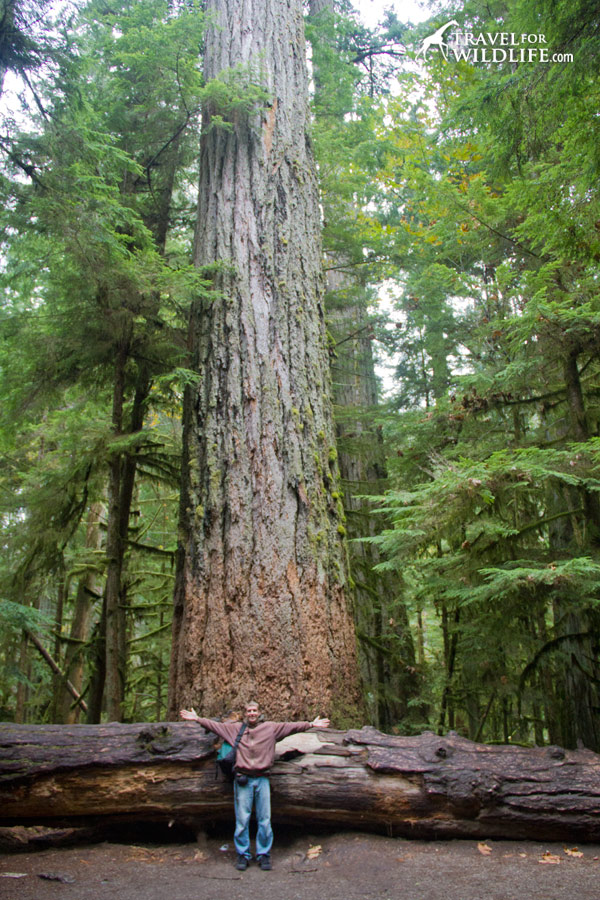 As you've seen, there are lots to do in the Tofino area. So whether you are on a road trip or you are planning a long weekend, isn't it time you visit the Pacific Northwest?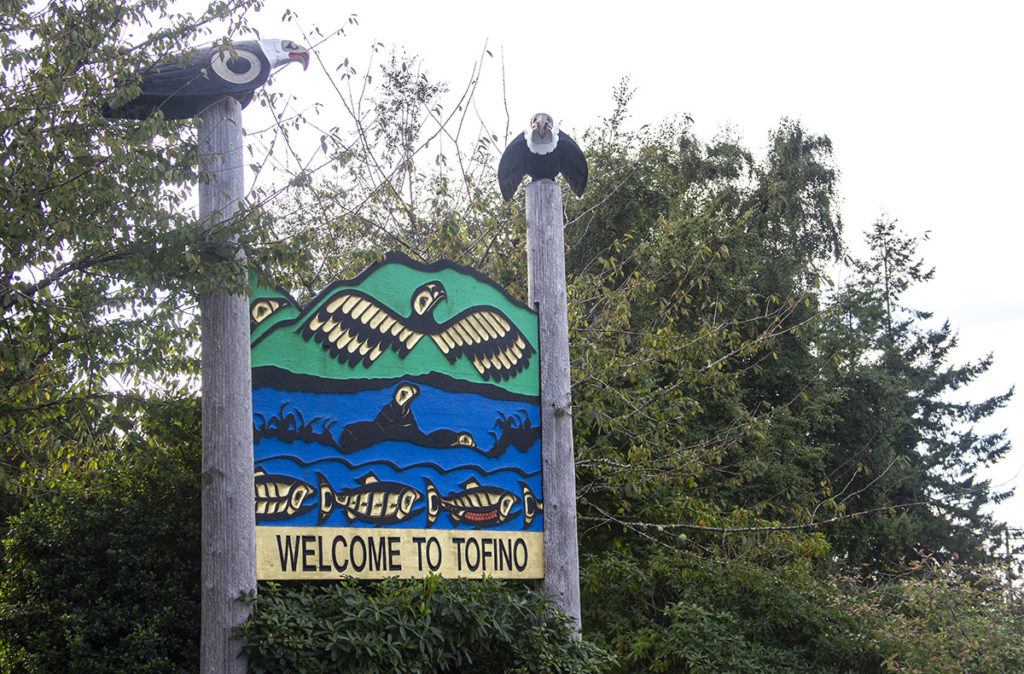 ---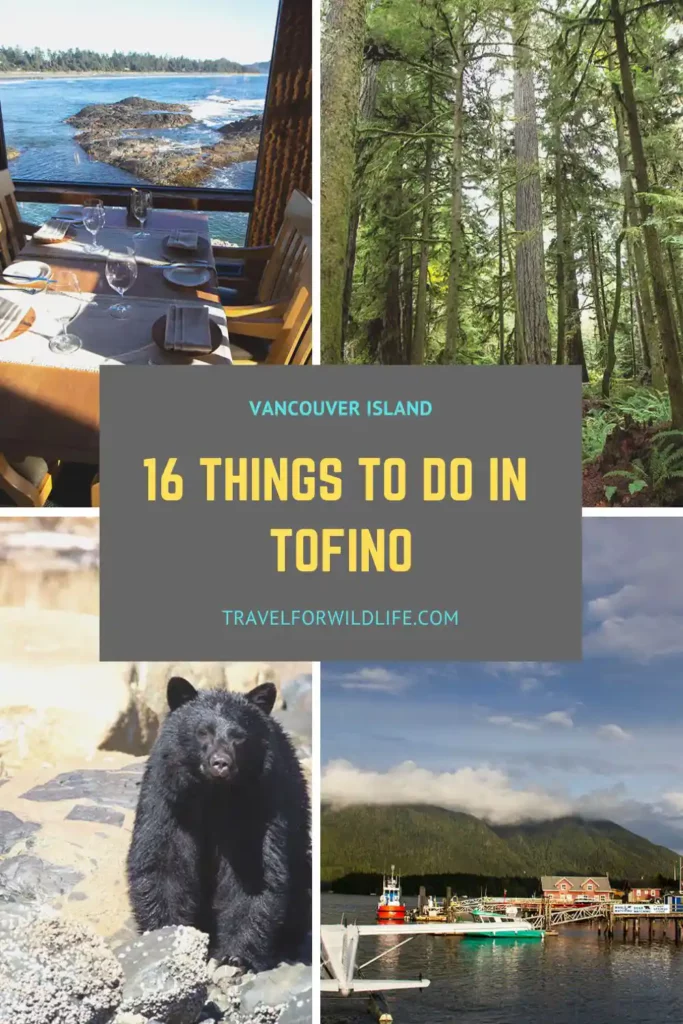 ---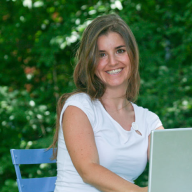 Cristina Garcia
Zoologist and wildlife photographer. She has worked in the field with jackals, wolves, cheetahs, & leopards. She serves on the Board of Directors of SEE Turtles, a non-profit sea turtle conservation organization.
Read her posts at Travel For Wildlife and see more of her work at Truly Wild, & Our Wild Yard.