The swish of a tail. The flick of an ear. As I look through my binoculars I catch myself searching for cheetahs. Then I realize we are in Theodore Roosevelt National Park in North Dakota. There are no cheetahs in these grasslands although, believe it or not, there used to be not so long ago. The American Cheetah.
What Happened to the American Cheetah?
For over two million years, the American Cheetah (Miracinonyx trumani) lived in this land. It hunted pronghorns just as the cheetahs in Southern Africa hunt for springbok today. Morphologically, these two species were quite similar, but the relationship between them remained unclear.
Then, things got interesting when in 2014 scientists excavating the Natural Trap Cave, a large sinkhole in Wyoming just 400 miles west from Theodore Roosevelt national park, made an incredible discovery. They found a large number of fossils from Ice Age mammals, including the American cheetah, wolf, horse, and bison. Some of the fossils were so well preserved that even some collagen was intact and could be used for DNA testing.
Then in 2016, a caving team mapping a cave in Southwest Virginia found a near-complete skeleton of what is thought to be an American cheetah. It was determined that this individual was a female which they named Petra. It wasn't until 2010 that Petra could be retrieved and transported to the Virginia Museum of Natural History. She's an Appalachian cheetah!
Petra won't be on display for while as paleontologists are working on cleaning her skeleton. Visitors can access the viewing window into the museum's preparation lab, where paleontologists have started the task of dried mud and calcite removal.
But Petra is not a Miracinonyx trumani! She is believed to be even older, a Miracinonyx inexpectatus. Both lived from 2.6 million years ago to 11,000 years ago.
After extensive research and testing of the DNA of a Miracinonyx trumani specimen found in the Natural Trap Cave, it was stablished that the two species did not share an immediate common ancestor. The American cheetah was found to be more closely related to the modern puma.
This theory proposes that a puma-like cat migrated from Asia into North America via the Bering Strait about 6 million years ago. That cat then diverged into several species including the jaguarundi, the puma, and the American cheetah (Miracinonyx trumani and Miracinonyx inexpectatus).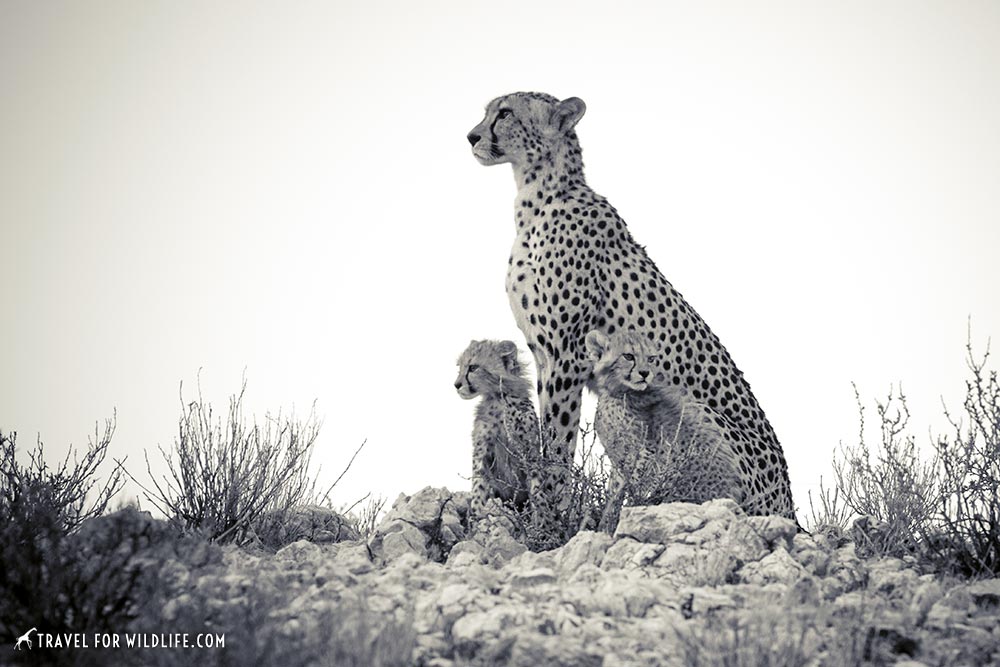 Another theory proposes that cheetahs originally evolved in North America from a puma-like descendant and then migrated across Asia into Africa 100,000 years ago, giving rise to the modern cheetah in Southern Africa.
In any case, the American Cheetah finally became extinct 12,000 years ago, coinciding with the mass extinction of many other large mammals during the Pleistocene Ice Age.
But one thing remains clear; this is how the American pronghorn became so mind-bogglingly fast. By outrunning a nearly-as-fast predator for millions of years. Now the pronghorn blasts across the North American prairies with nothing to outrun but pickup trucks. Seeing a pronghorn run as fast as they can is and incredible sight.
The African Connection at Theodore Roosevelt National Park
Even though the American cheetah is no longer here, I can't help scanning the grasses for that spotted coat. This land keeps taking me back to Southern Africa.
The smell of the air, a mixture of sage and mint with a hint of bison poop, could easily fool you. Close your eyes and this could be the aroma of South African sage mixed with water buffalo droppings. The sound of a dozen feral horses galloping could well be the sound of zebras running across the savanna. This river valley would be right at home in Kruger or in Zululand, South Africa.
Located in North Dakota, Theodore Roosevelt National Park lies within the Little Missouri National Grassland, the largest grassland in the US. It is a long way from Southern Africa.
Camping at Theodore Roosevelt
This morning we woke to the sound of yapping coyotes while the moon shone through the sides of our tent. We could have been in Namibia, where jackals bark and yap just like coyotes. They even look alike.
But there is something missing here: a visible population of large predators. With the extinction of the American Cheetah 12,000 years ago and the removal of wolves in the past century, only a few big predators like the occasional mountain lion have found their way back in. Now park rangers must manage wildlife populations in an attempt to mimic what the wolves, bears, and even cheetahs had done naturally for thousands of years.
Even without big predators, Theodore Roosevelt has been a pleasant surprise in our itinerary. We had never intended to visit; it was merely a convenient stopping point between Winnipeg and Yellowstone National Park. I'd never even heard of it until I woke up in the passenger seat and Hal announced that he was aiming for it as our camping destination of the night. We arrived late in the evening and descended from the prairie plateau into the surprisingly beautiful and colorful badlands of Theodore Roosevelt.
As it was already sunset we set up camp just outside the North Unit entrance of the park. When we woke up the next morning, we took a short walk along the Maah Daah Hey Trail which connects the North Unit to the South Unit of the park, and is the longest single track mountain bike trail in America (a total of 96 miles). I could clearly envision mountain lions living here, moving along in the shadows of the night.
There is certainly plenty of wildlife in this little-known national park. It is hard to miss the bison as their wanderings cause frequent traffic jams on the wildlife loop.
Feral horses peek over the hilltops and the prairie dog towns are so big that you'll find yourself stopping the car regularly to watch their cheeky antics. Listening to their calls you will notice there are different sounds for different predators, and it is even believed that these calls contain information about how fast the predator is approaching and how big it is!
And keep your eyes open for coyotes as they are never too far away from a prairie dog town. If you do spot a coyote, you may get lucky and spot another small predator working alongside. Badgers like to team up with coyotes when hunting amongst the prairie dog towns.
Other wildlife are more difficult to spot. Our best advice is to ask the park rangers at the visitor center. They are very knowledgeable about recent sightings and they know which trails are best for burrowing owls, pronghorn, elk, and bighorn sheep.
Our two-night visit was definitely too short. Even though there are no cheetahs, Theodore Roosevelt National Park has been one of the highlights of our American Safari. We are definitely putting it on the list for "next time".
---
Have you visited Theodore Roosevelt national park? Tell us about your experience in the comments below! Is it one of your favorite national parks to see wildlife?
---
Did you enjoy this article? PIN IT!