North America is a vast continent filled with rugged wilderness and magnificent creatures, and Travel For Wildlife is heading out to see it during our 2013 Expedition Series.
Our Goal
Some of the world's most iconic animals (wolves, whales & bears) call North America home. Our goal is to show you how to get out there and see them. We've identified four wildlife hotspots across the United States and Canada.

During one epic three-month journey we'll be traveling by foot, car, train, plane, kayak, boat, tundra buggy, and even helicopter to see them all. Our accommodations will range from a luxury wilderness lodge on the coast of British Columbia to a week of primitive backpacking in Yellowstone's back country. Follow along via videos, photos, and articles as we travel the continent in search of North America's most stunning wild animals.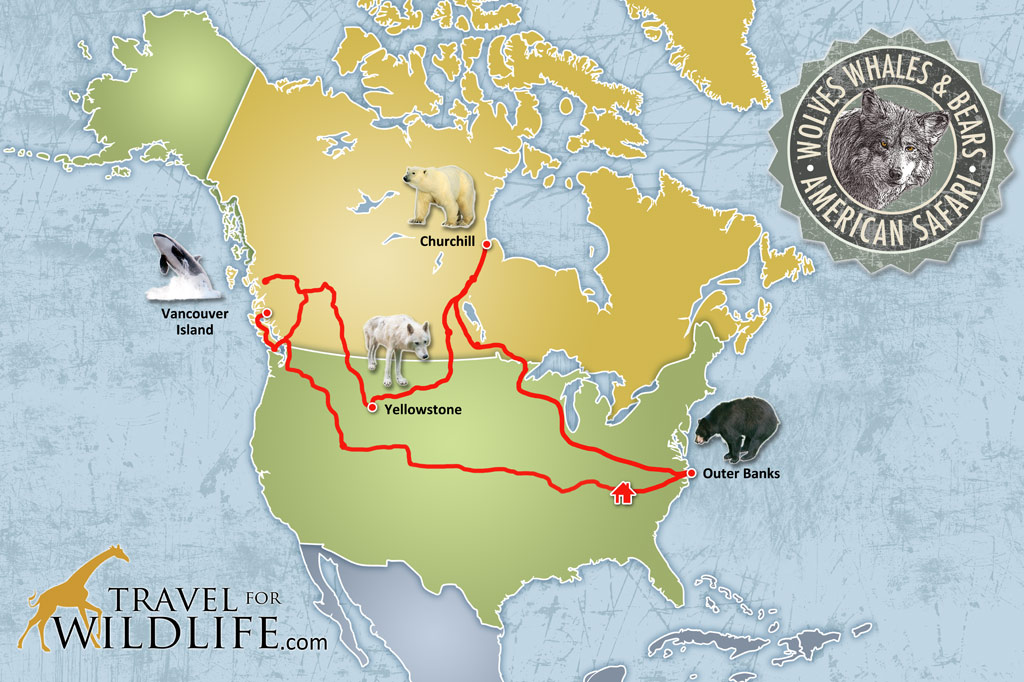 We want to take you with us!
Even if your summer vacation plans are already booked, you can still join us. We'll be posting from the field with stories and videos from July through October. Want to know what it's like to swim with beluga whales? We'll post a short clip just after we get out of the water! Do you dream of seeing a tiny black bear cub at the Alligator River Wildlife Refuge? We'll be reporting from there too.
The Plan
American Safari is a massive road trip that begins from our home in Asheville, North Carolina. We drive to the coast of North Carolina for a week with black bears, red wolves and dolphins. Then we'll drive all the way up to Manitoba Canada where we'll catch a train to the remote town of Churchill. Here we'll swim with beluga whales and hopefully catch a glimpse of a polar bear. For our next leg we drive to Yellowstone National Park for a week of backcountry camping with
an expert guide in search of wolves and grizzlies. Then we drive northward into the Canadian Rockies to search for lynxes and other mountain creatures. Next we cruise westward to the coast of British Columbia to a remote lodge surrounded by grizzly bears. Back to the south, we'll catch a ferry to Vancouver Island and search for wolves around Tofino and kayak with killer whales off the coast.
Then we'll catch a boat to one of Canada's most amazing wilderness lodges, Nimmo Bay, where we'll be journeying by helicopter to search for humpback whales, the mystical spirit bear, and the elusive coastal wolves. It will surely be the journey of a lifetime.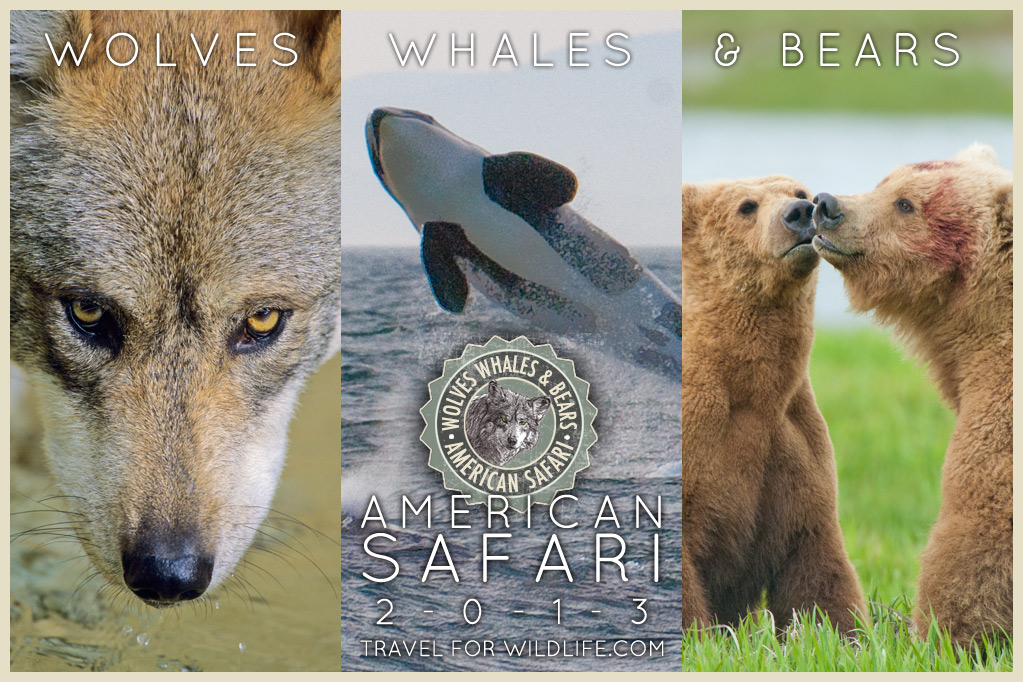 Hot Spot #1: North Carolina Coast
[July 13-20] The Outer Banks of North Carolina is virtually unknown as a wildlife destination, but it is packed with amazing creatures. The Alligator River National Wildlife Refuge has one of the largest (and most visible) populations of black bears in the US and the only population of highly endangered red wolves in the world. Not to mention, its namesake creature the alligator is making a strong comeback. Dolphins use the protected sound as a nursery, waterbirds shelter in freshwater ponds on the barrier islands and sea turtles nest along endless miles of protected beaches. Here are some of the events we have planned for our week in the Outer Banks.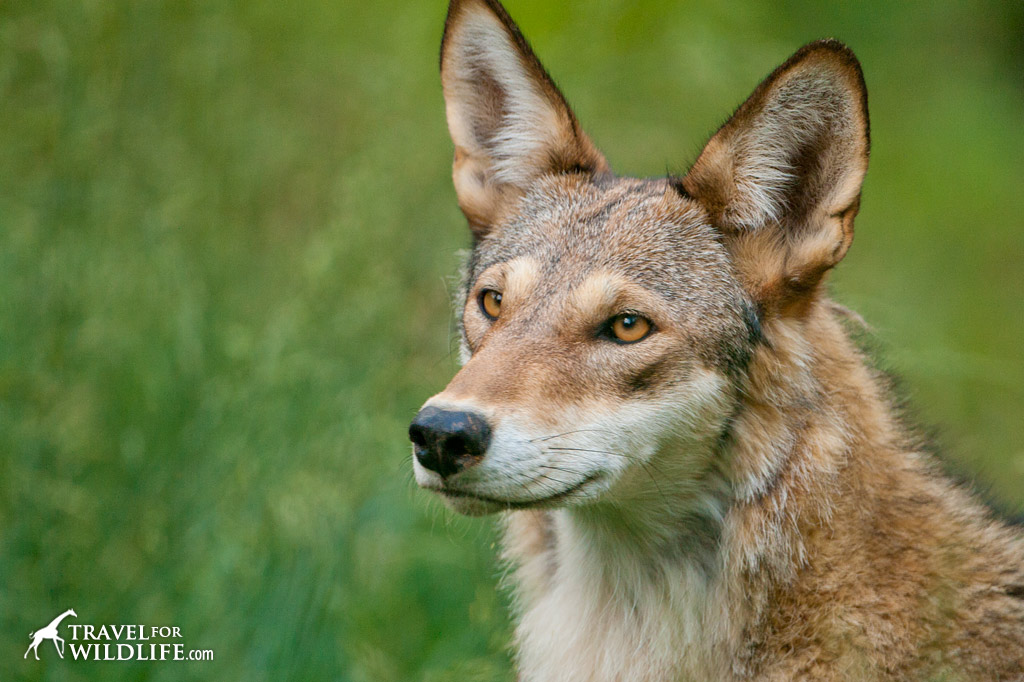 Hot Spot #2: Manitoba
[September 26 – August 15] Churchill, Manitoba is the polar bear and beluga whale capital of the world. This whole trip began as a dream of swimming with the beluga whales in the Hudson Bay. We'll be arriving in prime beluga season (early August) and even though peak polar bear season isn't until November, the bears spend all summer resting on land so there is still a chance we'll catch a glimpse. Since we're driving most of the way up, we'll have plenty of other great wildlife watching opportunities along the way. Travel Manitoba and Tourism Winnipeg have been helping us in preparing our trip. Here's our plan:
Visit the International Wolf Center in Minnessota on our way up to Manitoba.
Learn about polar bears at the International Polar Bear Conservation Center in Winnipeg
See the biggest trilobite in the world at the Manitoba Museum in Winnipeg.
Visit the Narcisse Snake Dens, just one hour north of Winnipeg. Each year, thousands of red-sided garter snakes emerge from their dens. In spring they gather en masse into giant writhing balls to perform their mating ritual. Unfortunately our timing won't be right to catch this amazing spectacle but we'd still like to see where it happens. Maybe we'll catch one or two!
There are no roads into Churchill, so we'll leave our car in Thompson and take a train the rest of the way. Upon arrival in Churchill we will stay at the Tundra House Hostel and the Tundra Inn Hotel for a week.
Kayak and swim with beluga whales with Sea North Tours.
Look for arctic foxes dens with Nature 1st Tours.
Go on a tundra buggy outing with Frontiers North Adventures and hopefully see a polar bear or two.
Rent a truck from Tamarack Rentals and search for foxes, ptarmigans and snowy owls on the local roads (and maybe a bear if we're lucky!)
Leave Churchill and drive south to Riding Mountain National Park where we will camp for four days. There, we will visit Grey Owl's cabin. We hope to hear the howls of at least one of the resident wolf packs that live in the park. Maybe they'll walk by our tent and our camera traps will catch it?
Hot Spot #3: Yellowstone
[August 20-31] Yellowstone National Park hardly needs an introduction. It is known throughout the world as one of America's greatest wildlife watching destinations.
After driving from Manitoba to Wyoming, we'll be realizing my dream of visiting the wolves of Yellowstone. And what better way to see them than by joining the Yellowstone Wolf Tracker for a full week of backpacking in the back country wilderness.
No whales here, but bears, bison and wolves are almost guaranteed!
We'll also be taking our camera trap and it will be exciting to check it each morning to see who walked by our tent during the night! A fox? A coyote? A wolverine perhaps?
Alberta
[Sept 1- Sept 14] Home of the Canadian Rockies, Banff and Jasper.
We are driving the Trans-Canadian highway visiting Banff National Park and the town of Jasper.
We have been told there is a healthy population of lynx along the Canadian Rockies. It is our mission to spot one!
Hot Spot #4: British Columbia
[Sept 15-Oct 14] Where else can you see a black bear with a white coat or a swimming wolf?
The coast of British Columbia is like no other place on Earth. It is home to the "Spirit Bear" an unusual population of black bears with creamy white coats. And even more rare are the Coastal Wolves, a unique population of wolves which make their living entirely off the sea. British Columbia is also known for its orcas (killer whales) and humpback whales. On top of all that, we'll have the chance to see eagles, seals, grizzly bears, cougars, and lots of salmon!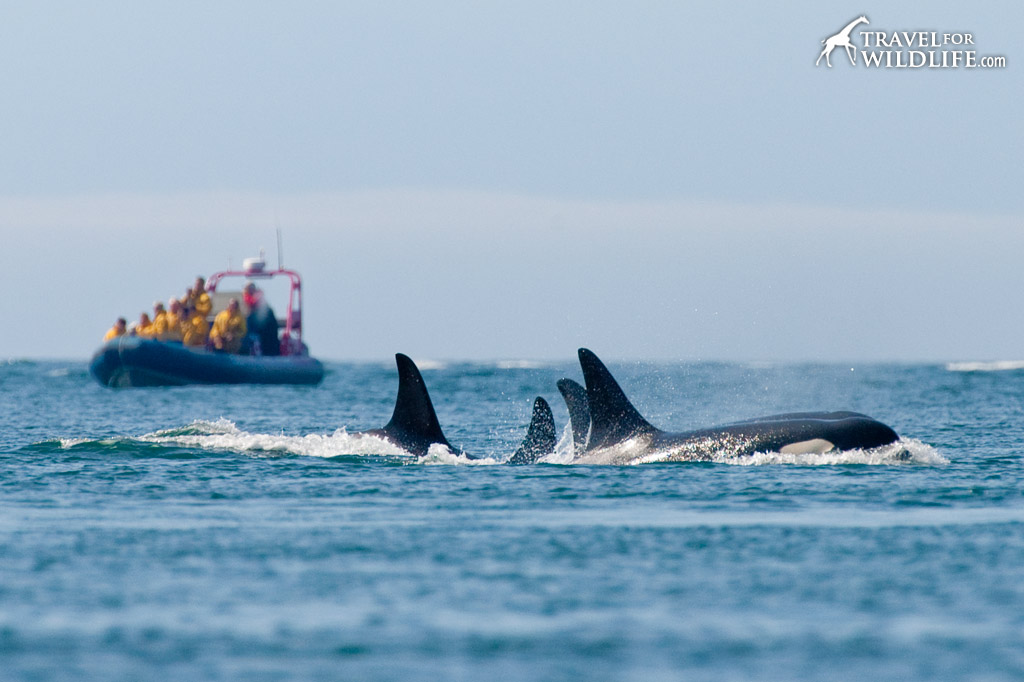 We're still working out the final details of our itinerary but here are some of our planned adventures:
Stay 4 days at the Great Bear Chalet in Chicoltin Cariboo Coast to do some grizzly bear watching.
Visit Tofino, on the west coast of Vancouver Island to spend several days whale watching and bear viewing with The Whale Center. We'll also search for wolves around Tofino.
As the grand finale of our American Safari, we'll be spending two weeks at the amazing Nimmo Bay Wilderness Resort. Our main objective is to find the coastal wolf (75% of their diet comes from marine resources like beached whales, salmon and seals. And they swim!). We'll also be kayaking with orcas and whales. Lots of bears live in the area and we're hoping to get a glimpse of the iconic Spirit Bear.