Imagine your favorite zoo and your favorite aquarium smashed together side by side. Take away all the walls and all the people, then add a stunning wilderness backdrop. Now throw in a quaint resort and a spectacular helicopter ride. That should give you a pretty good idea of what it's like to visit Nimmo Bay Wilderness Resort in British Columbia, Canada.
Nimmo Bay is a floating lodge on the edge of two worlds. Behind is the largest intact coastal temperate rainforest in the world: The Great Bear Rainforest. In front lies the inland fjords of the wild Pacific Ocean. Together, they hold nearly all of North America's most spectacular land and marine animals, from grizzly bears, wolves, and cougars to humpback whales, killer whales, and dolphins. There are very few places like it on the planet.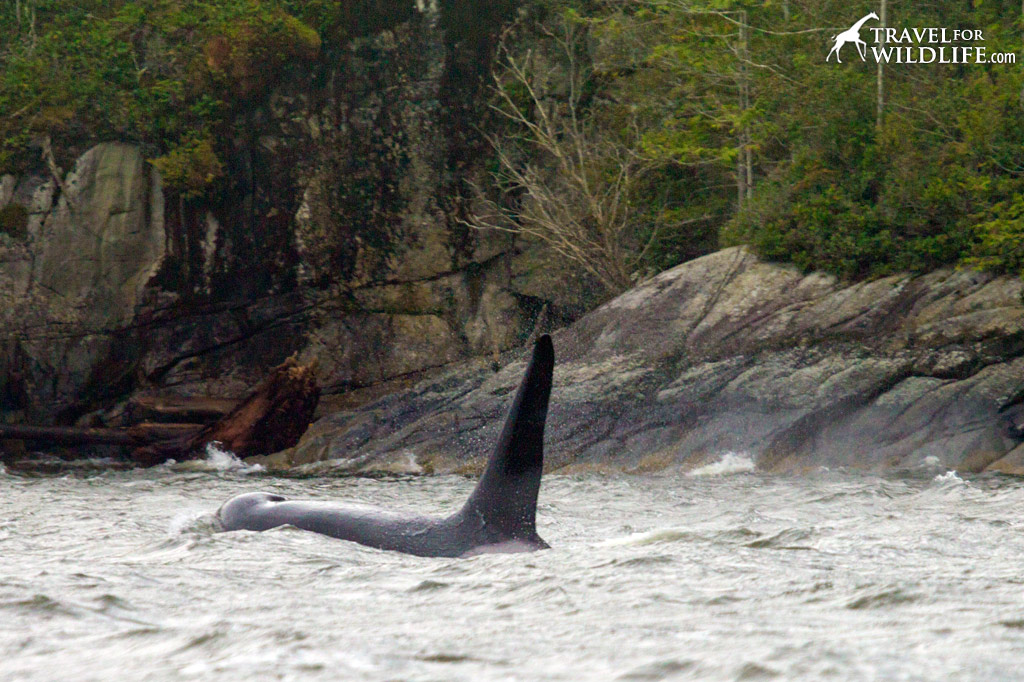 After spending two and a half months traveling around North America's wildlife hotspots, Nimmo Bay Resort was the grand finale on our American Safari. We had high hopes of seeing wolves, whales, and bears all from one location. And even though one of these creatures did not end up cooperating, we did have many other great surprises along the way.
Our wildlife sightings at Nimmo Bay Resort
On our first day, Nimmo's owner Fraser Murray took us out to look for whales. We boarded The Dance, a comfortably enclosed 12-seat touring boat, straight from the dock in front of the lodge and entered a world of criss-crossing bays and narrow inlets weaving between mountainous forested islands. Like a taxi driver on the back streets of New York City, Fraser knows every turn and nook and cranny of this marine maze, having been guiding here since he was eight years old. I searched the hills carefully but found no sign of human development except the occasional floating house tied to shore. There are no roads leading to this part of the world. The only access is by boat, float plane, or helicopter. But at this time of year, early October, we were the only humans to be seen in any direction.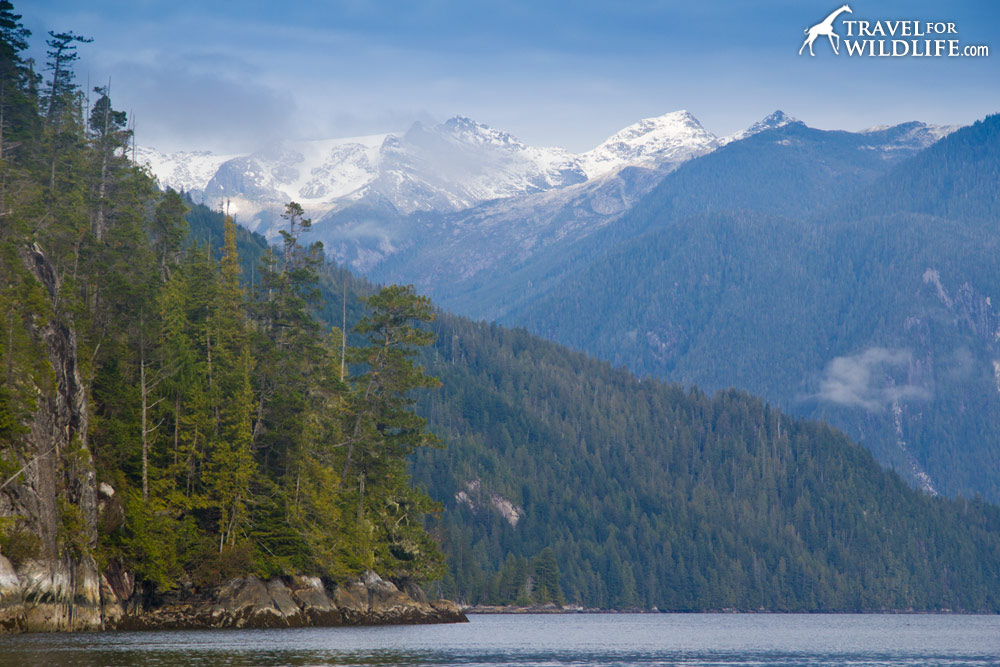 Fraser navigated us to one of the larger open bays in the direction of Vancouver Island where the wind stirred up the waves into a choppy mess. "Full breach! Right there!" Fraser shouted pointing straight ahead at our first humpback whale sighting. We would become very familiar with Fraser's enthusiastic exclamations that day. Even after all these years, his child-like excitement still takes control of him when he's showing guests the amazing creatures in his corner of the world.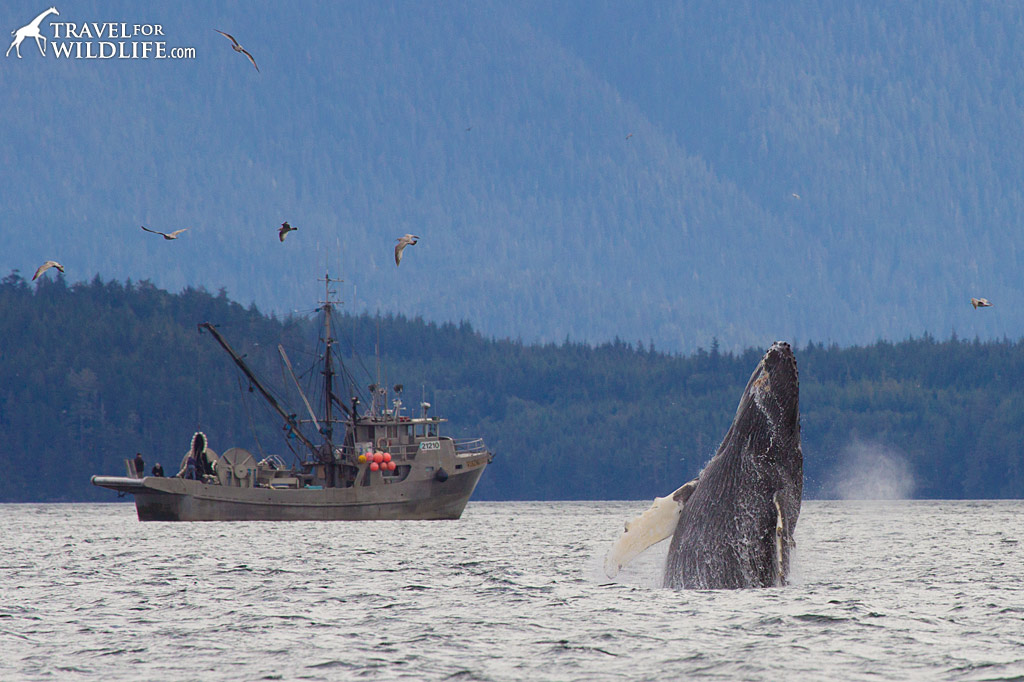 Suddenly it seemed we were surrounded by whales. In all directions there were blows, backs surfacing, tails slapping the surface, fins in the air, and yes, full-grown humpback whales leaping clear out of the water in full breach. It was an incredible spectacle. What made the moment even more special was that we were not surrounded by other whale-watching boats. Though we did glimpse the occasional fishing boat in the distance, not a single tour boat made an appearance. We had this world-class whale show entirely to ourselves.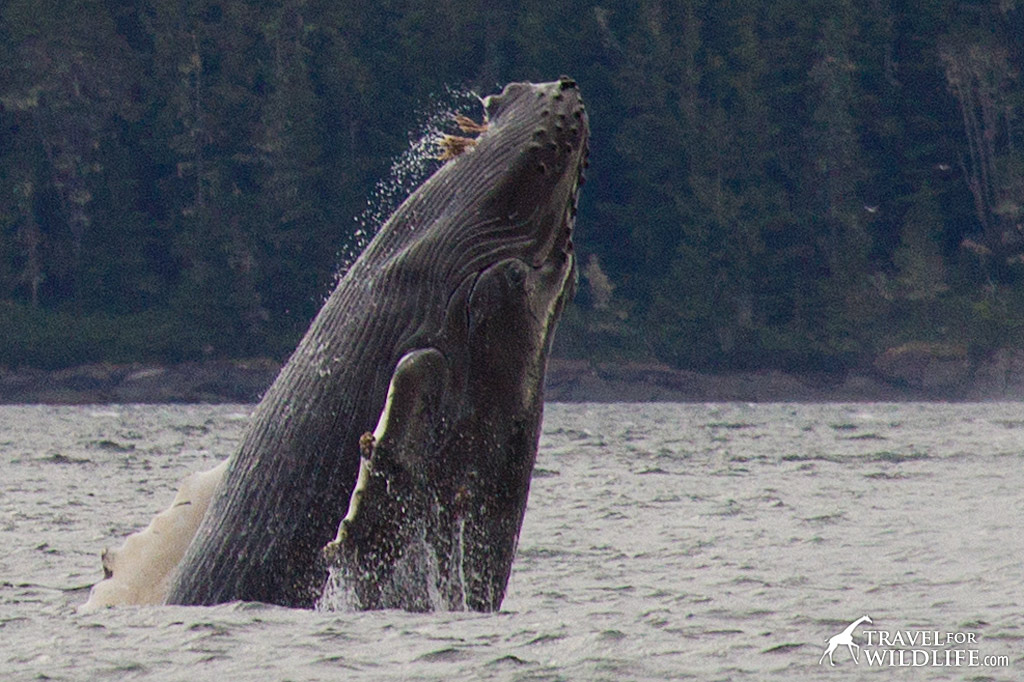 There were none of the nagging feelings of guilt that I experience in crowded whale-watching areas. These whales were not being chased or harassed or overpowered with propeller noise. They were simply going about their business, which on this day seemed to be – having a lot of fun. We also witnessed a humpback "gape-feeding" or surfacing from beneath a fish bait ball with his ridiculously huge mouth wide open. It was my first time every seeing such a behavior and it was definitely the highlight of my day.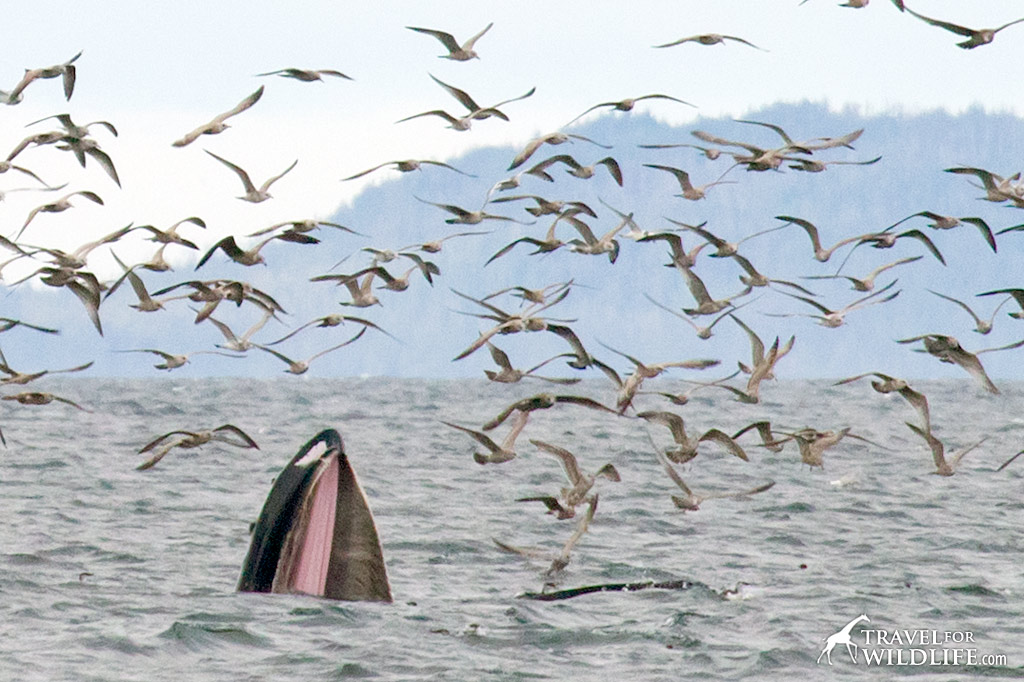 On the way back we passed large noisy Steller Sea Lion colonies where massive bulls bellowed and roared at each other, while their smaller female counterparts lounged upon the rocky islets.
We caught brief glimpses of tiny Harbor Porpoises which grow to be no more than five or six feet long.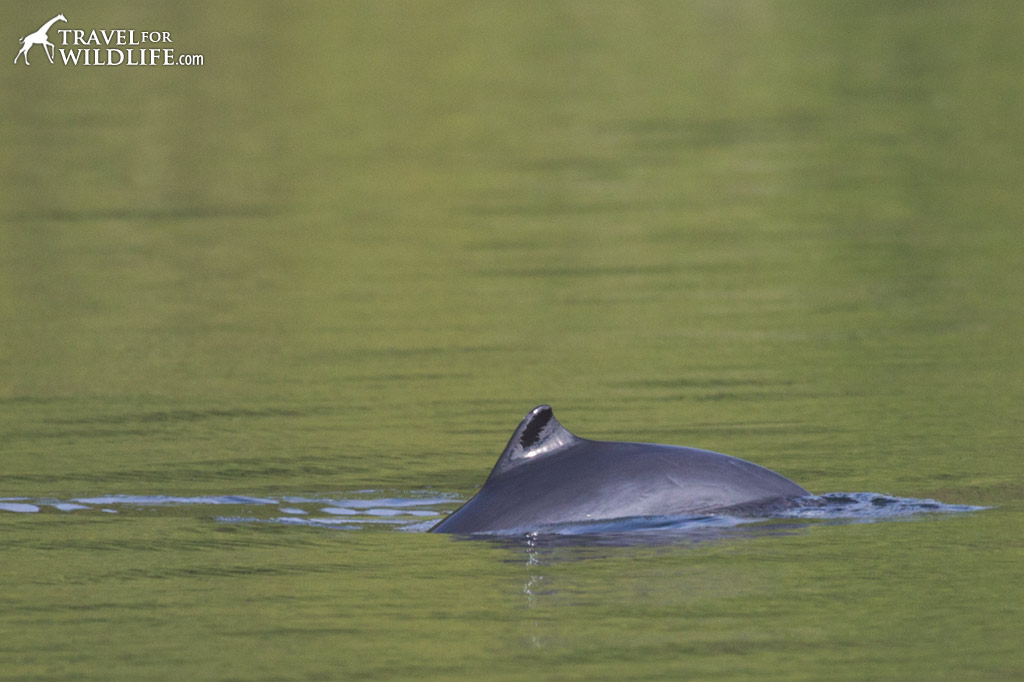 The waters around us were filled with oceanic birds. Gulls perched on floating logs, while swarms of Murres, Guillemots, Red-necked Phalaropes and Rhinoceros Auklet paddled the surface. Swirling clouds of Cormorants squawked noisily beside the soaring rock faces of their nesting cliffs.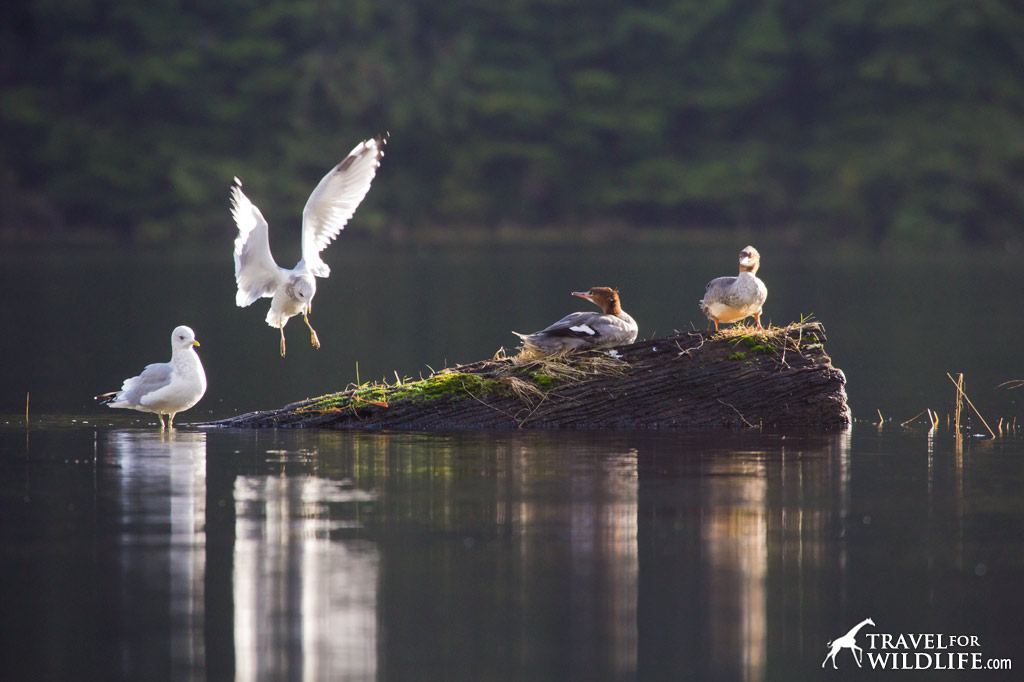 We floated slowly past groups of cryptically-colored Harbor Seals, Fraser's personal favorite. They lolled about on low rocks and peeked out of the water with their cute puppy dog faces.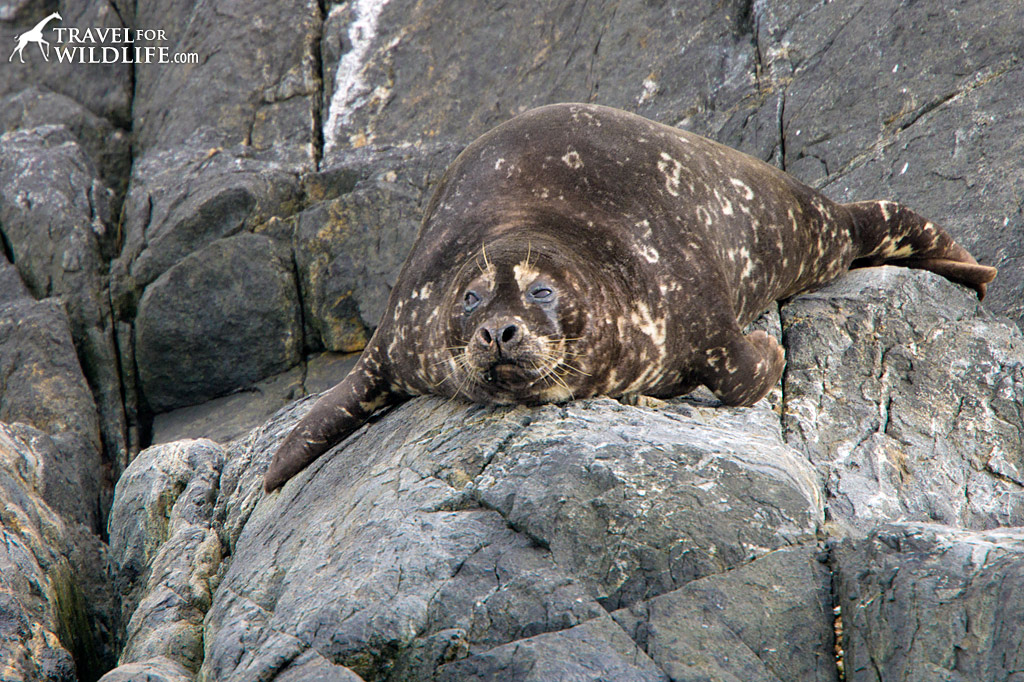 But the highlight of our marine mammal sightings was definitely the day we encountered the transient Killer Whales (aka Orcas). There appeared to be about 5 in the group, including a large male with an incredibly tall dorsal fin, probably taller than me. They sliced back and forth across the surface as though they were hunting, mere feet away from the steep rocky shorelines that plummet into the deep inlets. It was a great honor to watch them, as they had only made one other appearance near Nimmo Bay that year.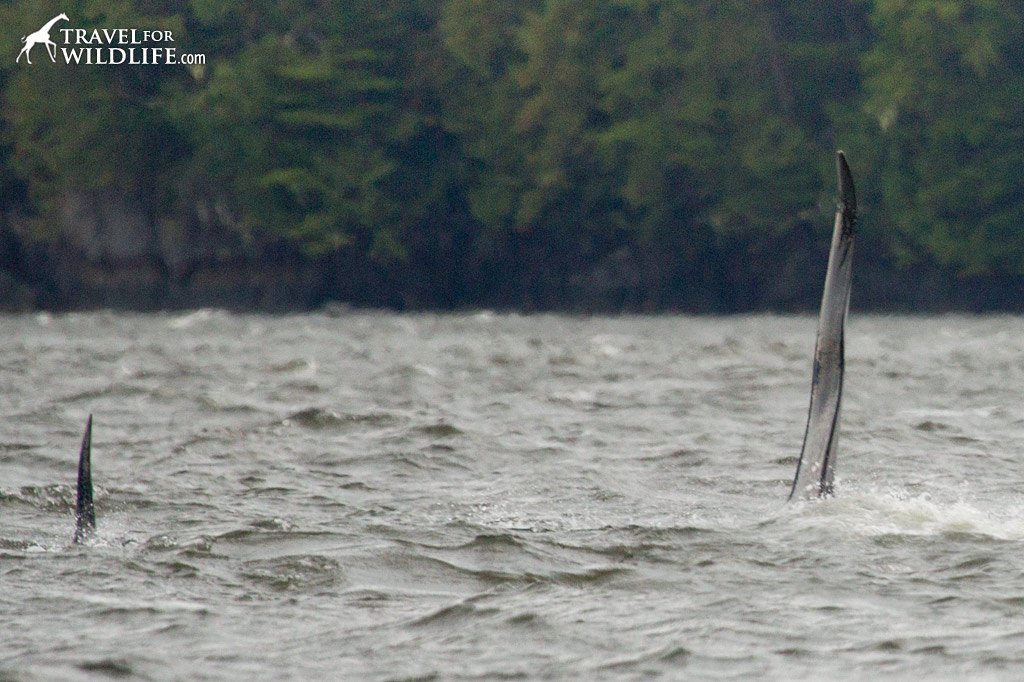 Land animals proved to be a bit trickier. The impenetrable forest stands like a wall at the water's edge, a mossy mix of old growth cedars and deadfall giants lying in tangled piles upon a thin layer of spongy soil that clings tenaciously to the stony slopes. Nimmo has a hiking trail that winds through the jungle along the edge of the bay and it's a great place to immerse yourself in the beauty of this ancient habitat. But to safely view the forest's largest creatures we return to the sea, this time in Nimmo's smaller boat, the Danny Boy. At each low tide, large expanses of rocky beach and tidal mudflat are exposed, creating excellent feeding opportunities for bears. Black Bears patrol the shore, tipping over rocks and slurping up the crabs that scurry away.
Grizzly Bears also make appearances along the waters edge. Another guest at the lodge, Mark Lender (writer & photographer for NPR's Living on Earth) had a good look at one less than a mile from the resort. Generally, visitors have their best odds of seeing grizzlies on Nimmo's inland helicopter tours (see below). As for Wolves, we tried and tried but to no avail. A wolf had made an appearance on the shoreline near Nimmo just two weeks earlier, but the fellow stubbornly refused to emerge during our visit. Ah well. Next time.
Our favorite moments were spent boating and hiking and kayaking around the river mouth in Big Nimmo Bay, where spawning salmon fill the channels and their half-eaten carcasses litter the forest floor.
This is the main food source for black bears and grizzly bears at this time of the year, and for the numerous Bald Eagles and Ravens which call from the tree tops over head. The forest here pulses with life and energy and it is a thrill to walk the well-worn bear highways that wind through the dark magical woods and to watch the salmon carry out their astounding cycle of life, death, and re-birth beneath the shade of these mighty trees.
We placed our camera trap here along the bear trails and captured dozens of images of black bears and their cubs, as well as bald eagles feeding, and even a few pine martens!
My favorite surprise of the trip was the incredible abundance of spectacular underwater invertebrates that I had never before seen. There were mountains of bright purple Ochre Sea Stars alongside huge Sunflower Stars with up to 16 legs.

In the open waters we saw beautiful jellyfish of all colors, shapes and sizes including the largest species in the world: the Lion's Mane Jelly. Their tentacles can grow to be longer than the length of a blue whale, and one of the individuals we filmed had a body the size of a garbage can lid! In another sheltered spot we saw dozens of California Sea Cucumbers which look like bright red foot-long pickles covered with big orange spikes. And in one particularly peaceful shallow lagoon, with a native name that translates ironically to "Lifeless Lagoon", we saw the most amazing assortment of underwater creatures. There were Dungeness Crabs and Stone Crabs and Hermit Crabs, there were starfish galore, but my favorites were the Nudibranchs.
Nudibranchs are a group of whimsical-looking sea slugs, often ornately colored and decorated in the most unlikely ways. I'd never seen one outside of an aquarium before, but here we saw them by the dozens. We saw the flamboyant Giant Nudibranchs in red and in white, we saw the dazzling Alabaster Nudibranchs waving their silvery tipped lobes, and most numerous were the alien-looking Hooded Nudibranchs with their bizarre satellite dish heads. I filmed an underwater timelapse of Hooded Nudibranchs feeding and in it you can see the incredible variety of life that frequent these waters.
The Lodge
Nimmo Bay Wilderness Resort is a luxury destination. This is not your run of the mill fishing lodge. Here you get a beautiful cabin to yourself overlooking the water.
You get three amazing meals a day prepared by excellent chefs. You drink well, dine well, and relax in a hot tub next to a waterfall.
And in the evening you watch the stars come up while chatting by the fire on a floating dock.
And the kicker is, you get to go for rides in helicopters. Thanks to the magic of helicopter travel you can sip wine on top of a glacier, have a picnic next to an unspoilt salmon stream in the center of the Great Bear Rainforest next to grizzly bears, and you can watch the sun set as you hover over the snowy peaks of nearby Mount Stephens. If you've never ridden in a helicopter before, you'll discover that it's even better than all those IMAX movies where you fly over rugged mountain tops.
You don't even need to bring your own outdoor gear. Nimmo Bay staff will outfit you with all the equipment you need, from waders, to boots, to foul weather gear and wool socks. And when you come back on a rainy or chilly day, you'll be thrilled to change out in the super-heated dry room.
Sure, you can still partake in some world-class fishing at Nimmo Bay (they only allow catch and release), but there are plenty of other activities beside wildlife watching to keep you entertained. You can go for a paddle in a kayak, take a yoga class, get a massage, play pool in the billiard lounge, cruise on a paddle board, do some guided rock climbing, or snorkel a lagoon. That is, if you find time between all the whale and bear-watching.
The Verdict
Not surprisingly, Nimmo Bay was our favorite place we stayed during our three month North American Safari. Truthfully we were a bit flabbergasted by the prices when we first looked them up online, but once we added up all the services provided, a large private cabin, three gourmet meals a day including alcohol, guided private whale watching and bear watching tours every day, all the resort's included amenities and activities and equipment, transportation from Port Hardy on Vancouver Island, top-notch service from Nimmo's staff, and even helicopter tours with some packages, we realized that it was actually a fair price.
Nimmo Bay provides a unique product, a chance to experience the remote pristine wilderness of the Great Bear Rainforest in a personal way and to live comfortably in the process. We would certainly go back again and we hope to do so soon. To learn more about Nimmo Bay, visit their website Nimmo Bay Resort.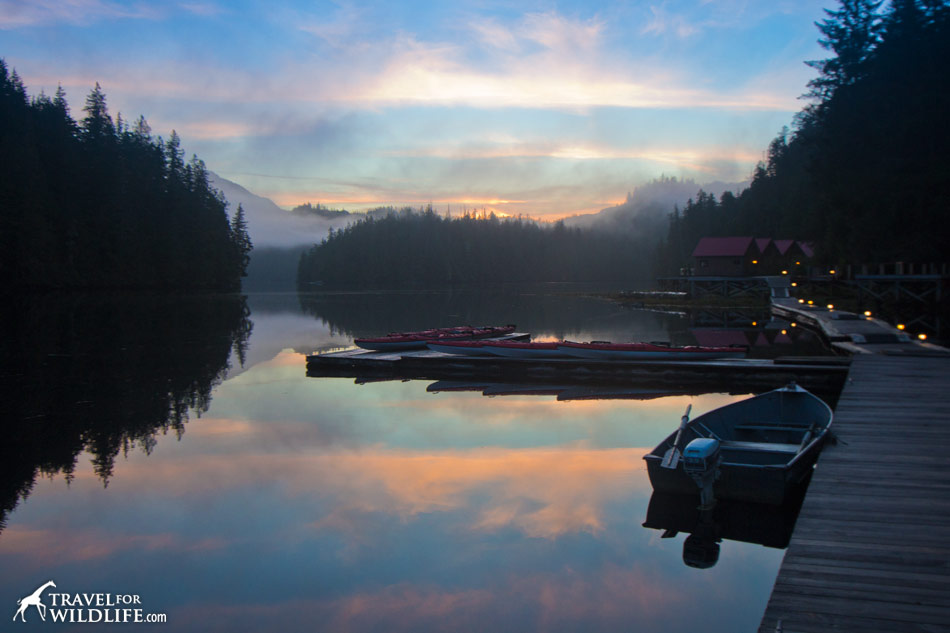 ---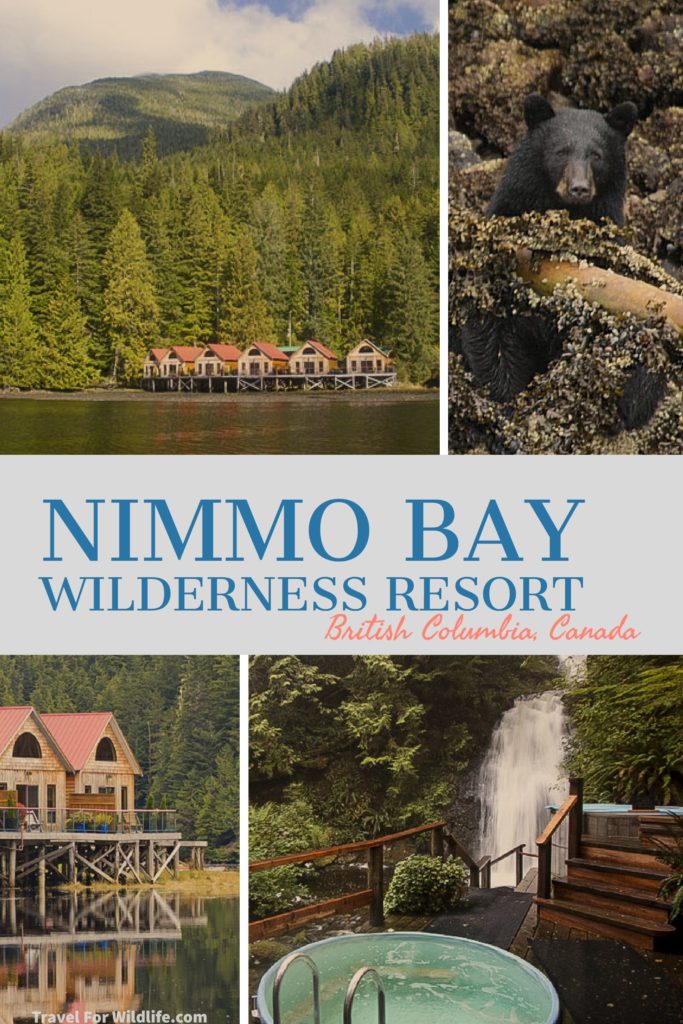 Disclosure: Our lodging was generously provided by Nimmo Bay Wilderness Resort, but the opinions expressed within this article are entirely our own.
---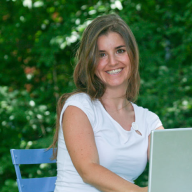 Cristina Garcia
Zoologist and wildlife photographer. She has worked in the field with jackals, wolves, cheetahs, & leopards. She serves on the Board of Directors of SEE Turtles, a non-profit sea turtle conservation organization.
Read her posts at Travel For Wildlife and see more of her work at Truly Wild, & Our Wild Yard.