If you've always wanted to take an African safari, but thought it was too expensive or too difficult, I wrote this article for you. You don't have to pay $5000 and go with an organized tour. In fact, a complete novice traveler can do a 10-day self-drive African safari in Kruger for only $670 plus airfare. And I'm going to tell you how.
Taking a safari in Africa is every wildlife watcher's dream. Just take a look at these incredible National Parks in Africa and take your pick! Some of these are for the experienced travelers, and we recommend you start with an easy one. Kruger National Park is easily accessible and you don't need a 4×4, so it's the best one to get you started. A Kruger safari is the perfect first taste of future adventures.
The red sun begins to set over the acacias as three giraffe silhouettes amble by, rimmed with blazing gold. A hippo and her tiny baby are snorting mist into the warm air from the center of the waterhole as a herd of elephant approaches for a drink. Crowds of zebras and impalas watch closely from the opposite shore near a basking crocodile. Fish eagles are calling from the sky when suddenly a troop of baboons begins to squeal and bark, alerting everyone that a large predator is approaching.
That's when you hear it, the deep bass rumble that reverberates through your chest cavity: your very first African lion roar. You will never be the same after taking your first African safari.
This article was updated on August 2018 with current prices and US exchange rates.
*This article may contain affiliate links. We receive a small commission at no extra cost to you.*
---
Based on our actual expenses this August (2018), you can take a 10 day safari in Africa for only $700 per person plus airfare to Johannesburg
This price is calculated based on two people traveling together (in the same car, sleeping in the same bed). This 10-day Kruger trip includes a 10-day compact car rental, gas, one night in a guest house on the way to the park, two nights in chalets in the park, seven nights camping, all food and drink including groceries and several dinners in restaurants, two night drives, all park fees, plus a little extra for assorted expenses. Here's the break down in actual costs for two people.
(scroll table side to side to see all columns)
As you can see, adding nights in chalets at about $109 per night will quickly add to the total cost of your trip. Whereas camping, at about 20 bucks a night, is a much smarter way to go, and will bring you closer to the animals and nature you came to experience.
Here is a list of all types of accommodation in Satara.
Buy your travel insurance: Keep yourself covered. Always.
Are the animals dangerous? Yes. There are many species in Kruger that can kill you. But if you follow one basic rule, you'll be fine. Stay In Your Car. If an elephant confronts you on the road, put it in reverse and back up slowly. Anybody else, you can simply roll up your windows and you're OK. Don't ever feed an animal. Stay away from baboons in the campgrounds and keep your food well contained in your vehicle. Baboons can be a nuisance but treat them with respect like any wild animal and you'll be fine. Sure there are dangerous animals in South African game parks, but that's the whole point of going isn't it?
Do NOT engage with poachers. They are dangerous and they are probably heavily armed. They won't think twice about using them to protect themselves.
To report a poaching incident in Kruger (or suspected activity), you can use the following numbers: 0800 205 005 or 08600 10111
---
The roads in Kruger are easy, so don't worry about 4-wheel-drive or high ground clearance. If you think you'll want a little more space, make sure you get a car with four doors and a trunk, which is handy for hiding your luggage, and a large backseat is nice when you both want to be on the same side of the car to photograph a sighting. On our recent trip, Cristina and I rented the cheapest model available (a Hyundai i10) and lived in it for six weeks. It was tiny but the fuel efficiency (nearly 40 mpg) saved us about $800 compared to what we would have spent for gas in a large pickup. At over $5 per gallon, saving on fuel is a great way to reduce the cost of your safari. Remember, in South Africa fuel is measured in liters so an average fuel cost in Kruger at time of writing was about 11.30 Rands/liter.
Be sure to get air conditioning, especially if you visit during the summer. This is one luxury that will improve your life when you are spending up to 12 hours a day in your car. We spent about $25 a day on our car for six weeks but expect to pay slightly more for shorter periods. If you're not bringing camping gear with you, consider renting it along with your car from one of the smaller local car rental companies such as Tony's Car Hire. I rented from them on my first two visits and was very pleased. Be sure to book your car rental in advance via the internet to insure availability.
When renting from a major company (find your rental car here), I skip the additional insurance coverage because it doesn't cover the usual damages anyway (like chipped windshields, flattened rims and undercarriage damage.) If you're not a gambling man, go ahead and get the extra coverage. After all, an elephant could sit on your car (I don't think this is covered, by the way). And, if you're American like me, you will be driving on the other side of the road (see "Drive to Kruger" below).
Coming out of the gas station, follow signs for R21 South to Boksburg. After a few kilometers you will turn left onto the N12 toward Witbank. Now you're home free. Drive for about five hours, a total distance of about 390 kilometers (240 miles). After about 100km (in Witbank) the highway will merge into the N4 and take you all the way to Kruger.
You'll probably be able to get all the way to Kruger on one tank of gas but if you're getting low, stop at one of the Petro-Ports on the highway. These can be crowded with people so keep an eye on the stuff in your car. Hide it and lock your car doors at all times. Highway tip: South Africans have a peculiar highway habit. When the road has an emergency lane on the shoulder, the custom is for slow vehicles to pull into it, allowing faster vehicles to pass (unless it is a multi-lane highway of course.) If you are one of the slow drivers, give it a try. You will get a blink from the tail lights as a thank-you from the driver who passed you. The estimated drive time between the airport and Malelane Gate in Kruger is 4 hours and 45 minutes.
The nearest camp inside the park is Berg-En-Dal and it is only a few kilometers inside the park. However, if you get to the Malelane gate much past 5:30, you probably won't get in. We also don't recommend you drive after dark. There are plenty of cute little guesthouses around in the nearby village for reasonable rates (approximately $30-40 US for two people) and they are a great place to rest up after your long flight and long drive and to get psyched up about all the great animals you're going to see the following morning.
If your flight into Jo'burg arrived too late to get very far, find a guesthouse along the way. They are found in villages and also along open stretches of highway. You can find small signs along the road indicating where guesthouses and B&B's are hiding. Or be on the safe side, plan ahead and book your accommodation in advance. The town of Nelspruit is a good stop over just before Kruger. Find Nelspruit accommodation here.
You can also buy food at every rest camp in Kruger and you can eat at the restaurants when you're feeling lazy. There is also an Engen station here in Malelane so you can fill up before entering the park. Again, no worries, there are fuel stations at every camp in the park.
(for current pricing visit Sanparks ) For a couple like us, the wild card pays for itself in five days. From there on out, your entry fee is free, free, free. To buy a wild card, simply inform the employee at the park entrance gate that you intend to buy one and they will instruct you to go to reception at your first camp to pay for it. If you're spending less than five nights in the park, don't bother with the wild card and just pay your "conservation fee" right here at the entry gate.
Reserve lodging: You'll also have to inform the people at the entry gate where you intend to stay during your visit. If you're on a tight budget, camping is the way to go. If you have a little more room in your lodging budget, reserve a few nights in a chalet at some of your camps.
But either way, you'll have to decide which camps you want to stay in and for how many nights. That means you have to make a few decisions ahead of time (see next step). We never reserve our Kruger lodging before arriving at the entry gate. We simply show up, look at a map, make up a plan, and inform the person behind the counter. They let us know if camping is available those nights for each of our desired camps. If it's not, we modify our route. We usually reserve a camp site for each night and then later, when checking in at various camps, we'll sometimes inquire whether they have a chalet available for that night.
That way, when we feel we could use a night indoors, we give it a shot. Be warned, you will often get a dirty look from the employees if you haven't booked ahead. But we can live with that. Of course you could reserve all your Kruger lodging ahead of time if you don't want to take any chances. You can book online or by phone but we find it's hardly necessary unless we have bad luck and show up during a busy public holiday.
But keep in mind; this is a BIG park. During a seven-day visit, it is impractical to try to get all the way to the north end of the park and all the way back down again. Technically it is possible, but you will spend all your days driving quickly, which means you will have very few sightings. Instead, either make a loop up to the center and back down again, or travel one-way through the park and exit out of the north (keeping in mind this will give you a much longer drive back to the airport).
One of our new favorite campsites is Tsendze camp, a satellite camp of the larger camp Mopani. It is small and intimate, a real bush experience. This is not like the other bigger, noisiest ones, so if you stay here, please be mindful of the other campers and enjoy the silence!
Our other favorite camps are in the north section of the park. Letaba rest camp and Punda Maria rest camp are two of them. Tamboti tented camp is our choice if we enter the park through the Orpen Gate.
If you feel like splurging (you will go way over the $700 budget, stay at one of the safari lodges in Kruger National Park.
---
Night drives generally cost about $20 per person in Kruger, which is really not a bad deal considering how many species you will add to your sighting list. The coolest part about night drives, in my opinion, is getting to control the spotlights. Spotlighting is like having magic vision that can detect eyes in pitch blackness. Nocturnal animals have a highly reflective layer at the back of their eyes which glows brightly in a spotlight. If an animal looks at you, no matter how tiny it is, you will see it (even spiders!) From bouncing bushbabies to hunting owls, this is an extra expense worth investing in.
Chalets: After a few days in tents, you may find yourself in the mood for a cozy bed, a kitchen to cook in, and a private bathroom. We usually spend one night in a chalet to give ourselves a treat. Each campground has nice accommodations to choose from and you don't have to book them in advance. If we're in the mood for a chalet, we just go to the check-in desk when we arrive at a camp and ask if any chalets are available. If there is one, they will just charge the extra amount owed above the camping fee. Each chalet I've stayed in has been very clean, beautifully maintained, and pretty darn cute. The covered outdoor kitchen and dining area are my favorite. And being able to refrigerate your drinks is pretty nice too.
Restaurants: Every camp has a restaurant and I highly recommend you eat at a couple different ones. Not only is it a great treat after living off peanut butter sandwiches in the car all day, but the atmosphere is lovely and the food is generally quite good. Plus you'll get to try a variety of local game (if you don't mind eating the very animals you've come to see.)
And of course if you are on on a budget, you get to splurge every day! Invest on a fancy lodge for one or more nights and enjoy a luxury African safari. If you have time to go all the way to the north of the park, we recommend The Outpost. We were lucky enough to spend a couple of nights there, you can read our review here.
---
Lean Out of Your Car. This is slightly less for your own protection than it is for ruining the experience of everyone else. Animals are habituated to cars. They are not habituated to people and that's the way it should stay. If you lean out of your window, you become a person and you scare the sighting. This obviously goes for climbing onto the roof of your vehicle too. If you want to look like a stupid tourist and pay a big fine and get thrown out of the park, then climb onto your vehicle!
Feed The Animals. Never, ever, ever, under any circumstances, feed an animal in Kruger. From the biggest elephant to the tiniest bird or squirrel. A fed animal loses its fear of people, becomes a "problem animal", and then has to be killed by park rangers. You are not helping an animal by feeding it. You are killing it. You are not being generous. You are selfishly condemning an animal to death for your own entertainment. Human food is not good for animals.
If an animal starts to become dependent on human food, it can no longer feed itself. Can you tell we feel strongly about this issue? If you see some idiot throwing meat over the campground fence to lure a hyena, politely say to them "Did you know it is illegal to do that, and harmful to the hyena?" (Watch "hyena at the fence" video here) If they don't stop, report them at the camp office.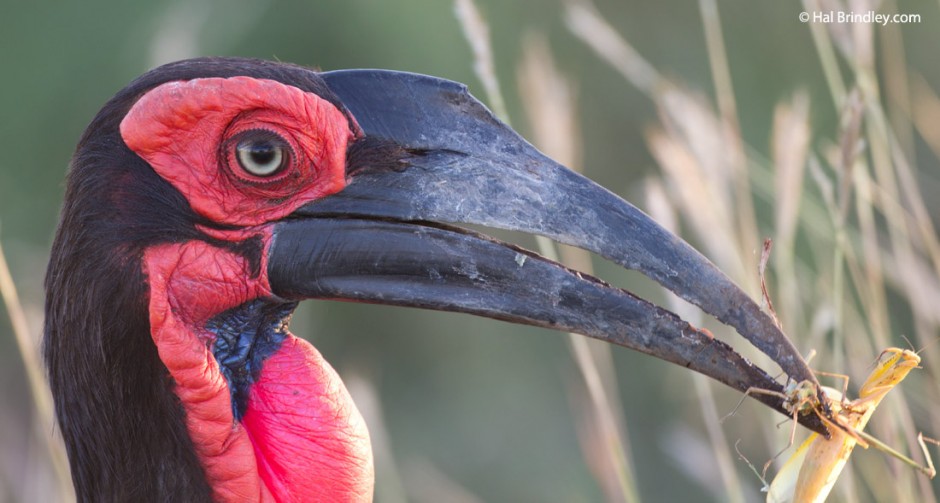 Be Late Returning To Camp. Each camp closes around sunset (somewhere between 5:30 and 6:30 PM depending on time of year) and you must be inside a camp before the gates close. Supposedly, you will pay a fine if you arrive late, but thankfully we have yet to confirm that fact. PLAN AHEAD.
Yes, it can be very frustrating when you find an awesome subject and and the sun is finally starting to set and you are getting perfect light, then you realize you have to be back in camp in 20 minutes. So make sure you are near camp in the evenings.
Don't be one of those jerks who is driving at twice the speed limit at 5:45PM while trying to make it back to camp, and risking the lives of animals in the park just because they had to spend ten more minutes at a lion sighting. If you care about conserving the animals that you came all the way to see, plan ahead and don't speed.
Also, some parks have speed traps and they will fine you.
Please, follow these rules and be aware of other general safari etiquette.
---
Camera Body: We have three bodies, being the Canon 80D our favorite as it performs really well at night. Plus it is not outrageously expensive. Make sure to bring lots of extra batteries.
Lenses: We carry an array of lenses, from a 500mm to a macro lens. We used to carry a 600mm but it was way too heavy and we sold it. Here is what we carry:
– Telephoto lens: We carry a 500 mm lens f/4-5.6L for great close ups.
– Mid-range lens: The 100-400mm f/4.5-5.6L is a great flexible lens if you want close ups and landscape. Definitely our favorite range.
– Standard zoom lens: This Canon 18-55 is our to go lens for landscapes that don't require too much of a wide field.
– Wide angle lens: We use the Canon 10-22mm 3.5-4.5. It is great for landscape photos or photos of big groups of animals.
– Macro lens: We use a Venus Laowa 25mm 2.8. We use a Haven't taken this one on a safari yet, but it will come with us next time. We've started photographing bugs and leaf/fungi patterns, and this lens gives great results for a great price.
-Portable External Drives: We carry two of Western Digital portable external drives.
---
Bring a wider lens for landscapes and the occasional close-up of interesting campground critters. If you don't mind carrying expensive, heavy gear, bring your 500 or 600mm to get those great face closeups or smaller birds in the trees. A teleconverter, which multiplies the focal length of your lens, is also a cheaper and lighter-weight option to extend your reach.
Support. As mentioned in the "what to bring" section, a bean bag is the way to go. I made a little pouch out of the pant leg of a pair of jeans on my first visit to Africa and have used the same one on all three visits since then. When I arrive, I fill it with rice from the campground store, then plop it on the car window sill whenever I shoot. When I'm shooting video I sometimes try to prop a tripod inside the car door so I can pan smoothly, but it is always awkward. If you want to save weight and space, skip the tripod.
Hard Drive. I always carry two portable external hard drives to make two back-ups of my photos each day, via a laptop computer. We use Western Digital and you can get one of their portable external hard drive here. You will shoot LOTS of photos here. Instead of putting all your money into expensive memory cards, get a couple 500GB drives and back up daily. I use two drives because I've had a drive fail in the field before and data recovery is FAR more expensive than buying an extra drive.
Shoot Early and Late. The African sun can be pretty harsh at mid day. As always, your prettiest light is early morning and late evening.
Know Your Subjects. Bring a field guide or a behavior guide. We have a list of guides in this post here, but our favorite are The Behavior Guide to African Mammals and Birds of Southern Africa. Not only will you have more fun by learning about the animals you are watching, you will figure out where to find them, discover less-obvious traits that make for interesting closeup photos (like the pseudo-penis on a female hyena, read more about hyenas here), and be able to anticipate their behavior for really great shots.
Be Patient. If you find a great subject, stick with it. If you see a leopard and it is sleeping in a tree, stick it out. Everyone else will eventually get bored and disappear, leaving you with the sweet shot when she wakes up. (See our leaping leopard video here)
---
We hope this article gives you the information and, more importantly, the confidence you need to make your first South African Safari. You can do it!
If this article inspired you to go to Africa or it helped you as a guide, we want to hear about it. Please email us or leave a comment below.
---