Everybody knows Kruger National Park has an incredible diversity of wildlife, but did you know it also has a stunning variety of accommodations? From camping to chalets, tented lodges to tree houses, and of course, luxury safari lodges. If you are looking for safari lodges in Kruger National Park read on and choose the lodge for your next visit to the biggest national park in South Africa.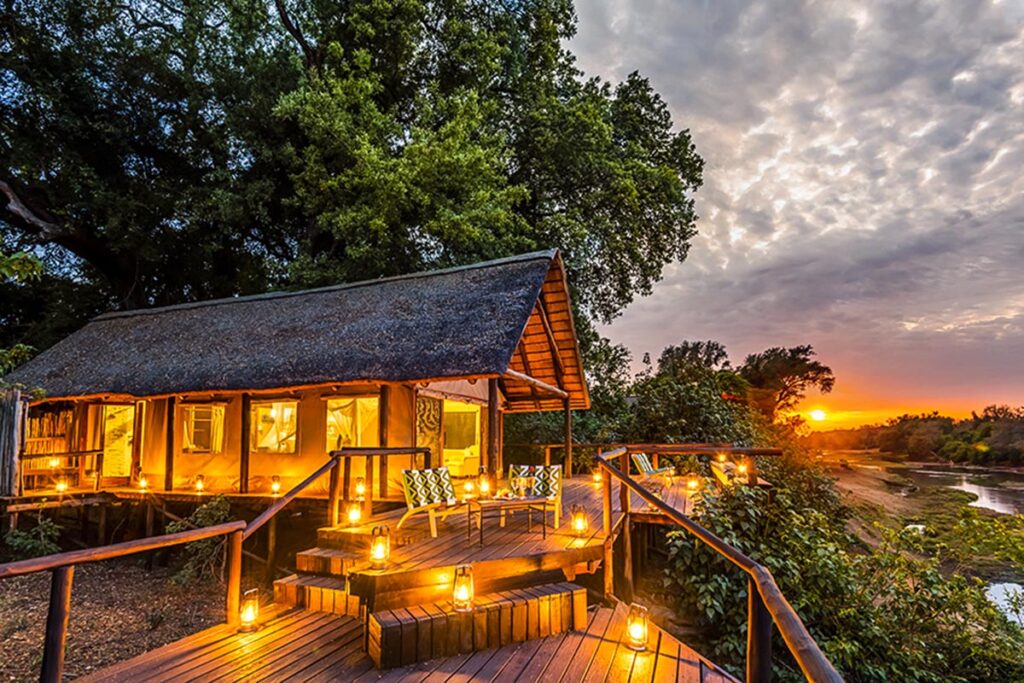 Why stay at a safari lodge in Kruger National Park?
The are a few ways to beat the crowds at Kruger. One of those is to stay at a lodge and avoid the busy park rest camps. If you are looking for maximum privacy, then staying at a lodge is the way to visit Kruger.
Whenever you need some serious pampering you can't go wrong with a lodge in Kruger Park. Most of these lodges have been designed to provide unbeatable service and attention to the smallest details.
Plus you'll get the incredible safari experience that comes with having your own private game drives, where you'll be the only vehicle around a pride of lions or that coveted sighting of a leopard in a tree. Birding in Kruger from the privacy of your own room is also priceless.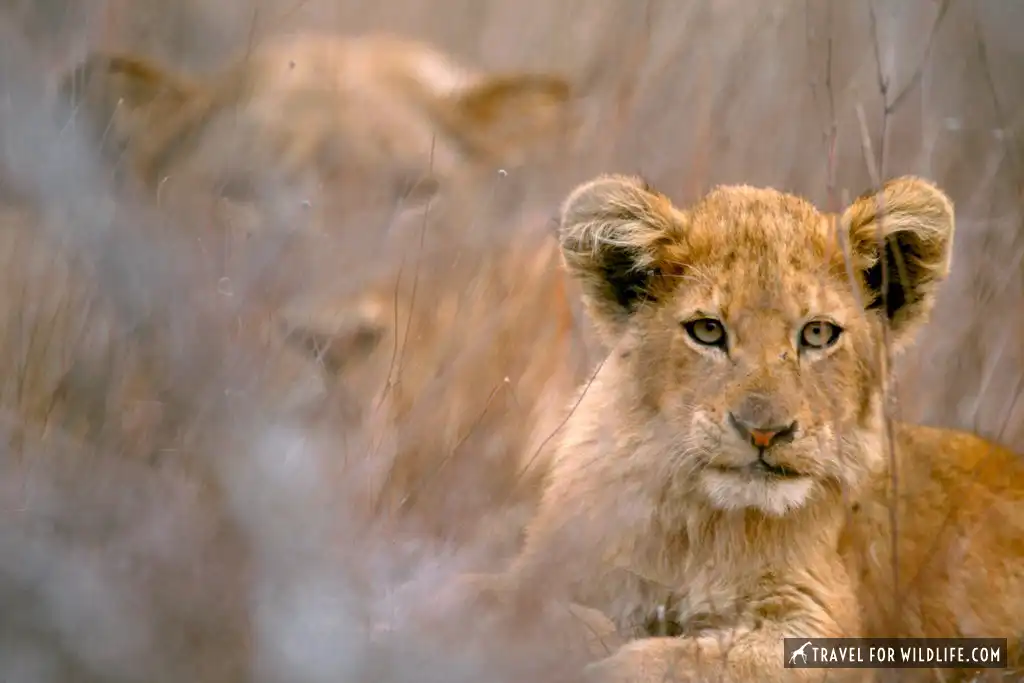 *This article may contain affiliate links. We receive a small commission at no extra cost to you.*
13 Best safari lodges in Kruger National Park
Some of these lodges are within the Kruger National Park boundaries, and some are in adjacent reserves. These game reserves in Greater Kruger Park have dropped their fences, so while wildlife moves freely between the park and the reserves, the visitors of the park are not allowed in these private reserves, giving their guests maximum privacy. While some are super luxury lodges, some of the Kruger lodges that made our list are more affordable.
---
1 – Lion Sands River Lodge
Located in the world-renowned Sabi Sands Game Reserve, Lion Sands River Lodge offers 20 private luxury suites. One of these is a family suite, making it the perfect place to bring your family. Kids can also take advantage of their Mack & Madi kids' program.
Built on the banks of the Sabi River, you can join one of their many activities or enjoy some quiet time from the privacy of your deck. Watch the animals go about their day, have a swim at one of the heated swimming pools, have a luxurious outdoor shower, spend some time at the Africology Health Spa, visit the bird hide, or enjoy a cocktail by the lodge fireplace.
Whatever you do, a stay at Lion Sands River Lodge will recharge your batteries.
Activities at Lion Sands River Lodge
Game drives
Bush walks
Safari lunches
Hippo tours
Stargazing sessions
Wildlife lectures
Highlights:
Spacious suites with private decks
Luxurious spa treatments
Encounter the famous Sabi Sands leopards
Dedicated Mack & Madi kids' program
Heated swimming pools
Secluded bird hide
Encounter the Big 5
---
2 – Thornybush Game Lodge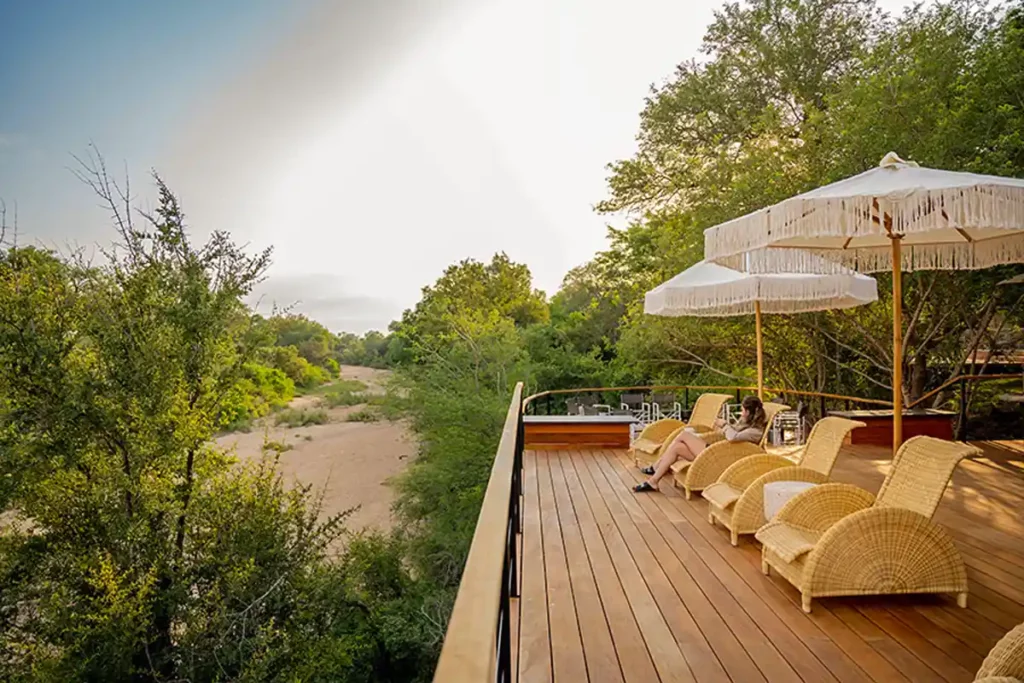 Thornybush Game Lodge is located on the top end of the Thornybush Private Game Reserve, bordering the western part of Kruger National Park. This lodge in Kruger has been recently renovated, overlooks the sandy riverbed, and still retains all its safari charm.
The lodge has 16 Luxury Suites, all of them private, with huge sliding doors opening to your private deck overlooking the riverbed. They all have indoor and outdoor showers and a bathtub.
If you visit with family or a group of friends, Kamara House is just for you (opens in May 2023). Kamara House has its own game vehicle, guide, and tracker. Plus the rim-flow plunge pool! Everything you need is right there, but if you want to join other guests, you are only a five-minute walk to the main lodge where you can enjoy a drink at the bar.
The lodge has been declared plastic free and is run on solar.
Activities at Thornybush Game Lodge:
Guided game drives
Children's activities
Bird watching
Safari picnics
Bush dining
Highlights:
Family-friendly atmosphere with lots of kids' activities
Fantastic Big 5 viewing opportunities
Located in Thornybush Private Game Reserve
Elevated wooded viewing decks, excellent for bird-watching
Outdoor showers
Spa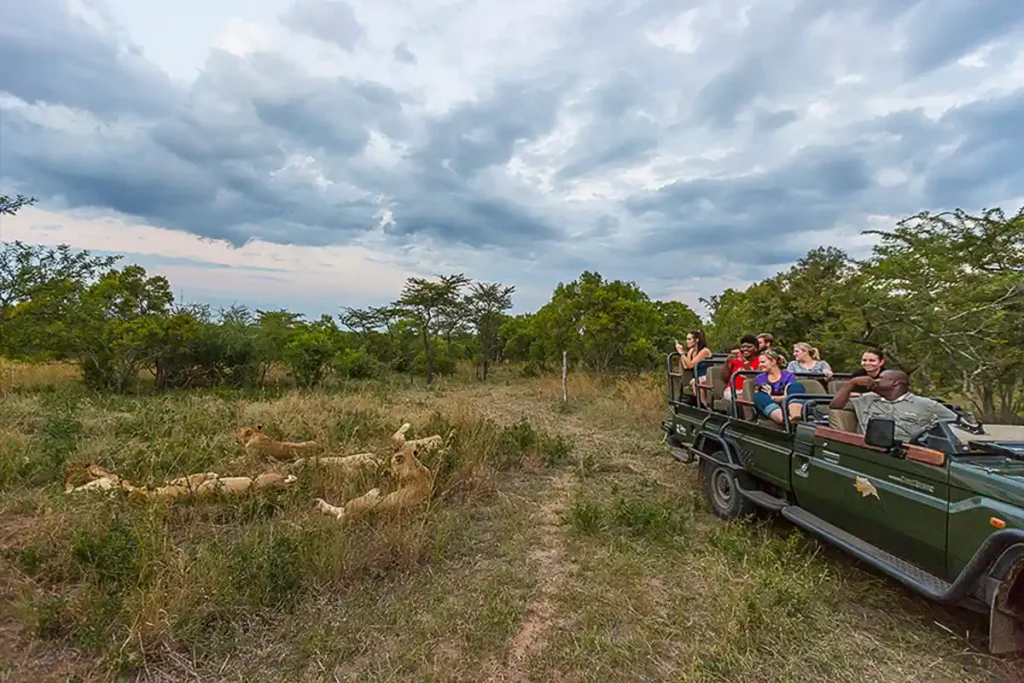 ---
3 – Singita Boulders Lodge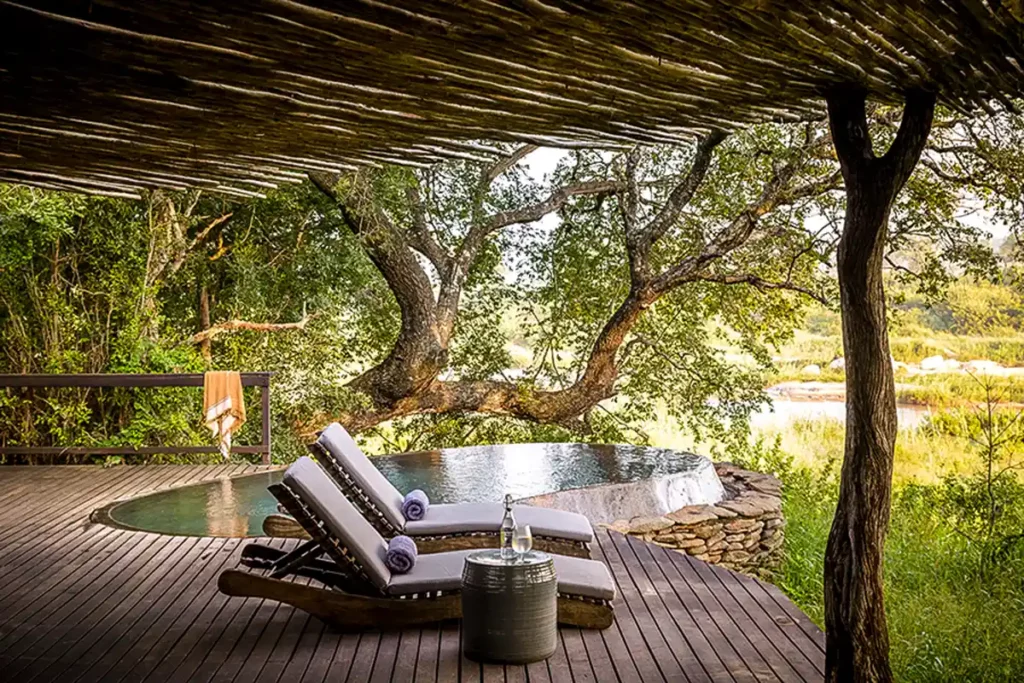 Singita Sabi Sand is an untouched wilderness of 45,000 acres, known for the incredible leopard sightings and amazing game viewing, either from a game drive safari truck or on foot during a guided bush walk. Enjoy the incredible birdlife of Kruger with your own guide.
Singita Boulders Lodge has been tastefully designed, incorporating boulders and other natural materials from the area. It offers 8 River suites along the river, 2 Bush suites overlooking a small waterhole, and two Family suites. All with their private plunge pool.
Enjoy your breakfast under the Marula trees, and your dinner under the stars in the boma, or you can also choose to have a private candlelight dinner on your own deck.
Activities at Singita Boulders Lodge:
Meet the Anti-poaching Canine Unit Sabi Sand
Stargazing
Guided walks
Game drives
Wine experience
Spa treatments with a massage menu
Highlights:
Encounter the famous Sabi Sands leopards
Private plunge pools
Award-winning wine cellar
Exceptional spa treatments
Big 5 viewing
---
4 – The Outpost Lodge
The Outpost Lodge is located in the north tip of Kruger, a few miles from Pafuri Gate and Punda Maria rest camp. This area of the park is very rich in birdlife and is a top destination for birders.
One of the highlights of this lodge in Kruger Park is the retractable, remote-controlled screens offering 180º of uninterrupted and spectacular views. The first thing you'll do when you wake up is to open the screens to watch the sunrise from your bed just before your early morning game drive.
Spend the afternoons lounging on your day bed enjoying the views or taking a dip at the pool. At night, have dinner at the boma or by candlelight by the pool. For more info you can read the full review of our stay at the Outpost Lodge
Activities at The Outpost Lodge:
Walking safaris
Historic & cultural tours
Morning and afternoon game drives
Highlights:
Unobstructed views from each suite
Excellent birdlife
Watching the colony of bush hyraxes at the lodge
A bathtub with an amazing view
---
5 – Rhino Post Safari Lodge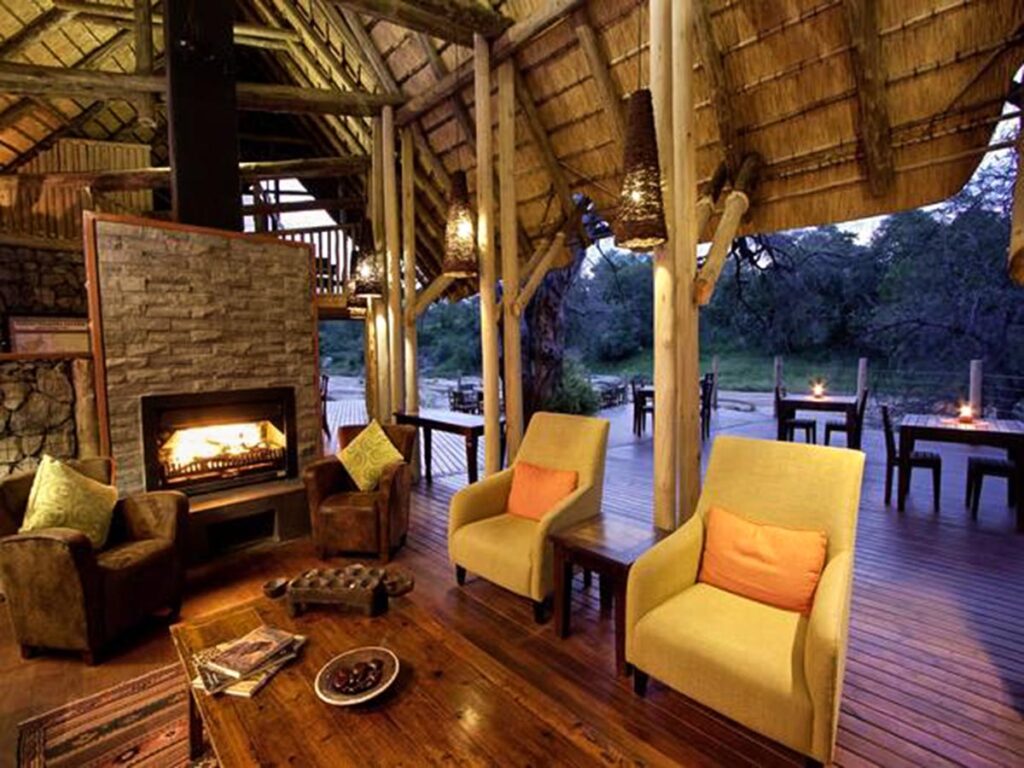 Rhino Post Safari Lodge is located on the Mutlumuvi River in a private concession, just a 30-minutes drive from Skukuza airport. This strategic location, the waterhole in front of the lodge, and the night drives from the lodge make the Rhino Post Safari Lodge ideal for a Kruger safari experience.
The lodge was built with great consideration for the natural environment and the ecosystem, and no concrete was used. The environmental impact of the lodge is kept to a minimum with different approaches such as their special indigenous Reedbed System that processes the bathroom waste, and their battery-powered lighting.
Get closer to nature and sleep out in one of their raised decks with tents. Enjoy a meal cooked over an open fire whilst animals come to drink at the waterhole in front of the decks. Fall asleep to Kruger's nocturnal sounds.
Activities at Rhino Post Safari Lodge
Bush dining
Night drives
High tea
Walking safaris
Game drives
Stargazing
Tailor-made birding safaris
Highlights
Bush dining on the dry riverbed
Sleepouts on raised decks
Private decks with riverbed views
Watching animals come to the lodge waterhole
A private 8-suite lodge
---
6 – Jock Safari Lodge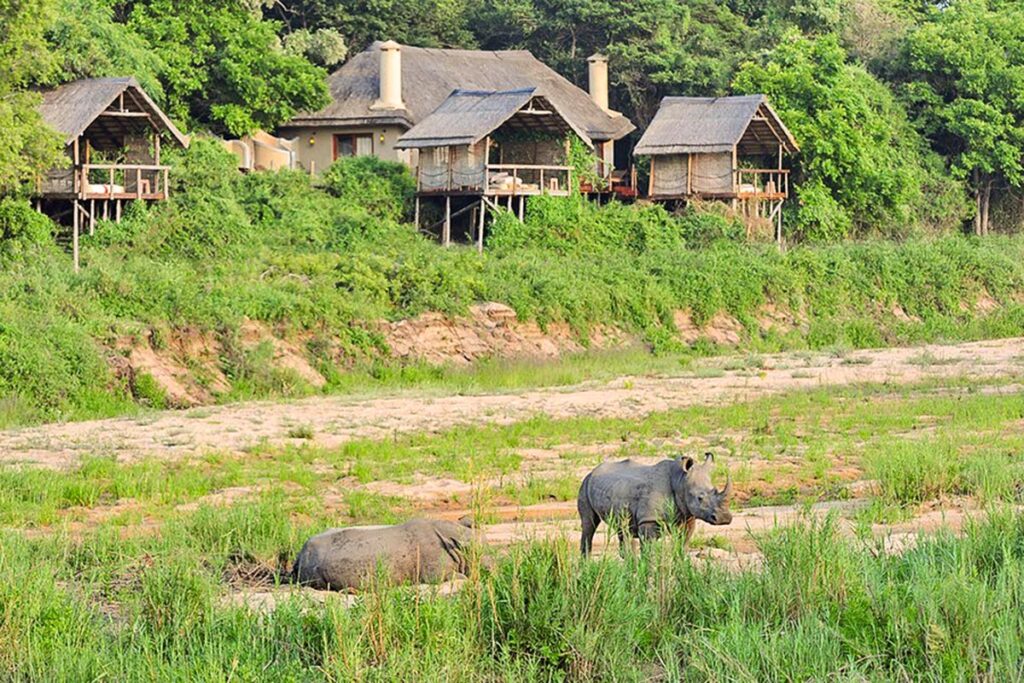 Set in 15,000 acres of wilderness, Jock Safari Lodge is a legendary lodge. Located on the southern tip of Kruger National Park, it is one of the oldest lodges in Kruger. Its location at the confluence of the rivers Biyamiti and Mitomeni makes it ideal for wildlife watching as animals use the riverbed to travel. Sit on the deck and watch elephants or white rhinos relax and feed.
An elegant lodge, Jock Safari Lodge has 12 secluded thatched suites each with its plunge pool, and a deck with a day bed, all with a spectacular view of the riverbed.
Activities at Jock Safari Lodge:
Birdwatching
Game drives
Wilderness walks
Stargazing
Animal tracking experience
Safari activities for kids
Highlights:
Overlooks a confluence of two rivers
One of the oldest safari lodges in Kruger
Watching wildlife relax on the riverbed by the lodge
---
7 – Pafuri Tented Camp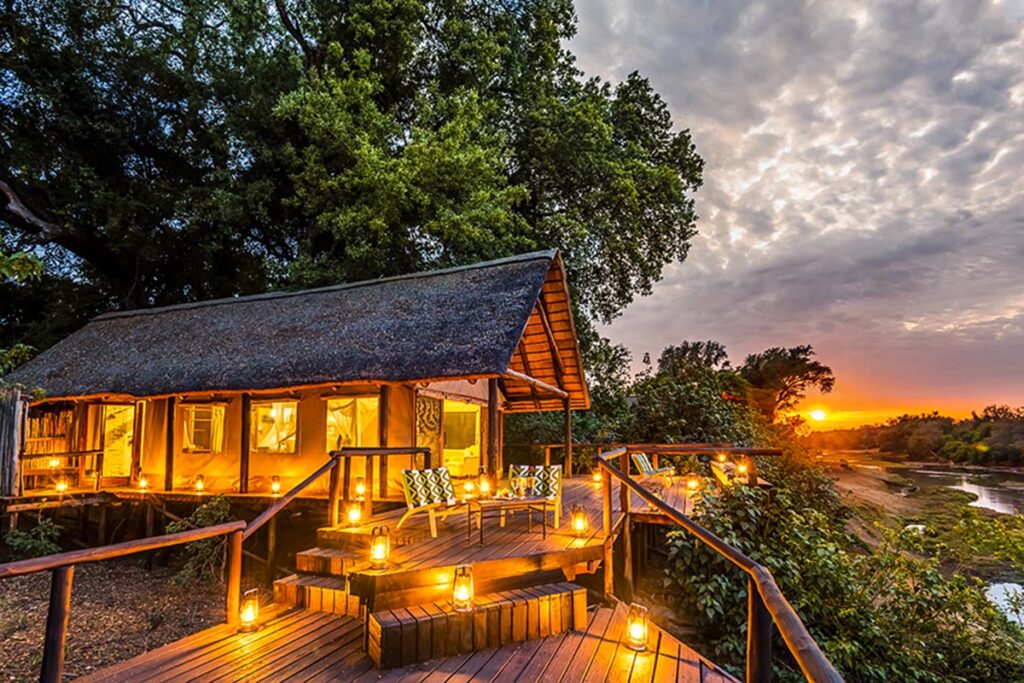 Pafuri Tented Camp on the north tip of Kruger overlooks the Luvuvhu River. Its 19 luxury tents are built on raised walkways to respect the land.
Each of the tents has en-suite bathrooms with indoor and outdoor showers. But the highlight is for sure the view of the river.
The richness of birdlife in the north part of Kruger makes Pafuri Tented Camp a perfect base for birdwatching activities. One of the highlights will be finding the elusive Pel's Owl, one of the most secretive owls of South Africa. We were lucky to spot one in this area during one of our trips!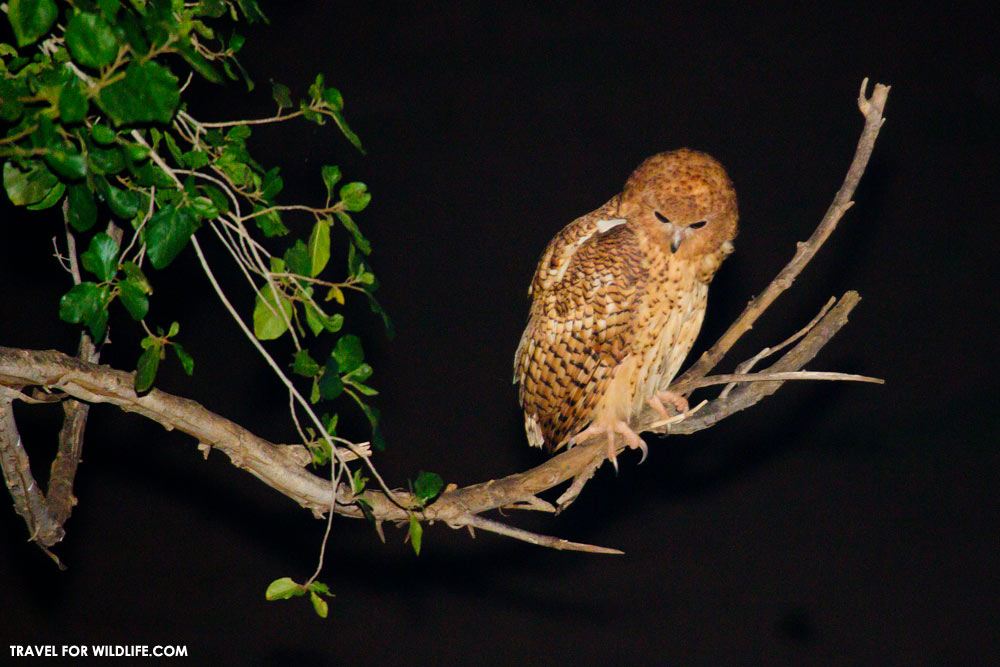 Activities at Pafuri Tented Camp:
Morning and afternoon game drives
Guided bush walks
Birdwatching from your private deck
Highlights:
Watching animals cross the river in front of your private tent
Embark on night drives to see the other side of Kruger
Watching the elusive Pel's Owl
Abundant birdlife
---
8 – Lukimbi Safari Lodge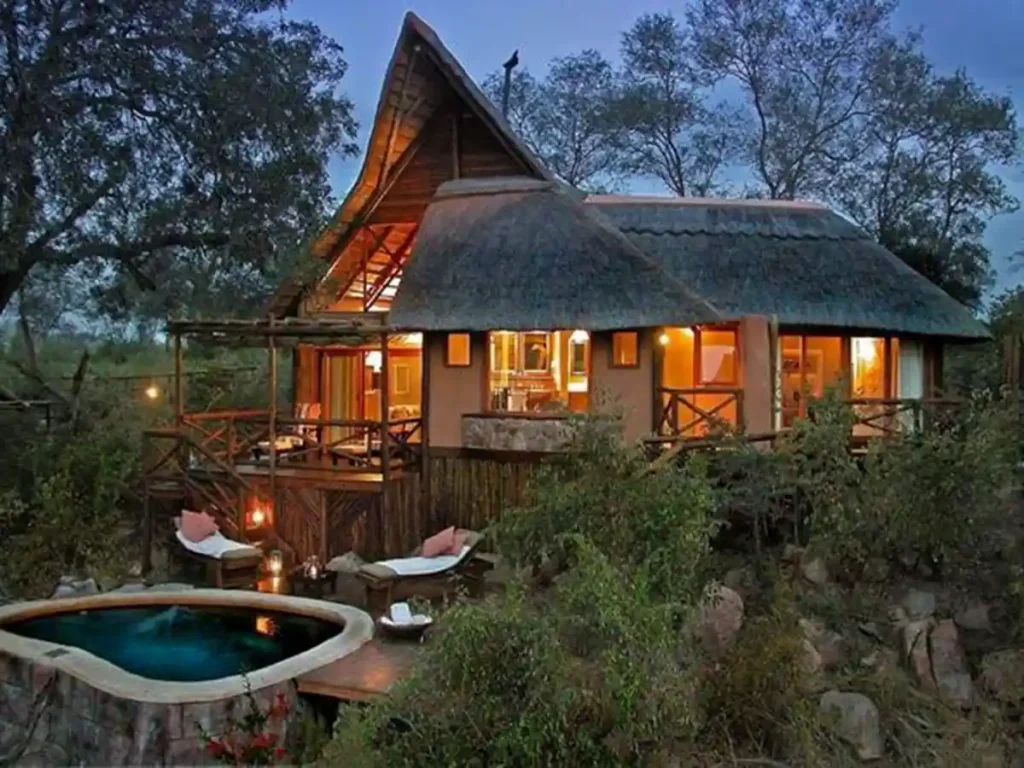 Located in a private concession in the south of Kruger, Lukimbi Safari Lodge enjoys 37,000 acres of exclusive wilderness.
Lukimbi offers 16 large, open-plan suites (14 classic / 2 premier), each with an indoor and outdoor shower and a bathtub. A private deck offers incredible views of the wilderness surrounding the lodge. The lodge was built in front of a naturally fed spring with views along the Lawkahle river. Both types of suites can be converted to accommodate families. One of the suites has been adapted for wheelchair users.
The suites are connected to the main lodge via raised wooden walkways, ensuring minimal disturbance to the land and providing a feeling of canopy living.
Activities at Lukimbi Safari Lodge:
Game drives
Birdwatching
Full-day safaris
Guided game walks
Spa treatments
Highlights:
37,000 acres of a private concession
Children's playroom
Safari library
---
9 – Saseka Tented Camp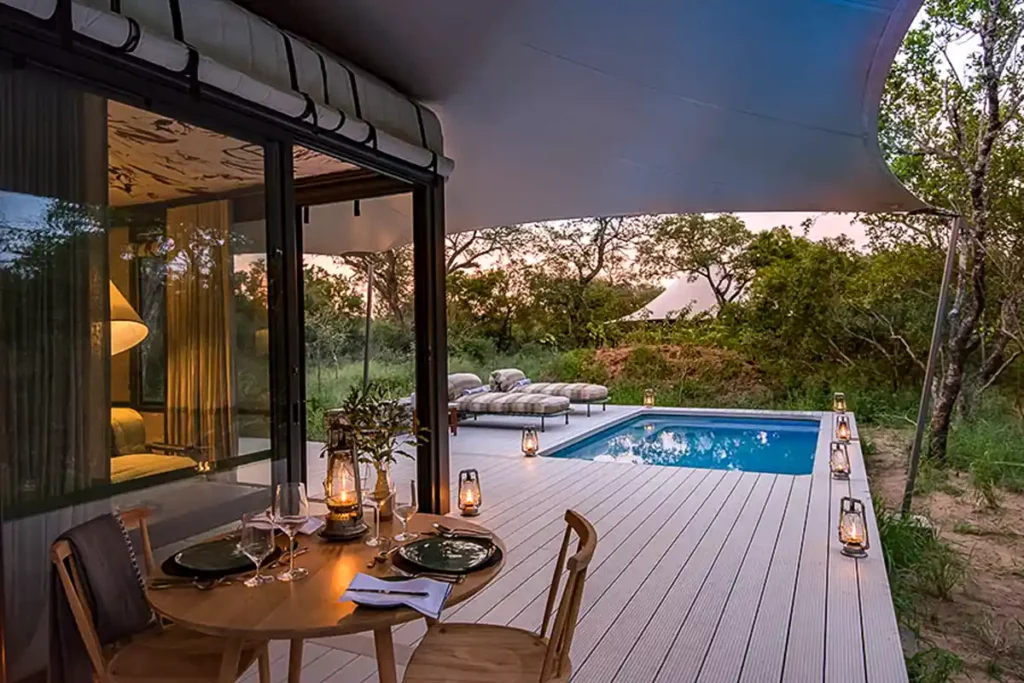 Saseka Tented Camp is located at the top end of the Thornybush Private Game Reserve, bordering the western part of Kruger National Park. Saseka means 'beautiful' in the local Tsonga language and once you arrive at the Tented Camp you'll see why.
These are not your usual safari canvas tents. These are ultra-luxury tented accommodations with glass walls for maximum light and to provide incredible views.
Each of the 9 luxury tents has elevated views of the riverbed, its own outside shower, pool, and private deck.
If you visit with your family or with a small group, ask to stay at Little Saseka.
Activities at Saseka Tented Camp:
Bush-guided game walks
Game drives
Bush dining
Bush breakfast
Highlights:
Luxury tents with private pools
Exclusive private camp
Big 5 viewing
Large villa for families
---
10 – Ngala Safari Lodge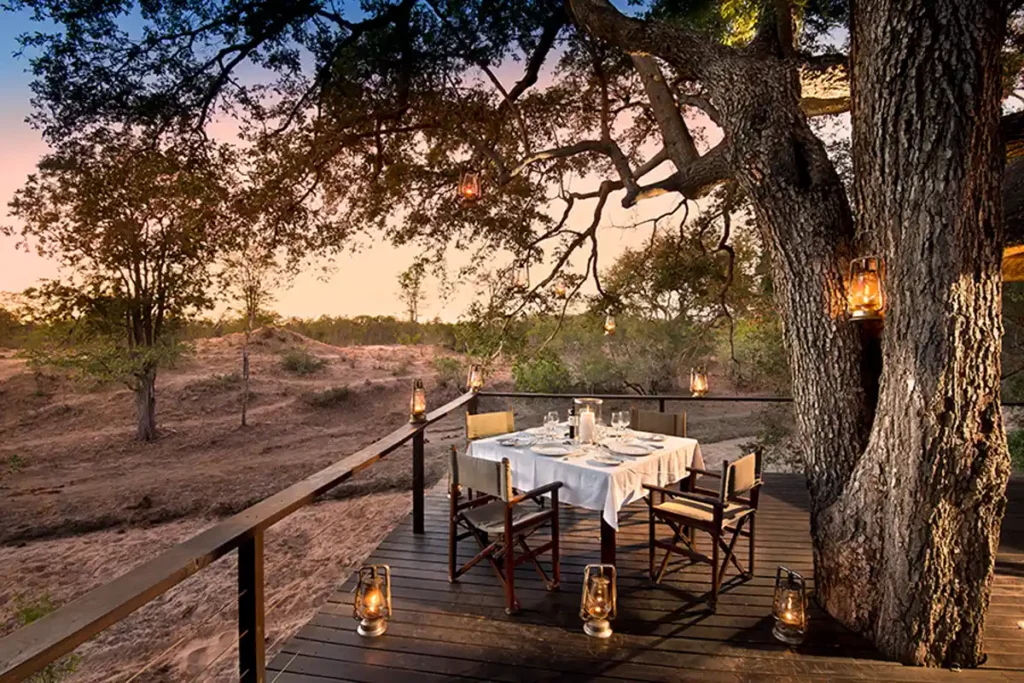 Ngala Private Game Reserve was the first to be incorporated into the Kruger National Park. It boasts 36,000 acres of pristine wilderness where the Big 5 and hundreds of mammals and birds roam day and night.
The elegant Ngala Safari Lodge is part of &Beyond, an award-winning, world-known luxury experiential travel company.
Ngala Safari Lodge has 20 Classic cottages (3 of them Family Cottages) and a very spacious Family Suite. Each of these cottages has a romantic ambiance decorated with safari memorabilia. Huge floor-to-ceiling windows open your suite out to the wilderness, letting the light in, but maintaining privacy.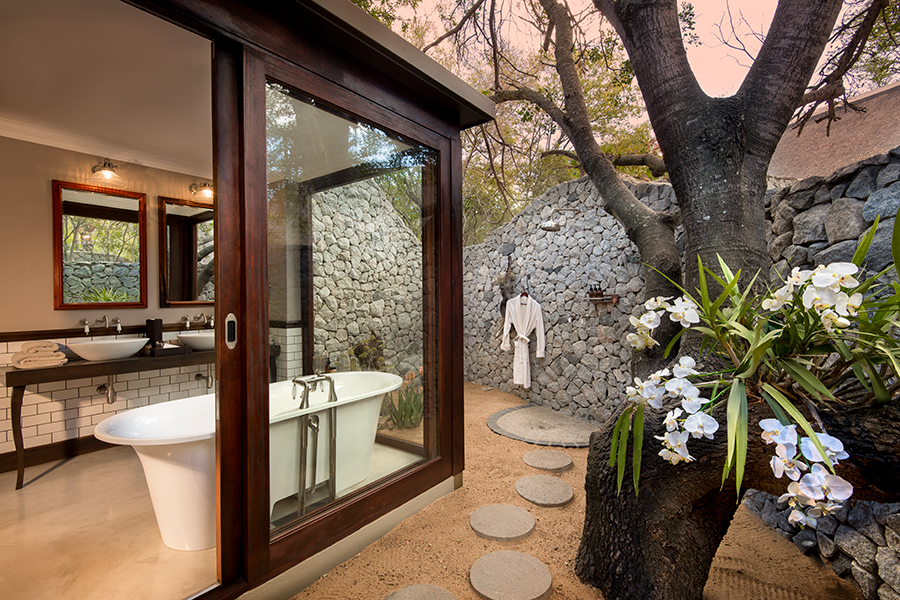 The Family suite can accommodate two adults and two children and includes a private pool and the use of a private vehicle.
Back at the lodge, enjoy the sundeck and swimming pool both overlooking a natural riverine woodland, the perfect place to do some serious birdwatching. Candlelit dinners await you in the open-air boma when you get back from your game drives; your dining room under the stars.
Ngala Treehouse is an exclusive experience that will take you closer to the bush and the stars. The treehouse has two levels (one is waterproofed in case it rains) a king bed, shower, and flush toilets. This off-the-grid treehouse is the perfect choice if you are looking for a special romantic occasion like a proposal or an anniversary. But you certainly don't need a special occasion to stay at the treehouse!
Activities at Ngala Safari Lodge:
Rhino notching conservation experience
Visits to a local village
Bird watching
Day and Night Game drives
Photographic safaris
Spa treatment
Interpretive bush walks
Highlights:
Sleep under the star with the treehouse experience
Overlooking a watering hole
Big 5 reserve
---
11 – Cheetah Plains Private Game Reserve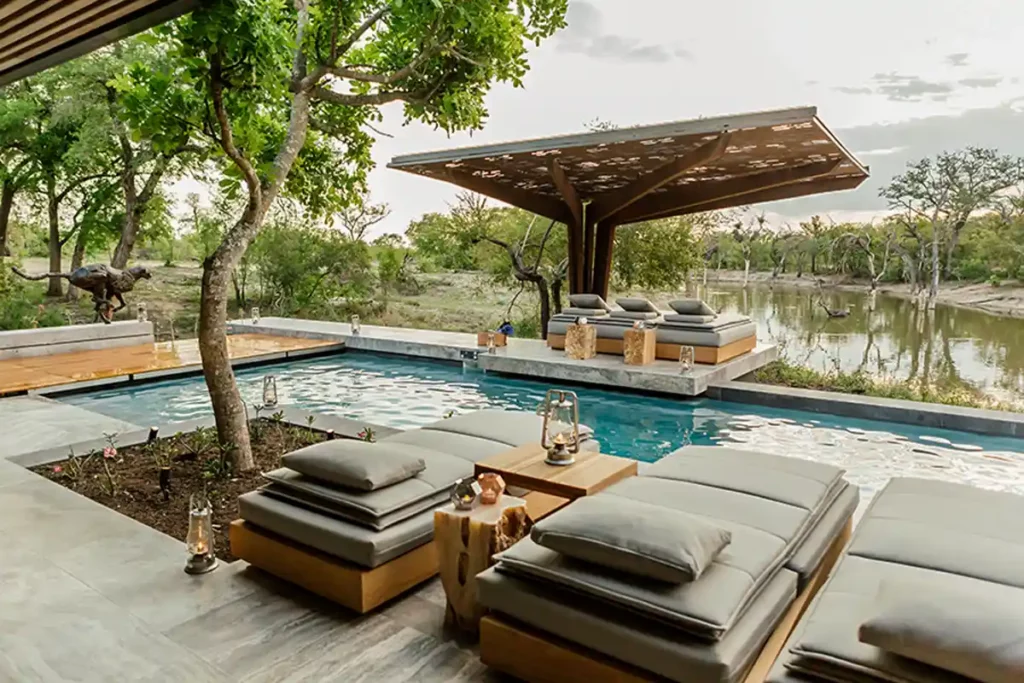 If you are looking for an extra-luxury safari lodge, you've just found it. Cheetah Plains Game Reserve is located in the world-famous Sabi Sands Game Reserve, sharing an unfenced border with Kruger National Park. Luxury accommodation at its best.
With only three bush houses, with four bedrooms each, Cheetah Plains is the perfect lodge for a romantic escapade or a family reunion. Enjoy your fireside dinners at your private boma and lounge at the pool enjoying the river view during the day. Your villa comes with a private chef and butler.
Your villa also comes with a designated on-site field guide and tracker, and their game-drive vehicles are zero-emission.
Activities at Cheetah Plains Private Game Reserve:
Bush dining
Guided walks
Game drives
Sundowners
Visit a local village
Spa treatments
Wine tastings
Highlights:
Unique bush houses for exclusive use
Luxury, zero-emissions game drive vehicles
Temperature controlled cellar
Personal field guide and tracker
Private chef and butler service
---
12 – Lion Sands Ivory Lodge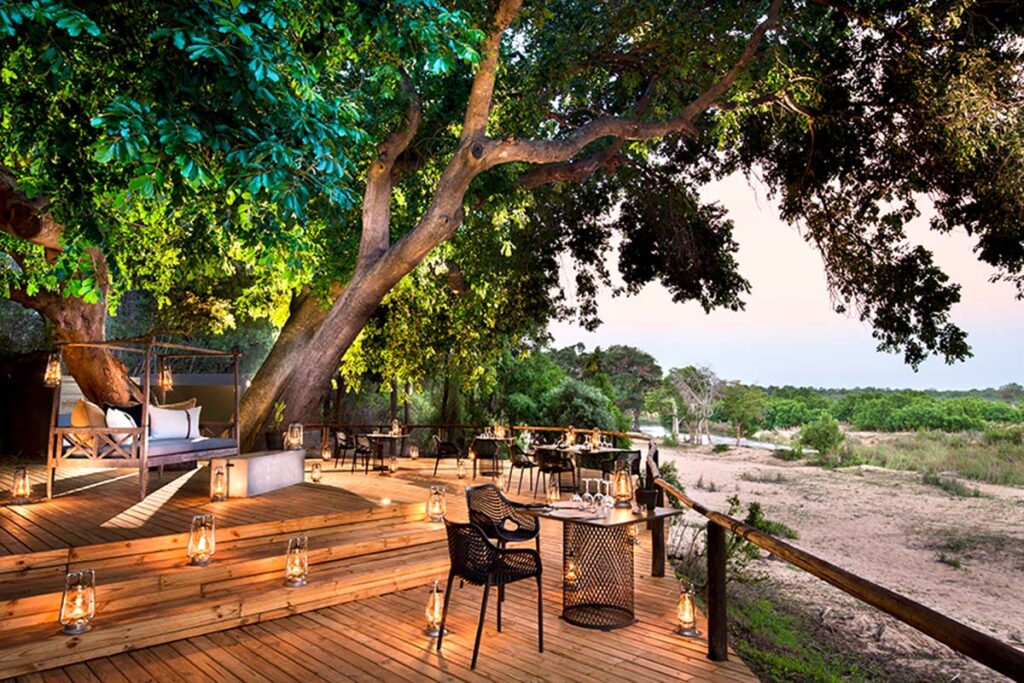 Lion Sands Ivory Lodge is an exclusive property with only six suites located in the Lion Sands Game Reserve, alongside the Sabie River. Each of these private water-side villas has its own rim-flow pool and butler service. Stay here for luxury, pampering, and privacy.
For a unique experience, stay at one of their luxury tree houses where you have the opportunity to sleep under the stars.
Activities at Lion Sands Ivory Lodge:
Stargazing
Game drives
Night game drives
Helicopter flights
Golf
Bush dining
Bush picnics
Guided walks
Local village visits
Highlights:
Spa treatments in the privacy of your suite
Large villas, each with a rim-flow pool and butler service
Private and tailored service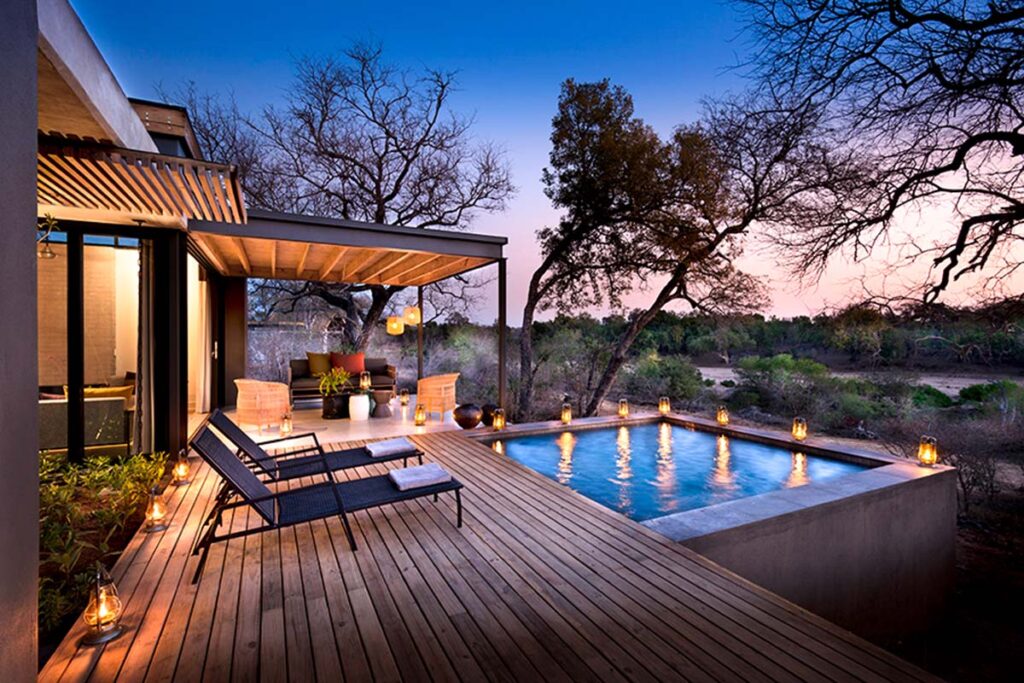 ---
13 – Dulini River Lodge
With only six chic suites, Dulini River Lodge is set above the Sand River in the Sabi Sand Game Reserve, one of Africa's finest safari destinations.
The open-plan suites have private heated plunge pools, outdoor showers, and a private deck with excellent views over the Sand River and the savannah beyond. Relax on your deck chairs and watch as elephants and other wild animals walk by. In the evening have a candlelit dinner on the deck.
During winter, cozy up by the fire at the elegant lounge of this private lodge.
Activities at Dulini River Lodge:
Bush dining
Picnics
Birdwatching
Game drives
Guided walks
Spa treatments
Highlights:
Romantic safari lodge in Kruger
Watching elephant herds from your private deck
Heated private plunge pools
Unbeatable culinary experience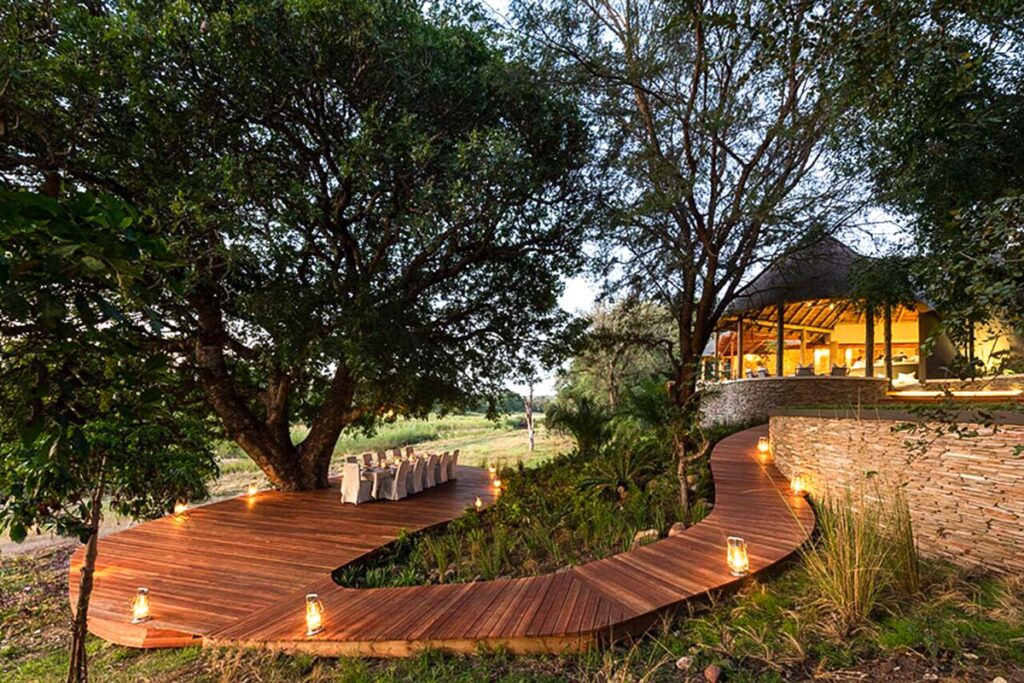 ---
Final thoughts
A stay at a safari lodge in Kruger National Park will be a highlight of your visit to South Africa. With a range of styles, services, and budgets to choose from, you are sure to find one that suits your travel style. Get out and enjoy an African safari in one of the best safari locations in South Africa!
If you are combining Kruger with a visit to Chobe in Botswana, check out these Chobe Safari Lodges.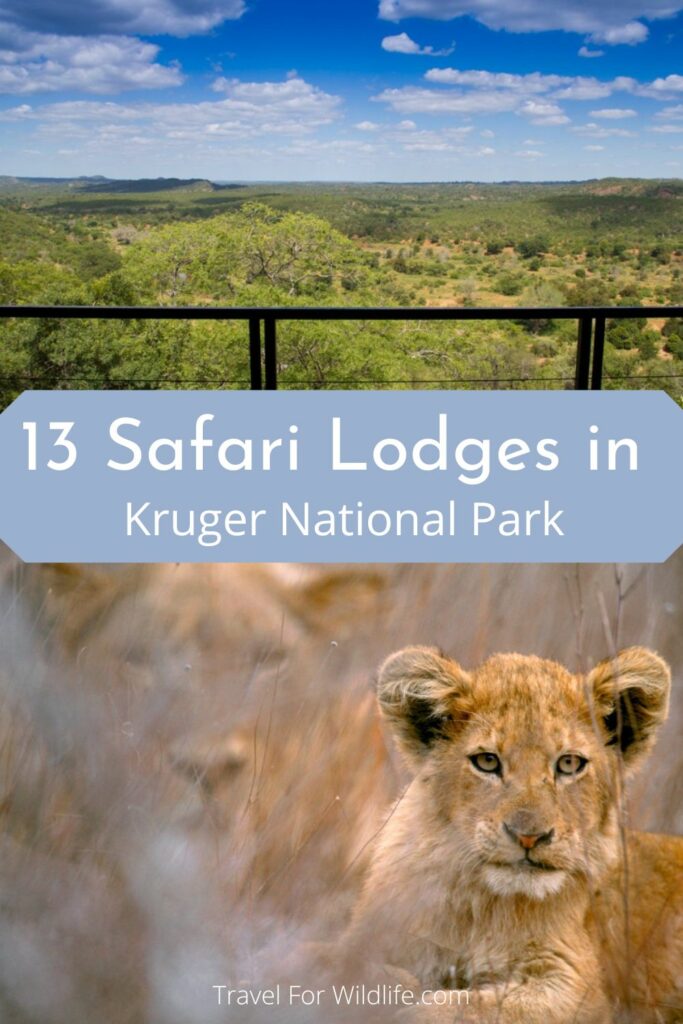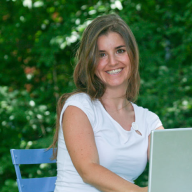 Cristina Garcia
Zoologist and wildlife photographer. She has worked in the field with jackals, wolves, cheetahs, & leopards. She serves on the Board of Directors of SEE Turtles, a non-profit sea turtle conservation organization.
Read her posts at Travel For Wildlife and see more of her work at Truly Wild, & Our Wild Yard.