There are a lot of famous national parks in Africa. You've probably heard of Kruger National Park in South Africa, Serengeti National Park in Tanzania, and perhaps Etosha National Park in Namibia. While these parks are easy to get to, have well-established infrastructure, and are home to some of the most amazing wildlife spectacles, there are other national parks in Africa that deserve a second look.
With over 320 national parks in Africa, there are plenty to choose from for your next African safari. If you're the sort who likes to get off the beaten path, visit pristine wilderness areas, and see rare wildlife in its natural habitat, then you're going to love our list. If you visit these African parks, you'll know you've been in the wildest corners of Africa.
Here's our list of 8 National Parks in Africa you should visit, what you can see, and the tours that can take you there:
Zakouma National Park, Chad
Bazaruto Archipelago National Park, Mozambique
Queen Elizabeth National Park, Uganda
Dzanga-Sangha National Park, Central African Republic
Simien Mountains National Park, Ethiopia
Liuwa Plain National Park, Zambia
Odzala-Kokoua National Park, Republic of the Congo
Gorongosa National Park, Mozambique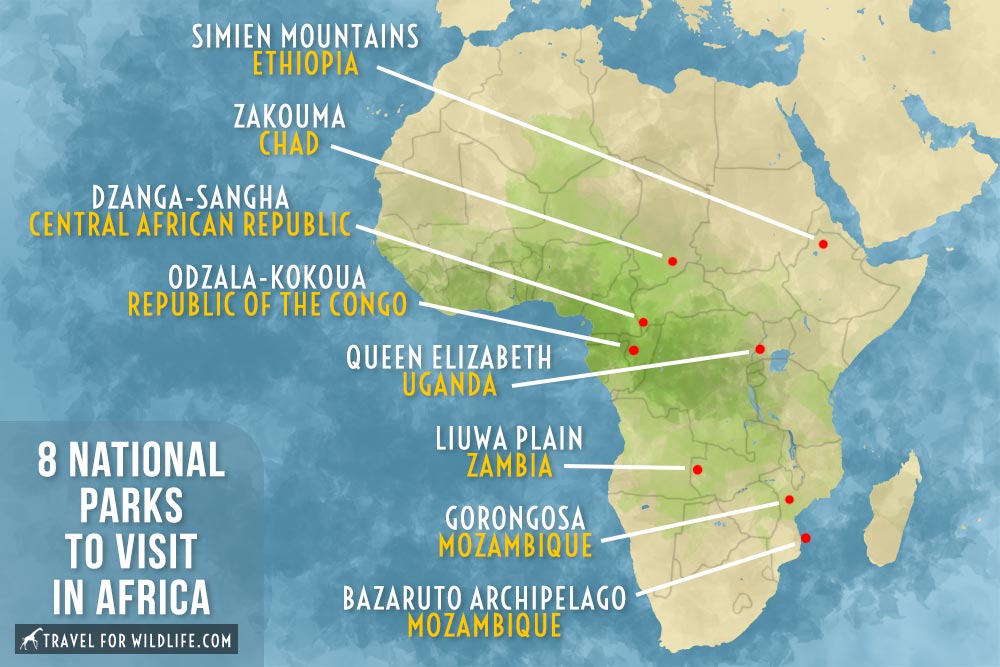 ---
*This article may contain affiliate links. We receive a small commission at no extra cost to you.*
---
Zakouma National Park, Chad
Zakouma National Park is located at the junction between the Sahara Desert to the north and the fertile green rain forests of Central Africa to the south, providing much needed critical conservation areas for key wildlife species.
At 1,158-square miles (3,000 km2) Zakouma is one of Africa's most recent conservation success stories. Between 2002 to 2010, an army of poachers turned this protected area into their own personal slaughterhouse. With political instability spreading across the nation, 95 percent of the park's elephants were killed (the population decreased from 4,000 in 2002 to 450 in 2010). Then in 2010 African Parks, a non-profit organization that rehabs and manages protected areas in partnership with local governments and communities, took over the management of the park. Since then, the the poaching has been halted and elephant population is increasing again. Now numbering more than 500 individuals, the Zakouma elephant herd is one of the largest surviving in Central Africa.
In May 2018 another conservation triumph occurred, 6 black rhinos were traslocated from South Africa to Zakouma, where they had been absent for the past 46 years.
Wildlife of Zakouma National Park: Elephant, Buffalo, Black Rhino, Tiang (a subspecies of the tsessebe), Roan Antelope, Lelwel's Hartebeest, half of the world's remaining population of Kordofan Giraffes, Lion, Cheetah, Leopard, Civet, Serval, Genet, Pale Fox, and Honey Badger. The park is home to nearly 400 bird species such as Red-billed Quelea, Spur-winged Goose, and Black Crowned Crane.

How to visit Zakouma National Park?
Visiting Zakouma independently is possible. An African Parks representative will pick you up from the airport and escort you to the park. You can also take a charter flight into Kazouma, or self drive (but keep in mind that renting a 4×4 at the airport costs over $350 a day). Inside the park there is a choice of three lodges, also managed by African Parks.
Natural World Safaris offer a 9-day trip to this incredible African National Park. If you're craving a small group tour where you get to sleep in mobile tented camps in one of the most incredible national parks in Africa and see herds of elephants, then this trip is for you!
---
Bazaruto National Park, Mozambique
Think white sand beaches, clear turquoise waters, and idyllic deserted islands. Welcome to Bazaruto.
Bazaruto Archipelago National Park is the first marine park in Mozambique, Southern Africa. Five islands make up the park, Santa Carolina, Bazaruto, Bangué, Benguerua, and Magaruque. The park, created in 1970, was founded to protect dugongs, sea turtles, and their habitats. Due to their ecological importance, the marine park also protects the island vegetation, coral reefs, and all the wildlife in the park.
Bazaruto is home to Africa's only viable population of the rare and endangered dugong, estimated at more than 250 individuals.
Some of the activities that make this park unique are dugong watching, dhow safaris (a kind of boat), turtle watching, castaway picnics, and island expeditions. On top of that add bird watching, diving, snorkeling, whale and dolphin watching, and you can quickly see why Bazaruto Archipelago National Park is a wilderness beach destination that will take your breath away.
Wildlife of Bazaruto National Park: Dugong, Vervet Monkey, Red Squirrels, Nile Crocodiles, endemic lizards. Five species of sea turtles, four species of dolphins, manta rays, and whale sharks. As well as being an important stopping point for migratory birds, more than 180 species of birds occur in the archipelago.
How to visit Bazaruto National Park
Only three establishments operate inside Bazaruto National Park.
Stay at a luxury beachfront villa at Azura Benguerra Island. Enjoy your own private infinity pool and stunning beach view. Snorkel in the pristine waters of this part of East Africa while spotting sea turtles, whales, and stingrays, go island hoping, and picnic on a remote island.
Visit Bazaruto National Park while staying at Benguerra Island Lodge. Their casinhas (luxury suites) are to die for! There's a lot to do here: scuba dive, snorkel, take a sunset dhow cruise, go sea kayaking, horse riding, birdwatching, go on a castaway picnic, explore on an island expedition, and meet the locals during one of their local community tours.
If you fancy staying at a beachfront villa, check out this trip to Benguerra Island!
Or imagine going on a dhow safari! Explore the Quirimbas Archipelago by both 12ft dhow and sea kayaks during this 9-day trip with Natural World Safaris.
---
Queen Elizabeth National Park, Uganda
Founded in 1952, Queen Elizabeth Park is home to over 95 species of mammals (including 10 primate species) and over 600 species of birds. This incredible array of wildlife corresponds to the park's wide range of ecosystems, including savanna, humid forests, fertile wetlands, and clear lakes. It is possibly one of the best known national parks in Africa.
Queen Elizabeth Park is also home to the world famous fig-tree-climbing lions of the Ishasha plains. Equally famous is the Kazinga channel where large animals like hippos, elephants, and buffalo frolic.
The Kyambura Gorge, also called the "Valley of the Apes", is the only place in Queen Elizabeth National Park where habituated chimpanzees and other primates like Black-and-white colobus, Red-tailed monkeys, and baboons can be seen. Kyambura is also famous for its bird life where you can see a variety of species including the aquatic African finfoot and the blue-headed bee-eater.
To see the habituated chimpanzees you can join a chimpanzee tracking tour at the park.
Wildlife of Queen Elizabeth National Park: Chimpanzee, baboons, Red-tailed Monkeys, Lion, Black-and-white Colobus, African Finfoot, Blue-headed Bee-eater, Hippo, Elephant, Buffalo.
How to visit Queen Elizabeth National Park
You can visit the park by yourself or by joining an Uganda safari group tour.
If you are an independent traveler, then Queen Elizabeth National Park should be added to your itinerary! Just rent a car and choose between the different accommodation options that the park offers.
Kyambura Game Lodge: Also known as Kyambura Gorge Lodge, this lodge is managed by Volcanoes Safaris. Visit the tree-climbing lions, track the Kyambura habituated chimpanzees, go on a game drive, and join a boat safari and a community coffee tour. All from the comfort of this beautiful lodge. It comes with incredible views, outstanding rooms, and fabulous food!
Queen Elizabeth Bush Lodge: Listen to the hippos at night from your private safari tent. Enjoy the outdoor shower!
This Uganda Fly-in gorillas, chimps and wildlife trip will take you to Queen Elizabeth Park where you will be trekking to find chimps in Kyambura Gorge and cruising on the Kazinga Channel.
This 28-day tour with Intrepid Travel will take you through Kenya, Tanzania, and Uganda. Go gorilla and chimpanzee tracking (chimp as an extra), visit the Masai Mara and the Serengeti, and enjoy beautiful Zanzibar for a couple of days. You'll stay for two days at Queen Elizabeth Park.
---
Dzanga-Sangha National Park, Central African Republic
Located in the south-western tip of the Central African Republic, the park is a part of the wider Sangha Tri-National Park, which was established in 1990. Aside from a huge diversity of dense forest creatures, a rich local culture is present in the area, comprising the hunting and gathering Ba'Aka, and the Sangha fishermen. Dzanga-Sangha is considered to be one of the last wild frontiers and it is relatively undiscovered, making it one of the wildest national parks in Africa.
The most popular wildlife watching spot in Dzanga-Sangha is Dzanga Bai (roughly translated as "the village of the elephants"), a large elephant-made clearing in the rain forest. Here, forest elephants gather daily in large numbers to enjoy the mineral rich waters and clay.
It is normal to see a high number of elephants, sometimes hundreds of them, drinking, splashing in the mud, and interacting. Visitors can watch their interactions, and those of many other species that visit the Bai, from a treeline viewing platform. This viewing platform is sometimes used at night by prior request.
Note that no flashlights can be used so if you are planning to take advantage of this unique opportunity, make sure to time it with a full moon.
Forest buffalos also gather in the clearing, as they feed on grasses that grow in the clearings that the elephants create and maintain. Lowland western gorillas are sometimes seen on the edges of the Bai and gorilla tracking is offered in the park.
Wildlife of Dzanga-Sangha National Park: Western Lowland Gorillas, Forest Elephants, Forest Antelope (Bongo), Tree Pangolin, Giant Forest Hog, Red River Hog, Sitatunga, Forest Buffalos, Thomas's Galago, Potto, several monkey species including Agile Mangabey, Leopard, Fraser's Eagle Owl, Vermiculated Fishing Owl, African Palm Civet, Grey-necked Rock Fowl, Crowned Guenon, African Grey Parrot, Dzanga Robin, Hartlaub Duck (very rare).
How to visit Dzanga-Sangha
Rockjumper Wildlife Tours has a great 8-day trip to Dzanga-Sangha staying at the incredible Sangha Lodge. This trip includes a sundowner cruise on the Sangha river, Western Lowland gorilla tracking, a day with a group of Ba'aka net hunters to learn about their hunter-gatherer lifestyle, a visit to a group of habituated Agile Mangabey that are part of a research project, a visit to Dzanga Bai, and hiking.
Natural World Safaris has another fantastic 8-day trip to Dzanga-Sangha, also staying at Sangha Lodge. Go on a gorilla safari, visit Sangha Bai, go canoeing to watch hippos, join the Ba'Aka on a net hunt and discover their culture, and join walking safaris.
---
Simien Mountains National Park, Ethiopia
This jaw-dropping national park in Africa is located in the Ethiopian highlands. It's a popular destination with hikers for its rugged scenery and high altitude grasslands, located on a high plateau that ends abruptly at 3,000 to 6,500-foot deep escarpments, Simien Mountains National Park is also a hit with wildlife watching enthusiasts. Home to the world's only grass-eating monkey, the Gelada monkey, and to one of the most endangered carnivores, the Ethiopian wolf, a trip to this Ethiopian National Park will be like no other. Other interesting life includes the bizarre Giant Lobellia plant.
Wildlife of Simien Mountains National Park: Ethiopian Wolf, Gelada Monkey (also called Gelada Baboons), Serval, Walya Ibex, Klippspringer, Bush Buck, and more than 180 species of birds including the Bearded Vulture, Tawny Eagle, and the Thick-billed Raven.
How to visit Simien Mountains National Park
Join an Ethiopian Highlands Tour with Intrepid Travel and wild camp at Simien Mountains NP for three nights. This tour is perfect for adventurers, and wildlife enthusiasts.
---
Liuwa Plain National Park, Zambia
Situated on the western end of Zambia and just a few miles from the Angola border, Liuwa Plain is a vast, remote, and untamed place, where roads were non-existent until just a few years ago. Its seasonally-flooded plains appear to stretch straight to the horizon, dotted only with a few tree islands.
Liuwa Plain is a great alternative to a crowded Masai Mara safari. Liuwa Plain is home to the second largest wildebeest migration in Africa but without the Mara crowds so you can enjoy this wildlife spectacle in an intimate and wild setting. If you are thinking of a safari in Zambia, Liuwa Plains should be on your list.
Liuwa was once home to the famous Lady Liuwa – the last and only lioness to live in the park for many years after all the other lions had been poached. After a successful lion reintroduction effort, she lived with a pride again. She passed away in August 2017 at the remarkable age of 17 (wild lions normally live to 12-13 years). You can read her incredible story here and here.
Wildlife of Liuwa Plain National Park: Blue Wildebeest, Zebra, Red Lechwe, Eland, Tsessebe, Lion, Leopard, African Wild Dog, Cheetah, and Hyena. Hundreds of pelicans, wattled and crowned cranes, geese, and smaller waterbirds are just some of the varied bird life at Liuwa.
How to visit Liuwa Plain National Park
Traveling independently to Liuwa Plain is easy for experienced and adventurous 4×4 travelers. There are a few community campsites inside the park, but you should be aware that even though there is water available for washing, there is no drinking water inside the park and you need to bring your own water. The park is open from April 1 to December 15.
---
Odzala-Kokoua, Republic of the Congo
The Congo basin is, after the Amazon basin, the second largest tropical rain forest in the world, and a biological hot spot. It is also home to the largest group of western lowland gorillas (estimated population of 22,000).
Odzala-Kokoua lies in the north western part of the Republic of the Congo. After Virunga National Park hiked their fees for gorilla trekking expeditions, Odzala-Kokoua started to become one of the hot spots for a gorilla safari.
The "bais" or salines are a common occurrence in the Congo Basin. These grassy clearings in the forest are a common stop for wildlife to feed on grasses, sedges, and minerals and salts. The ones in Odzala-Kokoua are relatively small, but are still used by a large number of species.
Wildlife of Odzala-Kokoua: Forest Elephant, Water Buffalo, Sitatunga, Forest Hog, Civet, Western Lowland Gorilla, Chimpanzee, Hippo, Nile Monitor, Dwarf Crocodile, Guereza Colobus Monkey, Aardvark, Serval, Chevrotain (mouse-deer), Duiker, Leopard, Hyena, Galagos, Pottos, monkeys, not to mention some 450 species of birds!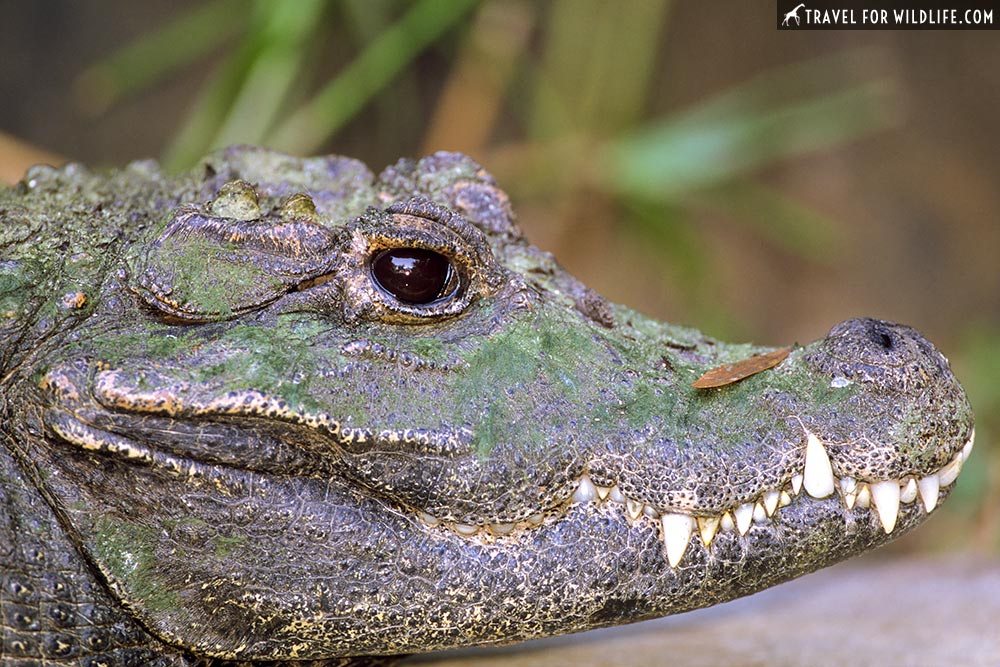 How to visit Odzala-Kokoua National Park
Independent travelers can arrange their stay through Odzala Discovery Camps. Visitors are picked up at the airport and driven to the park on a two day journey. There are three main camps in the park, and the activities vary depending on the camp.
You can also travel to Odzala-Kokoua National Park on this Congo 8-day trip,where you'll stay at the three camps.
---
Gorongosa National Park, Mozambique
Started in 1960, Gorongosa National Park in Mozambique was once known as the spot where Noah left his Ark. Its 1,500 sq miles of lush floodplains were packed with wildlife, some of it unique and only found in this area. Then the civil war came and went, leaving the park empty, with many species almost completely wiped out.
Today, Gorongosa is one of Africa's greatest wildlife restoration examples, thanks to a new management plan implemented in 2008. After great conservation efforts, the park is once again teeming with large population of various antelopes, elephants, and big cats like lions. After many years of absence, African Wild Dogs was reintroduced to Gorongosa in early 2018. Not to mention the incredible biodiversity of smaller animal species, like dwarf chamaleons, katydids, mantises, spiders …
Gorongosa's high biodiversity is a result of the different ecosystems found in this national park. The vast floodplain around Lake Urema reminds many people of the plains of East Africa, where large herds of antelope graze.
Mount Gorongosa, rising over 6,000 feet, is the birthplace of the rivers that meander down through the park, and it also captures moisture coming from the Indian Ocean, creating a unique ecosystem of lush forests, spectacular waterfalls, and moist soil. The near-vertical cliffs on its north west corner are a favorite haunt for vultures and other large birds of prey.
Wildlife of Gorongosa National Park: Lion, Crocodile, African Wild Dog, Hippo, Waterbuck, Warthog, Reedbuck, Sable Antelope, Impala, Oribi, Duiker, Crawshay's Zebra, Mount Gorongosa Pigmy Chameleon, Mount Gorongosa Katydid (only discovered in 2012).
Great opportunity to see the Green-headed Oriole. Other great birds include the African Fish Eagle, Livingstone's Turaco, Orange Ground Thrush, Black-fronted and Olive Bushshrikes, Chirinda Apalis and Eastern Bronze-naped Pigeon, Blue-spotted Dove, Moustached Grass Warbler and Marsh Tchagra. You can see the complete Gorongosa bird checklist here.
How to Visit Gorongosa National Park
There are two ways to get to Gorongosa, by a Safari Air Charter or by car (we recommend a 4×4 as most of the roads in Mozambique are pretty bad). In 2018 is not allowed to self drive in the park, so your option to explore the park is to go on game drives and excursions from the lodge.
The Montebelo Gorongosa Lodge & Safari is the only lodge in Gorongosa. They have several types of accommodation, from camping to bungalows and villas. For those looking for extra adventure and remoteness experience you can stay at the Gorongosa Fly Camp (part of Montebelo). It is basically a remote tented camp, for a maximum of 8 guests. The lodge offers several activities, like game drives, walking safaris, canoe safaris, boat safaris, a full day hike to Gorongosa mountain visiting waterfalls, a visit to the local community and local market at Vinho, and a full day birding in Mount Gorongosa.
---
That's a pretty amazing list of African national parks, right? Which national park in these African countries will you visit next?
If you like this post, PIN IT!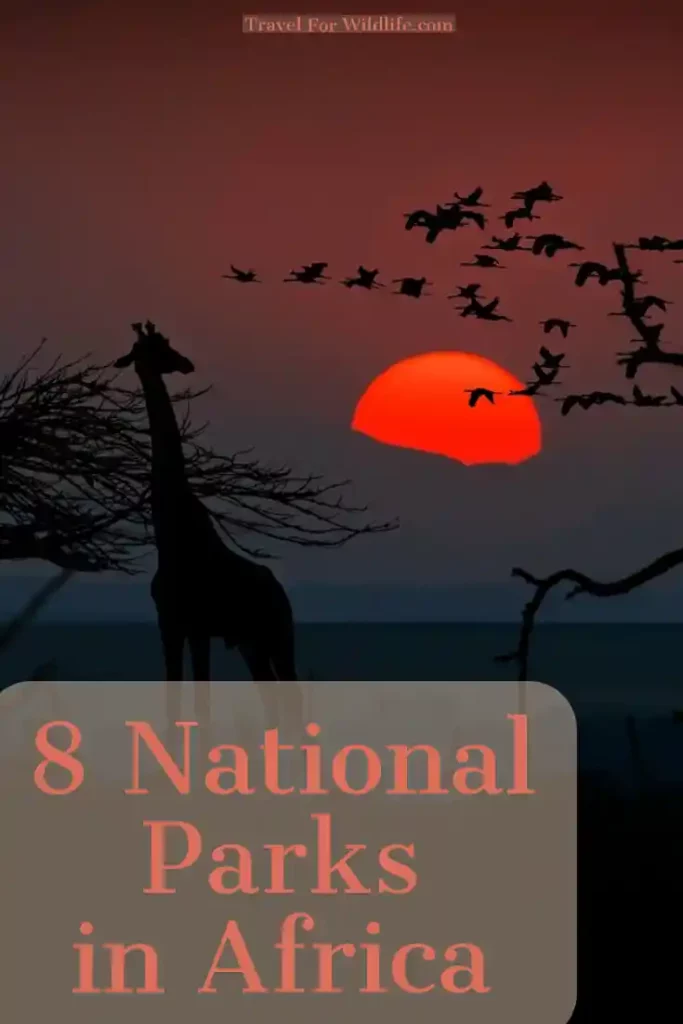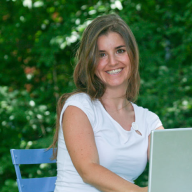 Cristina Garcia
Zoologist and wildlife photographer. She has worked in the field with jackals, wolves, cheetahs, & leopards. She serves on the Board of Directors of SEE Turtles, a non-profit sea turtle conservation organization.
Read her posts at Travel For Wildlife and see more of her work at Truly Wild, & Our Wild Yard.