Tamboti tented camp is a small camp in Kruger located in the central area of the park and only 3 miles from Orpen Gate. The camp overlooks the Timbavati river (usually dry) and the tents are set in a lovely forested area with beautiful tamboti trees. This gives the camp a feeling of privacy and a natural bush feeling.
Tamboti is a popular camp in the park for its closeness to the main gate, its beautiful settings, and its private accommodations. The camp is on the western boundary of the Kruger National Park; 48 miles west of Satara rest camp and 70 miles south of Letaba rest camp, one of our favorite camps to stay in Kruger.
Tamboti tented camp is a satellite camp and is managed by Orpen rest camp. As with the other satellite camps in Kruger, it has no reception. Guests have to check in at Orpen camp reception before arriving in Tamboti. If you enter Kruger using Orpen gate then you'll have to drive through Orpen rest camp to get to Tamboti, so it's not at all inconvenient.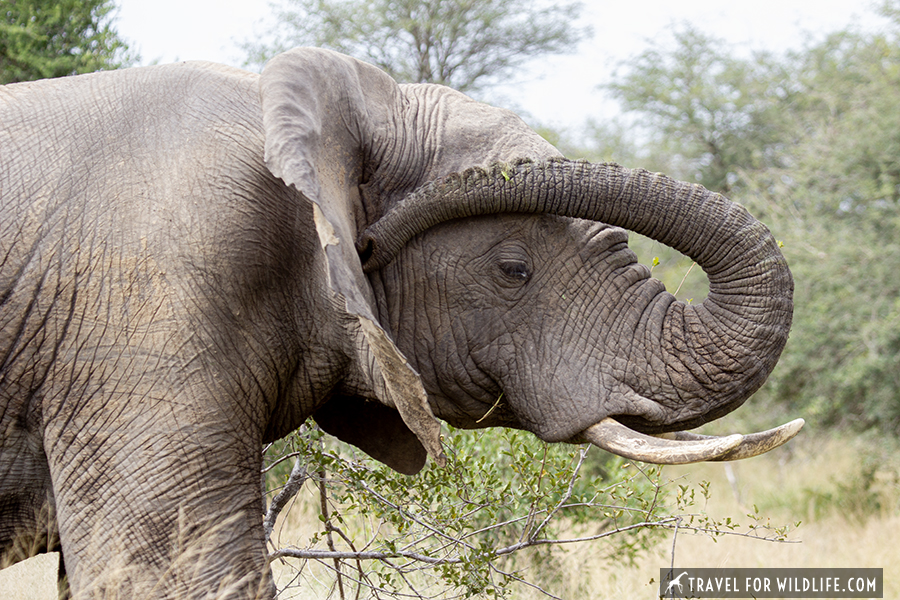 Tamboti Tented Camp Accommodation
As the name implies, Tamboti is a tented camp and only permanent safari tents are available.
There are two types of tents available at Tamboti: the budget safari tents (where we stayed) and the semi-luxury safari tents.
Budget safari tents
There are 15×2-bed and 15×4-bed permanent safari canvas tents set on stilts.
The budget tents at Tamboti are pretty basic but comfortable, with a nice veranda overlooking the usually dry Timbavati river. The tents are pretty private as the camp is set in a forest and they have a lovely view over the river. The wooden decks are a perfect place to chill and watch for wildlife walking by over the riverbed.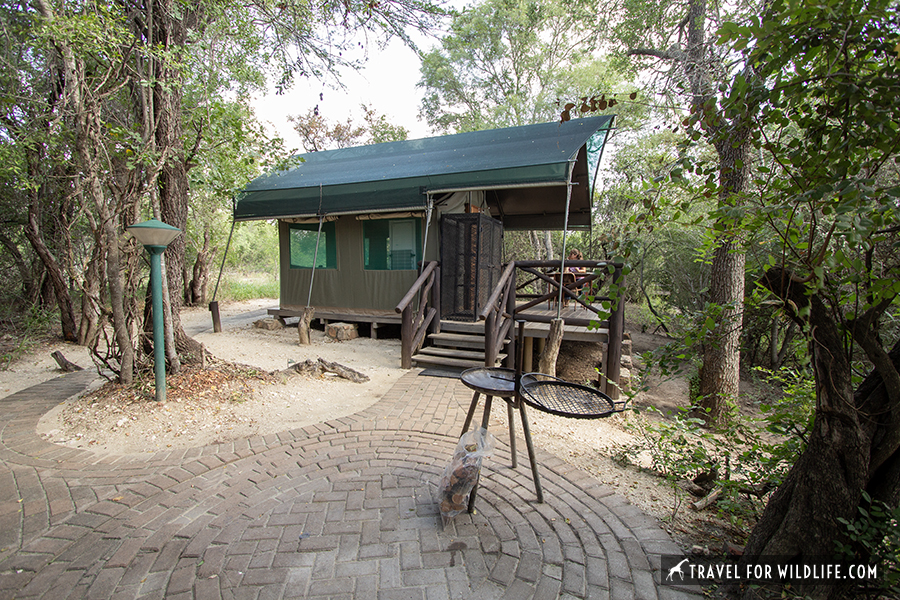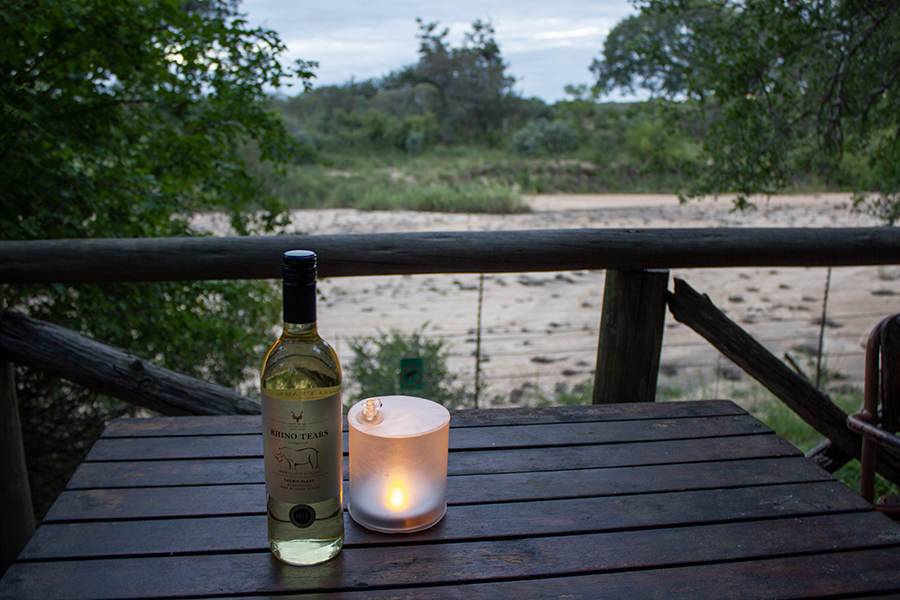 We stayed at the budget canvas tent and it had a fridge, a fan, and a braai out on the patio. Ours had two single beds and a small bedside table. There are two ablution blocks and two communal kitchens at camp.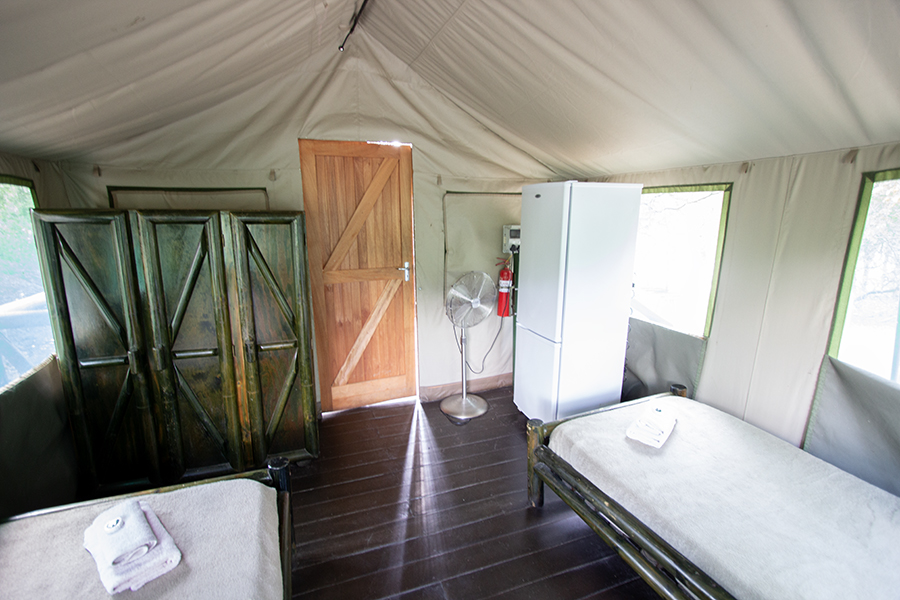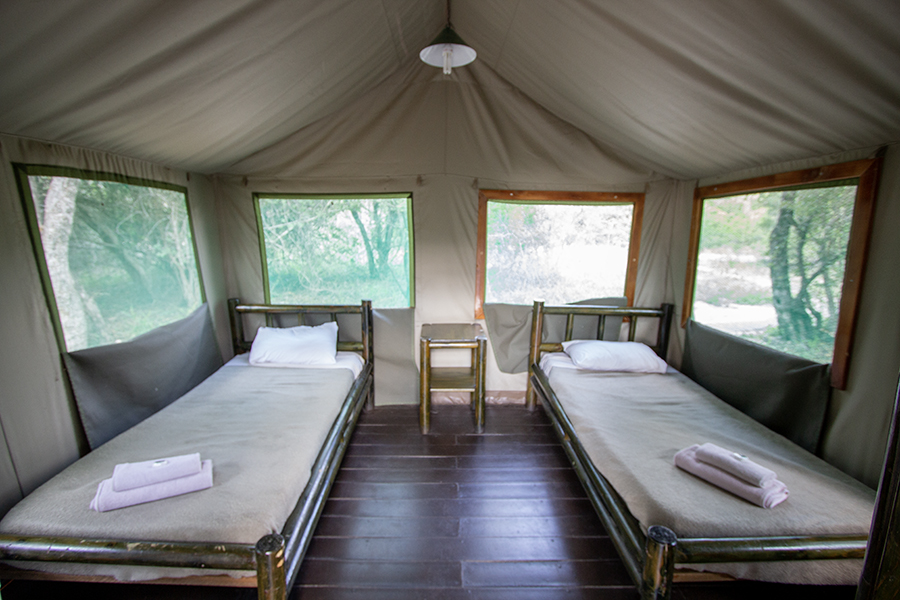 Semi-luxury safari tents
There are 10×3-bed permanent semi-luxury safari canvas tents on stilts. These tents are fully equipped, with a shower, fridge, hot plate, and braai facilities. They have one double bed and a sleeper couch. These tents are also double the price than that of budget tents. Their deck also overlooks the banks of the Timbavati river.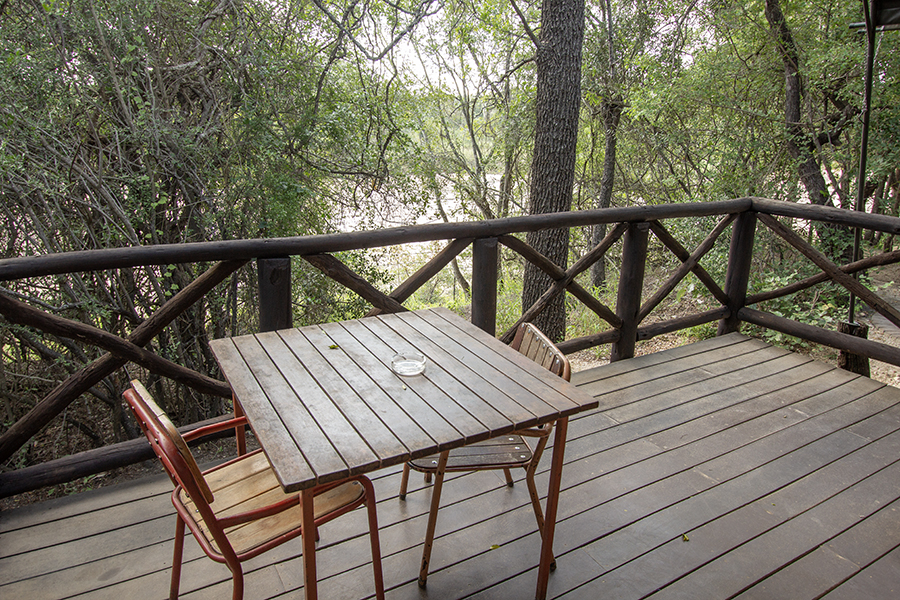 Tamboti Tented Camp Facilities
Two communal kitchens.
Two communal blocks.
Bird Hide.
Communal braai area in the camp.
No shop or restaurant in camp.
No swimming pool
No ATM facility is available in the camp. Be aware that there isn't one at Orpen either.
No Reception area at camp.
There is a small shop, a laundromat, a gas station, and a swimming pool at Orpen rest camp. There is also a communal kitchen.
Wildlife at Tamboti camp
Wildlife that can be seen around Tamboti satellite camp are honey badgers, genets, and elephants (at the dry riverbed).
Birding enthusiasts will enjoy the bird hide in camp as many birds of Kruger stop here. Sunbirds and vultures are seen regularly in camp. We saw this blacksmith lapwing not far from camp.
Do not leave any unattended food on the veranda (or inside the tent) to avoid wild animals like vervet monkeys and baboons visiting your tent looking for a snack.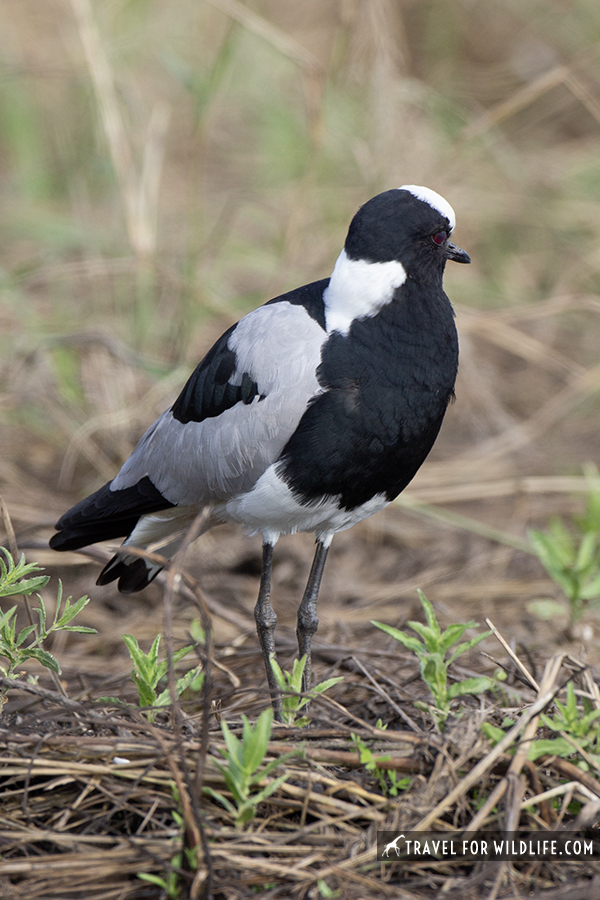 Activities at Tamboti Tented Camp
As the camp is small and managed from Orpen rest camp all the activities offered are from Orpen and not Tamboti. These activities are guided bush walks and game drives. Ask reception when you check in for rates and times of these activities.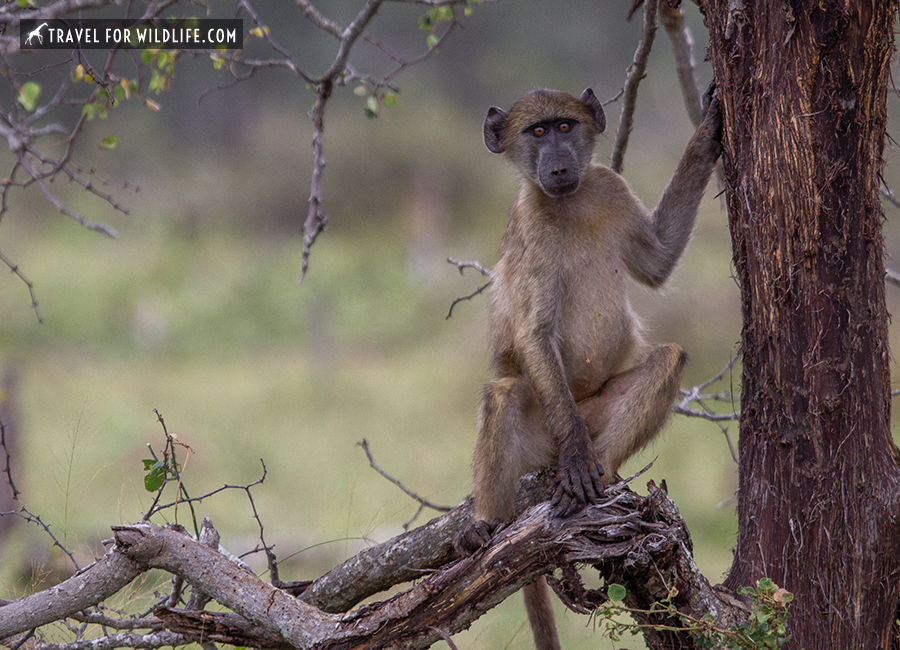 Drives from Tamboti Tented Camp
On the drive from Tamboti tent camp to Satara rest camp, you can expect herds of wildebeest and zebras. Giraffes, elephants, and impalas are pretty common in this area. Also, the occasional spotted hyena sleeping on the road.
Take the roads less traveled and get away from the main roads for a more intimate Kruger experience. It is incredible how different Kruger feels once you get out of the tar roads.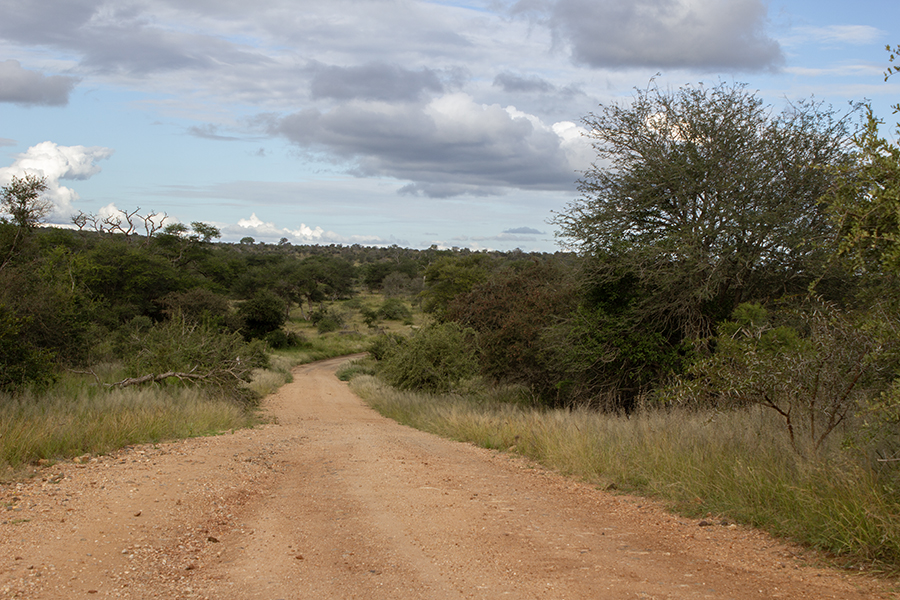 A favorite of ours is to drive north using the secondary roads up to Timbavati picnic site. It's only about 60 miles, but expect that it will take you half of the day as you will probably stop many times along the way. It's worth mention the Sasol Ratelpan bird hide is incredible and is only a five-minute drive from the picnic site. When we visited we watched masked weavers build their nests.
For a longer drive, drive the Satara-Olifants road. That area is pretty good for predators like lions, leopards, and cheetahs.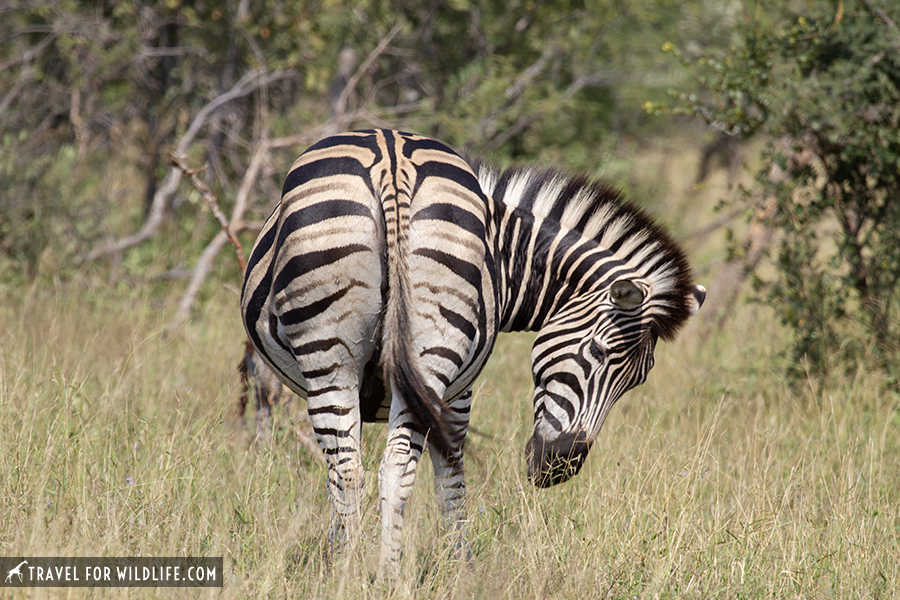 Final thoughts
We found Tamboti to be a beautiful camp and perfect first stop on a Kruger safari. Privacy and a natural bush feeling will make you forget about city life in an instant.
We like to stay here for our first night in the park. After Tamboti we drive north to our favorite camps: Letaba rest camp, Tsendze Rustic Camp, and Punda Maria rest camp.
Note: For personal safety reasons (see our post Is South Africa Safe?) do NOT use Numbi Gate to access the park. Use any of the other entrance gates.
---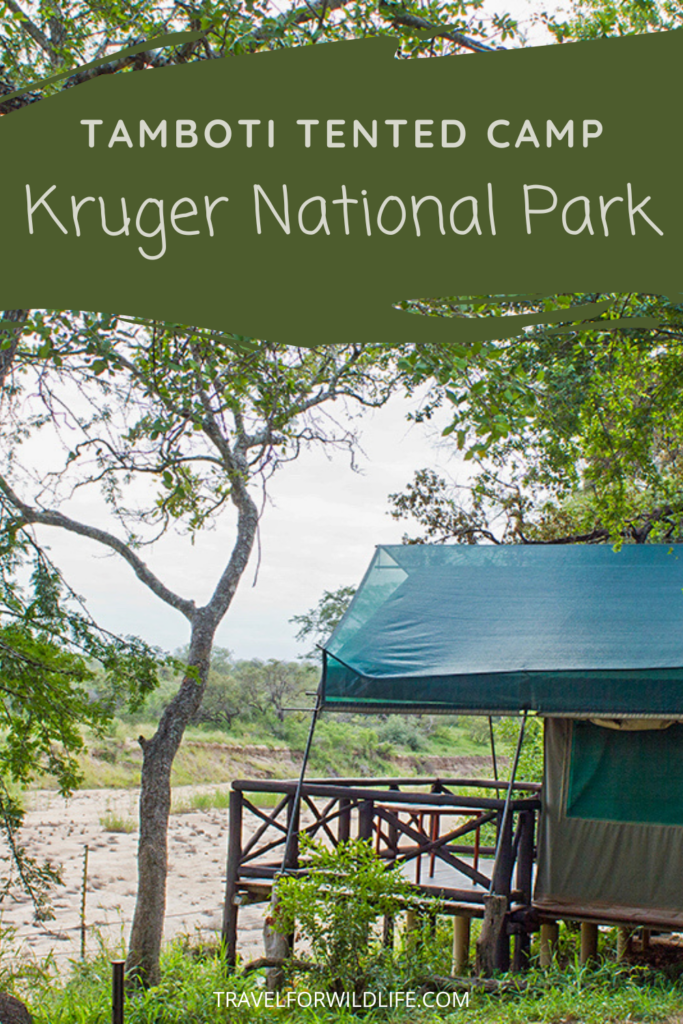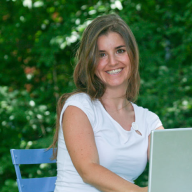 Cristina Garcia
Zoologist and wildlife photographer. She has worked in the field with jackals, wolves, cheetahs, & leopards. She serves on the Board of Directors of SEE Turtles, a non-profit sea turtle conservation organization.
Read her posts at Travel For Wildlife and see more of her work at Truly Wild, & Our Wild Yard.