The world is a different place at night, where mysterious creatures roam unhindered by darkness. Stepping outside our comfort zone and into the night wilderness makes our dormant senses come alive. We suddenly hear every crack of a twig and brush of grass, we feel the closeness of trees around us, and the smell of life fills our nostrils. As our eyes adjust, blackness becomes shades of blue and violet, and mountains become silhouettes across a vast field of stars. This is the thrilling magic of a night safari: seeing the unseen.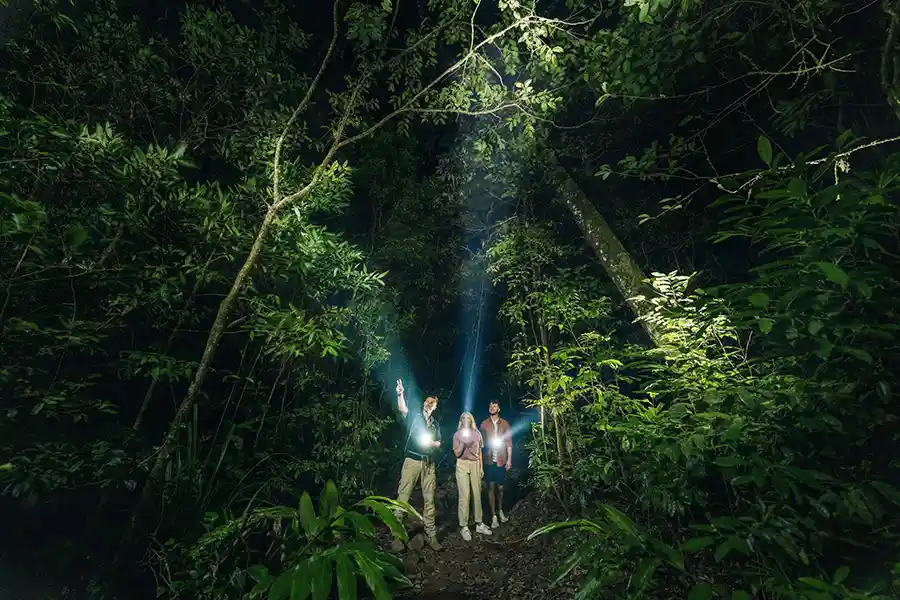 There is an entire world of fantastic wildlife waiting for us if we conquer our fears and embrace the night, and there's no better way to experience this thrill than a night safari in Australia. Carnivorous quolls, dining devils, little blue penguins, and pliable platypus plunking into a pond are just some of the many unforgettable experiences that await. Ready to see how the other half lives? Read on and find your dream night safari in Australia!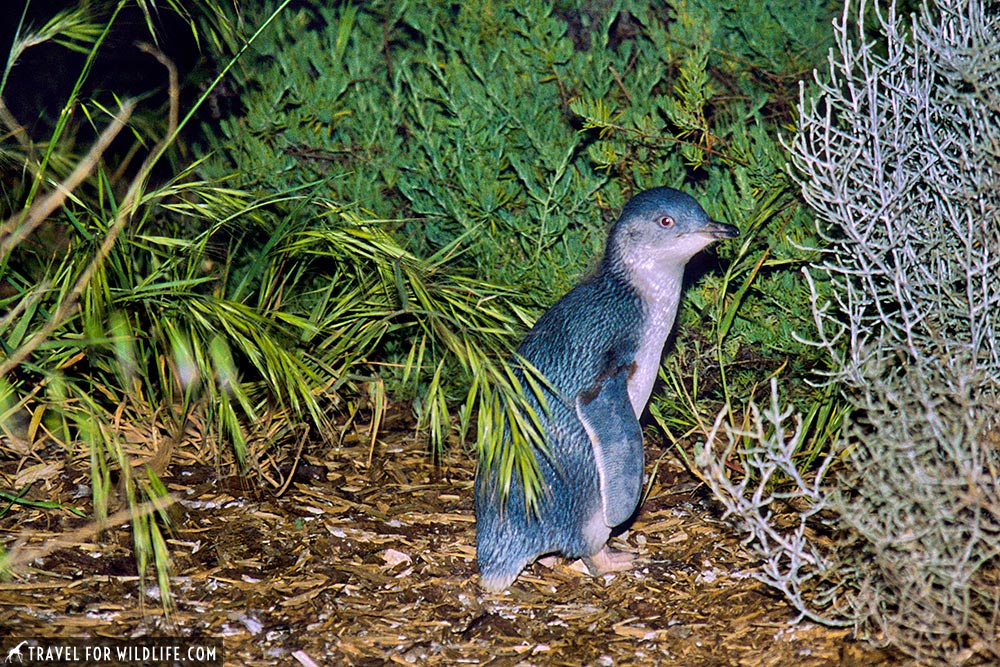 ---
*This post is sponsored by Australian Wildlife Journeys*
---
Nocturnal animals of Tasmania
The wildlife of Tasmania is incredibly fascinating. From the little penguins to the endangered orange-bellied parrot. But perhaps none capture the imagination like the largest of the Australian carnivorous marsupials: the Tasmanian devil.
Even though they occur across all of Tasmania, these endangered marsupials are incredibly difficult to spot! This solitary marsupial is nocturnal and spends the day hiding in caves, hollow logs, or dens. Primarily scavengers they consume anything from insects to fur seals, but birds and mammals make up the majority of their diet.
In 1996 the number of Tasmanian devils living in Tasmania was estimated to be more than 150,000. From 1996 to 2007, however, this figure dwindled by more than 50 percent. Today it is estimated that the adult population is between 10,000 and 25,000 individuals.
This sudden population crash was due to devil facial tumor disease (DFTD), an aggressive and transmittable parasitic cancer that produces large facial tumors on the head. The tumors grow large enough to interfere with the animal's ability to eat, resulting in starvation and death.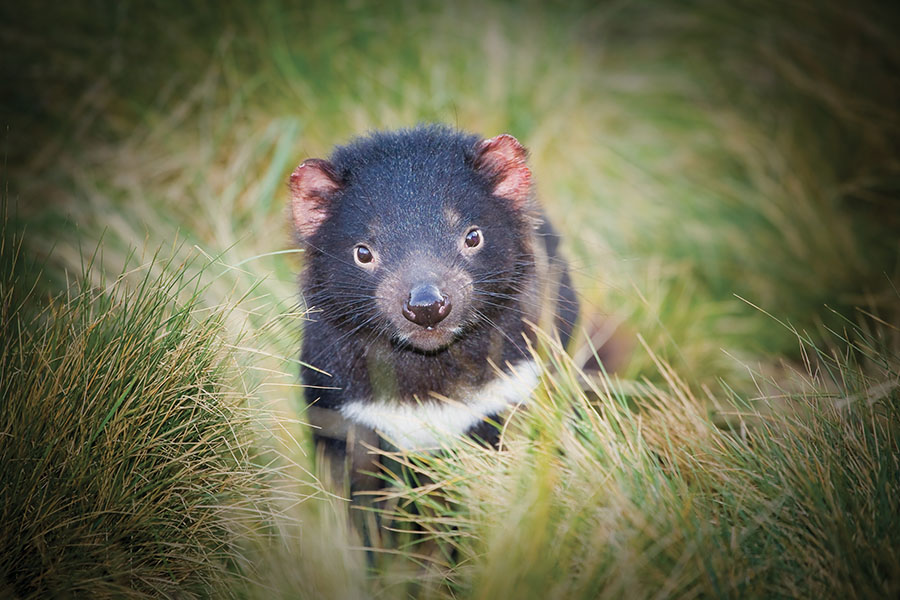 A good place to search for devils is the Tasmanian highlands, a place like no other in Australia. Premier Travel Tasmania knows exactly where to find them and has put together an exciting 6-day Tasmanian Devil Encounter wildlife tour to see the devils and other Tasmanian wildlife in the highlands. It also includes a visit to one of Tasmania's natural wonders, the famous Marakoopa Cave. It's the largest glow worm cave in Australia that's accessible to the public.
The tour starts at Narawntapu National Park with an evening of wildlife spotlighting. This national park is home to a wide variety of wildlife due to its diversity of habitats, from coastal heathlands to dry woodlands and wetlands. During the tour, you'll enjoy an evening picnic at a bird hide overlooking the lagoon where Tasmanian wildlife like pademelons, Forester kangaroos, echidnas, common wombats, eastern and spotted-tailed quolls, and Bennetts wallabies may appear while a symphony of frogs fills the air. As night falls, you'll have a chance to spotlight secretive nocturnal creatures as they emerge from their daytime lairs.
Tasmanian birds found at Narawntapu include honeyeaters, green rosellas, raptors, black cockatoos, robins, wrens, and fantails.
Next, the tour takes you to Cradle Mountain-Lake St Clair National Park, one of Tasmania's oldest national parks, for two days of serious wilderness adventures.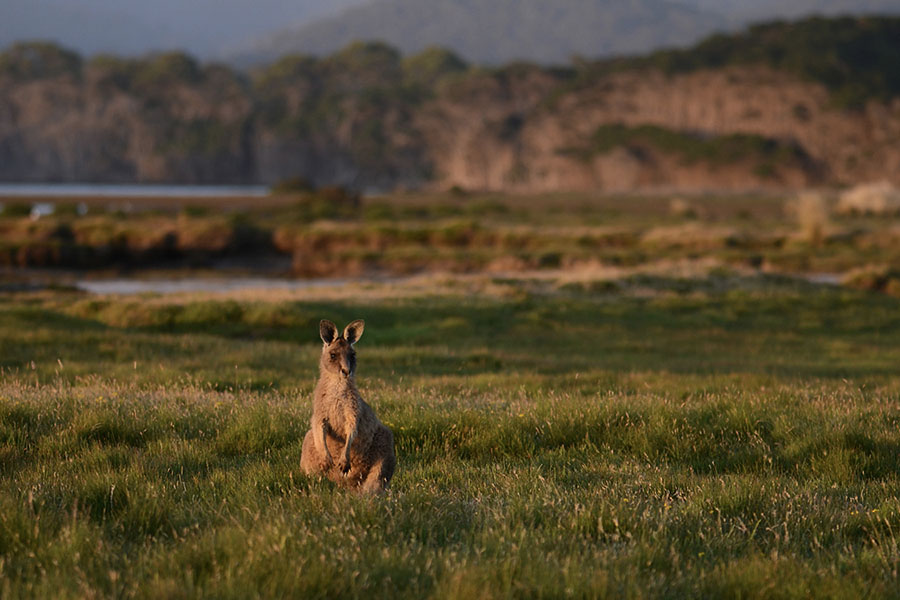 If you've traveled to other parts of Australia, the primeval misty forests of Cradle Mountain will seem like another planet. This UNESCO World Heritage site is a prime destination for watching nocturnal wildlife; a land of craggy mountains, deep valleys, button grass moors, heathlands, and ancient forests. It is also famous for having Australia's deepest gorge, Fury Gorge, and Tasmania's tallest mountain, Mt Ossa (5,305 feet). Visit during April or May and you'll find the hillsides glowing in glorious reds and golds as the fagus trees (Australia's only deciduous tree) give their best fall show.
From your lodge, you'll embark on a night spotting adventure to see some of Australia's most iconic marsupials: Tasmanian devils, wombats, possums, wallabies, spotted tail and eastern quolls.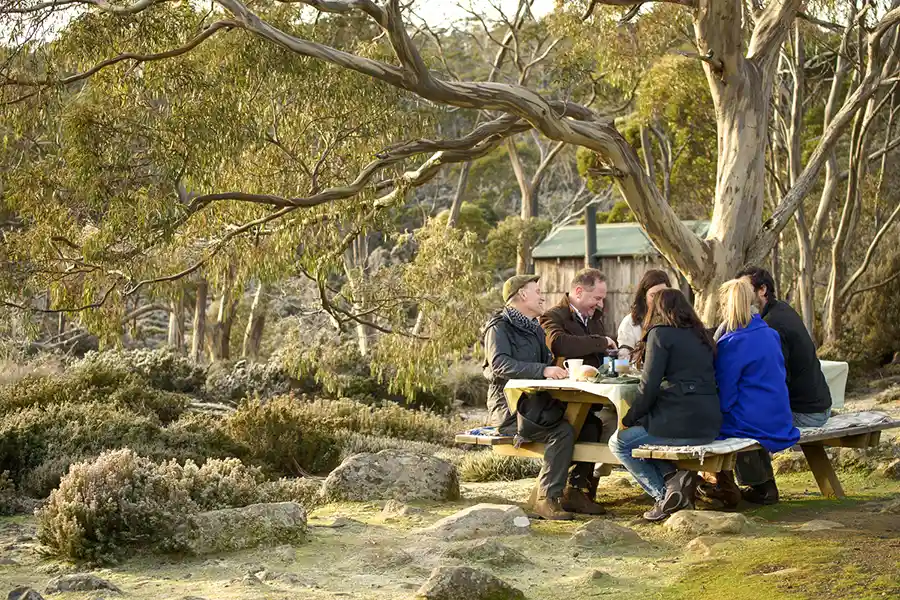 The next stop is the Central Plateau Conservation area, also referred to as the 'land of a thousand lakes'. This is a wild, isolated area in the heart of Tasmania (not far from Cradle Mountain-Lake St Clair National Park), studded with alpine tarns, lakes, and sand dunes. This is the only place in Australia where alpine sand dunes exist! A magical place for wilderness enthusiasts, the Central Plateau is also a haven for wildlife.
Nestled in this unique alpine environment is the Thousand Lakes Lodge, a former Antarctic training facility that has been turned into an impressive and super-cozy off-grid wilderness lodge. Step out the door and find yourself immersed in the wilderness. The grounds are home to several unique species and you only need to take a short stroll to discover them. This lodge takes luxury safaris to another level!
It might be cozy in the lodge but don't forget to wear appropriate clothing for this climate and a small torch.
Birders will rejoice at the sight of yellow-tailed cockatoo and the endangered Tasmanian wedge-tailed eagles. Or try your luck exploring the many lakes around the lodge for signs of the elusive platypus, a highlight of your day adventures.
As darkness descends, wildlife watchers have the opportunity to join a night safari from the lodge and spot other Tasmanian animals like wallabies, long-nosed potoroos, spotted-tail quolls, ringtail possums, and Tasmanian devils. And if you're really lucky, the Aurora Australis may light your way for a truly memorable nighttime adventure!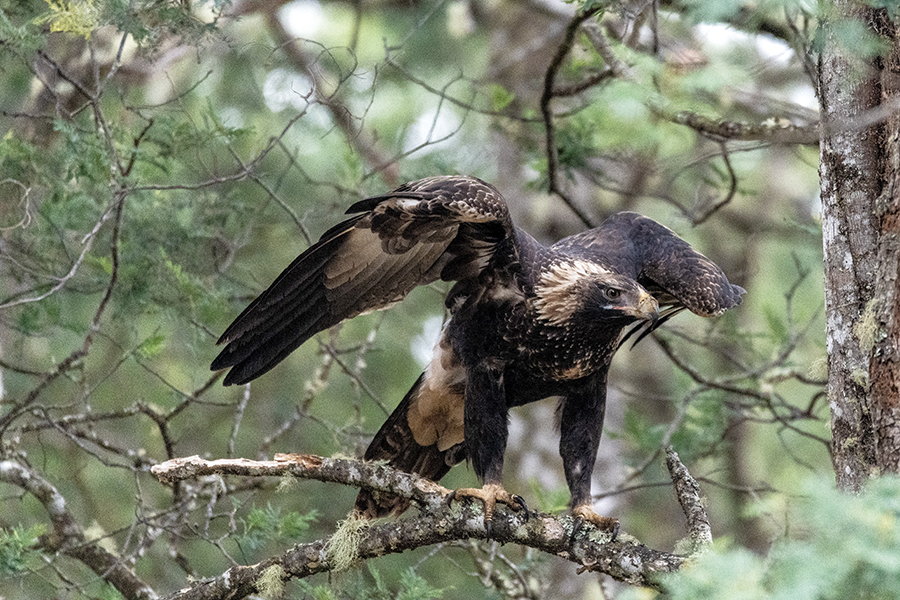 Marching with little penguins
It may surprise you to learn that you can see penguins in Australia! In fact, the smallest penguin in the world lives here, and the best way to see it is at night. The little penguin, also called the little blue penguin and fairy penguin, can be seen at dusk while returning to their burrows and rookeries after a day of foraging at sea.
In Tasmania, there are a few places where you can spot them. This 5-day tour with Premier Travel Tasmania will take you to the gorgeous Freycinet Peninsula where an encounter with these little fairy penguins will be the highlight of your stay.
The tour starts with a visit to Bonorong Sanctuary where you'll get a night tour of the facility and will learn about Tasmania's endemic animals.
The second day is spent at Freycinet peninsula, where you'll take a cruise around its coastline exploring the spectacular Freycinet National Park from the water. Discover the unspoiled beaches where little penguins nest and the island where short-tailed shearwaters live. This area of the park is only accessible by foot or boat and therefore, is as wild as it can be.
At dusk, you'll go on an informative walk on private property where little penguins have a colony. Watch them come ashore after a hard day foraging at sea and see how they settle down for the night by their burrows.
Other highlights of this tour are visiting the highest waterfalls in Tasmania, St. Columba Falls, a visit to the Bay of Fires conservation area, and its incredible orange-lichen-covered granite rocks. You'll also spend a day spotting Maria Island's common wombats, Tasmanian pademelons, Cape Barren geese, Forester kangaroos, and the Tasmanian devil.
Other wildlife seen on this tour are white-bellied sea eagles, purple swamp hens, black swans, brown falcons, royal spoonbills, and herons.
Searching for the elusive Christmas Island hawk owl
While Christmas Island is internationally famous for its red crab migration, the birding also attracts wildlife travelers from around the globe. The Christmas Island hawk owl is one of Australia's rarest raptors and if you want to cross this one off your list, like all good things, you're going to have to work for it.
First, you have to get yourself to Christmas Island, a tiny island just 10 miles across, lying more than 200 miles off the coast of Java in the Indian Ocean.
Second, you need to search for the Christmas Island hawk owl… at night. Spotting this little owl is no easy task, and you will need to become a bit of a night owl yourself. Hawk owls shelter in dense forests during the day and are nearly impossible to spot with an untrained eye.
Third, maximize your chances of seeing one by joining a bird tour. The hawk owls do not use the same roost for many days in a row, but knowledgeable tour guides know their favorite places and can figure out their next move.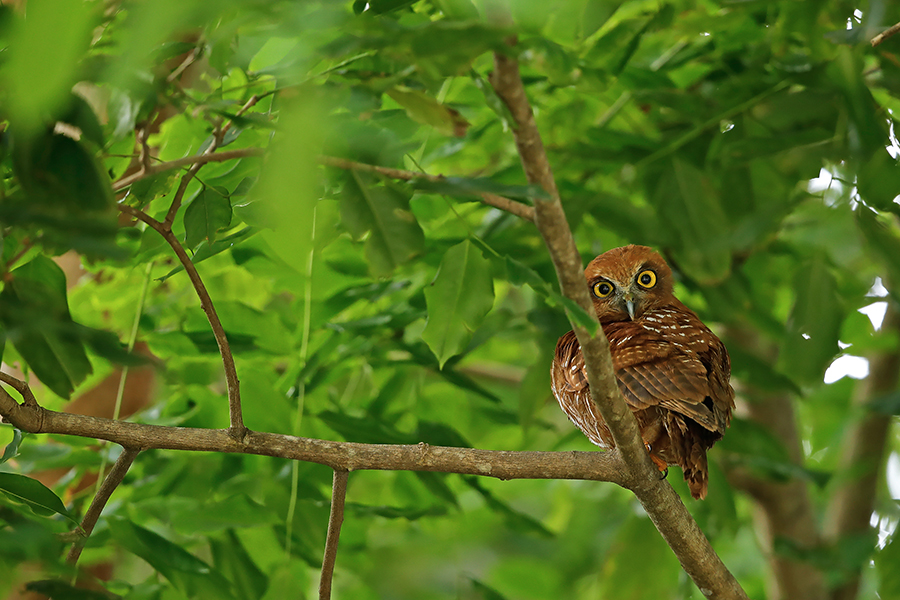 Indian Ocean Experiences leads one of the top wildlife tour companies in Australia, and their Christmas Island Birdwatching tour has been specially designed to include an evening of searching for the elusive Hawk Owl. This tour made our list of top wildlife safaris in Australia, and spotting a hawk owl in the wild is one of its many draws.
Also known as the Christmas Boobook, this small owl is only about the size of a pigeon, with big yellow eyes, gorgeous rusty plumage, and no ear tufts. Christmas Island hawk owls feed on insects, small lizards, juvenile rats, and birds.
What's most exciting about finding a hawk owl is the possibility of being able to watch their perch-hunting behavior. It moves from perch to perch while scanning for prey. When a tasty meal is located it swoops down upon it, snatches it up, and flies back up to another perch to consume it.
During this Australian safari tour, you will be accompanied by Lisa Preston, the manager at Indian Ocean Experiences and expert guide. Not only will she ensure you see a hawk owl (if your outing is unsuccessful she'll take you again the next day), but she'll be able to tell you all about their behavior and conservation.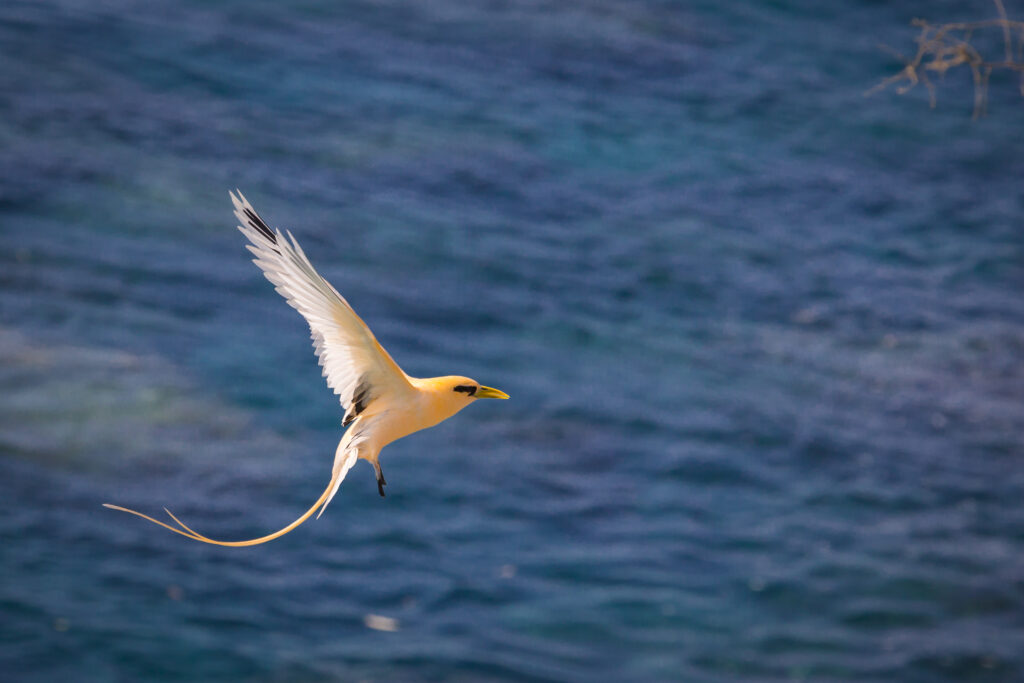 Christmas Island is also home to one of the world's most famous rookeries, where 80,000 sea birds nest every year. This is your only opportunity to see Christmas Island frigate birds, golden bosuns, and the endemic Abbott's booby.
The endangered Abbott's boobies spend most of their lives hunting at sea, and Christmas Island is the only place where they breed. The colony supports about 3,000 nesting pairs of these unusual-looking birds.
The devils of Maria Island
The Tasmanian mainland is not the only place where devils can be found. Concerns about the decline in the Tasmanian devil population due to devil facial tumor disease led to the establishment of a breeding program on Maria Island, a small island just off the east coast of Tasmania. In 2013, 28 healthy Tasmanian devils were selected and released onto Maria Island as an insurance policy.
The Tasmanian devil program program was a success and today research teams estimate that there are about 60 Tasmanian devils on Maria Island.
The Maria Island Walk has designed a 4-day walking experience with a naturalist guide where you'll have the chance to spot many nocturnal animals including this endangered marsupial. One evening, your guides will take you for a devil-spotting night walk in hopes of catching a glimpse of these elusive nocturnal creatures in the wild.
Sightings during these walks can be quite remarkable and unexpected, . One tour group had a truly memorable encounter when they came across a mother Tasmanian devil and her baby feeding on a dead beached seal. It doesn't get better than this!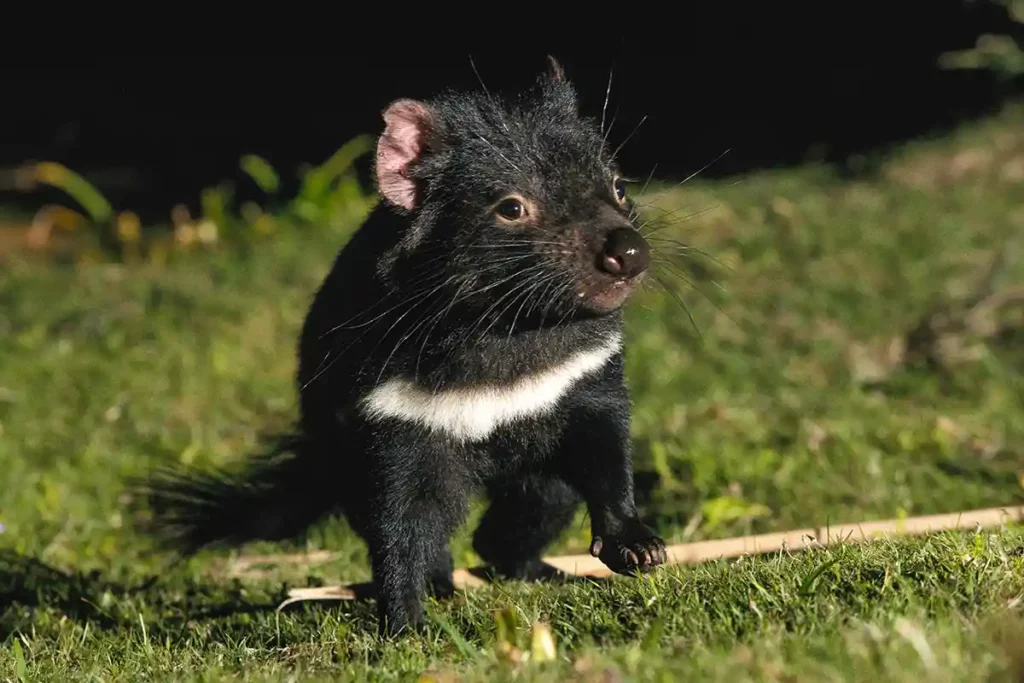 The first few days of the tour explore forested areas and the last evening is spent in more open habitat with a high chance of spotting nocturnal creatures.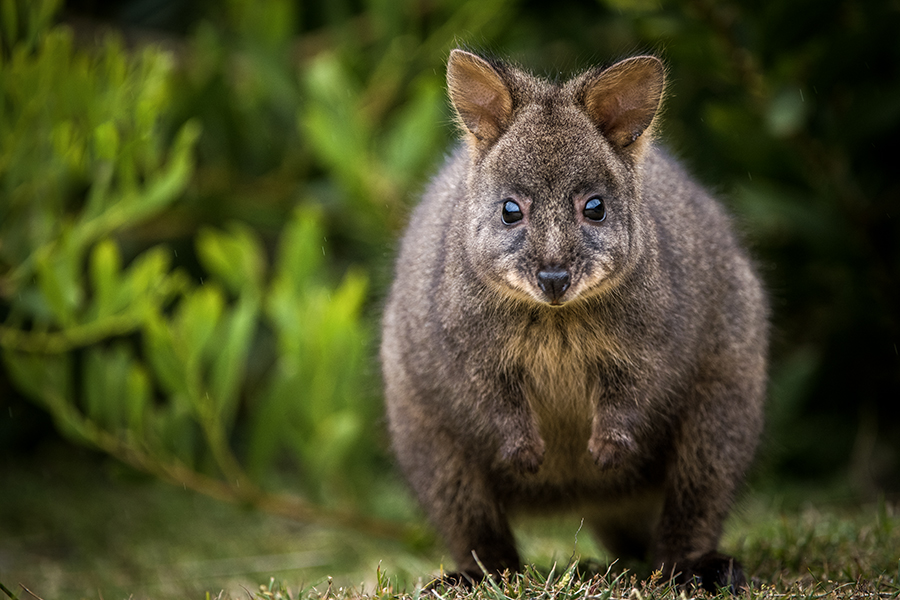 The amount of wildlife in Maria Island is incredible. Other fascinating wildlife you may come across include pademelons, Pygmy possums, kangaroos, and Bennett's wallabies. Bird species found in Maria Island are yellow-tailed black cockatoos, white-bellied sea eagles, and the spectacular flame robin.
Your beautiful accommodation for the first two days is in two exclusive wilderness camps. Both Casuarina Camp and White Gums Camp offer an intimate and immersive experience of Maria Island.
Tasmanian cheeses, an array of fresh local produce, and Tasmanian wines will be your companions as you unwind from your hiking adventures and wait for the night creatures to emerge. Don't snooze yet thought! This is when nocturnal animals begin to stir and start their day.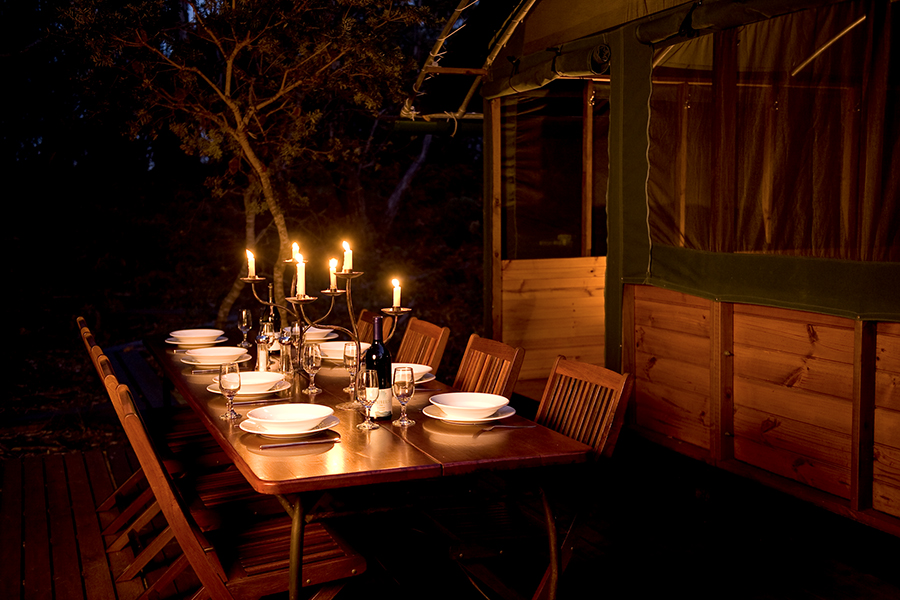 After dinner, marvel at the Tasmanian night sky from the deck of your hut. The sounds of civilization disappear like a distant memory as your dormant senses come alive. Notice how the fragrant smells of the wilderness transform as the sun goes down. Sit quietly and let your eyes acclimate to the dark. Watch the stars multiply as the night creatures take shape. See what they see, hear what they hear, and smell what they smell.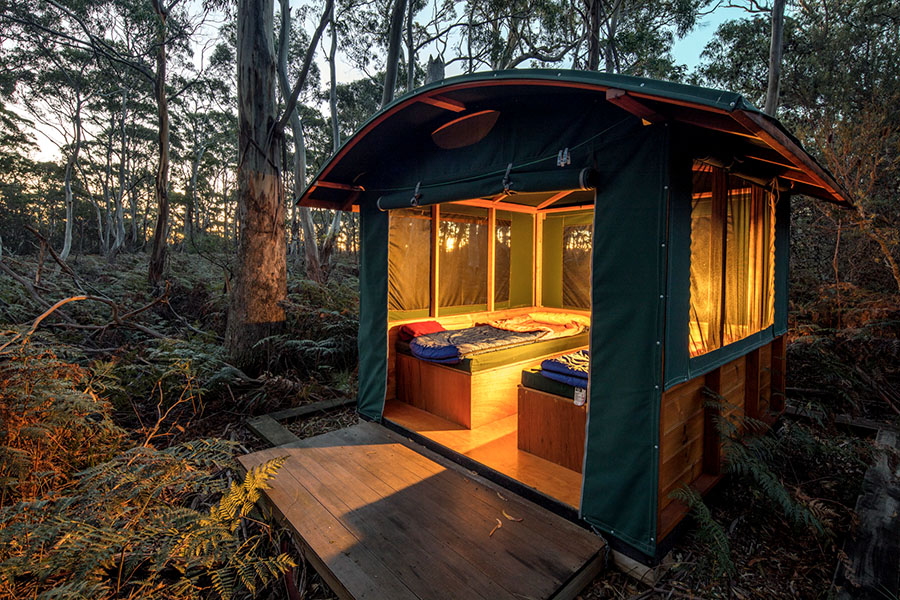 The winter months of June, July, and August also offer some exciting wildlife-watching opportunities. Wombats are accompanied by their young joeys, the Cape Barren geese are busy building their nests, Tasmanian native hens have territorial disputes, and Tasmanian devils are emerging from their dens. If this sounds like your cup of tea, check out the Maria Island Winter Escape tour.
Night safari in Australia, the nocturnal rainforest
Nights in the rainforest are mysterious and full of life. Daintree Rainforest in far North Queensland is no different. To avoid the searing heat of the day, many local species are adapted to a nocturnal lifestyle.
FNQ Nature Tours is very excited to show guests the nocturnal wildlife of Queensland. Their Daintree afternoon and nocturnal tour, one of the most exciting Australian safaris, will give you a rare glimpse of nightlife in the rainforest.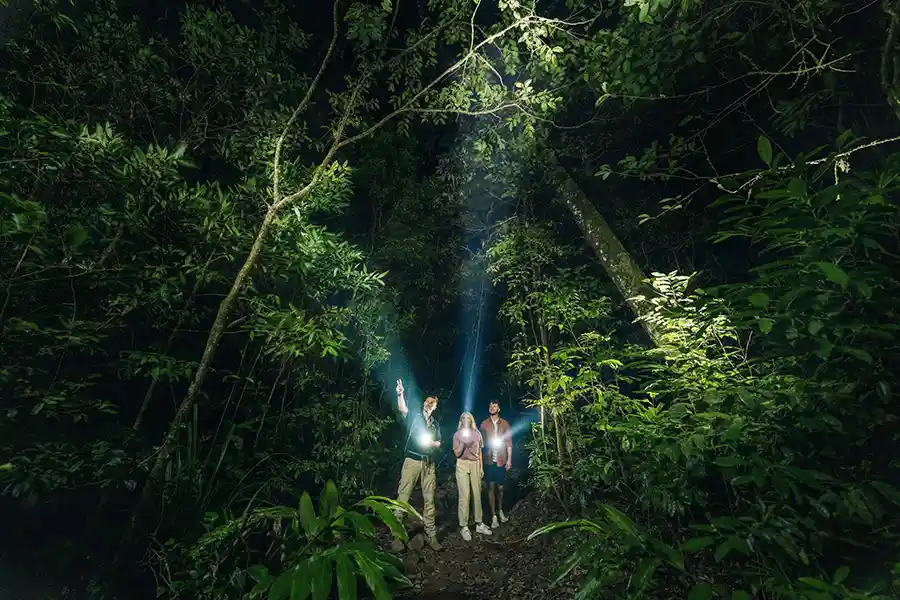 When you enter World Heritage Listed Daintree National Park, you enter the lands of the local Kuku Yalanji people. Take in the history and beauty of the towering mountains and pristine forest. At 300,000 acres, this is the largest tropical rainforest in Australia.
This day tour leaves in the early afternoon and is designed so guests can enjoy the different landscapes of the rainforest such as crystal clear streams, deep gorges, mountains, waterfalls, and dense forest.
You'll visit the gorgeous Cape Tribulation beach and enjoy a cruise in a solar electric boat on the Daintree River. From the boat, you can spot huge Saltwater crocodiles along with local specialties like Wompoo fruit doves, spectacled flying foxes, Boyd's Forest dragons, Ulysses butterflies, white-lipped tree frogs, and azure, little & sacred kingfishers.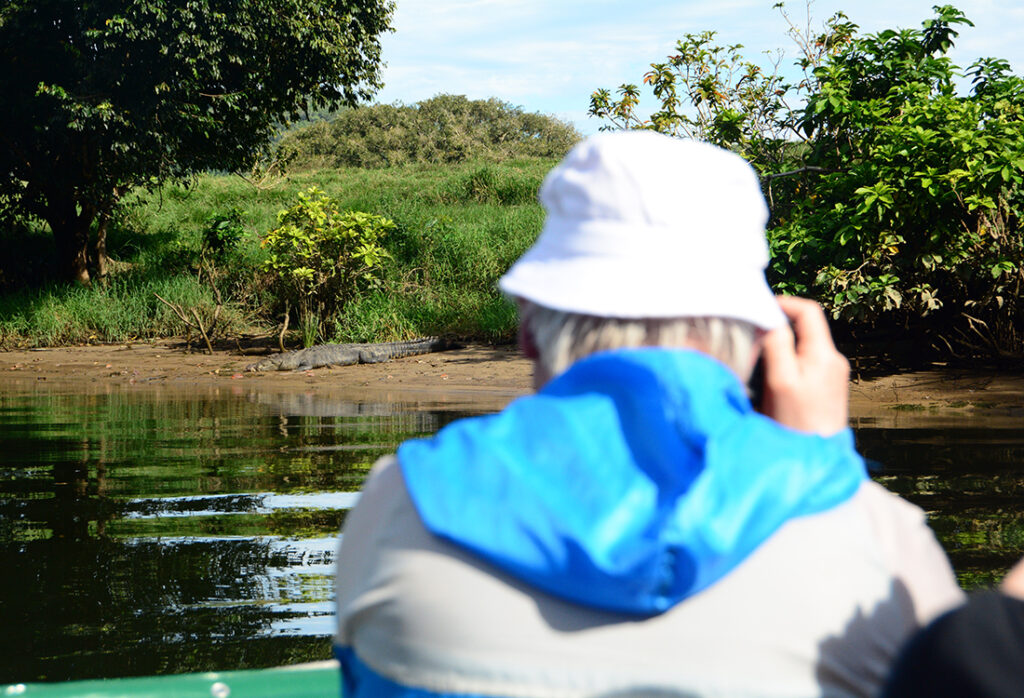 Now that you've seen the Daintree Rainforest in daylight, it's time to experience it at night! The grand finale of this tour is a guided interpretative night walk. See how the other half lives when night falls, and have a chance to spot rare nocturnal animals like bandicoots, northern bettongs, and the Daintree river ringtail possum.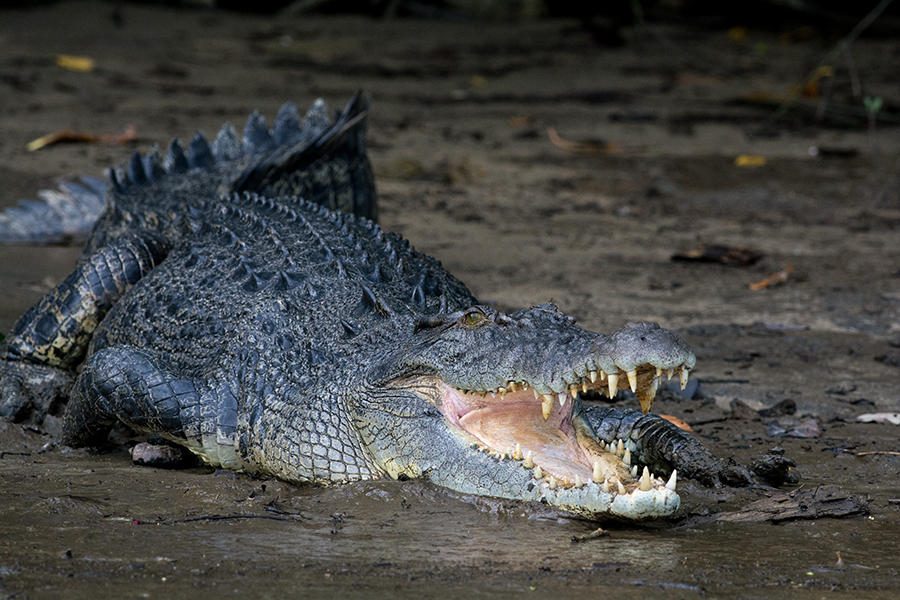 If one day in the jungle doesn't sound like enough, they've got you covered with the 4-day Nature, Wildlife, and Conservation Safari tour! If you dream of seeing Australia's nocturnal rainforest animals, this conservation safari in Australia is the way to do it. One night you'll be based at the Chambers Wildlife Lodge, set in 20 private acres in Queensland's Atherton Tablelands. From here you'll visit two different locations with a local wildlife expert to spot local nocturnal wildlife.
You can also hang out at the lodge's wildlife viewing platform which is spotlighted until around 11 pm. From here, guests can view uromys, antechinus, melomys, sugar gliders, bandicoots, and striped possums. This is a fantastic opportunity to not just catch a glimpse of these animals but to observe their interesting behavior and interactions. Bring your photo gear if you're into night photography!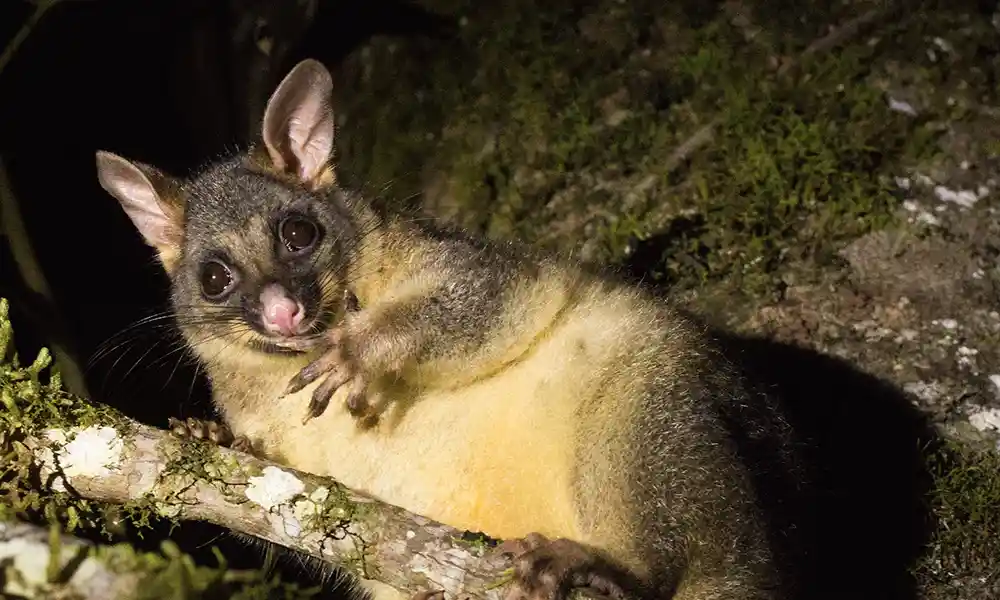 During this night safari in Australia, you'll have a chance to see nocturnal birds including the lesser sooty owl, rufous owl, Papuan frogmouth, and Australia's smallest owl, the Australian boo-book. During the full moon, guests will have the opportunity to hear the mating call of the orange-footed scrub fowl.
And on spring days you might be rewarded with the famous Victoria's rifle bird's mating display.
Other animals that inhabit the surrounding forest are the Herbert River ringtail possum and green ringtail possum, lemuroid possum, Lumholtz's tree kangaroo, and northern coppery brushtail possums.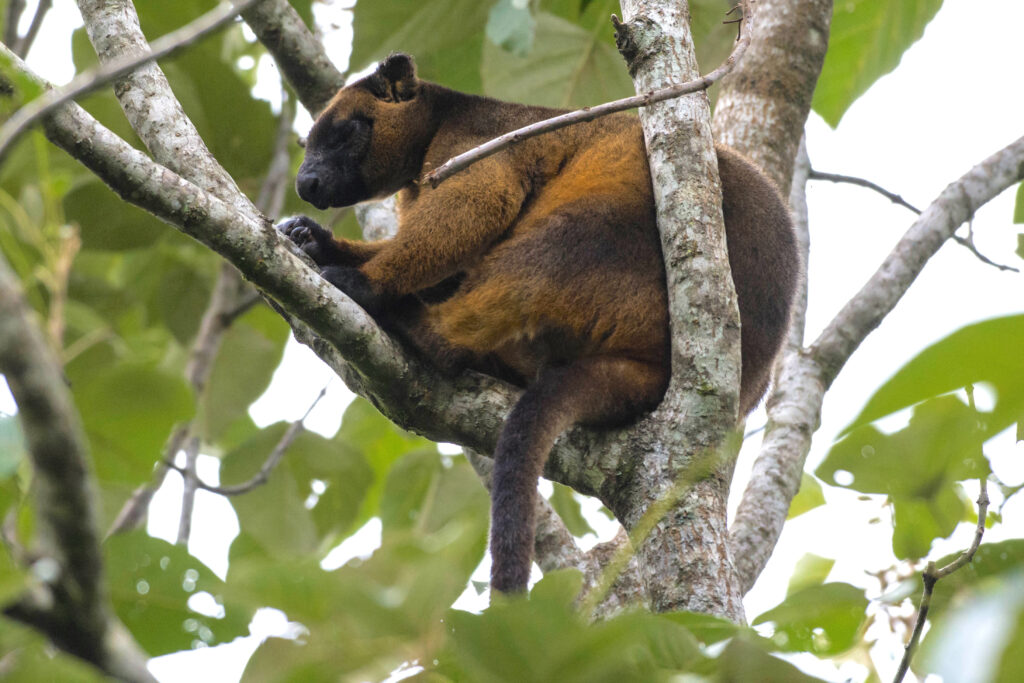 Embrace the night
It takes a special kind of person to venture out into the dark in search of elusive wildlife. If you're that kind of person, then a night safari in Australia will be a thrilling experience for you. It's a chance to see species that virtually no one ever gets to see, but more importantly, it's a chance to re-awaken your dormant senses and feel like a part of the natural world.
If you've ever been on a night safari in Australia, please tell us about your favorite sights and your favorite places in the comments below!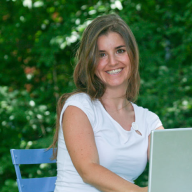 Cristina Garcia
Zoologist and wildlife photographer. She has worked in the field with jackals, wolves, cheetahs, & leopards. She serves on the Board of Directors of SEE Turtles, a non-profit sea turtle conservation organization.
Read her posts at Travel For Wildlife and see more of her work at Truly Wild, & Our Wild Yard.