When you picture a parrot in the wild, where do you imagine it? In a lush green jungle? I know I always thought of parrots as birds of the tropical rainforest.
So it came as a complete shock to me when I first learned that Australian parrots are found both in the dry forests and the vast deserts, from urban areas to the tropical forest. In fact, these habitats are bursting with parrots of every size, shape, and color.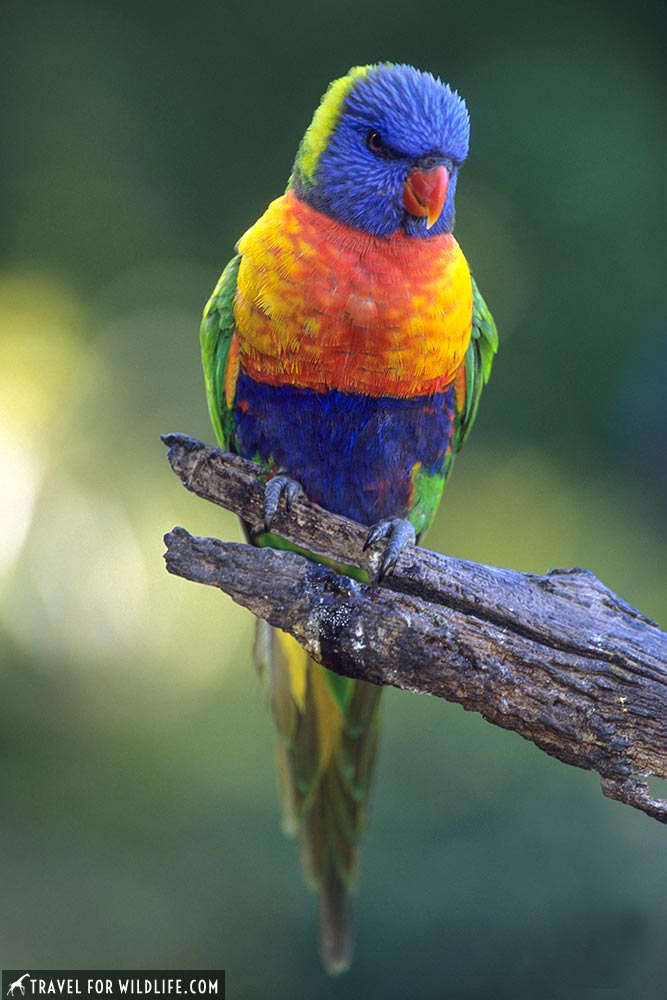 If you dream of seeing wild Australian parrots in all their glory, check out these five wildlife tours that will get you out back to see Australia's most beautiful, endangered, and charismatic parrots.
A quick guide to Australian Parrots
There are somewhere between 330 and 400 parrot species on the planet, depending on who you ask and how you split them up. Of these, 56 are found in Australia. Even more impressive is that 51 of those are endemic to Australia, meaning they are found nowhere else on Earth.
Millions of years of isolation on this island nation have made Australia a hotspot for parrot evolution and diversification. It's not surprising that Australia is often referred to as the Land of Parrots.
There are two families of parrots found in Australia: the "true" parrots (Psittacoidea), and the Australian cockatoos (Cacatoidea). They have adapted to habitats across the continent from the northern rainforests to the driest deserts and everything in between.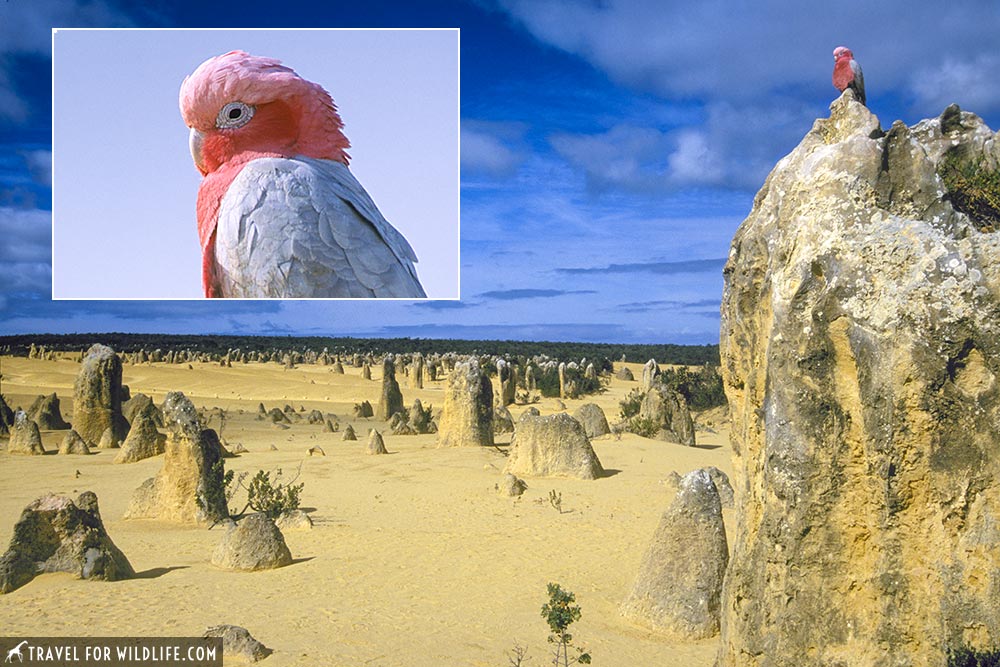 The cockatoos, comprising 15 species, are large parrots with movable crests on top of their heads and are full of character. There are five species of black cockatoos (Calyptorhyncus) -including the yellow-tailed black-cockatoo, the glossy black-cockatoos and the red-tailed black-cockatoo-, six species of white/pink cockatoos (Cacatua) including the famous galah and the corellas, and a few who have a genus all to themselves: the palm cockatoo (Probosciger aterrimus), the gang-gang cockatoo (Callocephalon fimbriatum), and the smallest member of the family, the cockatiel (Nymphicus hallandicus)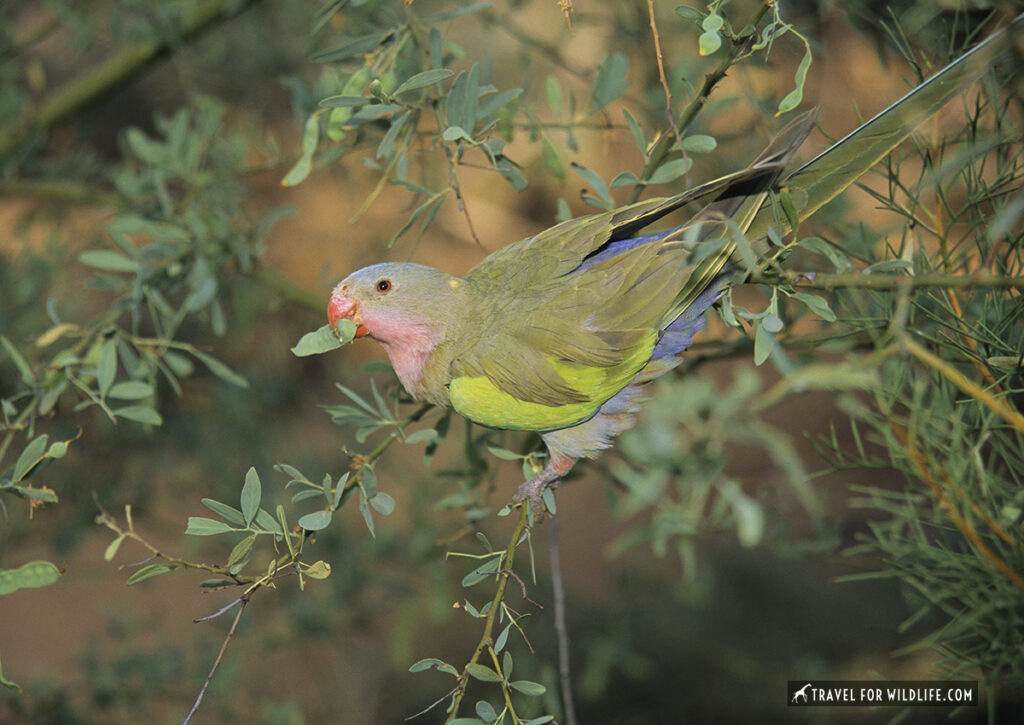 The remaining 41 Australian parrots fall into the Psittacodea, known as "true" parrots (simply because they fit the more common worldwide parrot form). These stunning birds are smaller than the cockatoos and usually are incredibly colorful. This include the lorikeets, the long-tailed parrots, the rosellas, the golden-shouldered parrots, the neophema parrots, and a handful of other smaller parrots beauties.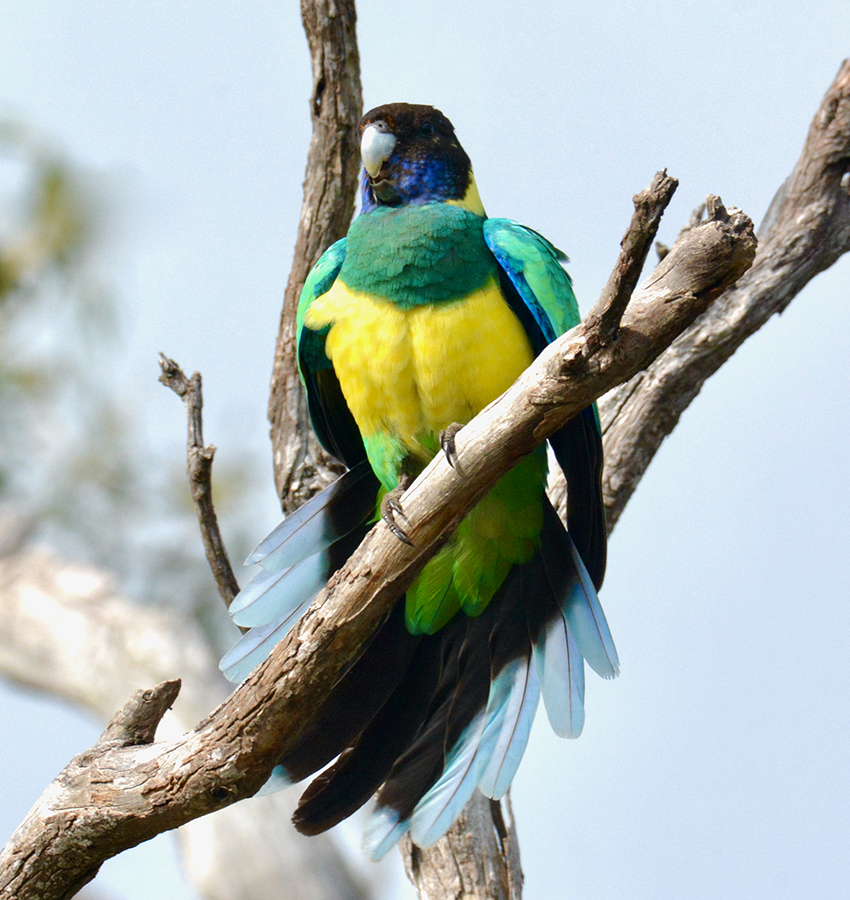 Listen closely. Hear those raucous calls in the distance? The parrots are near! Get out your binoculars and let's go find some Australian parrots with these wildlife tours!
---
*This post is sponsored by Australian Wildlife Journeys*
---
Australian Parrots of the Outback
There's nothing like large flocks of colorful birds against a backdrop of brilliant red desert. This is what the Mungo experience is all about.
Mungo National Park made worldwide headlines thanks to the discovery of Mungo Man and Mungo Woman. These human remains were dated to be over 40,000 years old, indicating that Aboriginal people inhabited this area earlier than thought and making them the oldest human remains in Australia.
Located in western New South Wales, the Mungo Outback is a land of red sand, enormous windblown dunes, unique rock formations carved by wind and water, dry lakes, dark skies, kangaroos, and colorful parrots.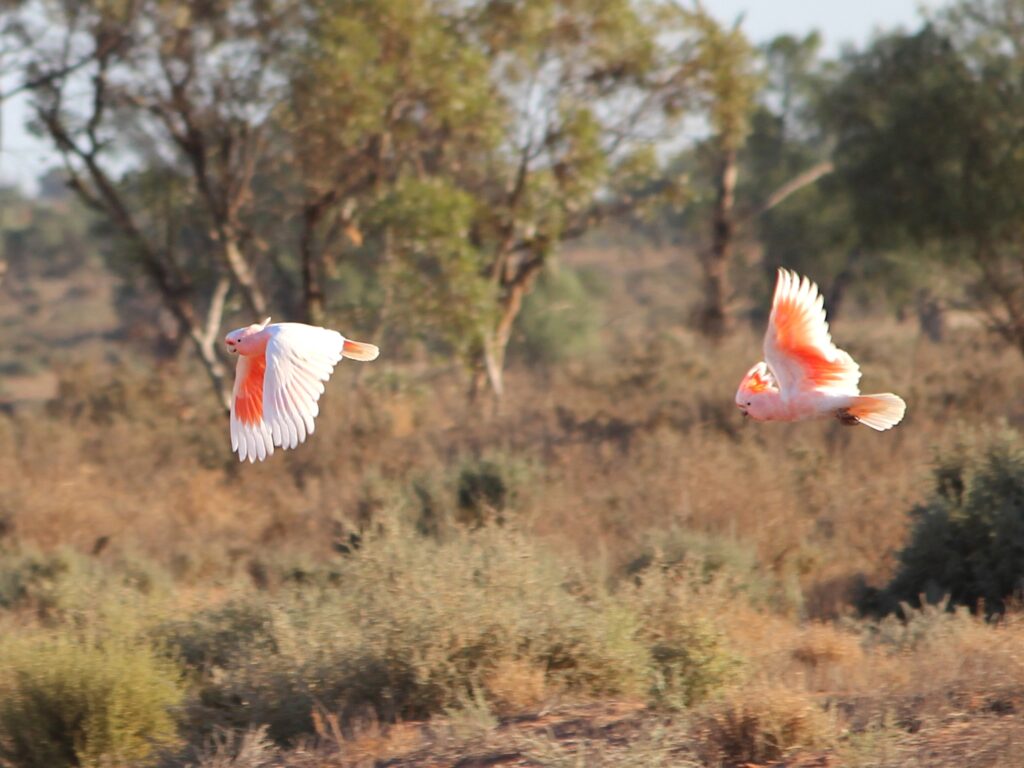 With the arrival of the rains, deserts explode into a party of wildflowers and wildlife, and Mungo is no different. It is not unusual to see pink cockatoos in the hundreds taking turns drinking from ground tanks. A common sight that you won't get bored of. These noisy flocks are mesmerizing!
Echidna Walkabout Nature Tours have been coming to Mungo for years. Their Private Mungo Outback Journey is a 4-day trip that will take you from the arid lands to the riverine ecosystems in this biodiverse area, where you'll learn not only about the wildlife but also about ancient Aboriginal heritage.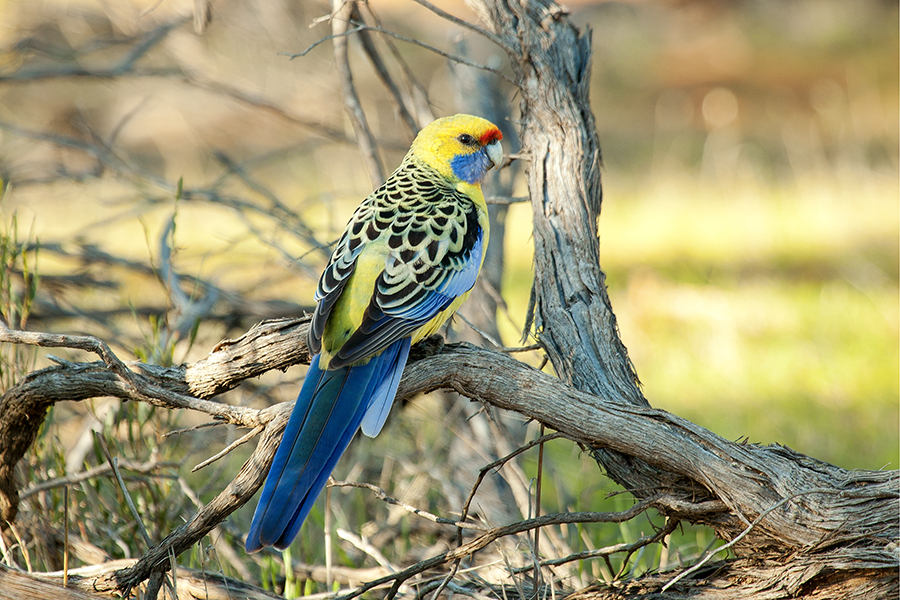 During these past years, Echidna's trips have had great success with many species of parrot sightings including mallee ringneck, mulga parrot, rainbow lorikeet, regent parrot, greater (eastern) bluebonnet, yellow (crimson) rosella, sulphur-crested cockatoo, little corella, red-rumped parrot, galah, Major Mitchell's Cockatoo, and on one occasion each, budgerigar and cockatiel.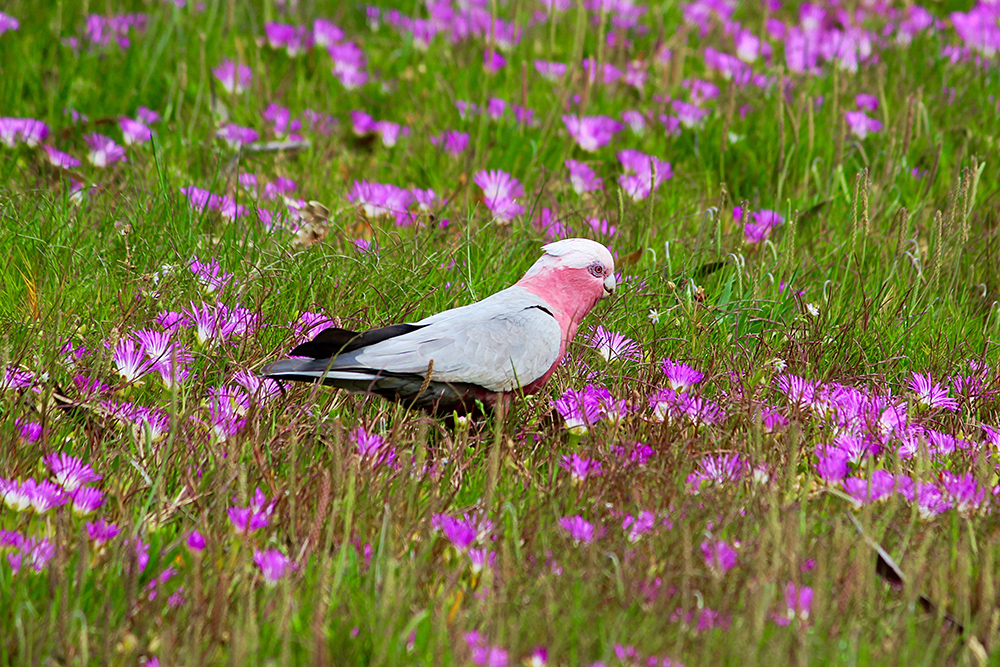 The most common are the little corellas and the galah and there will be plenty of opportunities to photograph these two beautiful species. More great news for photographers is the presence of Major Mitchell's cockatoo (also known as the pink cockatoo) as their incredible multicolored crest is always the subject of great admiration.
Other wildlife spotted during this Mungo tour are kangaroos, emus, wedge-tailed eagles, chestnut-crowned babblers, and several species of lizards. Tours run from March to November.
Kangaroo Island glossy black cockatoo
On Kangaroo Island, the star parrot is the glossy black cockatoo. Widespread in eastern Australia, there is an isolated population here on the island. The Kangaroo Island glossy black cockatoo is classified as a separate sub-species and considered Endangered under the Environment Protection and Biodiversity Conservation Act 1999.
In September 2017, the Kangaroo Island glossy black cockatoo numbered just 380 individuals.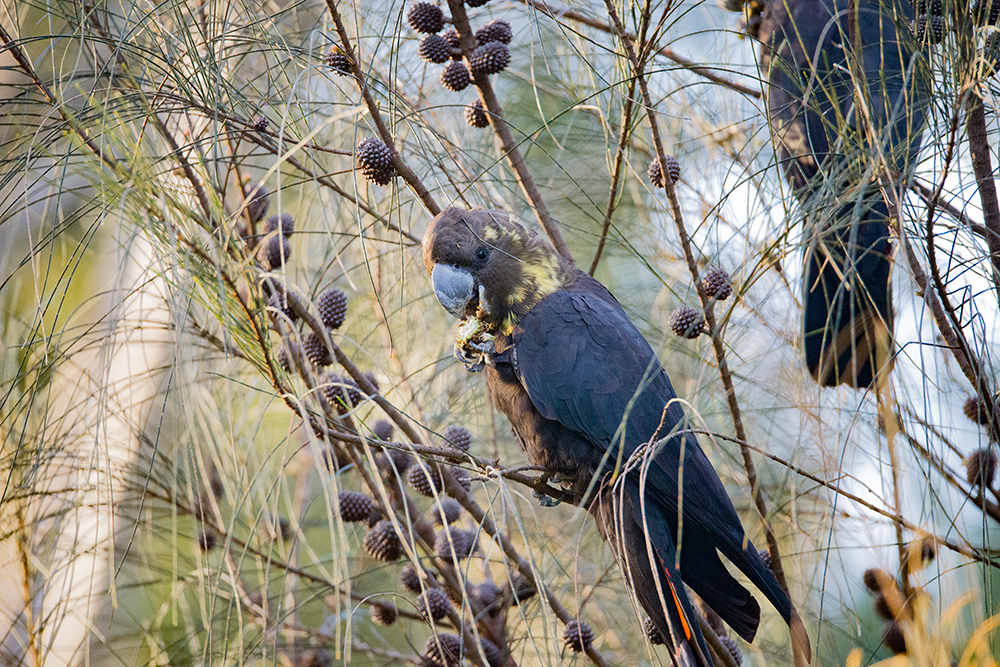 The Kangaroo Island glossy black cockatoo has very specific habitat and dietary requirements. They feed almost exclusively on the seeds of the drooping sheoak and require hollows for nesting in old, large eucalyptus trees. Being such a specialist, any change to their environment could be catastrophic for the birds.
In January 2020, bushfires in Kangaroo island burned just over half a million acres, almost half of the island. The fires burned down a lot of eucalyptus trees, destroying many nesting sites for the glossy black cockatoo. This habitat loss was devastating. A survey indicated that 38.5% of their known nests were destroyed by these bushfires.
Just after the fires, the tour company Exceptional Kangaroo Island sprang into action, planting trees and building cockatoo "apartments" to create provisional housing until the trees are mature enough to provide natural hollows for nesting.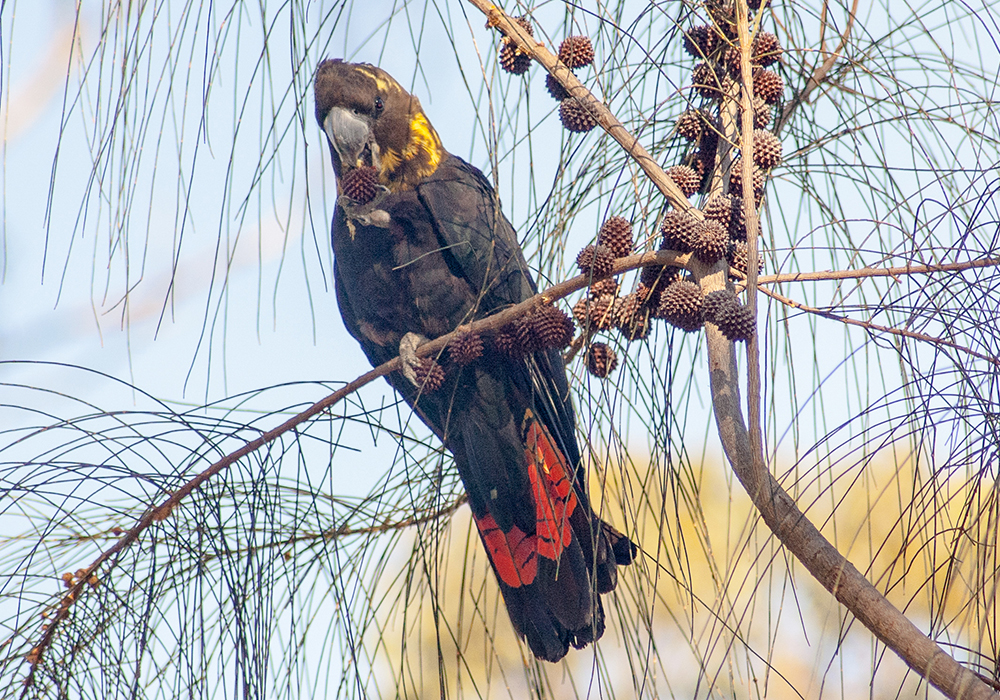 Join Exceptional Kangaroo Island on their Kangaroo Island birding tour to visit Cygnet Park, a large-scale biodiverse rewilding project that is important for the conservation of the glossy black cockatoo. During your tour, you'll learn about their recovery plan and the conservation efforts that private citizens are working on.
Other Australian parrots that you'll be able to see at Kangaroo Island are little corellas, galahs, crimson rosellas, rainbow, and purple-crowned lorikeets, yellow-tailed black cockatoos, and rock parrots (seasonally).
But wait, there's plenty more to see on Kangaroo Island including over 260 species of birds! Other iconic Australian wildlife you might spot on your tour are the Kangaroo Island kangaroo (an endemic subspecies of the western gray kangaroo), short-beaked echidnas, possums, koalas, and sooty dunnarts.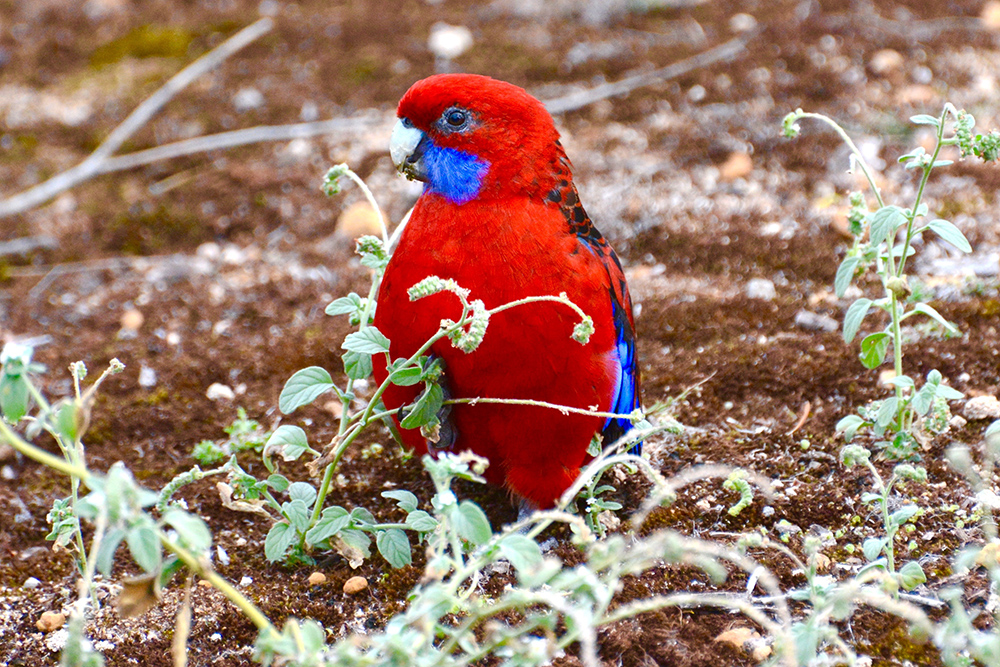 Swift parrot conservation at Maria Island
Islands have been crucial for parrot conservation in Australia. Take for example the swift parrot. This little bright-green parrot is the fastest parrot in Australia. With estimates suggesting there are as few as 750 swift parrots left in the wild, the survival of the swift parrot is hanging by a thread.
Each summer, swift parrots fly to Tasmania from mainland Australia for the breeding season. They have very specific requirements. These small parrots nest in hollows of mature blue gums and feed on the nectar of blue gums and black gums. These two requirements determine the area where swift parrots will nest each year.
The problem with this specialization is that blue gums take about 150 years to form suitable hollows for swift parrot nesting. When mature trees are destroyed by bushfires or deforestation, this becomes a problem for nesting birds.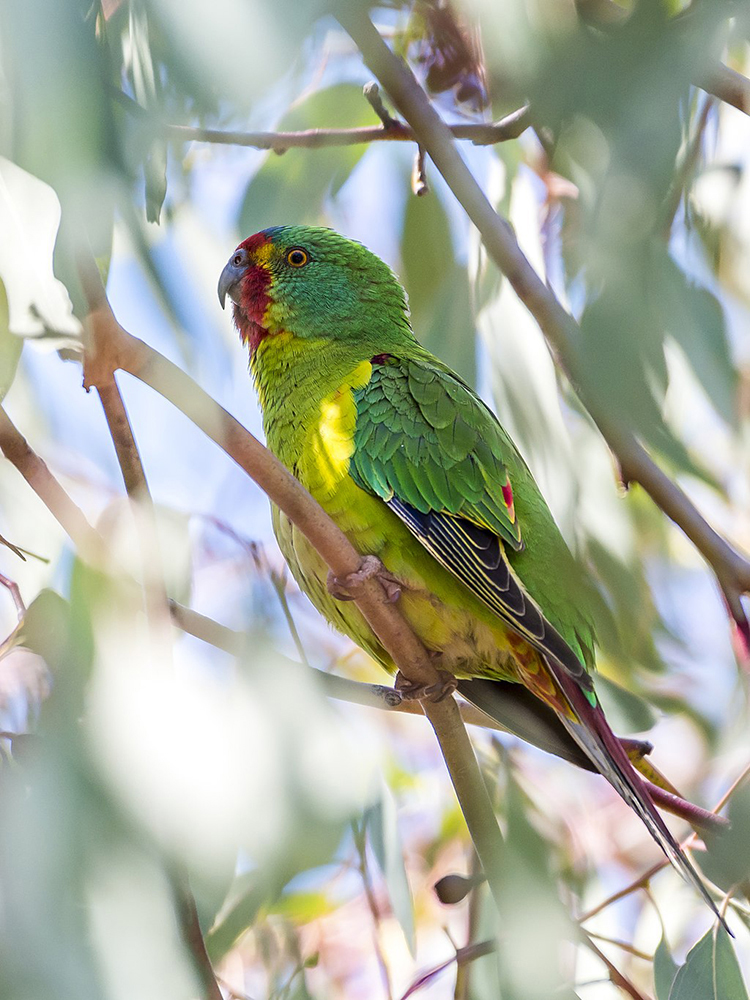 The flowering pattern of blue and black gums also changes every year, so the parrots nest at different sites each year depending on where flowering is occurring.
If these two requirements weren't enough to limit breeding success, another factor was introduced by humans 100 years ago: the sugar glider. This adorable gliding possum predates on nesting females, their chicks, and their eggs. Sugar gliders are nocturnal so they enter hollows at night and surprise the mother while she's incubating. They wipe out entire family groups in one night.
The loss of a breeding female and her offspring is devastating to such a small population. The good news is that sugar gliders only occur in mainland Tasmania and not on the islands along the Tasmanian coast. These islands have become a refuge for endangered Australian parrots.
One of the islands where swift parrots occur is Maria Island on the east coast of Tasmania. If you time your visit to the summer months you have a chance of glimpsing the endangered swift parrot in the wild.
Join expert guides on The Maria Island Walk tour: In Search of Tasmania's Endemic Birds to learn what makes Maria Island a birding destination in Australia. With 150 bird species to be found on the island, including Tasmania's endemic robin (the dusky robin) and the tiny forty-spotted pardalote, an endangered Australian species, you'll be very busy in this 4-day experience.
To show their commitment to conservation, The Maria Island Walk has donated more than $10,000 to the Tasmanian Land Conservancy to plant trees for the endangered swift parrot. Your participation in this walk will actively help the fight to save the species.
A Glimpse of hope for the orange-bellied parrot, saving parrots in Australia
Swift parrots aren't the only endangered parrots in Tasmania.
The critically endangered orange-bellied parrot spends the winter in South Australia, Victoria, and New South Wales, and migrates to Tasmania for the breeding season. More specifically, this colorful and wild parrot with orange belly and green head travel to Melaleuca, a remote spot on the southwest coast of Tasmania.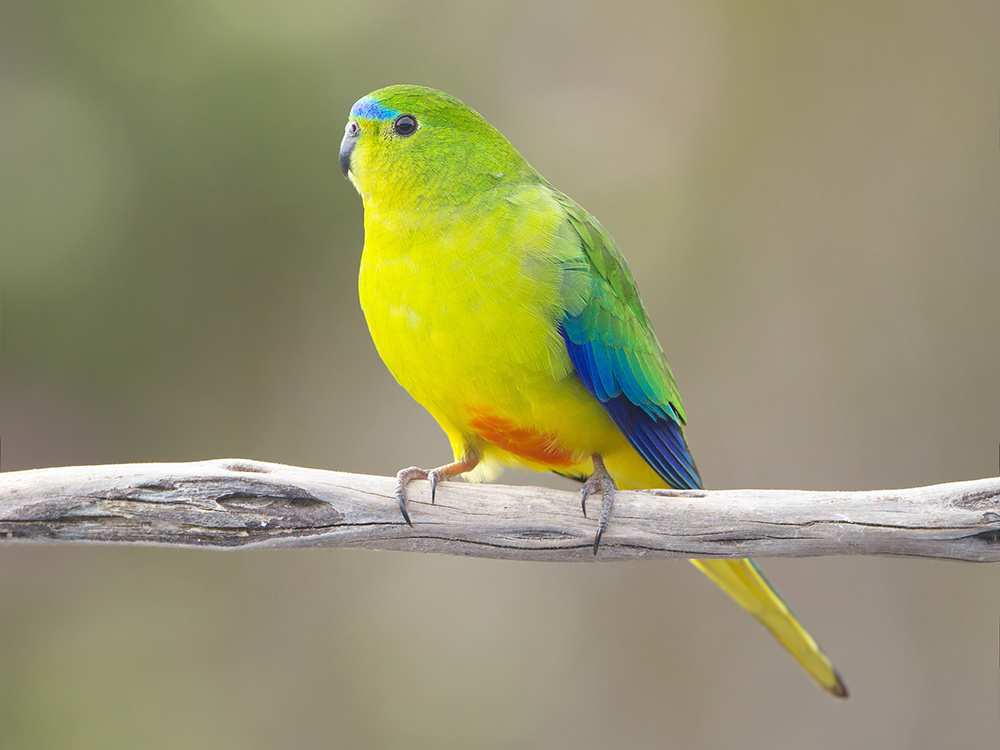 In 2021, 70 orange-bellied parrots returned to Melaleuca to breed which was a significant increase from the 50 individuals that made the trip in 2020. Habitat management (preservation of tree hollows in old-growth forests), a monitoring program, and a captive breeding program are having a positive effect on the species.
Premier Travel Tasmania has partnered with Mark Holdsworth and offers this tailor-made adventure to learn about and spot these incredibly endangered parrots. Mark was the manager of the orange-bellied parrot monitoring program for 17 years.
If you want to be involved in the conservation of the orange-bellied parrot you can volunteer by joining searches for this parrot along the coasts of Tasmania, Victoria, and South Australia through Birdlife Australia and Friends of the orange-bellied parrot (Wildcare Australia).
Your trip also includes a financial contribution to the Orange-bellied Parrot Recovery Program.
Tropical Birding in North Queensland
If you find yourself in the Cairns area, it's time to join a Tropical Birdwatching tour with FNQ Nature Tours.
On this tour, you'll encounter famous Australian parrots like the red-winged parrot, scaly-breasted lorikeet, rainbow lorikeet, rosella parrot, budgerigar, red-tailed cockatoo, and black cockatoo.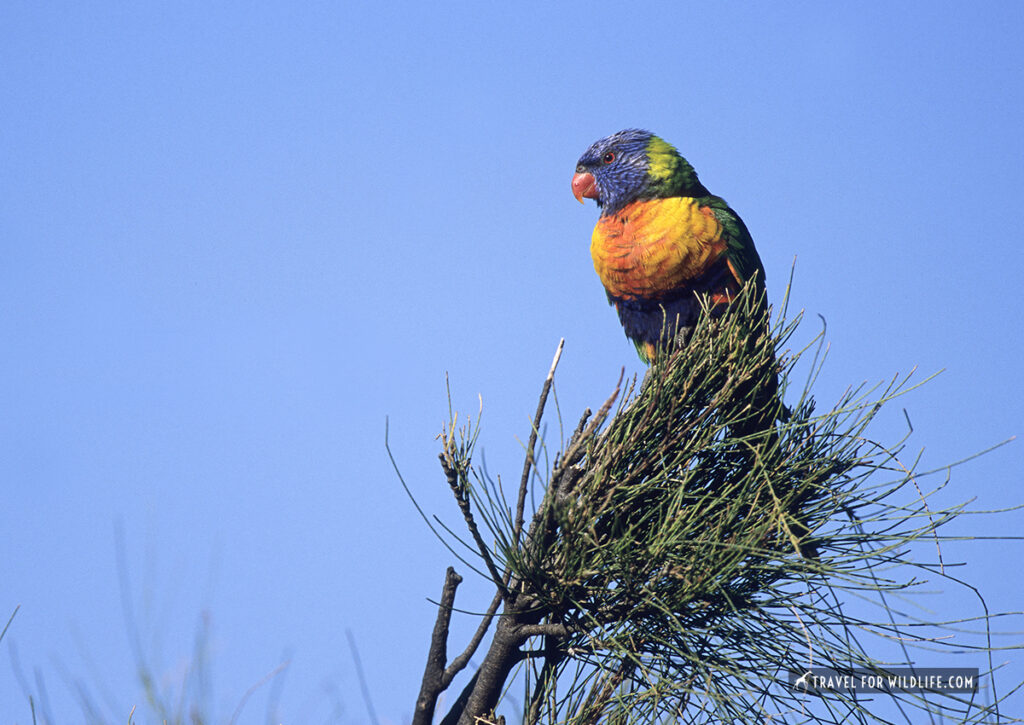 But here's what makes this tour truly special: FNQ Nature Tours have been granted exclusive access to The Shared Earth Reserve, a 5,000-acre reserve home to over 220 bird species. It's a birders paradise. The day tour is broken into two key locations, starting with the Tropical Wetlands and then moving up to a high-altitude forest at the Atherton Tablelands.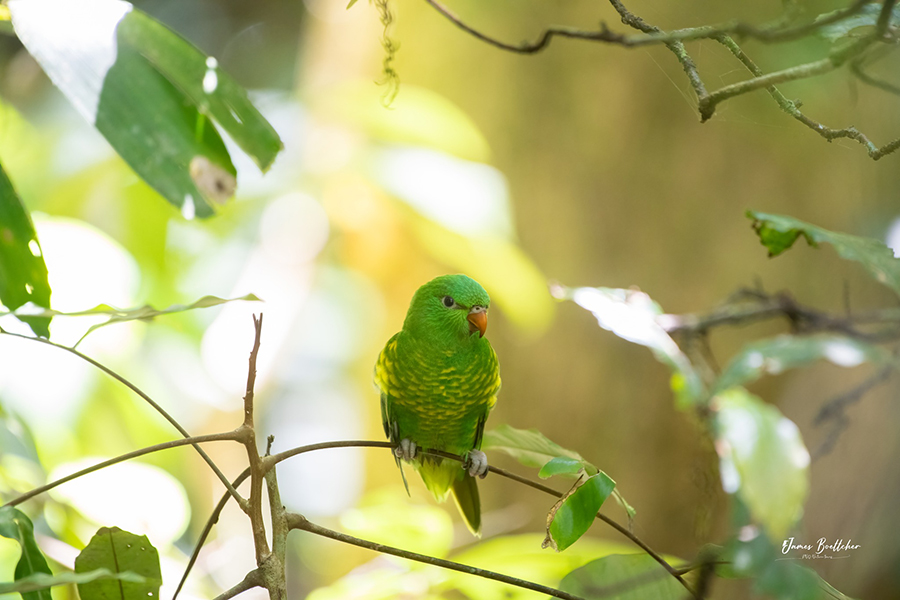 The Shared Earth Reserve is a vast piece of wilderness, owned by Forever Wild, a social and ecological enterprise whose mission is to create reserves that are ecologically, socially, and politically sustainable. To achieve this goal they are working together with the Muluridgi indigenous people of the area.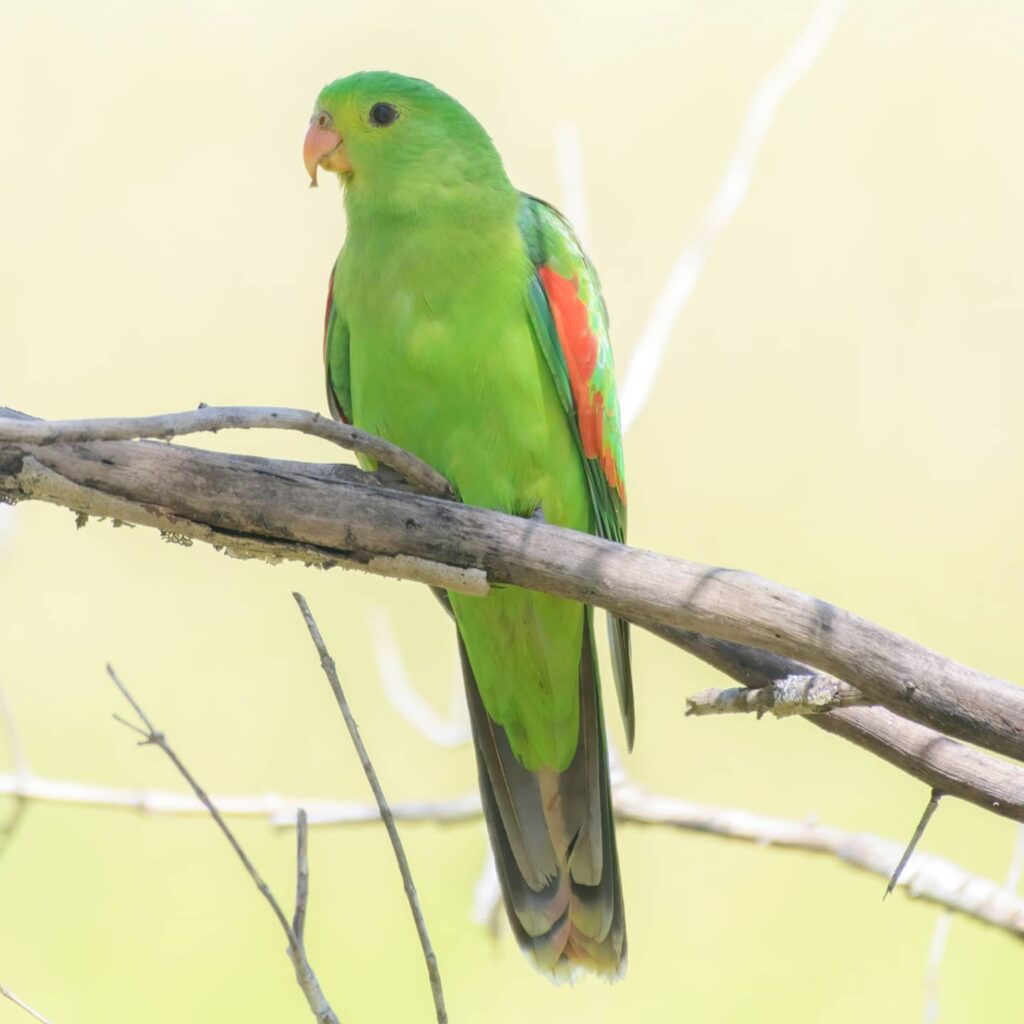 The reserve presents a mosaic of old-growth savanna woodland, creeks, swamps, and permanent lakes. This incredible array of habitats creates the optimal conditions that make this a highly diverse area. For example, the open savannah and eucalypt woodlands within the wetlands are a good place place to observe fairy-wrens, mannikins, and finches.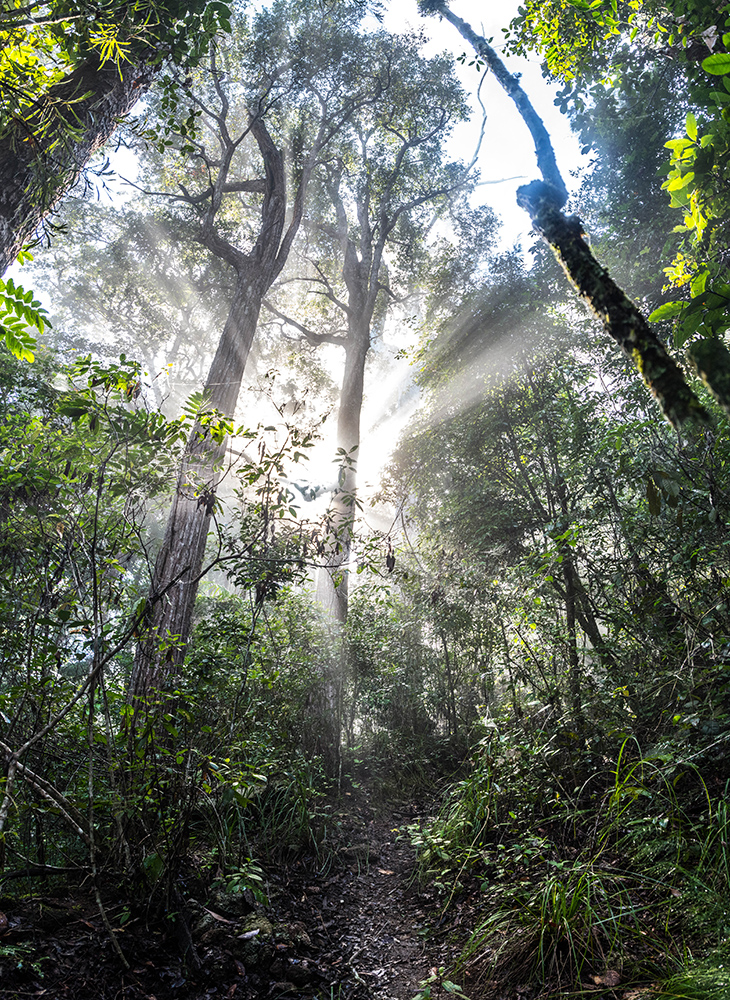 During your tour, you have a chance of spotting five different species of owls, three species of frogmouths and night jars, five different species of pigeons and doves, and numerous birds of prey including kites, hawks, eagles, osprey, falcons, and harrier.
A large population of gorgeous black swans is one of the star attractions, alongside a variety of other wildlife including dingos, tree kangaroos, echidnas, snakes, and other reptiles, making this tour a complete wildlife-watching adventure.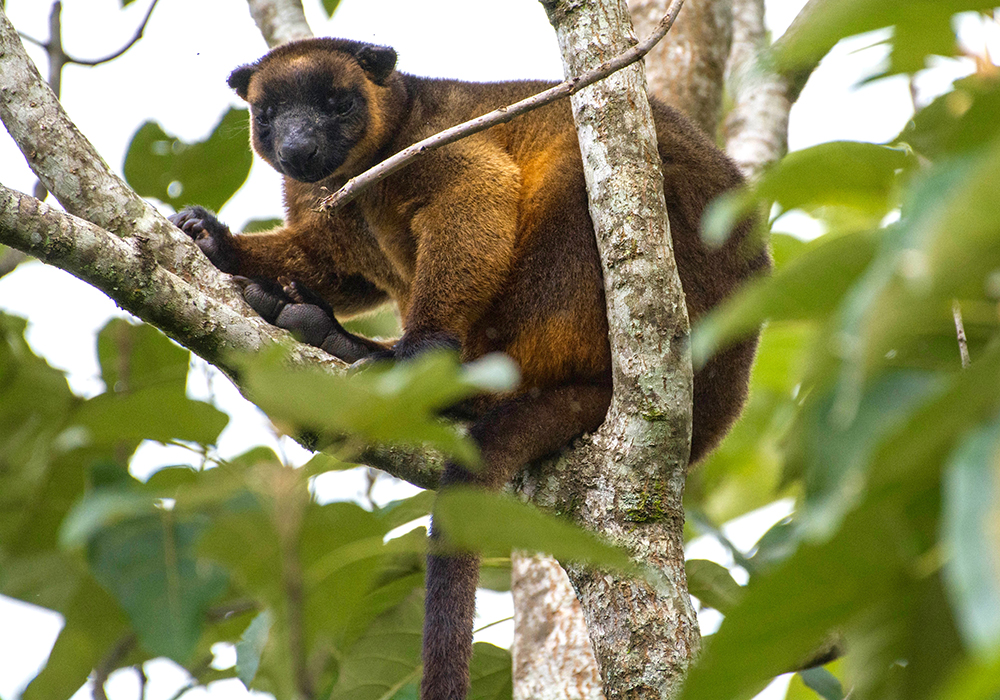 The Land of Parrots
If you love parrots then it's time to get yourself to Australia, explore this vast continent, and see them in the wild. No matter what corner of Australia you turn up in, you're bound to hear the boisterous calls of parrots somewhere in the distance. Let us know your favorite Australian parrots and where you've seen them in the comments below!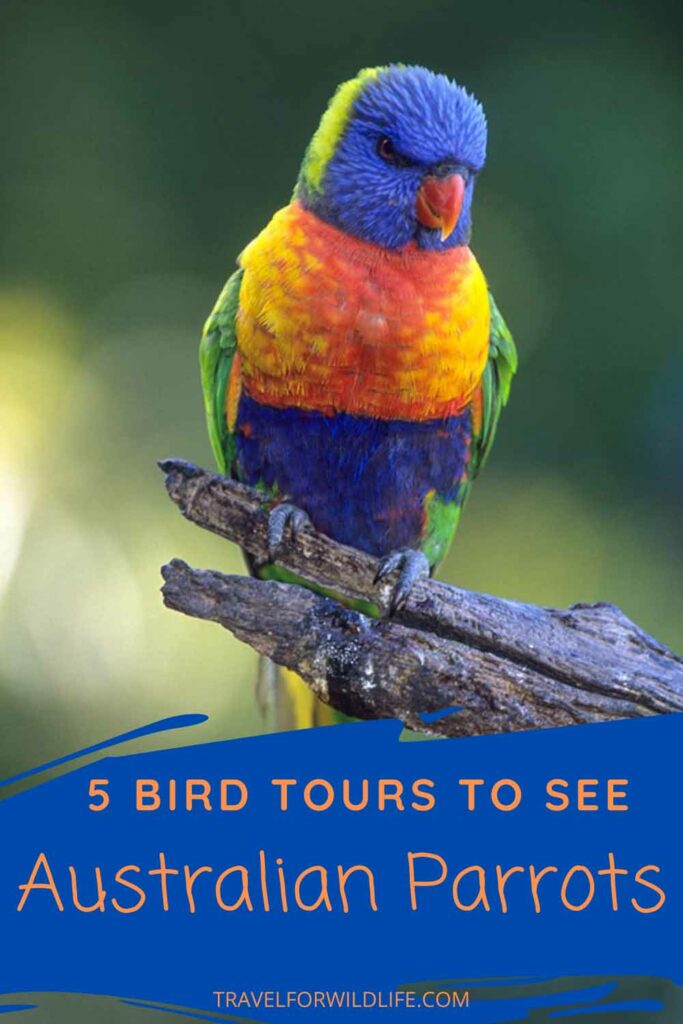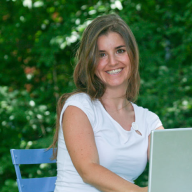 Cristina Garcia
Zoologist and wildlife photographer. She has worked in the field with jackals, wolves, cheetahs, & leopards. She serves on the Board of Directors of SEE Turtles, a non-profit sea turtle conservation organization.
Read her posts at Travel For Wildlife and see more of her work at Truly Wild, & Our Wild Yard.