As a kid, Australia always seemed like the most exotic and faraway place I could imagine, full of bizarre and wonderful creatures. Mammals that lay eggs! The biggest sharks and crocodiles on the planet! Huge flightless birds who could disembowl you with one kick! Bats as big as foxes! The world's largest coral reef teeming with brilliant fish! Fantastic reptiles at every turn! And of course kangaroos hopping everywhere! To see everything I wanted to see my best bet was to join a safari in Australia.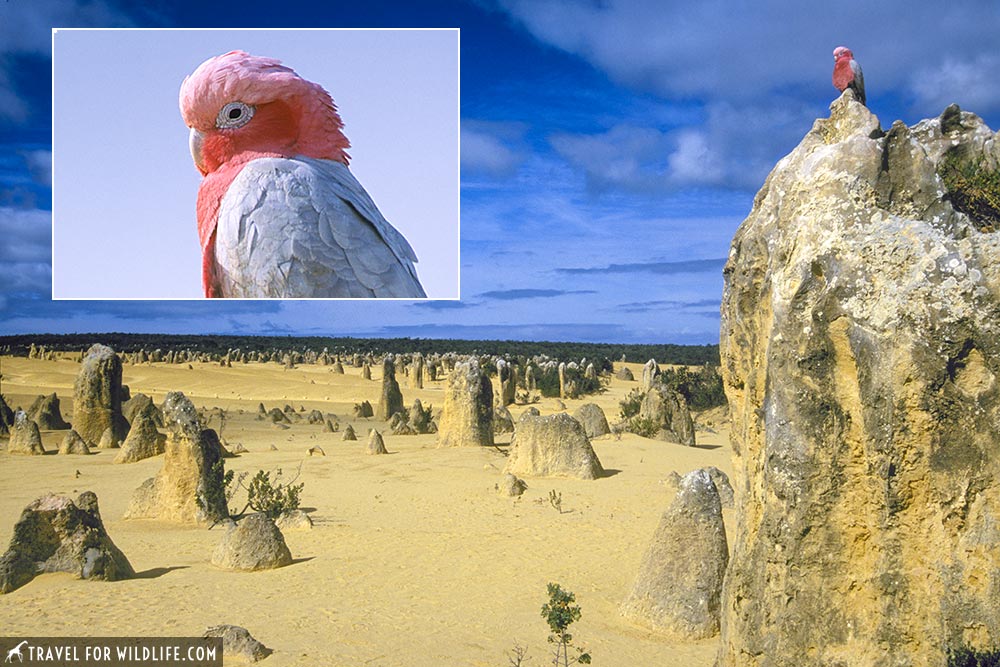 Then I met Hal and he told me about all his wildlife adventures and all the Australian animals he met during his road trip in Australia. He drove through the Australian outback, to the Great Ocean road, and down to Kangaroo Island and Tasmania, visiting the incredible Cradle Mountain National Park.
It all turned out to be true. Australia truly is a wildlife watcher's paradise. But if you don't believe his tall tales and want to find out for yourself, dive into our list of the top wildlife tours in Australia that we've handpicked, and make your down under dreams come true.
A safari in Australia? Yes! How about a conservation safari in Australia? Sign me up!
---
*This post is sponsored by Australian Wildlife Journeys*
---
A quick intro to native Australian wildlife
When you think of Australian unique wildlife you probably picture the most famous mammals of Australia, the marsupials especially the kangaroos. You probably also remember that marsupials raise their young in a pouch. Well done! Indeed virtually every native land mammal on the Australian continent is a marsupial, excepting some rodents and bats. (We'll save the debate about whether dingoes should be considered native for another day!)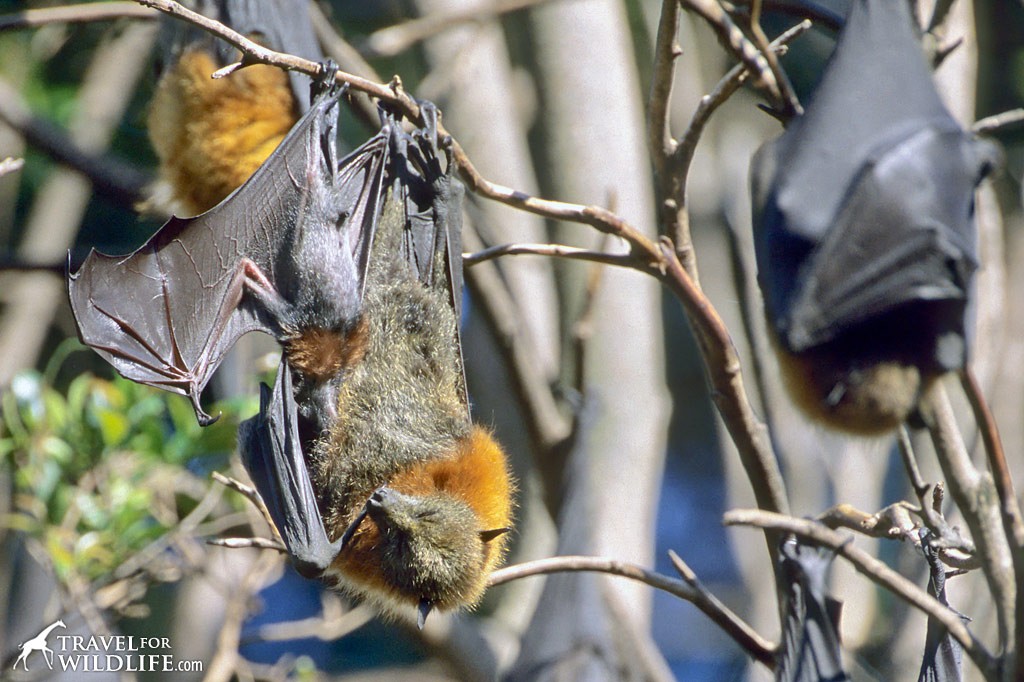 The radiation of marsupial life here is truly astonishing, filling every ecological niche imaginable, from wombats, to koalas, to the Tasmanian devil (an endangered species), and 80 percent of them are found nowhere else on Earth. Stranger still are the egg-laying mammals, the monotremes, represented by two of the world's most fascinating creatures, the echidnas, and the duck-billed platypus. Mammal lovers, prepare to have your vision of the world turned on its head.
Birders are in for an even bigger kick in the life-list with more than 800 species, nearly half of which are endemic. From penguins to parrots, and cassowaries to kookaburras, some of the planets most beautiful and entertaining birds call Australia home. If you want to see parrots, check out our post about Australian parrots for a list of tours that will take you to see these wonderful birds.
Add to that, more reptile species than any other nation (including the world's largest: the saltwater crocodile) and you can see why any stroll from tropical rainforest to the driest desert is likely to turn up surprising wildlife sightings.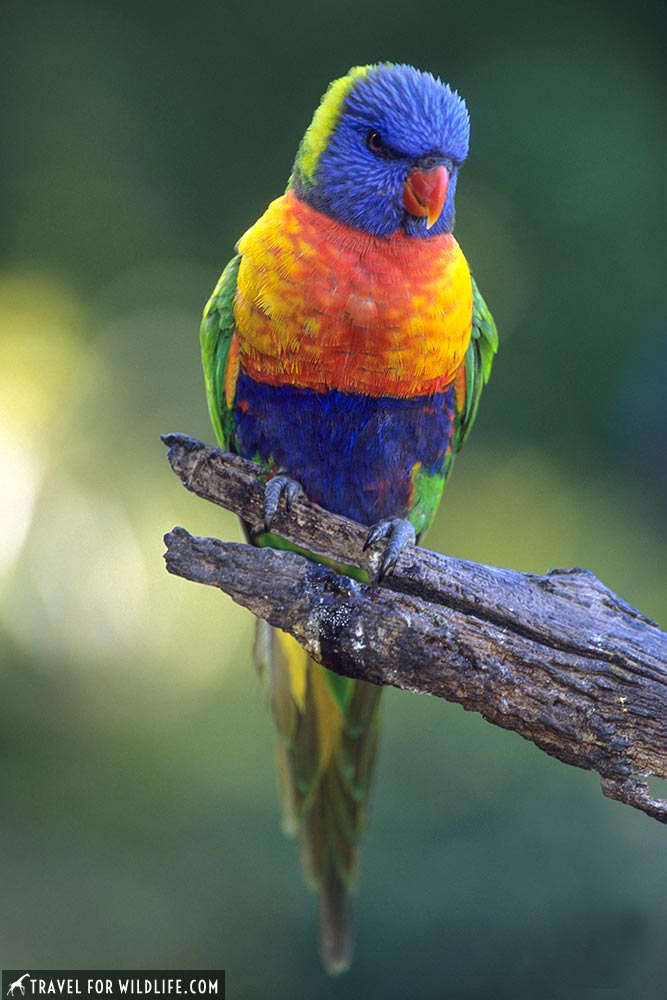 For those who prefer to peer under the waves, you've come to the right place. Australia's waters host more than 5,000 species of fish, including more half the world's sharks and ray species. Want to swim with whale sharks, dolphins, Australian sea lions or humpbacks? From the Great Barrier Reef to the Ningaloo Marine Park, Australia has got you covered.
Ready for the Australian wildlife adventure of a lifetime? Here are a few wildlife tours in Australia that you'll never forget. Have a trip of a lifetime!
– North Queensland Wildlife and Conservation Safari in Australia –
Venturing into North Queensland is like stepping back in time. It is home to the Daintree rainforest, the oldest tropical rainforest in the world. At an estimated 180 million years old, it is thought to be the site where songbirds first evolved. It's also right next door to the world's largest coral reef system, the magnificent Great Barrier Reef. It is the perfect place for a safari in Australia and visit one of the tropical rainforests down under.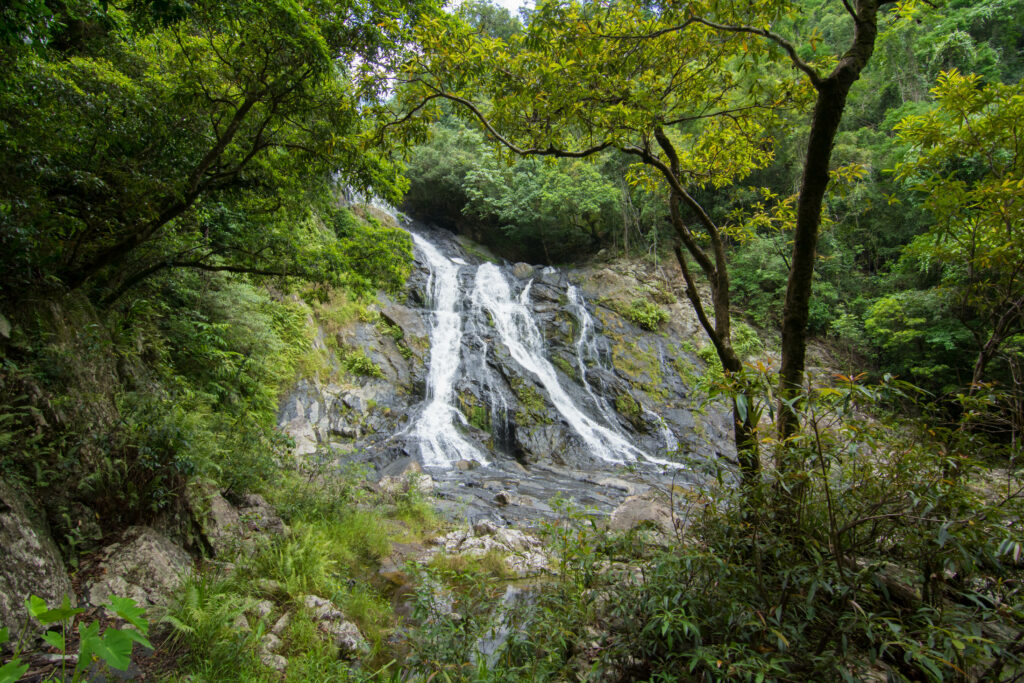 FNQ Nature Tours specializes in immersive Queensland wildlife tours, conservation tours, and wildlife photography tours of this incredible destination.
During their 4-day Wildlife and Conservation Safari, guests not only have the opportunity to experience the magic of Daintree and its remote places, but can actively help to conserve it. Through special partnerships nurtured by FNQ Nature Tours over the years, guests will participate in citizen science data collection.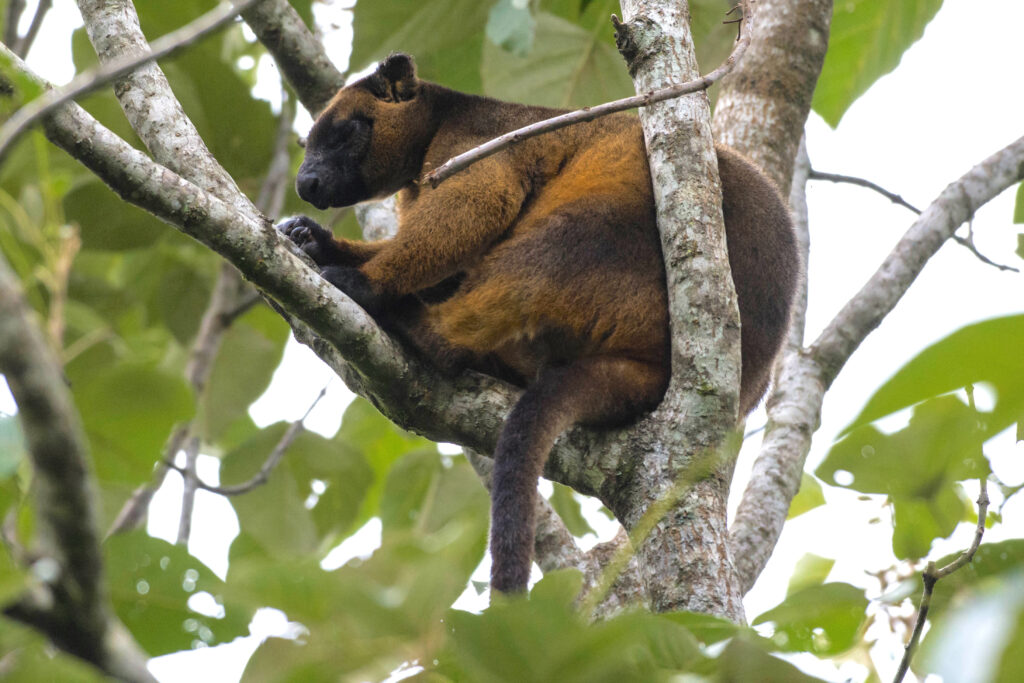 Guests get to be citizen scientists for a morning as they join researchers of the Australian Quoll Conservancy on a behind-the-scenes tour to locations restricted to the general public while they search for evidence of spotted-tailed quolls.
Then head deep into the forest on a Daintree River safari for some iconic Australian wildlife. Spot saltwater crocodiles (the largest living reptile) in their natural environment, as you navigate down river. To minimize your impact on the ecosystem the boat runs on solar! No engine noise and no stinky fumes that would otherwise upset the wildlife you came here to see.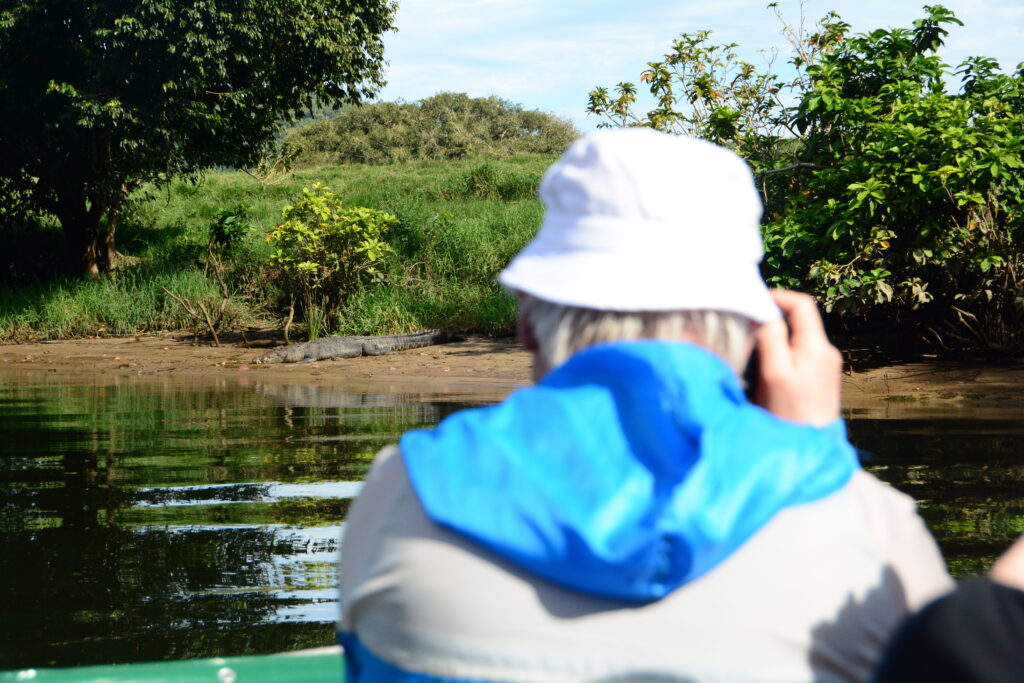 Round out the journey with a night safari in Australia and a visit to the Curtain Fig, one of the largest trees in North Queensland. Still want more? How about an option to visit the Great Barrier Reef to swim in pristine coral reefs to put the icing on top of this well-thought-out tour!
Some of the local wildlife you may spot on their natural habitat in this tour include cassowary, platypus, water dragon, red-legged pademelon, sugar glider, ringtail possum, agile wallaby, green tree snake, Boyd's forest dragon, lace monitor, Australian scrub python, Orange-thighed tree frog, dainty tree frog, azure kingfisher, wompoo fruit-dove, blue-winged kookaburra, white-lipped tree frog, chestnut-breasted mannikin, red-backed fairy wren, and others.
Fun fact: Kookaburras are terrestrial tree kingfishers!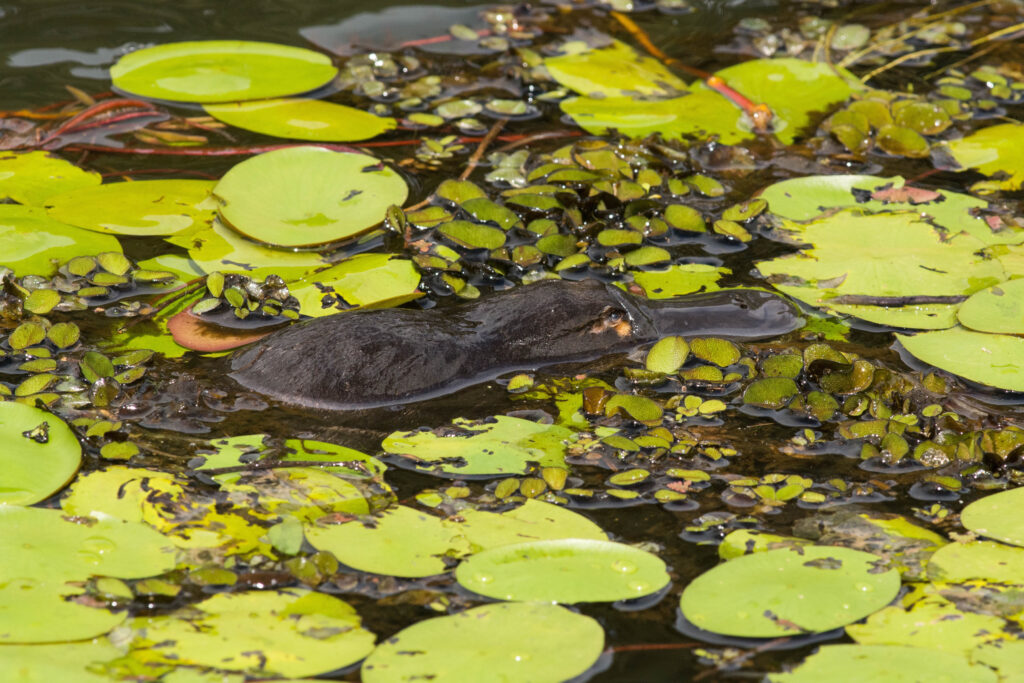 – Tasmania Wildlife and Wilderness Tour –
Premier Travel Tasmania offers several different trips to Tasmania, from wildlife tours to historic Tasmania, to Tasmanian luxury getaways. And always in small groups.
The 5-day Wildlife of Tasmania tour starts with a bang. Your first outing is a 'behind the scenes' night tour of Bonorong Sanctuary and their work rescuing and rehabilitating endemic Tasmania wildlife. Some of the characters you might meet during this immersive experience include Tasmanian devils and eastern quolls.
Another favorite of this trip to this South Australia location is an evening spent with another Tasmanian native animal, the little penguins! You'll visit a colony of the world's smallest penguin, the little penguin (also called fairy penguins) on private land on a guided walk.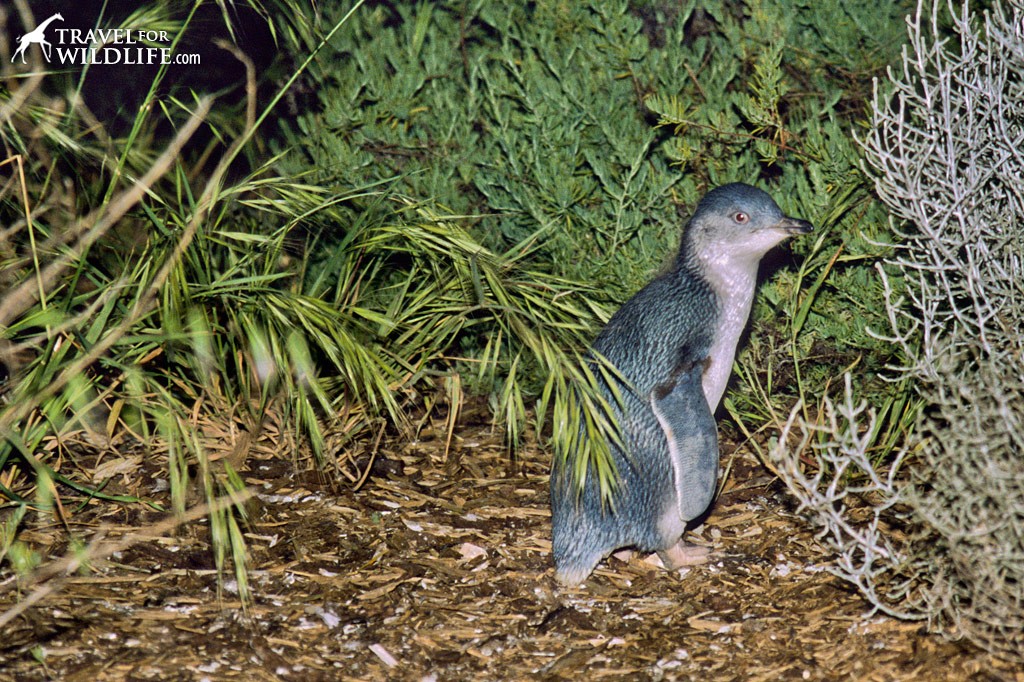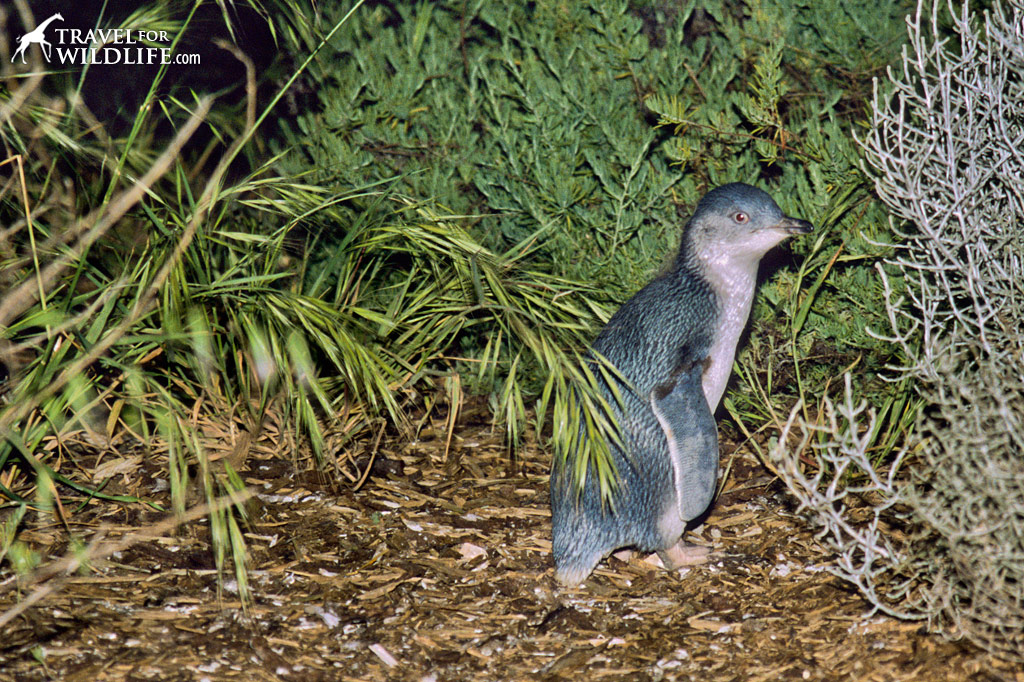 Along the way you'll see St. Columba Falls, the highest waterfalls in Tasmania, and take a boat cruise along the Freycinet National Park coastline. Explore pristine beaches only accessibly by boat, like Cooks and Bryan, and enjoy a full day hike that will take you bring you face to face with the Tasmanian wilderness.
Tasmanian birds typically seen on this adventure are Short-tailed shearwater, green rosella, Tasmanian wedge-tailed eagle, pink robin, yellow wattlebird, and many others.
The journey includes a day trip to Maria Island where wombats, Tasmanian pademelons, forester kangaroos, and Cape Barren geese are the protagonists. Interested in a multi-day hiking tour of Maria Island? Check out the walking tour below!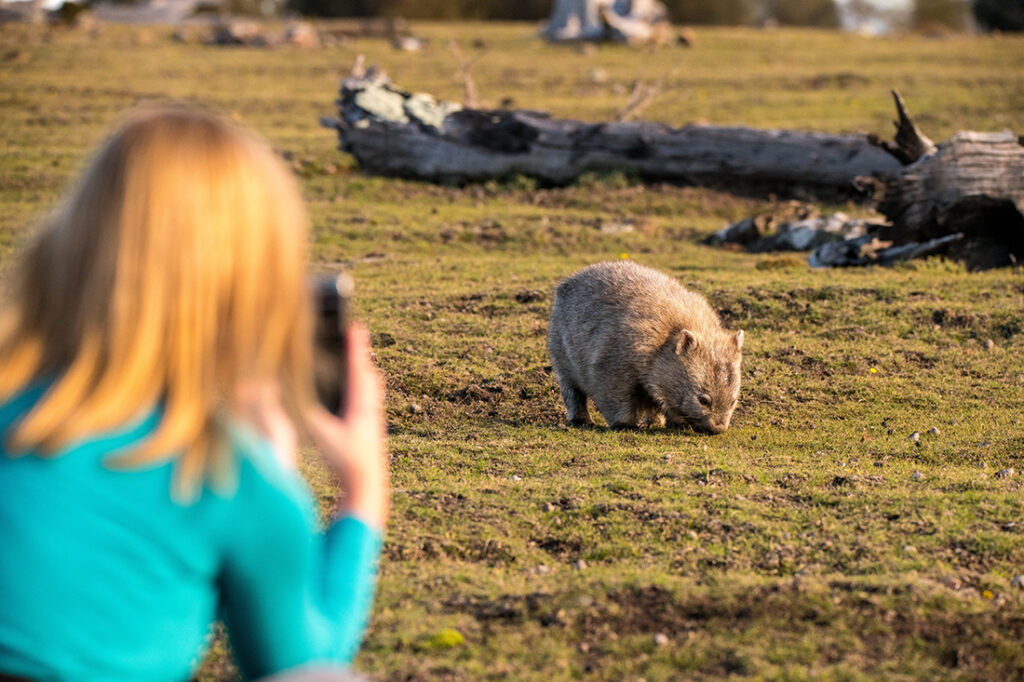 Premier Travel Tasmania contributes to the Tasmanian devil's plight. This includes a donation to the 'Save the Devil program' for every party that joins the tour.
– Orca whales of Western Australia –
Just a five-hour drive southeast of Perth, in south Western Australia, Bremer Canyon brings you the best best chance for orca whale sightings. Naturaliste Charters have an 8h orca whale expedition to see these incredible predators. They have been lucky enough (even if it can be gruesome) to witness successful whale hunts.
Bremer Canyon is a 1.5h catamaran journey from Bremer Bay, and every January to April, over 100 killer whales return to this underwater canyon, and it is almost guaranteed to see them every day. Orcas in this area are very friendly and like to investigate boats by swimming around the bow. Marine biologists on board will interpret orca whale behavior and interactions with other marine species. The goal of the tour is for visitors to leave more knowledgeable about these apex predators than before the tour.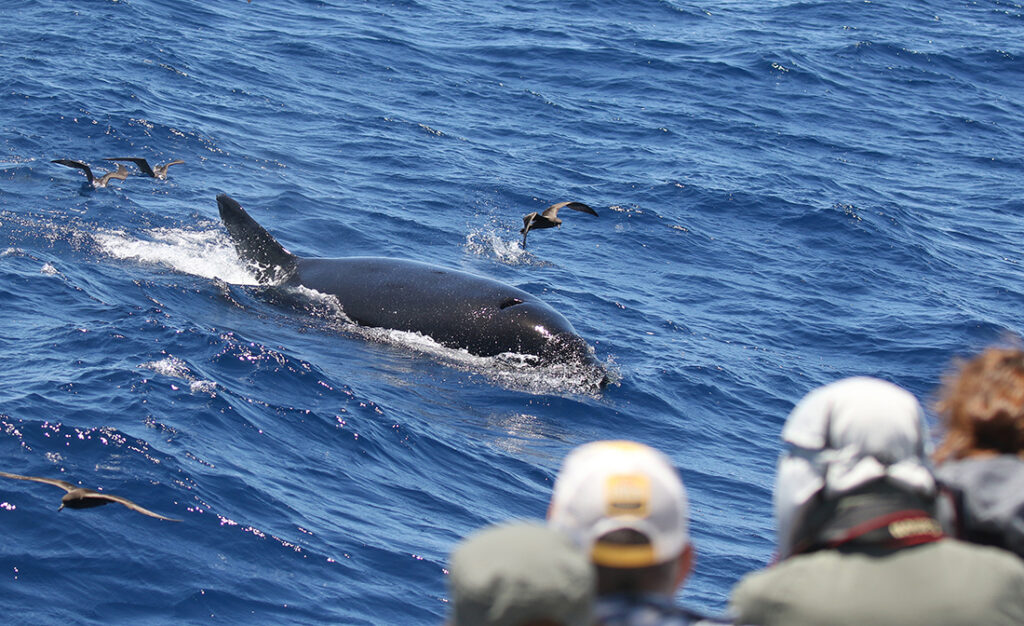 One way that tourists can give back is by becoming scientists for a day for Project Orca. Imagery that travelers take, be it dorsal fin shots or eye patches, can be used by researchers that create catalogs to monitor populations and to understand wildlife movements.
An exciting addition to these tours is acoustic monitoring where you'll be able to listen to different pods. This information is used by scientists to identify different pods and their movements.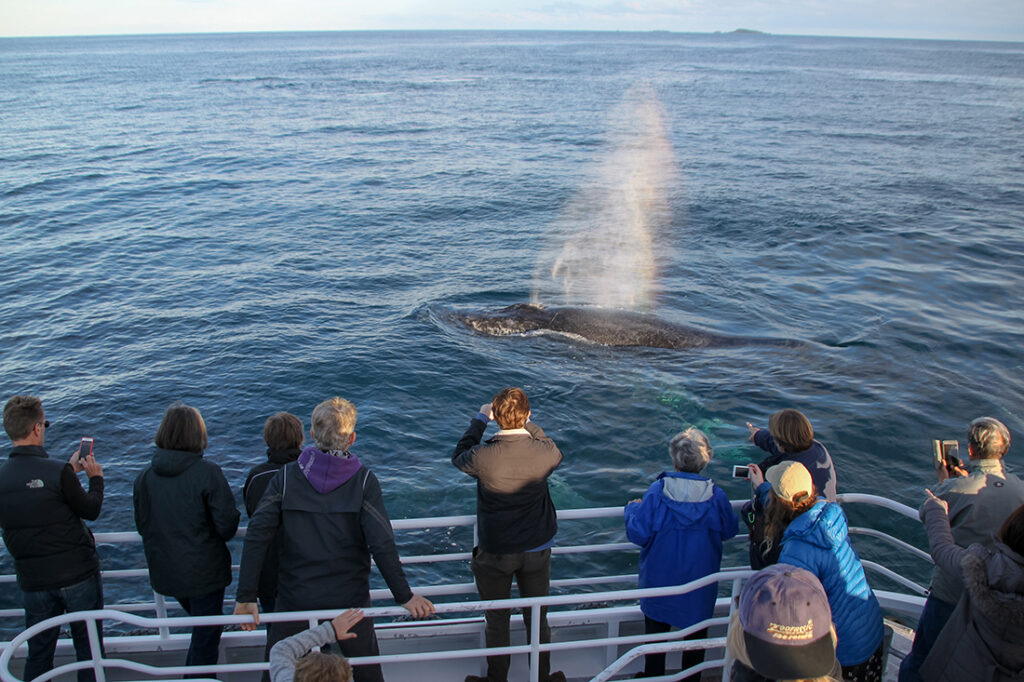 Other wildlife that can be spotted during the outings: sperm whales, oceanic sunfish, long-finned pilot whales, giant squid, pigmy whales, and the rarer beaked whales or blue whales. If it's your lucky day, you might even come up close and personal with pods of striped, bottlenose dolphins. Can also spot different species of sharks including great white sharks, whaler shark and blue shark. You'll soon see that whale watching in Australia is incredible.
Pelagic bird enthusiasts will have the pleasure to see Indian Yellow-nosed albatross, petrel, flesh-footed shearwater and wandering albatross taking advantage of any scraps that the killer whales left behind from their hunting expedition.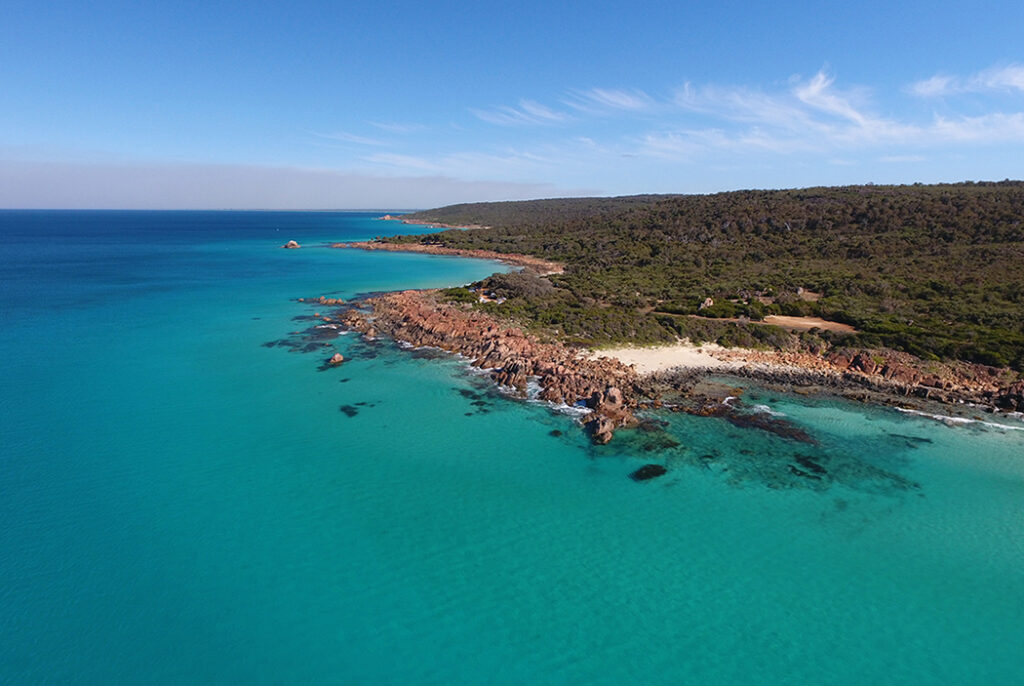 – Tasmanian devils and wombats. Walking tour of Maria Island, Tasmania –
There are a few reasons why you should visit Maria Island in the winter. Firstly, there are fewer visitors this time of year so you and your party may be the only humans around. Perfect for a Maria Island walk with expert guides.
Secondly, winter months (June, July, and August) are when wildlife viewing gets really exciting on Maria Island as native wildlife is busy. Tasmanian devils emerge from their dens, wombats are accompanied by their joeys, the gorgeous Cape Barren geese are busy building their nests, and Tasmanian native hens are having disputes over their territories. It is truly a paradise for wildlife travelers.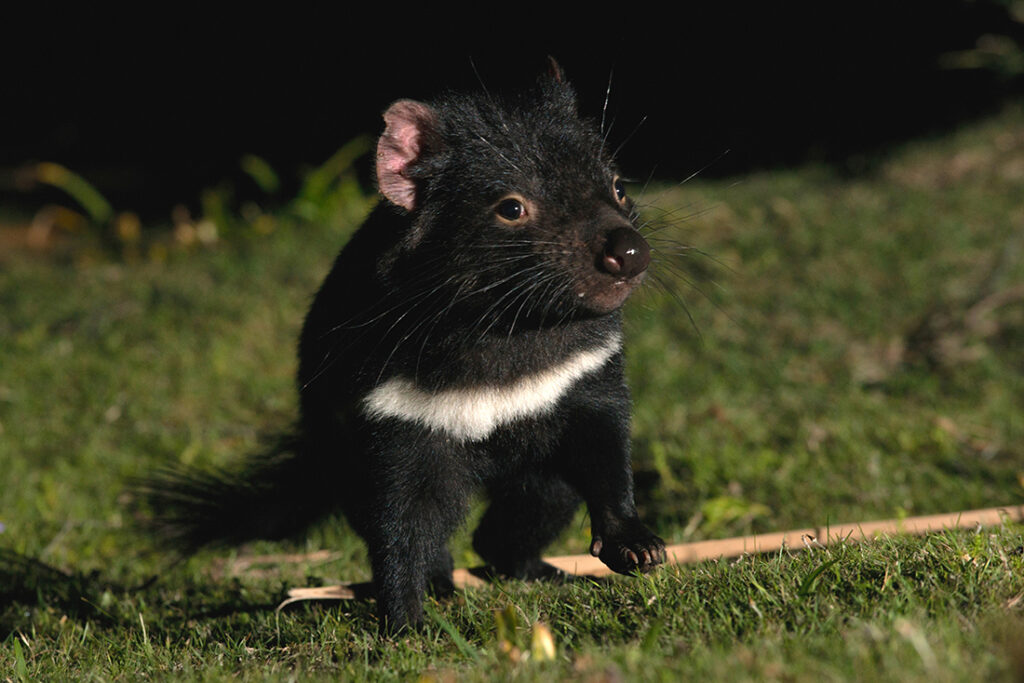 Over the past 20 years, The Maria Island Walk tour company, have been guiding people through this small island off Tasmania sharing the history, wildlife, and culture of this place with travelers from around the world and earning numerous awards. Their commitment to wildlife and sustainability shows in every detail of their trips.
For example, they avoid single-use items like plastic water bottles, they treat their used water on site, and their organic waste is all locally composted. They also pick up any litter they find during their trips encouraging guests to join them. They've donated more than $10,000 to the Tasmanian Land Conservancy to plant trees for the endangered swift parrot (there are fewer than 300 individuals remaining in the wild).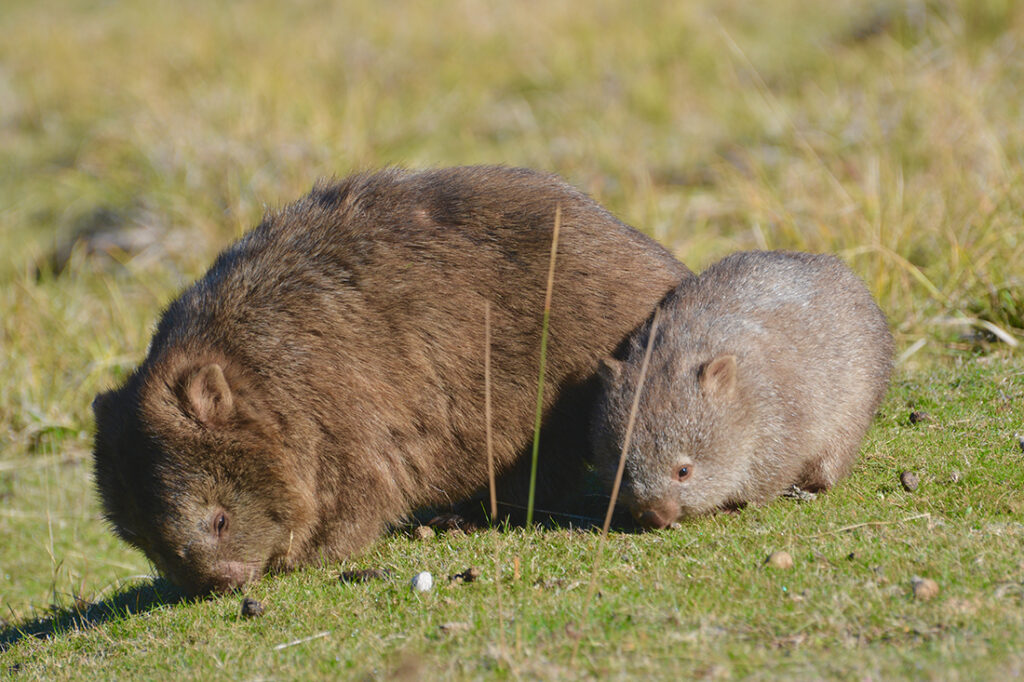 During your 3-day Maria Island Winter Escape, you'll experience different northern Maria Island walks. Since this is one of their small group tours (maximum 8 guests) you'll be able to choose which nature trail you'd like to take that day.
For example, on one day you'll be able to choose between gentle walks or a strenuous hike. The first follows Reservoir Circuit or Oast House Circuit for great opportunities for marsupial encounters. The latter will take you on an 11-mile hike to the towering peaks of Mt Maria or Bishop and Clerk to enjoy the views. This is the beauty of this safari package, you get to choose each day!
The last full day is reserved for a grassland visit to watch kangaroos, Bennett's wallabies, Cape Barren geese, and the gorgeous flame robin.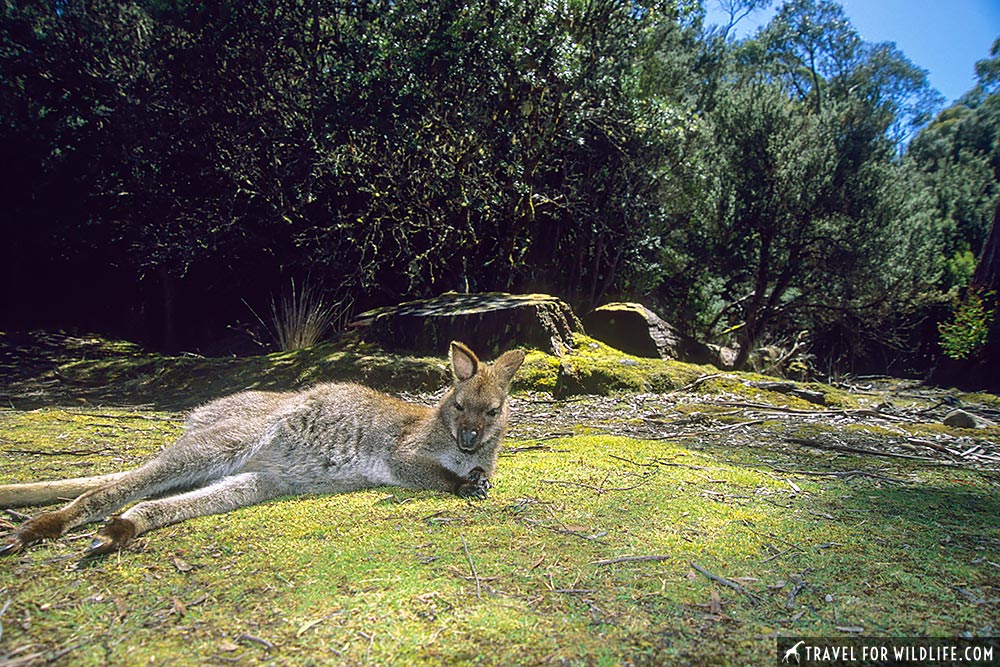 You'll have plenty of opportunities to hear stories from your guides and other travelers while enjoying candle-lit dinners, Tasmanian produce, and fine wines.
– Swimming with Australian sea lions and dolphins, Eyre Peninsula –
A great addition to your Adelaide-based adventures, the 3-day Eyre Peninsula and Ocean encounters with Australian Coastal Safaris tour offers the best of land-based and water-based adventures.
On one hand, you have the incredible experience of swimming with playful Australian sea lions at a spot just off Jones Island. Australian sea lions are very inquisitive, and they love to study swimmers. After this, you'll be taken to deeper waters to search for dolphins and you'll get to get in the water with them. Remember that dolphins are wild animals and very powerful predators and we should always stop the urge to reach out to touch them.
And the other hand you have 2 days to explore iconic national parks like Lincoln National Park and Coffin Bay National Park.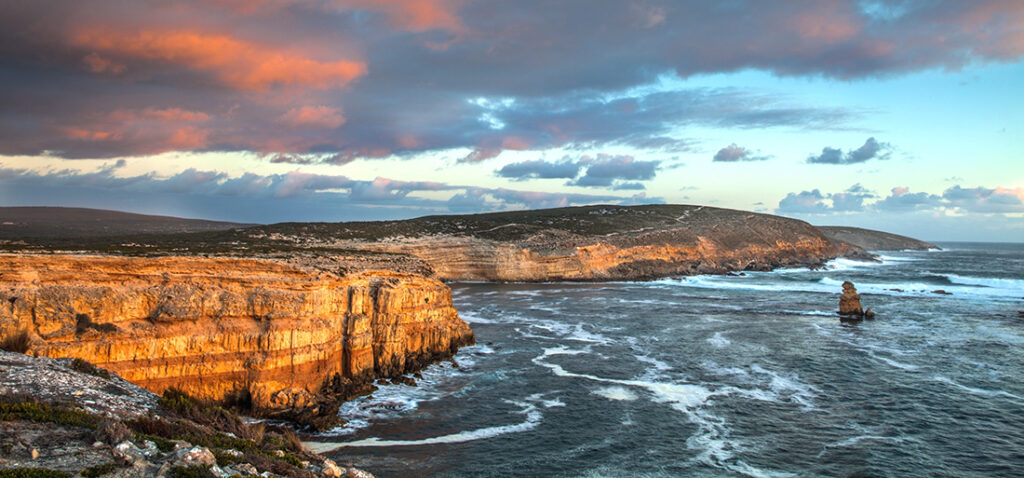 A visit to the Big Swamp Wetland brings sightings of many duck species, like grey teal ducks, pink-eared ducks, chestnut teal ducks, musk ducks, and black swans.
During your visit to Coffin Bay National Park, you'll be busy trying to spot some of the 150 species of birds, 11 species of terrestrial mammals, 20 species of lizards, 12 species of marine mammals, and six species of snakes.
The 70,000 acres of Lincoln National Park offer rugged cliffs, secluded coves, white sandy beaches, sheltered bays, and scenic offshore islands. On the southern side of the park, you'll find the massive, wind-sculpted sand dunes. This national park is one of the many natural wonders in Australia.
Spot osprey, white-bellied sea-eagles, swamp harriers, and whistling kites along the rugged cliffs, and along the more sheltered coves you'll find Australian pipits, striated pardalotes, dusky woodswallows, western yellow robins, and blue breasted wrens.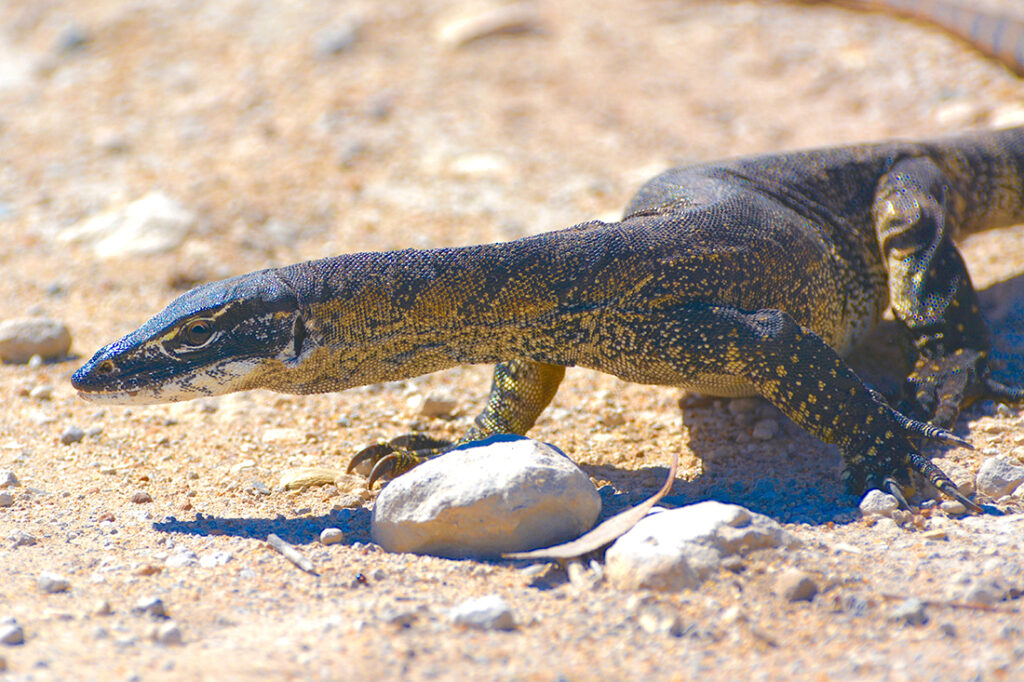 Other wildlife spotted in this tour are numerous skinks, Rosenberg's goanna, dragon lizards, swamp harrier, Australasian shoveler, eastern curlew, long-nosed fur seals, and bottlenose dolphins.
If you ever wanted to learn how oyster farming works, this is your chance as this 3-day tour includes an outing with a local oyster farmer where you'll get to learn all bout oyster farming and do some oyster tasting.
Stroll around Mikkira Station, home of the only wild koala colony near Port Lincoln. Mikkira Station is a private property where the manna gum trees are stunted. The leaves of these trees are the koala's favorite so you'll get to have close encounters with them as they'll often be feeding at head height or just above your head. Western grey kangaroos and emus are also the wildlife highlight together with wood sandpiper, Australasian shoveler, eastern curlew, diamond firetail, and scarlet robin.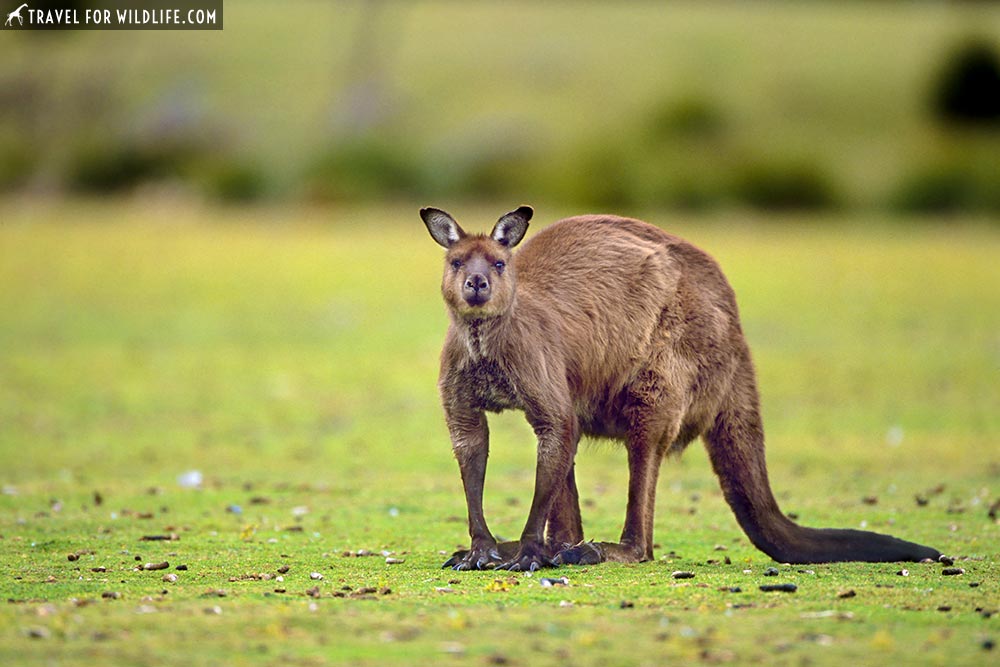 Add an extra day to your tour and visit the Neptune Islands where you can observe great white sharks from a cage. During the day outing, you'll have plenty of opportunities to spot white-bellied sea eagles, Australian sea lions, long-nosed fur seals, and occasionally pilot, blue, or southern right whales during the winter season.
– East Gippsland Wildlife Journey with Echidna –
Janine is a bit of a celebrity in the wildlife tourism world. She founded Echidna Walkabout Nature Tours 30 years ago with her partner Roger and they've been studying Australian wildlife and leading wildlife tours together ever since. Their commitment to responsible wildlife tourism was recognized by the tourism community when they won gold at the WTM Responsible Tourism Awards. They also went the extra mile by founding the Koala Clancy Foundation and, with the help of some generous landowners, they started restoring land for the wild koala population by planting native trees. (73,000 trees planted since 2016!)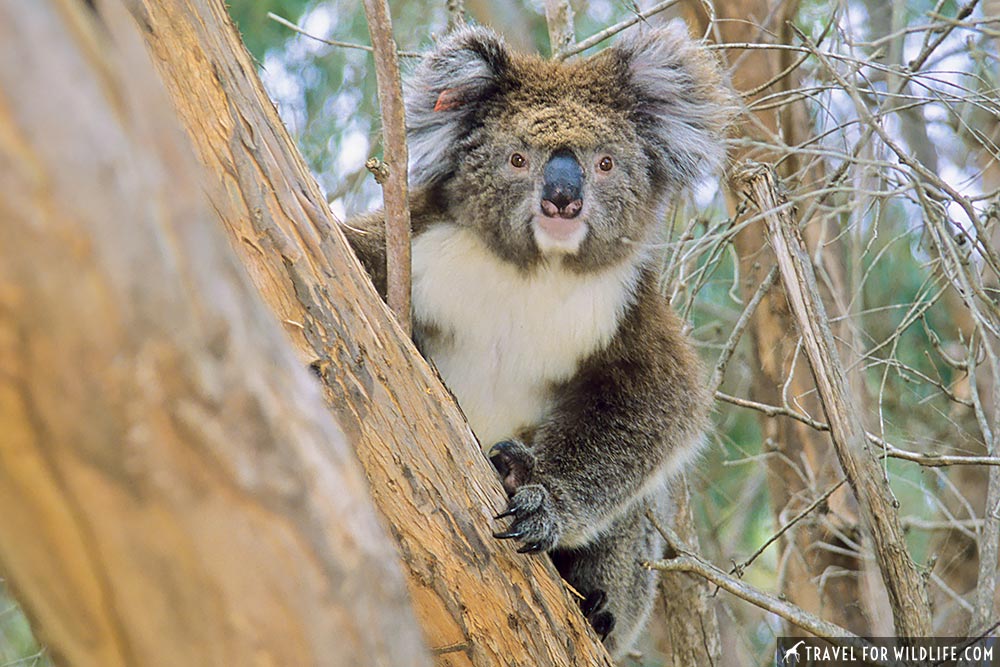 Now you can join them on their East Gippsland Wildlife Journey and learn about the magnificent wildlife and diverse landscapes of the region.
This 4-day trip east of Melbourne takes you through the RAMSAR wetlands of the Lake District. It's in this area of lush eucalypt forests where you'll be rewarded with iconic Australian wildlife like koalas, kangaroos, echidnas, Australian parrots, and honeyeaters. During this outing, you'll help record wildlife species sightings for scientific purposes.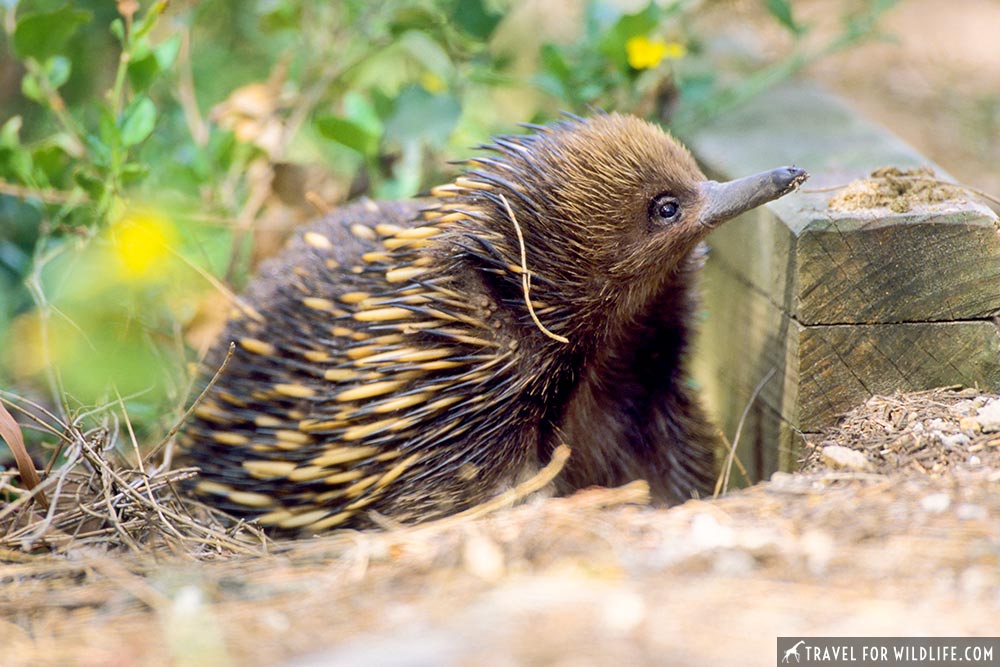 The rest of the trip is spent in Giant Alpine Ash forests and woodlands, the perfect habitat for spotting gliders, visiting a complex dune system, and learning about how Aboriginal people have lived in this ancient landscape for thousands of years at Krowathunkoolong Keeping Place, an Aboriginal Learning Center.
Along the way, the group will also help recover discarded fishing nets from the beaches.
A biodiversity-rich area, some species that you might encounter are platypus, dingos, dunnarts, quolls, diamond pythons, flying foxes, galahs, king parrots, wallabies, wombats, bandicoots, rosellas, and lace monitor.
One of the magnificent birds you'll spot on this trip is the Superb Lyrebird, known for its incredible mimicry skills and for sounding just like R2D2!
– Bird tour at Kangaroo island –
Kangaroo Island is the third largest Australian island and is just southwest of Adelaide. Over a third of the island is protected and its diverse geology, weather, and landscape make it a haven for a wide range of wildlife. In fact, you could spot more than 260 species of birds! This is why Kangaroo Island is the perfect place to book a private birding tour with Exceptional Kangaroo Island.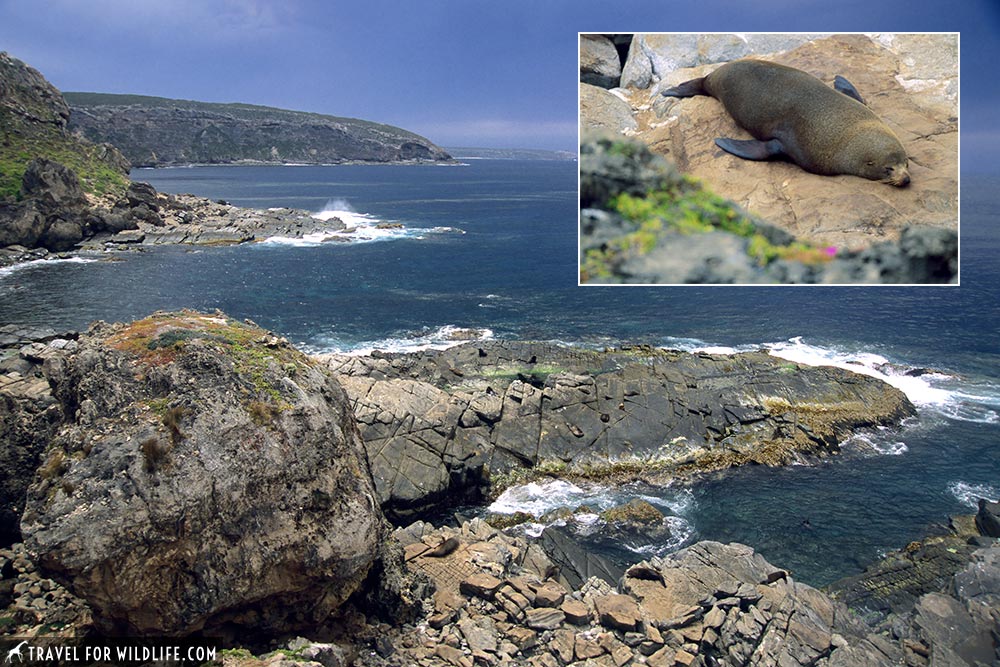 A bird tour in Kangaroo Island is slow and immersive. While many visitors rush to get to Flinders Chase National Park and its exceptional rock formations (like the famous Remarkable Rocks and the stalactite covered Admirals Arch), your group will also stop and observe other wildlife you spot during the drive.
Since this is a private tour, this can always be fine-tuned to your interests. There are good chances to see Kangaroo Island kangaroos, tammar wallabies, and short-beaked echidnas during the drives to different birding locations.
At Remarkable Rocks it's time to pull your binoculars out and scan for Australian kestrels, southern emu-wrens, tawny-crowned honeyeaters, white-bellied whipbirds.
At Admiral's Arch you can visit with Australian ravens, Pacific gulls , sooty oystercatchers, crested terns, and a long-nosed fur-seal colony.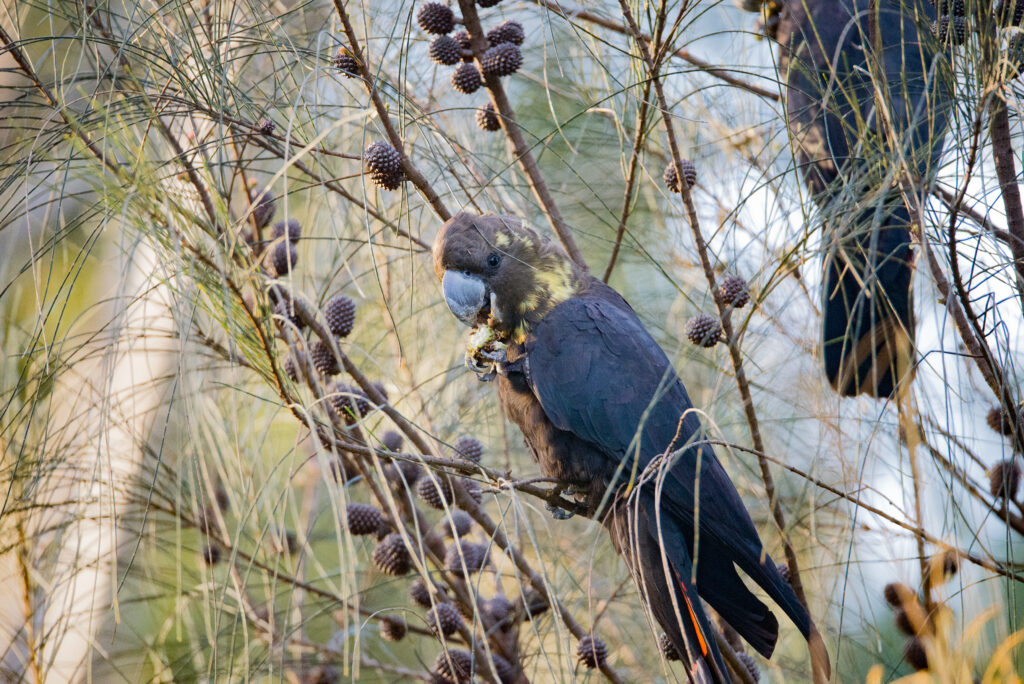 One of the stars of this tour is the glossy black-cockatoo. Not to mention galahs, little corellas, and grey currawongs. You'll take a boat ride to a conservation area to observe protected bird colonies of white-bellied sea-eagles, royal spoonbills, and Australian pelicans.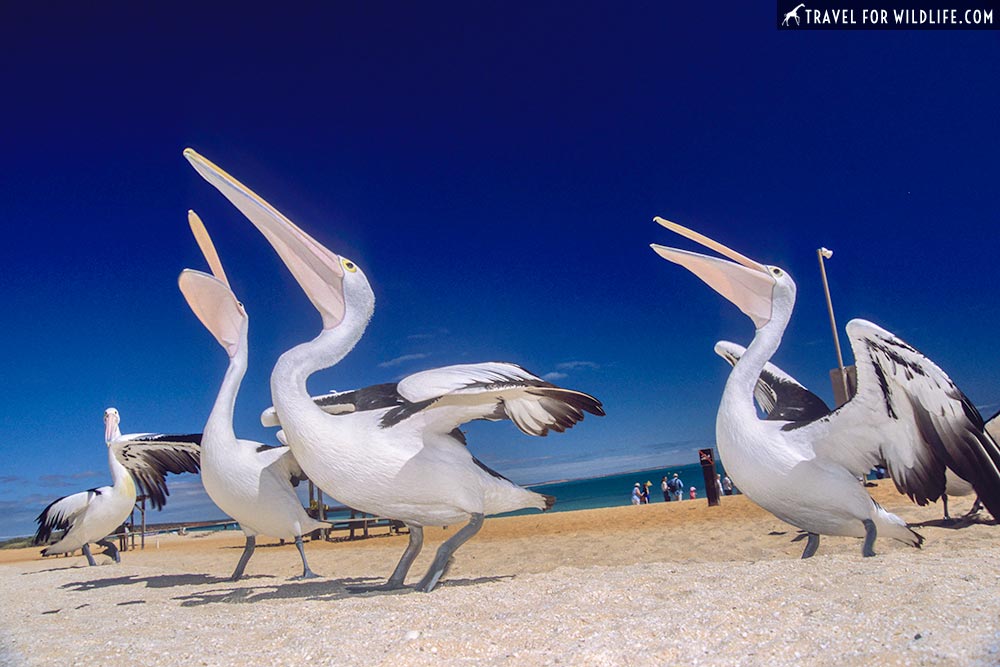 During your journey you'll have the opportunity to take a private tour among Australian Sea lions at Seal Bay, taking your time to watch sea lion behavior and learn about their biology from your guides. You might also encounter caspian and crested terns, hooded plovers, sooty oystercatchers, eastern ospreys, and pied cormorants.
This private tour will give you the opportunity to learn more about the natural history of the island from your knowledgeable guide and also enjoy delicious meals in gorgeous surroundings, like a picnic on a clifftop or a seafood barbecue. If you are used to the luxury safaris offered in Southern Africa you won't be disappointed!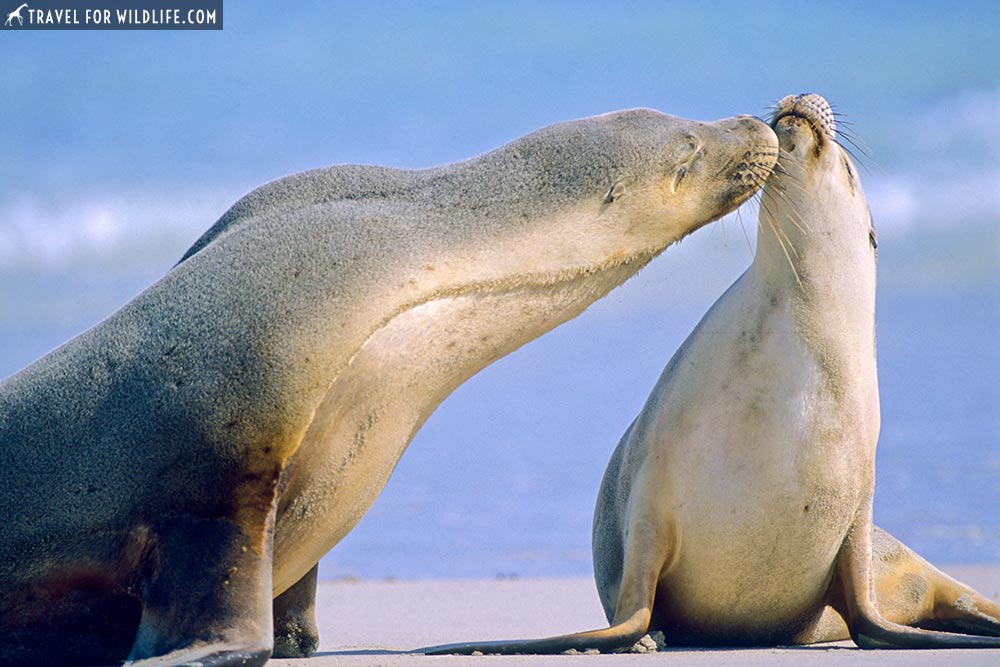 – Swim with whale sharks and humpback whales at Ningaloo Reef –
If you find yourself in Western Australia, a visit to Ningaloo reef is in order. Ningaloo Marine Park protects 1.5 million acres along the coast of Exmouth peninsula, including the Ningaloo reef. The reef is just a few meters from the shore and easily accessible. Visitors to this marine park can swim with whale sharks, turtles, manta rays, and even humpback whales in their natural habitat.
Every year around 30-40,000 humpback whales migrate to the area from Antarctica from June to late October. It is then when they bring their calves to the feeding grounds. An opportunity to not only witness this wonderful wildlife spectacle but to be in the water with them is life-changing. This is one of the reasons why whale watching in Australia is one of the best in the world.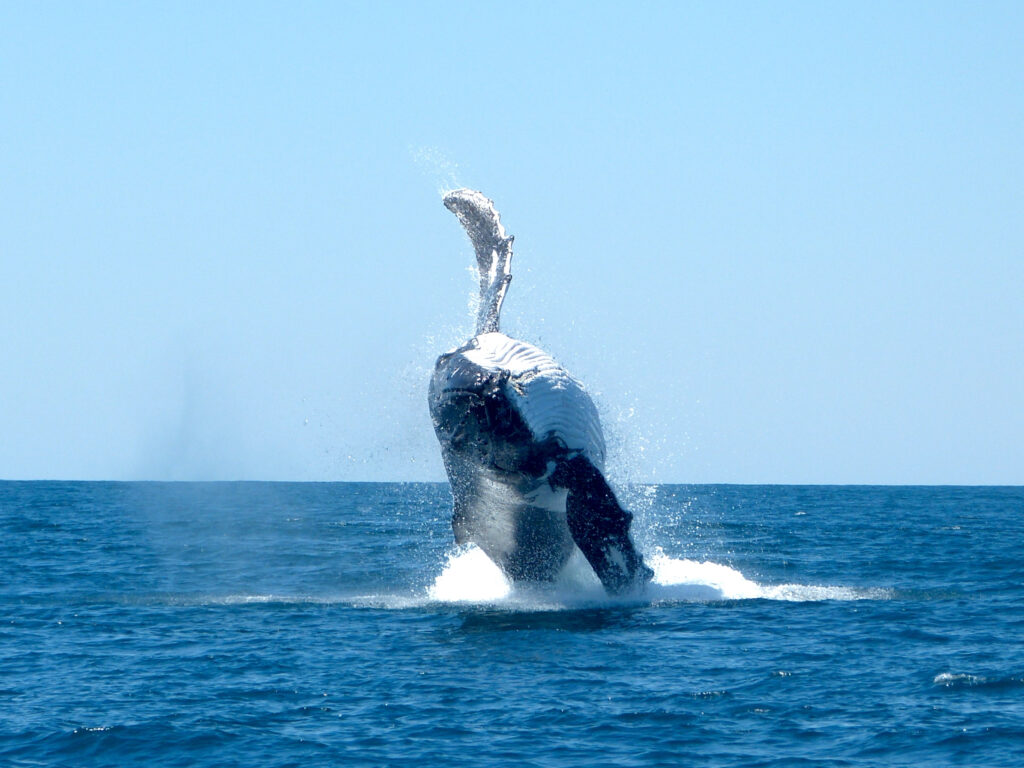 A full-day trip with Exmouth Dive & Whalesharks will take you on a swim with humpback whales outing of a lifetime. The boat has a special license to approach the whales within a distance of 250 ft. This is where the boat stops and snorkelers are allowed in the water. An expert crew will guide you through the experience and will advise you on the proper behavior around these incredible animals.
While these tours are not a multi-day event, you can do a few of these and swim with whale sharks, swim with humpbacks, and spot manta rays and sea turtles during the same trip while you are based in the area.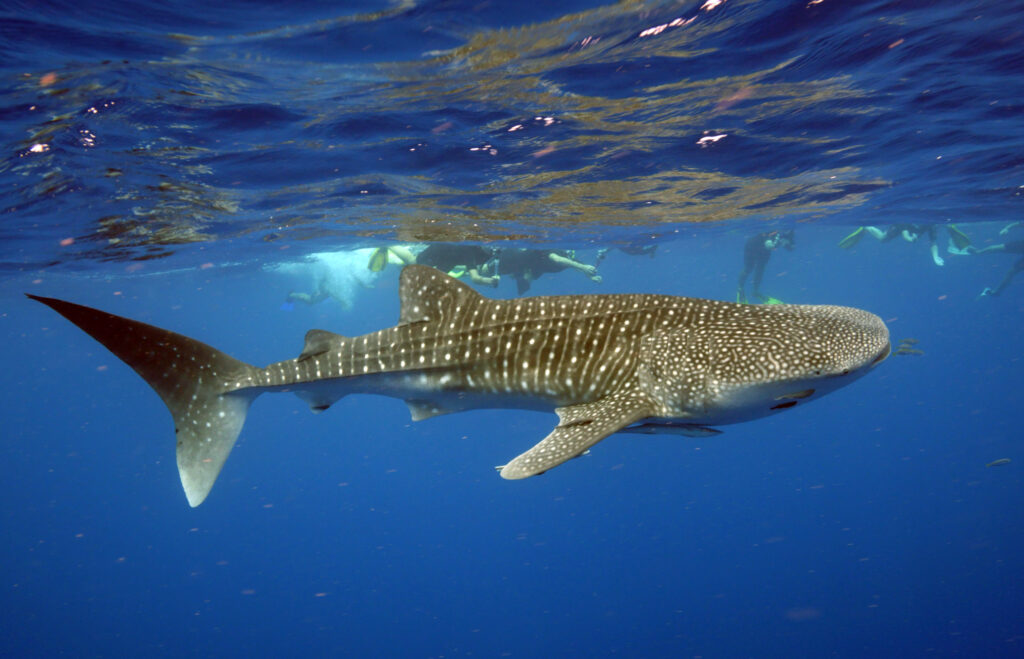 Timing is everything though. Whale sharks are in the area from March to August, humpback whale trips run from mid-July to late October, and manta rays are found cruising along the reef between April and November. Book your trip during the best time to see your favorite marine species.
Other marine life seen during these outings is spinner dolphin, dugong, Australian humpback dolphin, parrotfish, butterfly fish, damselfish, potato cod, coral trout, black-tip reef shark, and others.
If you are a diver take a look at their diving trips. On one of their recent outings, they spotted a rare Czeblukov's sea snake!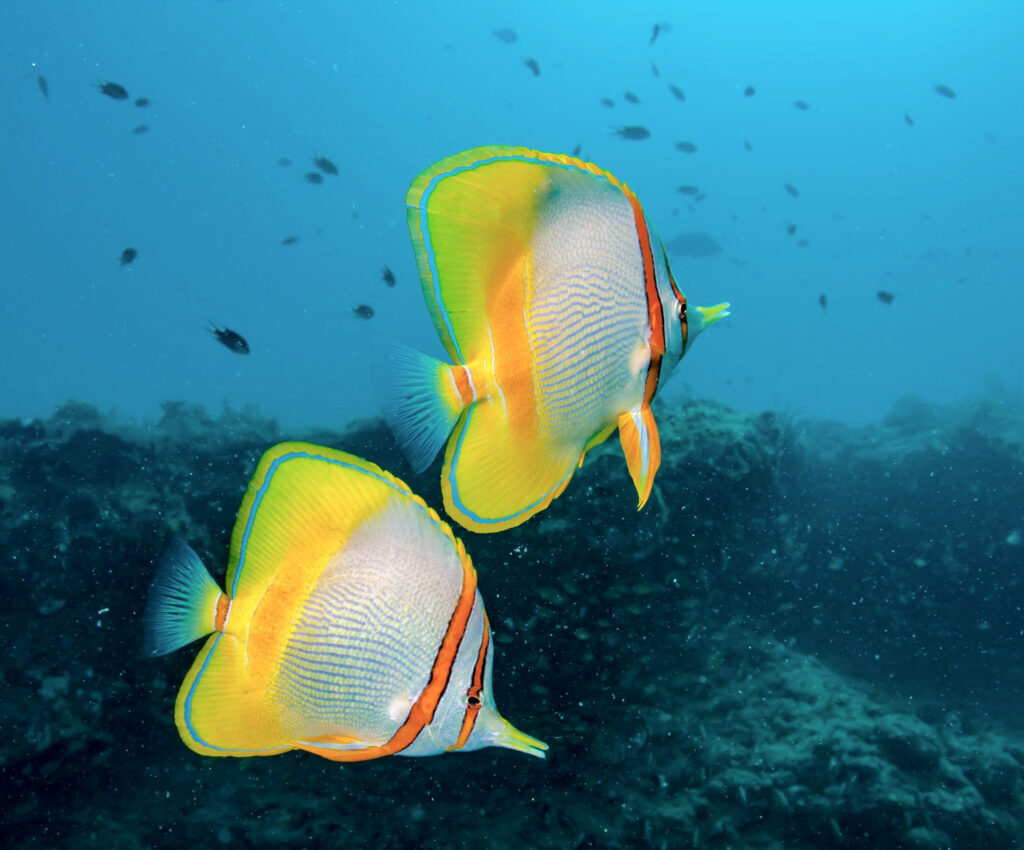 – Red crab migration and birdwatching at Christmas Island –
Christmas Island's red crab migration is one of the most incredible wildlife spectacles on Earth. During October-November, with the arrival of the first rains, millions of red crabs leave their homes in the forest and make their way through the forest and to the ocean to breed.
Here's a tip: the crab migration only lasts a few days (a couple of days on their way to the ocean, and a couple of days on their way back to the forest) so try adding a birdwatching tour and snorkeling trip during red crab migration to round out your wildlife experience!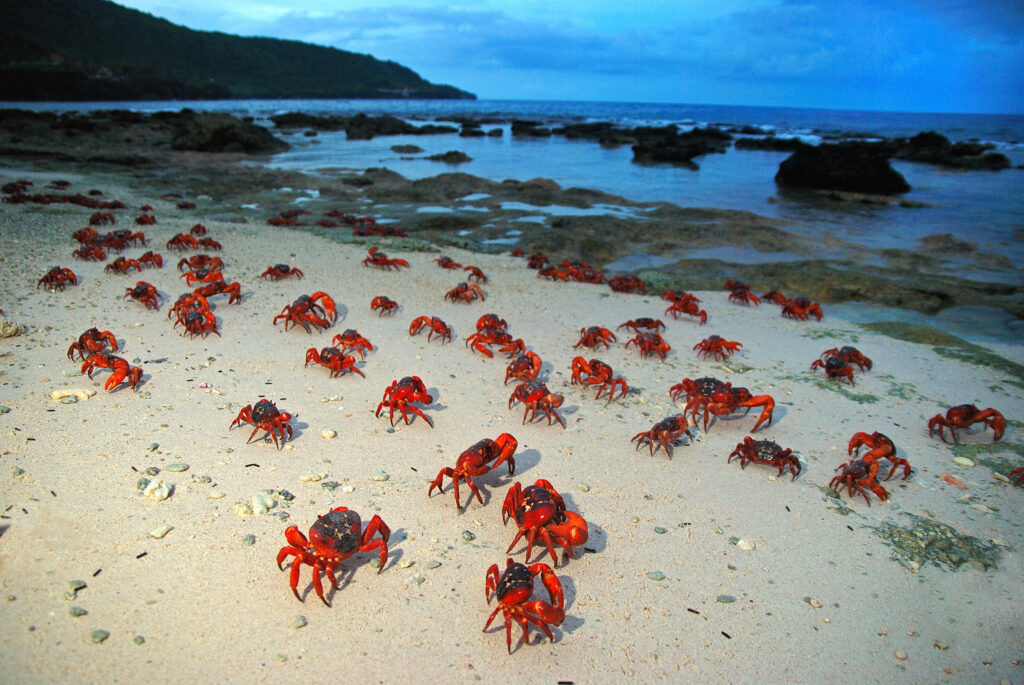 With over 60% of the island covered by Christmas Island National Park, the island is famous not only for its red crabs but for its fantastic bird-watching opportunities and snorkeling.
Indian Ocean Experiences offer a birdwatching tour on Christmas Island that combine two or more of these unique experiences.
Christmas Island is home to one of the world's most famous rookeries, where 80,000 sea birds nest every year. This is your only opportunity to see Christmas Island frigate birds and the endemic Abbott's booby. They spend most of their lives hunting at sea and Christmas Island is the only place where they nest. The colony supports about 3,000 birds.
Other birds that you'll spot during your tour are Christmas Island hawk owl, Christmas Island emerald dove, brown booby, common noddy, red-footed booby, golden bosun, nankeen kestrel, sacred kingfisher, red-tailed tropicbird, Christmas Island white-eye, Christmas Island thrush, Christmas Island imperial pigeon, and Christmas Island goshawk.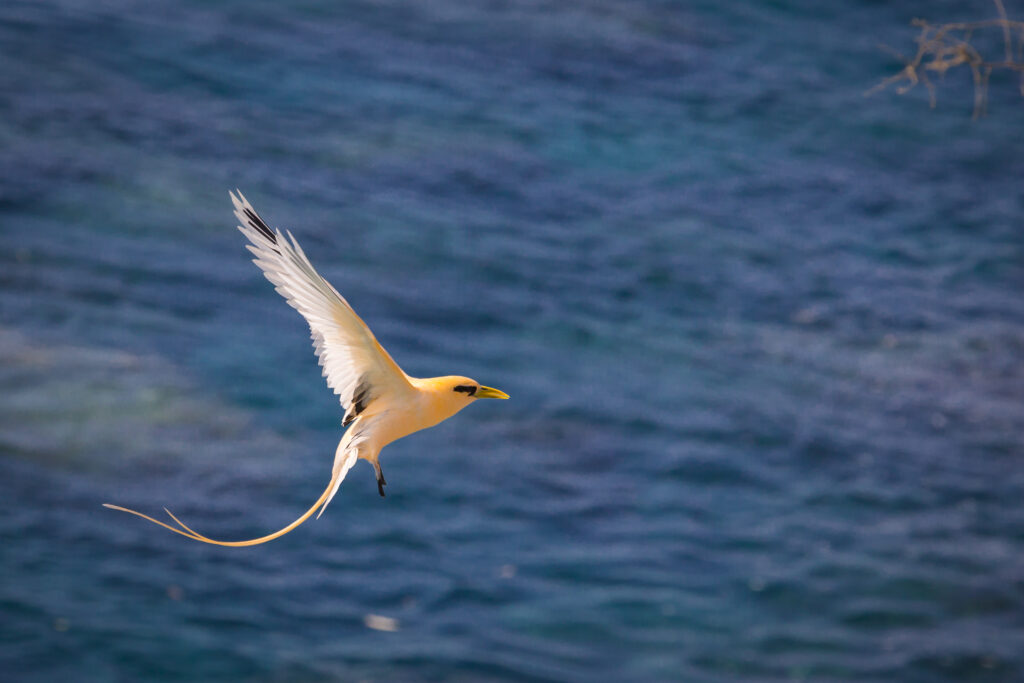 Snorkel in the newly proclaimed Christmas Island Marine Park habitat protection zone where whale sharks, turtles, manta rays, spinner dolphins, coral reef species, oceanic fish, and a vast array of seabirds call this magical place home. Find your next favorite deserted beach!
Fun fact! Did you know that there are bioluminescent fungi on Christmas Island?
– Murray River safari on a houseboat, South Australia –
Join this multi-activity 3-day river safari on Australia's longest river. The Murray River winds its way across the dry outback transforming the arid landscape into an oasis of lakes, floodplains, billabongs, islands, ancient red gum forests, wetlands, and riverine forests. And it's full of incredible wildlife. Incredible that this oasis is so close to Adelaide.
Living on a river doesn't mean roughing it, as during your Murray River Safari you'll be staying on a luxury houseboat where you can enjoy nature from your comfortable room during your downtime. Alternatively, enjoy the river from the hot tub on the top deck. Watch the dark night sky, marvel at the river sunset, enjoy luxury meals with your fellow travelers, and share stories while sipping on local wines.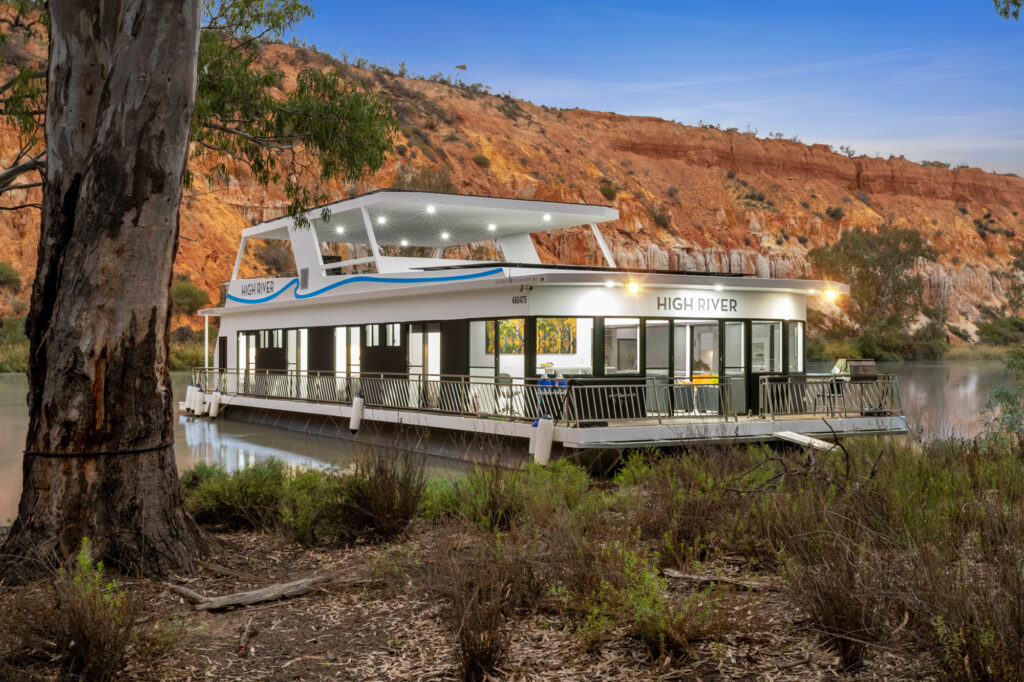 Your houseboat is perfect for a wildlife cruise. As a small capacity boat housing no more than ten people, you'll enjoy 2 bathrooms with hot showers, a spacious lounge and a modern kitchen. The river safari with Murray River Trails follows the Leave no Trace approach as no waste is dumped in the river and no infrastructure has been built in the river. And since you are on a houseboat with a luxury lodge feel, your sunset tour is included.
After boarding the luxury pontoon cruiser your guides will teach you about the river system and the history of the area. After lunch, a cliff walk with an expert guide will take you higher up to marvel at the views of the river and its forests, and will be a great opportunity to spot some rainbow bee-eaters as they nest in the sand dunes and cliffs.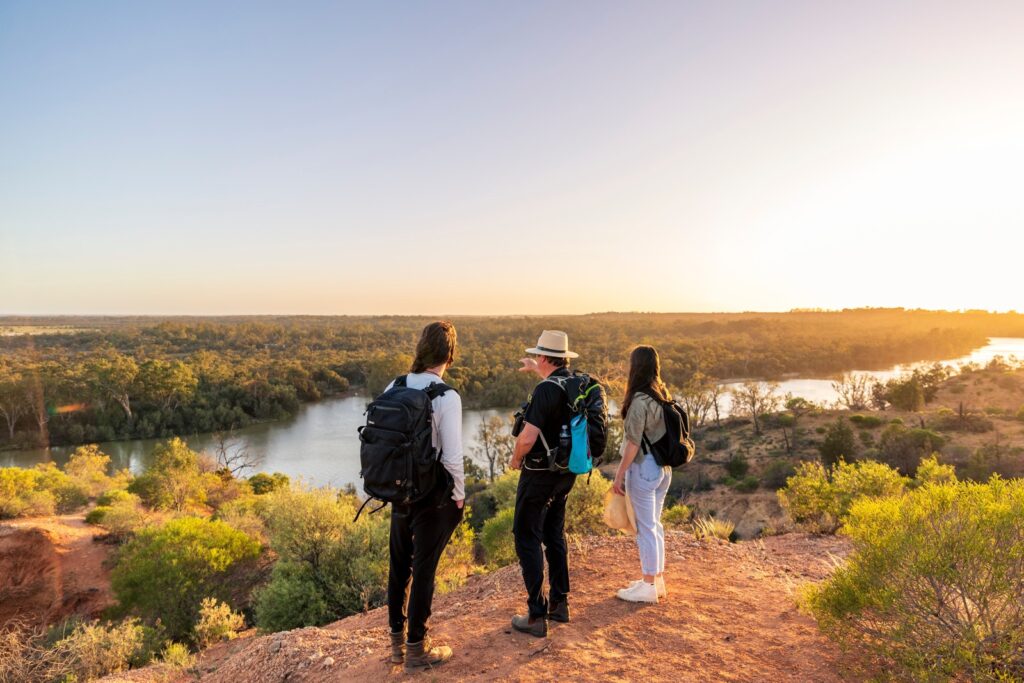 Dinner doesn't mean the day is over, as you'll get to experience a guided night walk to spot tawny frogmouths and brush-tailed possums and listen to the different frog species that live in the floodplain. This is one of the many authentic experiences you'll have during your Australian safari.
Your second day on safari involves a nature drive along the ephemeral lakes to enjoy some birdwatching. Some bird species you might spot are white-winged fairy-wrens, black swans, sharp-tailed sandpipers, white-winged trillers, Australian pelican, red-capped robin, bluebonnets, emus, pied stilts, red-necked avocets, and raptors. Also, you'll have opportunities to spot red kangaroos, koalas, and short-beaked echidnas.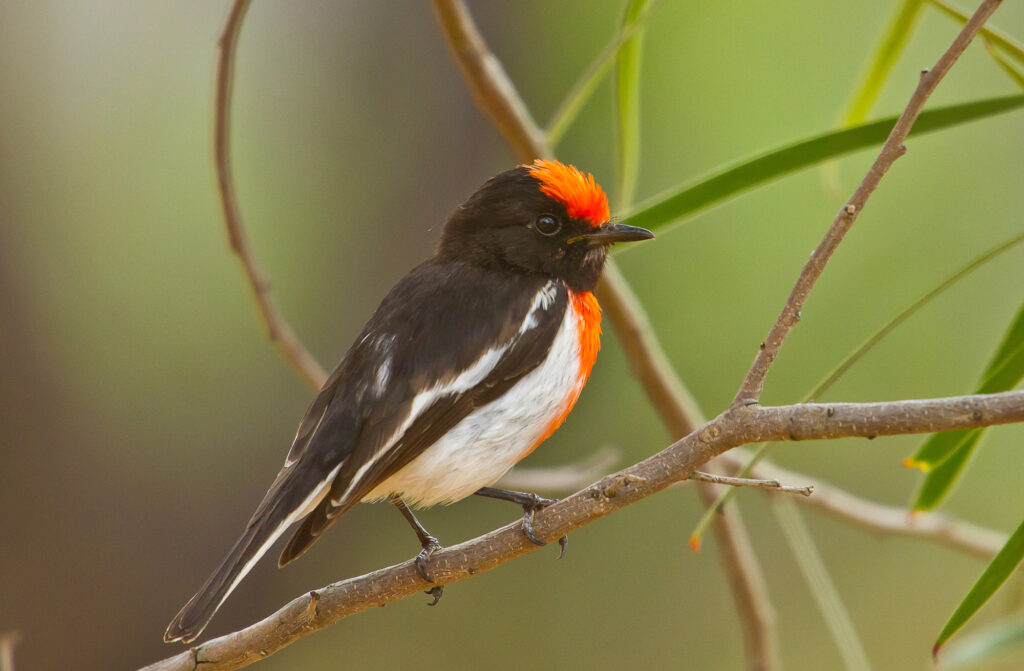 Your last day will take you on a guided canoe trip on the Riverland Ramsar river system where you'll explore the backwater and small creeks while listening to the sounds of this natural system. Spot western grey kangaroos, lace monitors, and yellow rosellas.
As a farewell to the river, lunch is served on the top deck of the houseboat during the last leisure cruise.
In 2020, Murray River Trails founded the Murray River Trails Fund, a sub-fund of the Australian Communities Foundation. The Fund provides grants to registered charities that work on projects to improve the health of the river floodplain; improve biodiversity; and inspire people to care for the river system. You can donate here.
---
As you've seen there are plenty of opportunities to watch wildlife in Australia. Joining an Australian wildlife tour is the way to go as they know where the animals are, their behavior, and ecology, and will also show you the many different ways you can help native animals during your travels.
Have you chosen one Australian wildlife tour yet for your future trip? What's you next safari adventure?
---
---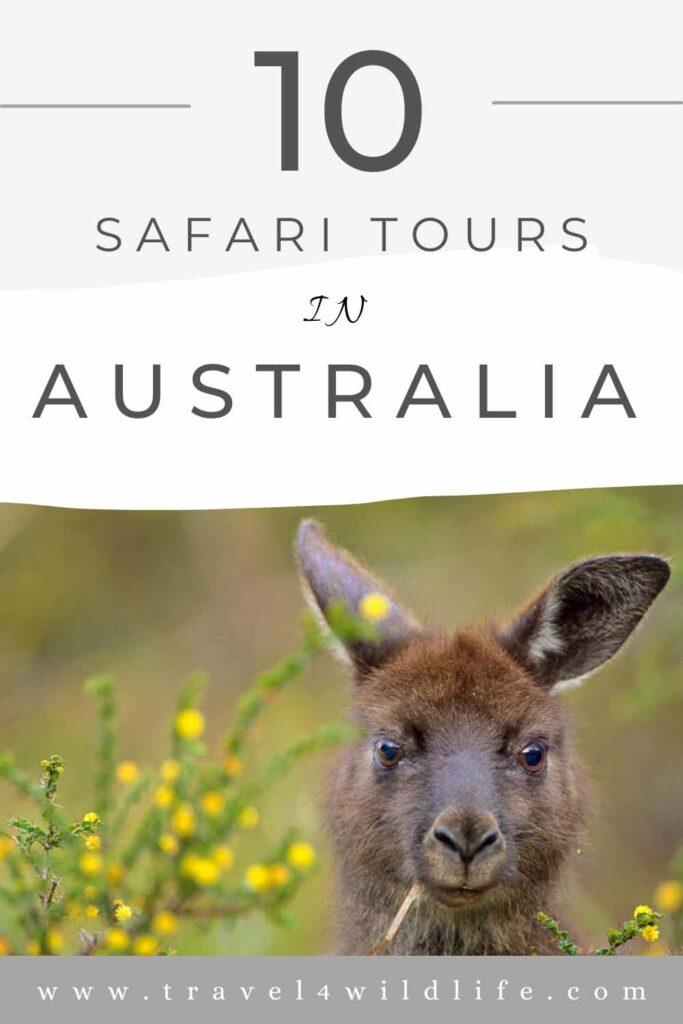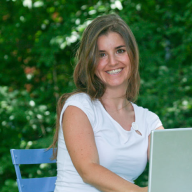 Cristina Garcia
Zoologist and wildlife photographer. She has worked in the field with jackals, wolves, cheetahs, & leopards. She serves on the Board of Directors of SEE Turtles, a non-profit sea turtle conservation organization.
Read her posts at Travel For Wildlife and see more of her work at Truly Wild, & Our Wild Yard.