Our favorite time to visit Yellowstone is in the winter. It might be very cold and only one road is open to cars, but finding wildlife in Yellowstone in the winter is an incredible experience. Get ready to see bison covered in snow and ice, coyotes fighting over carcasses, and wolves hunting.
After visiting the park a few times during winter, we have found the best places to see wildlife in Yellowstone in winter.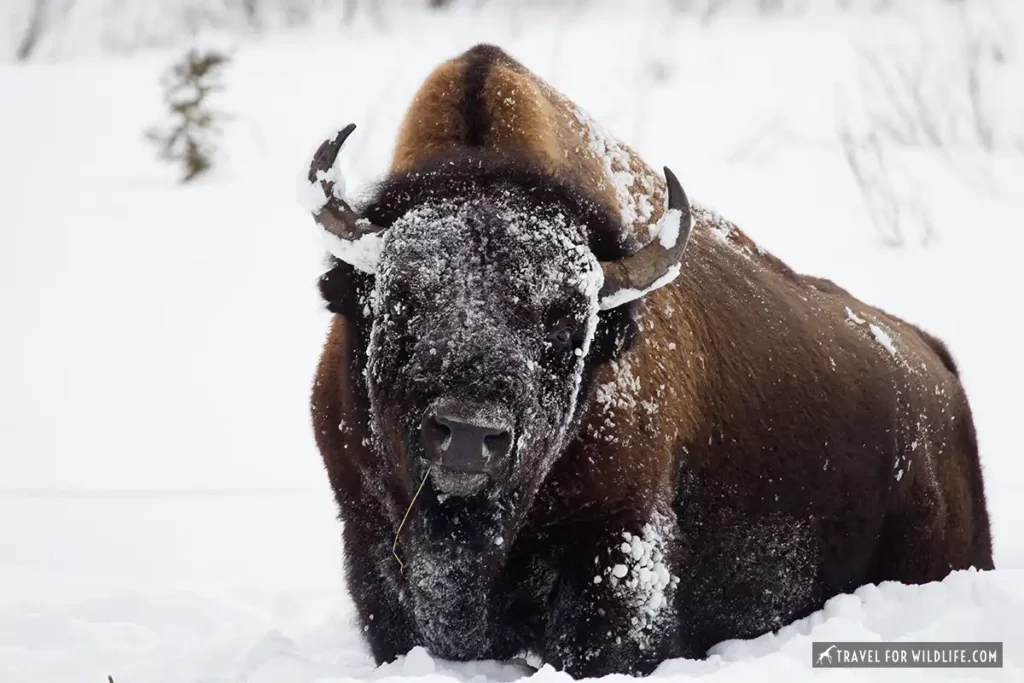 We made a video showing some of the wildlife we saw during one of our winter trips to Yellowstone and what you can realistically see.
In winter, all the entrances to the park are closed except one: the north entrance at the town of Gardiner. Technically, the northeast entrance at Silver Gate is also open but you can't enter the park from here. You can only exit the park as far as Cooke City.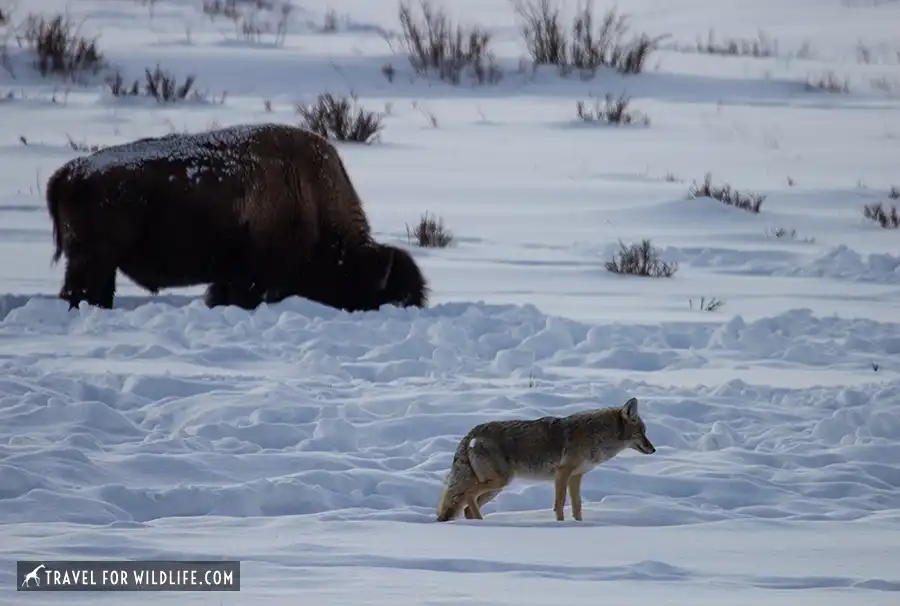 Where to see wolves in the winter in Yellowstone
We have covered this pretty extensively in our post Wolf watching guide in winter. The main advice is to search for wolves at the Slough Creek campground trail. Park the car at the trailhead and walk towards the campground until you reach the Slough Creek. In the summer you can park your car there, but in the winter you can only drive until the trailhead. So take your binoculars and coffee, and sit above the creek. From here you can scope a large area. We've found wolves from here several times.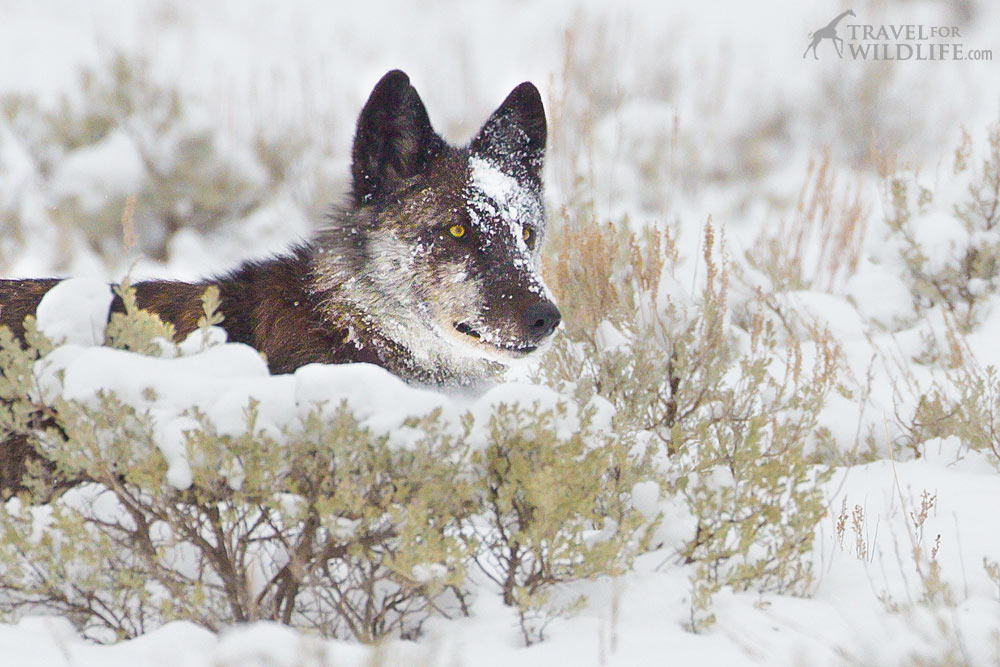 Another place is at the Lamar River trailhead. You get a good view of the valley. Also, look up in front of you. There's a bald spot at the top of that mountain across the river. We've seen wolves pursue bison up there while watching from the parking area (you can see what happened in the video at the beginning of the article).
Ask around, almost everyone knows where wolves were last seen. Be courteous and share your findings too.
Where to see mountain goats in Yellowstone
It is very tricky to see mountain goats in Yellowstone in the winter. They are white and they blend in with the snow. But here is where you can spot them (you probably need a scope, although Hal spotted them with our tiny 8×21 binoculars):
1) Park your car at the Pebble Creek pullout or the next one heading west on the opposite side of the road. Get your scope and search for mountain goats along Thunderer Peak, just across the road from the pullout.
2) Mountain goats can also be seen on Baronette Peak, further east of the Pebble Creek pullout.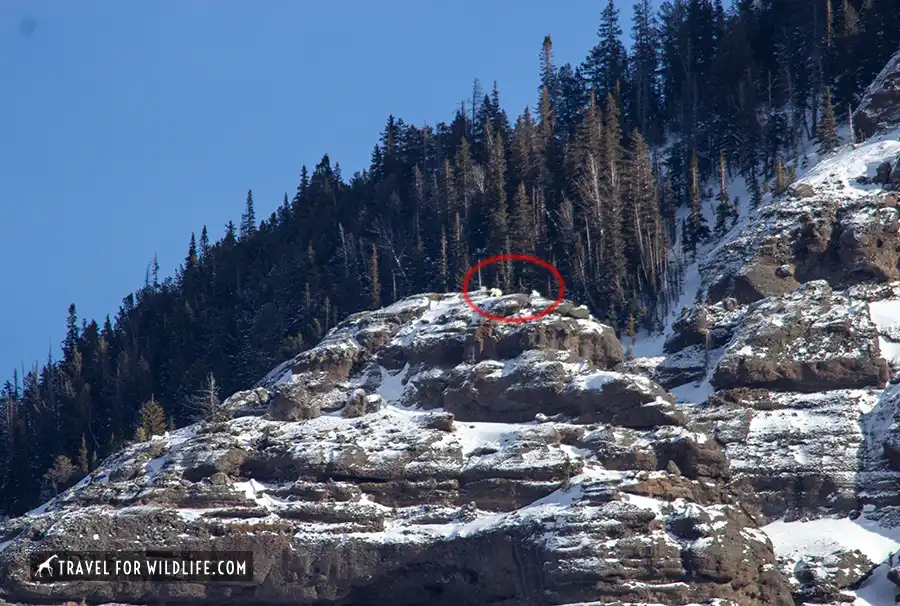 Where to see bison in the winter
Bison are almost everywhere, grazing on the plains by plowing snow with their massive heads, sheltering under trees, or even walking down the middle of the road. It's hard to miss their huge dark forms against the bright white snow. My favorite place to find bison in Yellowstone is along Soda Butte Creek as there are less people and the scenery is spectacular.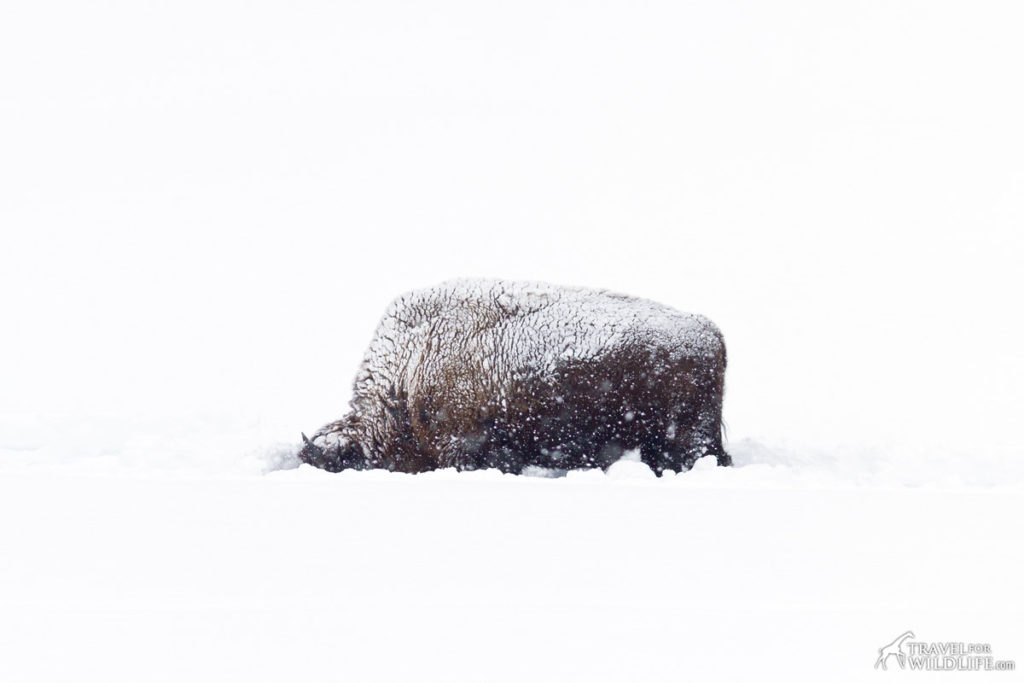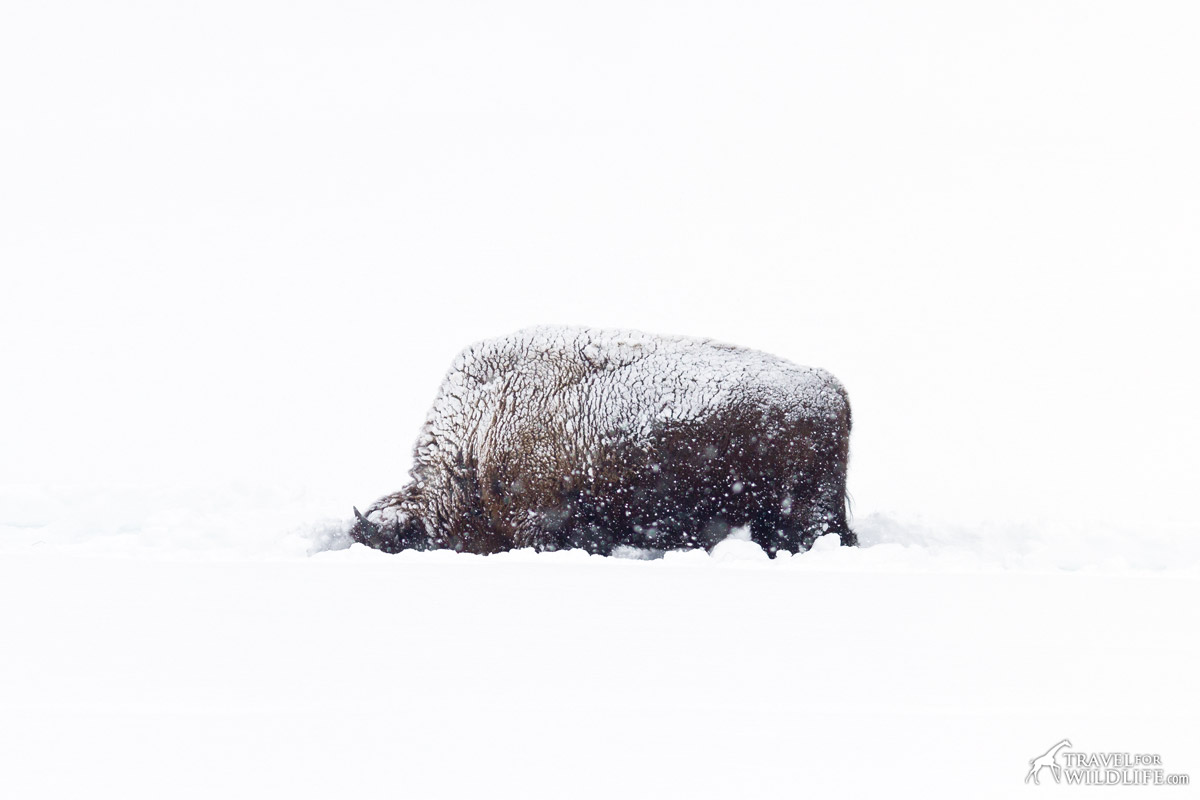 Where to see mule deer
In winter, mule deer are normally found just after entering the park through the North entrance at Gardiner. A hot spot is between here and Mammoth.
Where to see elk in Yellowstone in winter
While we've seen the occasional elk in the Lamar Valley during winter, including an individual escaping from a wolf in the river at the Lamar River Trailhead, most migrate north toward Mammoth and Gardiner and into the northern range.
Where to see bighorn sheep in Yellowstone:
They are pretty easy to see as they like to hang out near the confluence of the Soda Butte Creek and the Lamar River. You can pull out at "the hitching post" (the pullout with two bathrooms and a horse tie-up) and search for them on the rocky outcrop across the road.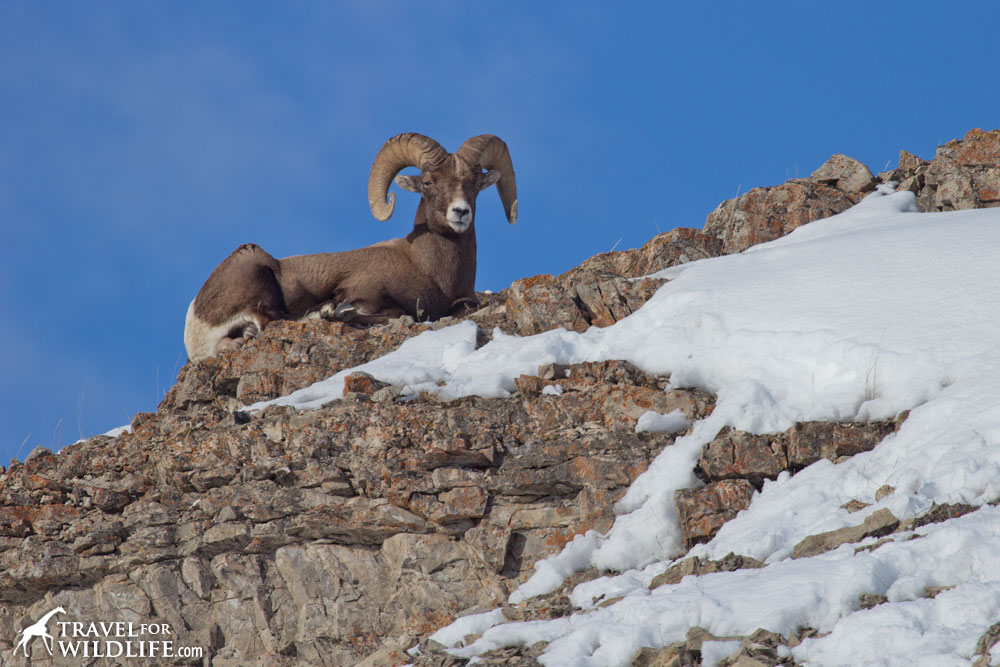 Best places to see river otters in Yellowstone:
River otters migrate during winter. As their pools freeze up they need to find unfrozen rivers in which to fish. Search along the Lamar River as they like to play in the snow and slide down the snowy river banks.
Where to see moose in the winter
We've always found moose along the Soda Butte Creek feeding on the willows right in front of Pebble Creek campground, and we've even seen them walking the residential neighborhoods in Silver Gate.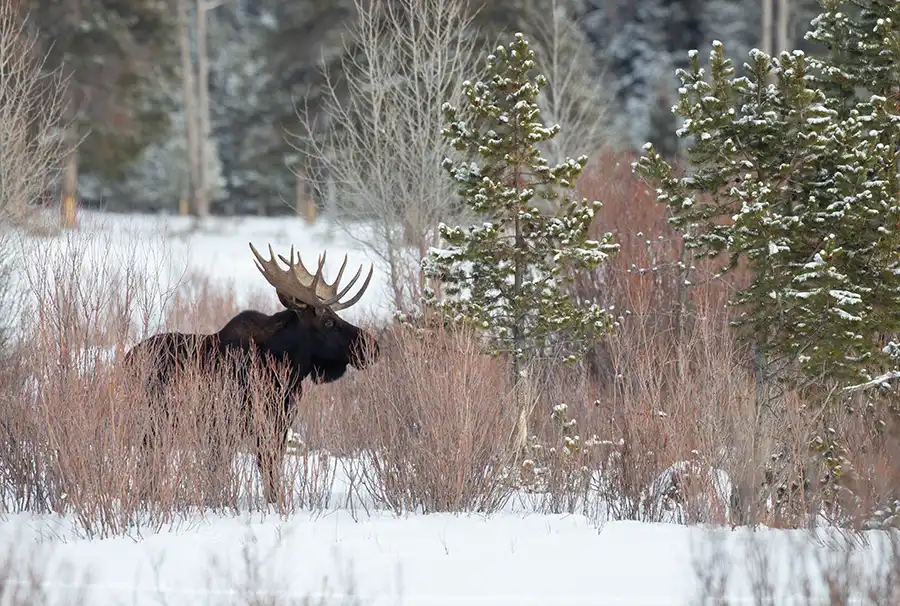 Golden eagles in Yellowstone
We found a golden eagle in the same area two years in a row. I don't know if that's a coincidence or if that's THE spot to see them. Since you are probably going to drive by that spot, you might as well check it.
As you drive along the NE entrance road, before the Lamar Valley Trailhead 3K1, and in front of the Soda Butte Creek, there's a pullout where 3 or 4 cars can stop on the left side heading east. Check on that side of the hill and also check if there's an eagle flying in front of it.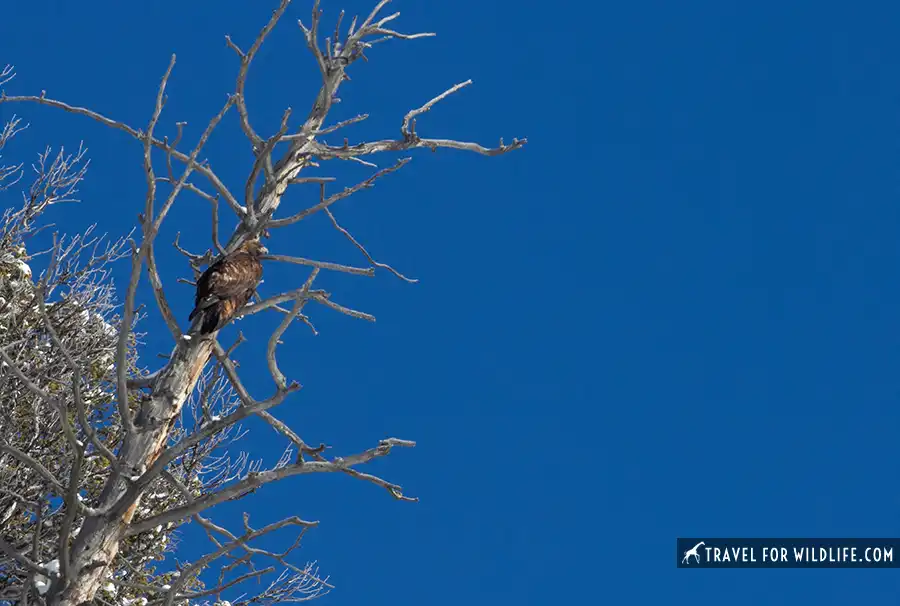 Bald eagles in Yellowstone
Bald eagles are pretty easy to spot as they are normally hanging around at carcasses.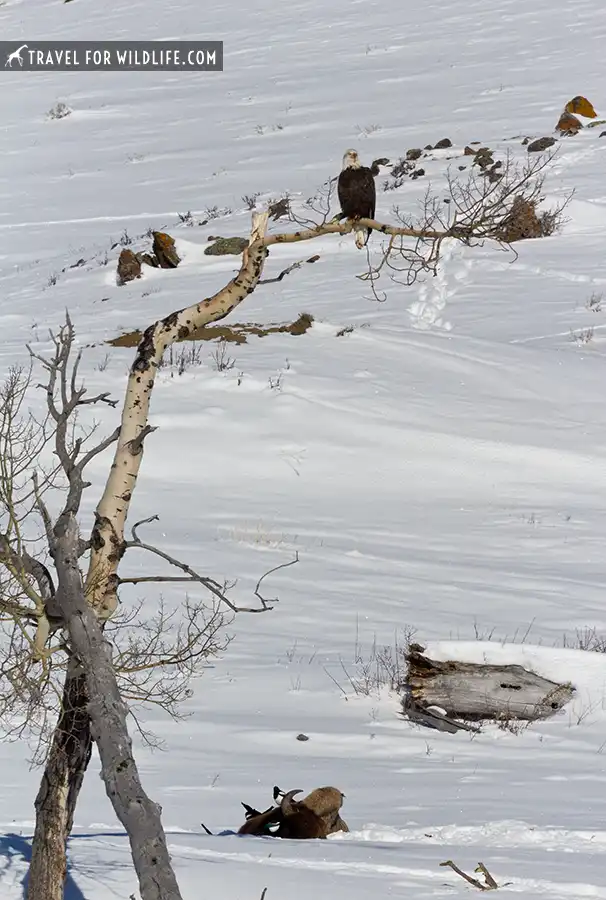 Other wildlife to find in the winter
Foxes and coyotes can be seen anywhere in the park and we see them at just about any time of day. They hang around carcasses and may be spotted hunting for rodents in open flat areas. The area at Pebble Creek brought in a really nice encounter with a red fox that was hunting rodents and we saw him pounce a few times. Further up the road toward Silver Gate, we've seen a kill under a tree where a fox was feeding. Later, a coyote came to the visit.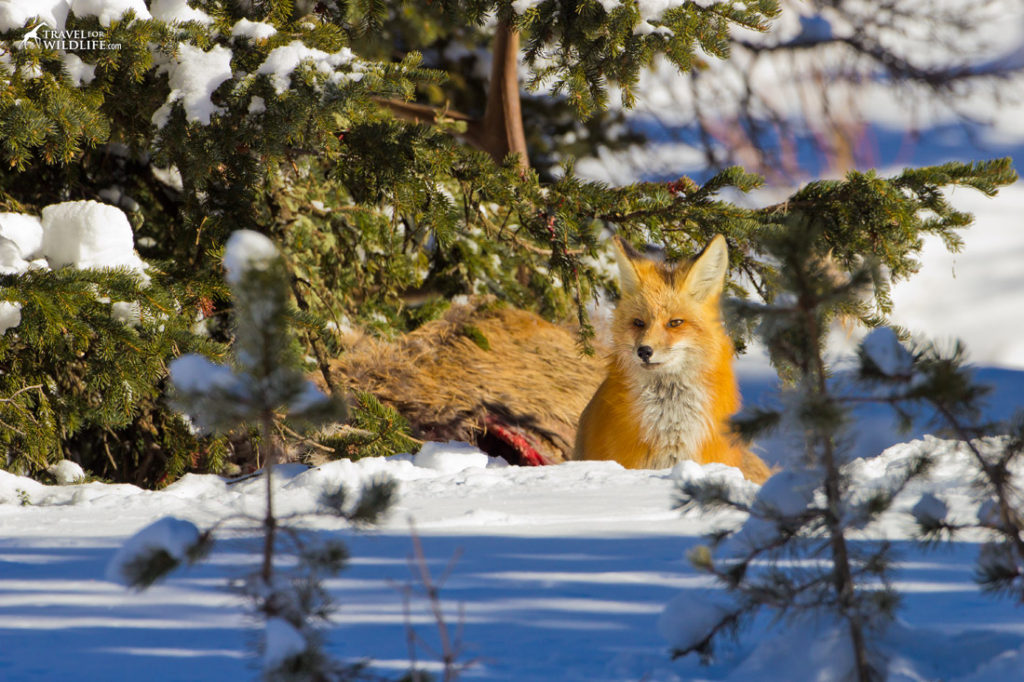 There are a variety of owls in Yellowstone, including Great Gray owl, Boreal owl, Long-eared owl, Great horned owl, and Northern saw-whet owl. I am normally a great owl spotter, and I still cannot believe I haven't seen an owl in Yellowstone. We have seen the pattern that owls make in the snow when they hunt small rodents though, and I must say I am always pretty excited to find those!
The American dipper is a tiny bird that survives on little invertebrates found in rivers. Even in freezing waters that would kill us with hypothermia, these little guys are still diving to the bottom in search of sustenance.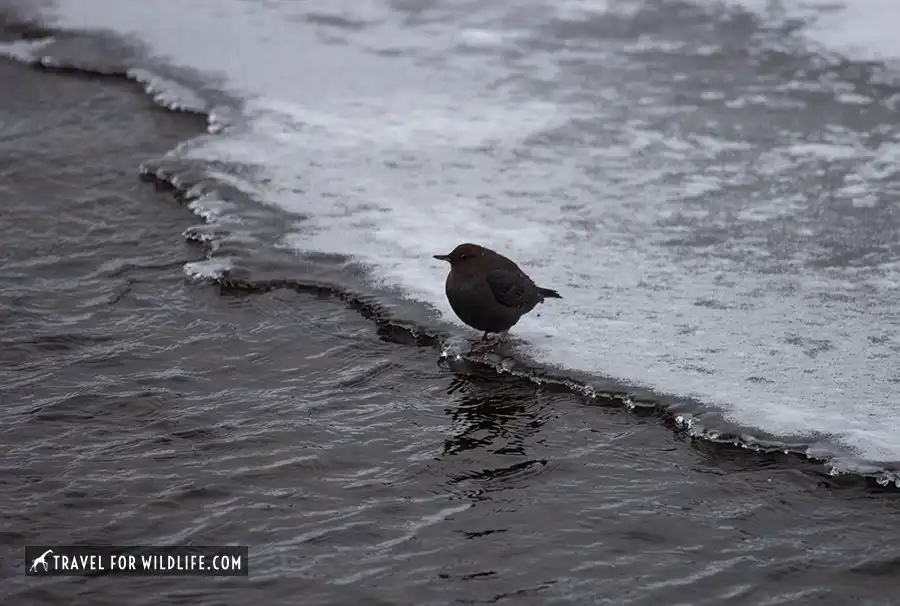 Can you see cougars in Yellowstone? Yes, you can, but how?
The mountain lion population in Yellowstone is only about 35 individuals and they are seldom seen. During one of our trips, visitors saw a mountain lion on a kill the day after we left the park! Bear in mind that they saw it with a scope and it was very far from the road.
If you want to see a cougar in Yellowstone, bring a scope to the park and search thoroughly whenever you stop. You might get lucky. An easier way is to stop and ask when you see a crowd of folks with scopes out!
Can you see bears in the winter in Yellowstone?
Bears hibernate in the winter and they should be tucked in their dens during your winter visit to Yellowstone. Male grizzlies come out of hibernation in late March, and black bears might do so earlier at lower elevations.
Wildlife in West Yellowstone
If you are around West Yellowstone and are not planning to visit the north of the park, you can still visit the park on a snow coach. Remember that the road is closed, so no private vehicles are allowed. A snow coach tour will take you to see Old Faithful and tour Yellowstone Canyon during winter. If you tell the guide you are into nature photography, they might take you to the best spots. I heard that for a few years, there were great sightings of bobcats during these tours. Note this snow coach tour starts in West Yellowstone.
If you are interested in visiting both the North and West Yellowstone on a tour, this 6-day Yellowstone tour includes wolf tracking with a local guide, a snow coach adventure, and a snowshoes / cross-country ski adventure.
Dress appropriately in the Winter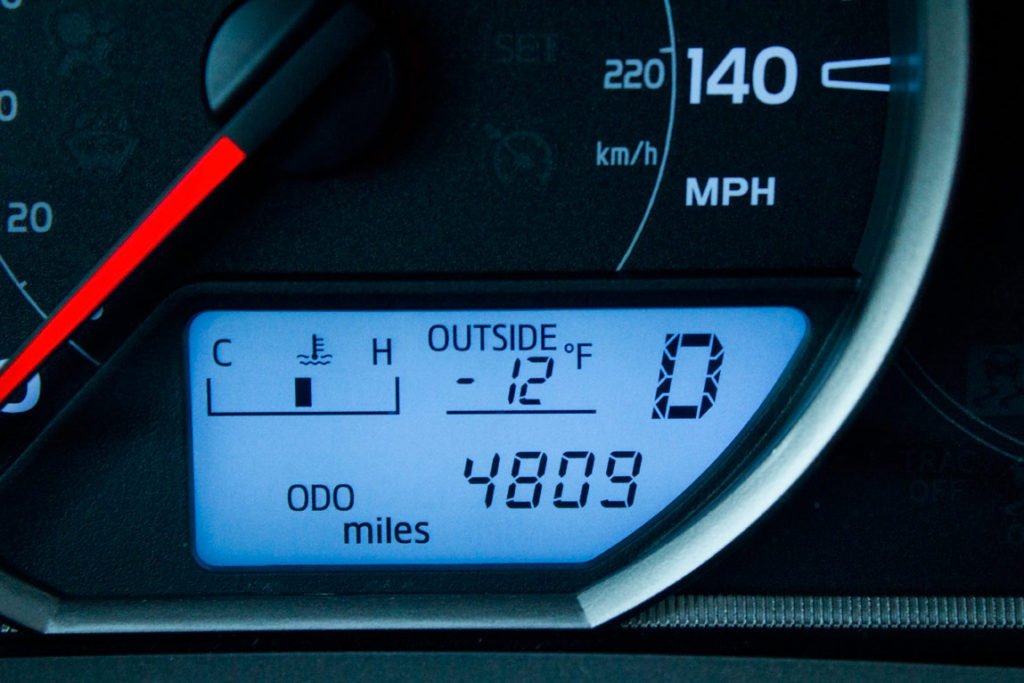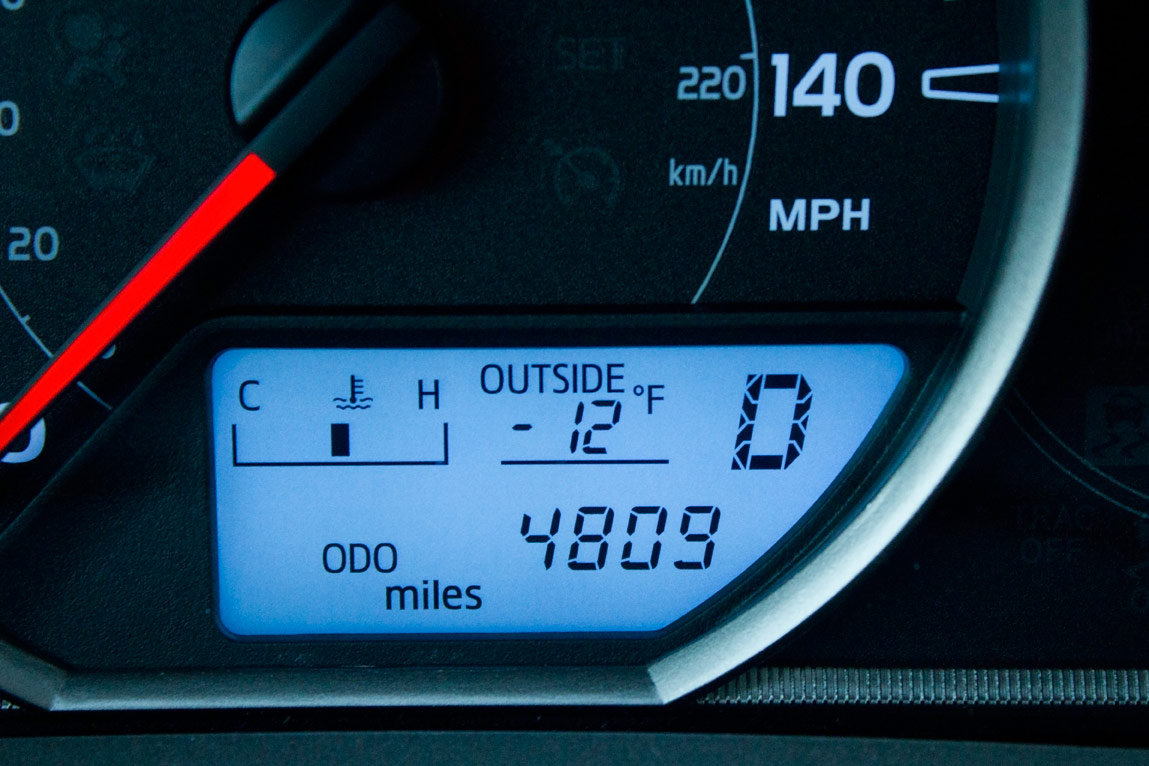 Not sure what to wear when visiting Yellowstone during the winter months? Take a look at our travel gear guide for Yellowstone in the winter, where we look at clothing, shoes, gloves, and some advice on camera gear for cold temperatures.
Yellowstone winter is extremely cold. During one of our visits, the temperature dropped to -14F (-24C). We were told that the previous year the temperature dropped to -40F (-40C). Make sure you have the appropriate clothing and have a plan and supplies in case your car breaks down.
Final thoughts
Watching wildlife in Yellowstone in the winter is our favorite. Few crowds, plenty of wildlife, and gorgeous scenery make this our favorite national park to visit during the winter months.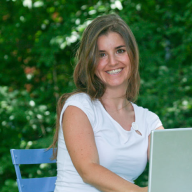 Cristina Garcia
Zoologist and wildlife photographer. She has worked in the field with jackals, wolves, cheetahs, & leopards. She serves on the Board of Directors of SEE Turtles, a non-profit sea turtle conservation organization.
Read her posts at Travel For Wildlife and see more of her work at Truly Wild, & Our Wild Yard.