Victoria Falls is without a doubt one of the most famous places in Africa. Acting as the geographical border between Zimbabwe and Zambia, the falls can be viewed from both countries. Stay at a safari lodge in Victoria Falls for the ultimate experience of this UNESCO World Heritage Site.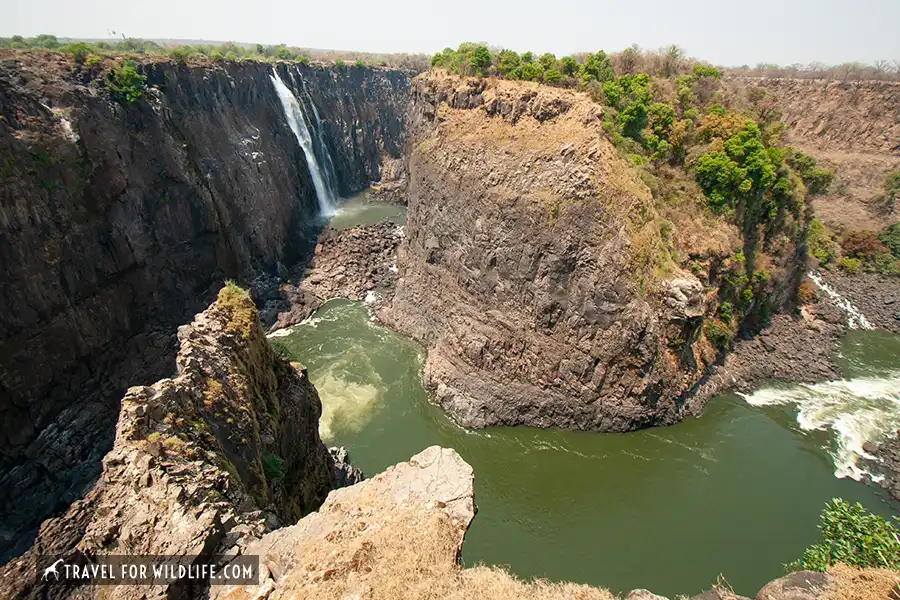 Victoria Falls is an incredible sight. By the time the Zambezi River reaches the falls it is more than 1.2 miles wide and it plunges noisily down a series of gorges. Its mist can be seen more than 12 miles away, and if you visit during the full moon, you'll be rewarded with a spectacular lunar rainbow (moonbow). Some famous features are the Main Falls, the Devil's Cataract, and the Devil's Pool.
In this article we cover safari lodges on both sides of the border: in the town of Victoria Falls in Zimbabwe, and in the town of Livingstone in Zambia. If you prefer a more traditional hotel, the famous Victoria Falls Hotel with views of the Victoria Falls Bridge is all you need. If you are first visiting Chobe National Park in Botswana, check out our list of Safari Lodges in Chobe for our handpicked selection of the best safari lodges in the area.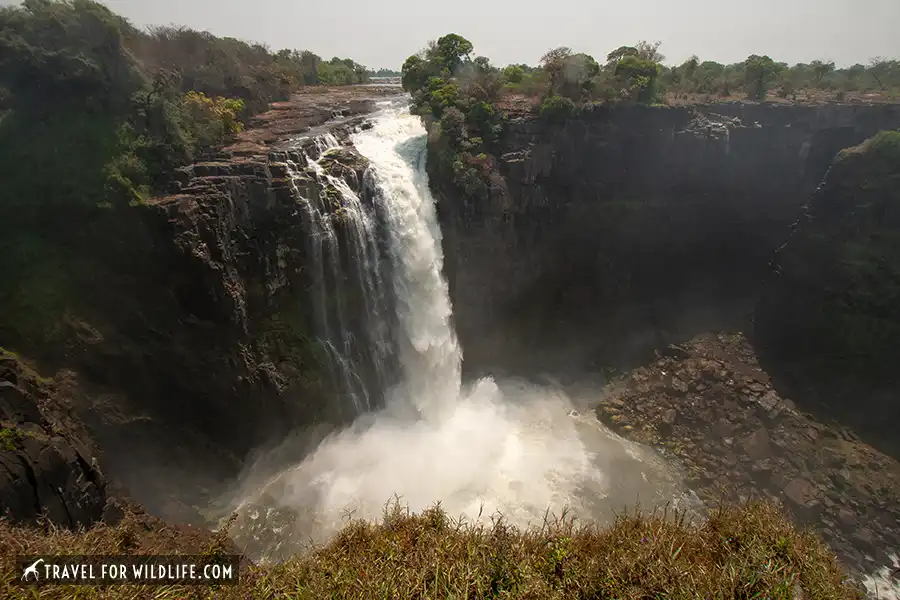 *This article may contain affiliate links. We receive a small commission at no extra cost to you.*
Safari lodges in Victoria Falls, Zimbabwe
With an increasing number of airlines doing the Johannesburg/Cape Town-Victoria Falls route, visiting Victoria Falls has never been easier. Plan your escape from the hectic city life and in less than two hours you can start your Victoria Falls safari.
There are lots of things to do in Victoria Falls: helicopter tours above Victoria Falls, a Chobe full-day safari trip, or a visit to Hwange National Park for a day safari trip. You can also visit the Devil's Pool (on the Zambia side) with this tour.
Victoria Falls River Lodge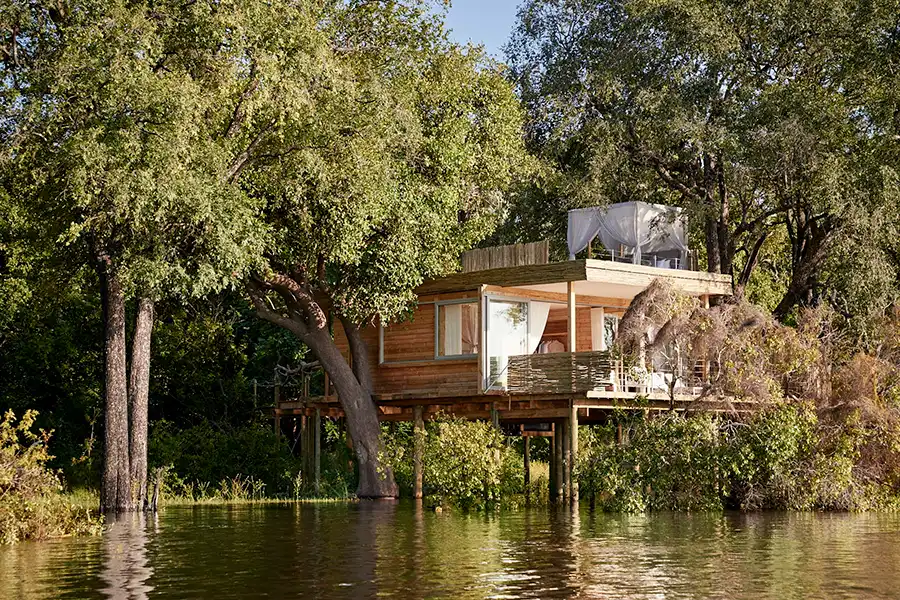 The stunning Victoria Falls River Lodge offers accommodation both on the mainland (in-suites with river views) and on the private island of Kandahar.
Only accessible by boat, the island has four exclusive Treehouse Suites, each with its own private deck and plunge pool. These suites are stilted on the Zambezi riverbank, giving intimate river views. These are interconnected with the main lodge building by raised winding walkways.
Victoria Falls River Lodge is the Winner of the 2022 Condé Nast Johansens Awards for Excellence – category Best Waterside Hotel
The lodge also offers two Starbed Treehouses. These treehouses share the same amenities as the suites with the extra offering of a rooftop deck with a bed, perfect for all those starry African nights!
Victoria Falls River Lodge is so close to Victoria Falls that you can see the spray in the distance!
Enjoy twice-daily game drives in Zambezi National Park, for a chance to see African wild dogs, leopards, and lions.
Back on the mainland, luxurious thatched tents are awaiting your arrival. With a private plunge pool, the option of a butler service, views over the Zambezi River, and outdoor showers, this is our definition of heaven.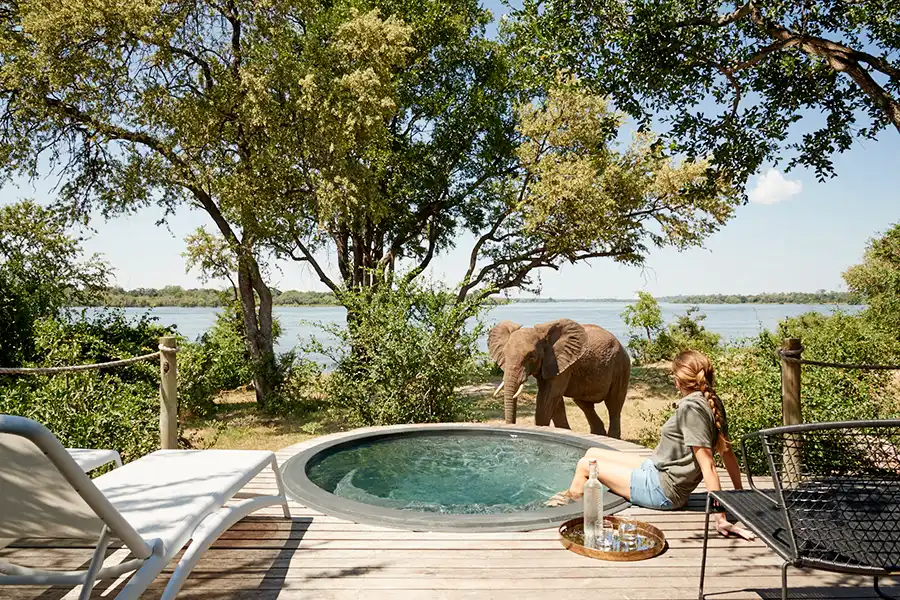 Activities at Victoria Falls Island Lodge:
Safari river cruises
Helicopter sightseeing trips
Sunset cruises
Fishing
Game drives
Tsowa safari island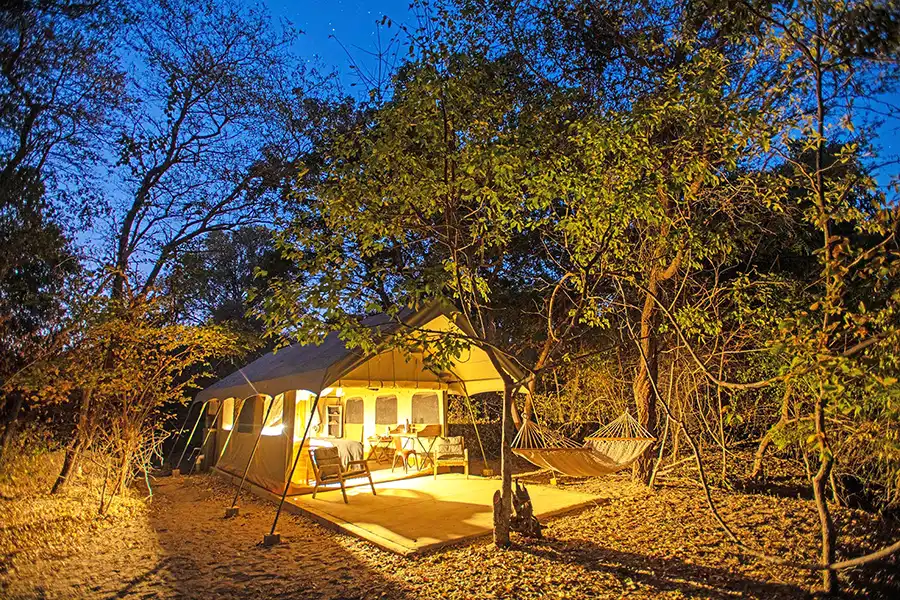 Ideally located on an island in the Zambezi, Tsowa Safari Island is a luxury tented camp upstream from Victoria Falls and is part of renowned Isibindi Africa Lodges. Tsowa offers an intimate setting by the river, with 6 safari canvas tents that can accommodate up to 12 guests.
There are two types of tents to choose from, the river view safari tent and the river deck safari tent. Both have indoor and outdoor showers. The tents offer the opportunity to immerse yourself in nature and listen to all the night sounds like the whoop of a hyena or the hoot of an owl. Birders will be super excited to know that the Pel's fishing owl has taken up residence on the island!
The lodge has two swimming pools that flow into each other and a river-front fire pit deck, perfect for those gorgeous evenings by the river.
Activities at Tsowa:
Game drives and Island walks
Birding
River safaris
Day trips to Chobe
Victoria Falls Safari Club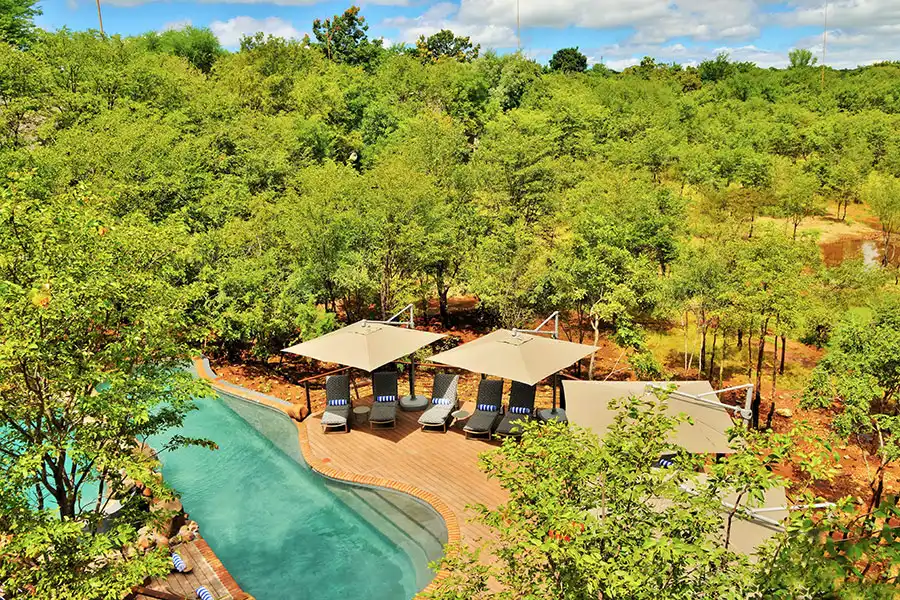 The Victoria Falls Safari Club is part of the Victoria Falls Safari Lodge estate, but smaller (20 rooms) and more exclusive. It is perfect for those who want to stay closer to the falls as it is only a five-minute drive from the lodge. Enjoy fine dining and a two-tiered swimming pool with a lap pool and sundeck.
Overlooking the Zambezi National Park with uninterrupted views of the bush veld, it truly feels as if you are in the middle of the wilderness. Most of the rooms have a clear view of the private waterhole. Bring your binoculars and enjoy game spotting from the comfort of your suite. Elephants, buffalo, and waterbuck are some of the animals you can spot (and hundreds of birds!).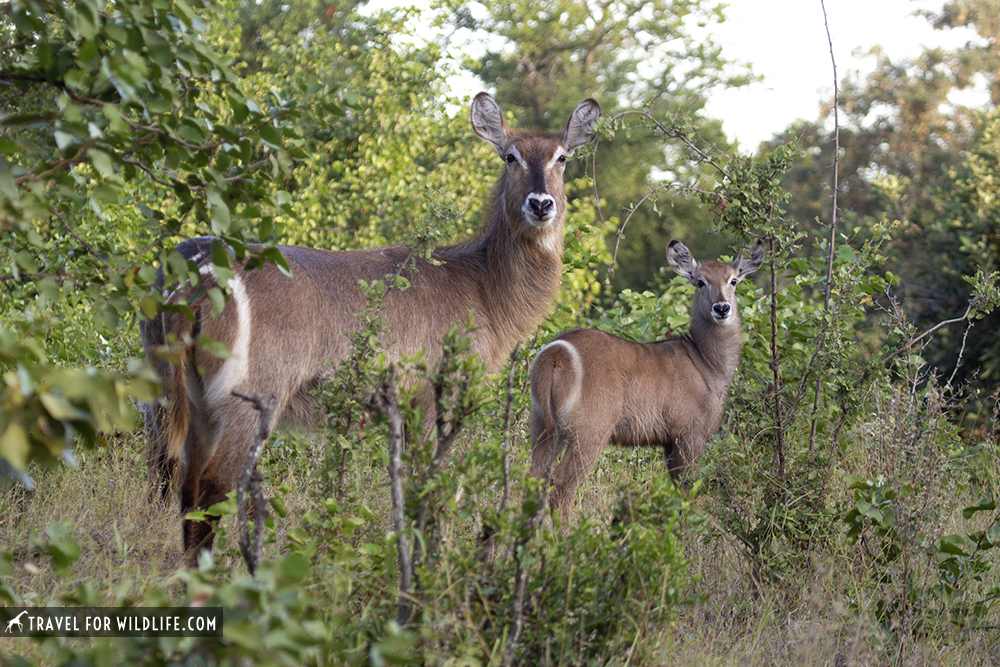 Other wild offerings at the Victoria Falls Safari Club are the on-site bird hide surrounded by nature trails where you can spot guinea fowl, kingfishers, shrikes, and doves. For a more personal experience, book the Siduli hide, perfect for photographers.
The vulture culture experience is something you cannot miss. Visit the vulture restaurant to witness hundreds of vultures swooping down and feeding on carcasses that supplement the diet of several endangered species. Before heading to the vulture restaurant, guests will learn of the ecological importance of vultures and the plight they are facing. Vulture species you can see are white-headed vultures, hooded vultures, lappet-faced vultures, and white-backed vultures.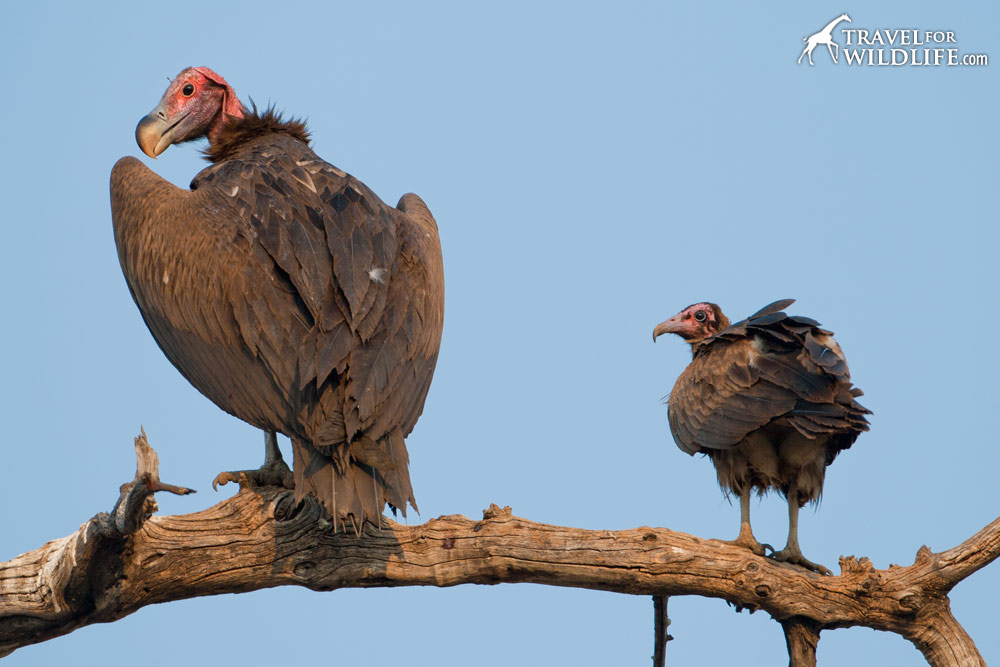 Other activities offered at the lodge are sunset cruises, game drives, white water rafting, helicopter rides, and Victoria Falls Rainforest guided tours.
Chundu Island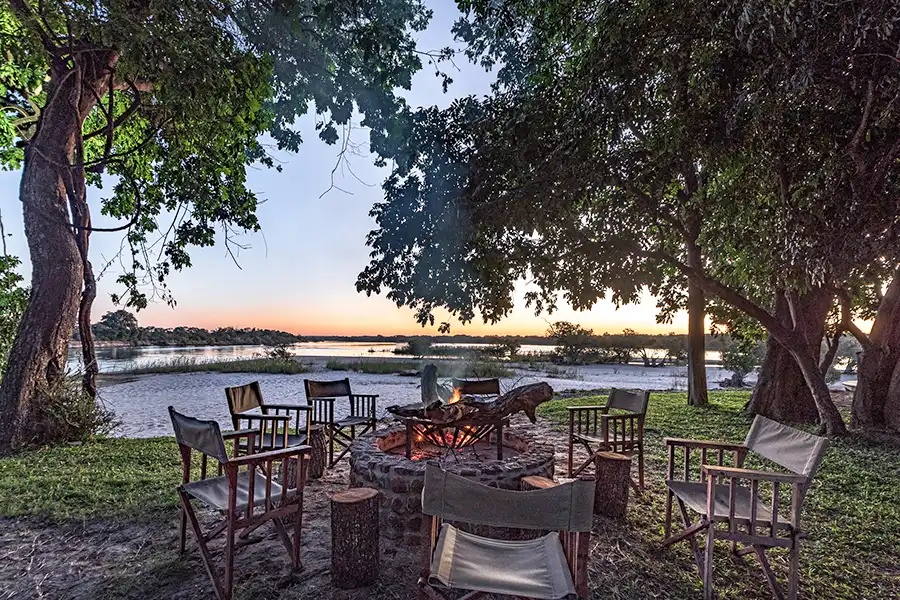 Staying on an island is always special. 13 miles upstream from Victoria Falls Chundu Island is a fantastic destination, especially for families who are looking for the ultimate family safari.
Chundu Island has 6 river-view suites and 2 family river-view suites. These family suites have a second bedroom for 2 children under the age of 18. The river view suites also have a 'rollaway bed' that can be used for a child under the age of 16. If your child is younger than 6 years old, please contact the lodge first.
Some of the lodge activities have an age restriction. For example, 12 is the minimum age for game walks and 10 is the minimum age for canoeing. The lodge offers a child minding service and a Kidz Zone with fun activities for the little ones, so you can go on regular activities while they are also having fun!
Birders are in luck as the Schalow's turaco is found at Chundu Island. What a treat!
Activities at Chundu Island
Island walks
Canoeing on the Zambezi
Game drives in Zambezi National Park
Sundowner cruises
Massage therapy
Masuwe Lodge
Masuwe Lodge is set in 2,000 acres full of wildlife and over 500 bird species. Right next to Chamabonda Vlei section of Zambezi National Park. This tented lodge is only 4 miles south-west of the town of Victoria Falls.
With 9 wilderness tents and one hide-away chalet (perfect for that romantic safari trip you've been dreaming about!) Masuwe will not disappoint.
One of the highlights is their waterhole, right below the common area. Sip a cocktail while wildlife visit for a drink of their own.
Safari lodges in Victoria Falls, Zambia side
If you want to visit Victoria Falls from the Zambia side, there are plenty of safari lodges in the area, and you don't even need to set foot in the city of Livingstone.
Victoria Falls is in Mosi-oa-Tunya National Park, Zambia's smallest national park, and where most of the safari lodges are located. While there are no predators in Mosi-oa-Tunya National Park, the park provides sanctuary to Zambia's only wild white rhino population.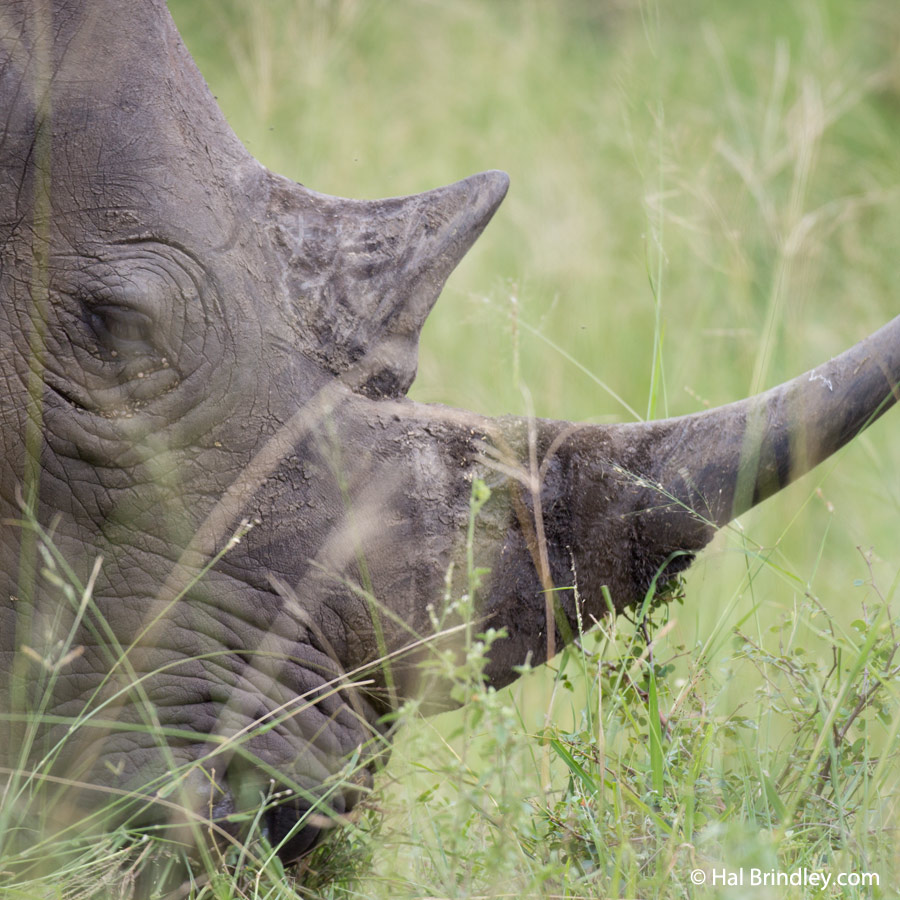 There are plenty of things to do on the Zambian side of Victoria Falls too. Dare to take a dip in the legendary Devil's Pool, with views over the dramatic Eastern Cataract of the Falls. Take a helicopter flight or a microlight flight, go river rafting, or join a boat safari or a Livingston island tour. The Royal Livingstone Express is an all-inclusive luxury train journey through Mosi-oa-Tunya that lasts all day. If you don't have all day, you can just go for a Royal Livingstone Dinner Express Train.
Here are 3 safari lodges on the Zambian side of Victoria Falls:
Toka Leya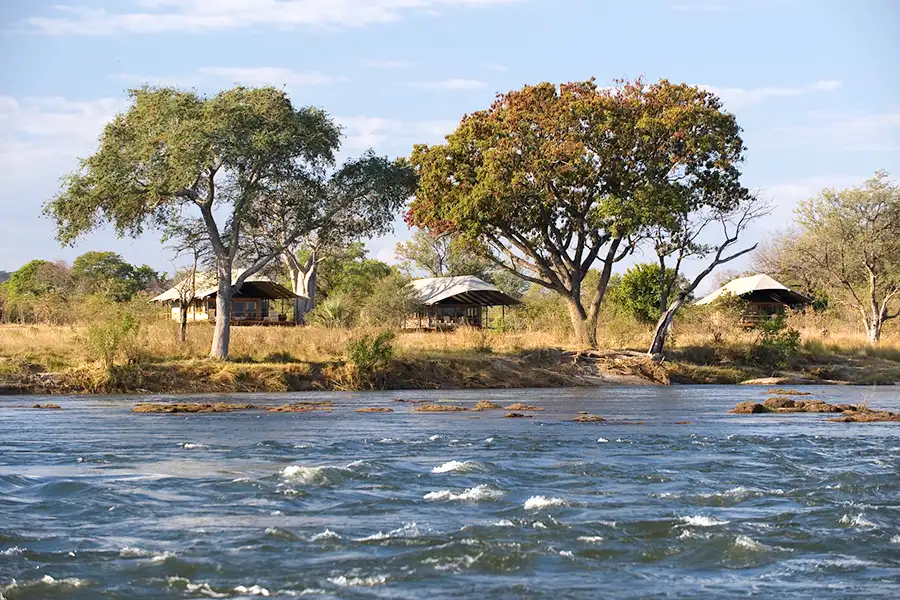 Set within the Most-oa-Tunya National Park, Toka Leya is upstream from Victoria Falls. This gorgeous tented camp has stunning views of the river and some of its islands.
The lodge has 12 air-conditioned tents with outdoor private bathtubs. Families will be glad to know there are three family tents, each with two bedrooms. Note that only kids over 6 years old are allowed at the camp.
The lodge's main area is accessible through a web of interconnected wooden decks. The restaurant and bar have wonderful views of the river. Enjoy the infinity pool, sit by the bar at cocktail hour, have high tea on the banks of the Zambezi, and, if you want to pamper yourself, visit the spa.
Activities at Toka Leya
Wellness area with spa room, yoga, and Pilates
Birding
Game safari
Guided walking safaris
River cruise
Tigerfish fishing
Tongabezi lodge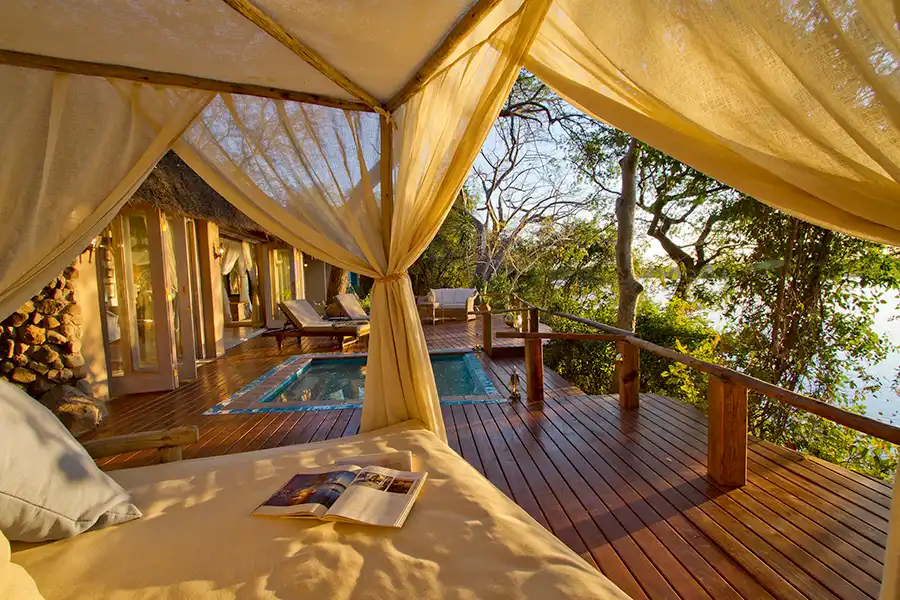 Just 8 miles upstream from Victoria Falls, Tongabezi Lodge welcomes you with open arms. Whether you are a solo traveler, a couple on a romantic trip, or a family (ask about their private houses), Tongabezi has you covered.
Stay at a river cottage, a tree house, or a private house if you are in a group or family.
Enjoy the privacy of your deck with views over the Zambezi, a romantic dinner on a floating deck on the river, go on a dhow cruise, have a picnic lunch on an uninhabited island in the Zambezi River and visit Mosi-oa-Tunya on a safari drive. These are just a few of the highlights of your stay at Tongabezi lodge.
Tip: for a super romantic experience, book the Tree House at Tongabezi!
Activities at Tongabezi Lodge:
Visit Mosi-oa-Tunya National Park on a safari vehicle
Sunrise or sunset boat cruise on the Zambezi. Includes drinks
Visit Victoria Falls from within Mosi-oa-Tunya National Park
Enjoy a glass of wine during a dhow cruise
Visit the Livingstone Museum in Livingstone and learn about the culture and natural heritage of Zambia
Fishing
Sindabezi Island camp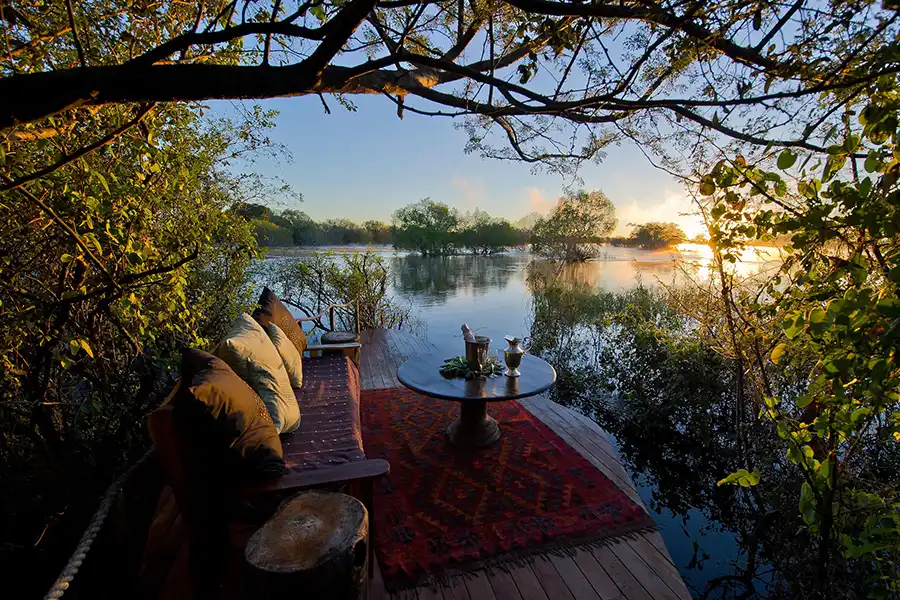 There's nothing more exclusive than staying at a private island just north of Victoria Falls. Sindabezi Island Camp is a completely off-grid safari lodge and is community and sustainability-driven.
With only five chalets, Sindabezi will give you the privacy you need. And if you are planning a family get-together you can book all five chalets and have the whole island for your party.
If you are looking for a romantic getaway, book the Honeymoon Chalet or the Sunrise Chalet 1 as both are very secluded and have an outdoor bathtub with exclusive views of the Zambezi River. A sunset cruise on an electric dhow or dinner on a floating platform on the river will make your romantic safari an unforgettable experience.
Activities at Sindabezi Island camp:
Picnics on nearby sandy islands
Canoeing
Guided walks
Local village visits
Game drives
Birdwatching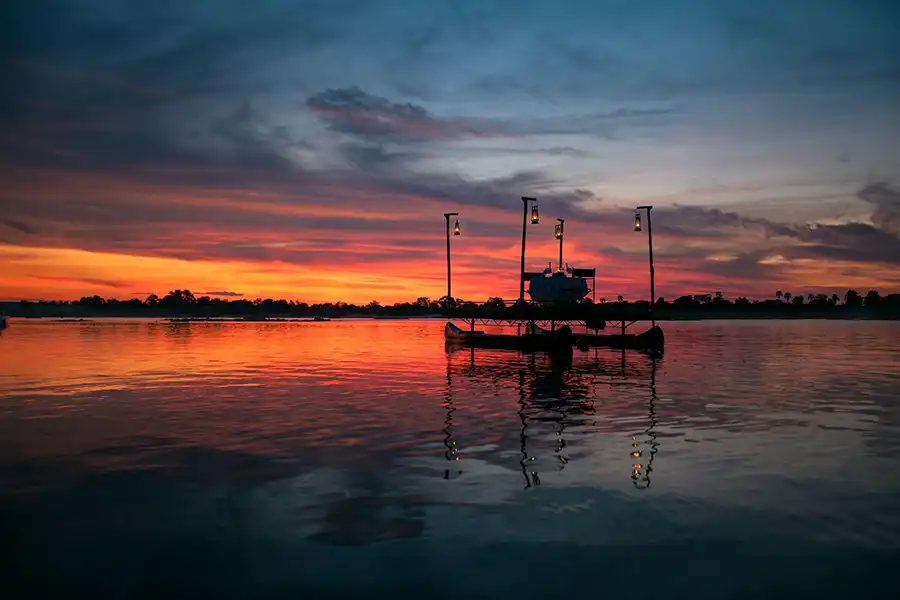 Final Thoughts
While you can visit Victoria Falls on a day tour, why not stay for a few days at a safari lodge? With plenty of options and styles, there is a perfect lodge waiting to welcome you.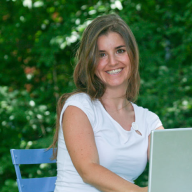 Cristina Garcia
Zoologist and wildlife photographer. She has worked in the field with jackals, wolves, cheetahs, & leopards. She serves on the Board of Directors of SEE Turtles, a non-profit sea turtle conservation organization.
Read her posts at Travel For Wildlife and see more of her work at Truly Wild, & Our Wild Yard.