You don't have to go to Antarctica to see penguins. In fact, you can see the Big 5 and penguins in the same country. Welcome to South Africa!
We arrived in Cape Town for the first time the day before Hal's birthday, around mid-April. Since we love wildlife, it seemed that the most natural thing to do for his special day was to drive to the quaint village of Simon's Town and pay a visit to the African Penguin colony.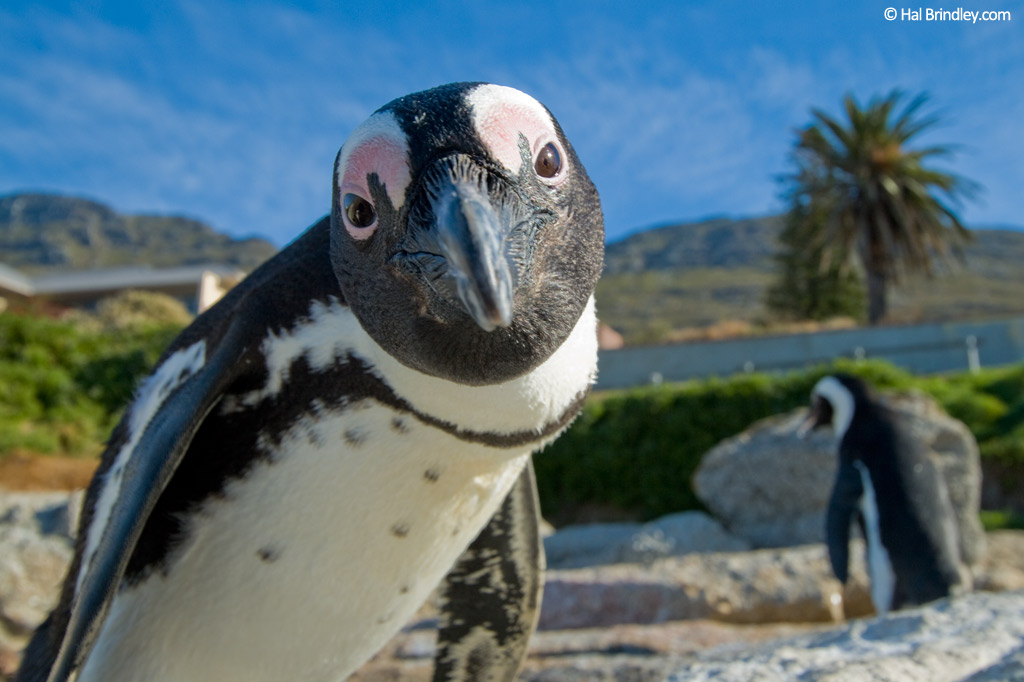 The African Penguin is the only penguin that breeds in Africa and it is classified as endangered on the IUCN red list.
The penguin colony in Simon's Town is located at Boulders Beach and is known for its blue water, white sand, and huge picturesque rock formations. There is an entrance gate where you must pay a fee to access the beach and the boardwalk overlook. But you don't have to enter the park to see penguins. In fact, you can walk along the upper boardwalk for free and this is where you can get the best views of penguins breeding. Penguins dig burrows in the soil under dense bushes and lay their eggs inside. This vegetated area is fenced off to keep the penguins safe during breeding times. We saw a few penguin chicks that were very fluffy and almost as big as their mothers. We also encountered a very friendly and curious rock hyrax. (Did you know they are a relative of the elephant?)
Penguin chicks will stay with their mother for 30 days after hatching and they will feed on the food that the adults regurgitate. Once they develop their juvenile plumage, which may take up to 130 days, they leave the colony. Juvenile penguins are slate blue and develop their famous black and white facial marking in their second or third year.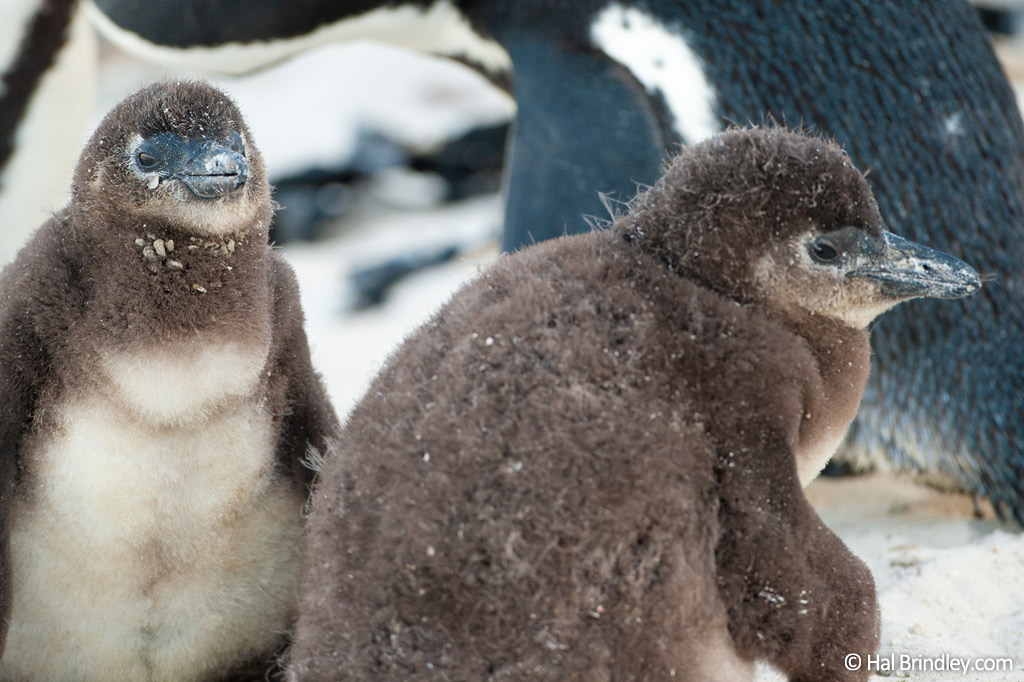 Penguins are hard to miss in the Boulders Beach colony, but if you can't see them try following the sound of their loud braying call. That is why they used to be known as the Jackass Penguin: they sound just like donkeys! (I think I like the old name better.)
The African Penguin breeds in colonies and they return each year to breed. In South Africa this period is between March and May. We visited for the first time in April, and it seemed like all the eggs had hatched. The burrows are normally located under a bush or in a depression under a boulder. In Boulders Beach, the staff have created some artificial burrows to provide additional nesting locations.
The African penguin also returns every year to moult (shed its old feathers). In South Africa this happens between November and January. Molting takes about 20 days. In April we saw some individuals which hadn't finished molting, so these dates may vary.
In the parking lot at the southeast end of the boardwalk is a small gate leading off to the right. Go through it (and be sure to close it behind you) and you will end up in a little boulder beach all your own where you can sit and relax, watch the penguins, and look for intertidal creatures like starfish (but please don't pick them up). This area is great if you are looking for a close encounter with the Jackass Penguin but with fewer people around.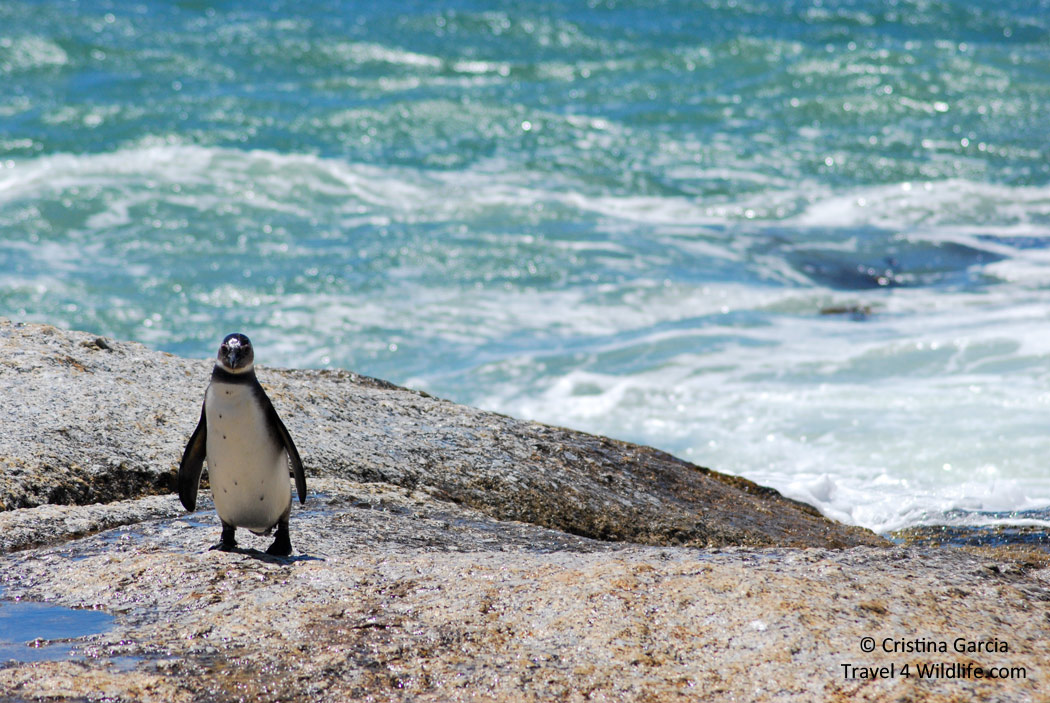 I particularly like to just sit down and watch African penguin behavior. In the water the swim gracefully and hunt for fish such as sardines and anchovies. Did you know they can swim up to 13 miles per hour? But when they arrive on the beach it is hard to believe that they are the same species. So gracious in the water, yet so clumsy on land. Especially here where the boulders are giant obstacles for these little waddling fellows.
If you stay long enough and sit quietly you will witness behaviors like mutual grooming.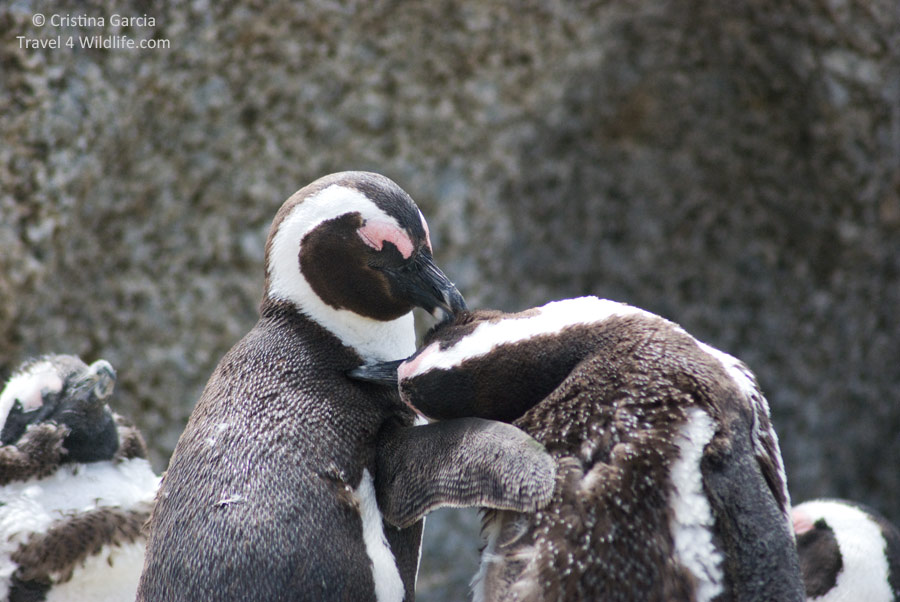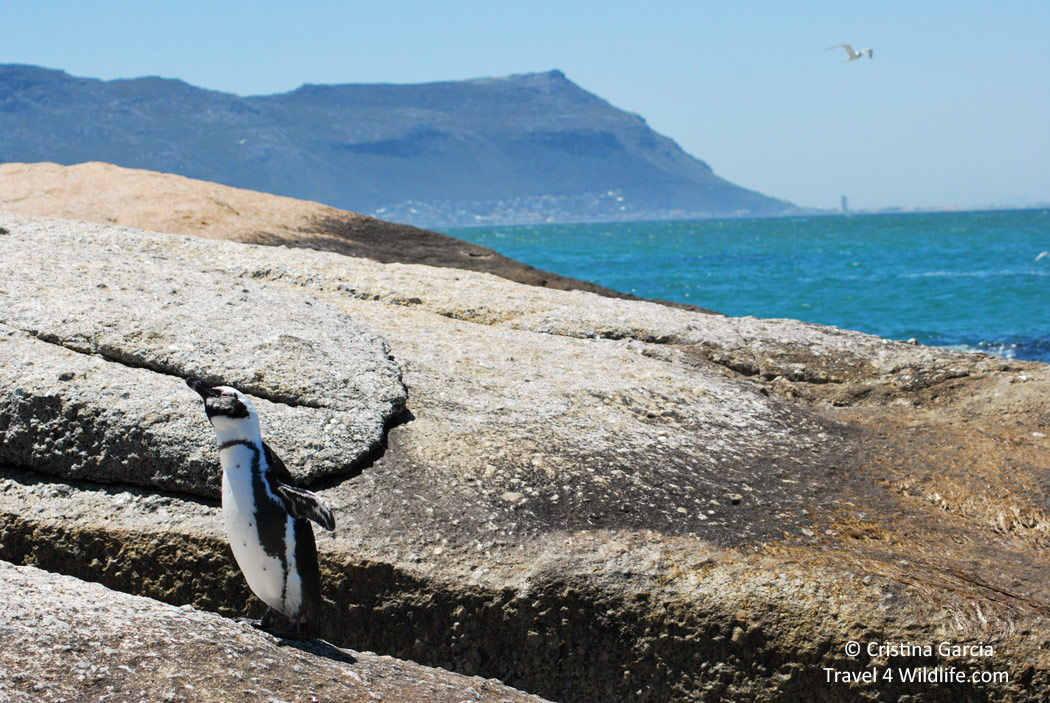 How to Get to Boulders Beach Penguin Colony in Simon's Town
Boulders Beach is only an hour south of Cape Town. If you'd rather stay away from the big city, Simon's Town is an excellent lodging alternative.
The entrance to Boulders Beach is located at Kleintuin Rd and is open 7 days a week. Entrance costs R40 ($4.5) for adults and R15 ($2) for children.
Do not touch or feed the penguins and don't get too close. They look cute and adorable but their beaks are pretty sharp and they won't think twice about nipping somebody's nose.
If you go during the Austral summer, make sure you take your swimsuit with you. Yes! You can actually swim with the penguins. We visited in April and again in November but both times were too chilly and we were too chicken to go for it.
As a last piece of advice, remember to look under your car for penguins before you drive away!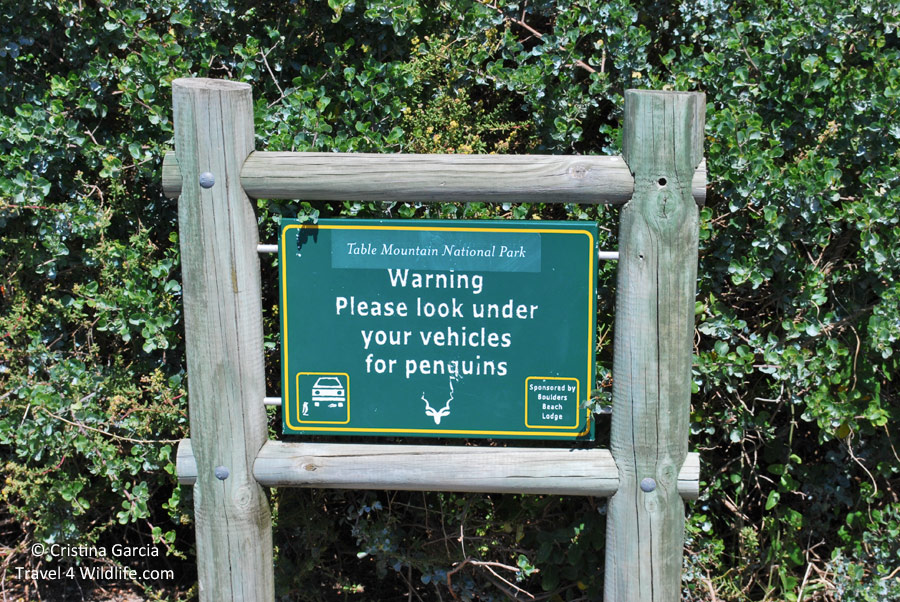 If you enjoyed Waddling with African penguins you may also like: