A visit to the rain forest in Costa Rica's Osa Peninsula is not complete until you take a night tour to look for frogs and other night creatures. During our stay at the beautiful La Luna Lodge (which by the way it is one of our favorite Costa Rica eco lodges)we reserved our first night to do just that. Our tour would take us on a trail to several small ponds on the property where frogs commonly breed.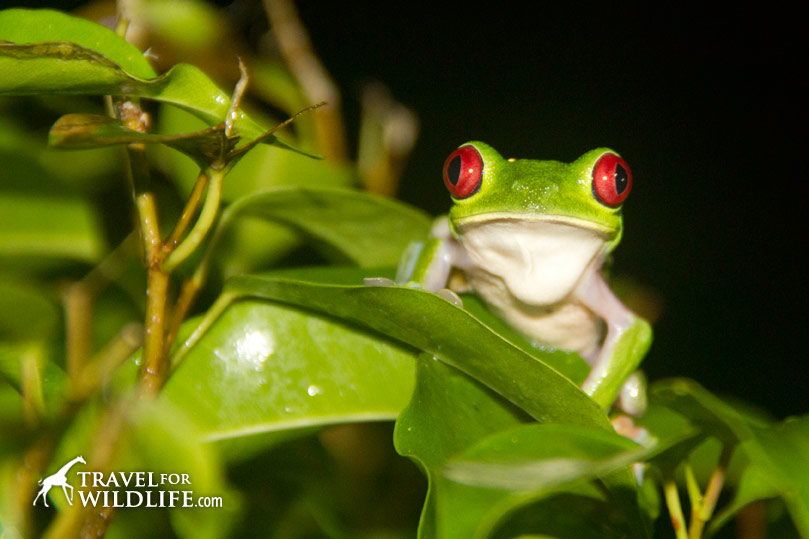 We hadn't even sat down for dinner yet when our guide, Gary, told us he had heard the call of the red-eyed tree frog (Agalychnis callidryas) nearby and was going to find it for us. It took Gary less than five minutes to do so. He found this little guy on a bush by the lodge's restaurant.
After dinner (and after the rain), we set off on our night tour. The air was filled with humidity and frog chants, and I was thankful that the lodge had given us rain boots to wear as the paths were really muddy and the creek stones very slippery. If it was up to me, I would have walked those paths until daybreak to try and find the most elusive night animals. After all, we were only there for a couple of days.
During our tour we encountered at least six species of frogs, including a group of four male spotted frogs which fought in a huge ball of testosterone right in front of us. We spotted bright blue crayfish and dozens of tadpoles, huge spiders and whip scorpions, a tinamou and a tiny mouse, and even a helmeted iguana, but not a sign of the elusive jaguar. Maybe next time!
If you need help planning your vacation, Visit Costa Rica has the answers!
---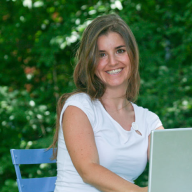 Cristina Garcia
Zoologist and wildlife photographer. She has worked in the field with jackals, wolves, cheetahs, & leopards. She serves on the Board of Directors of SEE Turtles, a non-profit sea turtle conservation organization.
Read her posts at Travel For Wildlife and see more of her work at Truly Wild, & Our Wild Yard.