The Osa Peninsula in Costa Rica holds 2.5 percent of the biodiversity of the entire planet. The entire planet! It is not surprising then that every one of the Costa Rica eco lodges in this area works hard to minimize their environmental impact and to protect this pristine place. You can visit this wild and remote landscape and still leave a light footprint when you stay at Costa Rica ecolodge.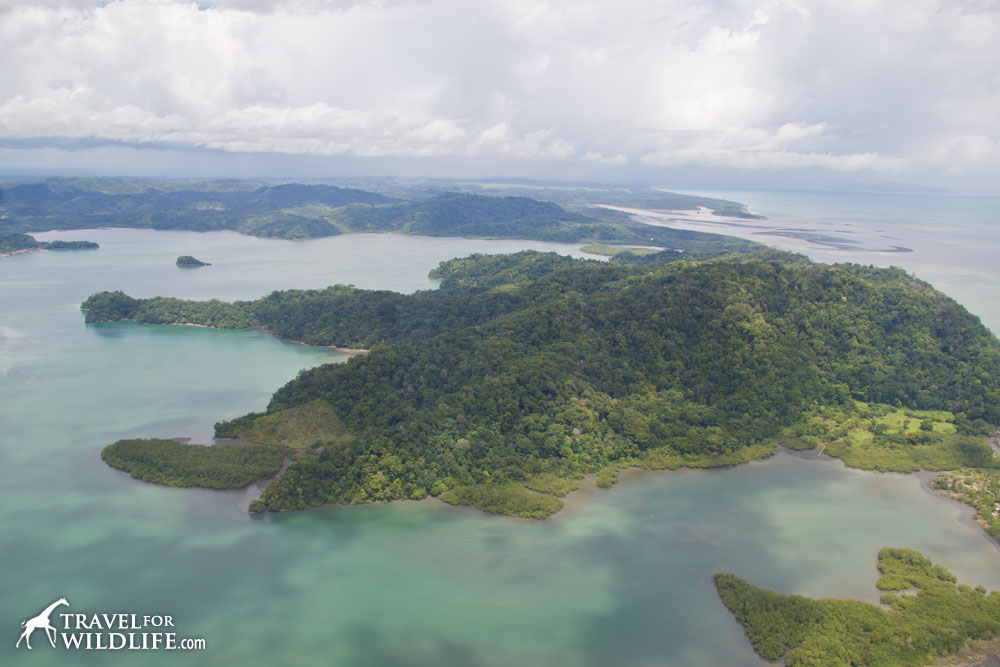 When we visited the area, we checked out a few lodges. We stayed at some of them and visited others. We talked to the owners about their environmental concerns and ideas, and their efforts to help minimize their impact.
Here are our favorites from that visit:
*This article may contain affiliate links. We receive a small commission at no extra cost to you.*
Luna Lodge, a Costa Rica Ecolodge in Carate
Situated on top of a hill, surrounded by lush forest and ocean views, Luna Lodge is a beautiful and peaceful retreat. This Costa Rica ecolodge is completely off-grid and is run on solar and hydroelectric power. This is our favorite Costa Rica eco lodge!
Wake up at sunrise and breathe the rainforest air while howler monkeys feed noisily nearby. After breakfast, hike to the nearest waterfall and bathe in the cool waters. Or join one of the many activities offered by the lodge. Horseback riding on the beach, kayaking in a lagoon, or even a seven-hour hike into Corcovado National Park: a wildlife watcher's dream. Cool down after your hike in the salt-treated swimming pool (no chlorine!) overlooking the valley while toucans and macaws fly noisily overhead.
To end your day, join a yoga lesson on their yoga platform overlooking the Pacific Ocean, get a spa treatment, and venture out on a night walk in search of wildlife like the red-eyed tree frog.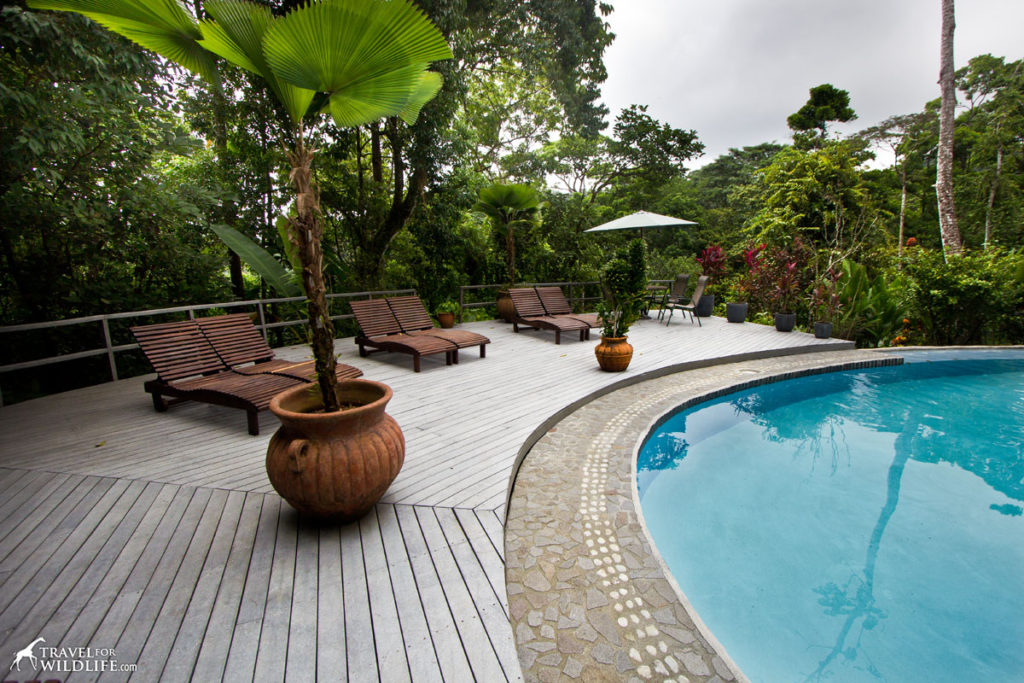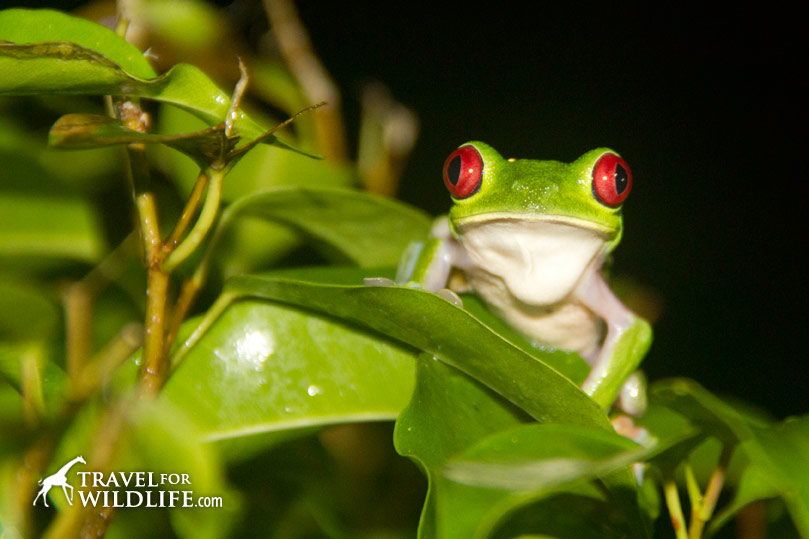 ---
Finca Exotica Eco Lodge, Carate Beach
Located on the longest unspoiled beach in Costa Rica, Finca Exotica ecolodge is a retreat and organic farm that is part of the Saimiri Wildlife Refuge. This Costa Rica ecolodge only uses 3 percent of their total land for human use, leaving the rest untouched for protection.
One of the areas where Finca Exotica eco lodge stands out is their architectural policy. All construction is designed with a small footprint and with minimal long-term impact to the land. This means almost no concrete, clever use of hardwood scraps, and as much use of their home-grown bamboo building materials as possible.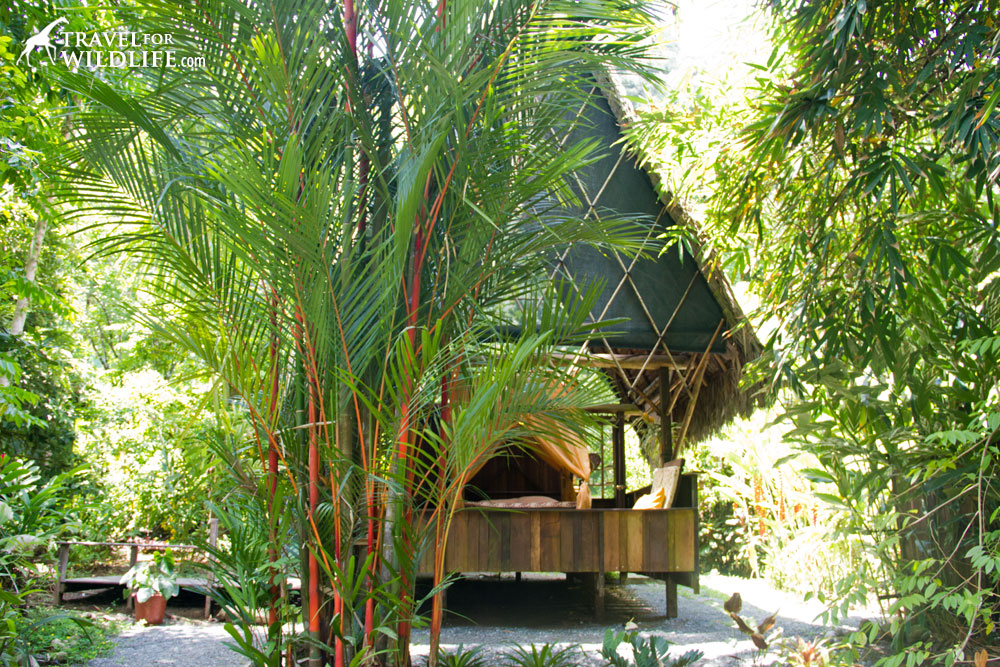 Make sure you get the edible garden tour as you are shown around the exotic surroundings and learn about the medicinal properties of the plants and fruit grown on the farm. Don't forget to ask about the miracle fruit! (spoiler alert!: the miracle fruit loves to trick your taste buds, after a bite of this fruit a sour lemon will taste like sweet lemonade!)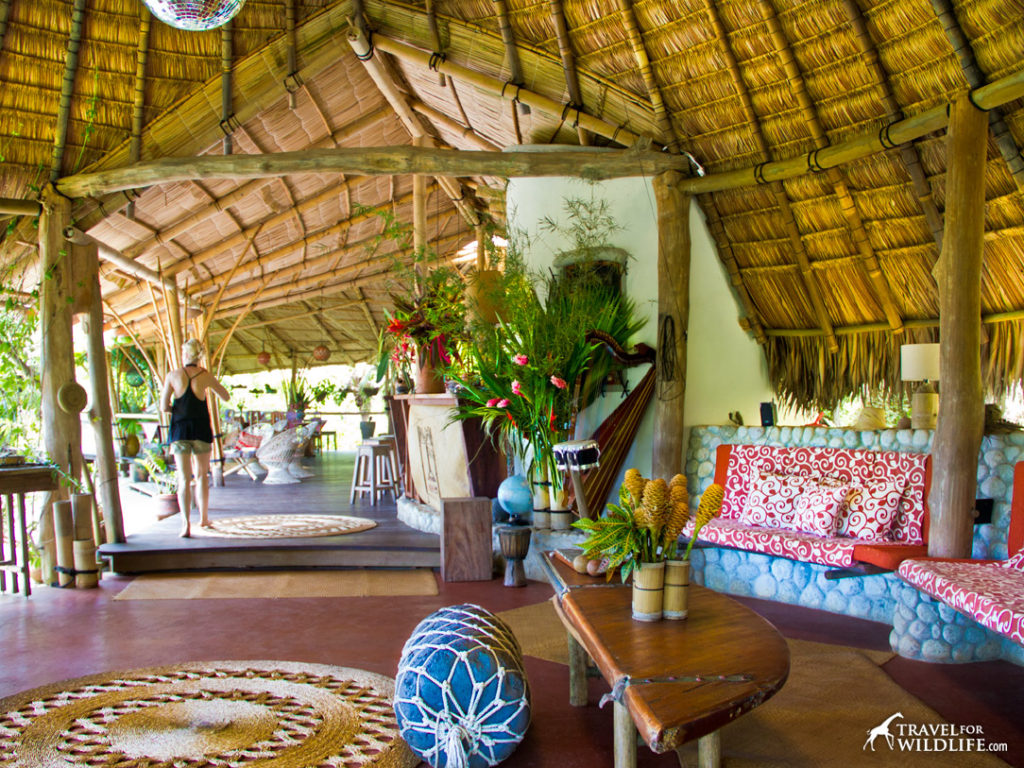 Finca Exotica also offers a unique volunteer program. You can stay for FREE (3 meals included) for a minimum of four weeks in exchange for work done on the farm. This is a great opportunity for people who like to travel slow, learn new skills and meet different cultures.
Oh, and their fruit juices are out of this world!
---
Iguana Lodge Beach Resort & Spa, a Costa Rica ecolodge in Puerto Jimenez
Iguana Lodge sits on a 15 acre beachfront property. We were only there for one night as we were on a tight schedule, but the place is stunning and next time we travel to Costa Rica, I will make sure we stay at this Costa Rica ecolodge.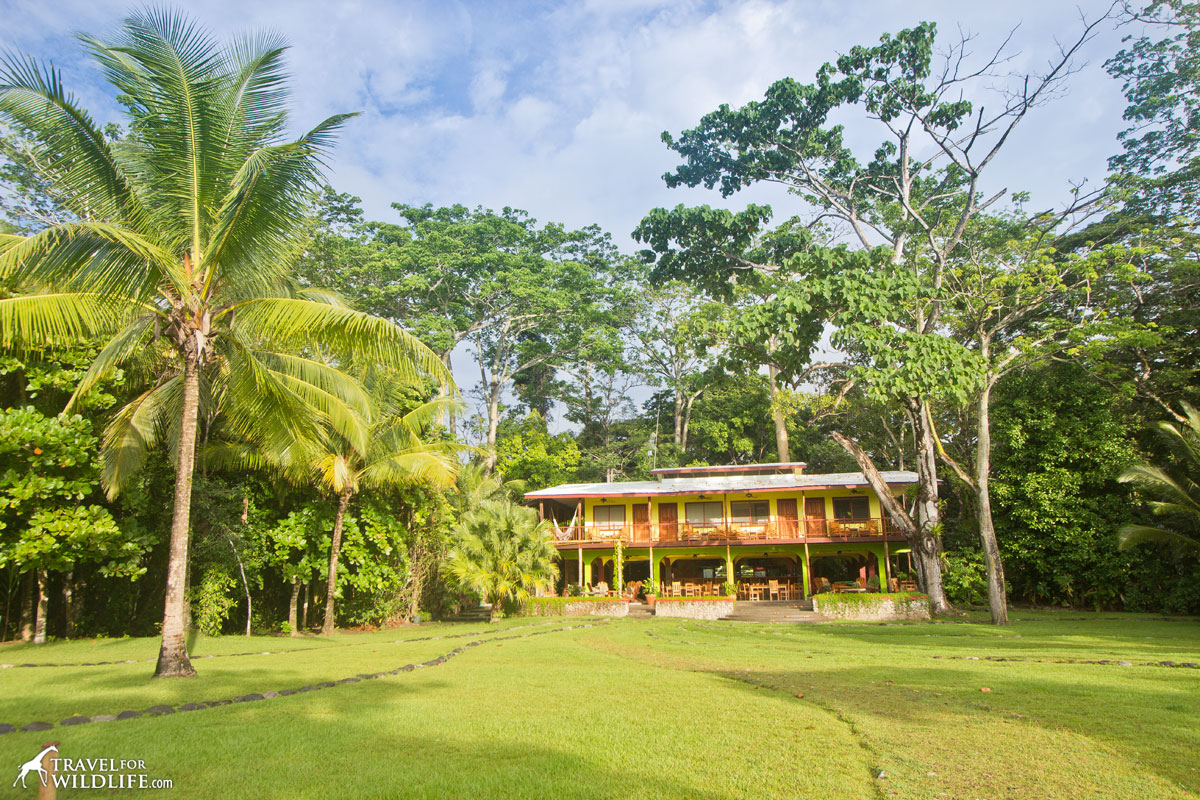 We stayed at one of their club rooms with beach views, but you can also stay at their adorable casitas or at their beach house, a stunning tree house high in the Costa Rica rainforest canopy.
The Iguana Lodge grounds were designed with the local wildlife in mind as many tropical plants were selected with the only purpose of attracting birds, frogs, butterflies, and a variety of mammals. Toucans love the papaya tree! They are also very proud to host one of the largest nesting populations of Scarlet Macaws in Costa Rica.
If that wasn't enough, you can enjoy yoga in one of their yoga decks, go on a nature walk with one of their guides, or enjoy a swim in their fifty-five foot chemical free pool and jacuzzi. Don't forget the stunning beach!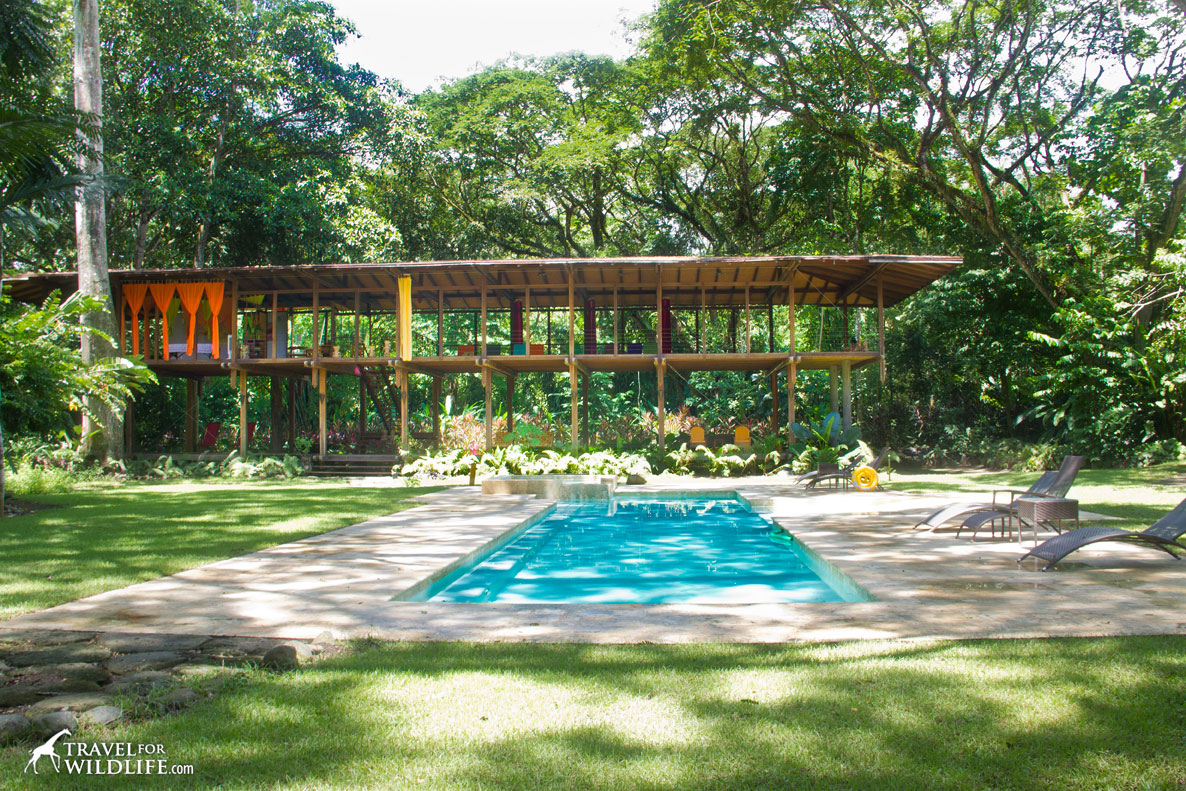 ---
La Leona Eco Lodge, Carate
La Leona Eco Lodge is a true off-the-beaten-path Costa Rica eco lodge. Being the closest lodge to Corcovado National Park, by the Leona Ranger Station, it is not accessible by road. The closest road is 1.2 miles away, and you must walk the final distance. Our advice is to travel light but if you need it, a horse cart will carry your belongings up to the lodge.
At La Leona Lodge, they have pretty good luck with wildlife. Tapirs are spotted on the beach and the video below was just taken at one of the trails at this Costa Rica ecolodge.
From here, you can join their Corcovado National Park Tour, their night tour to experience the Costa Rica rainforest, or (when in season) join them on a sea turtle watch tour.
Owned by a Costa Rican family, their philosophy is to maintain this pristine ecosystem by reducing their environmental impact with sustainable practices, being socially responsible, and conserving local cultural values.
Stay at one of their ocean view tent-cabins and get a real glamping experience while saving this precious ecosystem.
---
If you are still not sure if you should visit, check out the video we made. Two days of wildlife sightings in the Osa Peninsula!
---
If you enjoyed this article, PIN IT!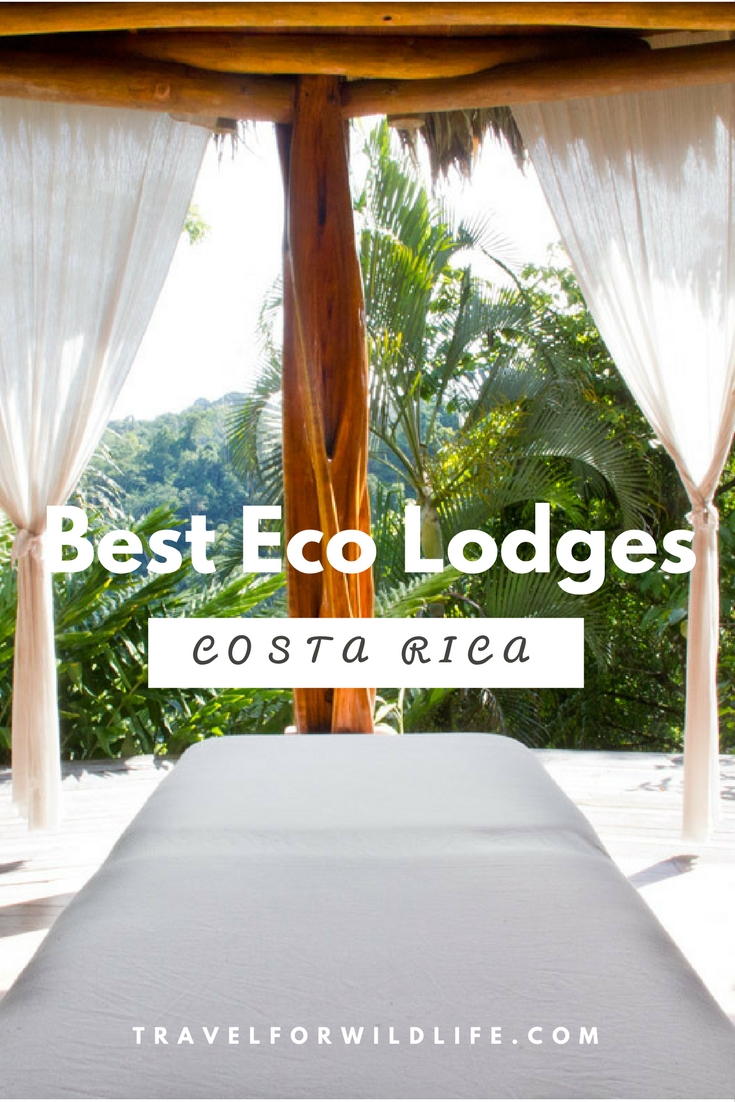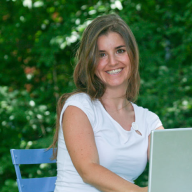 Cristina Garcia
Zoologist and wildlife photographer. She has worked in the field with jackals, wolves, cheetahs, & leopards. She serves on the Board of Directors of SEE Turtles, a non-profit sea turtle conservation organization.
Read her posts at Travel For Wildlife and see more of her work at Truly Wild, & Our Wild Yard.