Where to see manatees in Florida? This is a question that we get asked a lot. To see a manatee in the wild you have to be in the right place at the right time. During the summer months, when the ocean waters are warm, the endangered West Indian Manatee is dispersed throughout the Gulf of Mexico and the southeast Atlantic coast of the United States. But during winter, manatees concentrate in the warm water of Florida's natural springs and in the discharge canals of power plants. If you visit Florida in December, January, or February, you are guaranteed to see manatees in these strategic locations.
There is one place where you can actually swim with manatees: Citrus County. There, in the towns of Crystal River and Homosassa Springs, various tour operators offer manatee snorkeling tours. It is the only place in Florida where you can legally swim and interact with this endangered species.
Where to See Manatees in Florida?
However, if you are happy to see manatees in Florida from land (or you're not too keen on getting in the water during winter) there are plenty of other options. Here is a list of places where you can see manatees in the wild in Florida: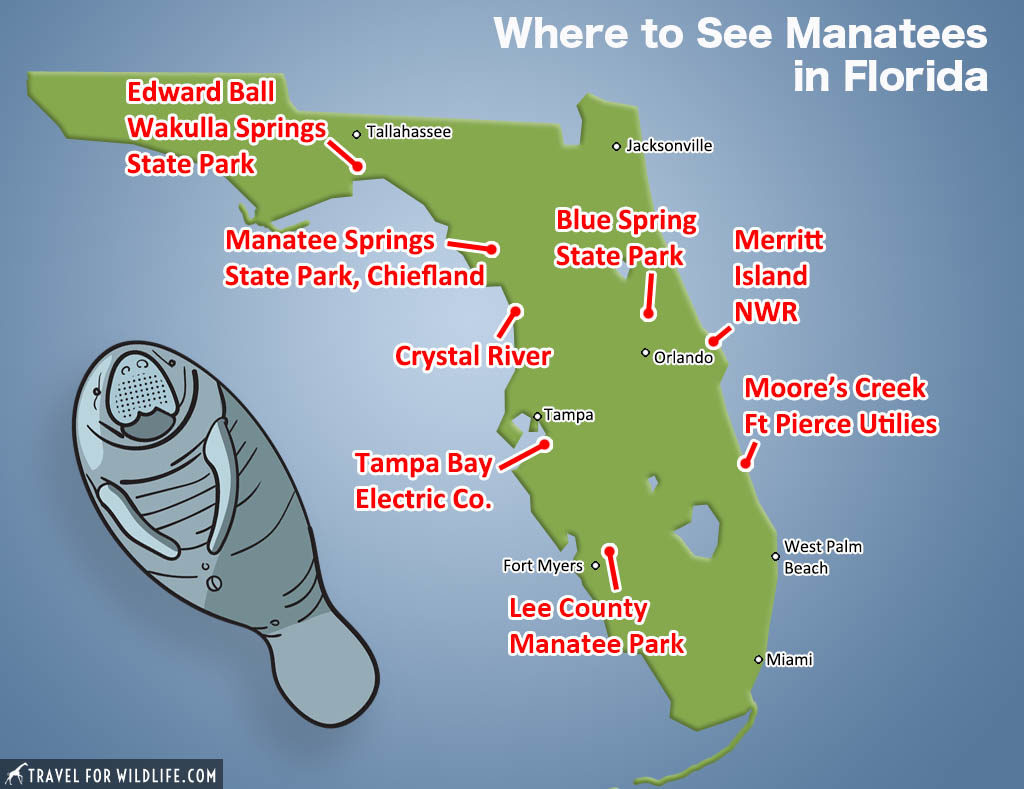 1) Crystal River, Citrus County (one of the best places to see Manatees in Florida)
This is our favorite place to see manatees. It is also the only place in the US where you can swim with these amazing creatures. We recommend taking a local manatee tours. If you want to go swimming with manatees on your own, read our How To Swim With Manatees guide.
There are also a few locations in Crystal River where you can see manatees from land.
Where to see manatees in Crystal River?
The most popular spot is the Three Sisters Springs boardwalk. It is also best spot for manatee viewing in Florida. This boardwalk opened in 2013 after the land around the Three Sisters Springs were bought for conservation. The boardwalk is about 1/4 of a mile and it takes the visitor all around the Three Sisters Springs and Idiots Delight Spring (that's a real name). When the boardwalk ends, a trail starts that takes you yet to another spring, Magnolia Spring. During winter time, manatees are plentiful in all these springs.
During manatee season (November 15-March 31), the Three Sisters Springs boardwalk is open every day and it costs $15 per person. No pets allowed and no parking facilities available.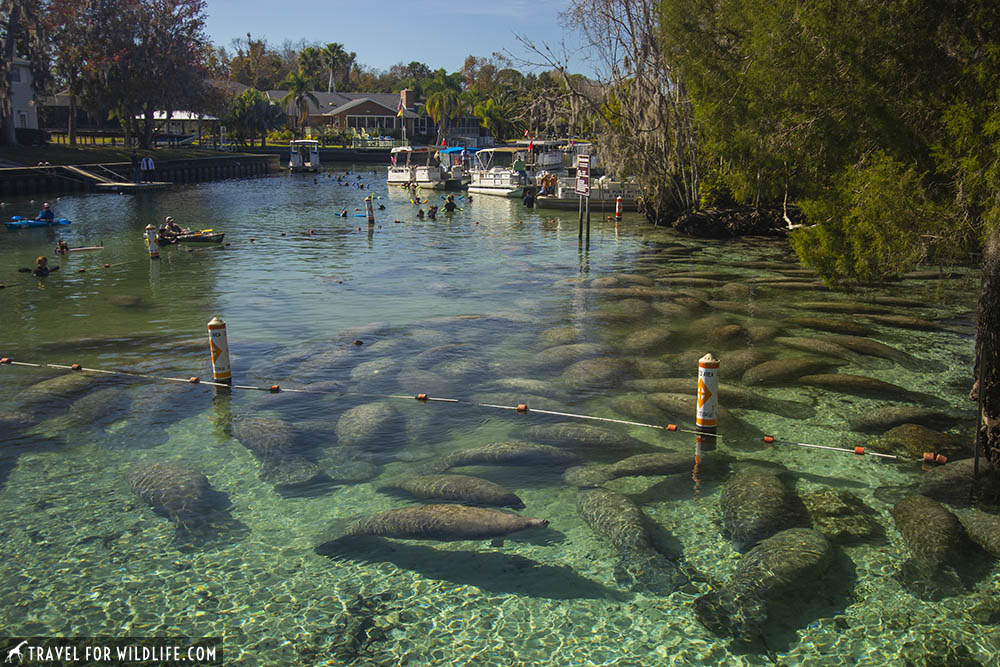 You can also see manatees in Crystal River at the bridge on SW Kings Bay Drive. This bridge overlooks the canal that connects Kings Bay and the Three Sisters Spring, both of which are designated manatee refuges. From the bridge you'll be able to see manatees traveling to and from the Three Sisters Springs.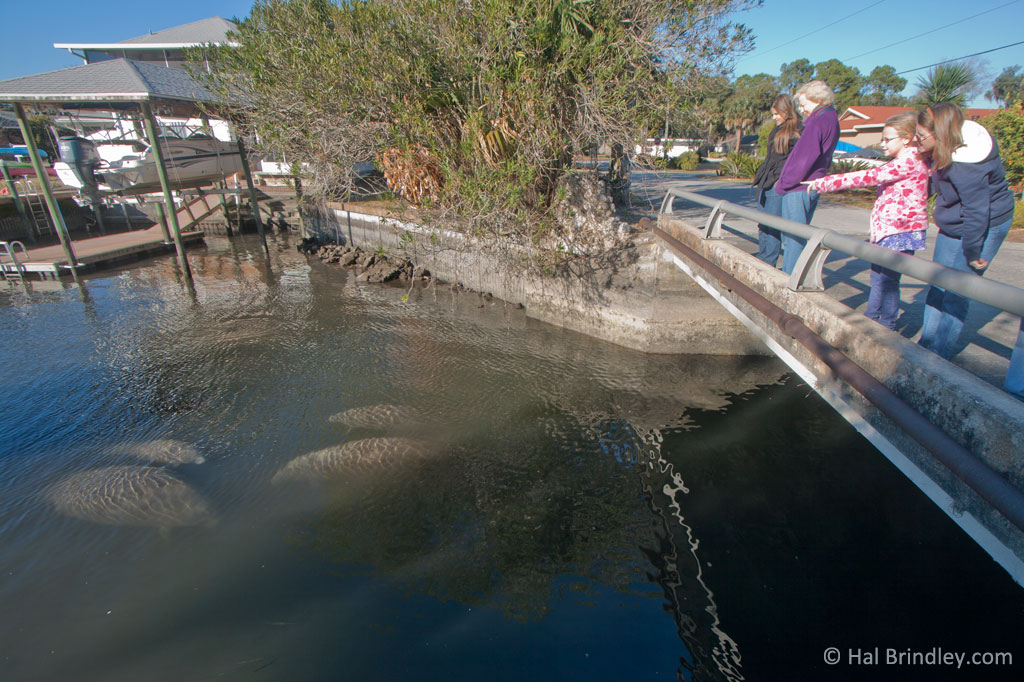 There are a couple of spots by the bridge where you can park you car, but always remember that this is a residential area and to respect other people's property. It is very likely that you'll have to walk to the bridge for lack of parking spots. As it is a public bridge, there are no time constraints or fees.
If you feel like kayaking, there are plenty of places where you can rent one and paddle up to the springs. You can even get paddle right into the Three Sisters Springs, where boats are not allowed but kayakers and swimmers are. Note that kayakers are not allowed inside the springs from November to April, but can paddle outside where there are also manatees. Get yourself an underwater camera, slip your hand in the water and…
2) Blue Spring State Park, Orange City
Covering more than 2,600 acres, Blue Spring State Park is a designated manatee refuge and the waters are closed to swimmers and kayakers during manatee season (mid-November through March). During the summer, swimmers can enjoy the 73 degree constant water temperature, and St. John's River is very popular for canoeing, fishing and boating.
The park is open from 8am until sunset, and there is a fee of $6 per car. Arrive early (especially during weekends) to secure a parking spot, otherwise you won't be able to enter the park. There are cabins to rent overnight and a full-facility campground.
Visit the park website here.
3) Lee County Manatee Park, Forth Myers
Many manatees winter in the discharge canal of the Florida Power and Light plant which empties into the Orange River near Fort Myers. The Lee County Manatee Park was created along this canal to offer superb manatee viewing. There are three viewing platforms to choose from. You can learn more about manatees at the "All About Manatees" free program at 11am and 2pm each day.
This Regional Park has also a butterfly garden, picnic areas & shelters, and a fishing pier on the Orange River. The park is open year round from 8am until sunset.
Another option is to rent a kayak on the Orange River and search for manatees. The water here is dark and it is difficult to see them until they surface to breathe but it is an exciting experience nonetheless.
Visit Lee County Manatee Park website for more information. Parking fees apply.
For a map of the Manatee Park with interactive views of the amenities and manatee observation areas click here.
4) Merritt Island National Wildlife Refuge
Not just a wintering place for manatees, Merritt Island provides habitat for more than 1,500 different animal species. Manatees can be viewed from the manatee observation deck at the Haulover Canal.
During manatee season (November-March) the refuge is open from 9 am until 5 pm during weekends and 8:00 am to 4:30 weekdays.
Learn more about the Merritt Island Wildlife Refuge.
5) Tampa Bay – Tampa Electric Company (TECO), Ruskin
There is a visitor center, a walkway and an overlook where you can see the manatees in the discharge canal during manatee season.
Read more about the Manatee Viewing Center here.
6) Other places to see manatees in Florida:
---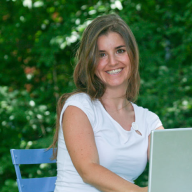 Cristina Garcia
Zoologist and wildlife photographer. She has worked in the field with jackals, wolves, cheetahs, & leopards. She serves on the Board of Directors of SEE Turtles, a non-profit sea turtle conservation organization.
Read her posts at Travel For Wildlife and see more of her work at Truly Wild, & Our Wild Yard.