If you are driving into the Kgalagadi Transfontier Park through South Africa, the first restcamp that you'll find is Twee Rivieren (Afrikaans for Two Rivers) and it is the best place to stay for your first night in the park. Don't feel the need to drive deep into the park, there are great wildlife sightings in the area so take time to explore it.

What Does Twee Rivieren Offer?
The one thing I appreciate most is the guided drives. They offer sunrise, sunset and (at certain periods of the year) midnight drives. Now just imagine how incredible it would be to welcome the new year in the company of lions and leopards. Don't underestimate the value of taking a guided night drive. You'll be able to see animals that are rarely visible during the day like African wild cats, owls and caracals.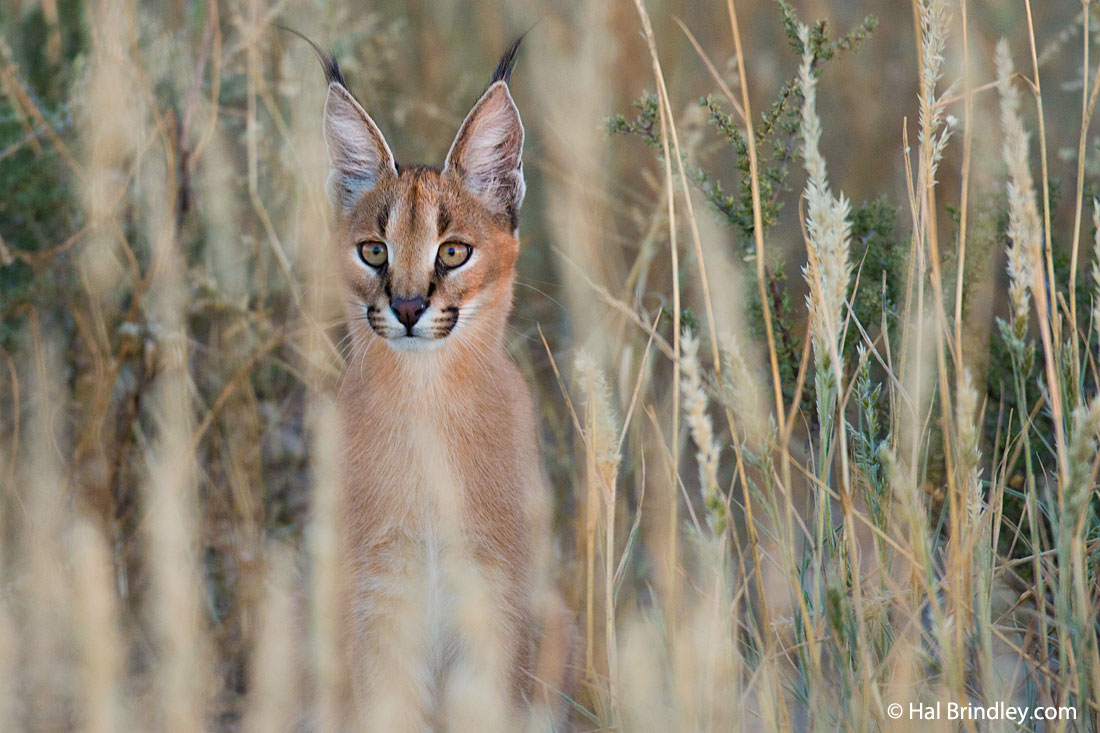 This restcamp is the only one in the Kgalagadi that has a restaurant. Let's face it, the food is not great, but when you have been camping for a while it is quite a treat.
2020 Update: The lunch time take-away (an offshoot of the main restaurant) is pretty decent! We ordered a Vetkoek (stuffed with a hamburger, egg, bacon, cheese and some veggies) and it was huge and delicious. Also, the restaurant is no longer offering breakfast!
The shop at the camp is pretty big compared to the ones at the other two main restcamps (Mata Mata and Nossob), but they waste a lot of that space on souvenirs. They do have limited food items, enough to survive on, but you won't find much fresh produce on their shelves. Upington, the nearest city, is 155 miles away so getting fresh produce is a bit challenging. At least you can get ice cream for those hot days.
The swimming pool! Everybody loves to refresh themselves on a hot day and it certainly gets hot in the Kalahari. I love swimming pools, but I am not a big fan of the pools at the Kgalagadi camps. They are green, dirty, and have a "hippo pool" sort of smell. More importantly, the water in these pools is a precious resource for the Kgalagadi life. The desert needs this water. People, not so much.
What Does Twee Rivieren NOT Offer?
There is something very important that Two Rivers lacks: a waterhole. Yes, there is one about 1km into the park but there is not one accessible from the camp itself where you can sit at any time of the day like in all the other camps. I consider this a major drawback.
UPDATE 2020: Twee Rivieren has a waterhole now! It is accessed from behind the farthest chalet, walking up a sandy dune trail to a beautifully-designed blind. The view is stunning, but when we visited in 2020 it seemed the animals hadn't found it yet (we saw none). Also keep in mind that you should wear closed-toe shoes when walking up the access trail at night. The natural dune vegetation hides a wide range of small creatures. Cristina almost stepped on a beautiful but dangerous horned adder!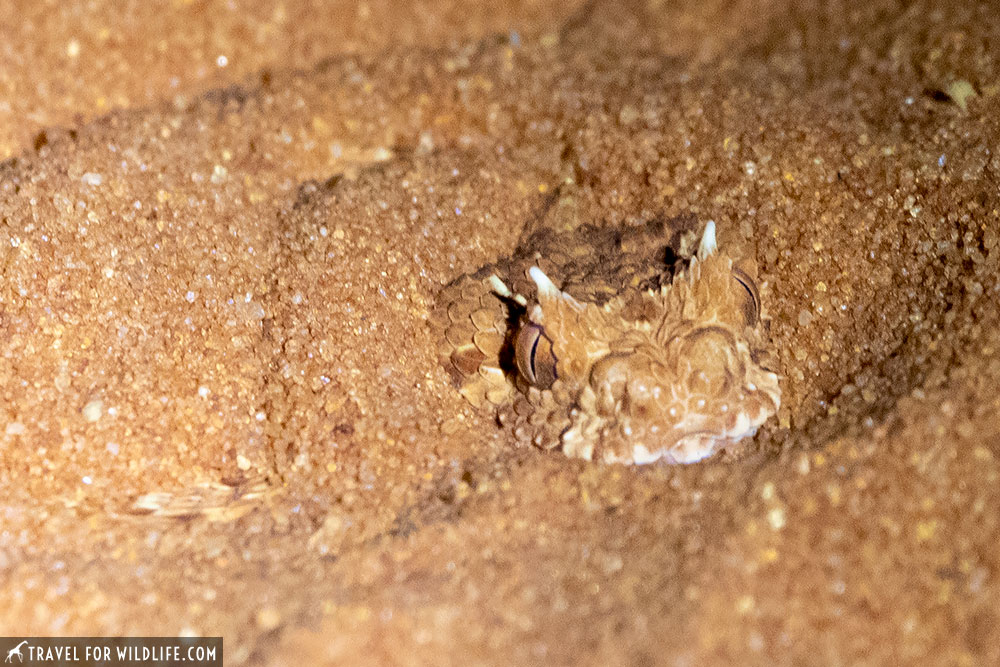 Chalets or Camping?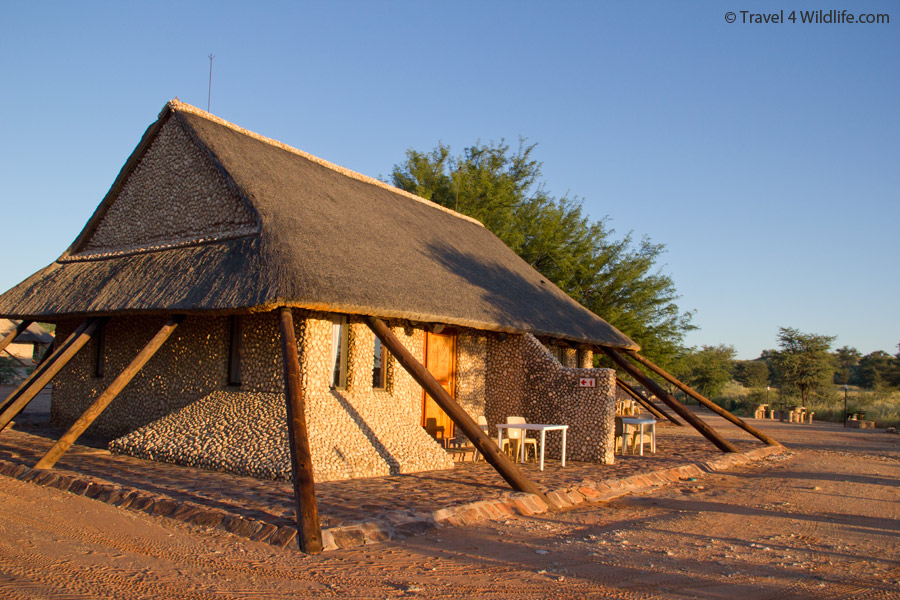 For accommodation Twee Rivieren offers thatched-roof chalets and campsites. You can have a one room, two-room, or a family (up to 6 people) chalet. The two-room chalets are a bit awkward as one of the rooms has the kitchen in it and if you need to go to the bathroom in the middle of the night you have to go through the other room.
When I think of Two Rivers the first word that comes to mind is BATS because if you choose to stay in a chalet you are going to sleep with them. We have stayed at a few chalets and all but one had bats in it. Each chalet has a small colony living in a crevice under the thatched roof, generally above the air conditioner in the back. Although the majority of bats are outside the structure, a few occasionally work their way through the thatch and fly laps around the room all night whenever you turn off the light. We successfully managed to trap a couple with a towel and put them outside, but inevitably, others manage to get in through the roof. We haven't stayed in the one-room chalets so right now I am just referring to the two-room chalets.
2017 UPDATE: We stayed in Twee Rivieren chalets this year and there were no remaining bat colonies. Perhaps they've managed to relocate them and keep them out.
2018 UPDATE: We stayed again in a Twee Rivieren cottage and still totally bat-free. Here is a photo of the very thorough bat-proofing around the thatched roofs. It includes fine-meshed chicken wire bonded at the edges with cement. Also they've erected a few bat houses around the area to help offset the reduction of roosting habitat.
2020 UPDATE: We stayed in one of the smaller 3-bed chalets and Cristina believes she heard a bat in the chalet but we never laid eyes on it.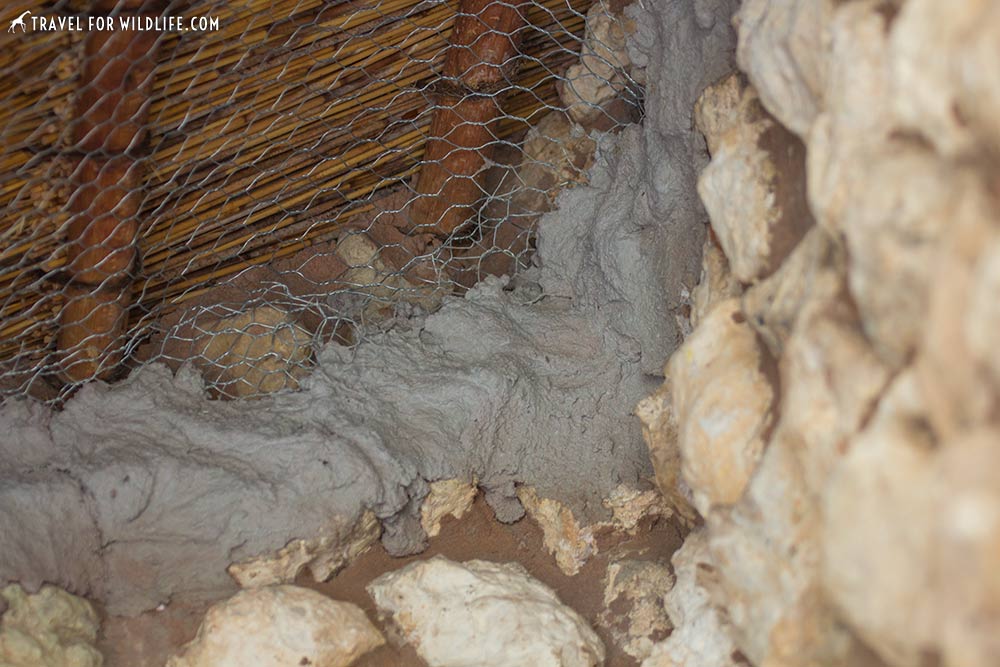 The Bright Side of Sleeping with Bats
Sharing your room with bats is a great experience. When your lights are on you won't see them. It is when you turn the lights off that these guys love to fly just above your head. If you think that might be annoying, we have found some positive points:
It is great fun trying to locate your neighbors. Try sleeping with a flashlight in hand.
You can get great shots of bats. Hal shot this photo of me with a bat flying over my head in one of the bedrooms.
Since the bats live between the thatched roof and the walls of your chalet, you can locate the entrance and wait for them to come out at dusk. It is incredible to see them all fly out at the same time. Some of them will just crawl, so make sure you are ready to take some close-ups.
Owls. It seems like owls love bats. On our last visit to the restcamp there were two Verreaux's Eagle Owls right outside our chalet. They were waiting for the bats to come out.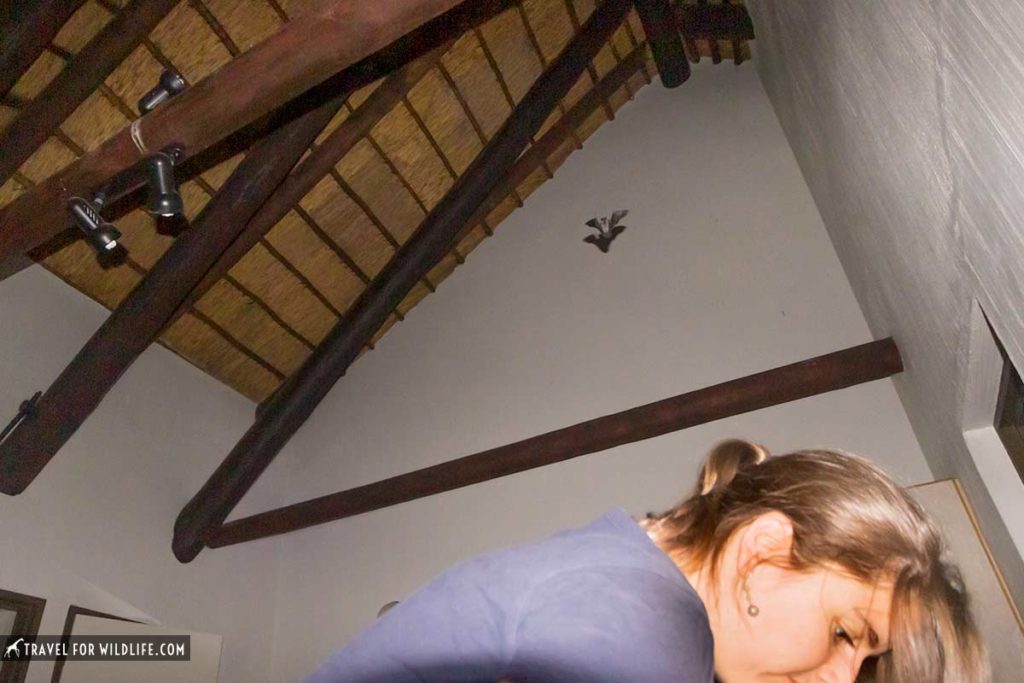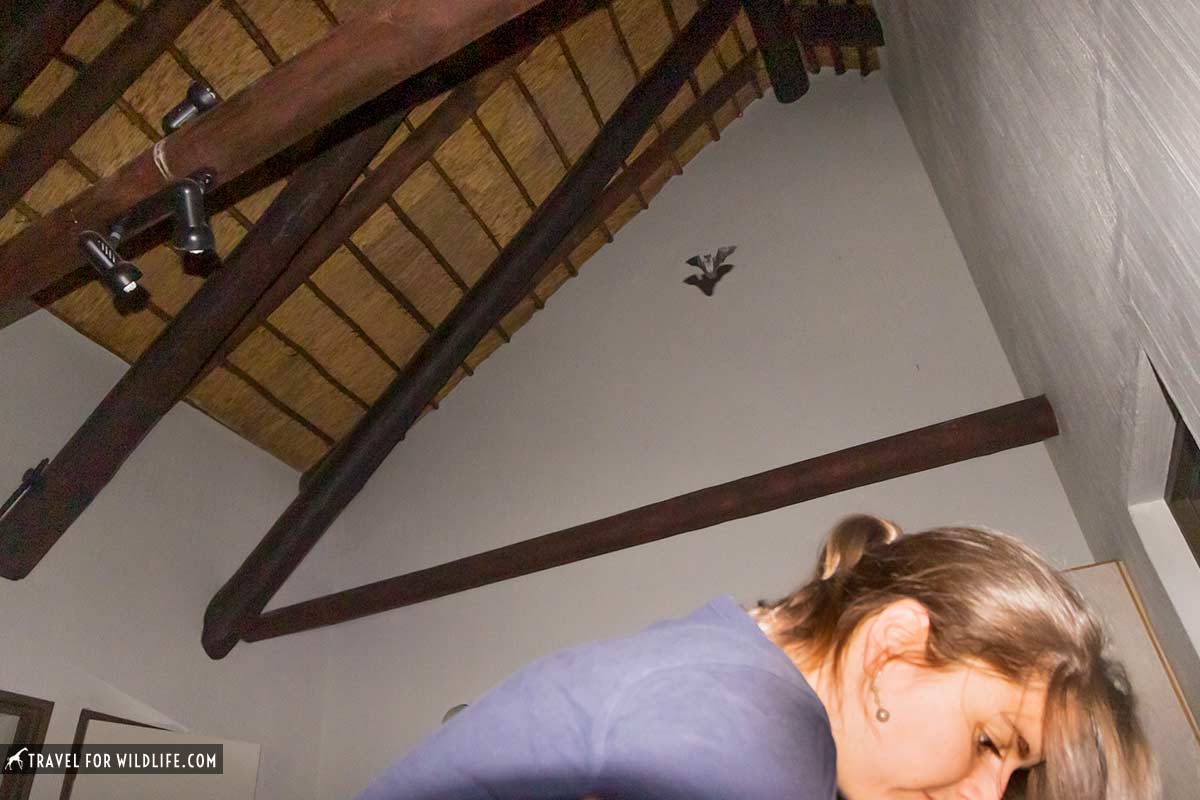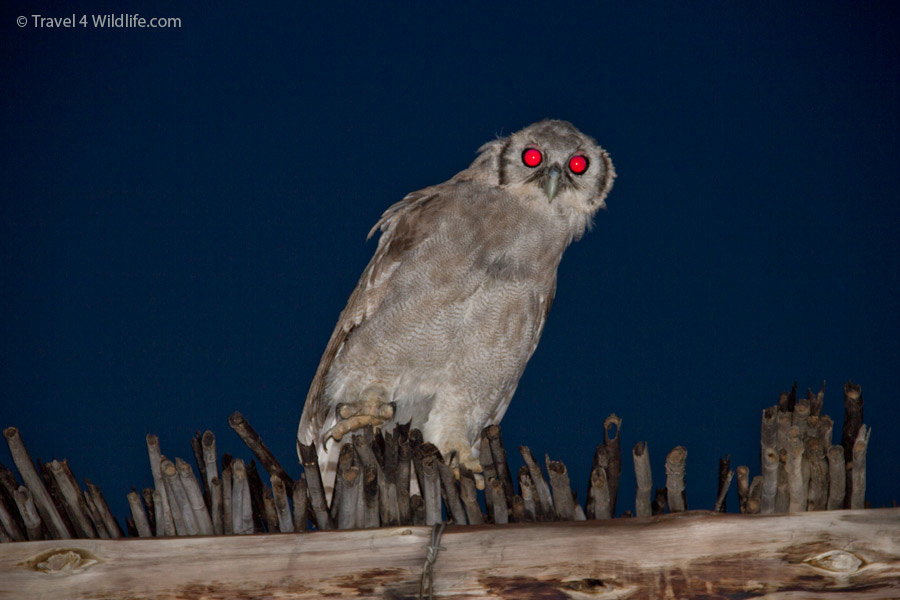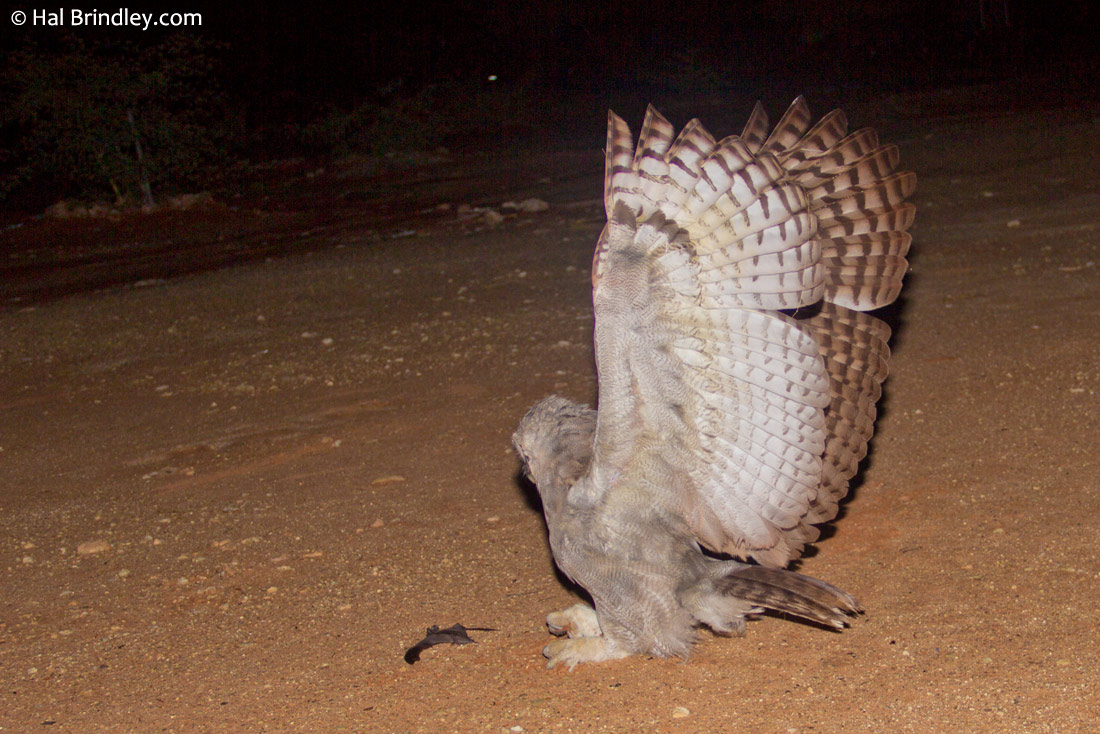 The Dark Side of Sleeping with Bats
Poo. Yes, bat poo in your bed. Bat poo on your pillow. Bat poo on your face. I know what you may be thinking, poo on my face? But it is true, bats have incredible aim. I did get poo on my face last time we stayed there and I wasn't impressed at all. Thankfully they are pretty tiny and generally dry little pellets. The smell in the rooms can also get a bit strong, especially if you don't have the AC running.
Identifying Bats
If you want to be able to listen to the ultrasonic echolocation calls of bats and be able to identify the species, then check out the Echo Meter Touch 2 bat detector review we did. It currently includes 21 species in South Africa that can be identified!
Camping in Two Rivers
This is definitely my choice when staying at Twee Rivieren. It may seem a bit crowded at times but there are a few spots, right at the end of the campground, that are pretty isolated. This also means that the walk to the bathroom facilities is going to be a bit longer. We can live with that.
While camping does not give you the privacy of four walls and your own shower, nothing beats the feeling of listening to lions from your tent.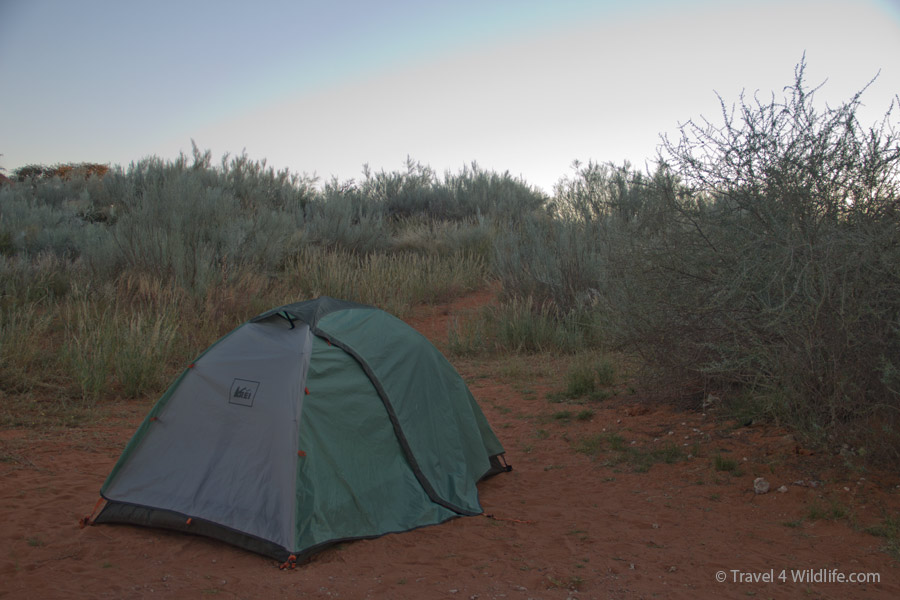 And isn't that what you came here for?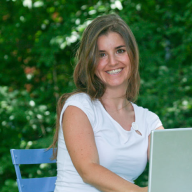 Cristina Garcia
Zoologist and wildlife photographer. She has worked in the field with jackals, wolves, cheetahs, & leopards. She serves on the Board of Directors of SEE Turtles, a non-profit sea turtle conservation organization.
Read her posts at Travel For Wildlife and see more of her work at Truly Wild, & Our Wild Yard.