A red blob crossed the road in front of our safari open vehicle. I only caught the back end but I didn't recognize that reddish color. Our guide stopped the car and said "caracal". Hal and I looked at each other. What? Had we just heard the word caracal?
Never in a million years would we have thought we would see a caracal that night, or ever. It was our last night in the Kgalagadi Transfrontier Park, our favorite place in the world. Out of the blue we decided to go on a sunset drive as a treat and as a farewell to Africa. At night time you see different creatures than the ones you see during the day. Owls, bat-eared foxes and African wild cats are all out there. I really wanted to see a leopard. A caracal would do. But you see, these guys are very shy and a caracal sighting is rare. They are on the "I wish I could see it before I die" list.
"Caracal? Was that a caracal?" I jumped off my seat and moved to the opposite side of the vehicle. Standing up on a safari vehicle is not allowed, but I couldn't think straight. A caracal!
Just as fast as we saw the animal, it quickly disappeared in the tall grass. I love the desert in the rainy season, with its blooming flowers and summer storms. But the grass…the grass gets a little bit crazy in some places. And we were in one of those places.
I was jumping up and down, too excited to care if my cursing was bothering any one in the vehicle. I grabbed my camera and, realizing I would never get decent pictures, I changed its mode to video. Hal had his big lens; he would have better chances than me.
And just as my camera was ready, here it was. A caracal popped out of the grass patch. And another one. And another one. It was a mother with two cubs. They were walking uphill and soon they would disappear. One of the cubs looked back and peeked at us through the tall grass. At the very same time I heard a click coming from Hal's camera.
"Did you get it? Did you get that caracal looking back at us?"
"Yes! I think I did! I think I did!"
One of the cubs started to jump like a crazy kitten.
Just as fast as they appeared, they vanished over the hill.
Hal and I looked at each other with wide open eyes. Did that really happen? Did we just see a caracal with two cubs?
That was definitely one of the highlights of our trip to Africa this spring.
---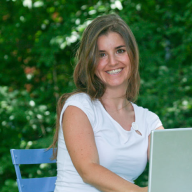 Cristina Garcia
Zoologist and wildlife photographer. She has worked in the field with jackals, wolves, cheetahs, & leopards. She serves on the Board of Directors of SEE Turtles, a non-profit sea turtle conservation organization.
Read her posts at Travel For Wildlife and see more of her work at Truly Wild, & Our Wild Yard.