For many months I've been searching for a shark cage diving company that doesn't use bait or chum. Chum is a mixture of blood and fish parts so to me chum is bait just like a milkshake is food. Unless crucial research on great white sharks is being conducted, I personally don't believe it should be allowed, with or without a permit. You wouldn't throw steaks to a wild lion to lure it closer to your car, so why would you feed the top predator of our oceans?
If you've been looking for an ethical shark cage dive tour company too, you can stop your search right here! Thanks to one of Hal's friends who went on a tour with them, we've finally found a company that does not use bait or chum during their shark cage diving tours.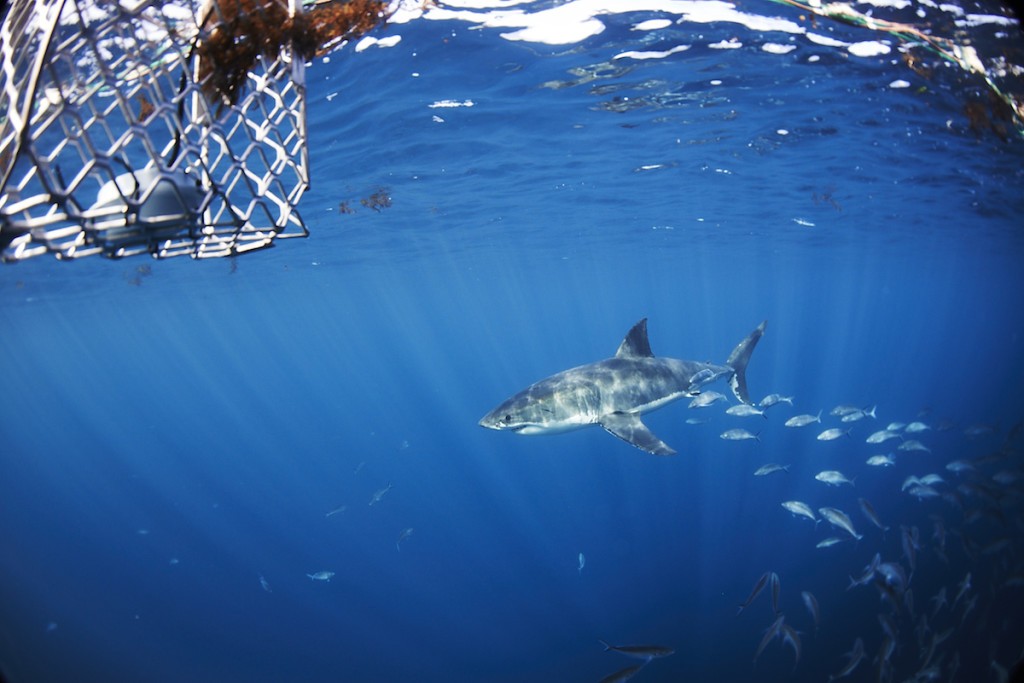 Let me introduce you to Adventure Bay Charters! Based in Port Lincoln, South Australia, this company doesn't believe in using bait or chum as they are concerned about changing this predator's natural feeding behavior, and about the sharks hurting themselves when "attacking" the shark cage.
Makes sense to me!
Sharks are the Rock Stars of the Ocean
Just like lions are the rock stars of the savannah, and jaguars are the rock stars of the Pantanal, the great white shark is the rock star of the ocean. And they love AC/DC.
Adventure Bay Charters use acoustics to attract great white sharks. And the sharks are definitely into it. Whenever they play AC/DC, great white sharks follow the music! The company pioneered the use of acoustic attraction for great white shark cage diving in Australia.
While music is an attractant (like fish or chum), the company has noticed a very different behavior from sharks attracted by music compared to sharks attracted by chum or bait. By playing music through underwater speakers, curious sharks are encouraged to venture around the boat to investigate the source of the sound. When they are not lured in by food sources, sharks are not as aggressive and they don't attack the boat or the cage.
In my opinion, this is a more natural behavior and other tour operators around the world should look into phasing out bait/chum and moving to this innovative and respectful way of watching sharks in the wild.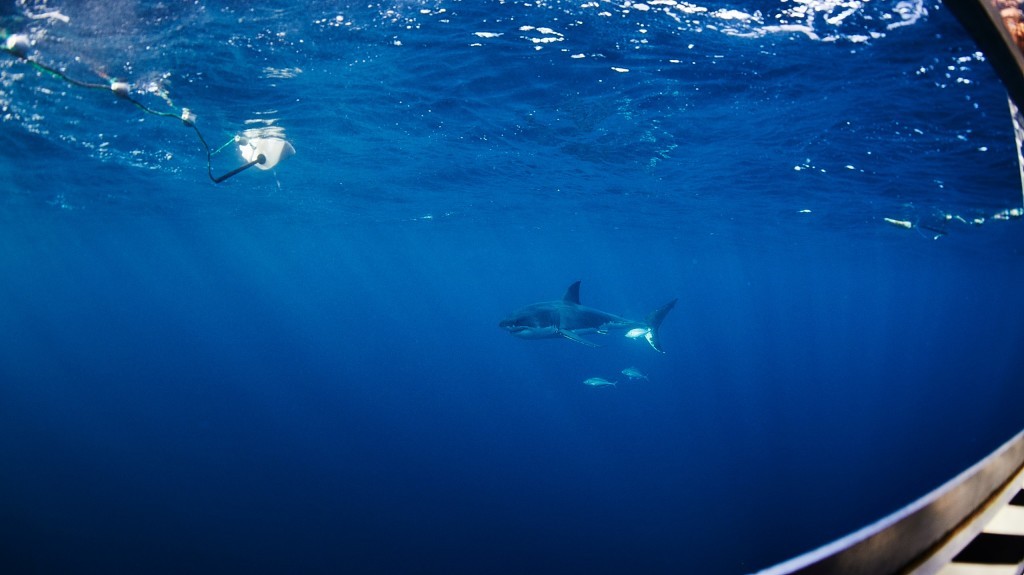 Keeping dry while shark cage diving
Adventure Bay Charters also have the world's first Shark "Aqua Sub". If you don't feel like jumping in the water or just want to have a drink while viewing the sharks, you can climb down the ladder, sit comfortably, and wait for the action to happen! The Aqua Sub is an underwater compartment with seats and a glass viewing area with 360 degree views. View the sharks while staying completely dry!
Genius!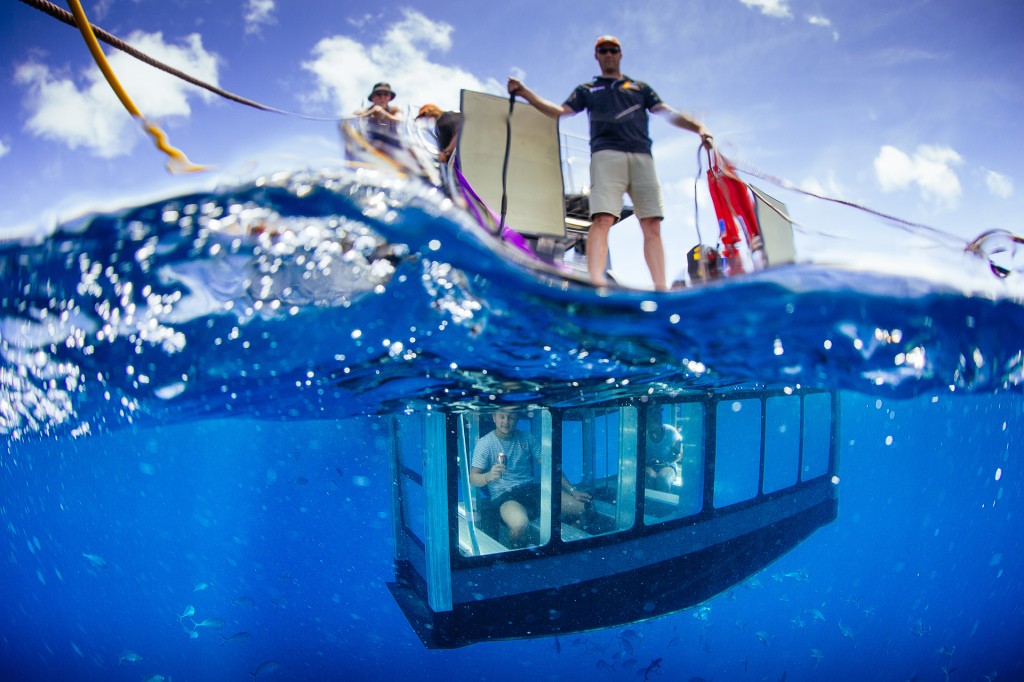 This is a such a cool way to view Great White Sharks in their natural habitat. You don't even have to change into a wetsuit or get wet!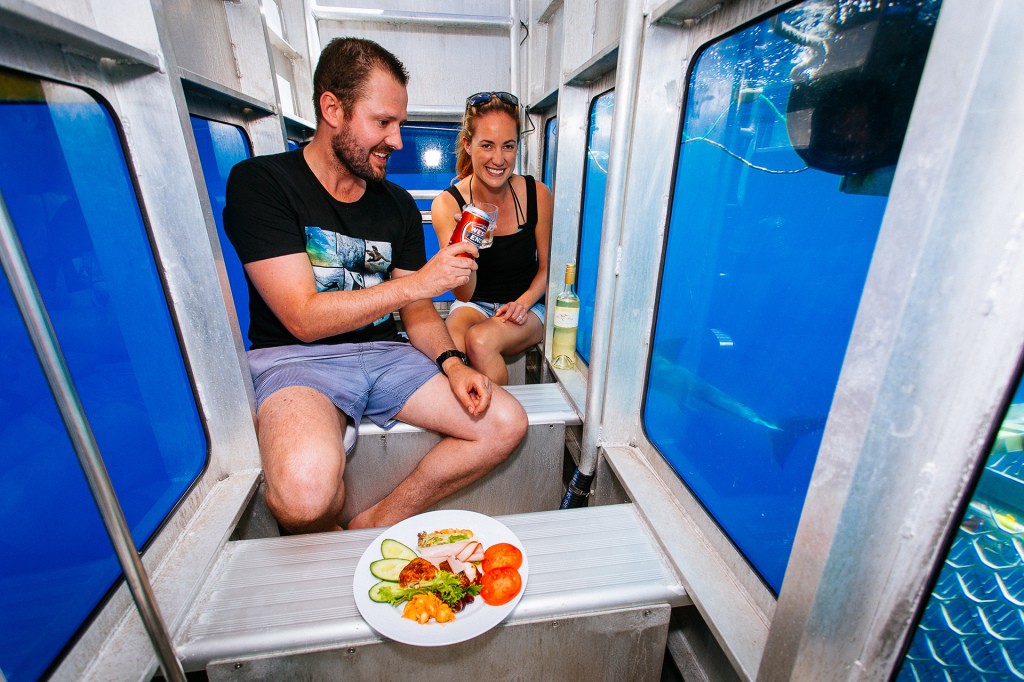 Adventure Bay Charters is licensed and operates under the Great White Shark Cage Diving Code of Conduct to promote shark cage diving in South Australia in a professional and responsible manner.
They are advanced eco-certified
Adventure Bay Charters are the creators of Australia's first advanced eco-certified shark cage diving experience.
Sounds good, but what does this really mean?
The ECO Certification logo is a globally recognized brand which assists travelers in choosing a genuine and authentic tour or attraction that is environmentally, socially and economically sustainable.
Advanced Ecotourism is the highest level of ECO Certification in Australia. It identifies Australia's leading and most innovative ecotourism products, providing an opportunity to learn about the environment with an operator who is committed to achieving best practice when using resources wisely, contributing to the conservation of the environment and helping local communities.
You can learn more about this certification and eligibility at ECOtourism Australia.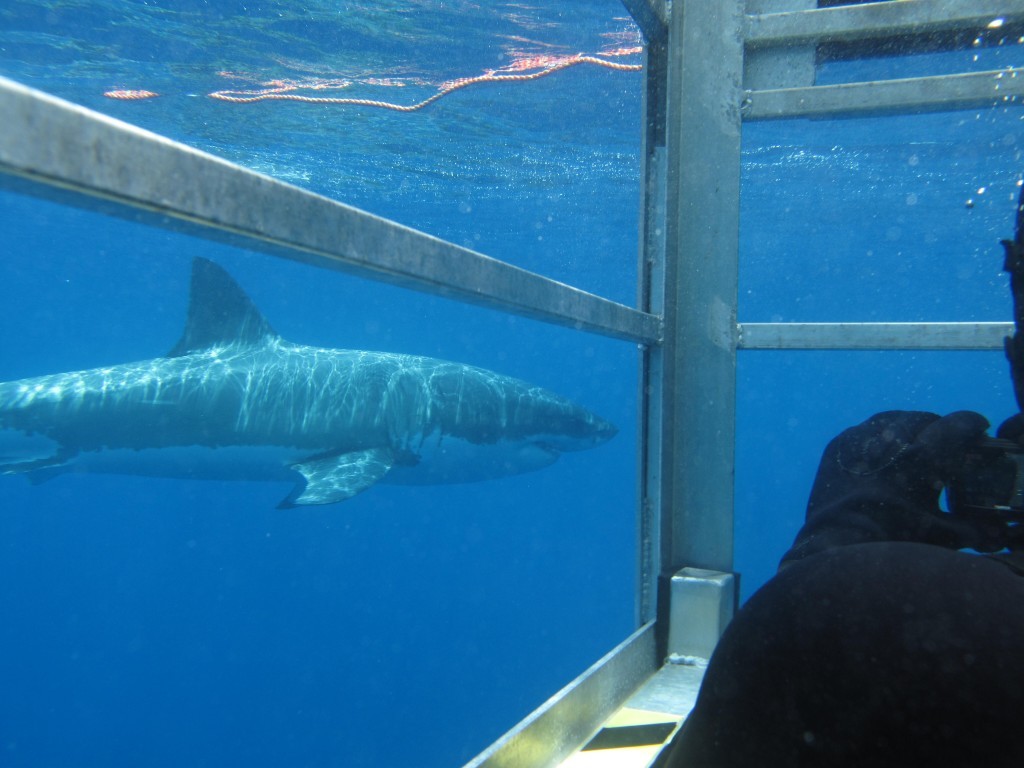 When is the Best Time of the Year to go Shark Cage Diving?
As with all wildlife watching that don't use bait, sightings are unpredictable. It depends entirely on the animals.
But if you look at past great white shark viewing records, May-August is probably the best time. This is when the seal pups that were born during summer start leaving the safety of the shore and become easy pickings for skilled predators like the great white.
You must remember that winter brings bad weather and the outings might be cancelled if the weather doesn't cooperate. Make sure you are in the area for a few days for a greater chance of seeing the sharks.
Another time of year that is great to see sharks is December through February. This is shark breeding season and the weather is warmer.

Whatever season you choose to go shark cage diving, you sure are in for a wild treat!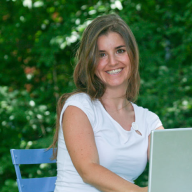 Cristina Garcia
Zoologist and wildlife photographer. She has worked in the field with jackals, wolves, cheetahs, & leopards. She serves on the Board of Directors of SEE Turtles, a non-profit sea turtle conservation organization.
Read her posts at Travel For Wildlife and see more of her work at Truly Wild, & Our Wild Yard.