A visit to one of the National Parks in the United States wouldn't be complete without staying at a cozy cabin, just like these cabins in Yellowstone or these cabins in the Great Smoky Mountains. If you are planning a Rocky Mountain National Park vacation then you are also in luck! Just outside the park, the town of Estes Park (gateway to the park) has plenty. Without a doubt, Estes Park lodging offers a wide variety of choices. From Estes Park cabins on the river to cabins with hot tubs and pet friendly cabins, these Rocky Mountain National Park cabins are some of the finest.

Here is our list of 9 incredible Estes Park cabin rentals that you should check out for your next vacation. If I had to choose a place to stay in Estes Park, I think I would go for cabin number 5 I love that patio!
*This article may contain affiliate links. We receive a small commission at no extra cost to you.*
---
1- One of the Beautiful Estes Park Cabins on the River Big Thompson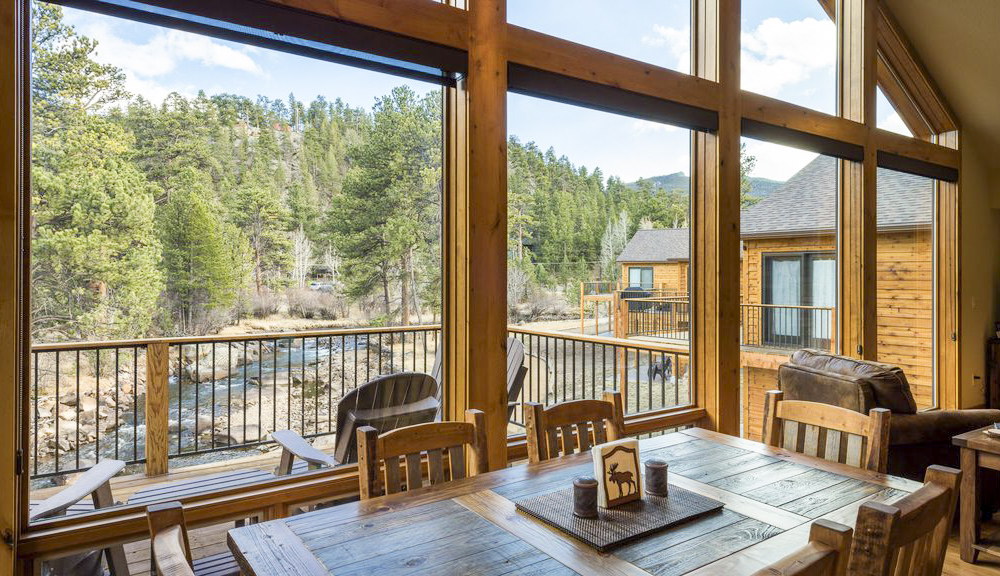 Relax at this river front cabin after a day adventuring in the Rocky Mountain National Park (which is just 1.5 miles away!). This is one of the beautiful Estes Park cabins on the river, it is a former model home, has three bedrooms, a moss rock gas fireplace, and an open plan living room and kitchen, which is perfect for those family moments. All of this with upstream and downstream views of the Big Thompson River, he backdrop of Prospect Mountain and a snow cap view of Long's Peak from the deck…what else is there to say? Top it up with a two car garage, laundry room, and HOA-shared common fishing areas along the Big Thompson river.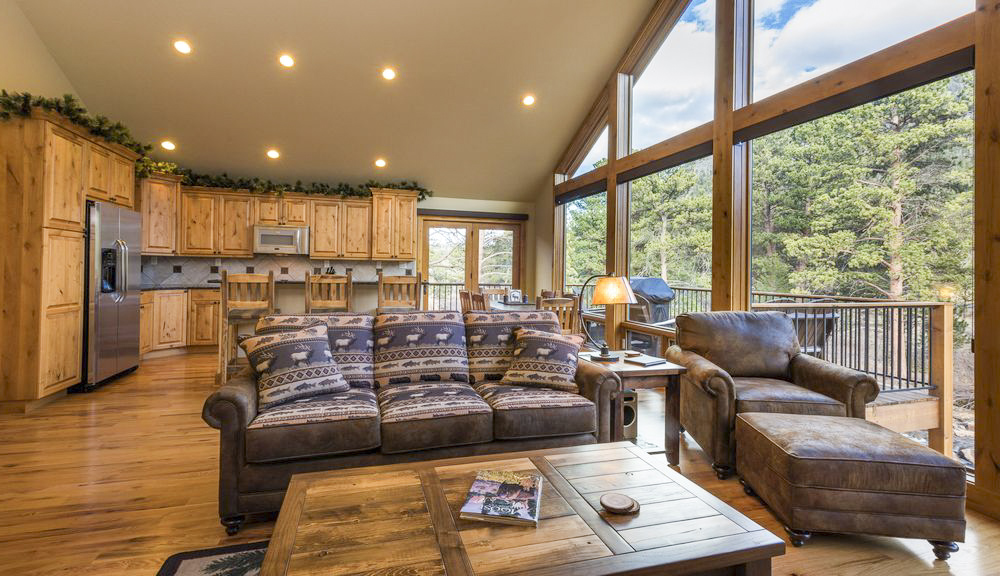 ---
2- Incredible Mountain Lodge for your Birthday Celebration or Family Gatherings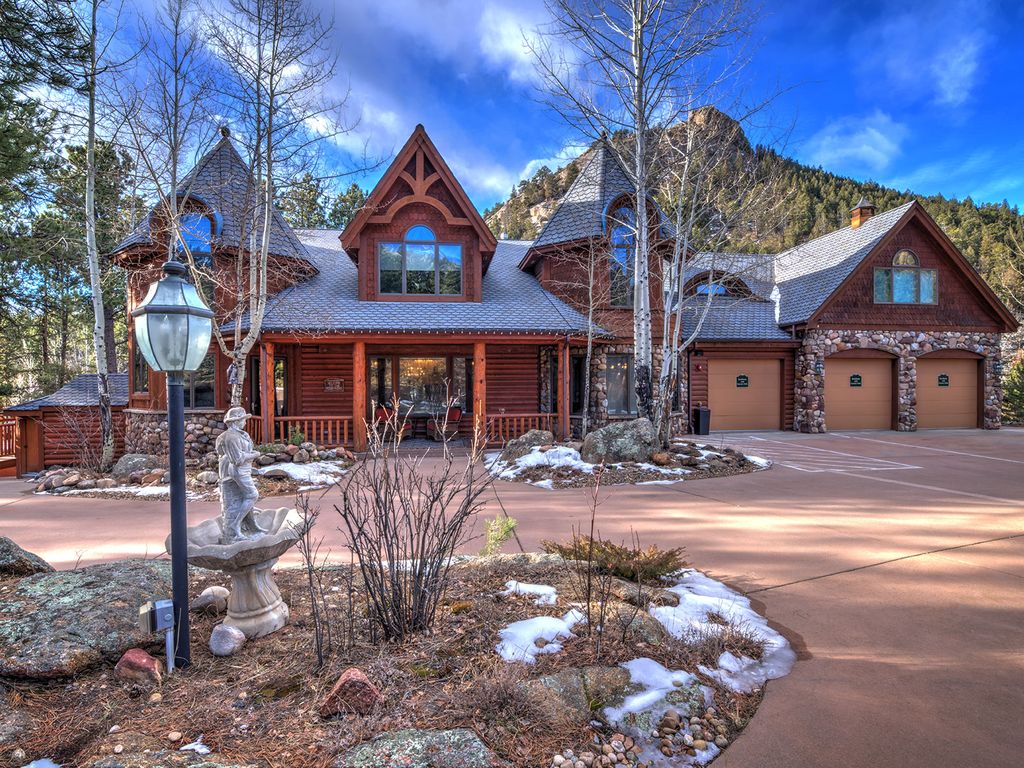 This cabin is more than a cabin. It is a luxury mountain lodge and one of the best Estes Park cabin rentals there is. With 8 bedrooms, 9 bathrooms, and plenty of cont sleeps up to 24 people! If you like the outside wait until you see the insane inside. The huge main room has a fireplace and baby grand piano; a gourmet kitchen with an adjoining breakfast room with gas fireplace. Connected to the kitchen you 'll find the formal dining room featuring a 14' table that allows 18 guests to sit comfortably!
The lower level sunroom features an 8 person hot tub, 12′ shuffleboard table, sauna, and 2 pinball machines.
This mountain lodge is a mile west of Estes Park. I hear there is a fabulous bakery next door that has the most incredible cinnamon rolls.
---
3- Modern Cabin near Downtown Estes Park, Perfect for Families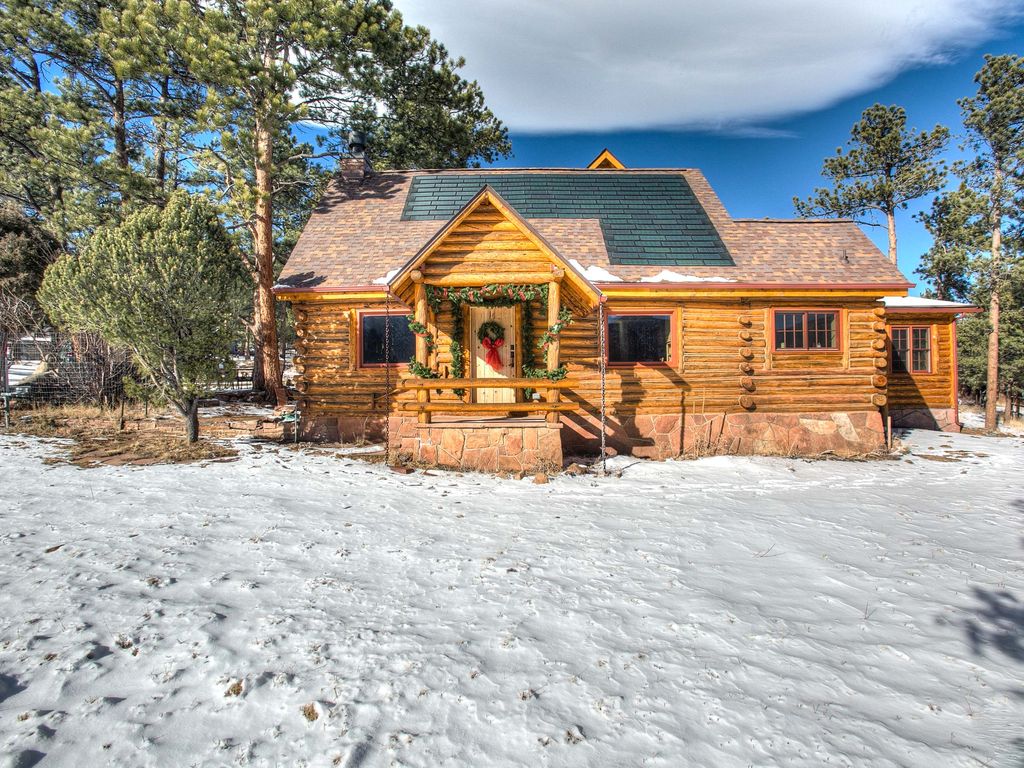 If you are planning an Estes Park family vacation, this mountain cabin is the one! Close to downtown and to trails, equipped with an outdoor hot tub, a 70″ Home Theater, a game room with Cocktail Arcade Game Table with 60 games, Foos Ball and Ping Pong, and a den makes makes this cabin one of the best places to stay in Estes Park. After a day adventuring, relax at the massage room (massage chair included), sip a hot cider at the day bed in the sun room while elk pass by, or relax at the hot tub!
This mountain cabin has 3 bedrooms and has extra sleeping areas so there is room for up to 8 people!
---
4- Looking for Pet Friendly Cabins in Estes Park?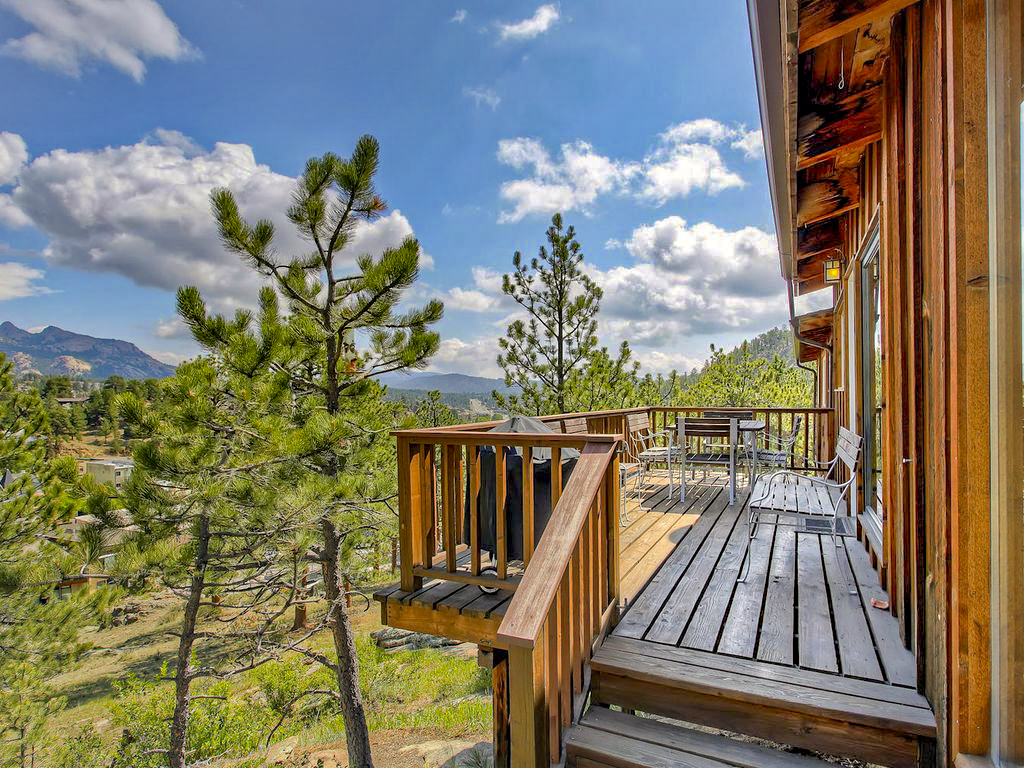 If you are looking for pet friendly cabins in Estes Park, look no further! This stunning Estes Park cabin welcomes your partner in crime!
This three bedroom cabin has spectacular views of famous Lumpy Ridge and Twin Owls from every room. The open living room and kitchen gives this cabin the cozy feeling you want in a mountain cabin. Add a reading nook with plenty of reading material, a comfy lounge area, extensive deck with mountain views, and a wood stove and you have the perfect cabin for your Rocky Mountain vacation!
---
5- Estes Park Cabins on the River, the Finest Estes Park Lodging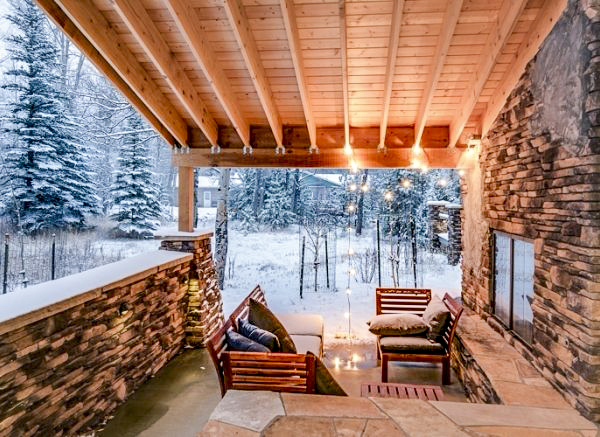 This is one of my favorite Estes Park cabins and a great example of the fine Estes Park lodging available for your vacation. This cabin has a bright, modern, and open feel, it is one of the cabins on the river that you can rent for your vacation.
With four bedrooms, there is plenty of room for your family. This cabin has high ceilings, a wood burning fireplace, a large screen TV, windows and doors to the patio and yard and comfortable furniture, you will enjoy coming back to your cabin after a day adventuring in Rocky Mountain National Park (only 4 miles away!).
Up the stairs from the kitchen is a large, open balcony and game room. The balcony overlooks the main living room and has its own couch and TV as well as a pool table and a three-quarter bath with shower-no tub. So you can choose…chill out on the patio, enjoy the river outside your door, or play a game? Maybe everything!
---
6- Homey Cabin with Hot Tub and Mountain Views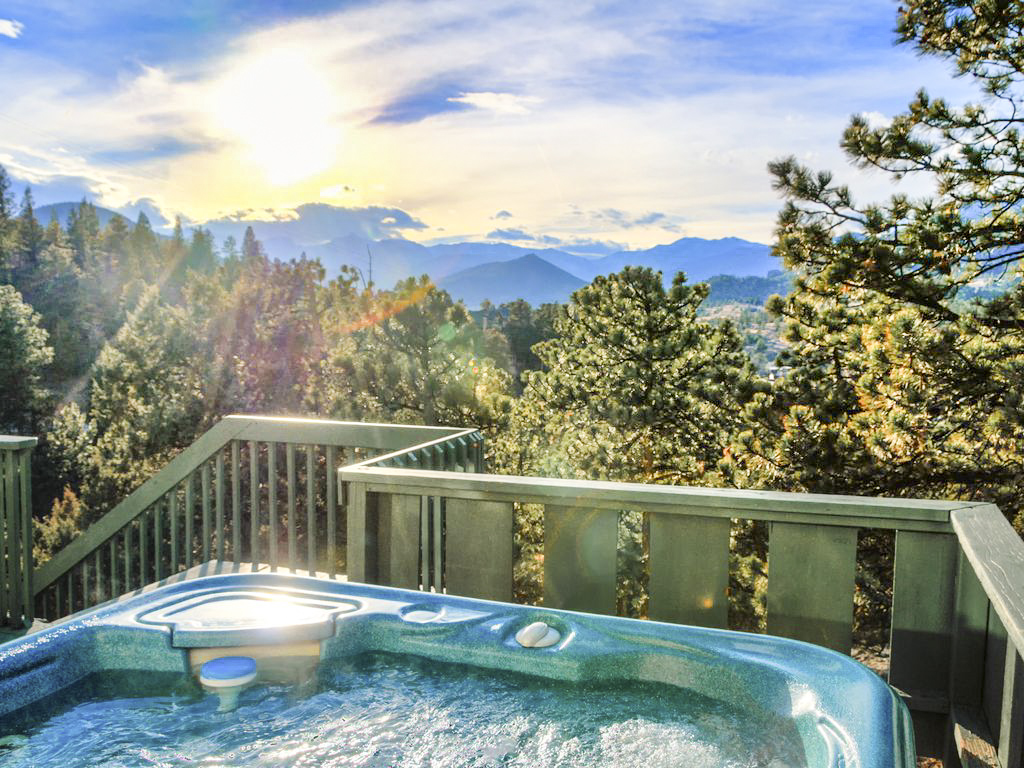 This cozy cabin will make you feel right at home. Grab your cup of coffee and enjoy the mountain views from your own and private hot tub.
This cabin has two bedrooms, and it is one of the most affordable Estes Park cabins, and it is perfect for a couple or small families. On a chilly night cuddle up to the stone fireplace with a good book, or grab a blanket and enjoy the outdoor fireplace.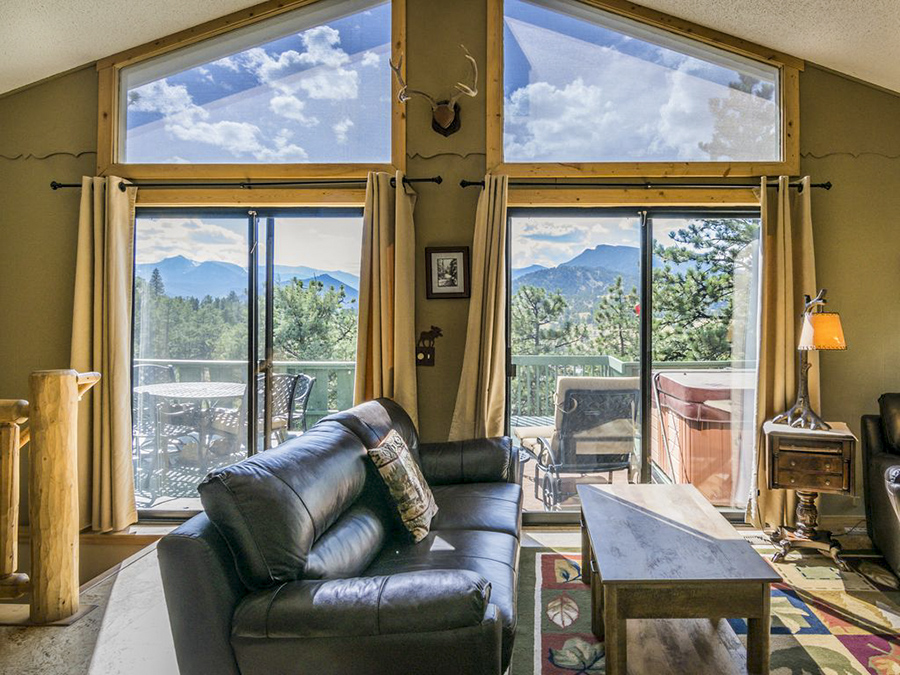 ---
7- 'Rockhedge', A Beautifully Restored 1921 Historic Rock Cabin!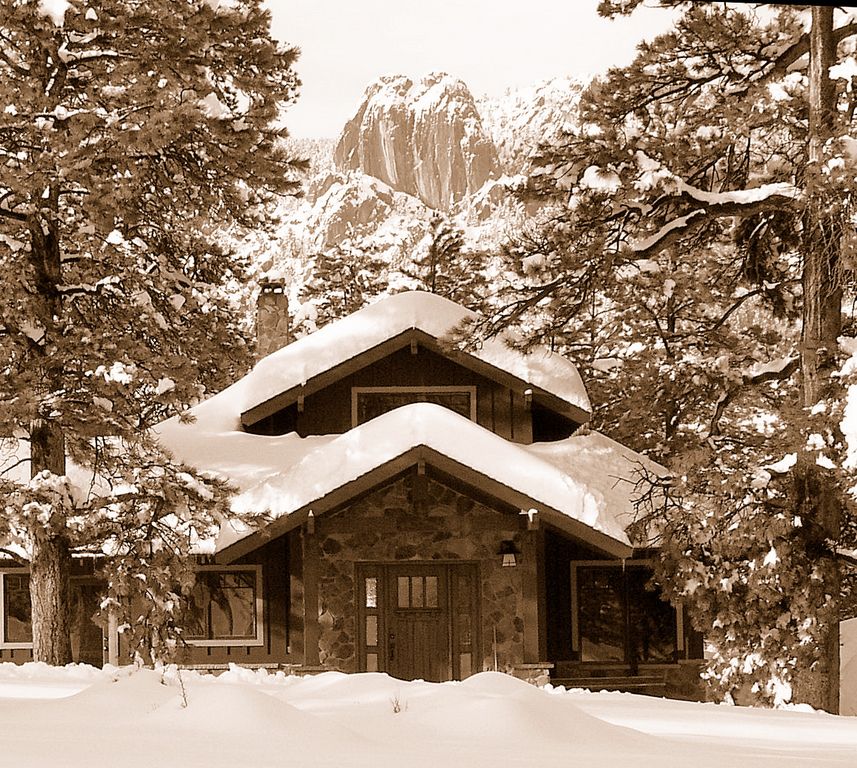 This beautiful restored cabin could be yours for your vacation! Located on over an acre of beautiful Colorado mountain terrain, Rockhedge is in the oldest established neighborhood of Estes Park.The home has been lovingly restored while keeping its character. Even the elk seem to make themselves at home here as they are regularly see on the property.
The village of Estes Park is within walking distance, and the house has also easy access to the entrance of Rocky Mountain National Park.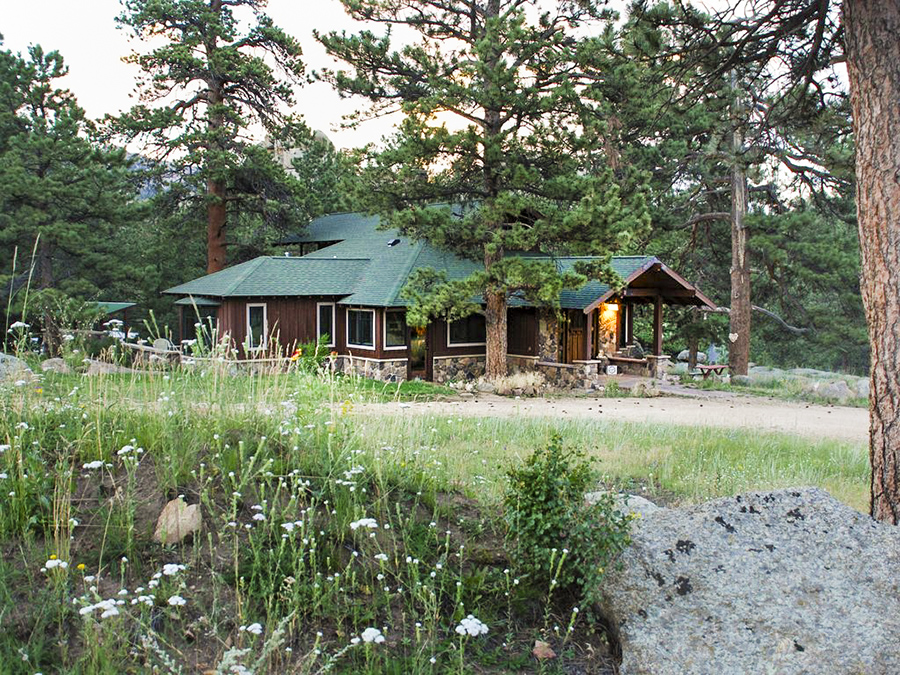 ---
8- Large Log Home with Mountain Views, Outdoor Hot Tub, and Basketball Court!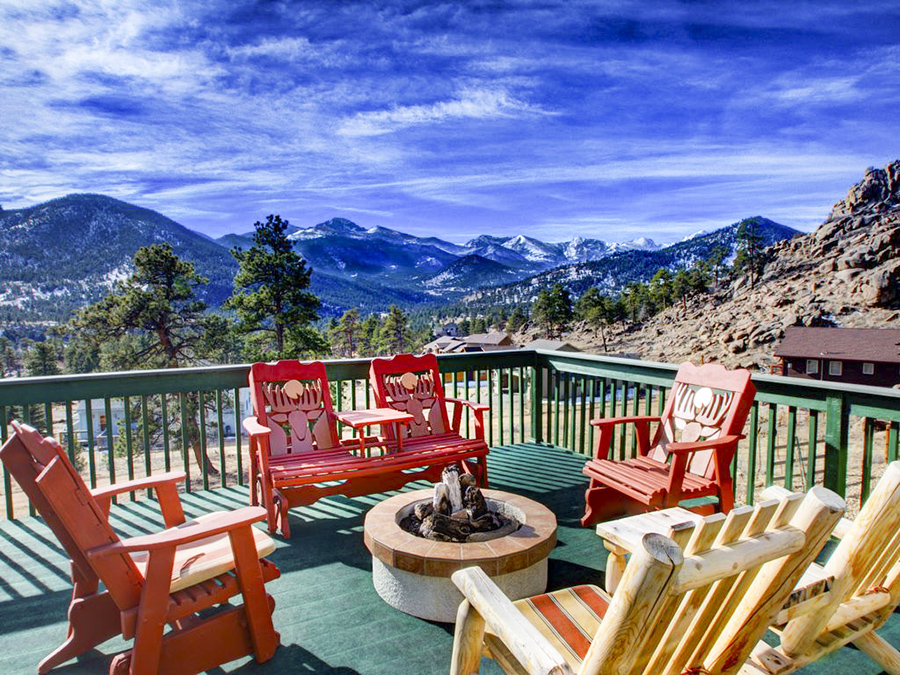 Right by Rocky Mountain National Park's Beaver Meadows Visitor Center, this stunning home is ready to welcome you and your big family. With 8 bedrooms, sleeping up to 18 people, this is the ideal place for a family reunion or a friends getaway in the Colorado Mountains.
Spacious, bright, stunning views of Twin Sister's (13,000'+), Long's Peak (14'000'+), and the continental divide itself, and an outdoor hot tub. This is one of the best Estes Park cabins with hot tubs! With its own basketball 3 living/sitting areas, 2 fireplaces, outdoor fire pit, a game room, over 2400 sq ft in decks, and yes… even an indoor basketball court!!!
If you need some fresh air, head outside! This large log home has an outdoor ping pong table, a large hot tub, wood/log furniture including gliders and swings, and 2 picnic tables. Also outside is a very nice horseshoe court, and a 1800's rustic trail wagon.
This home is very popular, so you'd better book soon. Take me there!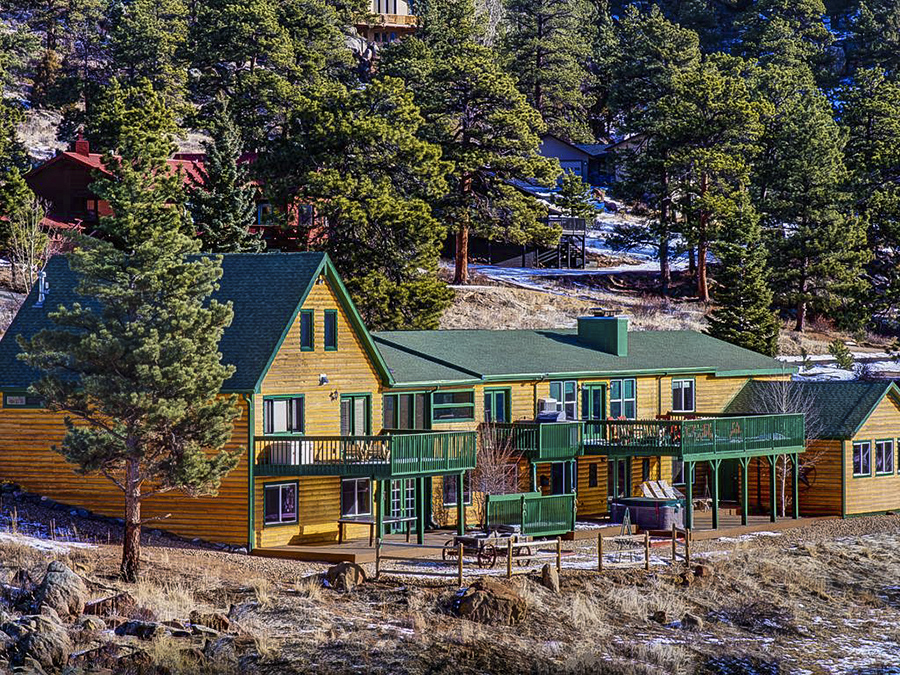 ---
9- Mountain Views from Thompson River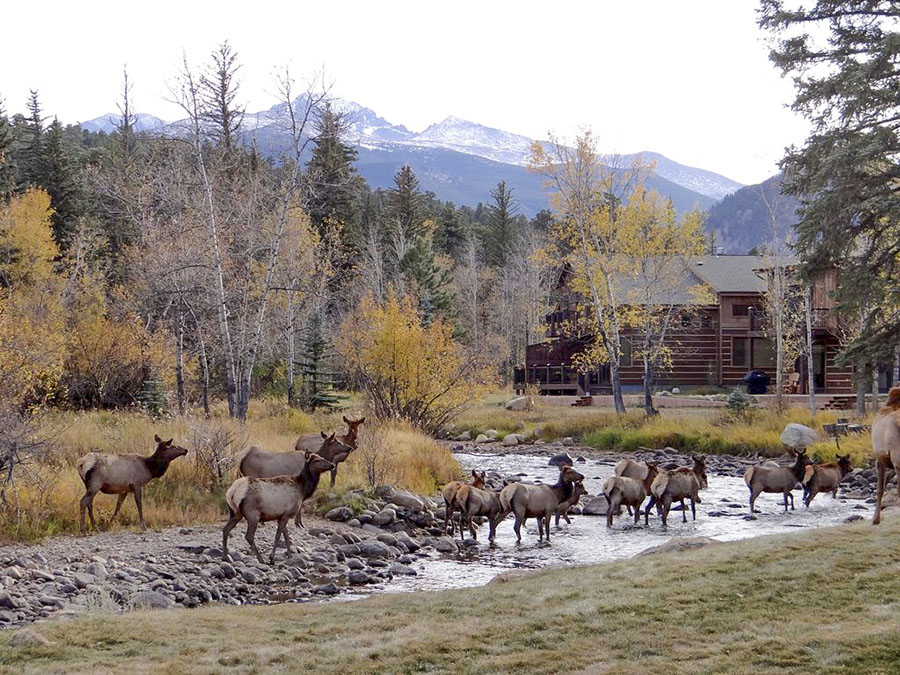 This is such a cute cabin! Elk chilling out outside your door, the river flowing by, the sight of those mountains! But you must see the inside of it too.
With three bedrooms, this cabin is perfect for small families. Deck with a grill, stone fireplace, granite countertops,…It is only a short drive to Rocky Mountain National Park. This is one of those places you need to check out!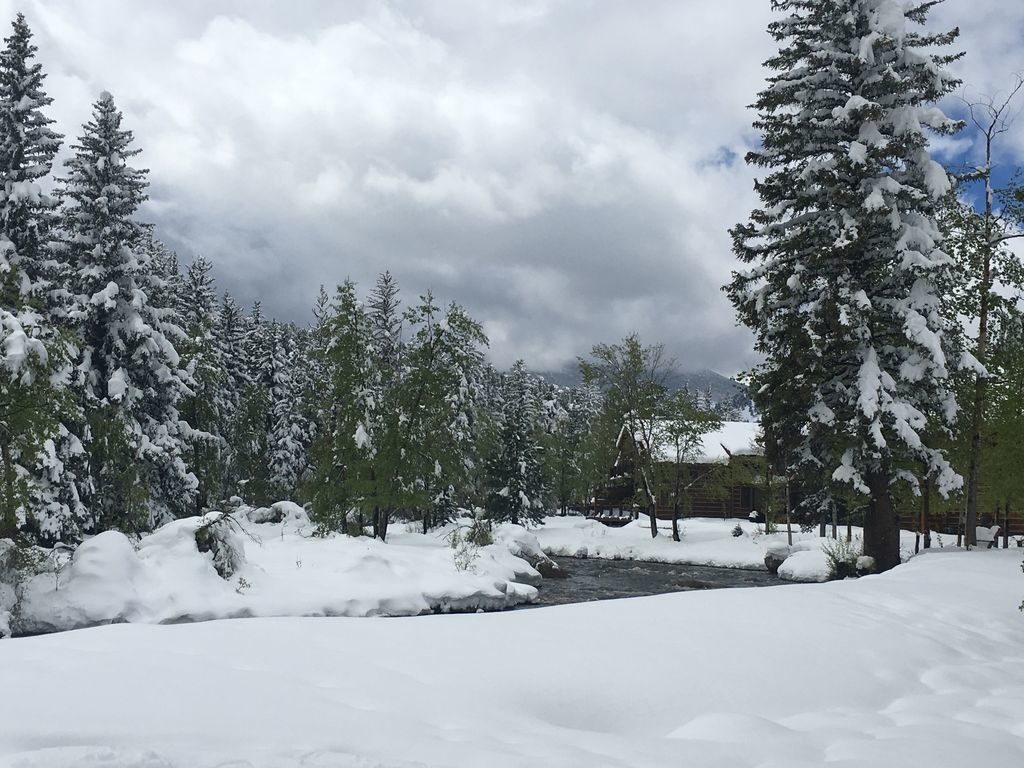 ---
If we had to choose, we would choose cabin 6 as one of our favorite places to stay in Estes Park.
Try one of these cabins and let us know how you liked them!
---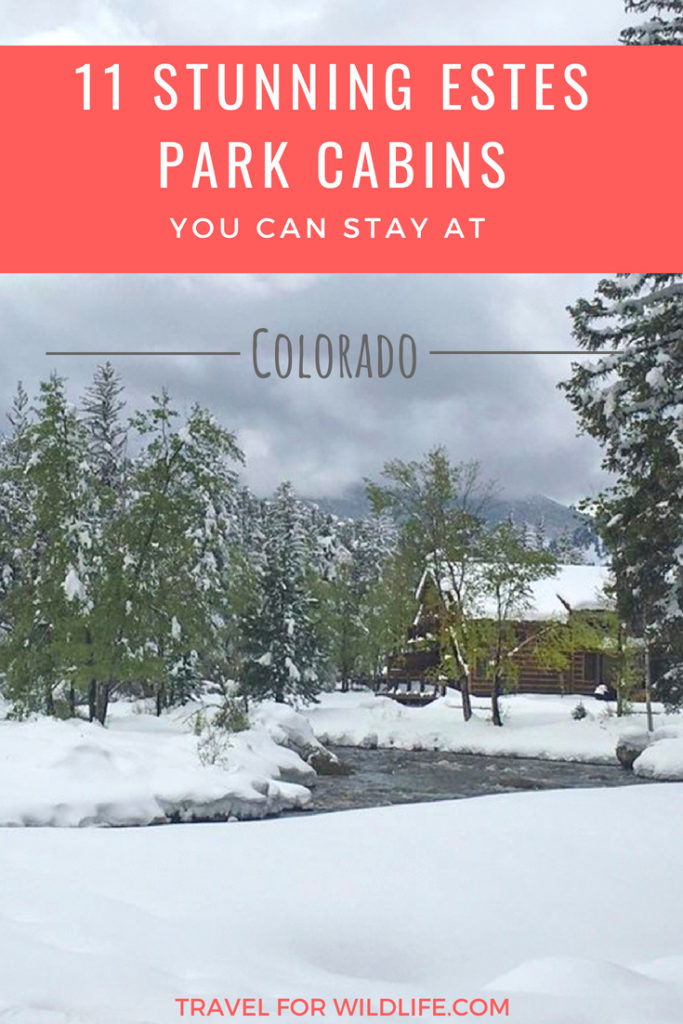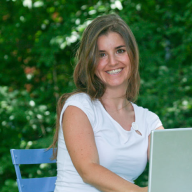 Cristina Garcia
Zoologist and wildlife photographer. She has worked in the field with jackals, wolves, cheetahs, & leopards. She serves on the Board of Directors of SEE Turtles, a non-profit sea turtle conservation organization.
Read her posts at Travel For Wildlife and see more of her work at Truly Wild, & Our Wild Yard.