Whenever we're fantasizing about our next trip to Africa, the conversation always steers toward Zambia. Yet somehow we still haven't managed to get there. Perhaps it's because every time we do get to Southern Africa, we end up in the Kgalagadi. We just can't stay away! But Zambia keeps calling us. I decided I ought to make a list of all the camps that travelers rave about so I can have it handy for when we finally do take our dream safari in Zambia.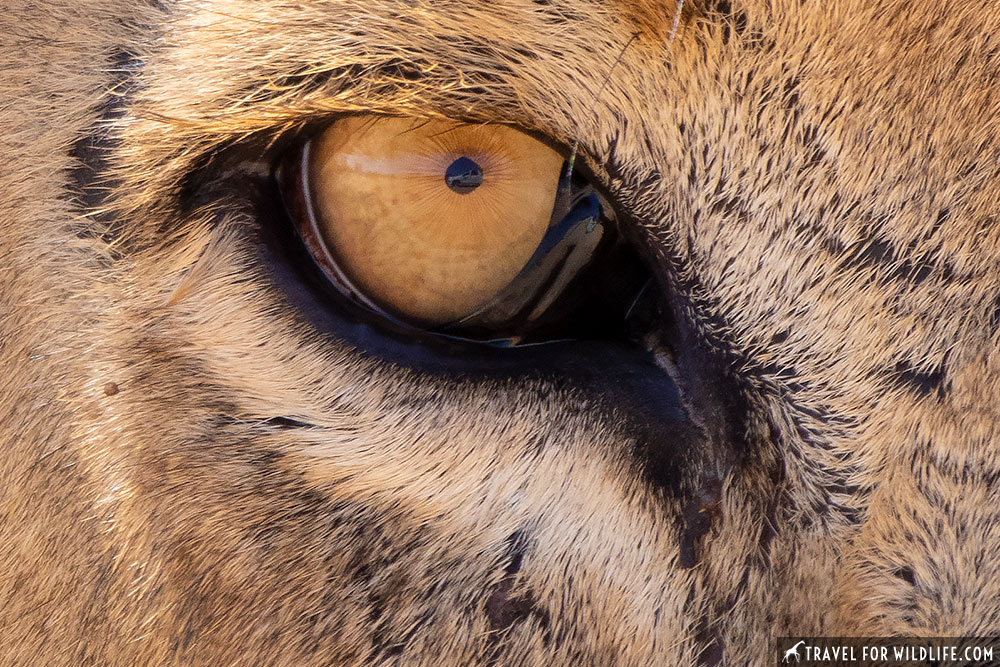 First, a few quick notes on logistics. If you need to rent a car, try Hemingways or The Wild Life for your 4×4 rental in Zambia. We haven't used them, so we can't comment personally, but they are local businesses and we prefer to give priority to smaller local rental companies.
If you are flying into Namibia and aiming for a big road trip (as we are likely to do), we recommend you rent your 4×4 through Asco Car Hire in Windhoek. They were the most professional, most prepared, and the easiest to work with 4×4 rental in Namibia or South Africa we've come across. Their prices are very reasonable too. If you do end up driving into Zambia from another country, remember to always ask your rental company if you can take the car across borders and which countries you intend to visit!
And now, on to the good stuff! My list of campsites in Zambia covers South Luangwa NP, Lower Zambezi, and Kafue National Park as these are the parks we're most likely visit. Get ready to drool.
*This article may contain affiliate links. We receive a small commission at no extra cost to you.*
---
South Luangwa National Park Camping
Well, here's the thing. You can't actually camp in South Luangwa National Park as there are no camping facilities inside the park, only upscale lodges like the famous Mfuwe lodge (which is also going on my list). If you prefer to camp you'll have to head outside the gates, like at Croc Valley Camp or at Wildlife Camp.
South Luangwa National Park's main attraction is the numerous oxbow lagoons formed around the South Luangwa river. The concentration of wildlife around these lagoons is one of the main reasons why visitors travel to Zambia. The park is also home to magnificent trees like Baobabs, Marula, Mopane, Tamarind, and Ebony…to name a few.
South Luangwa's seasons go from dry winters to lush summers, so plan accordingly.
For information on how to get there, navigating the park roads, and other essential info, check this post about South Luangwa NP by my friend Roxanne Reid.
Croc Valley Camp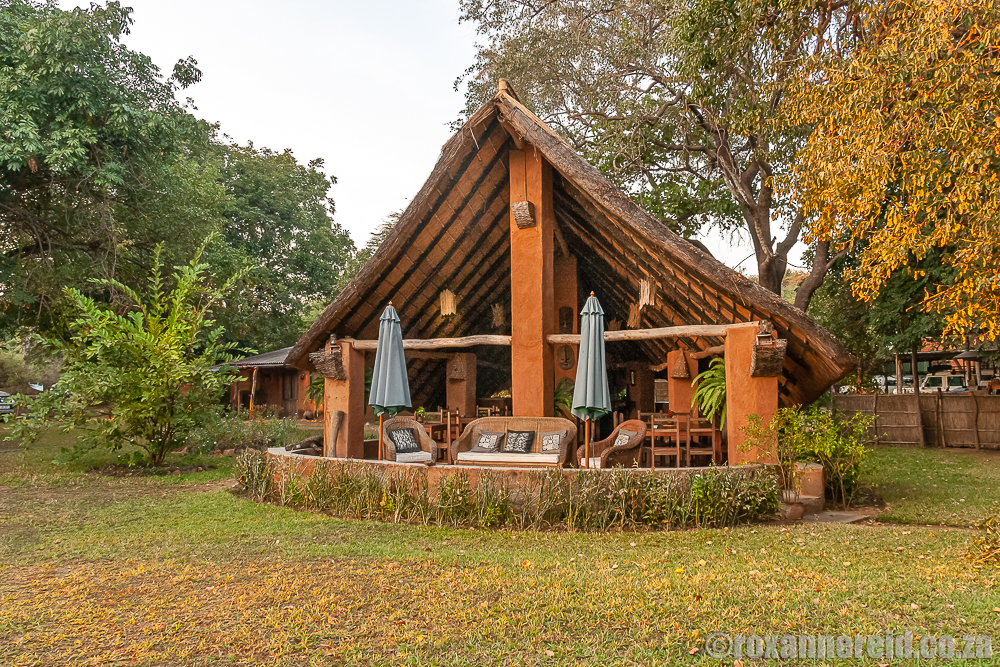 Overlooking the Luangwa river with the most exquisite sunset views, Croc Valley Camp is a favorite for travelers visiting South Luangwa National Park.
Croc Valley Camp offers different accommodation options, from river front camping to tented chalets, riverfront tents, and rooms. As a note to my self here, check out their tented chalets on stilts. They are great for the self-catering type of visitor (you can add full board if you are tired of cooking, so you have options).
Their breakfast area overlooking the river is a favorite as you can watch wildlife frolicking in the river while you start your day.
Activities offered at Croc Valley Camp include game drives, walking safaris, and community activities. Visit the Tribal Textile Shop & Art Safaris (you can create your own design in their workshop), the jewelry artist at Mulberry Mongoose (proceeds go to anti poaching efforts), the Chipembele Wildlife Education Trust, and Project Luangwa.
Important to know: you don't need to rent a 4×4 as they offer airport transfers. If you are just visiting South Luangwa during your trip to Zambia, this is a great option.
Visit Croc Valley Camp for more information.
Wildlife Camp
It is worth noting that Wildlife Camp donates a considerable portion of all accommodation and camping fees to the Wildlife and Environmental Conservation Society of Zambia. These donations support the wildlife and people of the Luangwa Valley. You can read more about this here. This alone is a very good reason to stay at Wildlife Camp. If you need another reason, just take a look at this photo. Imagine sitting on your own veranda while watching a herd of elephants.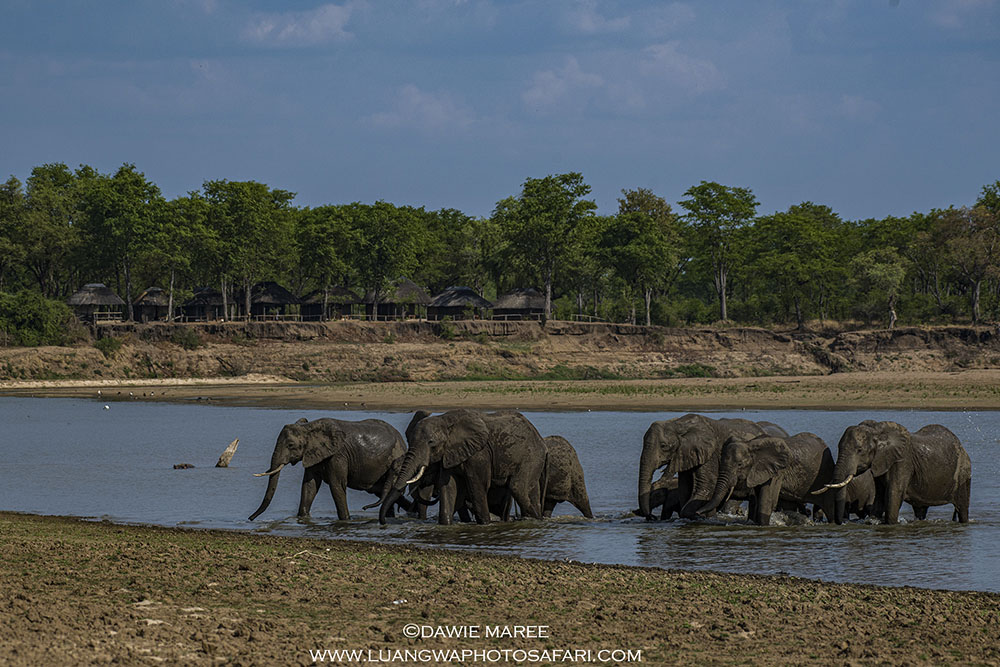 The main attraction of this camp, for me anyway, is their bush camp, which is separate from the main camp. To get there you join a walking safari that stops at the camp overnight. You stay in canvas tents (there's only 5), take bucket showers (the best!), and have a three course dinner over an open fire. There is no electricity in the bush camp but you get a 180 degree view of the Luangwa river.
If you prefer more amenities then you can stay at their chalets, and if you are a keen photographer you can also sleep at their photography hide. Or do all three!
For more information visit Wildlife Camp.
---
Kafue National Park Camping
Welcome to Zambia's largest and oldest national park! Kafue National Park was established in 1924. It is also the largest national park in Zambia, and the second largest in Africa! Kafue covers over 5 million acres (bigger than 2 Yellowstones!), and is located 125 miles north of Victoria Falls, making it a great stop if you are going to see the falls.
If you want to visit Kafue, you really must plan your timing as most of the park is inaccessible during the rainy season (November through April). To visit the park during these months, you should stay in the north side of the park where most camps are open year round. If your dates are flexible and you want to be able to visit both the north and south areas, the best time to visit the park is after the rains end (April-November).
Even though the famous Busanga Plains is in the north part of Kafue, you must visit during July-November, as Busanga plains is a seasonal floodplain. This is all water-dependent and you should double check before visiting.
At Kafue you can find four of the Big Five (sorry no rhino), plus Cheetah, Wild Dog, and over 450 species of birds. Also, Kafue is a good place for elusive antelopes like blue and yellow-backed duiker, roan, sitatunga, sable, lechwe, and hartebeest.
Kasabushi camp
Ever since I heard of Kasabushi from a Facebook group I haven't been able to stop thinking about this place. Small, rustic, beautiful campsites by the river, no Tsetse flies (they prefer Miombo woodland to riverine bush)…and they are open all year round.
Aside from their campsite, Kasabushi also has a bush camp with two tented chalets and river views. I could stay here for weeks.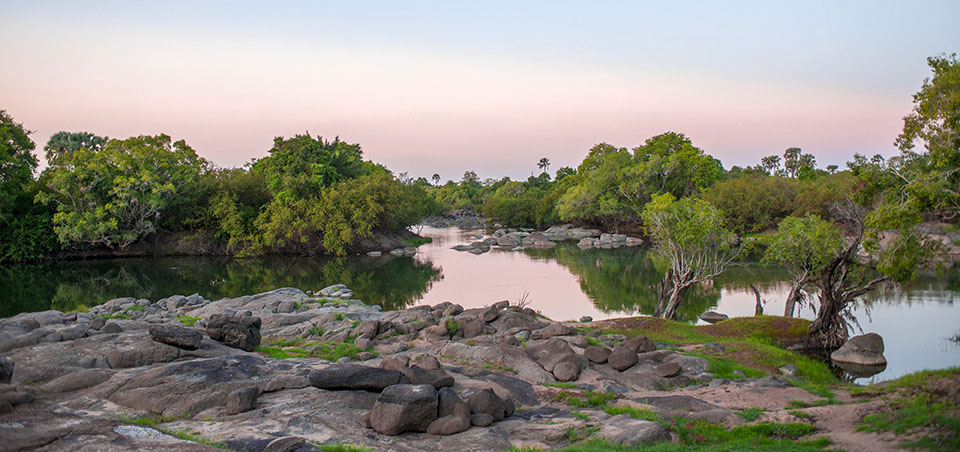 The private tented chalets have solar power, a USB point, Egyptian cotton sheets, and an outside shower overlooking the river. This could be one of the top outside showers in Zambia, but I think I'll have to visit just to make sure.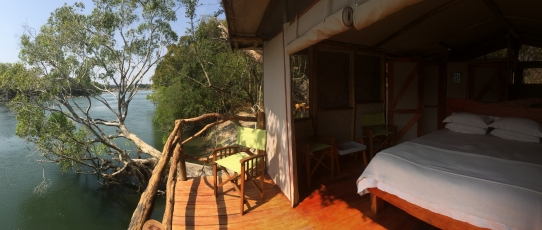 Aside from game drives, Kasabushi offers boat tours which are available to campsite guests and tented chalets guests. Watch elephants come down to the river, and on hot evenings you might even have the honor of watching a leopard come down to the river to drink, just like the photo below! Their boat cruises are about 2 hours long where you'll explore the channels between islands, granite outcrops, and boulders while hippos watch closely.
For more info, contact Kasabushi Camp.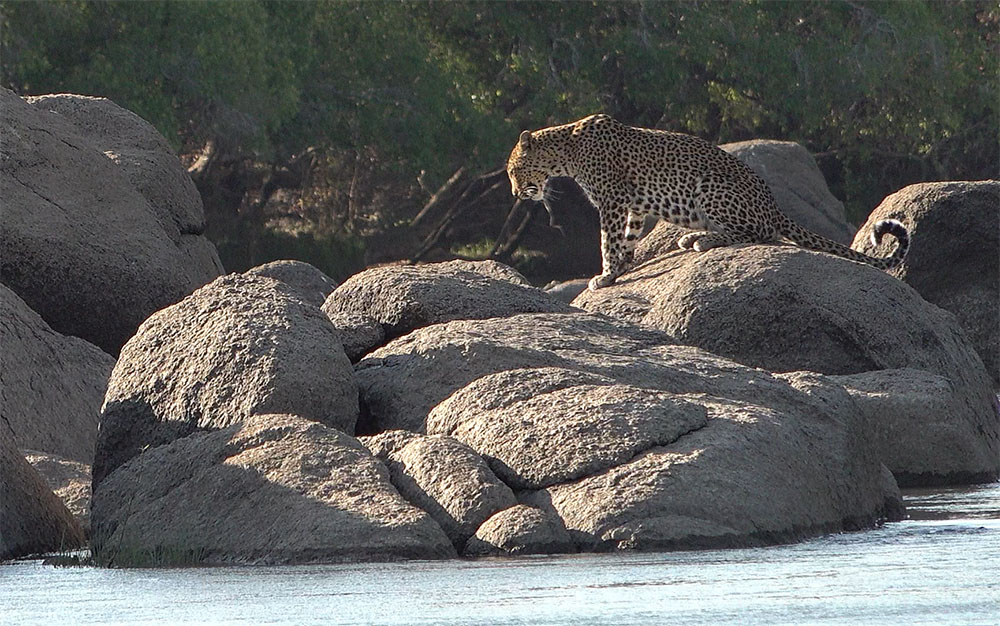 KaingU Safari Lodge
Whenever I hear that a camp has a private campsite I get super excited. If you are in Southern Africa, this means that you have your own ablution block, a sheltered area, running water, and that the other campers are a reasonable distance away. In some places you never see the other campers. If you are looking to experience solitude while camping, then find one of these.
The campsite at KaingU Safari Lodge is beautifully situated with a gorgeous private ablution block, and your own private riverfront view.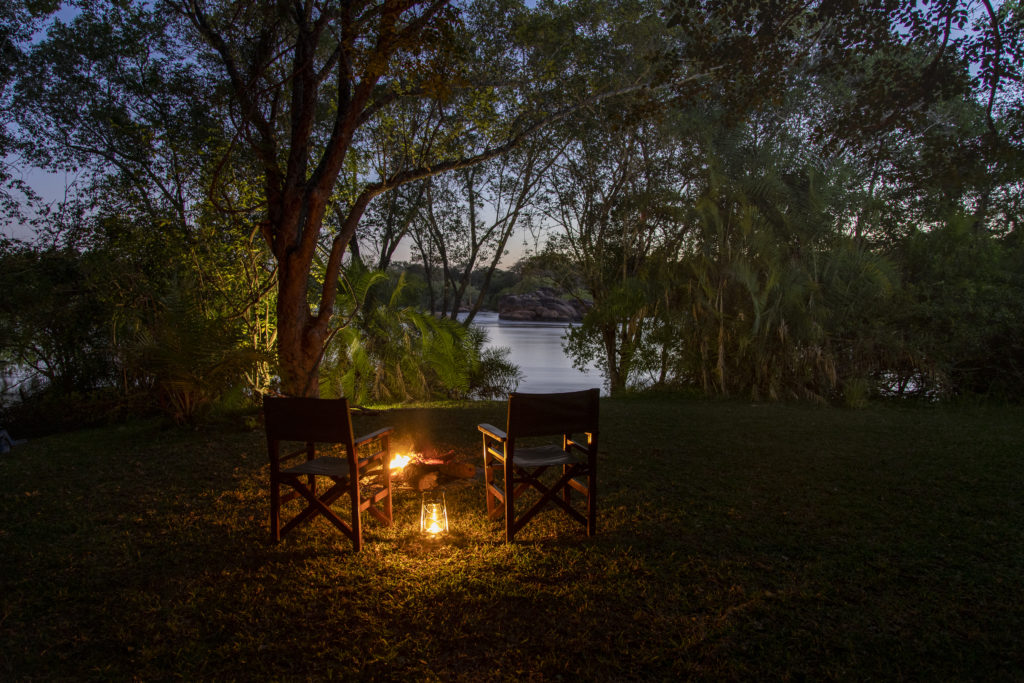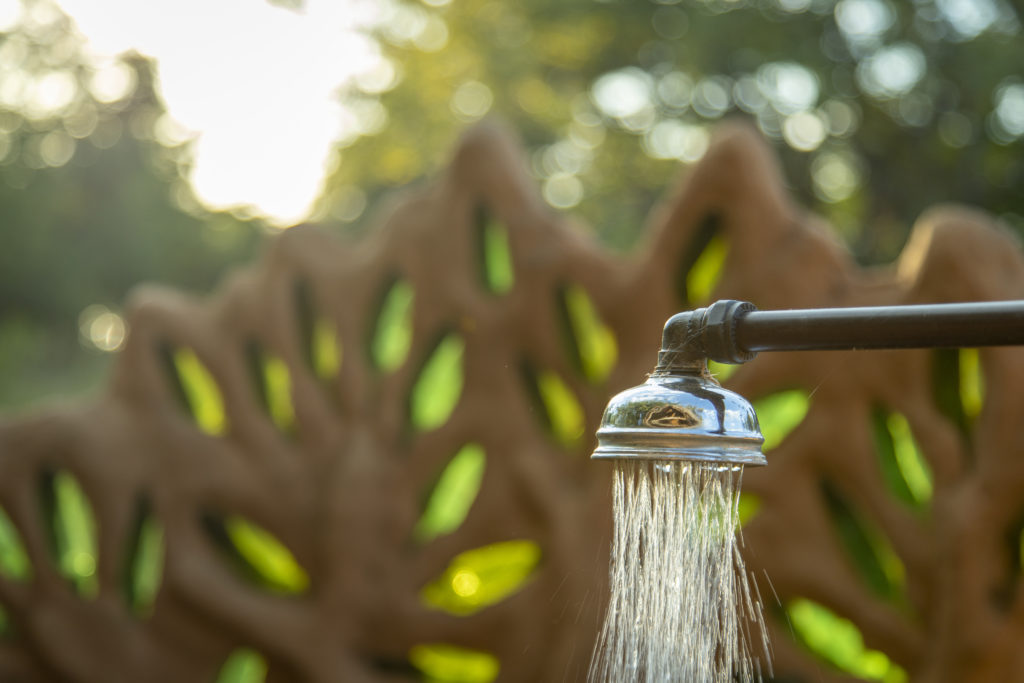 KaingU Safari Lodge also has 6 beautiful tented chalets, set on raised private wooden decks, and they all overlook the Kafue River. Their Finfoot Family House has two bedrooms and is perfect for a small family.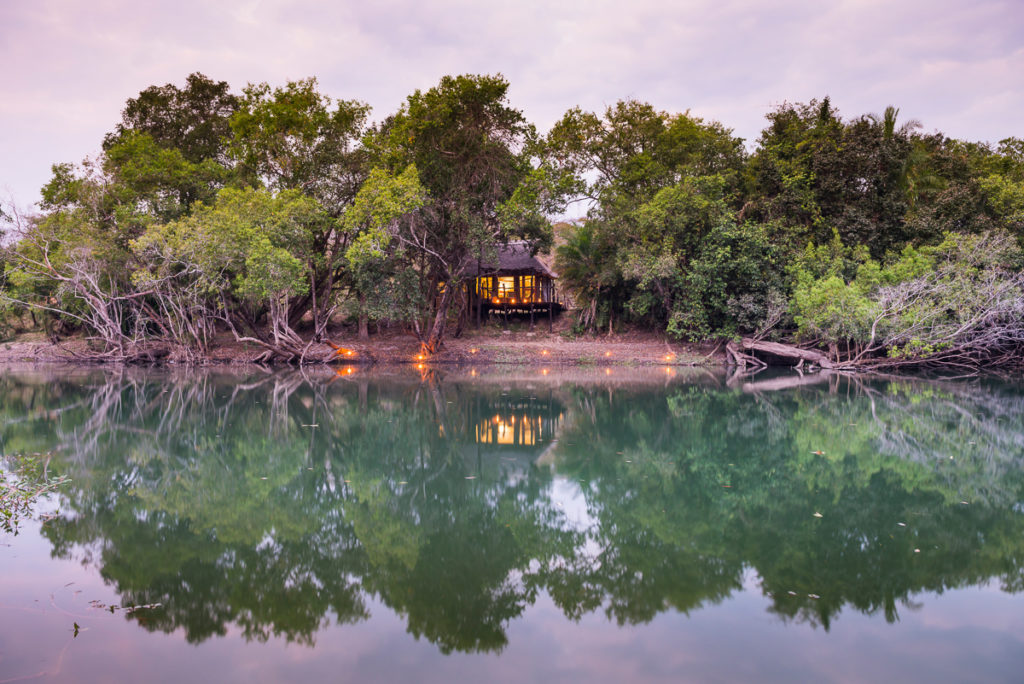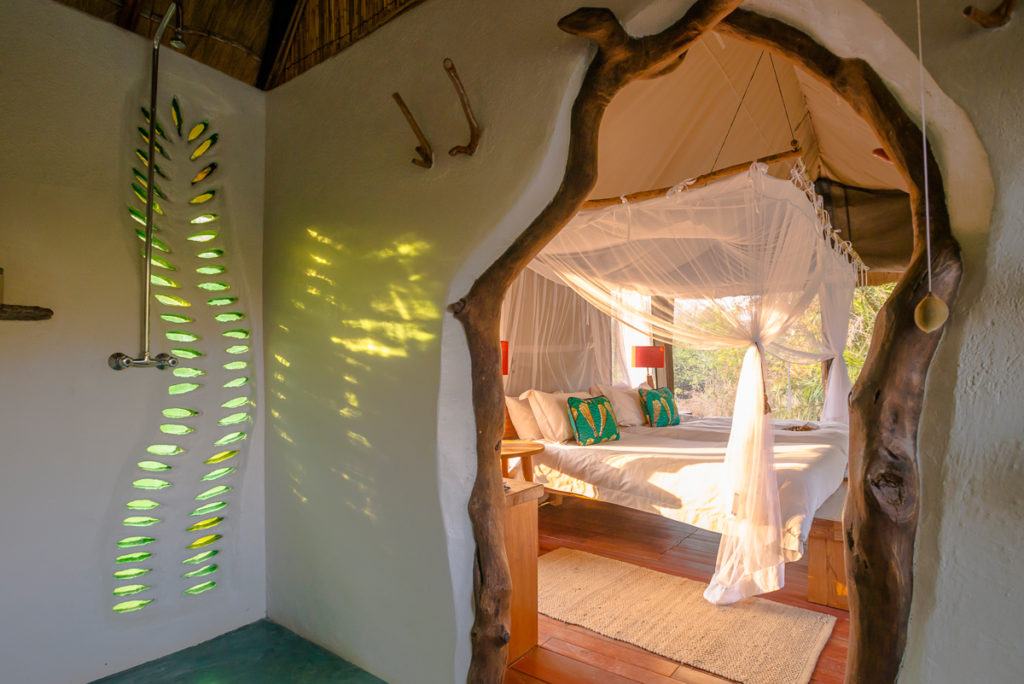 The common areas are as beautiful as their campsite and tented chalets. Watch for owls in the trees by the restaurant area during dinner time or watch elephants while you have your breakfast!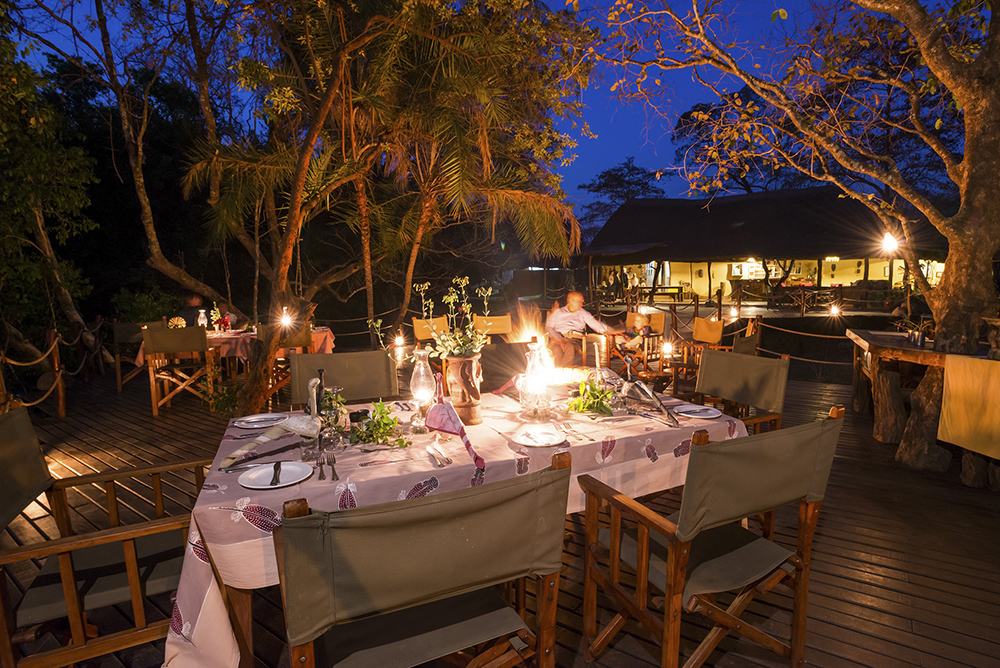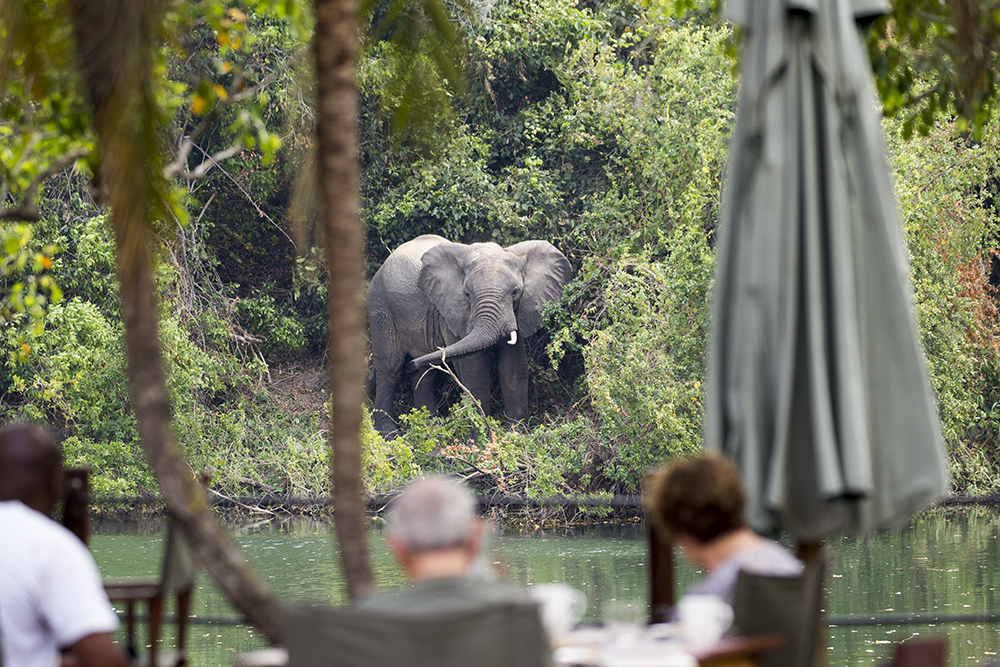 The lodge offers various activities like game drives, river cruises, canoeing, walking safaris, catch-and-release fishing, a visit to the Kaingu Community School (which the lodge sponsors), and they can also organize an "out of camp" dining (think of canoeing to an island to be greeted by a full breakfast, or dining under the moonlight by the rapids).
Whatever activity you choose, you'll always be welcomed with smiles!
For more info visit Kaingu Safari Lodge.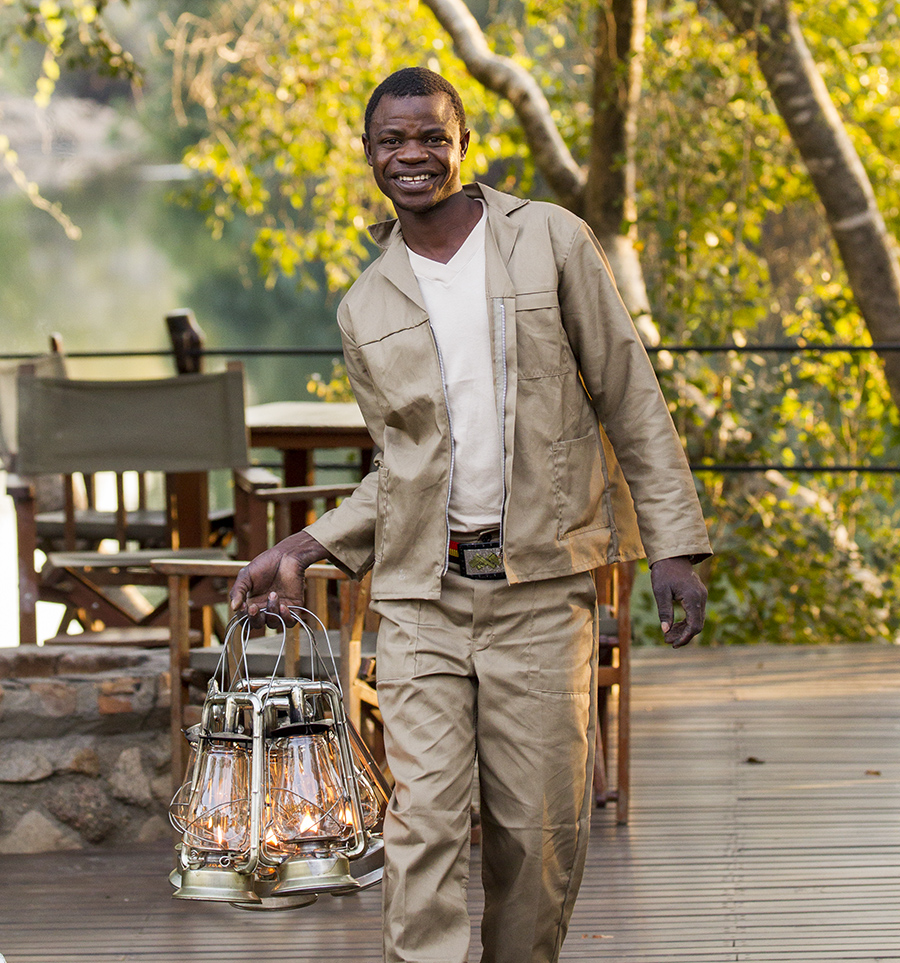 Mayukuyuku Bush Camp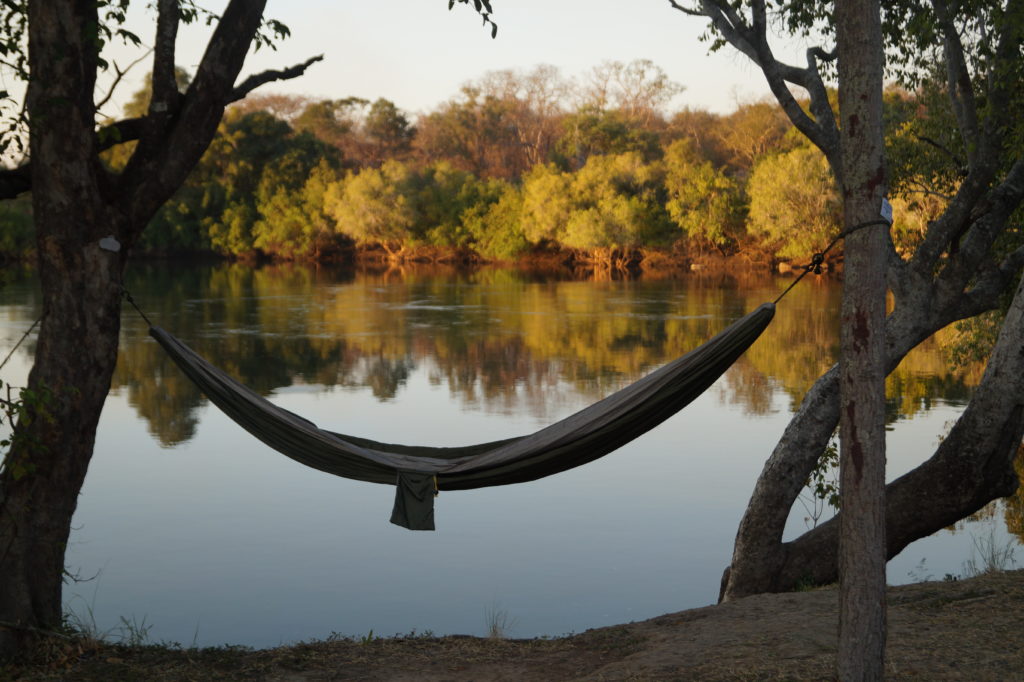 Mayukuyuku Bush Camp is located on the banks of the Kafue River in one of Kafue's most picturesque spots. Take it all in while lounging on one of their hammocks by the river.
Mayukuyuku is a small, four-tented chalet camp that offers the perfect blend of friendliness and peaceful privacy. Guests have dinner with the guides every evening, making this a perfect time to meet new people while you exchange stories and adventures.
If you prefer camping, Mayukuyuku has 6 campsites to choose from.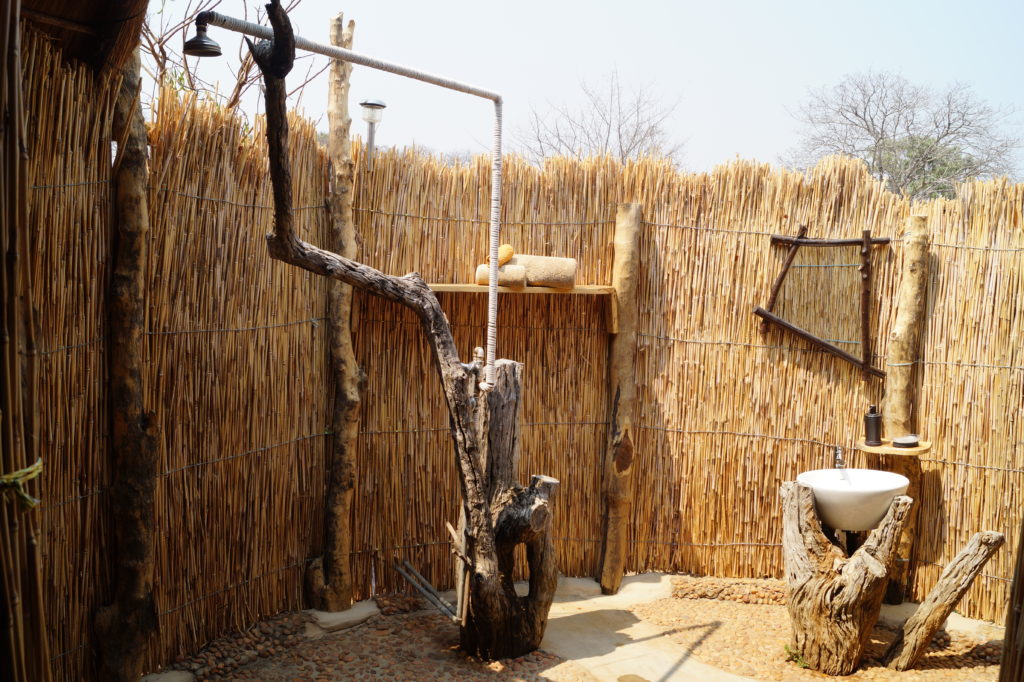 If there's something that sells me on a campsite it's an outdoor shower and/or private bathrooms. The bathrooms at Mayukuyuku are shared but the outdoor shower is the winner here. Once you've tried an under-the-stars shower, there's no going back.
All 6 campsites are shaded and on the opposite side of a small, dry riverbed. You either get a river or bush view.
You can book meals at the main camp in case you don't feel like cooking.
For more information visit Mayukuyuku Bush Camp.
---
Lower Zambezi National Park Camping
Lower Zambezi National Park sits right across the river/border from the world-renowned Mana Pools in Zimbabwe. The riverine forests then give way to a floodplain sprinkled with acacias and winterthorn trees. The hills at the north end of the park complete the magic that the Lower Zambezi National Park is known for.
Most of the wildlife concentrate in the valleys. The park is fabulous for bird watching as you not only find bush veld species like vultures, raptors, and ground hornbills, but also water birds like plovers, herons, waders, skimmers, and kingfishers.
Mvuu lodge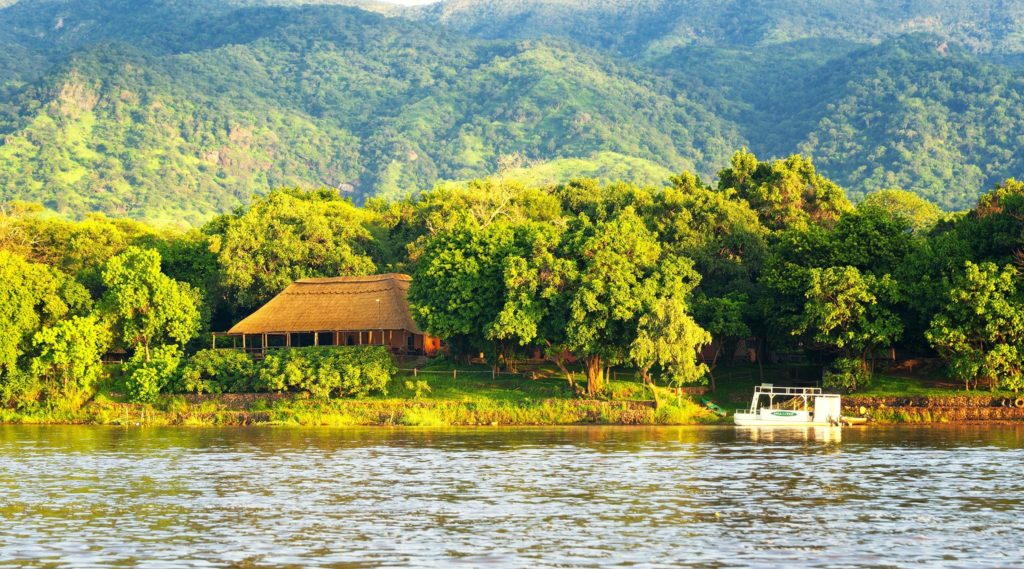 Mvuu lodge rests in a gorgeous setting and is perfect for a stop on your Zambian safari. Elephants, impala, kudu, buffalo, parrots, coucaals, lovebirds, cuckoos, shrikes, and starlings are regulars. Also, predators like lions, hyena, and leopard are regularly seen close to the lodge. They've also had sightings of more difficult-to-spot wildlife like serval, genet, and pangolin.
Their thatched restaurant and bar deck are good places to enjoy the Zambezi River and to spot wildlife while enjoying a drink.
When staying at Mvuu Lodge you have a few different options for accommodation: luxury tented chalets, stone cottages, and camping.
Mvuu Lodge offers luxury camping sites, each with its own ablution block, hot shower, flush toilet, and wash basin. If you like your space and privacy while camping, this is your place. Mvuu lodge has seven campsites, all in close proximity to the lodge and under a canopy of indigenous trees.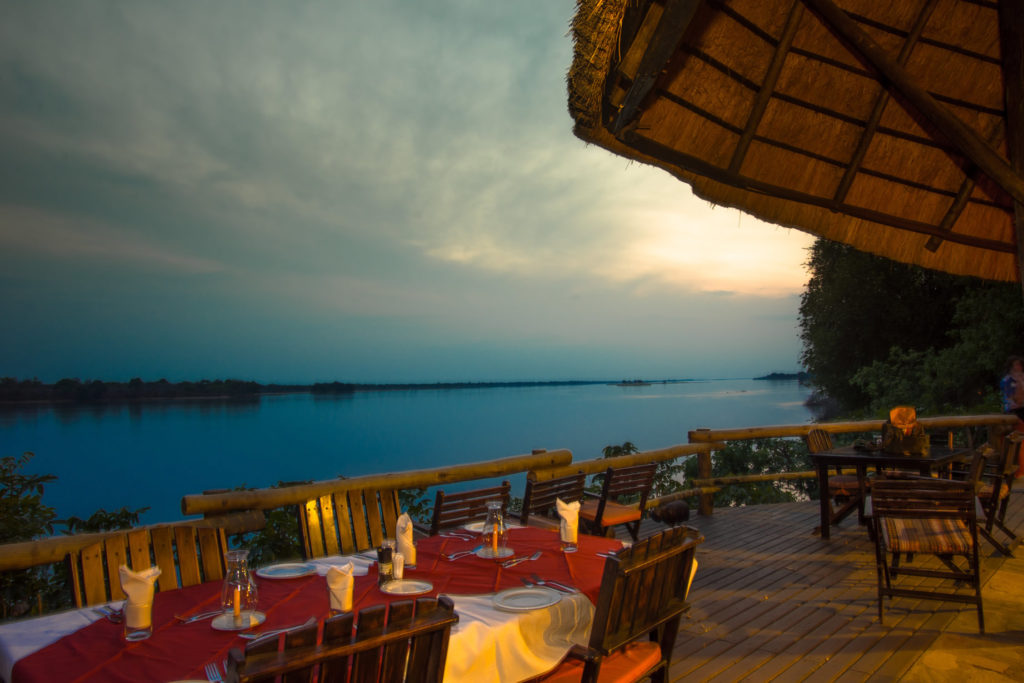 Activities at Mvuu Lodge: morning or evening game drives, river cruises (sunrise and sunset), fishing, game drives, canoeing on the Lower Zambezi with guides. The lodge offers half-day, full day or overnight canoe safaris. A canoe safari is a very intimate way to appreciate the wildlife and the the small islands found along the river.
---
There you have it! My dream list of Zambia campsites. Sounds pretty amazing, right? Hopefully we'll get to re-write this article one day with our own photos and amazing sightings. If you've experience any great camping in Zambia, please let us know you favorite places in the comments below!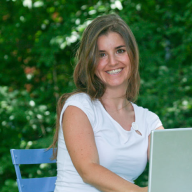 Cristina Garcia
Zoologist and wildlife photographer. She has worked in the field with jackals, wolves, cheetahs, & leopards. She serves on the Board of Directors of SEE Turtles, a non-profit sea turtle conservation organization.
Read her posts at Travel For Wildlife and see more of her work at Truly Wild, & Our Wild Yard.