Every year, thousands of people decide to spend their vacation time volunteering with wildlife in Africa. In Malawi, the Lilongwe Wildlife Trust is making a difference in the lives of many animals and they always welcome volunteers to join them.
Lilongwe Wildlife Center sits in the heart of Malawi's capital and it serves as a wildlife rescue, conservation, and education center. The center reclaimed and revived 90 hectares of urban wilderness to provide sanctuary for orphaned, rescued, and injured wildlife. In 2011, the center was awarded Best for Conservation of Wildlife & Habitats in the World Responsible Tourism Awards.
Volunteer Programs at Lilongwe Wildlife Center
Lilongwe volunteer programs range from animal care, rehabilitation, and release, to education, public relations, and website design. Volunteers can also contribute to a number of community initiatives that are run by the Lilongwe Wildlife Trust, from their education program to tree planting and fuel briquette projects, all designed to help repair fractured relationships between humans and animals, reduce deforestation, and stop the loss of animal habitats from the selling of firewood. If you have other skills that you think could be helpful, let them know.
There is also the possibility of volunteering at their partner project, Kuti, a wildlife reserve just two hours from Lilongwe where you might have the chance to work in biodiversity conservation and park management. Through the center you can also have the opportunity to volunteer with African Bat Conservation conducting bat research projects.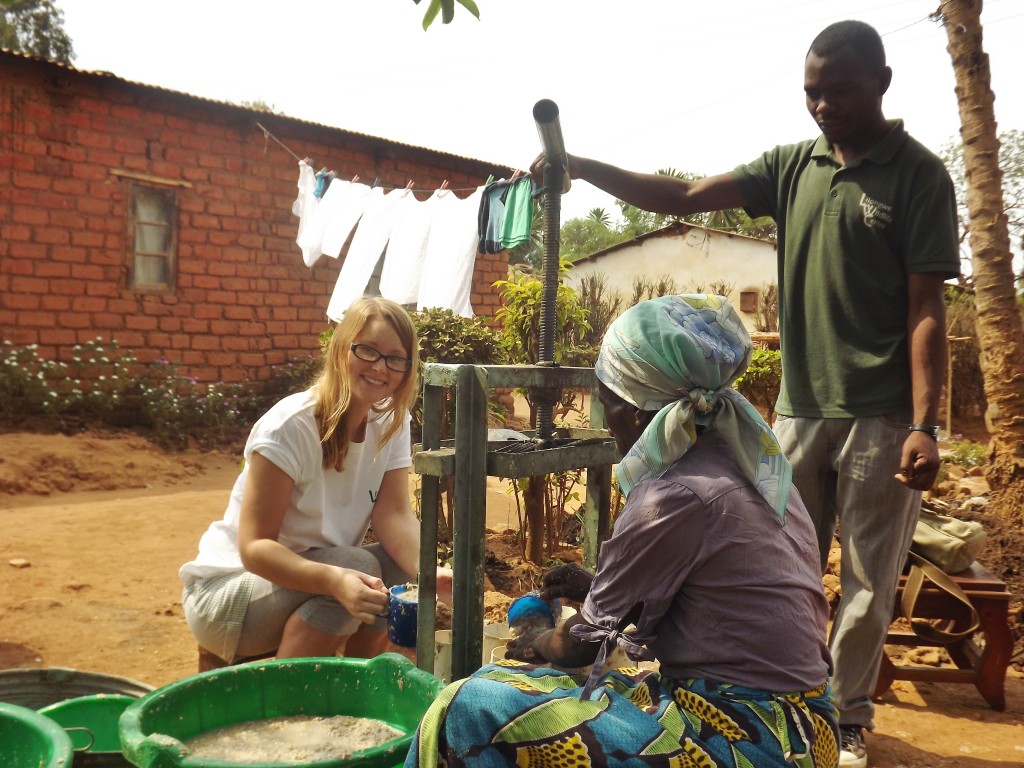 The Lilongwe Wildlife Center generally has a "no-contact" policy with all of their animals, but the young orphans are an exception as they need hands-on care and bottle feeding to survive.
Life as a Volunteer
The work of the volunteers depends on what projects are going on at the time. If there's anything you're particularly interested in doing while you visit, it's worth mentioning it on the application as the volunteer manager can help accommodate this. You will be able to see for yourself the impact the project has on the lives of individual animals but also the bigger picture of conservation in Malawi itself.
Basic on-site accommodation is provided with hot water and electricity, and a mix of Western and Malawian vegetarian meals are prepared from Monday to Saturday by the Centre chef with lots of fresh fruit and vegetables on offer.
Expect hard but very rewarding work!
Residents at the Center
The center takes in all kinds of wildlife from orphaned baby vervet monkeys to grown lions. The center helps in any way they can.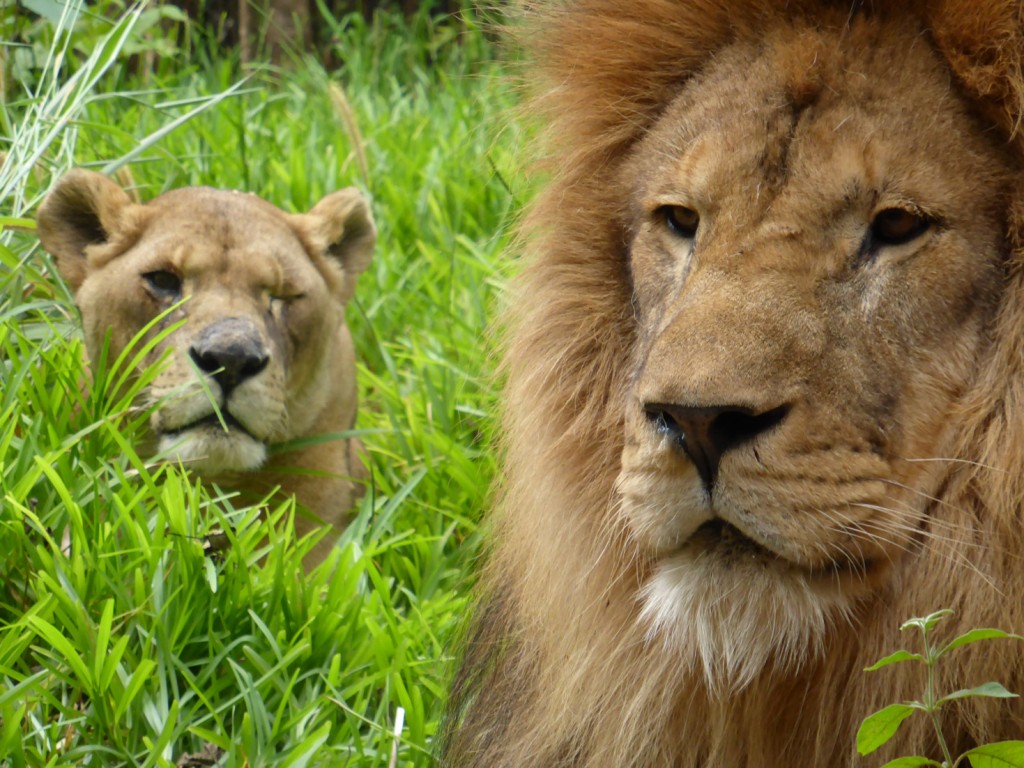 Some of the animals at Lilongwe have even made international news. Like Bella, the one-eyed lioness pictured above with Simba. Born in 2002 in a Romanian zoo she was kept in appalling conditions. Her concrete cage was filthy and her small outside area was too cold and snowy for an African lion. She had a number of medical problems that were left untreated and due to poor diet she developed a curve in her spine, making walking difficult for her. She was also going blind due to glaucoma in one eye and cataracts in the other.
As a young lion she was sold to gypsies for use as a tourist attraction but she soon became too big to handle and was sold back to the zoo for breeding purposes. She had one cub but it unfortunately died. This death was soon followed by the death of her mate. In 2007 the zoo closed down and thanks to a campaign by the Born Free Foundation and the group Lion's Roar, she was moved to another facility where she received the medial care that she so urgently needed. She underwent eye surgery and recovered her strength in this facility. In 2009 she arrived at Lilongwe where she now lives with Simba.
Meet Hamu. This adorable serval kitten arrived at the center when he was just five weeks old. He was rescued from someone who was trying to sell him on the roadside. Since his arrival, he received round the clock care to ensure he had the best chance of survival. Initially he was bottle fed and eventually he started feeding independently on milk and solid food brought to him at regular intervals throughout the day. When he is ready, he'll get his own outdoor enclosure where human contact will cease altogether. Once he is fully fit and big enough to fend for himself the aim is for him to be released back into the wild into a nearby national park where he can be a wild cat again.
The center not only helps wildlife on their own premises, but they also taking action when wildlife outside the center need a helping hand. Just this month the center has been helping out with a hyena clan relocation. The clan was living in an urban area and residents had grown concerned about these individuals living so close in the neighborhood. The clan was at risk. Together with their research partner Carnivore Research Malawi (CRM), Central African Wilderness Safaris, the Department of National Parks and Wildlife, and Lilongwe Wildlife Trust's Wildlife Emergency Response Unit, the four hyenas were trapped, fitted with radio collars, and released back into the wild in Liwonde National Park.
You never know what might be happening at the center! But one thing is for sure, you can make a difference in the lives of these animals!
For more information visit their volunteer page or email them at lilongwewildlife@gmail.com for an application form.
Love This Article? Pin it!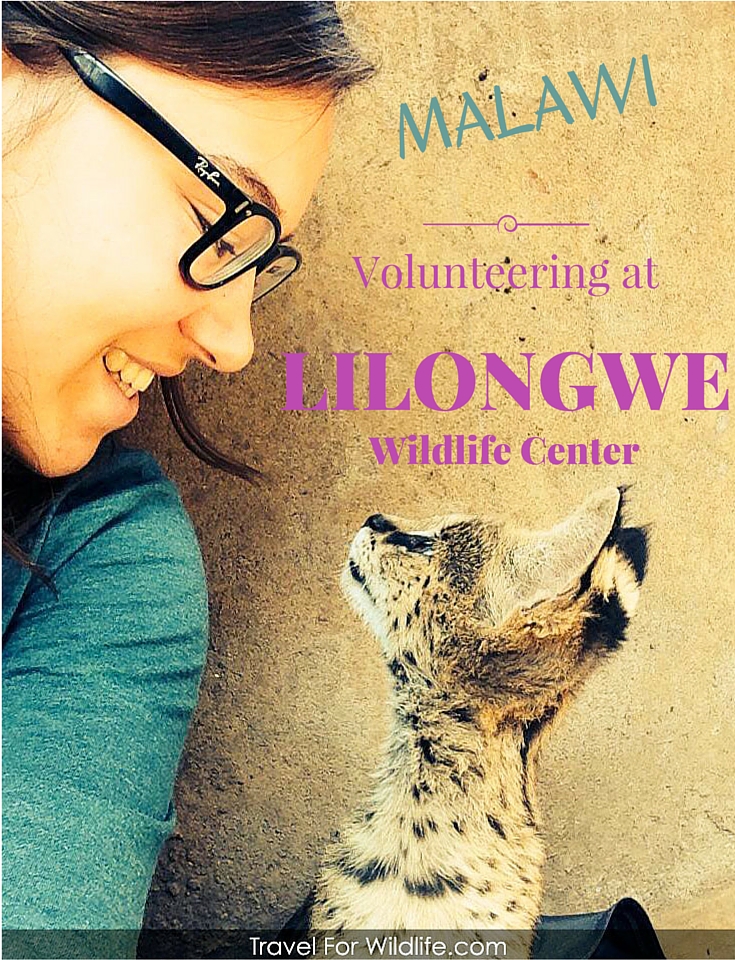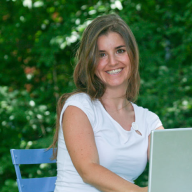 Cristina Garcia
Zoologist and wildlife photographer. She has worked in the field with jackals, wolves, cheetahs, & leopards. She serves on the Board of Directors of SEE Turtles, a non-profit sea turtle conservation organization.
Read her posts at Travel For Wildlife and see more of her work at Truly Wild, & Our Wild Yard.