I fell in love with the Kalahari three years ago during my first visit to Botswana. I loved the vast empty central Kalahari, but my favorite corner has to be the Kgalagadi Transfontier Park. Just picture this: red dunes, deep blue skies, puffy white clouds and animals galore. Not many people make it to this part of the world, and for this reason I give it an extra point.
The Kgalagadi Transfontier Park is an amalgamation of the Kalahari Gemsbok National Park in South Africa and the Gemsbok National Park in Botswana, comprising an area of over 3,6 million hectares. All that space for you and the wildlife.
The Kgalagadi won't disappoint you. It does not matter what creatures interest you. Predators? Got them. Birds? By the thousands. Are you into reptiles? Ditto. Or perhaps you are more into the creepy crawlies. Check your shoes before complaining you don't see any. As long as you are not into fishes, you will find yourself in heaven in the Kalahari.
One of the things I love most about this place is that you don't have to drive far to watch amazing wildlife. For example, we have seen lions, a family of four cheetahs, a mongoose raiding a bird nest, a leopard on the hunt, and many more cool critters within 5 miles from our camp. You don't have to drive at all really. If you stay at one of the cottages at the Twee Rivieren camp, you may end up sharing the room with bats and geckos. If you stay at the Nossob campsite, lions and jackals patrol the fence. You can see them from the safety of your tent.
One of the things I love the most is the Kalahari night. Listen how jackals join the lion roar. Click on the link below to be transported. Close your eyes and pretend you are cozy in your tent while the full moon rises above the horizon. Priceless.
Click here to listen to the Kalahari night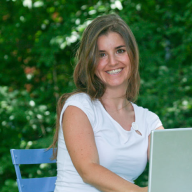 Cristina Garcia
Zoologist and wildlife photographer. She has worked in the field with jackals, wolves, cheetahs, & leopards. She serves on the Board of Directors of SEE Turtles, a non-profit sea turtle conservation organization.
Read her posts at Travel For Wildlife and see more of her work at Truly Wild, & Our Wild Yard.