I took this photo while on a mokoro trip along the Okavango Delta in Botswana. This little guy, not bigger than a fingernail, jumped out into our mokoro and landed on Hal's leg. We carefully put him back on a long grass stalk.
The long reed frog (Hyperloius nasutus) call can be heard at dusk. Click here to hear the call.
---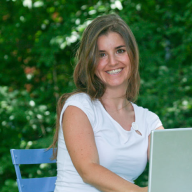 Cristina Garcia
Zoologist and wildlife photographer. She has worked in the field with jackals, wolves, cheetahs, & leopards. She serves on the Board of Directors of SEE Turtles, a non-profit sea turtle conservation organization.
Read her posts at Travel For Wildlife and see more of her work at Truly Wild, & Our Wild Yard.