I was walking down a mountain trail when a voice called out to me. "You didn't walk very long for all that survival gear ya' got on your back."
"It's just my camera," I shouted down, but I doubted he could hear me over the classic rock blaring from the RV behind him. He was a burly guy with a large black beard and a Harley tee shirt. His large rear end was parked in a flimsy folding camp chair.
"Whatcha need is a .45 caliber for them mountain lions up there."
I wanted to say I think a 600mm would work better but I didn't think he would get the lens joke.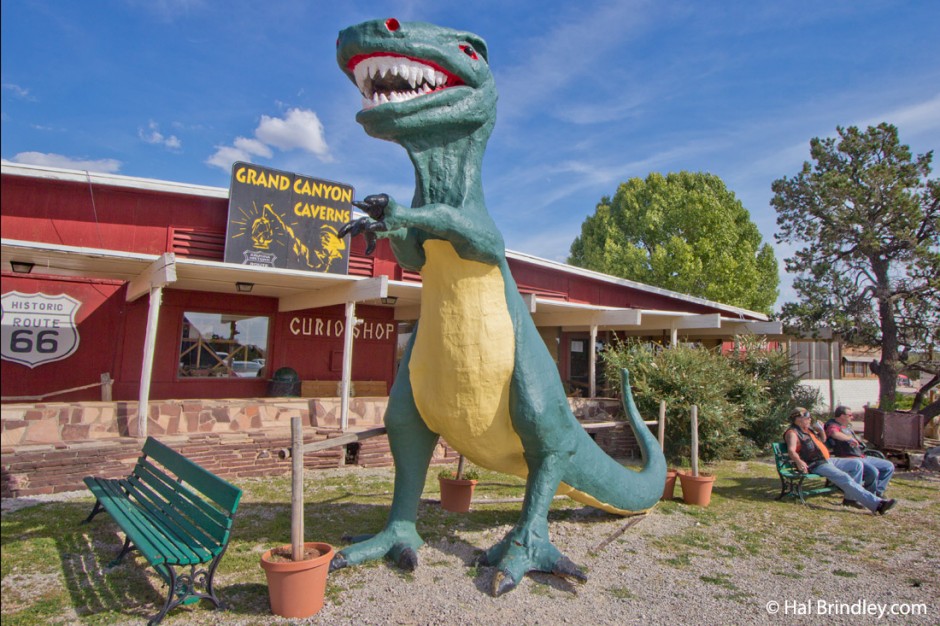 Last night I was in downtown Las Vegas, staying at the obscenely extravagant Venetian Hotel.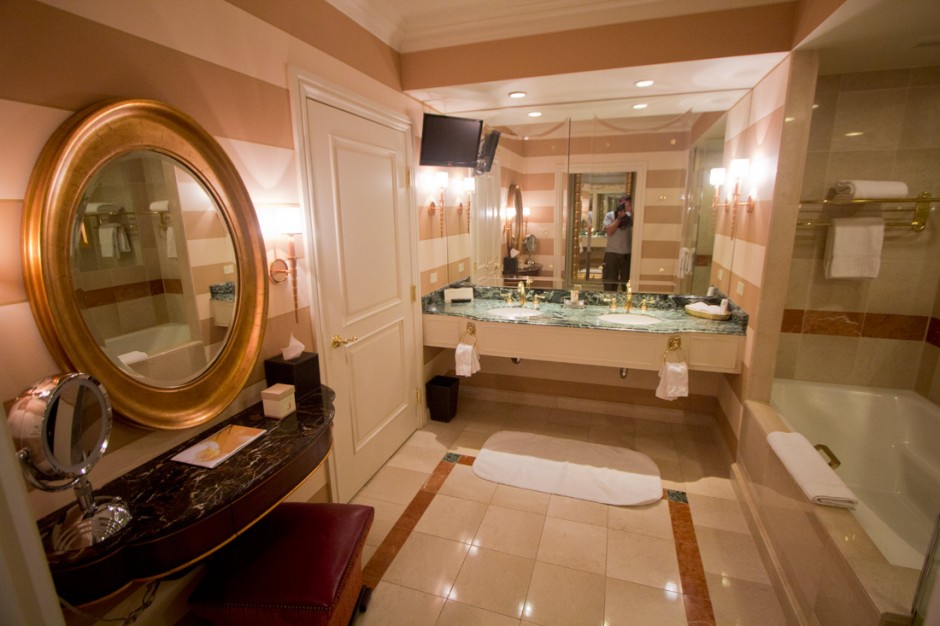 My room cost 200 bucks, but I hadn't paid for it because I was flown out to be a presenter at the NORA cup awards: sort of like the Oscars for BMX bike riders. BMX had been a huge part of my younger life, running clothing companies and contest series, but I'd been out of it long enough that apparently I was now an "old-school industry icon". (You can watch the award show on the Ride BMX website.) So I accepted the invitation to the Interbike trade show in Vegas, and the free plane ticket, so long as I could add two nights to my stay. I wanted to camp out in the wilderness and see what sort of wildlife I could find in the Las Vegas area, and also find a national park near Las Vegas.
I picked up a rental car this morning, yet with so many great destinations in every direction, the Grand Canyon to the East, Death Valley to the West, and the entire Sonoran Desert to the South, I couldn't decide which way to go. While sitting in the dark parking garage I had a vision of Javelinas munching on a prickly pear cactus. South to the Sonora it would be then.
I took off down route 95 and soon found myself in a wide gravelly valley full of nothing and rimmed by tall stony mountains in each direction. To my right was a saltpan holding what I assumed to be a rarely-occurring pond of water. I spotted a flock of waterbirds milling around the edge, my first wildlife sighting of the day, and decided I should get out to take a photo. I pulled off the highway, which seemed deserted after the claustrophobic activity of Las Vegas, and opened the car door. I immediately regretted it as a blast of hot dry air filled the car.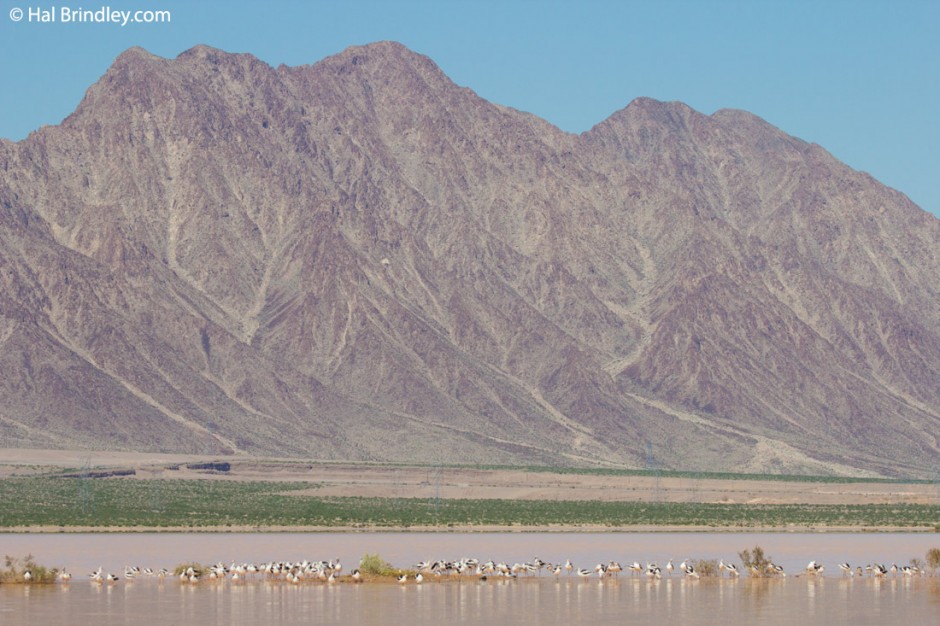 I told myself I can handle this. It's not like the high humidity back east. This is easy. But I was wrong. The heat began to press in on me. My pores tried to sweat but the perspiration would evaporate the moment it made contact with the air. I crouched next to the pan and photographed the birds, which turned out to be Avocets, but was soon driven back into my vehicle. The car had already become an oven so I hit the Max AC button and traveled on.
Crossing the California border, I began to catch glimpses of joshua trees, yet a creeping doubt was telling me I had made a bad decision. Green digital numbers on my dashboard informed me that the external temperature was 109 degrees. Perhaps mid-September was not the perfect time to be venturing into the desert. I stopped at a Bureau of Land Management visitor center in Needles to reassess the situation.
"The desert is more of a winter destination," said the kindly old man wearing a khaki uniform. "You might want to try heading up to Kingman Arizona, go up into the Hualapai Mountains." To me it sounded like he said Wall-Uh-Pie. I didn't know how to spell it until I looked at my map back in the car. I also hadn't realized it was the name of an Indian tribe and reservation. Should I cross the border into Arizona and head uphill? In response, the little green numbers on my dashboard said 110.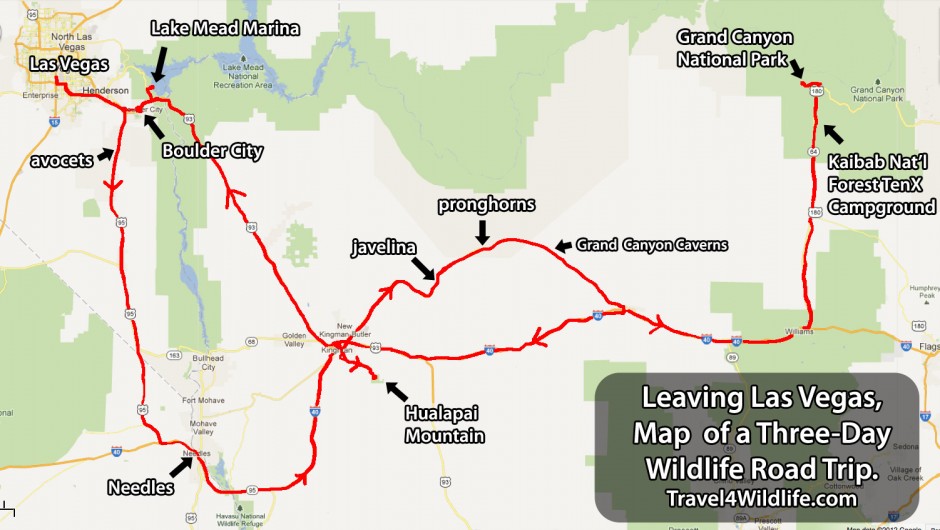 An hour and a half later I was 6000 feet above sea level and rising. Ponderosa Pines towered above me as I bounced my way over the rutted dirt road in my embarrassingly inadequate Ford Focus. I pulled into a remote camp site in the Hualapai Mountain County Park and stared out at the stunning view. Mr Green Numbers practically sighed with relief as he displayed a mere two digits: 78. I set up my tent and went for a stroll. That's when I walked up a trail to scout for mountain lions. That's when the good ol' boy with the American flag on his oversized RV suggested I pull a gun on the very creature I would most love to see. I stood there trying to figure out a diplomatic response.
I would never dream of putting a bullet into something as magnificent as a mountain lion, but rather than telling this guy, who probably actually was carrying a .45, I simply murmured, "Yeah, seriously," and walked on. I did kind of like his taste in music though.
I didn't run into a cougar, though the trail map I picked up confirmed its presence, along with coyotes, foxes, bobcats and bears. Holy Crap! I had my first large mammal sighting on the way back to my tent: a Mule Deer mother and fawn. They stared at me with their long lashes and ridiculously large ears and I smiled happily back.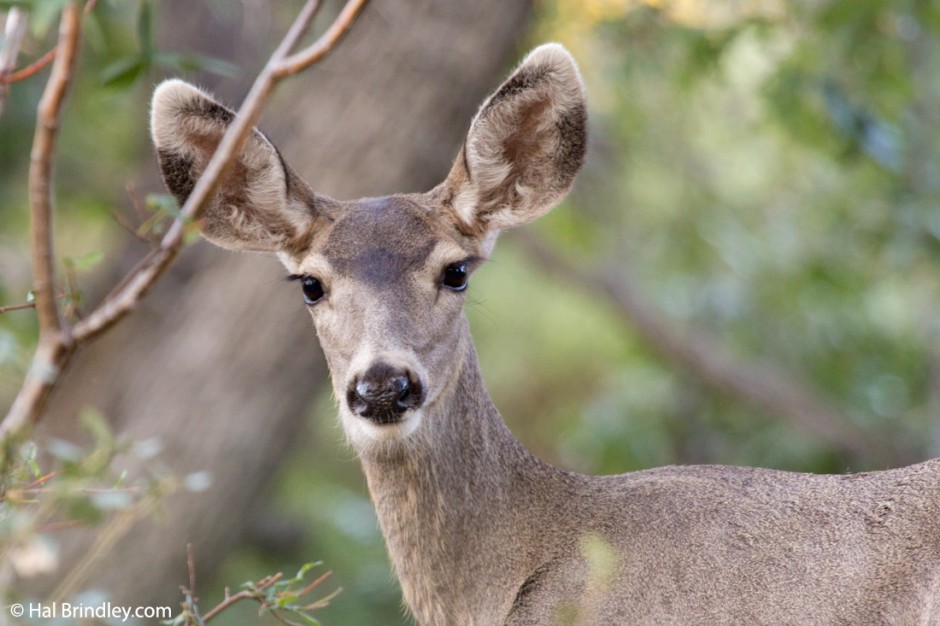 By the time I crawled into my tent, the temperature had plummeted. I wore thermal underwear inside my down sleeping bag and listened to the silence. I missed my wife terribly and passed out at 8:20 pm. Sleeping soundly I was suddenly awakened by a scurrying next to my tent. It sounded like a mid-sized mammal, perhaps a raccoon, but when I sat up and shone my headlamp through the mesh walls of my tent, there were no glowing eyes to stare back at me. I fell back to my pillow and snored on.
At 6AM I woke to the sound of footsteps on the gravel road nearby. Who would be taking a walk at this ungodly hour? Prying open my crusty eyes, I peered through the gloom, expecting to see a guy in flannel shirt and big hiking boots.
Instead I was confronted with the largest creature in all of the southwestern US: The Rocky Mountain Elk. It was a lone female, sauntering down the road as if she were strolling to the corner store to pick up the morning paper. Her head bobbed slowly up and down until she stopped and turned her huge shaggy brown face my way. She stared at me with large watery black eyes and pointed her satellite-dish ears in my direction. Her shiny black nose was the size of a tennis ball and it wiggled up and down and side to side as she sniffed me. Then she turned off the road and slowly continued on through the woods until her surprisingly human-like footfalls faded in the distance.
I quickly packed a bag and started my morning hike. I had 2000 vertical feet to ascend in order to reach Aspen Peak, which towered over my campsite and beckoned me upward. Passing through the campground I met the elfish western cousin of the gray squirrels that I'm used to seeing in my yard. It was an Albert's Squirrel with tall pointy ears, sporty colors and a luxurious tail.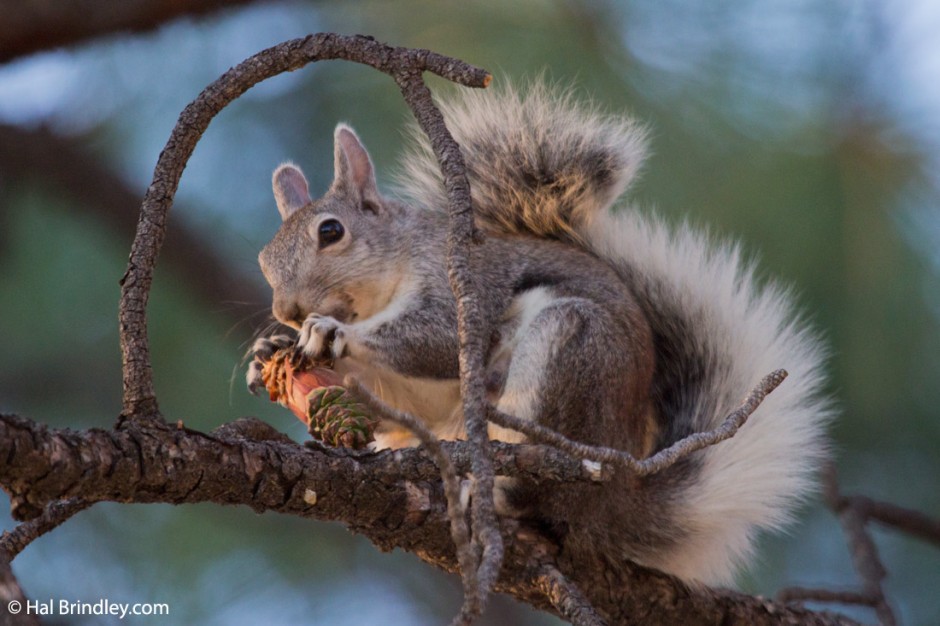 I passed shy chipmunks and chatty birds, Acorn Woodpeckers and Western Bluebirds. There were small roving gangs of male Mule Deer still in velvet. All this before I even reached the trail.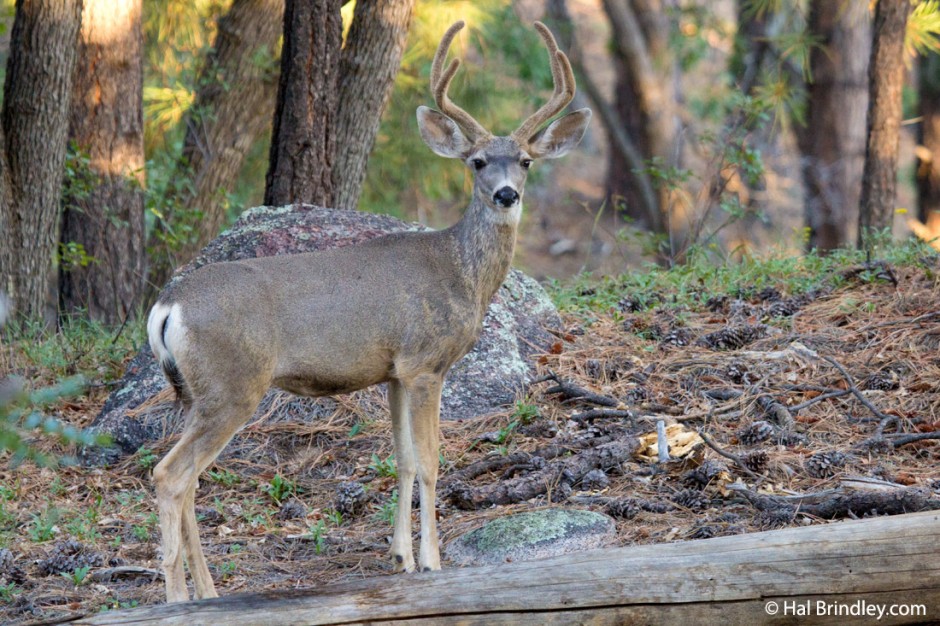 I was photographing a squirrel half way up the mountain when a bird of prey appeared on a tree branch next to me. It looked like an accipiter, possibly a Cooper's Hawk, and while I scrambled to point my camera at it, the Albert's Squirrel scrambled to escape. The hawk leaped from the branch and, dodging between tree trunks, swept down the mountainside and closed in over the squirrel. In the final moment, the squirrel dodged beneath a rock and the hawk came up with nothing but a fistful of dirt.
By 10AM I had reached the rocky summit. I scrambled across boulders and contemplated scaling the bizarre stone skyscraper resting at the top, but decided Cristina wouldn't appreciate it if I fell off. So I sat in the sun and ate a granola bar and an apple.
The views were so long that I couldn't comfortably look at them, as though my brain couldn't process the immense distances. I could see mountain ranges nearly 200 miles away, a feat that would be physically impossible in the hazy air of the east coast. Soon, a surprisingly orderly parade of raptors soared by, starting with a small falcon, then a swooping Red-tailed Hawk and finally, as the grand finale, a magnificent Golden Eagle.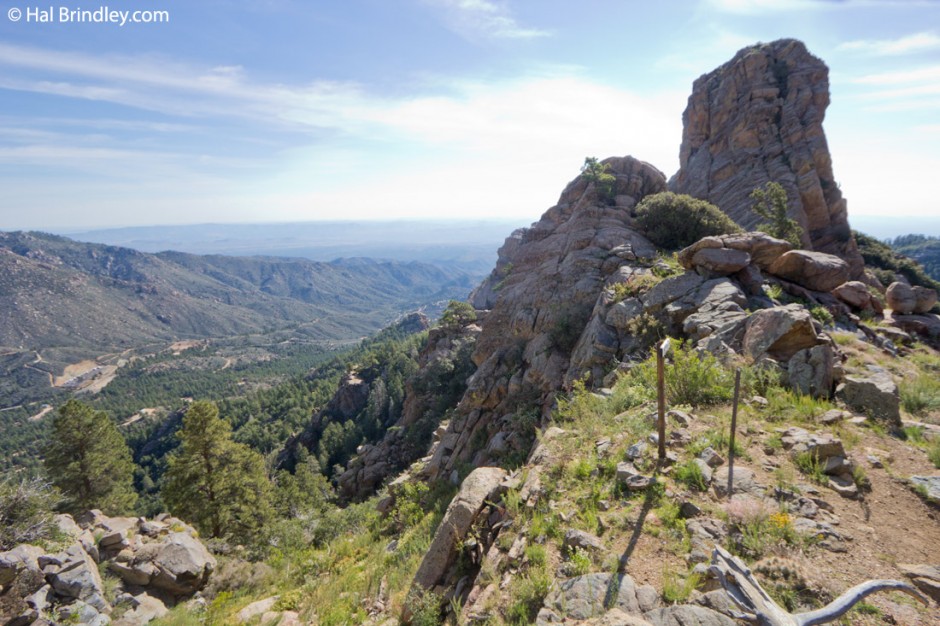 And of course there were Ravens. To me, Ravens are the Yoda of the bird world. They are wise, mischievous, and they speak with a strange raspy high-pitched voice. And like Luke Skywalker, the American Indians learned much from the Yoda bird and respected him highly. On the way back down the mountain the air began to warm and the lizards emerged. This beautiful blue-throated Western Fence Lizard let me approach quite closely while he sunbathed.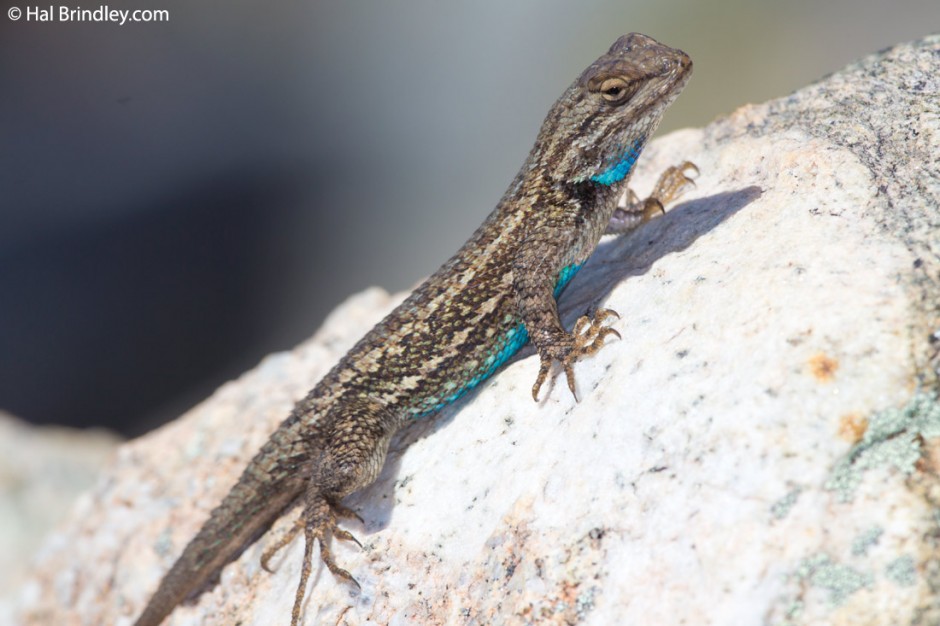 Back at camp I ate lunch, packed up my tent, aired out my sweaty socks and began my drive toward the Grand Canyon. I decided to follow the historic Route 66. Amid the tacky souvenir shops and ancient motels I discovered the very creature I had fantasized about finding much farther south in the Sonoran Desert. It was a Javelina (also known as a Collared Peccary).
The javelina is the new-world version of a pig but with a skunky smell. Unfortunately it was dead. The poor creature had been killed on the road near Valentine, Arizona and I was a bit surprised to find him this far north. (The following day in the Grand Canyon visitor center I would read that due to warming climates, the range of the Javelina was indeed expanding northward toward the Canyon.)
I also encountered groups of Pronghorns in the grassy plains near Nelson. Some say the pronghorn is the fastest animal on the planet. Faster even than the cheetah. That's because we used to have our own species of cheetah right here in North America which co-evolved with the pronghorn to such mind-boggling speeds. When the North American Cheetah went extinct a couple thousand years ago, it left the pronghorn with nothing to outrun. Until pickup trucks came along.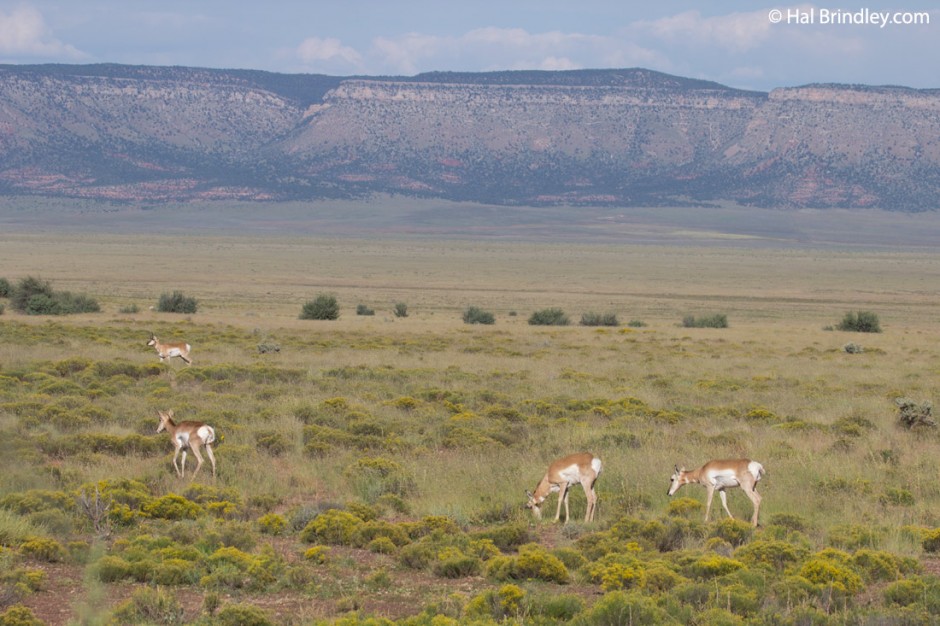 One creature I hadn't expected to run into was a dinosaur. I found two at Grand Canyon Caverns, along with a much more common species on Route 66, the ubiquitous motorcycle rider. Though I had yet to see a large predator, I could have paid the $16 entry fee and seen a 160-year-old mummified bobcat in the caverns. I was tempted but way too stingy to go for it.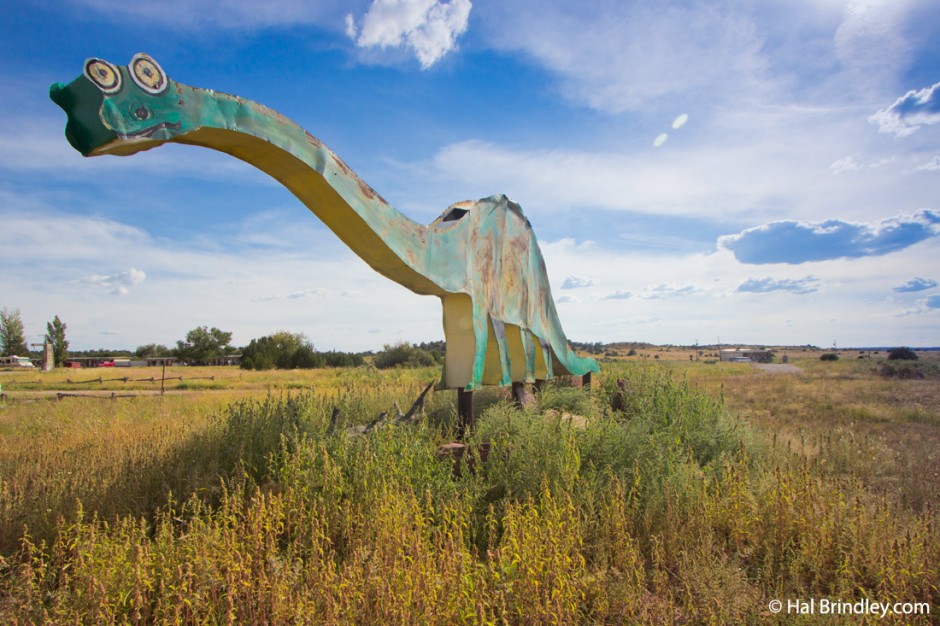 I set up camp in the Kaibab National Forest Ten X Campground near the Grand Canyon National Park and again fell asleep shortly after 8PM. I was having adventurous dreams that contained a strange recurring sound when finally my brain informed me that the sound was external.
As I reached half-consciousness at four in the morning I had the sensation of being in deep black water listening to humpback whale songs. It began to dawn on me that the screeching wail was the bugling of an Elk. In the dead silence of night, it was a horrifyingly alien sound. Like a large rusty car being dragged upside-down across asphalt, followed by chirps and grunts and bellows. The tone jumped up between notes, not smooth like a slide whistle but popping between harmonics, like the filter a pop singer with bad pitch uses to hit notes precisely. It reminded me of playing trumpet as a kid, the way I could make different notes just by altering the vibration of my lips. No not a trumpet exactly, an instrument with no keys at all, like a bugle. And then I nearly smacked myself on the forehead and said DUH. That's why they call it bugling.
I was so ridiculously proud and embarrassed all at once for finally understanding the term. I dug my camera out of my pack and recorded these elk calls until my fingers became numb in the frigid air and I burrowed back into my sleeping bag. To get an idea of what bugling elk sound like, listen to this recording I just made in the Smoky Mountains of NC: Male Elk Bugling: Collection of Audio Recordings from Smoky Mountains
At sunrise I packed up and drove into the park to see what creatures inhabited the south rim of the Grand Canyon. I found Scrubjays galore and Nuthatches and Ravens. There were brave Rock Squirrels admiring the panoramic views and signs in seven different languages warning visitors not to feed them. There were much shyer Cliff Chipmunks who refused to be photographed, until one little fellow ventured to the end of a branch for some pine nuts.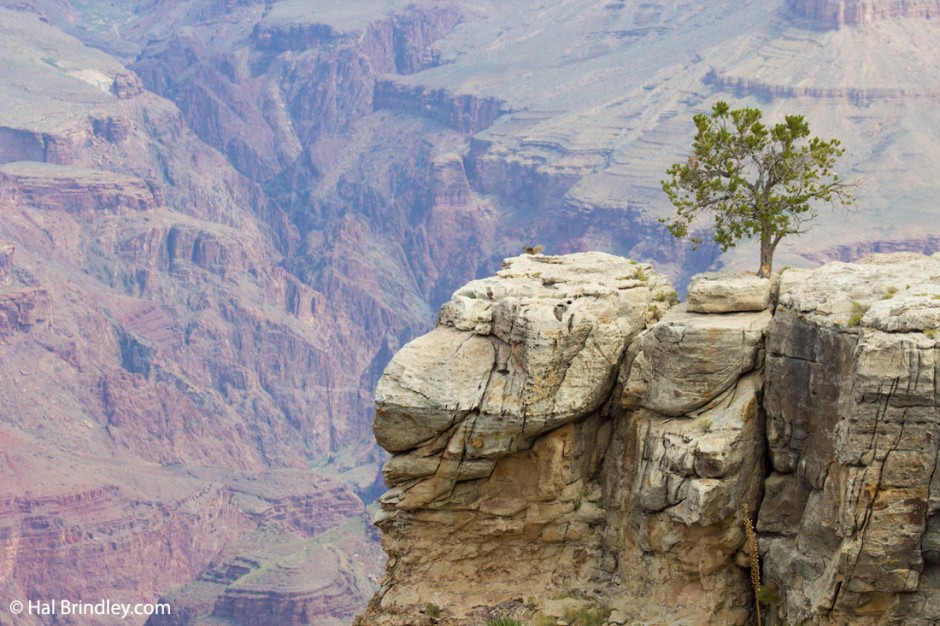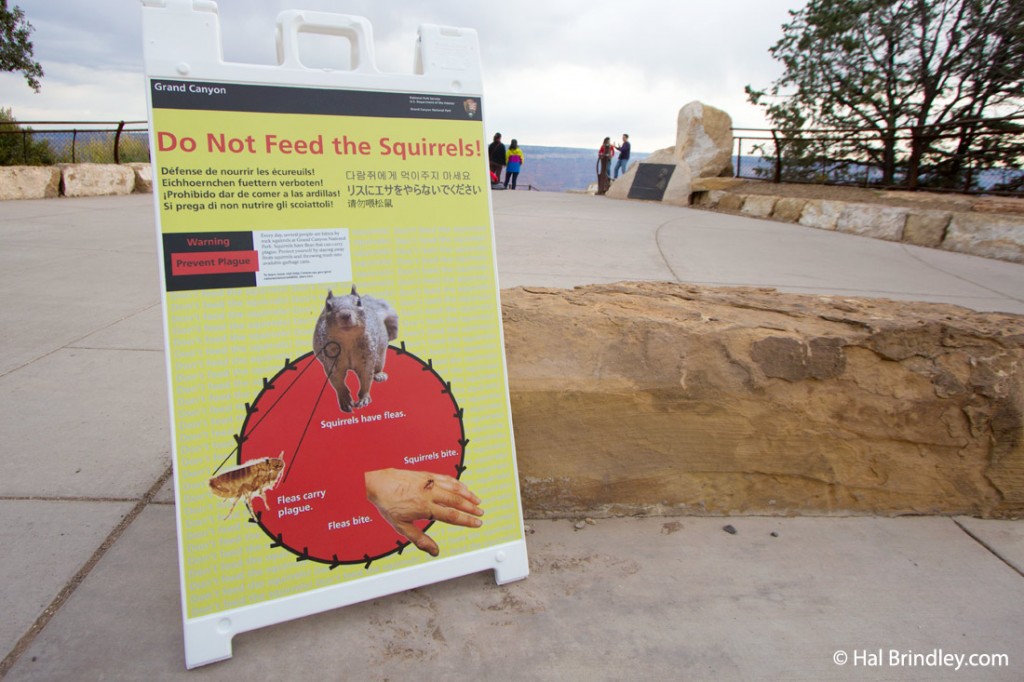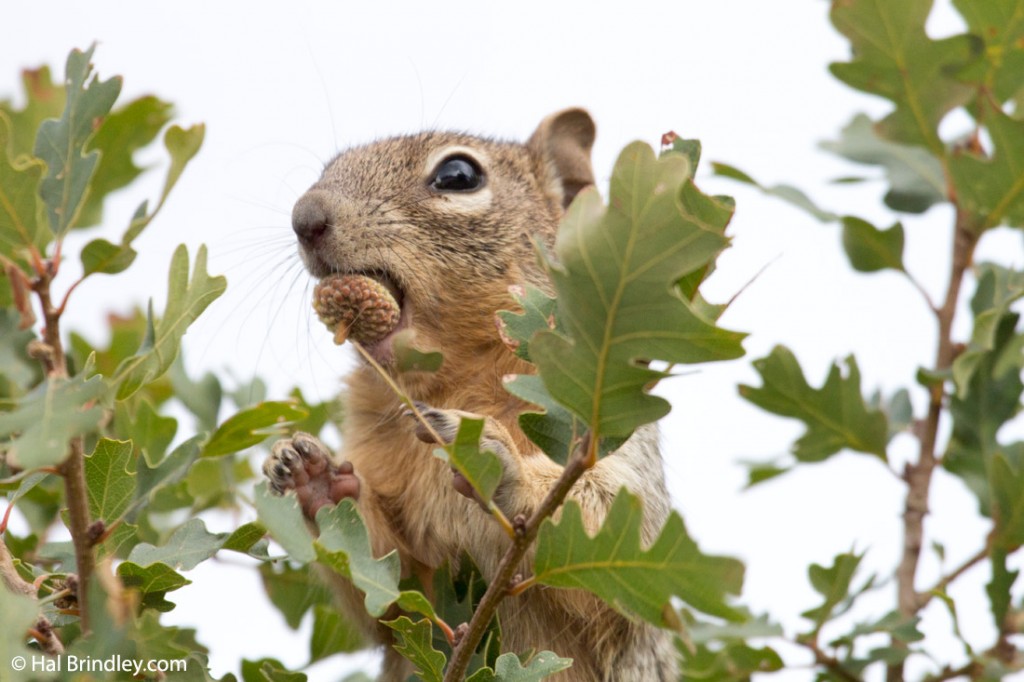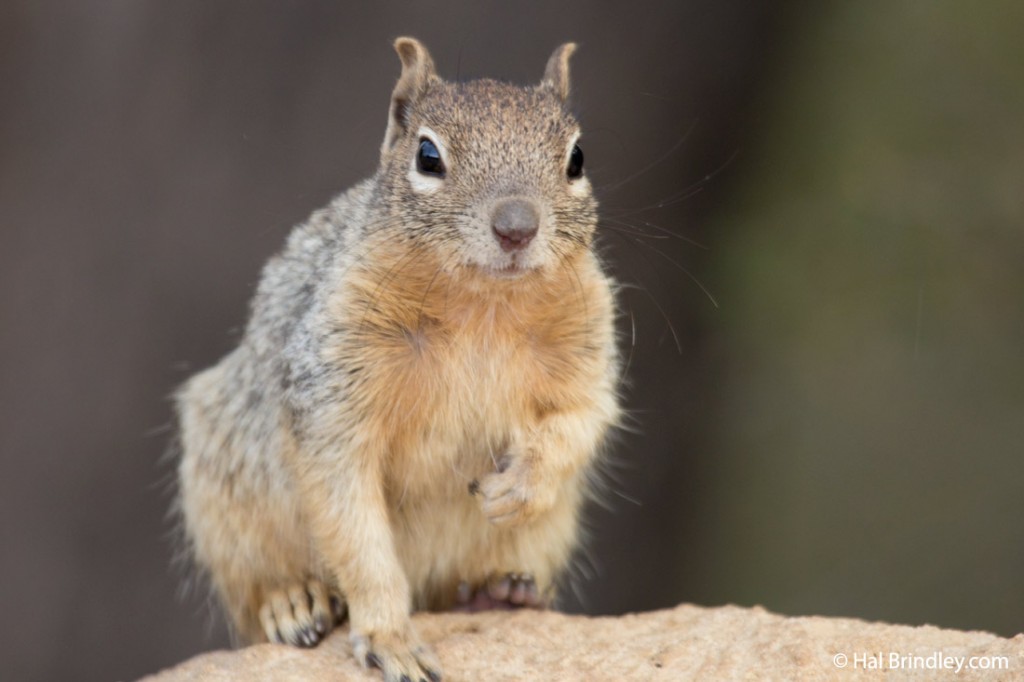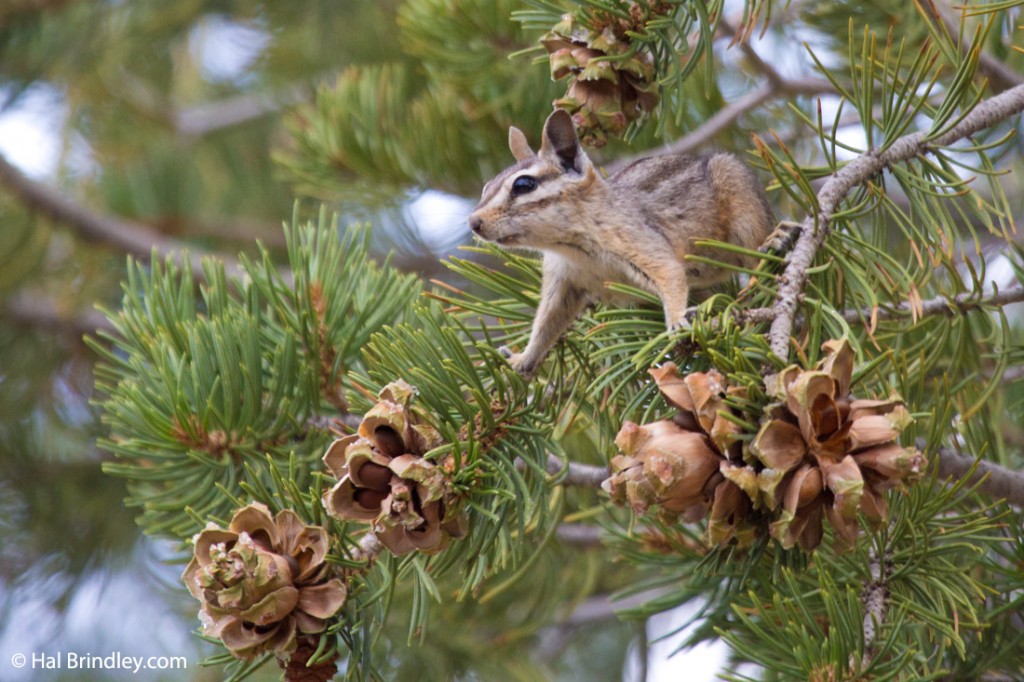 Another sign informed me that I shouldn't throw coins because I might kill a California Condor. I was shocked, not by the danger of swallowing coins, but by the presence of this incredibly endangered bird. There are only about 400 in the entire world and nearly half of those live in captivity. I had heard about the experimental release in California but had no idea there was a population at the Grand Canyon. I searched the skies, hoping to spy one of the 70 that could be flying somewhere over the canyon, but saw none. I went to the visitor's center to learn more and discovered that the Bright Angel Trailhead was the place to go to see a Condor from March to June, but at other times of the year they disperse. I went anyway, hoping to catch just a single glimpse of this relict from the age of North American Megabeasts, the largest raptor on the continent, but to no avail. I vowed to return at prime viewing season, to see this airplane-sized bird (nine foot wingspan!) with the pudgy pink head.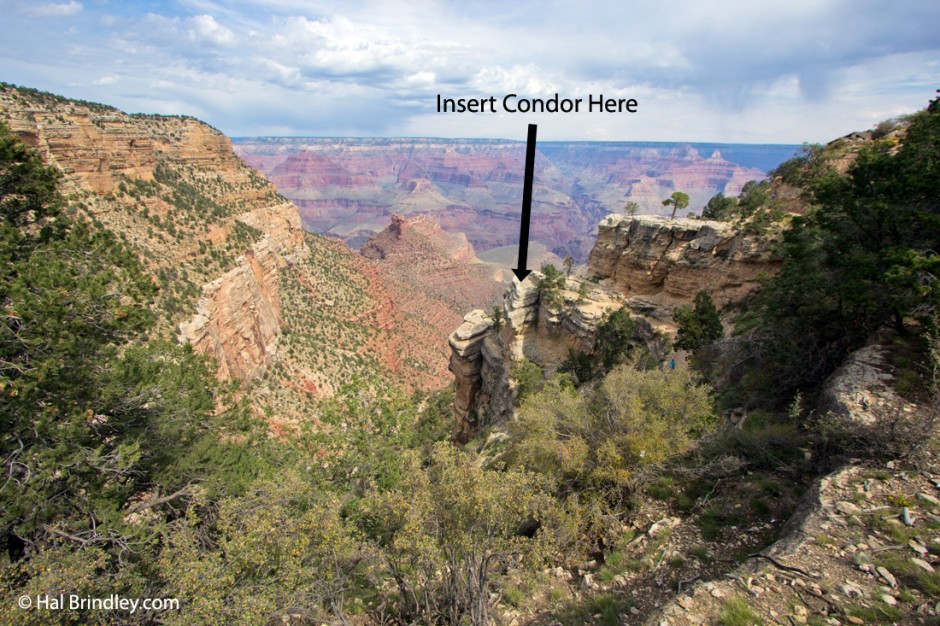 Exiting the Grand Canyon National Park, I ran into a traffic jam. There was no accident to be seen; it was instead a group of large-mammal rubber-neckers. I pulled over to see what the fuss was about and discovered a huge bull elk and his harem. This dude had more than a dozen ladies and was bugling loudly just to reiterate how awesome he was. As usual, a couple idiots were breaking the 50 yards rule and approaching dangerously close. I thought perhaps I would get to record a trampling or a goring but no such luck.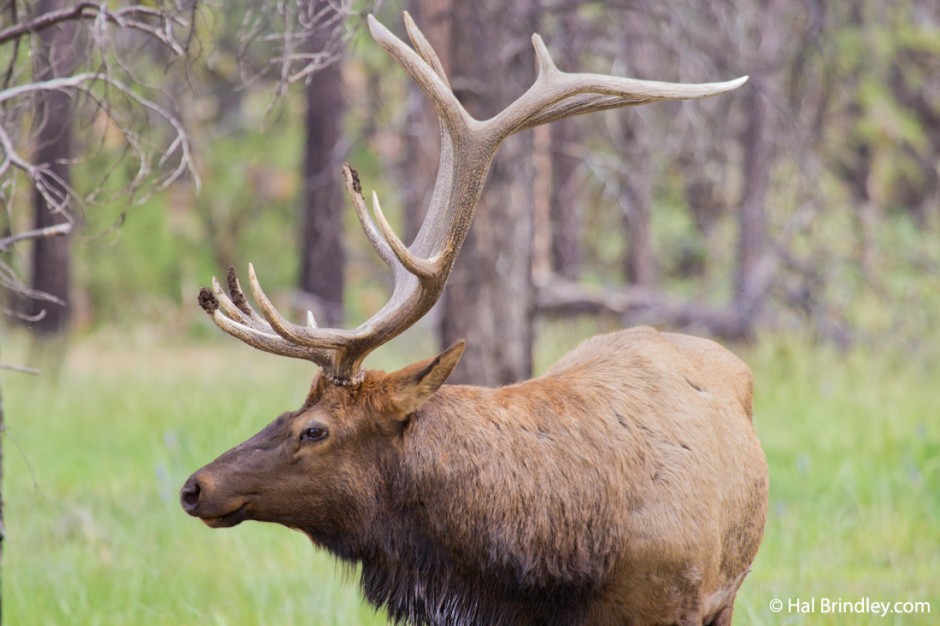 On my way back to Vegas I stopped in Boulder City (home of Hoover Dam) to see if any Desert Bighorn Sheep were grazing in Hemenway Park.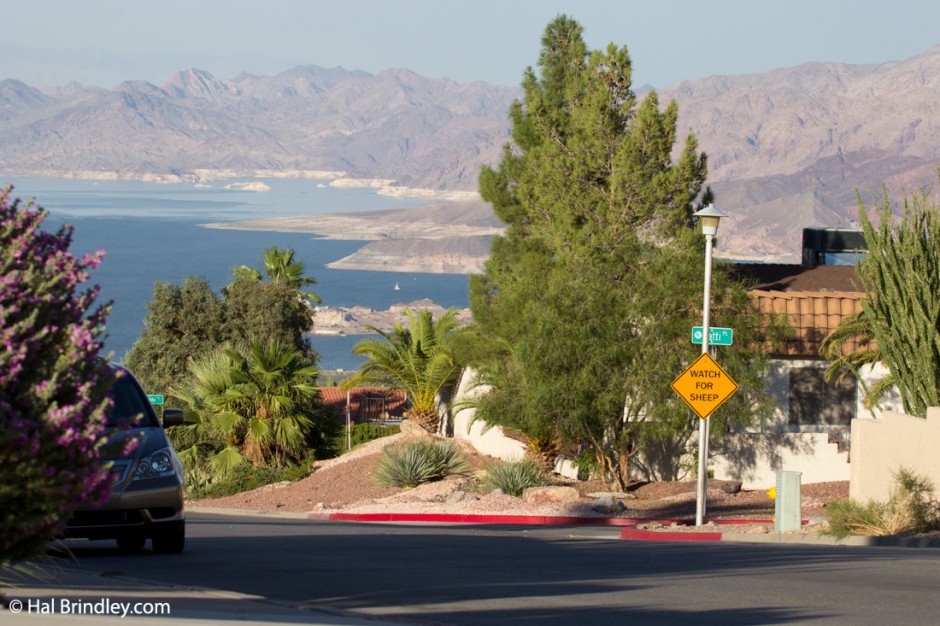 The sheep must have been up in the hills, but I did see some Desert Cottontails and Gambel's Quail running across the suburban streets as though their pants were on fire.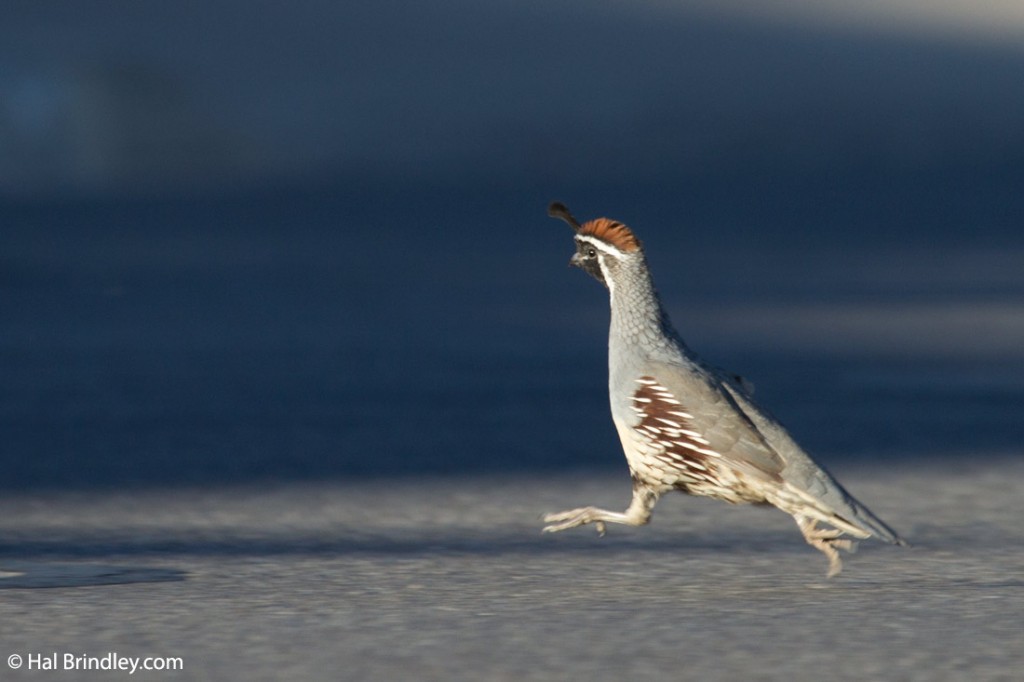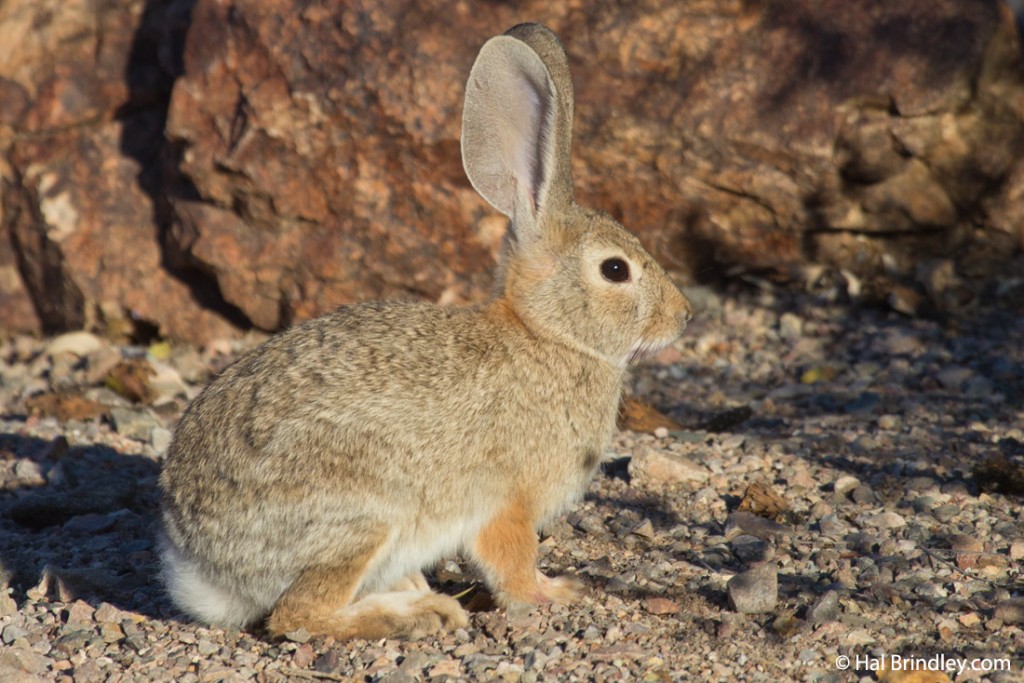 As I had now gone almost three days without showering, I decided to take a swim in Lake Mead before heading to the airport. The air was warm and pleasant, the water slightly cooler than a bathtub.

I wandered to the marina while my shorts air-dried and drank a Pacifico while the gargantuan Carp swarmed around the docks by the hundreds under the setting sun. I caught my 11:30 PM flight and winged back to NC.
Many thanks to Jim Boone of birdandhike.com for the Hemenway Park tip. He is an incredibly experienced wildlife guide in the Las Vegas area and you should definitely look him up if you want to watch wildlife around Las Vegas.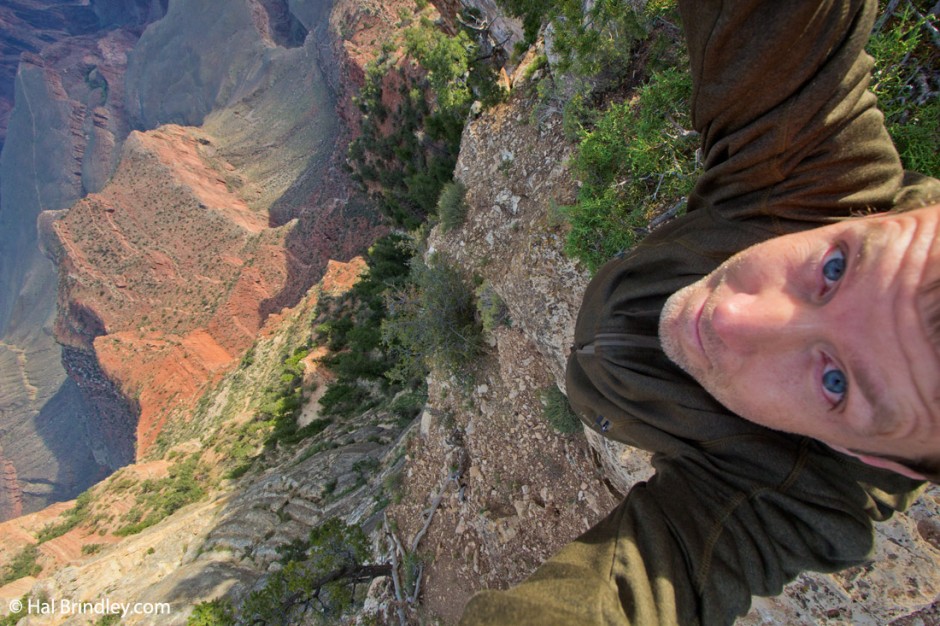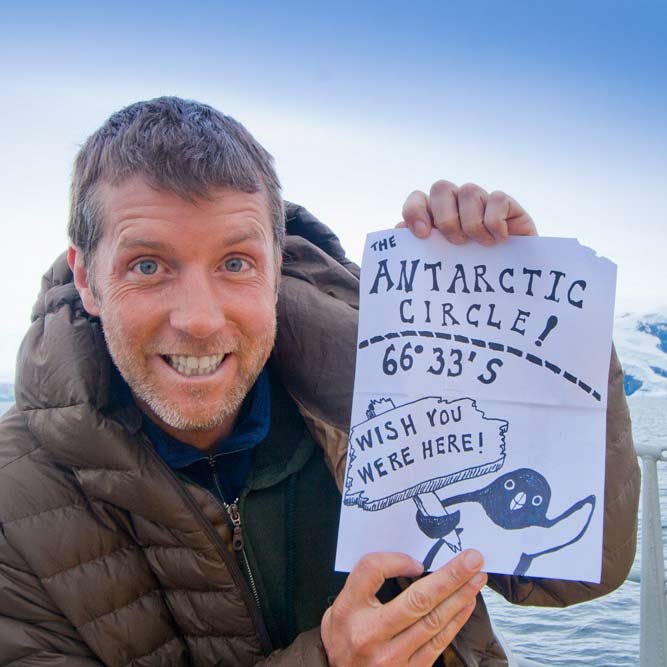 Hal Brindley
Brindley is an American conservation biologist, wildlife photographer, filmmaker, writer, and illustrator living in Asheville, NC. He studied black-footed cats in Namibia for his master's research, has traveled to all seven continents, and loves native plant gardening. See more of his work at Travel for Wildlife, Truly Wild, Our Wild Yard, & Naturalist Studio.