When you first lay eyes on Kieliekrankie Wilderness Camp, just one thing comes to mind. Wow, I wonder what the views are like from up there. Perched on top of a tall sand dune, this Kalahari camp has 360 degree views of the Kgalagadi Transfontier Park in South Africa. Miles and miles of endless red sand dunes in every direction, and only three neighbors to share the view with. This is what the Kgalagadi wilderness camps are about.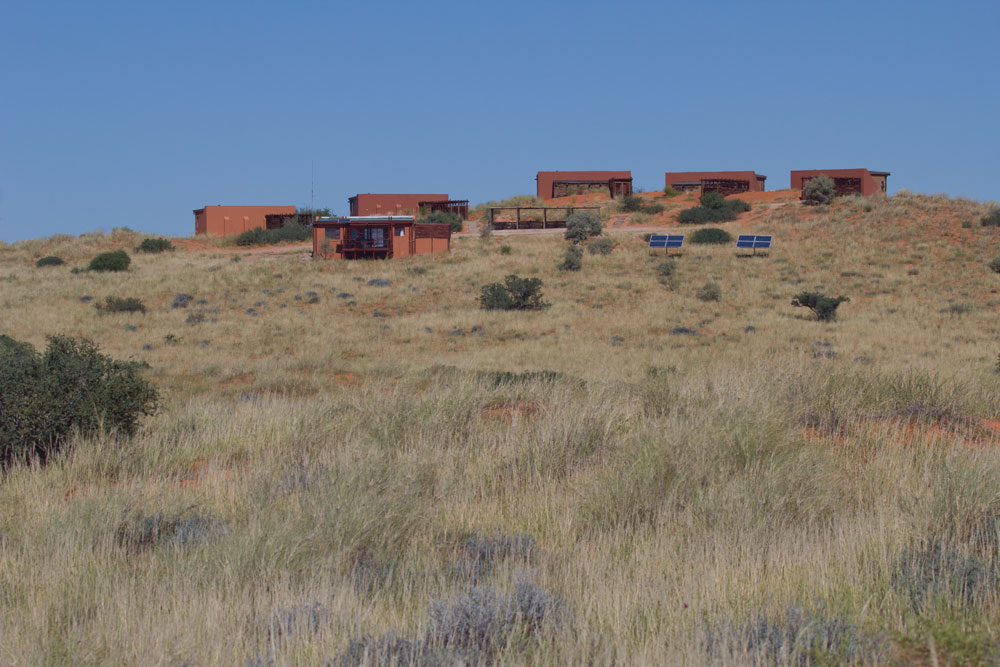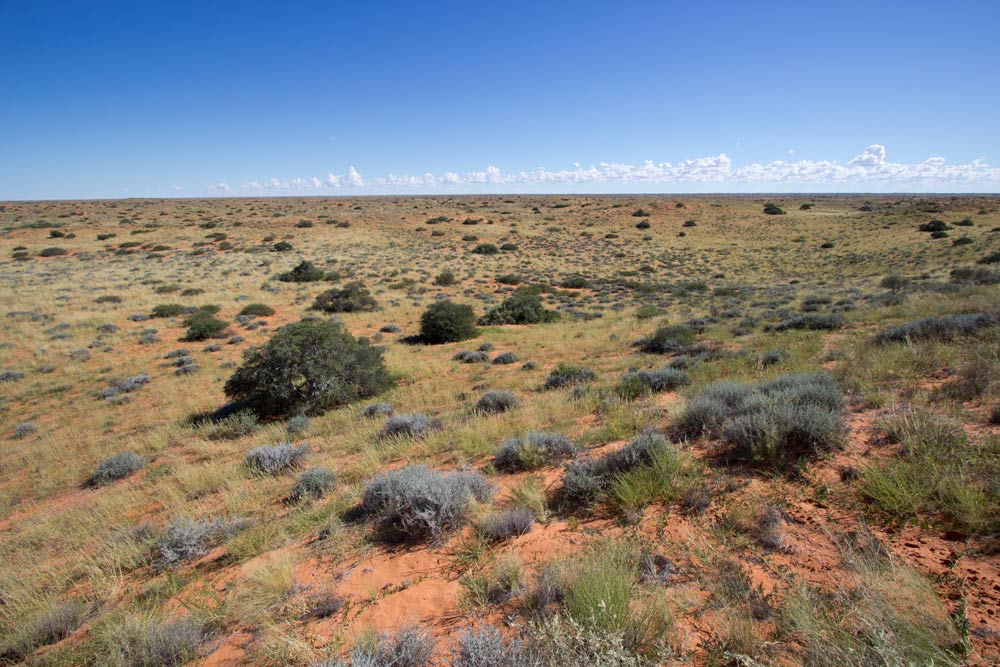 If you've never stayed at one of the "Wilderness Camps" in the Kgalagadi Transfrontier Park, the first thing you should know is that you don't actually camp. In fact, you stay inside beautifully-designed self-catering units, and Kieliekrankie is one of the most beautiful of them all.
Kieliekrankie Wilderness Camp is located on one of the few dune-crossing roads in the park, a road that connects the Auob River road and the Nossob River road. The dune roads are not known for spectacular wildlife sightings because animals in the dunes are widely dispersed. But if you start to feel a little claustrophobic in the river beds and want to get out into the heart of the real Kalahari dune habitat, then you are in the right place! We stayed here for one night and have already booked another night for our next Kalahari safari. We will be using our time at Kieliekrankie to rest from our days of hot driving and to enjoy the incredible views.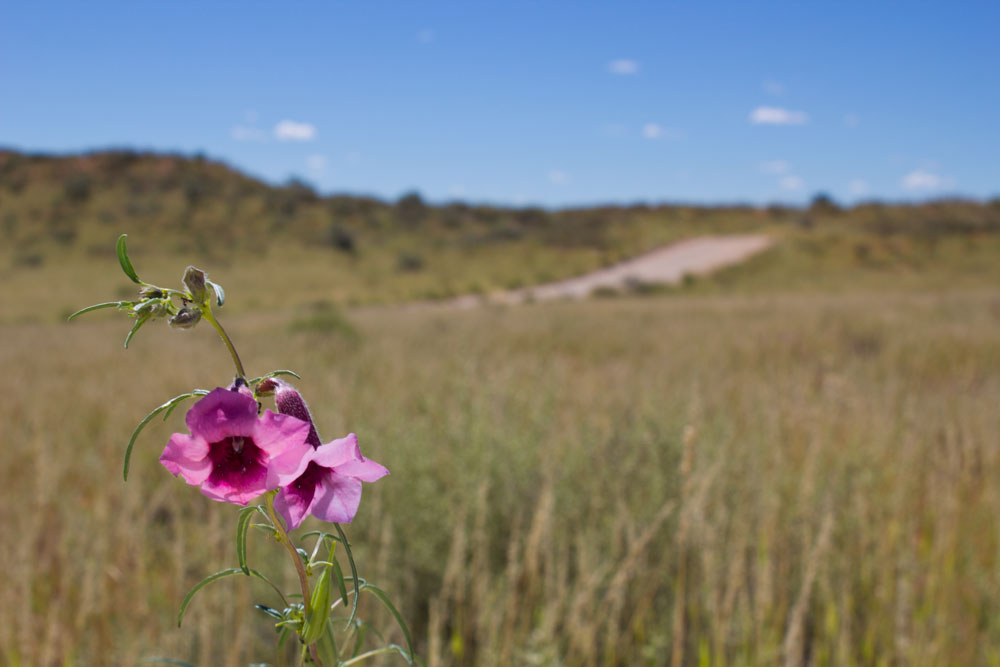 One of the cool things about this Kalahari camp is the entrance to the cabin. You have to go through a half-buried tunnel through the dune to access your unit.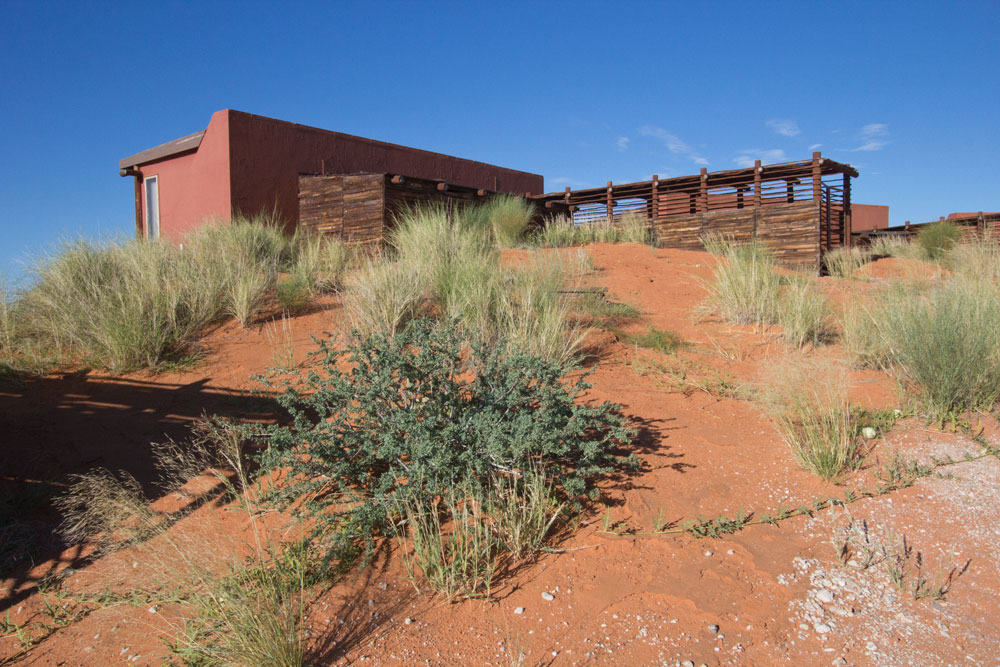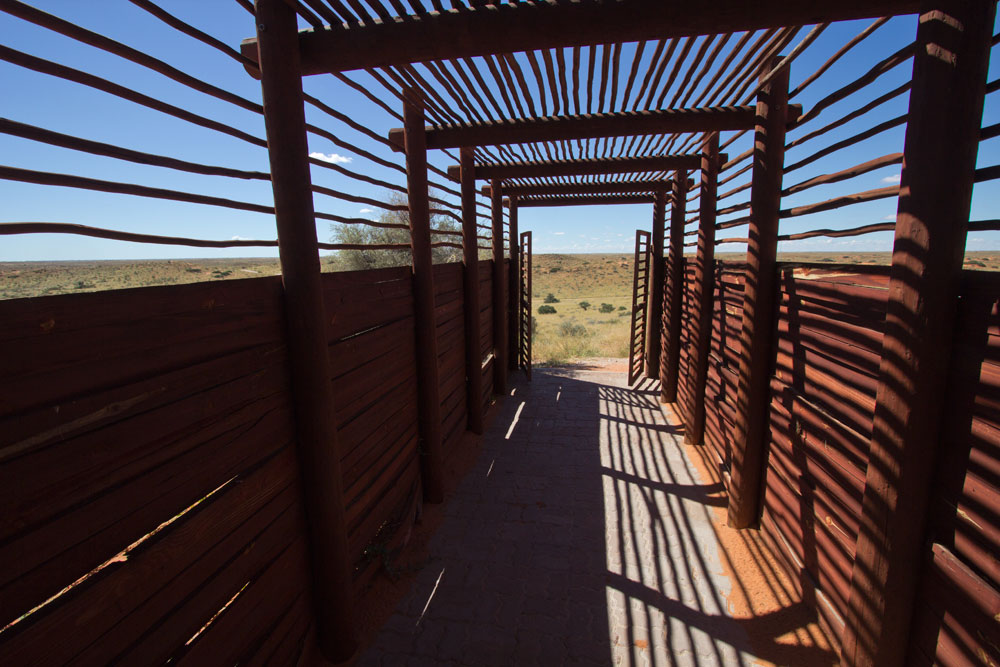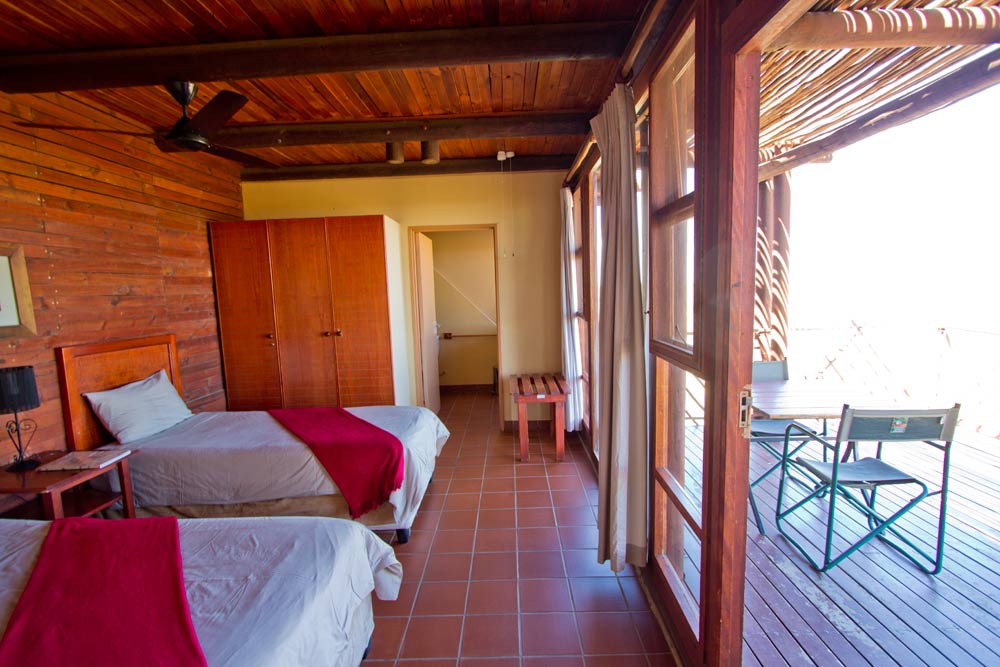 Kieliekrankie only has 4 cottages available, all of them facing south and overlooking a small waterhole that is lit at night. To be fair, you are a bit too far to see who is at the waterhole, and you have to rely on your binoculars all the time. Still, we saw a few jackals and a steenbok. If you thumb through the sightings in the guest book on the nightstand, you'll soon realize that all sorts of animals might appear at the waterhole at any moment!
The camp manager lives on site in another cabin and he is always available.
The interior of the cabins are basic and you have everything you need for a comfortable stay. A fully equipped kitchen, hot water, a ceiling fan. These cabins don't have heating or air conditioning though, so be prepared if you visit during the hot or cold months.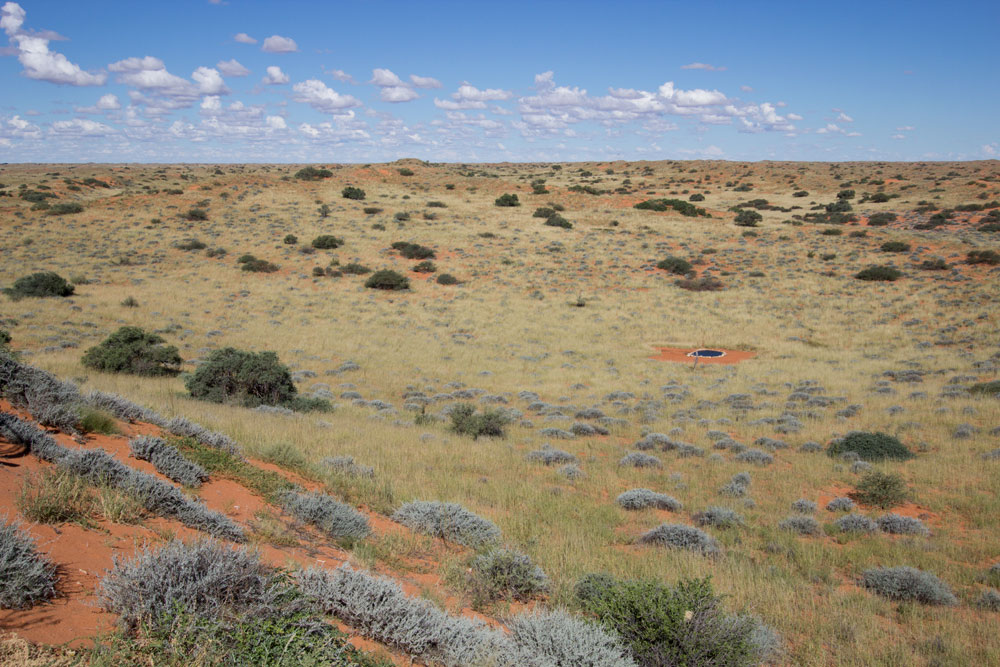 This is when your binoculars are very handy. This next photo was taken with a 500mm lens.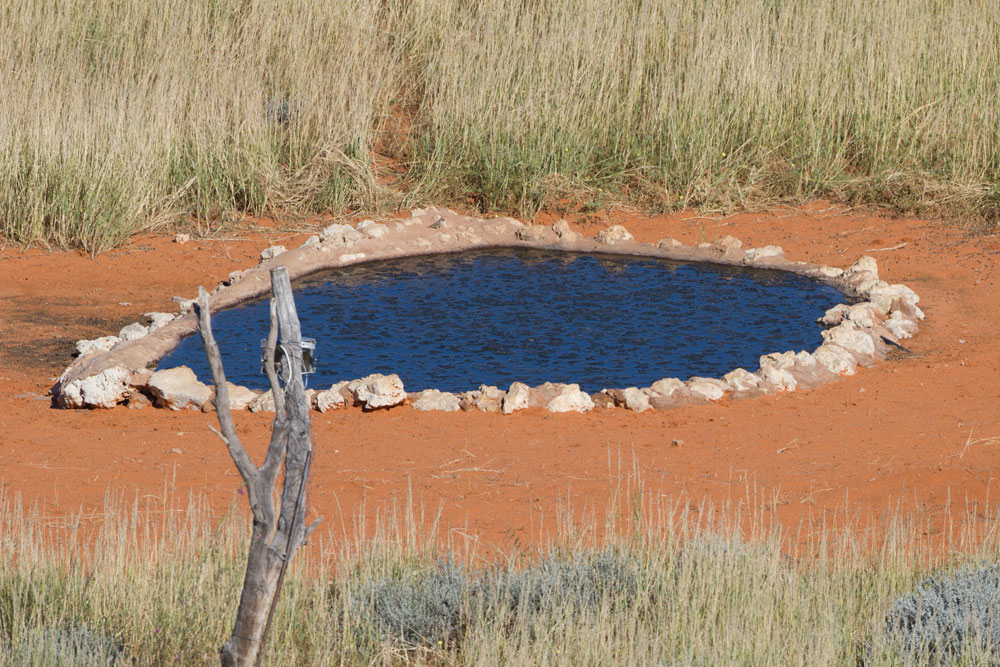 During our first visit we were lucky enough to have a bright full moon. And the spectacle was incredible. As it rose, the full moon lit the landscape and you could see every single dune on the horizon.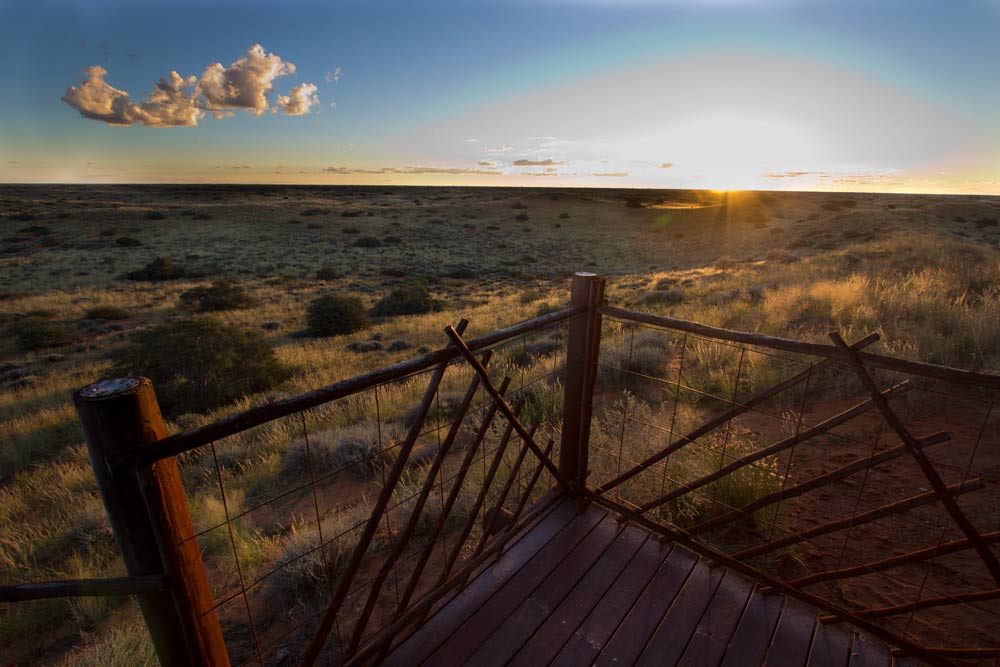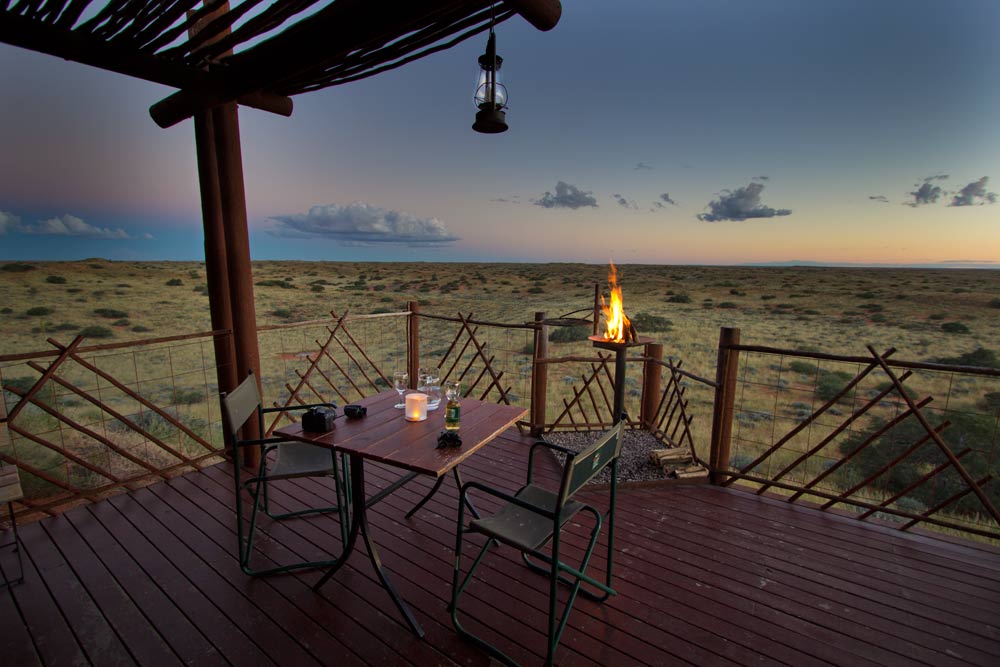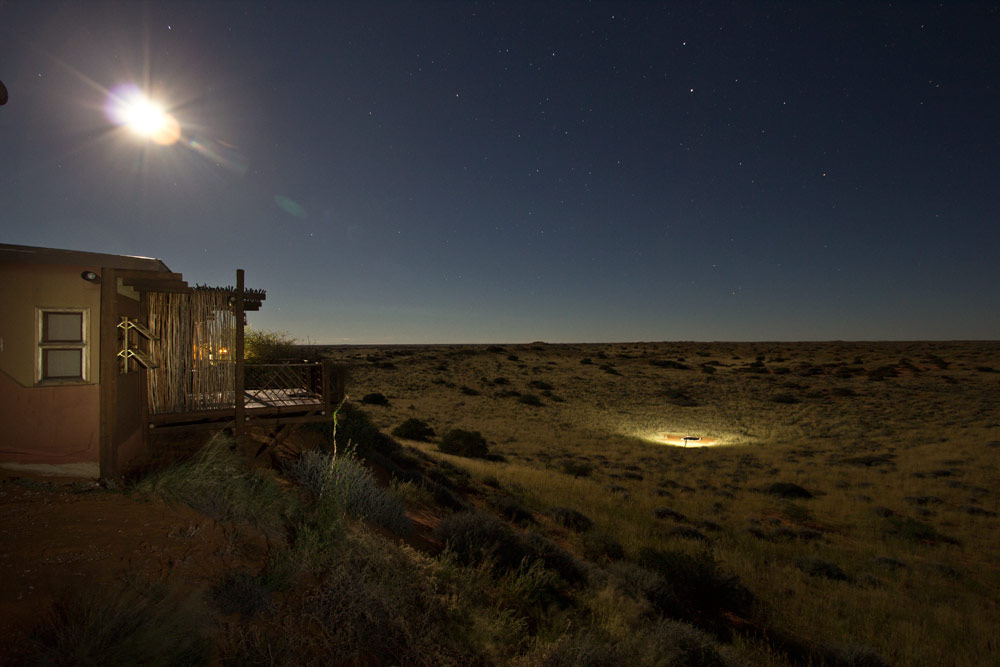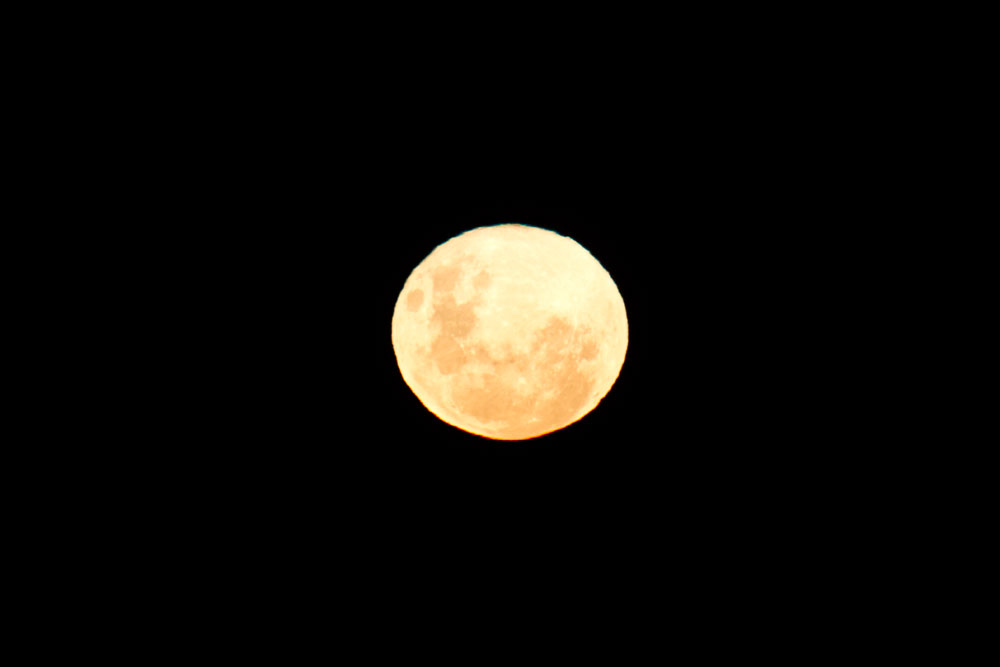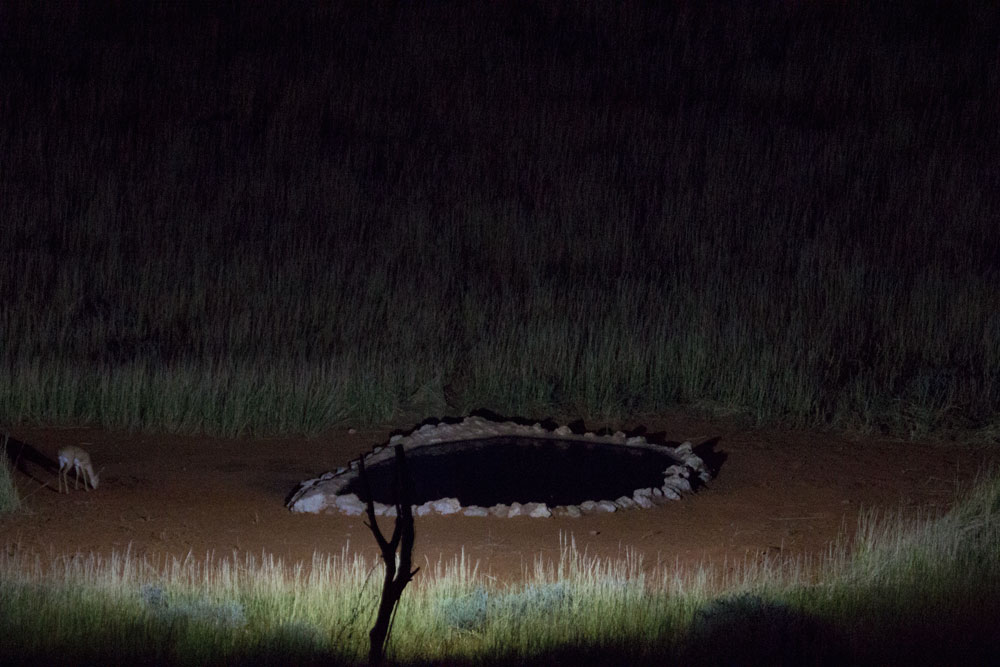 This magical Kalahari night was great for night sky photography, especially since we didn't see much wildlife except for the steenbok. We did hear a cat calling a few times but we don't know what species (likely an African wild cat or a caracal).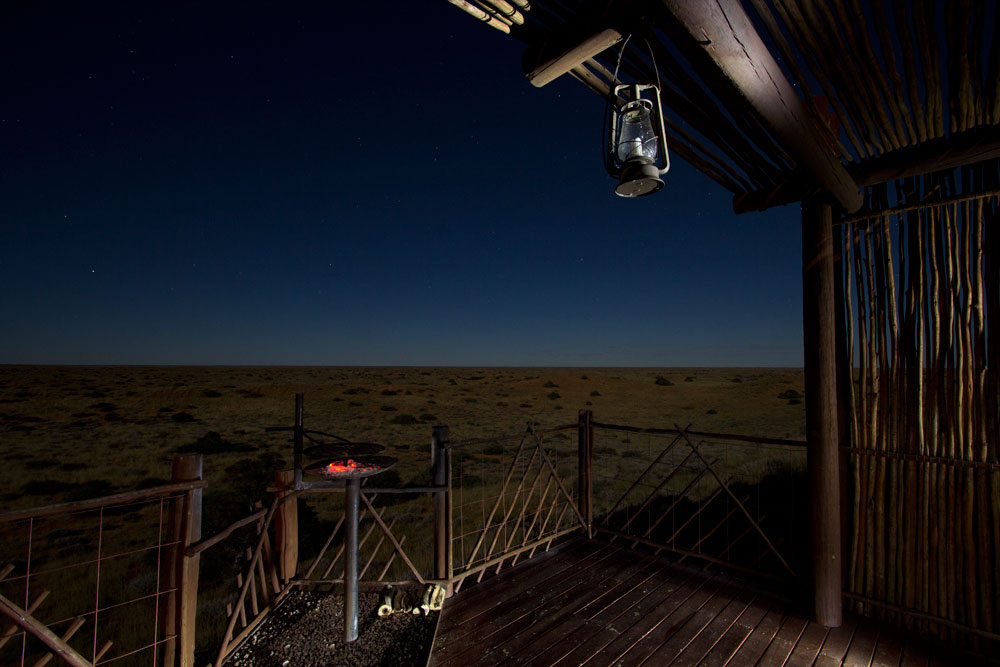 Since the waterhole was pretty quiet that night we didn't last long and went to sleep pretty early. The next morning we woke up before sunrise and the full moon was about to set.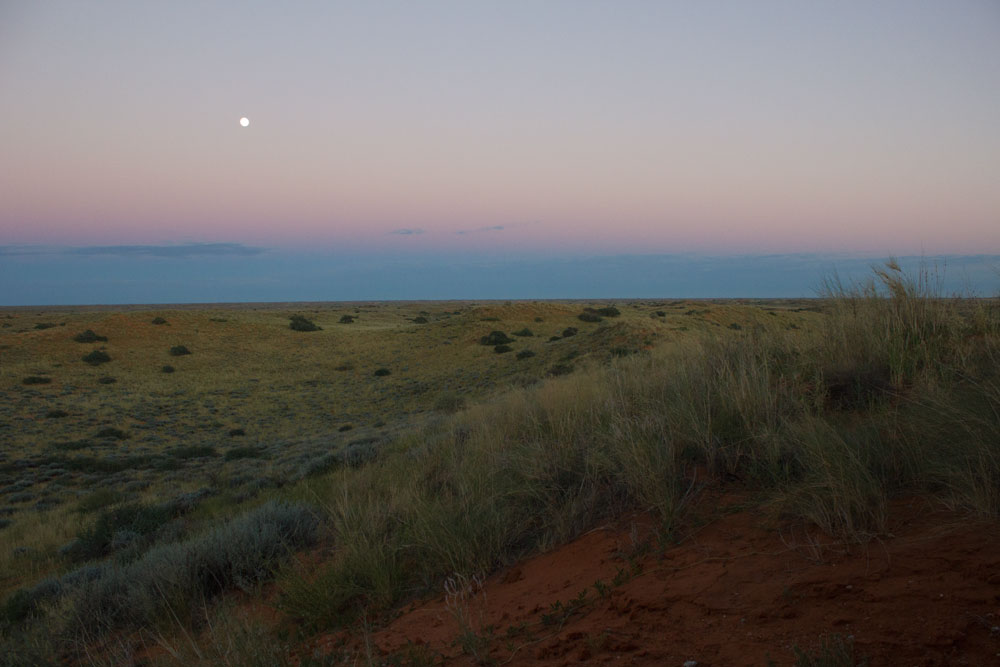 Before the sun rose, I caught a little movement out of the corner of my eye. Just there by our deck was a tiny elephant shrew. It was the first one we had ever seen and was definitely one of our favorite moments in the park. What a cool creature! They are definitely one of the most adorable Kalahari desert animals. This guy was really fast and kept on dashing into the bushes so taking a good photo was pretty difficult.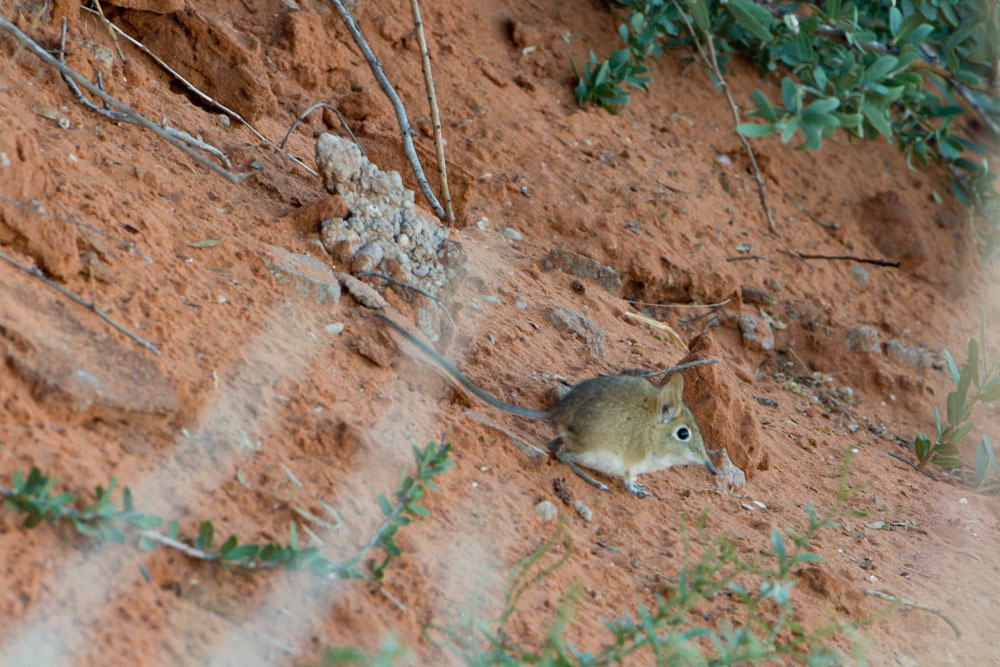 Luckily, a few days later we saw another pair of elephant shrews and took this adorable video of them dancing around in the morning sunlight.
We also had many birds sightings during our short stay at Kiliekrankie. This beautiful Bokmakierie (in the bushshrike family) paid us a visit during breakfast. And don't forget the geckos that hang around the cottages! They keep themselves busy hunting for moths and other insects that collect on the cabin windows at night.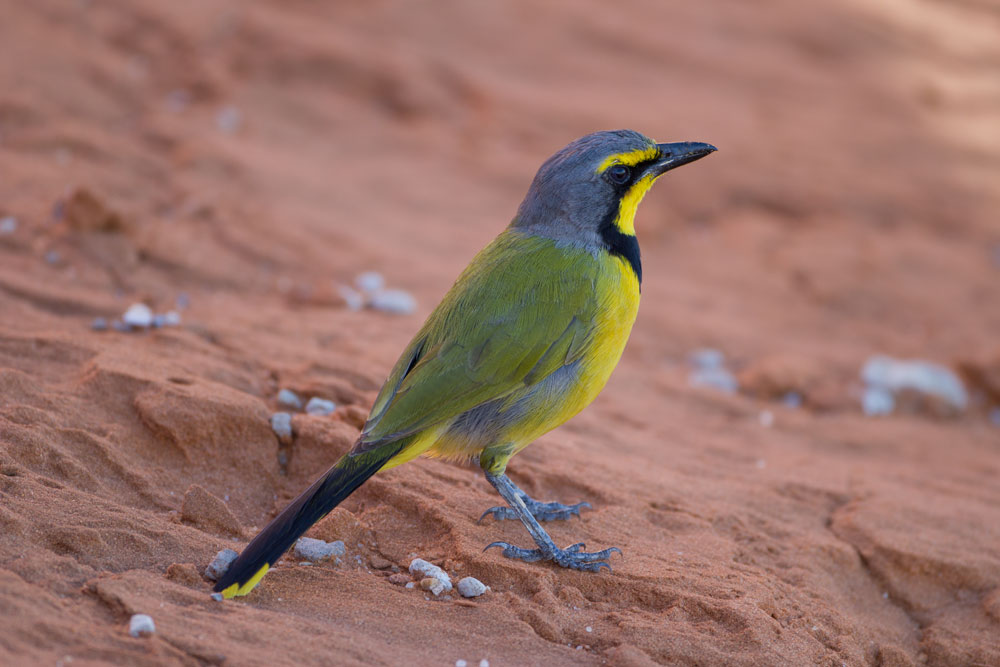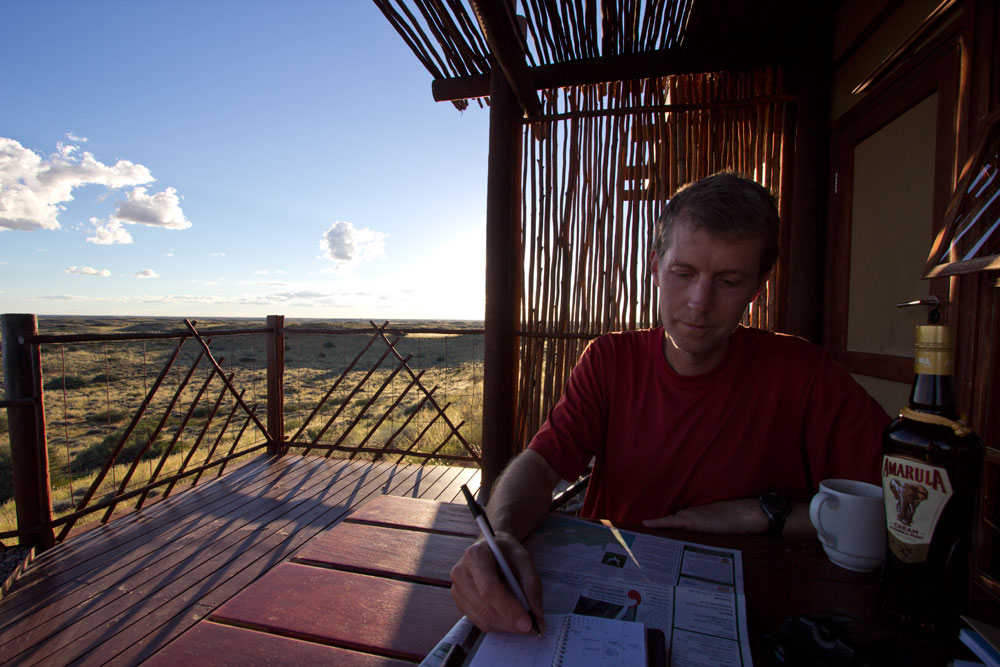 Kieliekrankie is the perfect Kalahari camp to relax and unwind after a few days in the Kgalagadi Transfontier Park. Driving all day in search of wildlife is extremely rewarding, but also exhausting! Get out into the heart of the Kalahari dunes and spend a day (or more!) at Kieliekrankie to recharge your batteries and prepare for more adventures in the park.
Speaking of recharging batteries…there are no power outlets at Kieliekrankie. If you need to charge batteries, cameras, or a laptop, you'll need to bring a car charger. This is a place to relax, not to work!
To book your cabin at Kieliekrankie Wilderness Camp, visit Sanparks.
If you liked this article, you might like these:
---
Liked this article? PIN it!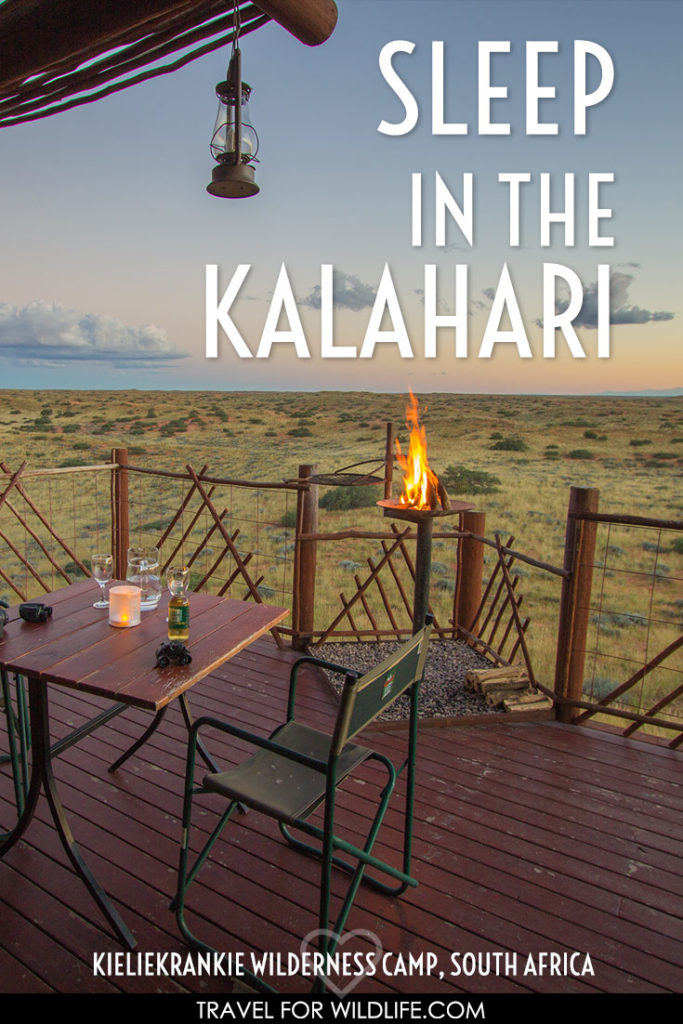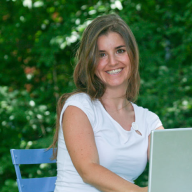 Cristina Garcia
Zoologist and wildlife photographer. She has worked in the field with jackals, wolves, cheetahs, & leopards. She serves on the Board of Directors of SEE Turtles, a non-profit sea turtle conservation organization.
Read her posts at Travel For Wildlife and see more of her work at Truly Wild, & Our Wild Yard.