We rolled slowly to a stop in the Hazard Cave trailhead parking area at 8:20 PM. The indigo sky was darkening quickly but a near-full moon was peeking through the tree tops. As we opened the car door the incessant call of a whip-poor-will echoed loudly through the forest. We had driven more than 200 miles that day, full of excitement to see a bioluminescent maggot. Yes, it was finally time to realize one of our dreams, to take a tour of the glow worm caves at Pickett State Park, Tennessee.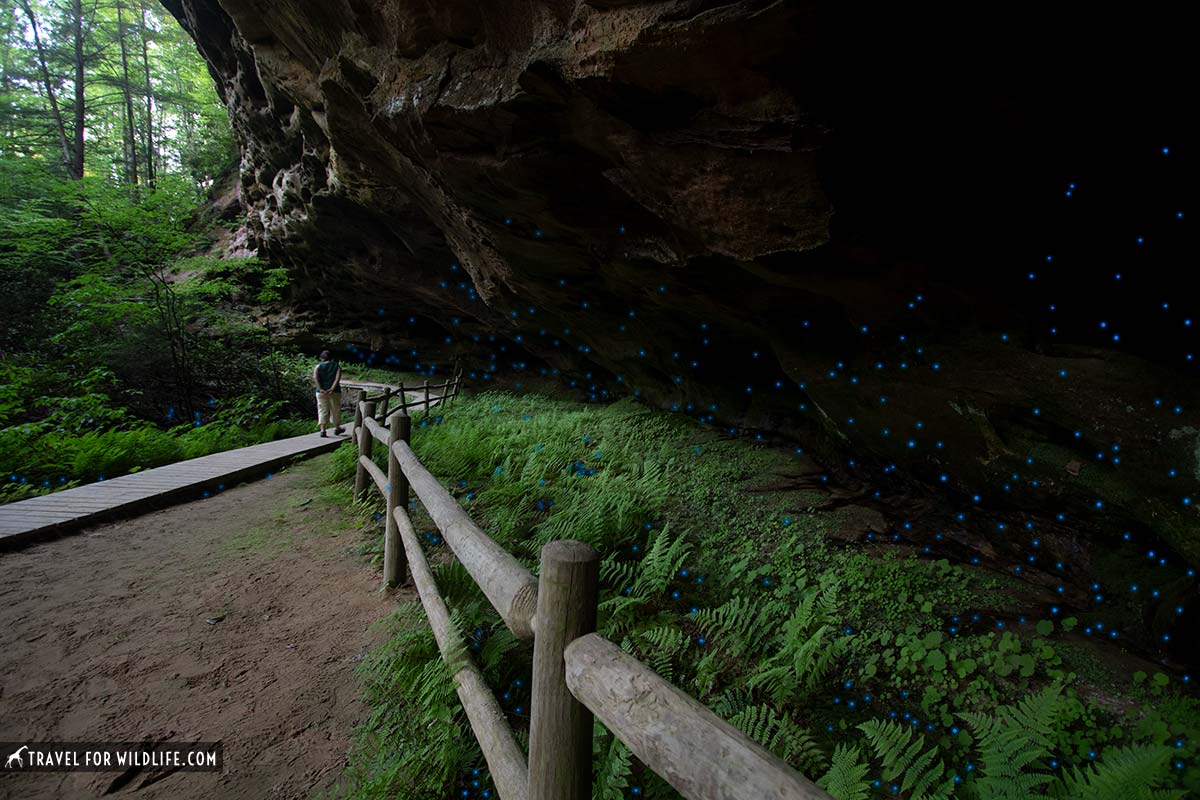 We had wanted to witness this natural marvel for years but somehow never got the timing right. The tours are only conducted in late May and early June. But this year we got lucky. It popped into our heads just days earlier. We managed to find a tour that wasn't sold out and one of the adorable Pickett State Park cabins was available for the same night. Fate was on our side.
Two other cars pulled into the lot, followed by a ranger's truck. Dim red headlamps and flashlights came on one by one and after a brief introduction from the ranger, Codi, we headed off into the black forest. By some quirk of timing, our expedition consisted of only 7 participants. Codi informed me that most nights sold out at the current cap of 25 people. "In the old days we didn't put any cap on it and some nights we had as many as 90 people."
What's all the fuss about? This is no ordinary bug. In fact, this is an extremely rare phenomenon that is restricted to a small region of the southern Appalachian Mountains in the Eastern United States.
These "glow worms", known by the scientific name Orfelia fultoni, are the only bioluminescent fly species in North America. They also emit the bluest light ever recorded for any bioluminescent insect, even bluer than their famous glowworm cousins Arachnocampa found in New Zealand caves. Though related, they each use a different chemical system to create blue light.
Closely related to fungus gnats, the adult basically looks like a large mosquito. But it is the larval stage of the fly that glows. This wormy form is a mere quarter-inch long. What appears as a tiny blue dot is actually two tiny blue dots because the Tennessee glow worms light up at both the head and the tail, another unique feature.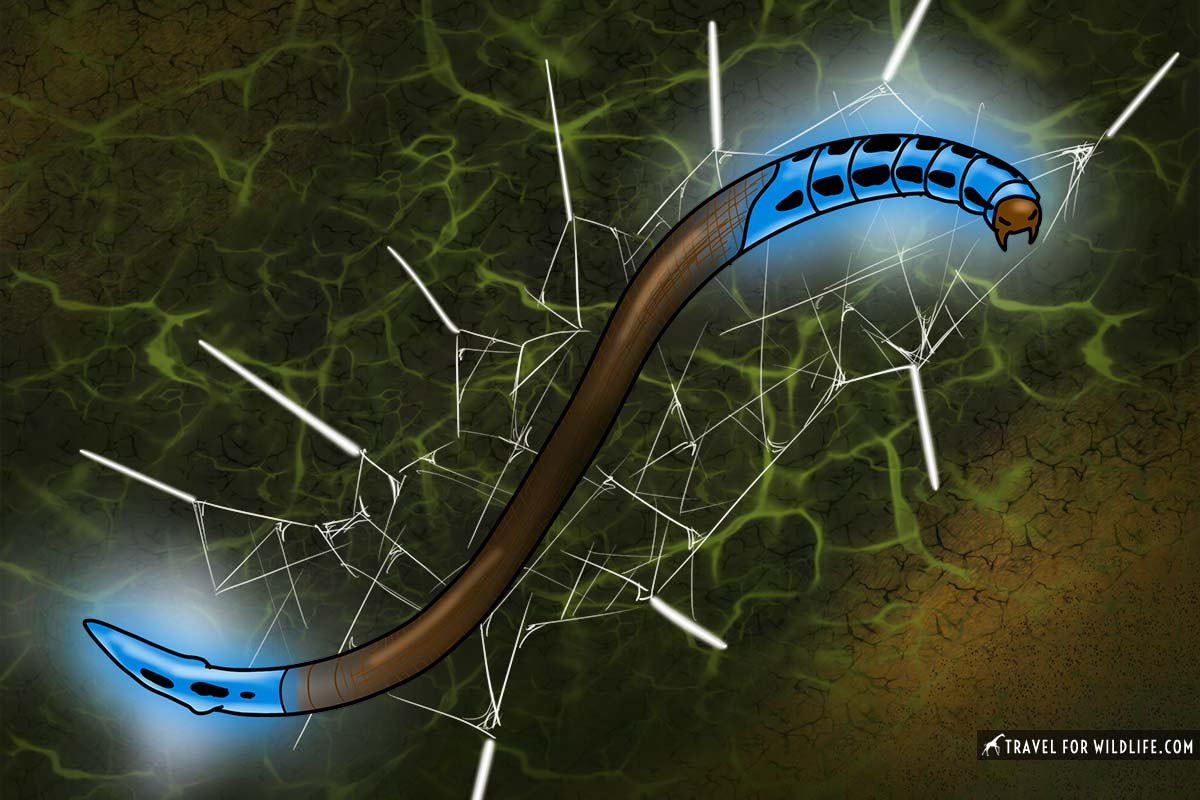 Unlike most fungus gnat larvae, O. fultoni is a predatory species. The larvae create a sticky web-like structure and use their glowing blue light to attract flying insects and trap them.
Generally a fly larva is referred to as a maggot, but how somehow Predatory Bioluminescent Maggot doesn't sound as cute as Glow Worm does it? That would make a great name for a metal band though.
They are sometimes referred to as "dismalites" in Alabama where you can also take a Dismals Canyon glow worms tour.
Under red light, we carefully picked our way down the steep concrete steps, across sandy trails, and over small rocks and roots for about 10 minutes before reaching a small wooden boardwalk. Above our heads in the gloom a massive rock overhang stretched up to the stars. Thats when we started to notice stars on the ground.
"Woah! Over there! And there!" Though our eyes had not yet adjusted to the dark, dim blue points of light began to appear. First along the banks of a damp creek bed to our right, then tucked under the wall of rock to our left. The ranger urged us forward to the mouth of the cave, promising we would see more on the way out.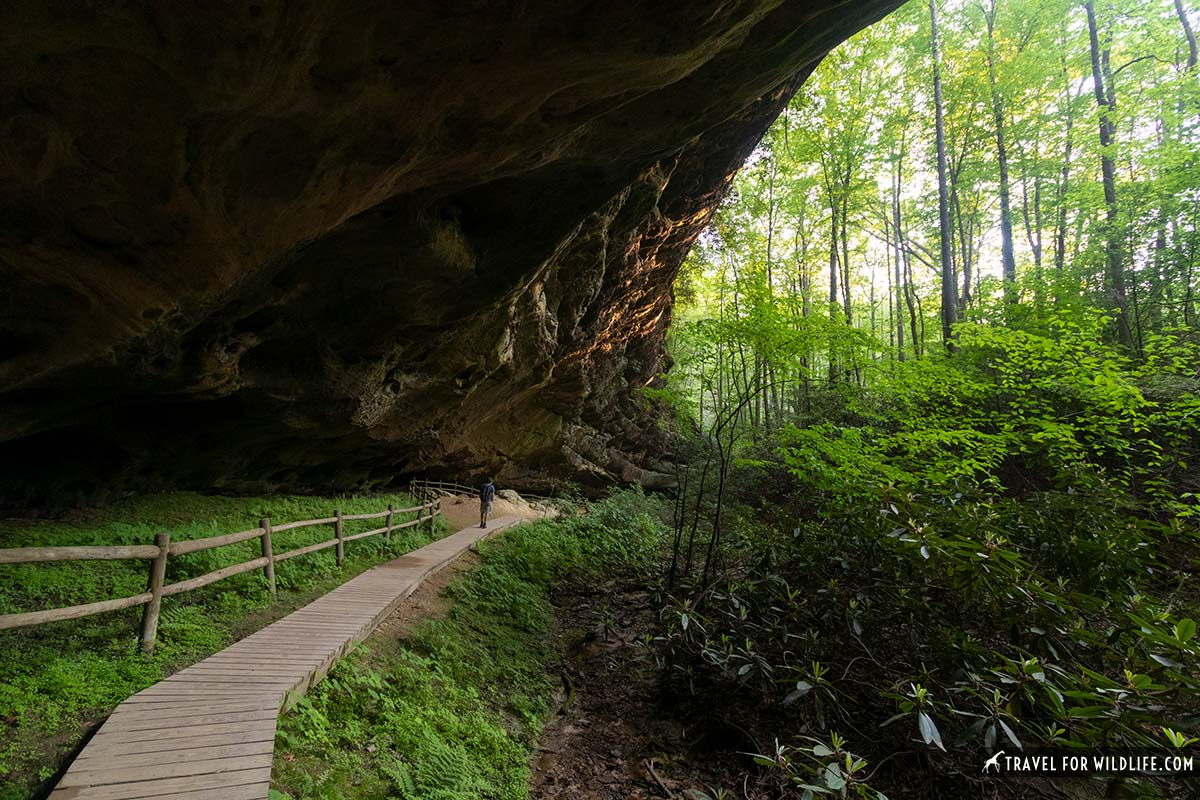 Though we hadn't seen it in daylight, we could feel we were entering a space the size of an airplane hangar, with a mouth that could swallow a blue whale sideways. Not technically a cave, Hazard Cave is in fact a "rock shelter" or "rock house", a massive overhang that stretches hundreds of feet deep.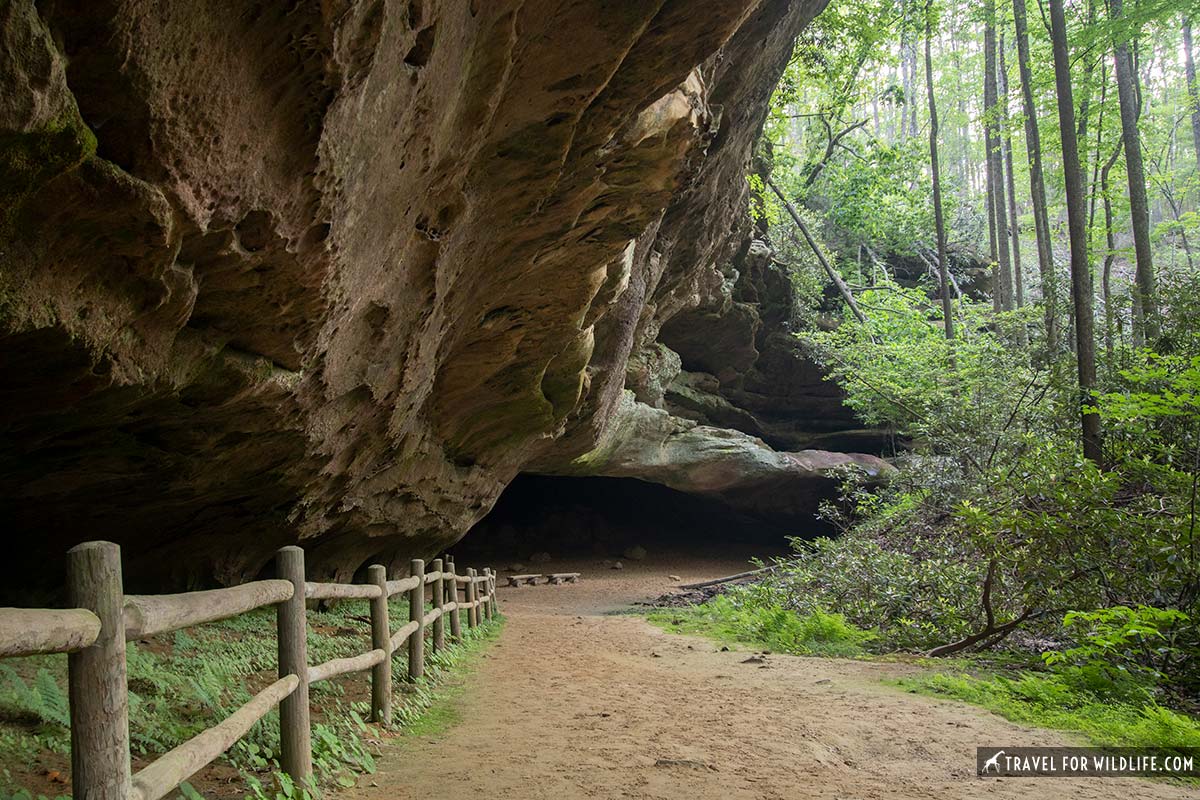 The sandy floor felt like a beach beneath our feet, but the large boulders looming in our headlamps reminded us we were in an alien environment. Winding between the stones we moved to the back of the cave and found seats among the slabs. Here we extinguished our lamps while the ranger explained the natural history of the glow worms and our eyes adjusted to the pitch. Just behind our heads on the ceiling of the cave, two blue points of light glowed faintly.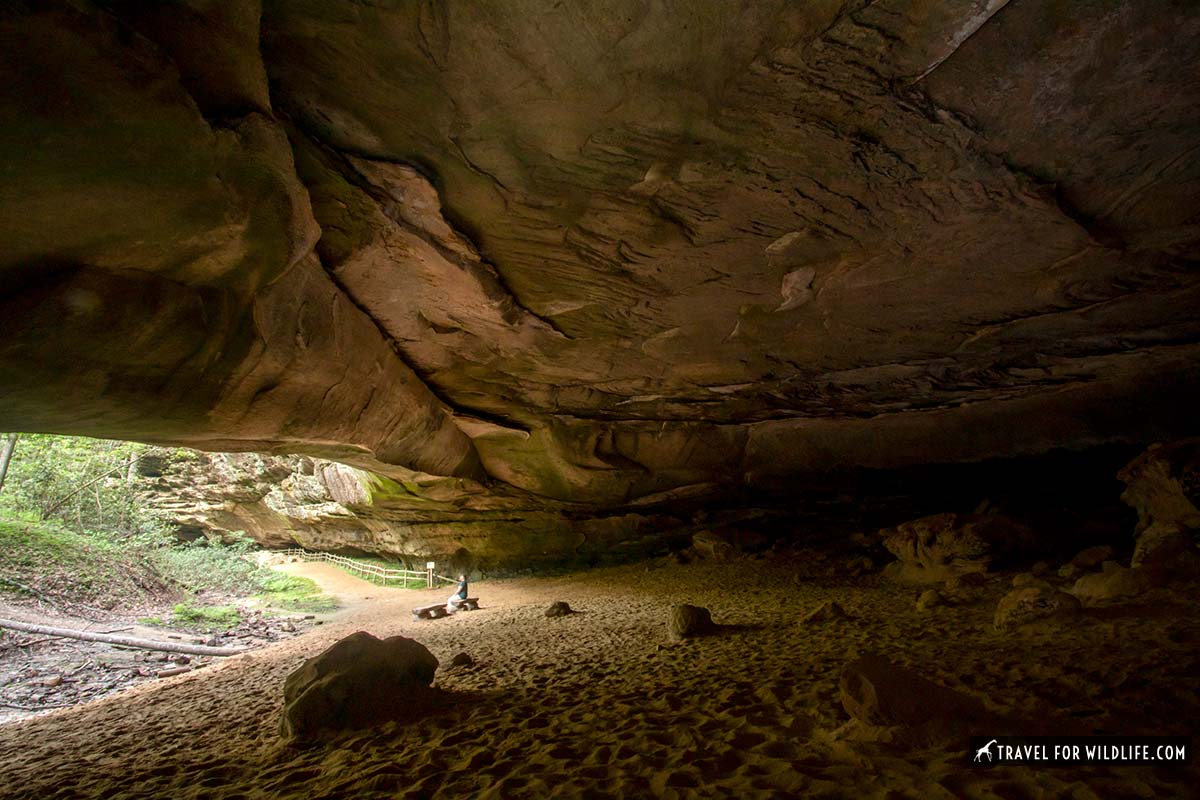 "Some years there are more than others," he explained. The best year I remember was 2015. It was incredible. The moon is very bright tonight so it will be a little harder to see them, but you're still going to see a great show tonight.
We plodded clumsily back out of the cave, using as little light as possible and made our way back to the split rail fence along the rock face. It was erected to protect an endangered plant, the Cumberland Sandwort (Arenaria cumberlandensis) found only in sandstone rock within the Big South Fork watershed. But it also served to keep people from trampling glow worm habitat.
The tiny blue specs became more and more numerous as we reached the boardwalk, along the creek bed and at the base of the stone cliff. I attempted to take a long exposure photo with my tripod but failed miserably. Our small group moved a bit too quickly to allow me the time I needed to experiment. So I gave up on photos and watched the starry forest floor around me. Here's a simulation of the photo I wish I could have taken.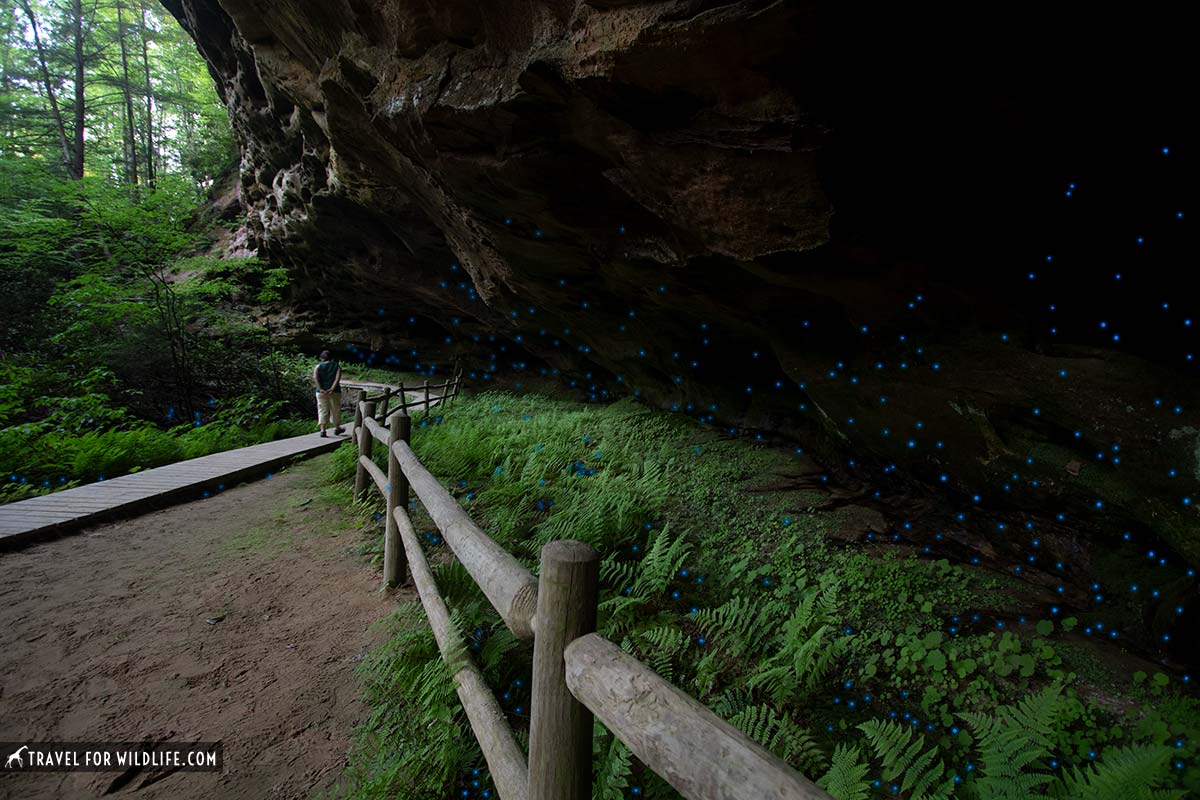 This is not the same as the brief intense flash of a firefly. Instead, the steady, dim glow of intense cobalt blue requires a bit of effort to spot, ideally on a very dark night with your eyes fully adjusted to the darkness.
When we found one close to the trail we would attempt to locate it with our headlamp, but the larvae were so tiny that they were impossible to spot among the moss and debris.
We were lagging behind and felt pressured to make our way back out, so we dragged ourselves away. Until a few years ago, visitors were allowed to visit Hazard Cave on their own at night, "but we got tired of people getting lost," the ranger informed me. So if you want to see this spectacle for yourself, get yourself to Pickett State Park and join a guided glow worm tour.
I'll be coming back again soon, and not just for the glow worms. This hidden gem of a park has a lot more to offer! (see more activities below). The ranger said they also offer a guided night paddle once in a while and that it was a great way to see more glow worms!
---
Glow Worm Tour Info, Pickett State Park TN
Here's a quick look at the glow worm hike info as of 2021
What: Glow Worm guided hike to Hazard Cave.
Where: Hazard Cave trailhead parking area off route 154 in Pickett CCC Memorial State Park, Tennessee. (view google map or download park map pdf)
When: After sunset (8:30 PM for us) on select nights in late May and early June. Check the Pickett State Park upcoming events page for specific nights. Some nights appear to offer a second hike at 9:30 PM. The tour lasts for less than one hour.
Cost: $5 per person.
Distance: 0.25 miles from trailhead parking to the rock shelter (Hazard Cave)
Difficulty: Moderate. You must be able to climb down some fairly steep sets of concrete stairs and walk uneven trails in the dark with only a red-light to light the way.
How to Register for Glow Worm Hike
Visit the upcoming events page of the Pickett State Park website.
Click on "view details" for an upcoming glow worm hike.
Click "Register for event" button.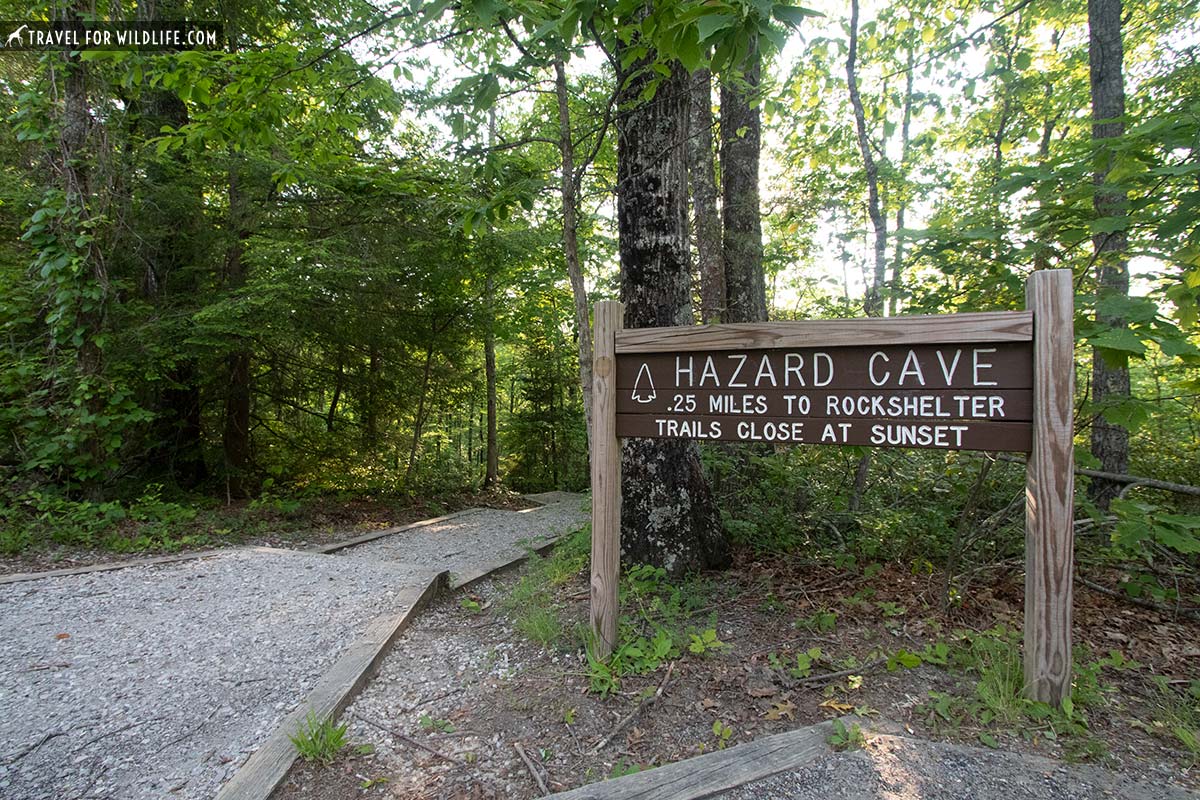 ---
Things to Do in Pickett State Park TN
What really surprised me was how many fun attractions are built into this relatively small park. Number one among them were the natural arch and natural bridge that are easily accessible by hiking or paddling, one of which you can paddle right under! Both of them can be walked across via hiking trails. On top of that, you can also visit the Twin Arches 8 miles away in Big South Fork National River and Recreation Area.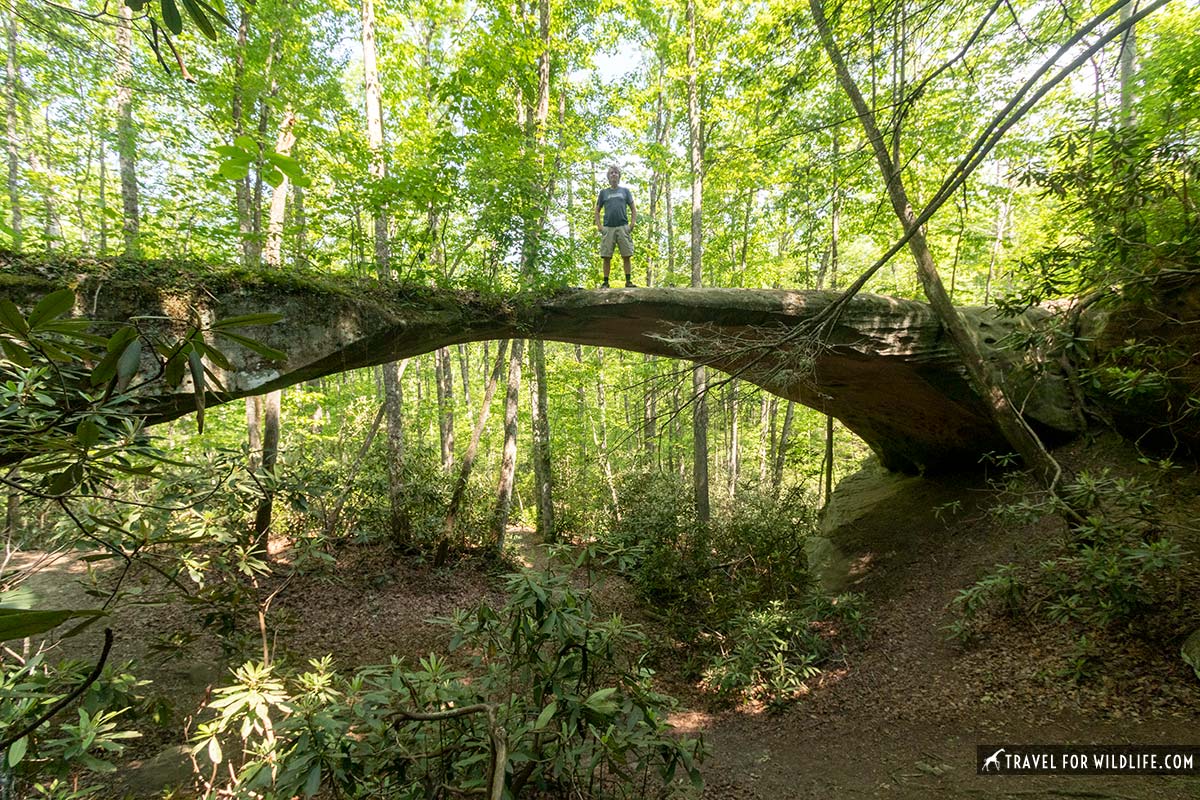 If you're into astronomy, Pickett State Park was the first state park in the southeast to earn an International Dark Sky Park silver tier status. Visitors are welcome to use their astronomy field if you brought a telescope or to join a guided night sky program.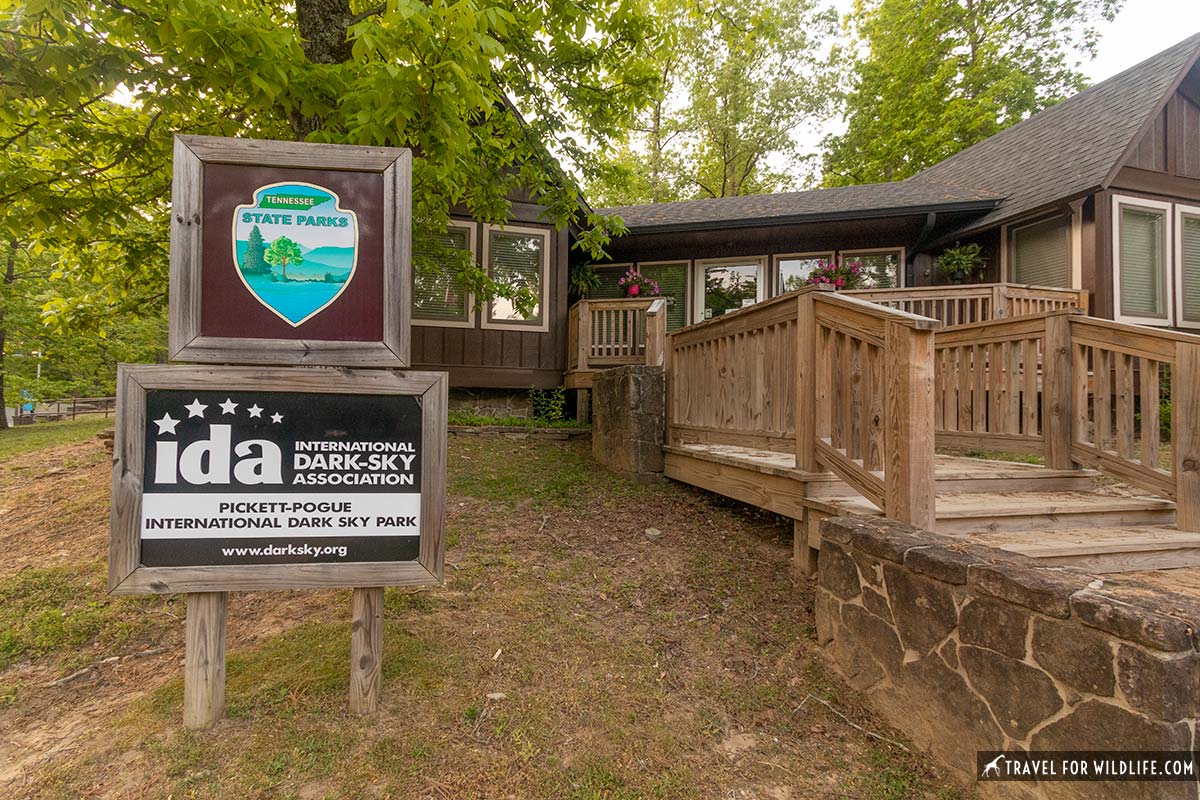 There are loads of beautiful short hiking trails, all within the immediate vicinity of the cabins and a couple longer ones if you want to make a day of it. They take you through a surprising variety of plant communities and geological formations. We loved the lake trail, blazed through dense patches of flowering mountain laurels, spongy lichens, and the surprisingly tropical-looking bigleaf magnolia with its absurdly large leaves.
The focal point of the park is Arch Lake (sometimes called Pickett Lake) where a sandy beach invites you to dip your toes and go for a swim.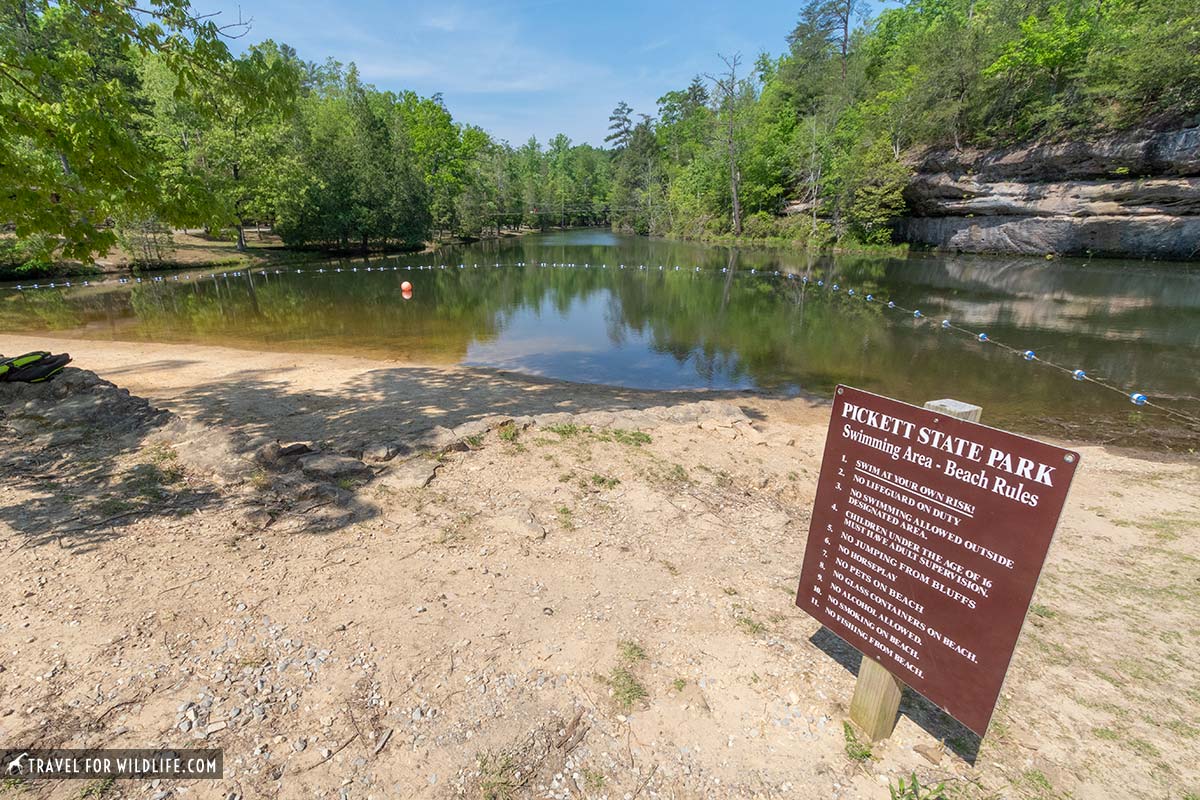 There is a boat house with canoes, paddle boards and fishing boats for rent (rent from the visitor center), and a suspension bridge hangs across the middle of the lake.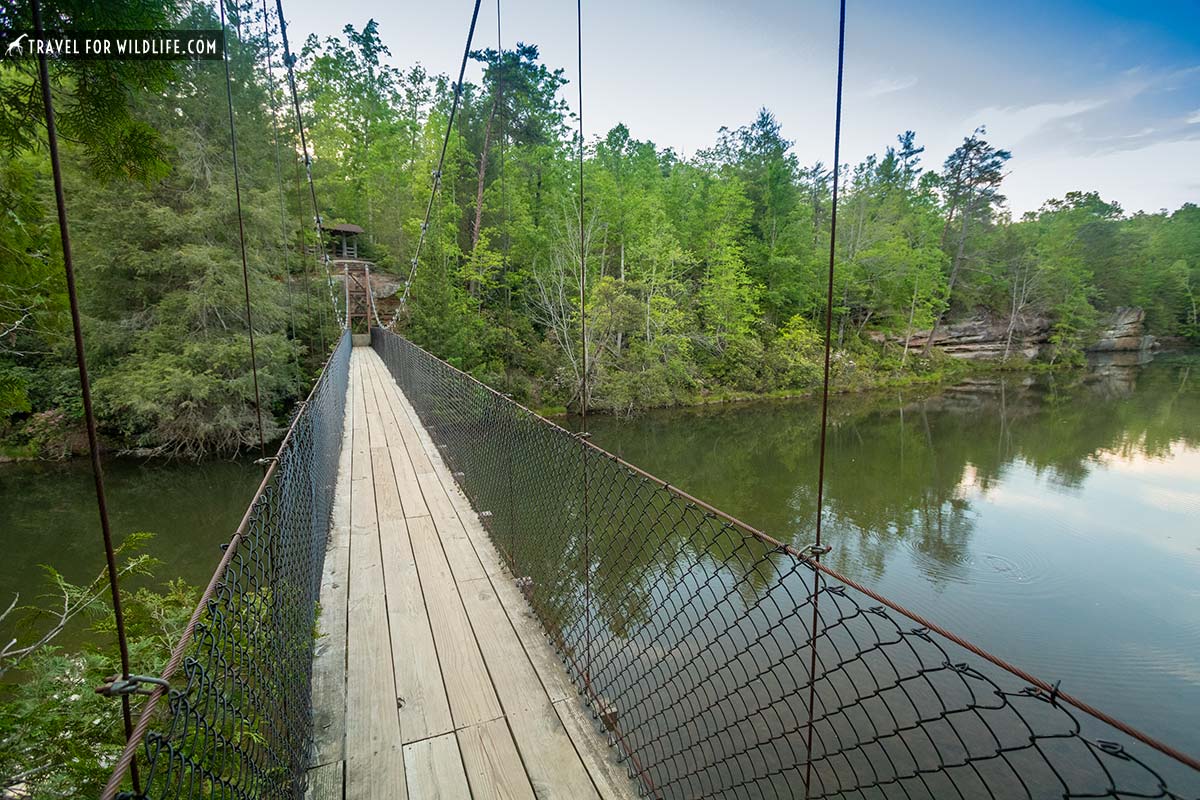 Our favorite activity was paddling a canoe under the natural stone bridge and searching for beaver dams (see the Watching Wildlife section below). The water is clear and still and full of interesting life.
---
Watching Wildlife in Pickett State Park
While the glow worms were our primary wildlife attraction, we also had a few other fun encounters along the way.
The lake is full of red-spotted newts (red-spotted salamanders) and they're fun to sit and watch from the edge of the beach or from a canoe.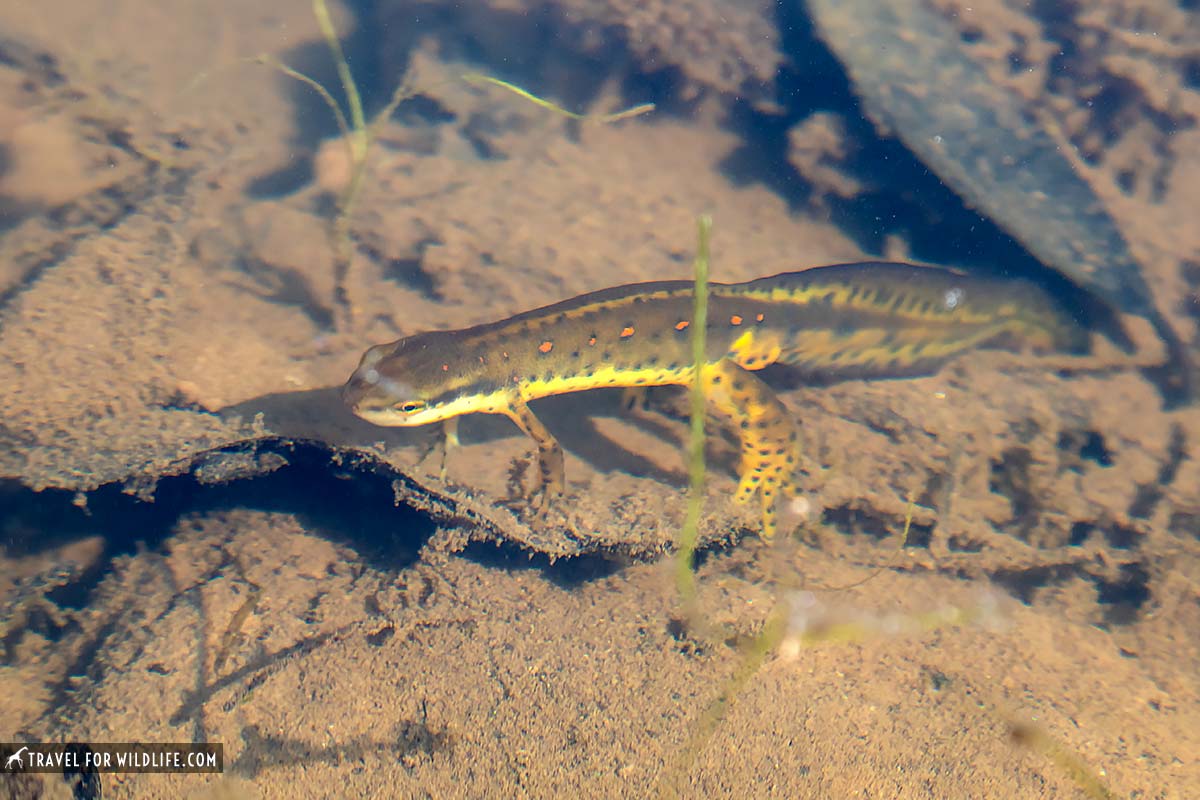 We also spotted a northern water snake (aka common water snake) swimming in the lake and another snake (probably an eastern rat snake) hunting in a rock shelter.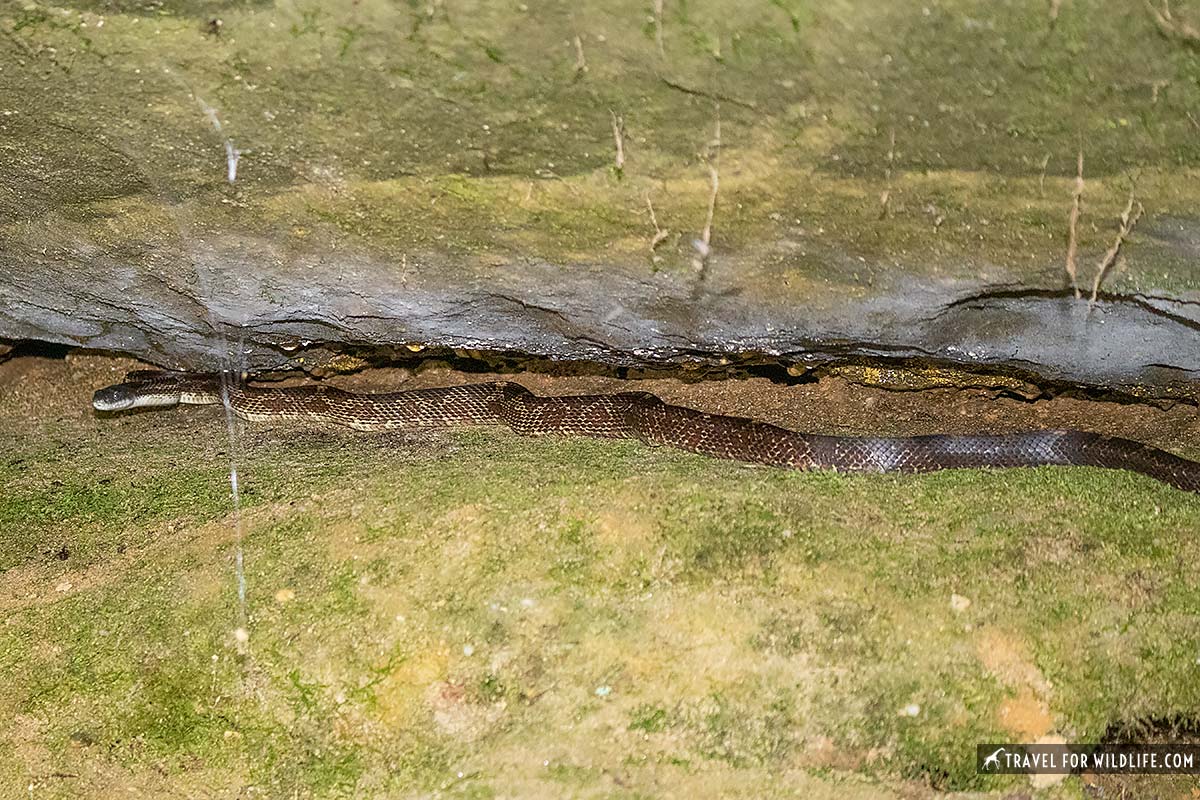 It was probably searching for deer mice which we saw living in cozy little houses built on rock ledges in the caves.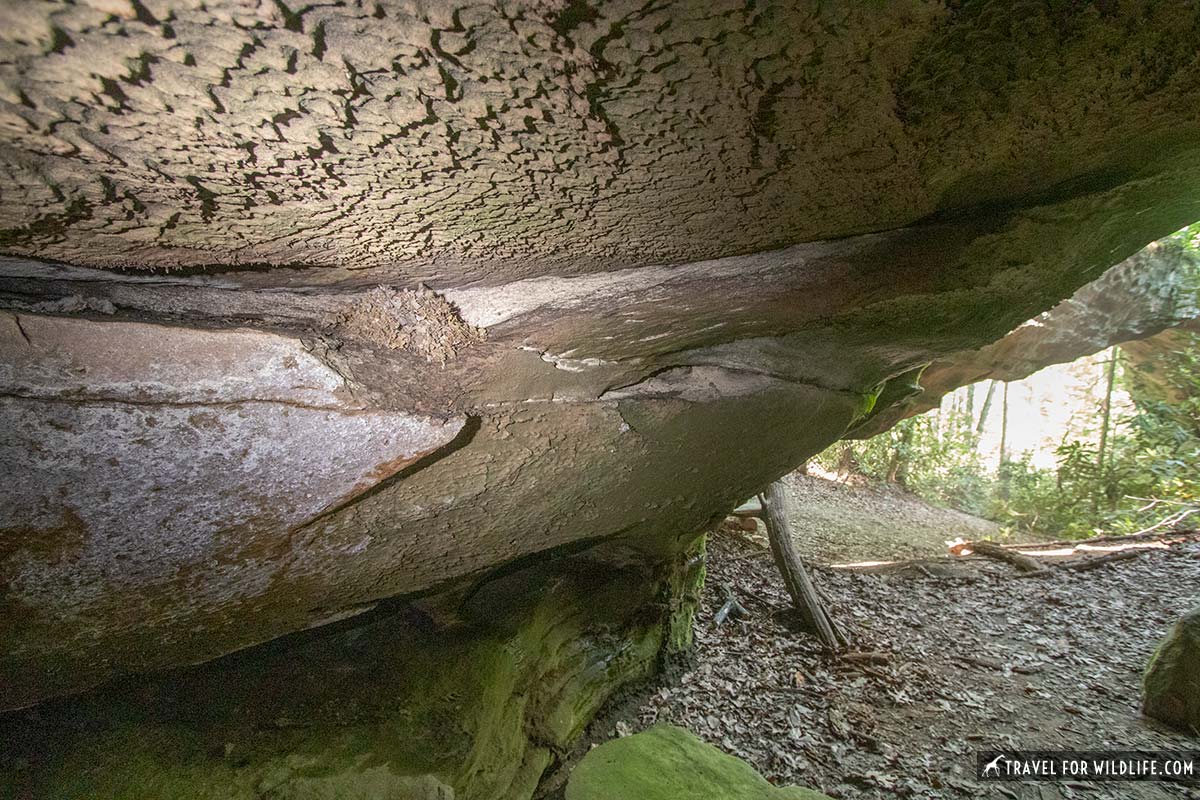 At night during glow worm season you have an excellent chance of hearing a whip-poor-will calling. (Leave your cabin windows open and you'll hear them all night!) If you've never heard this night bird sing, have a listen to the whip-poor-will call below we recorded while waiting for our glow worm tour.
Keep in mind, there are black bears which were reintroduced to the Big South Fork area in 1996-97. We didn't happen to spot one, but you should practice bear safety by keeping an eye on all food items and storing them securely at night. Also note that some clever crows were busy pilfering food from unattended picnics on the beach.
Several pairs of Canada geese with fluffy yellow goslings also frequent the beach and may harass visitors for food. (Please don't feed them, natural food is much better for them!)
Our favorite wildlife encounter was not a sighting at all but a "sounding". We were paddling around the loop of Arch Lake and encountered a beaver lodge. While examining it we heard a strange whining and whimpering sound coming from the opposite shore behind us.
Cristina said, "those are baby beavers!" (See video below.) Ever the doubter I replied "nah, those are just geese." After paddling closer we noticed the sound wasn't coming from the forest above the high cliff but from deep beneath a low rock ledge overhanging the water. What at first looked like an inexplicable mass of tree roots wedged at the back turned out to be another beaver lodge! And the whimpering sounds were coming from within.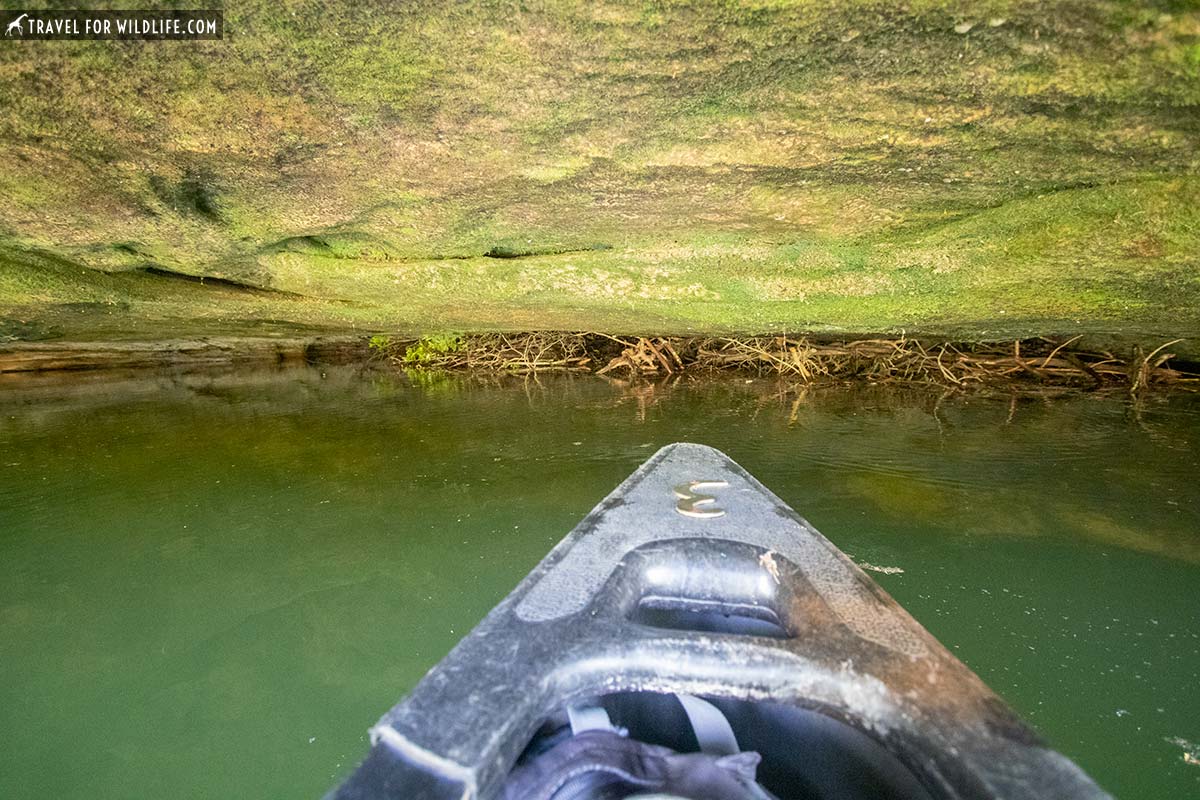 Of course Cristina had been right (she always is) and we drifted closer under the ledge til our heads were touching the ceiling to listen to the incredible sounds of an excited beaver family playing inside their lodge. Check out our video of beavers swimming underwater! We took this video in Asheville, NC a few years back.
---
Pickett State Park Cabins
To me, this is reason enough to visit Pickett, for a chance to stay in the beautiful stone cabins built by the Civilian Conservation Corps in the 1930's.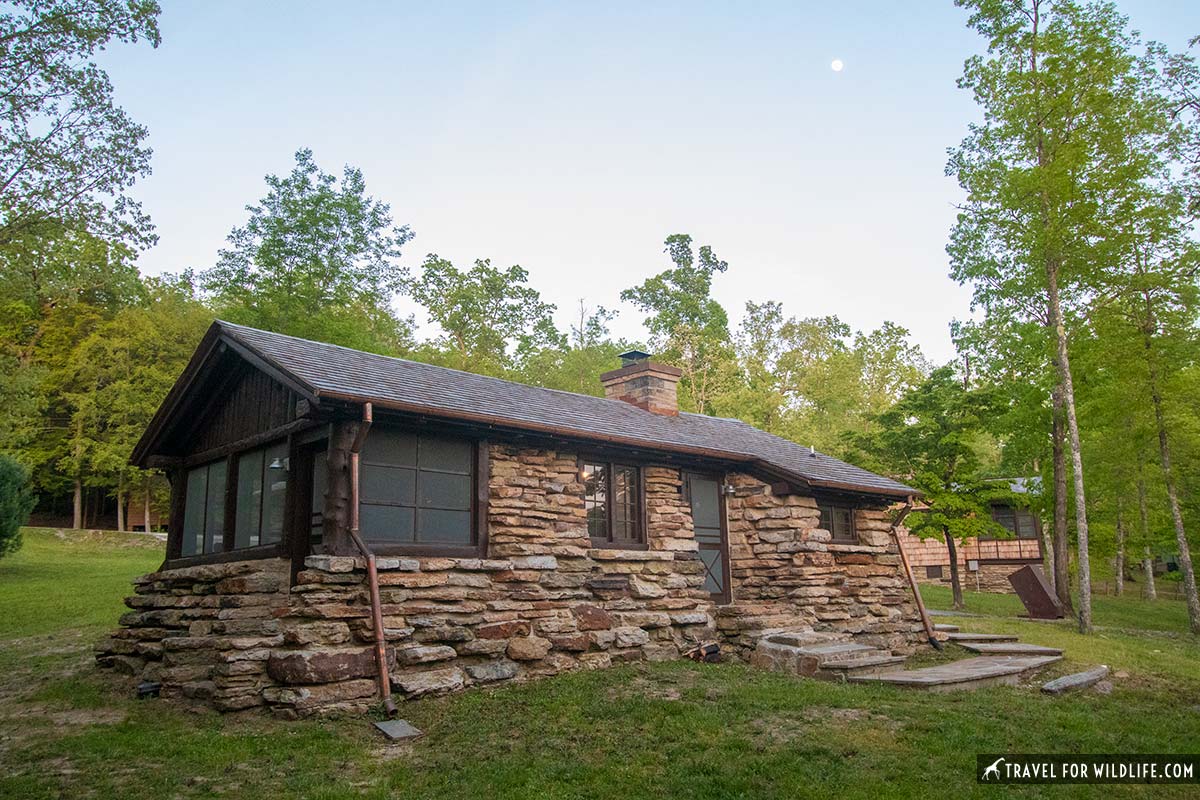 I've never seen a style quite like it, with the stone walls becoming thicker near the ground, giving them a sloping organic quality like they somehow sprouted naturally from the ground. There are only three stone cabins and two other small wooden cabins that were originally built by the CCC.
While referred to as "rustic", they have every modern luxury, are tastefully decorated and meticulously maintained. The massive stone fireplace should be draw enough (though fires are only allowed in colder seasons), but the central heat/AC, plus a full kitchen should seal the deal. There's even a small dishwasher hiding behind historic cabinetry.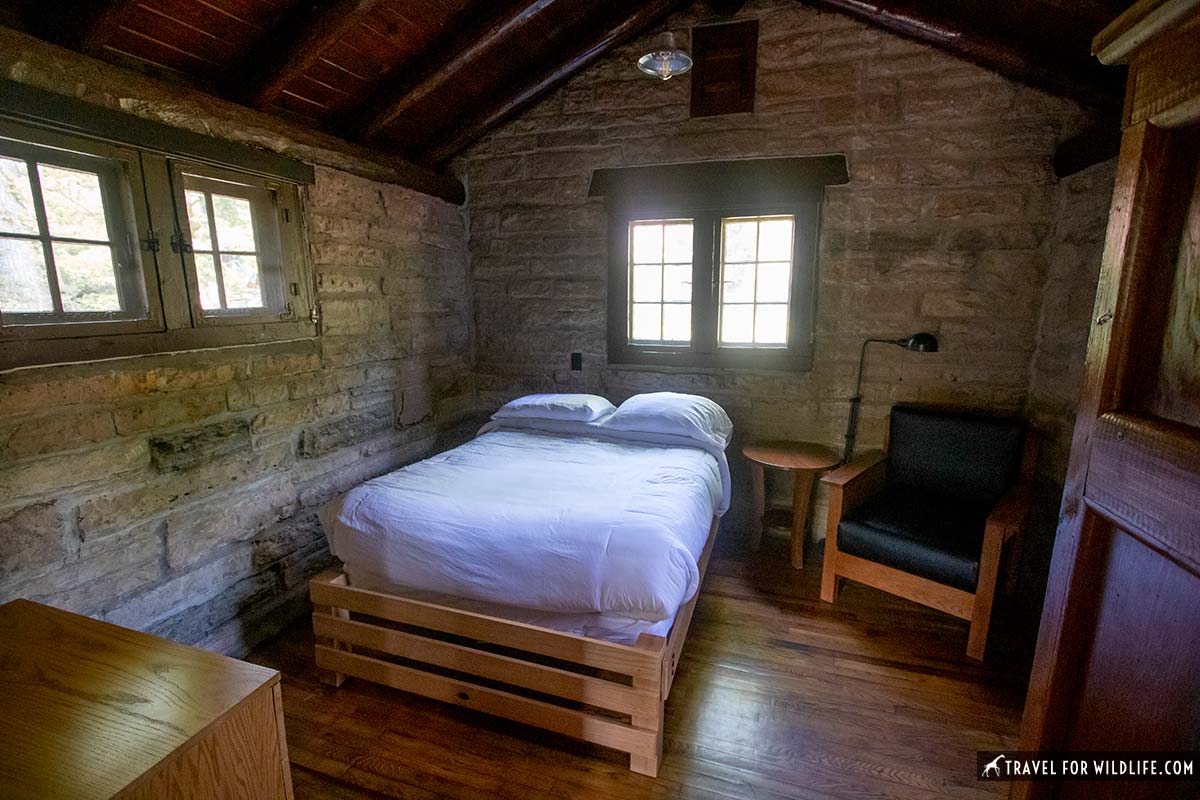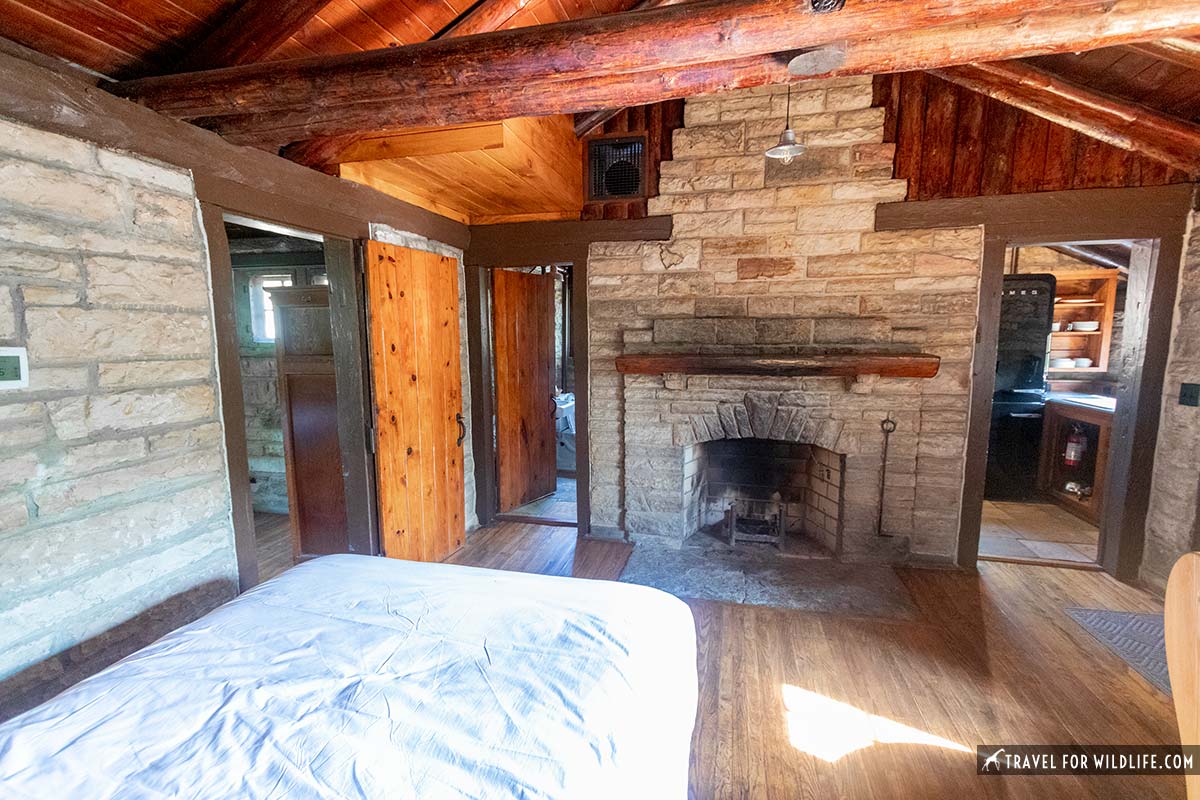 Other cabin lodging includes 5 standard cabins, 5 "suite cabins" built side-by-side like row houses as well as 5 "luxury cabins" referred to as villas on the park map. Visit the Pickett State Park cabins page for availability and rates.
We stayed in Cabin 3 which was tucked into a semi-private nook in the forest and featured a screened porch looking into the woods. We loved staying in it and are already fantasizing about coming back in the fall.
---
Pickett State Park Camping
Pickett also features a lovely little campground with 27 sites (20 have electric hookups) and a group camping area. Visit their camping page for more info.
---
Despite having all these fun attractions and fantastic lodging options, Pickett was practically empty the entire two days we spent there. Perhaps it was lucky timing (the weekend before Memorial Day weekend) or perhaps this is a hidden gem that is just waiting for you to discover it. We'll be heading back there soon to find out.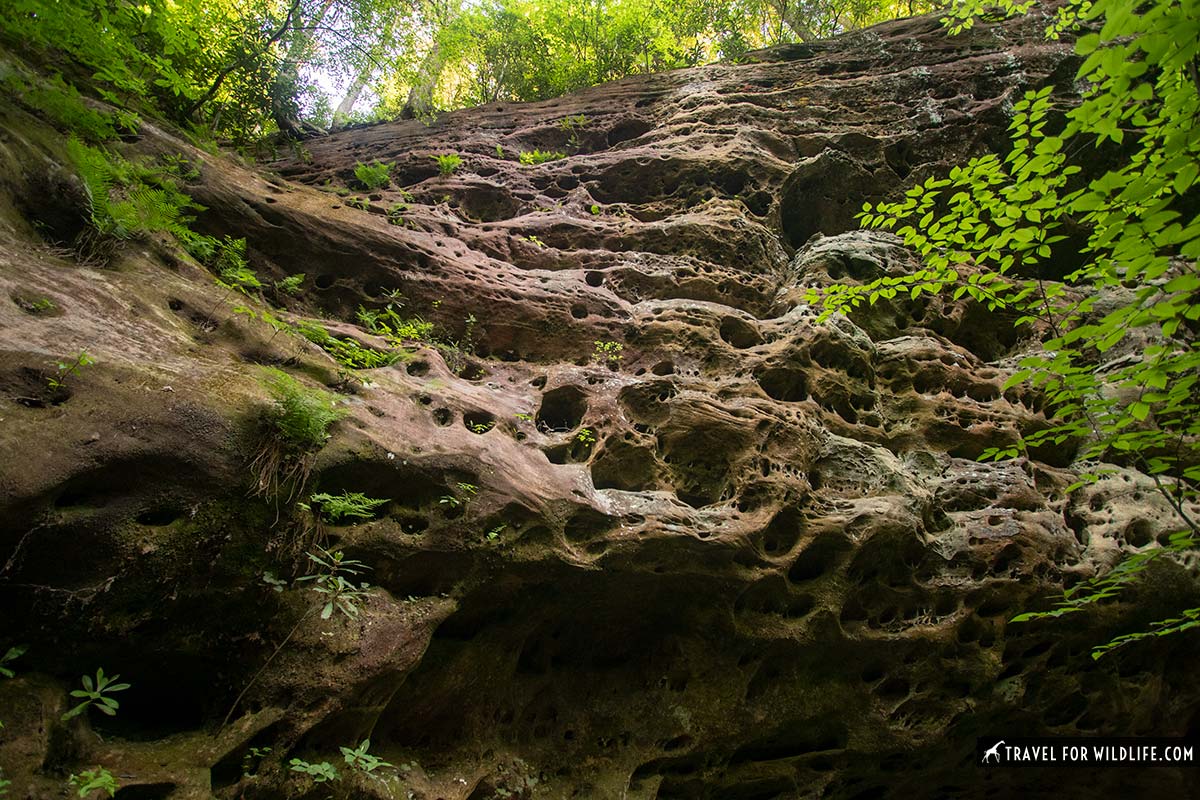 ---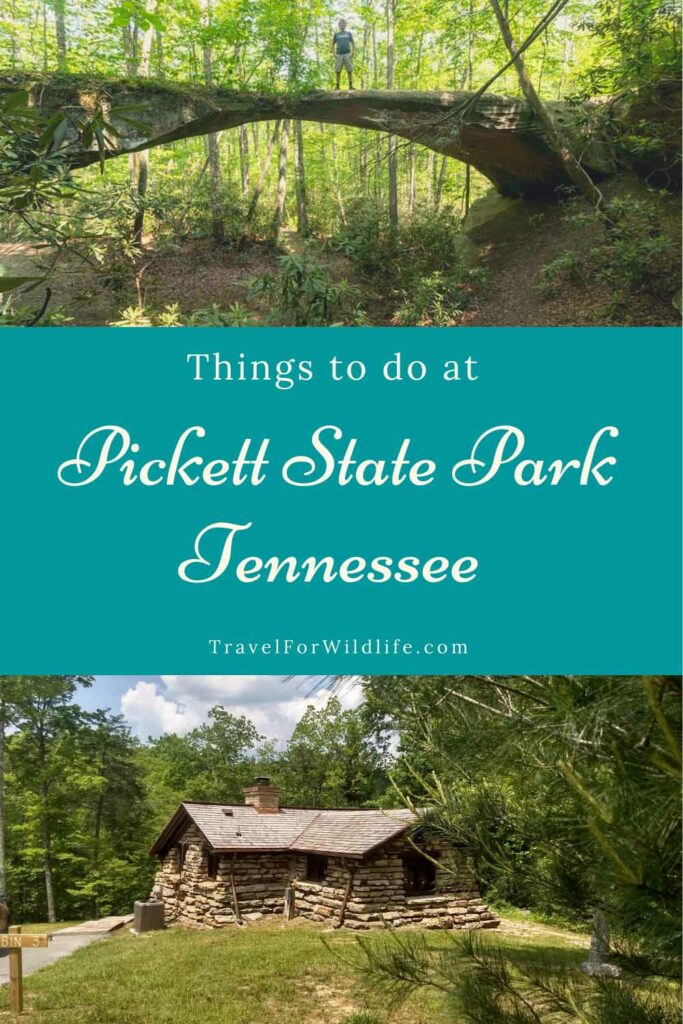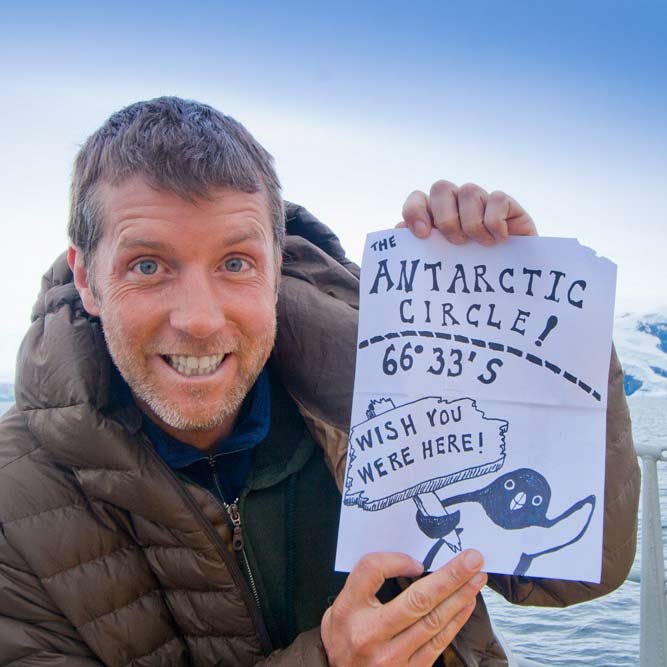 Hal Brindley
Brindley is an American conservation biologist, wildlife photographer, filmmaker, writer, and illustrator living in Asheville, NC. He studied black-footed cats in Namibia for his master's research, has traveled to all seven continents, and loves native plant gardening. See more of his work at Travel for Wildlife, Truly Wild, Our Wild Yard, & Naturalist Studio.