We are so lucky to live near one of the most beautiful national parks in the US. The Great Smoky Mountains National Park is stunning. From the wildflowers in the spring, to the incredible fall colors, to the amazing wildlife, there are a million reasons why you should visit the Great Smoky Mountains National Park. And even more reasons why you should go camping in the Smokies.
Only an hour from the charming town of Asheville, the Great Smoky Mountains NP is half in Tennessee and half in North Carolina, with the popular Appalachian Trail crossing it lengthwise. Hiking in the Smokies will deliver views like this one below.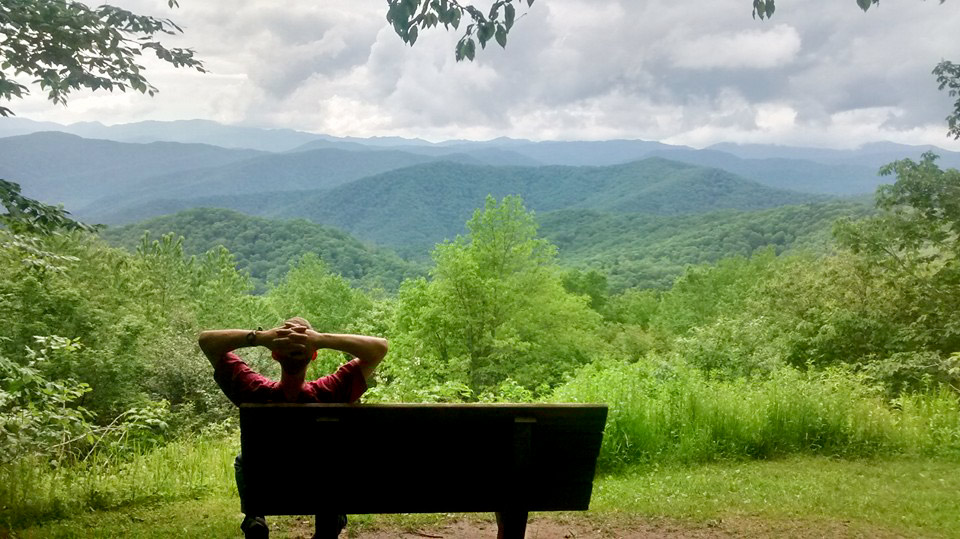 There are common things that you should know before camping in national parks. Rules, etiquette, facilities… But each national park is unique and some of the things that apply to one park may not apply to another.
Here is what you should know before camping in the Great Smoky Mountains National Park.
*This article may contain affiliate links. We receive a small commission at no extra cost to you.*
1) This is Bear Country
About 1,500 black bears make the Smoky Mountains their home, and you should be knowledgeable about bear behavior, how to camp in bear country, and what to do in case of an encounter.
Black bears are much smaller and shyer than grizzly bears, but still, a wild animal is a wild animal. Which means…no feeding, no petting, and no selfies. Your actions could mean a bear will have to be put down, and we've seen this many times in the Smokies. Don't be the one responsible for a black bear death.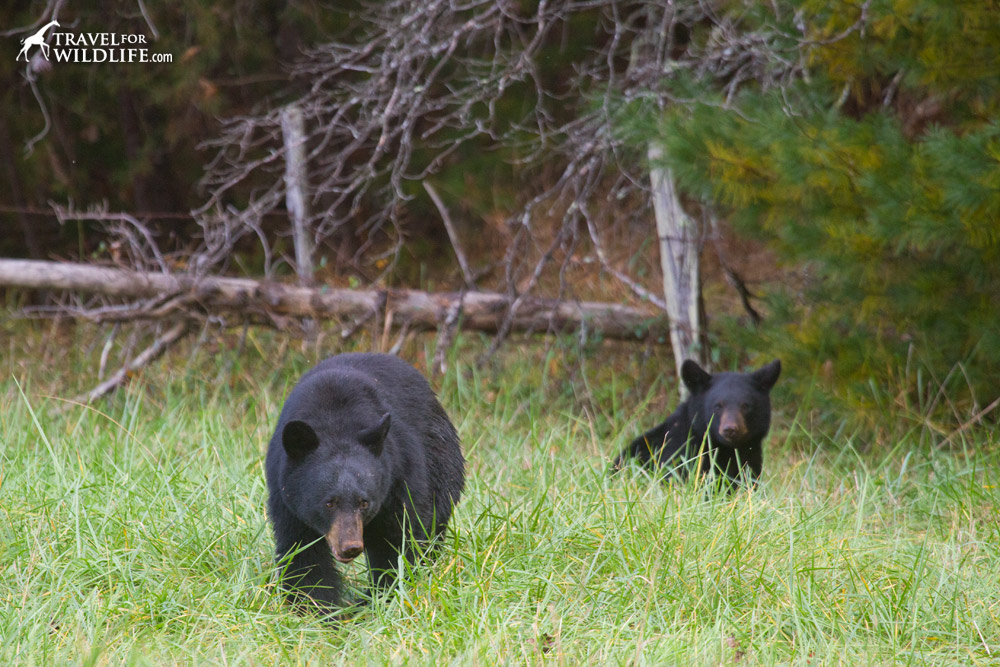 If you don't know the rules or don't want to follow them, don't camp in the Smokies. For your own safety and the bears.
Here is a great guide on what to do during a black bear encounter in the Smokies. Please read it if you are planning to camp in the Smoky Mountains. The basics are:
Do not approach a bear. Approaching within 50 yards (or within any distance that disturbs them) is illegal and can result in fines and arrest.
Do not feed bears.
When car camping keep all food, drinks, and toiletries in the car. If something smells good to you, it smells good to them too and they can smell it from much farther away. This includes deodorant, lip balm, and toothpaste.
When backcountry camping in the Smokies, all food/toiletries/trash must be hung on the bear cable system found at each campsite or shelter.
2) Wake Up and Smell the Flowers of the Smokies
If you like flowers (who doesn't?) you've come to the right place. The diversity of flowering plants in the Great Smoky Mountains National Park is staggering. Around 1,500 kinds of flowering plants are found here. No other US National Park equals this diversity. While many tourists come to the Smokies in the fall to see the glorious fall colors and the elk rut, it is in the spring and summer when the flower tourists arrive. Going on a wildflower pilgrimage is a must thing to do in the Smoky Mountains.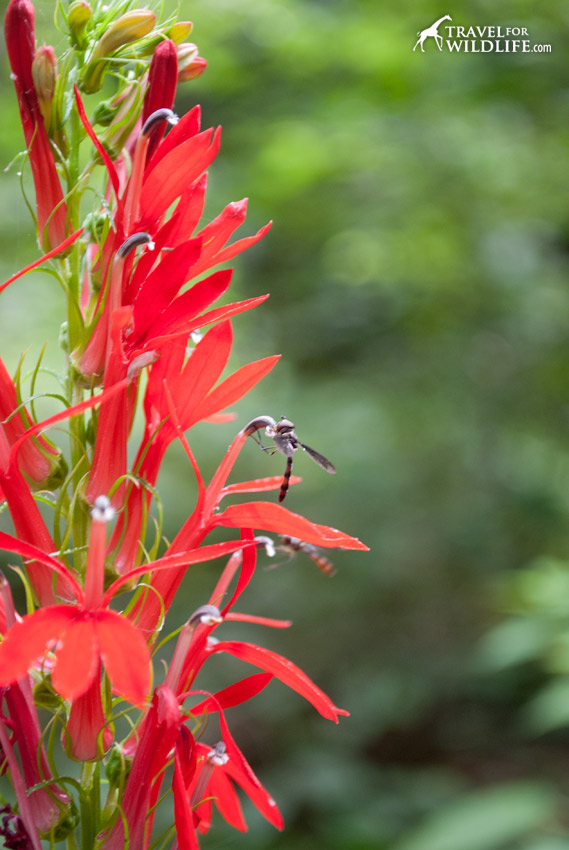 Cardinal flowers bloom during summer in the Smokies
Why are there so many wildflowers in the Smoky Mountains?
There are many reasons for this incredible plant diversity: geography, geological history, climatic changes, habitat diversity, and conservation.
The Southern Appalachians are one of the temperate zone's hot spots for plants. The climate changes during the last Ice Age were a great contributor to the plant diversity found in the Smokies. In the last Ice Age, the glacial ice did not cover the peaks of the Southern Appalachians and some plant species didn't became extinct. In fact, some of the species found at higher elevations have been here for tens of thousands of years.
The change in elevation within the park is another factor contributing to the great plant diversity found within the Smokies. From 850 feet to 6,643 at its highest point in Clingmans Dome, the different climates found at different heights, together with different topographic features have helped create the perfect habitats for so many plants.
As an example, you can find about 30 species of native orchids, and ten species of trillium within the park. You can even find them along many of the Smoky Mountain trails. There are a few trails that are hotspots for wildflowers in the Smoky Mountains.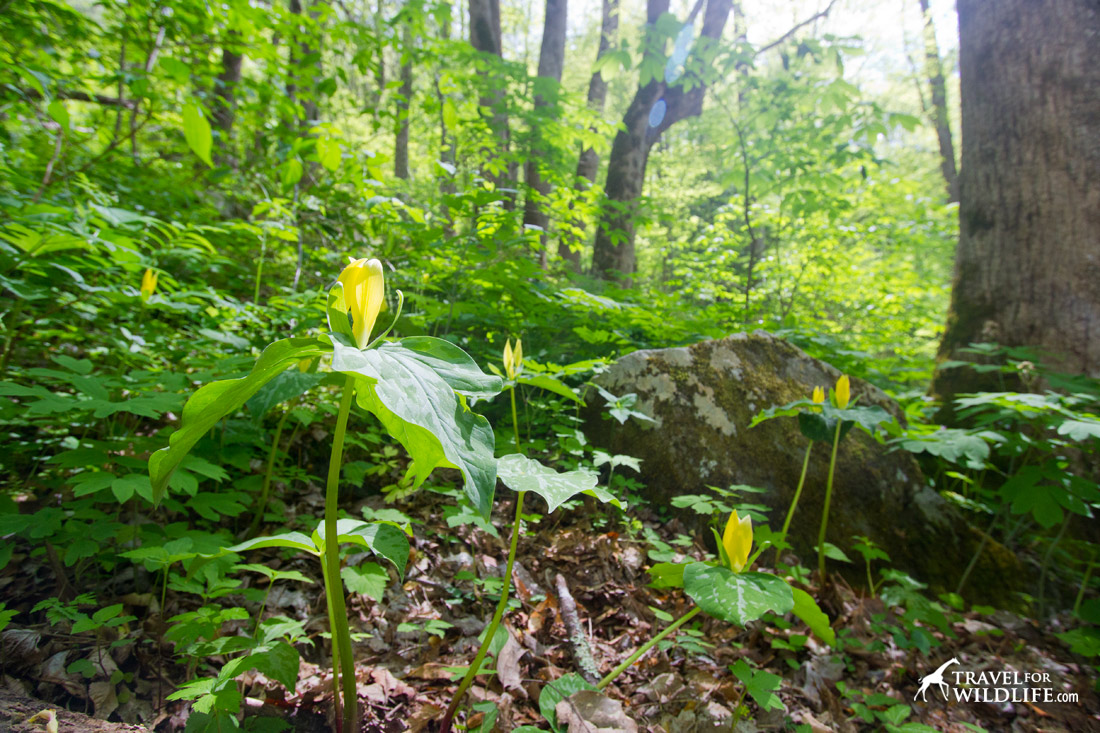 If you are looking for a wildflower book, we recommend the Wildflowers of the Smokies from the Great Smoky Mountains Association. This book is small enough to carry while backpacking, and it is organized incredibly well (by colors of flowers).
Your Smoky Mountains vacation won't be the same until you've been on a wildflower pilgrimage!
3) Camping with Kids in the Smoky Mountains
The Smoky Mountains National Park is a perfect destination for camping with kids and hundreds of families visit every year.
If you are visiting with toddlers, get your hands on a baby monitor for camping, so you can relax by the fire while your kid snoozes!
4) Light Up Little Bug!
Fireflies…
If you think the Smoky Mountains are magical, just wait until the fireflies show up. There are a total of 19 species of fireflies in the Smokies. But the queen of them all is the synchronous firefly, Photinus carolinus. The peak of their show is late May/first two weeks of June. The firefly show is one of the many Smoky Mountains attractions.
This firefly show is most incredible along Little River Hiking Trail adjacent to the Elkmont Campground. The viewing got so popular that now access to this event is granted only by entering the Firefly Lottery (expect to share the experience with a lot of people). You can also join the Synchronous Firefly Night Walk offered by Cataloochee Valley Tours. They are located on the east side of the park and their small tours have a maximum capacity of five people, so I would definitely book this one.
Two weeks after the Elkmont show, fireflies can be seen at Cataloochee valley (on the east side of the park), and in July at Balsam Mountain Campground. This timing difference is due to the fact that fireflies hatch at different times depending on elevation and temperature.
and…Glowing Millipedes?
We love these little bugs. We always take our Black UV Black Light
when camping in the Great Smoky Mountains so we can go for a millipede safari at night. It turns out that millipedes (and centipedes) are one of the only animals in the world that fluoresce under ultra violet light besides scorpions.

Note: If you use a black light, be careful not to shine it directly onto other people or mammals. It is very powerful and it can damage their vision.
and even…Glow Worms?
Yet another glowing creature we've discovered in the Great Smoky Mountains! One night we found three of these near our tent in the Cataloochee campground. Sometimes called glow worms, these are actually the larvae (or the adult females) of a beetle species in the family Phengodidae.
They glow a beautiful eerie green color at the joints between the segments and along their sides. They are also commonly known as Railroad Worms. Walk around your campsite in the dark and you just might spot some. They are predatory insects that feed on millipedes!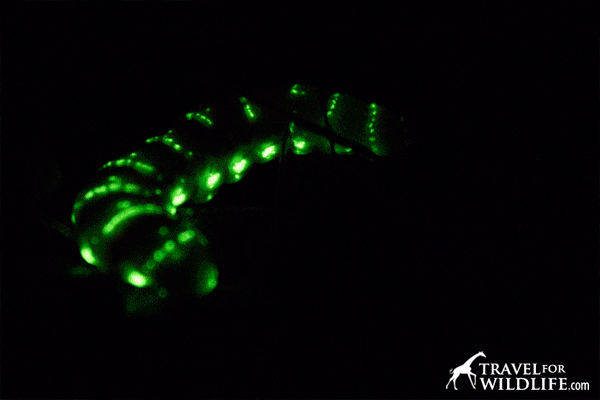 5) Find Solitude in the Most Visited National Park in the US
I have bad news for you: the Great Smoky Mountains is the most visited national park in the US. More than ten million visitors make their way into the Smokies every year. It sounds crazy, and it is.
I have good news for you: you can still find solitude here.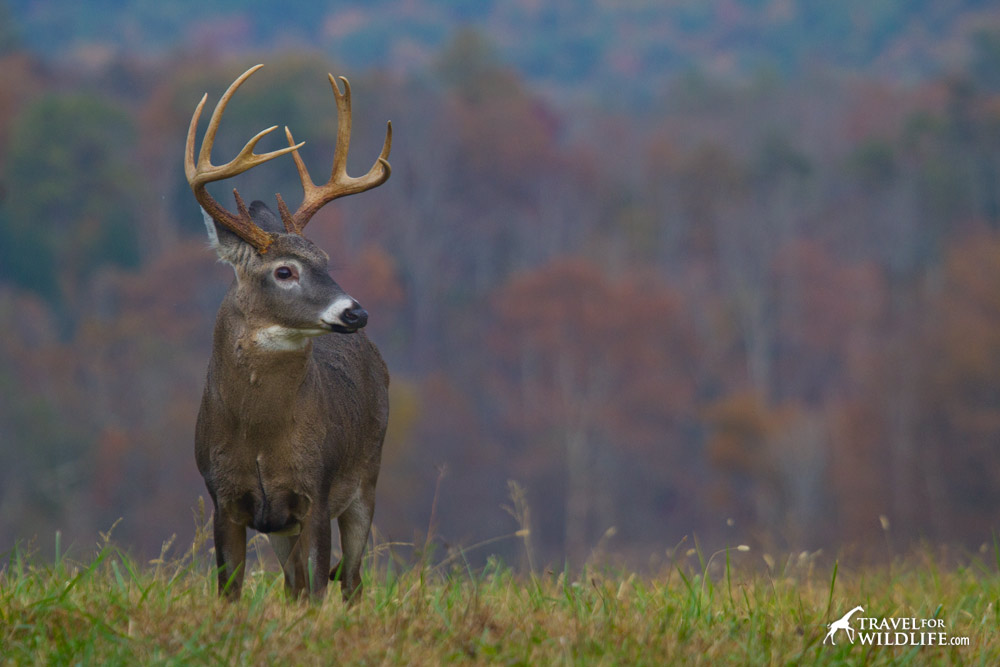 How can you be alone in the most visited national park in the US? Here is how:
Leave your car behind and take a walk. Most people do not leave their cars during their visit. You'll be surprised how alone you can be by hiking only one mile off the road. People are lazy. Don't be lazy. Be happy.
If you don't want to backcountry camp but still want to feel some solitude, go to the smaller places like Balsam Mountain campground.
The west side of the park is very heavily visited thanks to the beautiful Cades Cove. If you want to visit Cades Cove do so at low season and at sunrise, otherwise the amount of traffic on the Cades Cove loop will likely turn you into a road rage monster. Cades Cove camping in low season is awesome though!
Cattaloochee Valley in the fall is very busy. The elk are in rut, the fall colors are at their peak, and every body wants to see it. Expect lines and traffic jams.
Most of the people stay in the north side of the park, around the touristy town of Gatlinburg. Expect the trails around it to be busy with day hikers.
Avoid any trail that leads to the Appalachian Trail. You'll find people everywhere.
If you want to be truly alone, stay at one of the backcountry camp sites, away from the Appalachian Trail.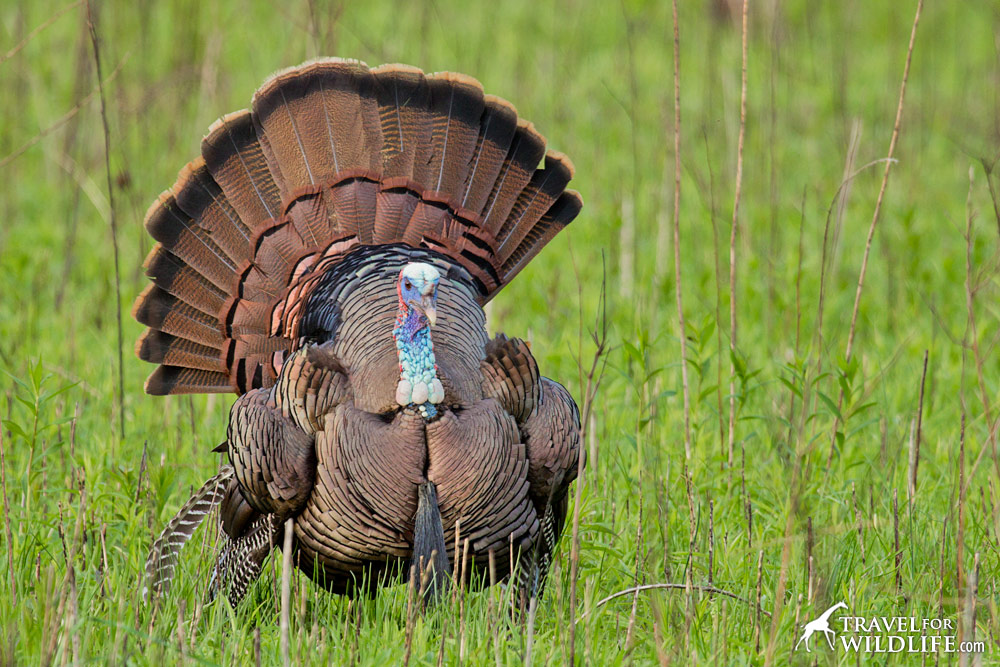 6) Need a Shower? You May Have a Problem
Sorry, there are no showers at all inside the park. Or electricity. Pack your baby wipes.
Bathing and washing dishes must be done well away from your campsite (bears might be attracted to the smell) and from any water sources. Even if you use biodegradable soap, do not use it in any of the creeks/rivers in the Smokies. Always, away from camp.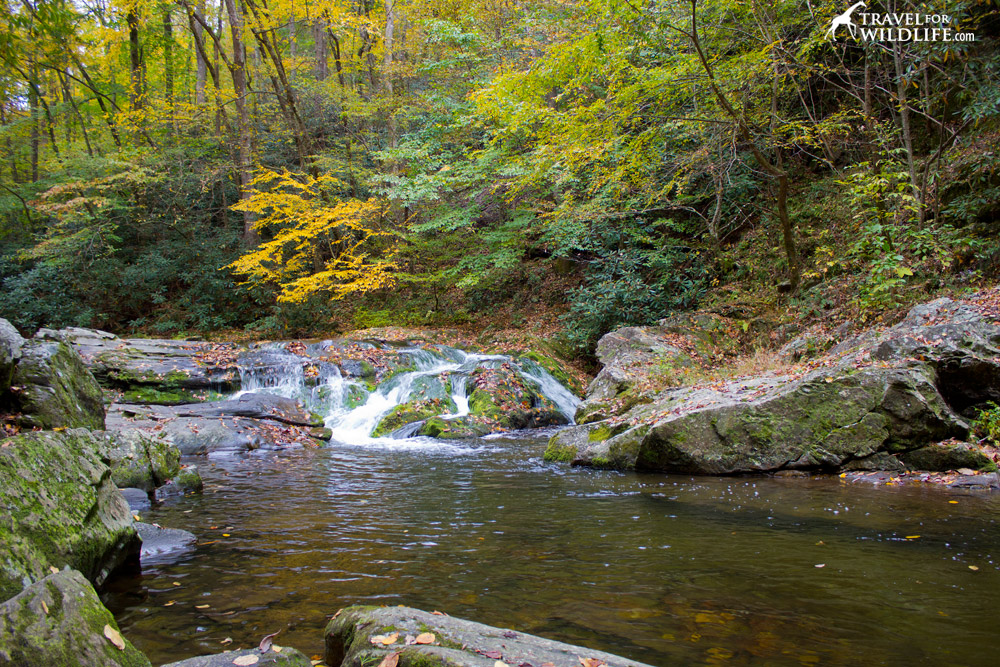 7) Kayaking in the Smokies
We were once told by a ranger that kayaking in the Great Smoky Mountains National Park creeks is not permitted. (Though we have yet to officially confirm this with park staff, kayaking is not mentioned anywhere on the park website, and there is a page saying water recreation is not recommended.) But did you know that you can kayak to the Smokies?

Yes, you can kayak to the Great Smoky Mountains National Park, leave your kayak on the shore, and pitch your tent at one of the backcountry campsites near the shore of Fontana Lake. Just to be clear, these are not necessarily campsites directly on the lake shore, you might have to walk a while to reach some.
Fontana Lake forms part of the southern boundary of the park. One of our favorite access points is on the southwest side of the lake at a boat ramp about 1/4 mile from Cable Cove campground.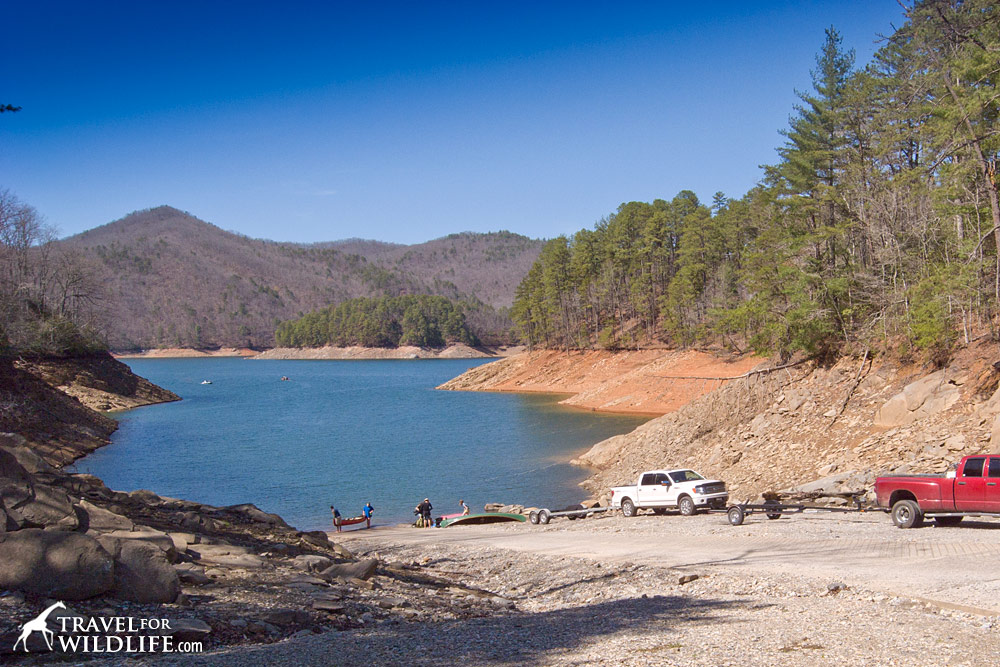 8) Wildlife Visitors in Camp
Yes, this is black bear country and they might wander into the campgrounds (although we've never see one). But remember there are more animals that live in the park that could end up in your campsite.
Elk – We've seen elk wander around the campground in Cataloochee. Do not approach them. Pack your food in the car and wait for them to leave. We once saw a female elk burn herself while exploring an unattended tiki torch lantern on a camper's picnic table. Never, please, leave anything like that unattended. The poor elk was licking her nose for a long time after she burned it.
Wild Boar – They are also visitors in some campgrounds. We've seen one while camping in Cades Cove campground. Wild Boar are huge and dangerous. Keep your distance.
9) Phone Reception
Phone reception is spotty to none, though we have found we could get some phone reception in the Balsam Mountain campground.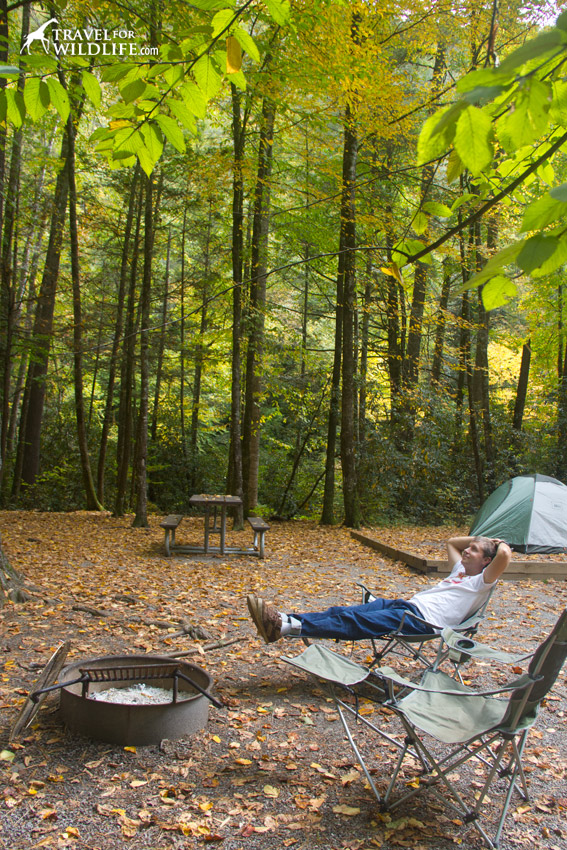 Ready to go camping in the Smokies?
You can get a site at most of the Great Smoky Mountains campgrounds on a first-come, first-served basis, except at Cataloochee. If you show up at Cataloochee campground without a reservation you won't be allowed to pitch your tent. Instead, you'll have to drive back a few miles until you have phone reception and book it online or by phone. You can book a campsite at Cataloochee here. It is also possible to reserve campsites at other Smoky Mountains campgrounds online including Cades Cove, Cosby, Elkmont, and Smokemont. The remaining campgrounds (Abrams Creek, Balsam Mountain, Big Creek, Deep Creek, and Look Rock) are only available on a first-come first-served basis.
Prices for front country camping vary from $14 to $23 depending on the campground.
You can also reserve your back country camping permit online. Back country camping permits are $4 per person and you need to reserve it.
Need a map? We use Great Smoky Mountains National Park (National Geographic Trails Illustrated Map)
. It is waterproof and tear-resistant topographic map with the locations of waterfalls, back country and front country campgrounds and trails.
Not ready to camp in the Smoky Mountains?
Then check out these Gatlinburg cabins for rent !
Did you find this article helpful? Pin this image!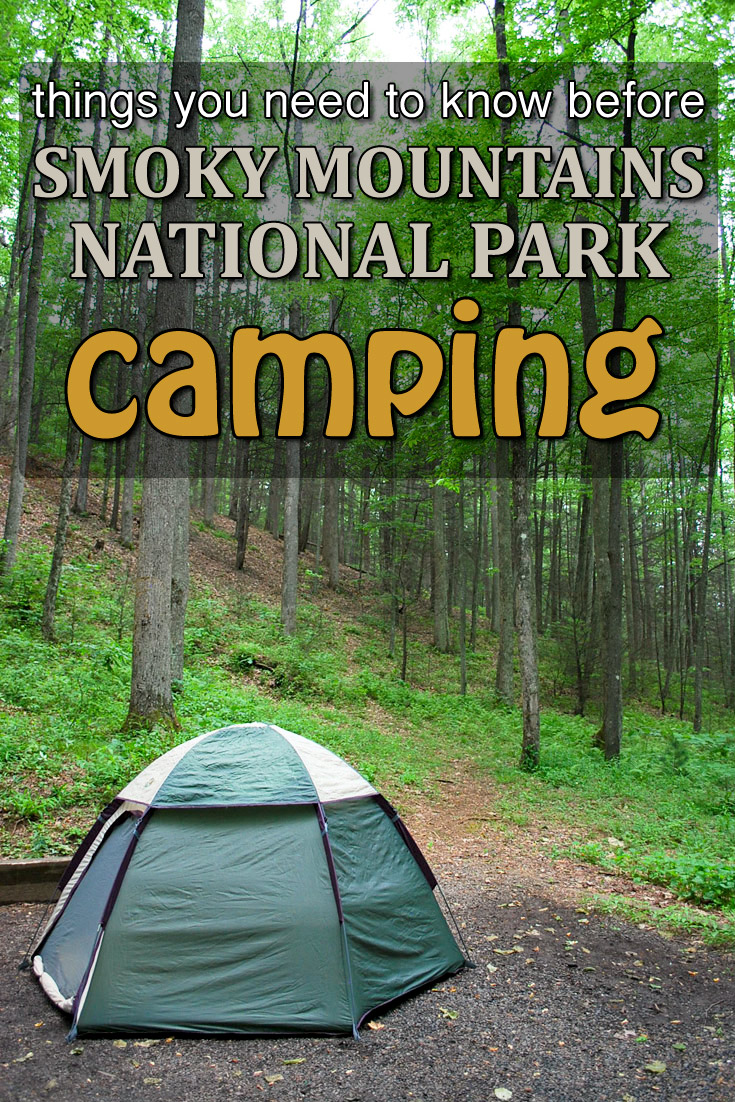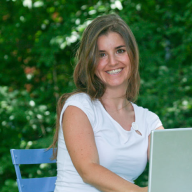 Cristina Garcia
Zoologist and wildlife photographer. She has worked in the field with jackals, wolves, cheetahs, & leopards. She serves on the Board of Directors of SEE Turtles, a non-profit sea turtle conservation organization.
Read her posts at Travel For Wildlife and see more of her work at Truly Wild, & Our Wild Yard.