Each winter, Cristina and I make our way down to Crystal River, Florida to swim with the manatees. And every year we stay in the same place: The Port Hotel and Marina.
It's not that the place is especially nice. In fact, it's kind of a dump. The reason we stay is that the price is right and the location is fantastic. It is perched on the edge of Kings Bay and it overlooks one of the prime manatee swimming hotspots: King Spring. (watch a timelapse of the sunrise over King Spring on our video page)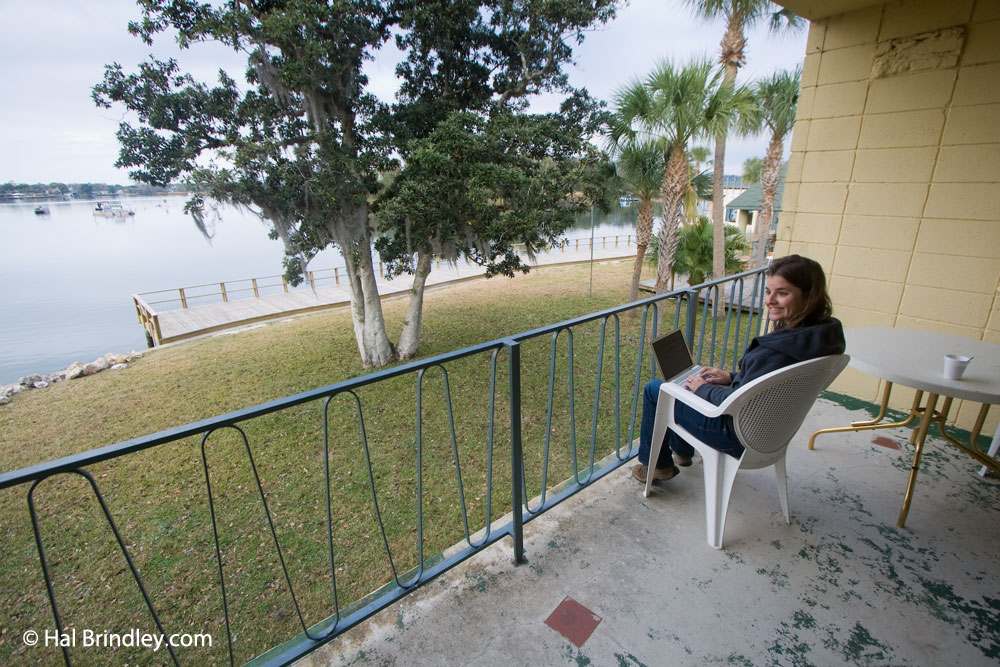 We usually stay in the "A" building because of its superb views across King Spring and toward the lushly-forested Banana Island. We've never stayed in the other buildings but they all appear to have views overlooking the quaint marina.
An upstairs room will give you more privacy and you can watch manatees surfacing while you lie in your bed. A downstairs room will provide you with a patio which is a great place to stash your kayaks between outings. The marina does offer rental kayaks and snorkeling equipment so you don't really have to bring your own equipment. But if you stay for a week like we do, you'll certainly save a lot of money by bringing your own gear. As a hotel guest you're allowed to use the marina to launch your kayaks but I occasionally put in right next to our room by the break wall.
You can of course take a manatee snorkeling tour from the hotel but if you want to go really cheap, you can just swim right out to King Spring from the hotel. Don't forget, you must swim with a floating dive flag and keep it near. It is both illegal and foolish not to; you are likely to get hit by a boat otherwise.
We've seen a lot of other great wildlife while staying at the Port Hotel. We occasionally see dolphins swimming by in the mornings, followed by groups of hungry pelicans. There is a pair of osprey nesting in a tree next to the parking lot and one habitually eats its meals at the top of a pole in front of the Tiki Bar. You can climb the stairs to the deck on top of the bar for an excellent view and great photos of an osprey tearing the head off a fish. Cristina has seen an otter swim directly in front of the dock that borders the grounds and we regularly spot families of raccoons foraging at low tide along the banks of the Crystal River Wildlife Refuge islands.
Although the hotel is in pretty rough shape physically, the decor is tacky and mismatched, and nothing seems to work quite right; the rooms are clean and the beds are decent. The shower is powerful and the staff is generally quite friendly, especially the manager, Marge, who was always been incredibly sweet to us. There is a restaurant on the grounds called The Ale House which serves standard bar food for decent rates and offers beautiful sunset waterfront dining. I recommend the chicken quesadilla and the basket of chili cheese fries.
Published rates this year (2012) were $59 per night but we are generally able to talk them down to $50 per night if we stay for a five days.
I admit, Cristina and I are a bit biased toward the Port Hotel because we have a sentimental attachment to it. We got married here last year. We rented two pontoon boats from the marina and took our friends and family out to King Spring where we had our ceremony surrounded by manatees. Then we motored over to The Three Sisters Spring and everyone had a swim with our big flippered friends. It was a truly magical day.
If you like a little more luxury, there are two other lodging options directly on the bay. The Best Western to the north also has a marina and dive shop. And if you have big bucks you can stay at the beautiful Plantation Inn which is visible from the Port Hotel just to the south.
But if you're looking for a great deal, a great location, and the opportunity to stay in a hotel where Elvis once did, then look no further than the Port Hotel and Marina in Crystal River, Florida.
Visit their website at porthotelandmarina.com.