What are Key Deer?
The Florida Key Deer is a tiny subspecies of the Virginia White-Tailed Deer (Odocoileus virginianus clavium). It is the smallest of all North American deer and is classified as an endangered species.
Their most obvious feature is their size. They are small. Very small. An adult male Key deer stands about 26" at the shoulder and weighs about 70 pounds. Females are slightly smaller. Fawns weigh only 2-4 pounds at birth. They look like perfect miniatures of their cousins farther north and it is therefore difficult to grasp their size from a photo (unless a person is standing next to them!). If you are looking for mini deer, Florida Keys is your destination!
Key Deer are only found in the Florida Keys which extend into the Gulf of Mexico from the bottom of Florida. An estimated 700 Key deer occupy the islands of Big Pine Key, No Name Key, and a few smaller surrounding islands. Two thirds of this population is concentrated in Big Pine Key. This geographical isolation in such a small area is one of the reasons why they are endangered.
Where to See Key Deer?
Once in Pine Key, head to the National Key Deer Refuge Visitor Center located at Key Deer Blvd. 1/4 mile north of the traffic light on US 1, in the Big Pine Key Plaza. The center has information on the wildlife found in the Florida Keys. Pick up their info sheet about the National Key Deer Refuge which comes with a refuge map, or you can download the pdf here. Bottom line, if you visit Big Pine, key deer will be a regular encounter.
We have three favorite places to see key deer:
1) Blue Hole: this abandoned limestone quarry is located at the intersection of Key Deer Road and County Road, on the north side of the Key. The Blue Hole is also home to alligators. Remember not to approach them or feed them.
2) The neighborhood at the north end of Big Pine Key. You are almost guaranteed to see them here in the evenings, nibbling on lawns or browsing the bushes. There are few cars so you have plenty of room to stop and watch the deer. Always remember to respect people's private property and to respect the deer's space. There are a few other residential neighborhoods where the deer are common but it is possible to see Key Deer grazing along the side of the road just about anywhere on the island.
3) Big Pine Key Fishing lodge. We've had several Key Deer walk right through our campsite and have seen quite a few while walking on their nature trail. You will need to stay overnight to be allowed to walk around the grounds. We believe this is the best place to see key deer.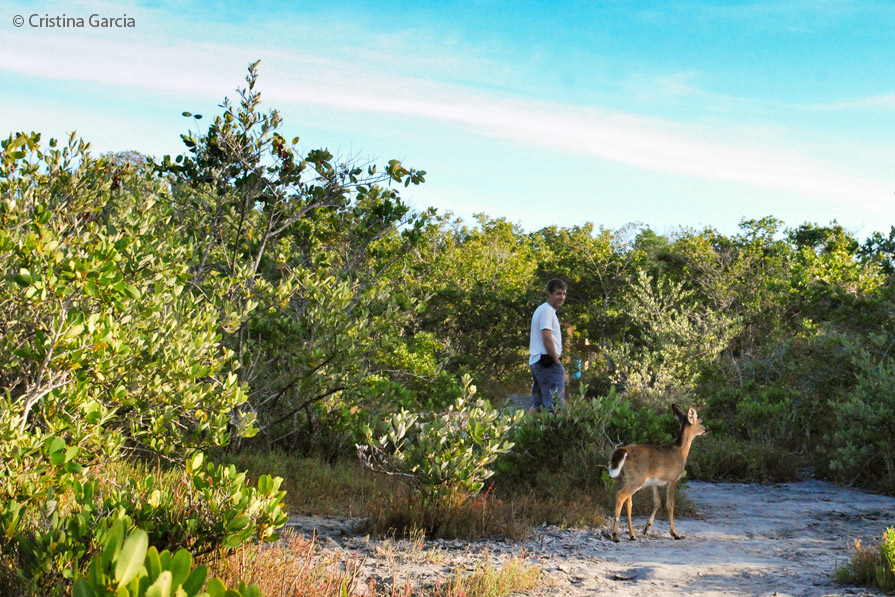 Where to Stay in Big Key Pine?
There are plenty of motels along the main road, but we highly recommend staying at the Big Pine Key Fishing Lodge. The lodge has rental units, full hook-ups for RV's and 75 camping sites.
When we visited, we pitched our tent by the marsh. Even though the marsh does smell a bit, it is worth it. Key deer actually walk through the camp sites and they prefer to stay near the marsh where they have an escape route. Also, the sunset is prettier from that end of the park.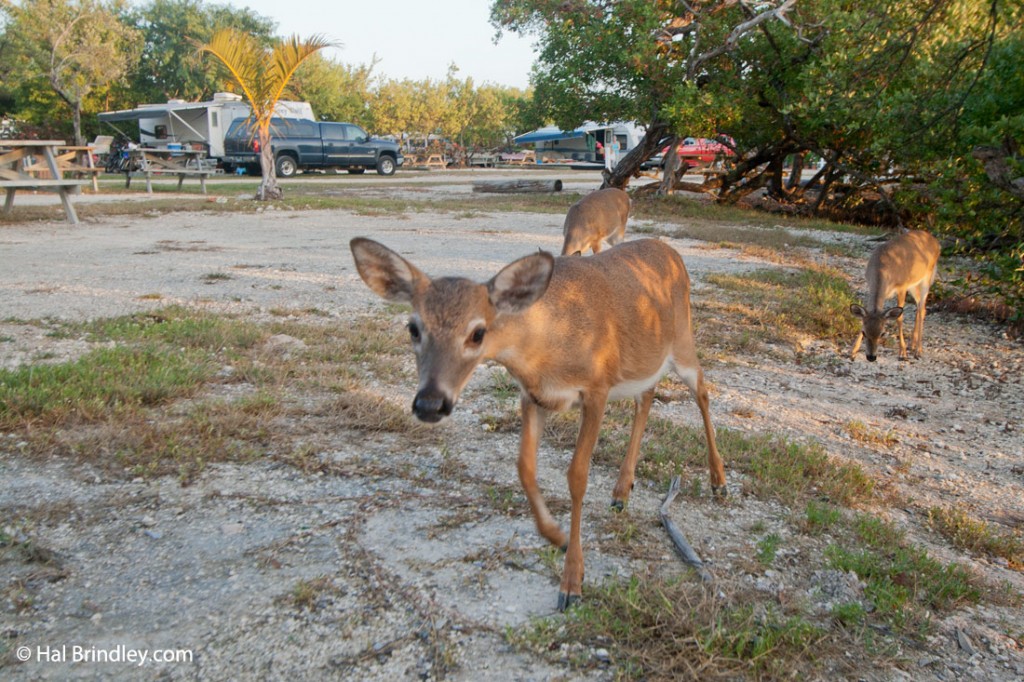 When to See the Key Deer?
You can see them all year round. But remember, you are in south Florida. It gets hot in the summer. Very hot. During the winter months, the weather is perfect. Warm and sunny and bug-free.
Bucks start dropping their antlers during February. Photographic opportunities for shooting bucks with fully grown antlers are higher in January.
If you want to see Key Deer fawns, visit them in May and June.
Things to Remember When Watching Key Deer
Do not feed Key Deer. As an endangered species it is illegal to feed them.
Do not speed. On average, 40 to 50 Key Deer are killed by cars every year. Sadly, in 2011 this number rose to a whopping 150.
If you bring your dog, keep it on the leash. Dogs may scare deer into the road where they can be killed by traffic. Dogs have also been known to kill deer.
Do not pet them. They are cute, but if fed or pet they will loose their fear of people and become an easy target for poachers.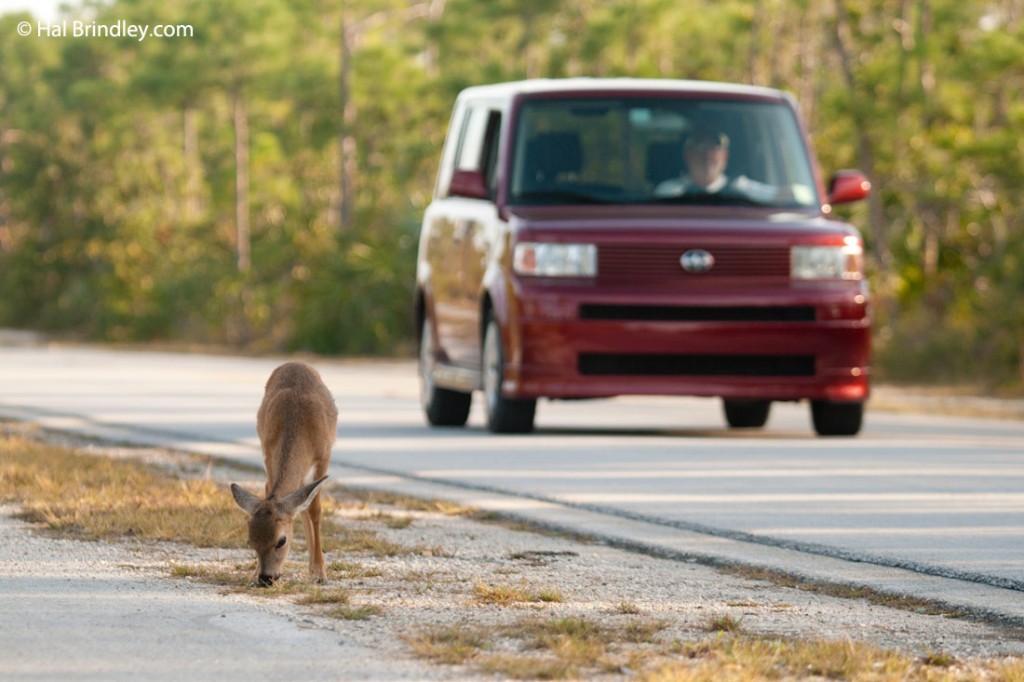 Visiting Big Pine Key in Florida will give you a rare opportunity to get up close and personal with one of America's most adorable endangered species. To learn more about conserving the Key Deer visit the Key Deer Protection Alliance.
---