Whale watching in South Africa is some of the best in the world. Between June and November, huge congregations of Southern Right Whales (Eubalaena australis) arrive along the south coast of South Africa to mate and give birth. And the seaside town of Hermanus in the Western Cape is the hotspot for this whale activity. Whale watching in Hermanus is an experience you'll never forget.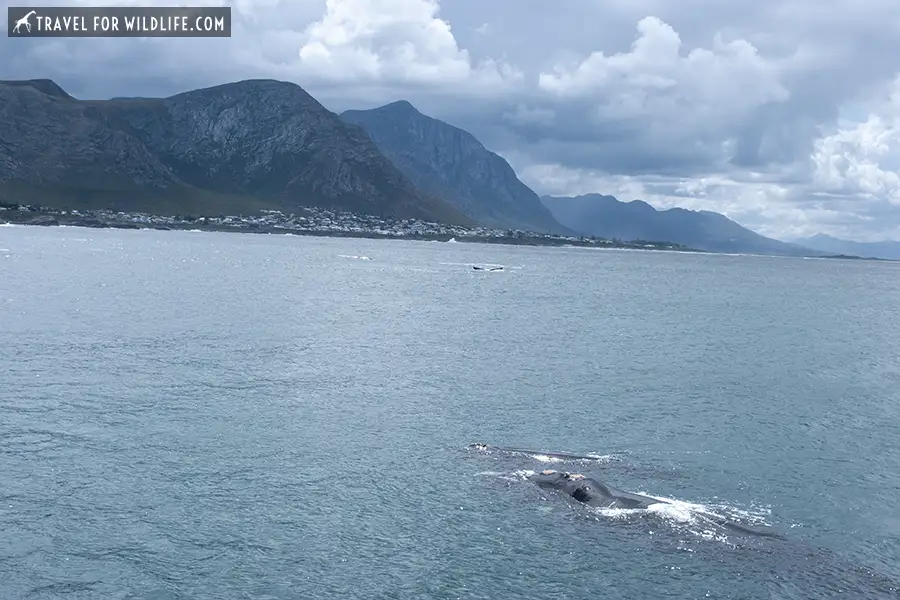 Southern right whale migration in South Africa
In the Austral summer (December through May), southern right whales are in the cold polar regions of the Southern Hemisphere where they feed on krill.
In winter (early June through November) they visit the shallow coastal waters of Southern Africa, South America, and Australia. This is the best time to visit Hermanus, during peak whale-watching season.
In Hermanus, whale bulls arrive in June, closely followed by the females. They will mate during these months in the South African Cape coastal waters. The last Southern right whales to arrive in South Africa are the pregnant females, and they'll be the last to leave, this time with their calves in tow. Only when the newborns are strong enough will they swim back to Antarctic waters, where they will feed on krill: small, free-floating crustaceans.
One of the best places to view southern right whales along the South African coast is in the small town of Hermanus, overlooking the deep waters of Walker Bay, where you can sit on the cliffs along the town center and watch this amazing spectacle (some of the best land-based whale-watching!) or join a whale watching boat tour where you'll learn about whale behavior.
Watch whales as they court, play, and chill out in Walker Bay. You can see interesting behaviors like spy-hopping (poking their head straight up out of the water to look around), lobtailing (when they slap the water with their tail), and maybe even a full breach (when they launch their entire body clear out of the water!) If you are extremely lucky, you may even witness a whale birth.
Hermanus may just be the best shore-based whale-watching destination on the planet.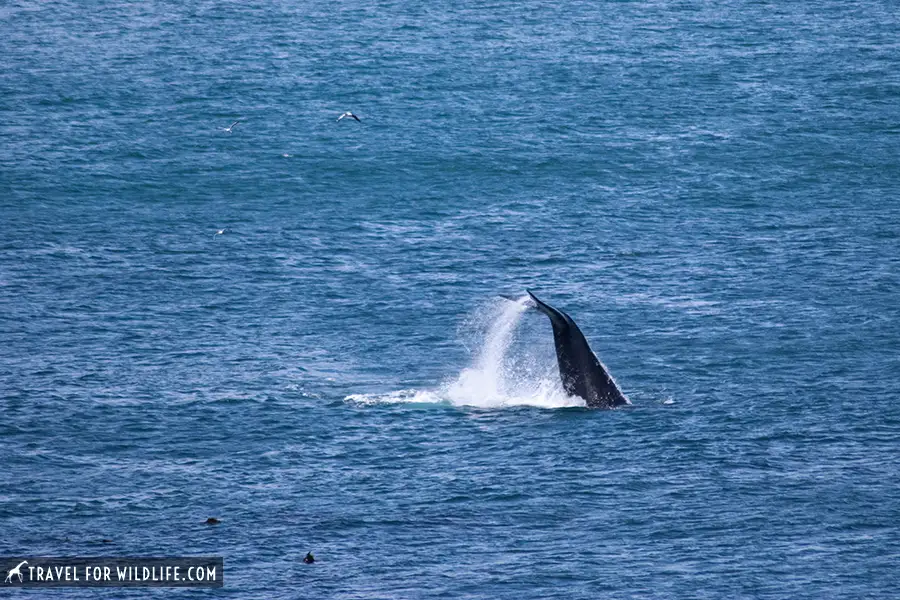 *This article may contain affiliate links. We receive a small commission at no extra cost to you.*
If you are visiting South Africa during whale season, Hermanus is a must.
This small coastal town is only a one and a half hour drive from Cape Town and the trip to Hermanus can easily be done on a one or two-day trip from there. The coastal drive is too gorgeous to not stop so we recommend doing this trip in two days and stopping along the way to visit beaches, the penguins at Betty's Bay, and those adorable food trucks along the road next to False Bay that have incredible ocean views.
For those who don't have much time, a day tour from Cape Town is a great option (see below).
Other wildlife you might see during your whale-watching trip
Southern right whales are not the only whale species you can see in Hermanus. Humpback & Bryde's whales are also found here, as well as other local marine life like common dolphins, bottlenose dolphins, Cape Fur seals, and a large variety of marine birds including the African black oystercatcher and African penguins. You may even catch a glimpse of the orcas who have become more common along the South African coast in recent years. Don't forget to scan the rocky shore for Clawless Cape otters as they forage among the kelp.
How to tell the difference between Southern right whales and humpback whales
It is pretty easy to tell these two whales apart.
Southern right whales have callosities on their backs (the rough, bulging, white patches), a V-shaped blow, and a white belly. And southern right whales don't have a dorsal fin.
Humpback whales have a small dorsal fin and very long pectoral fins.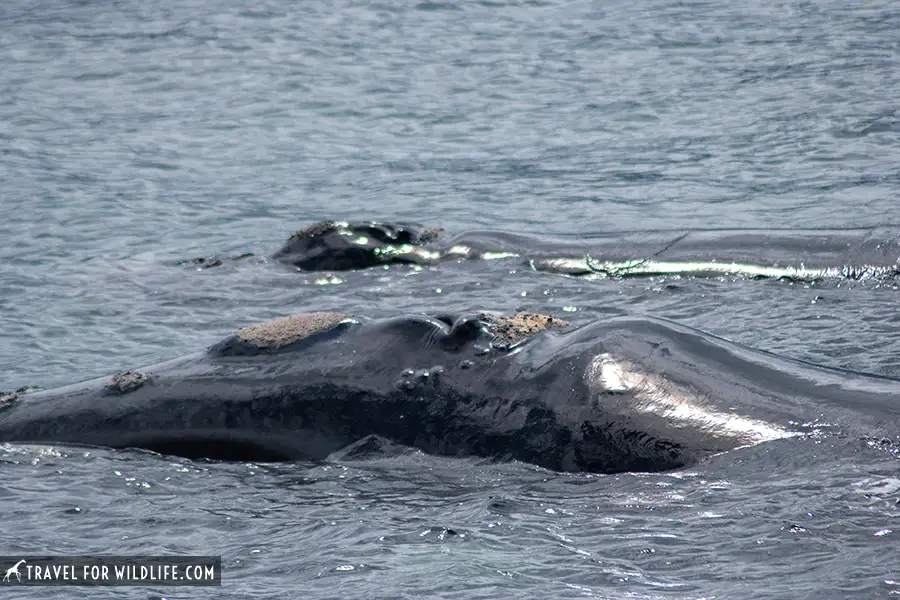 Are there any white whales?
YES! 5% of Southern Right whales are born white! We were lucky enough to see one of them! These white calves are not albino whales (unlike the super famous Migaloo in Australia), and they turn darker as they age. This white-colored condition is called grey morphism and not albinism.
Types of whale watching tours from Hermanus
Most of the whale watching trips offered worldwide are boat-based as you normally have to travel out off the coast to find whales. But in some places, whales get so close to shore that you can even feel the mist of their blowholes from land! And Hermanus is one of them. This is why whale watching in Hermanus is so incredible.
For this reason, you can go on a land-based whale-watching tour or a boat-based whale-watching tour in Hermanus.
Watching whales in Hermanus (land-based whale watching)
Excellent news for all of those who get seasick! You can watch whales from land in Hermanus.
Land-based whale watching in South Africa is not rare. You can see them from False Bay, from De Hoop Nature Reserve, and here in Hermanus. In Hermanus, whales come close to land as they favor Walker Bay to socialize.
There are a few points along the Hermanus coast that are prime land-based whale watching sites. The photo below was taken at Bientang's Cave Restaurant & Wine Bar. Make sure you bring your binoculars to lunch with you as the stunning views may come with one or two whale splashes!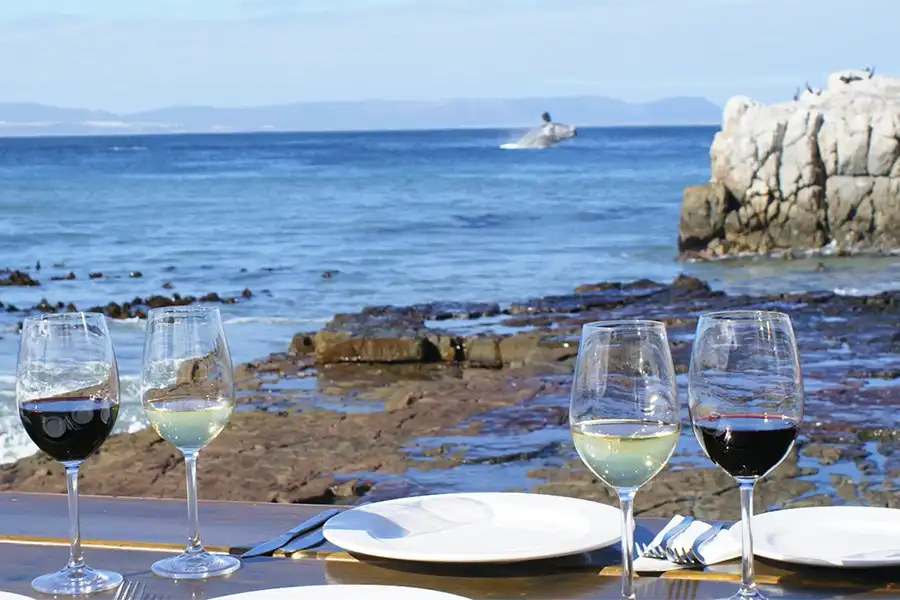 One of the coolest things about visiting Hermanus during whale season is the Whale Crier. The Whale Crier is a man who alerts people when whales have been sighted by blowing on a kelp horn along the cliff top.
You can walk the 7.5-mile clifftop route to spot whales in their natural environment. This is not the time to leave your binoculars at the hotel! There are educational signs along the cliff path. For a gorgeous view of Hermanus Old Harbour, stop at Gearing's Point.
You can also walk to Hermanus New Harbour where a humpback whale once visited (see video below). This is very rare but it shows how close humpback whales can get to Hermanus.
You can simply walk along the coast and try to spot whales on your own or you can join a land-based whale-watching tour. One tour takes you in an air-conditioned vehicle to 5 to 7 different spots where you can see whales from land. It also includes a visit to the Whale House Museum. You can book this Hermanus tour here.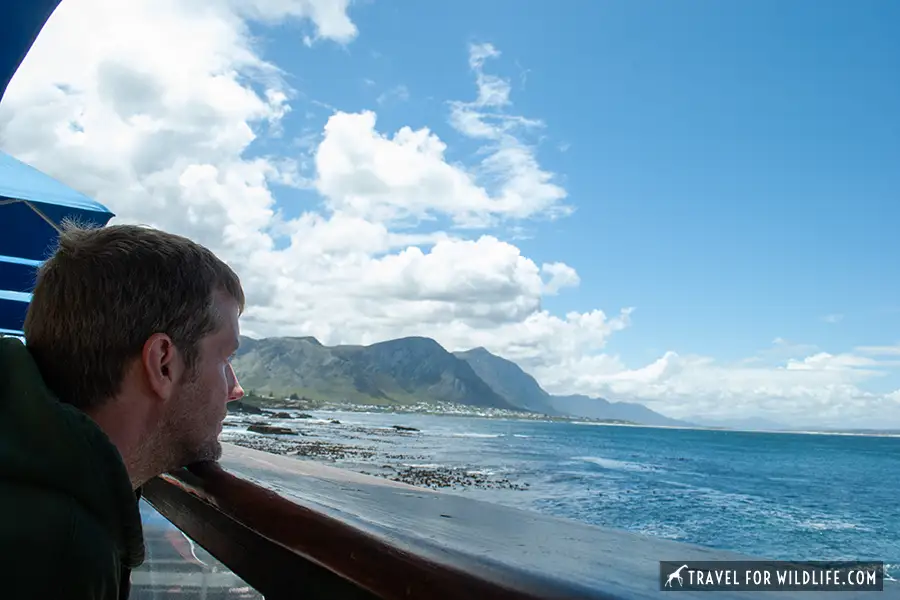 Whale-watching tours from Hermanus (boat-based)
As Hermanus is often considered the whale-watching capital of South Africa, it is no surprise there are plenty of whale watching tour operators to choose from. But remember, whale-watching in Hermanus is popular so we recommend you book your outing ahead of time to avoid disappointment. Don't worry, these tours offer a guarantee that if there are no whale sightings you have the choice to rebook free of charge.
Hermanus whale watchers: Hop on a 36 seater, 15-meter catamaran, wheelchair accessible, children friendly, and equipped with eco-friendly engines that minimize underwater noise. Soft drinks and water are included in the outing. Comfortable seating and an elevated deck allow you to get unobstructed views of the whales. Book your trip here.
Southern Right Charters: "Observing NOT disturbing" is the motto of Southern Right Charters. Enjoy your whale watching trip in comfort from Southern Right Charters' purpose-built catamaran, specifically designed to minimize disturbance to marine life. Enjoy a comfortable boat trip with seating indoors and outdoors, a bar (no alcohol), and modern toilets make Southern Right Charters a great choice. Book your trip here on Get Your Guide or here on Viator.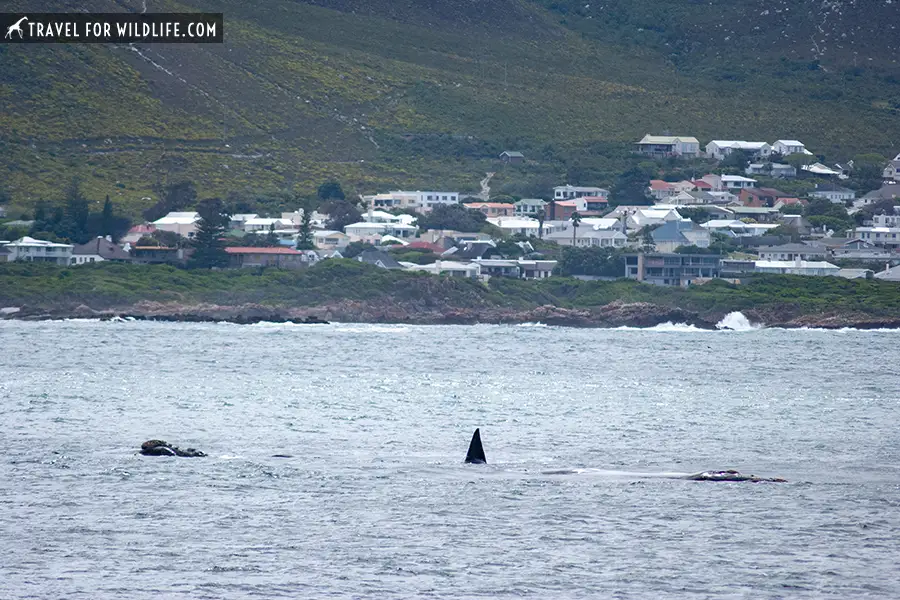 Whale-watching day trips from Cape Town
If you're visiting Cape Town and don't have time to spend a few days in Hermanus, you can join a whale-watching day trip from Cape Town. The trips out of Cape Town are normally 7-8 hours.
This Whale-Watching and winelands tour will take you to Hermanus from your hotel. It includes a whale watching trip, a visit to a wine estate, and a visit to a wine farm to do some wine tasting and chocolate pairing. If you have kids, they'll have some grape juice tasting!
This Whale watching, penguins, and wine-tasting tour starts with a hotel pickup. From here, you'll visit the penguin colony at Betty's Bay. After this, you'll drive to Hermanus where you'll watch whales from land. On your way back to Cape Town you'll stop at a coastal wine estate to enjoy some wine tasting.
Next time you visit South Africa, make sure not to miss the whales at Hermanus!
---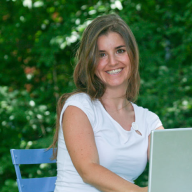 Cristina Garcia
Zoologist and wildlife photographer. She has worked in the field with jackals, wolves, cheetahs, & leopards. She serves on the Board of Directors of SEE Turtles, a non-profit sea turtle conservation organization.
Read her posts at Travel For Wildlife and see more of her work at Truly Wild, & Our Wild Yard.