Swimming with wild dolphins is on the bucket list of every wildlife enthusiast. We were lucky enough to experience this amazing wildlife encounter while we were on a short visit to Mozambique.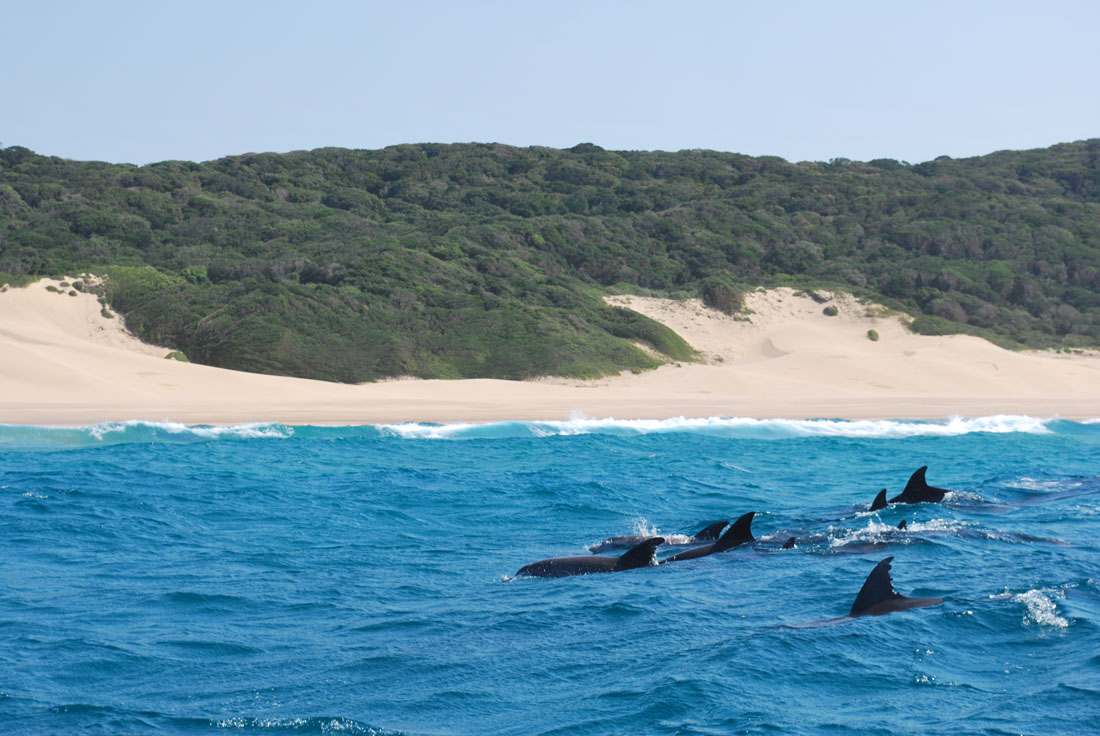 The Essentials
Ocean Safari
Duration: 2h
Price: $40
They practice a NO touching of marine mammals
Snorkeling gear included
Our Experience Swimming with Dolphins
We stayed at Ponta d'Ouro for two weeks. This little town is only a few miles from the South African border. You need a 4×4 to drive into Mozambique. If you don't have one they will pick you up at the border.
While you stroll around Ponta d'Ouro's streets, you notice a few places that offer "swimming with wild dolphins" trips. We decided to stick with the guys that worked with our backpackers: Back to Basics Adventures. They organize ocean safaris, diving trips and diving courses. We joined their ocean safari trip. It is never guaranteed you will see wild dolphins so calling it ocean safari is a bit safer.
NOTE: After our visit, the rules changed and only two outfitters in Ponta D'Ouro have permit to swim with dolphins. Back to Basics is not one of them. They do not offer this experience any longer. But you can still join their diving trips!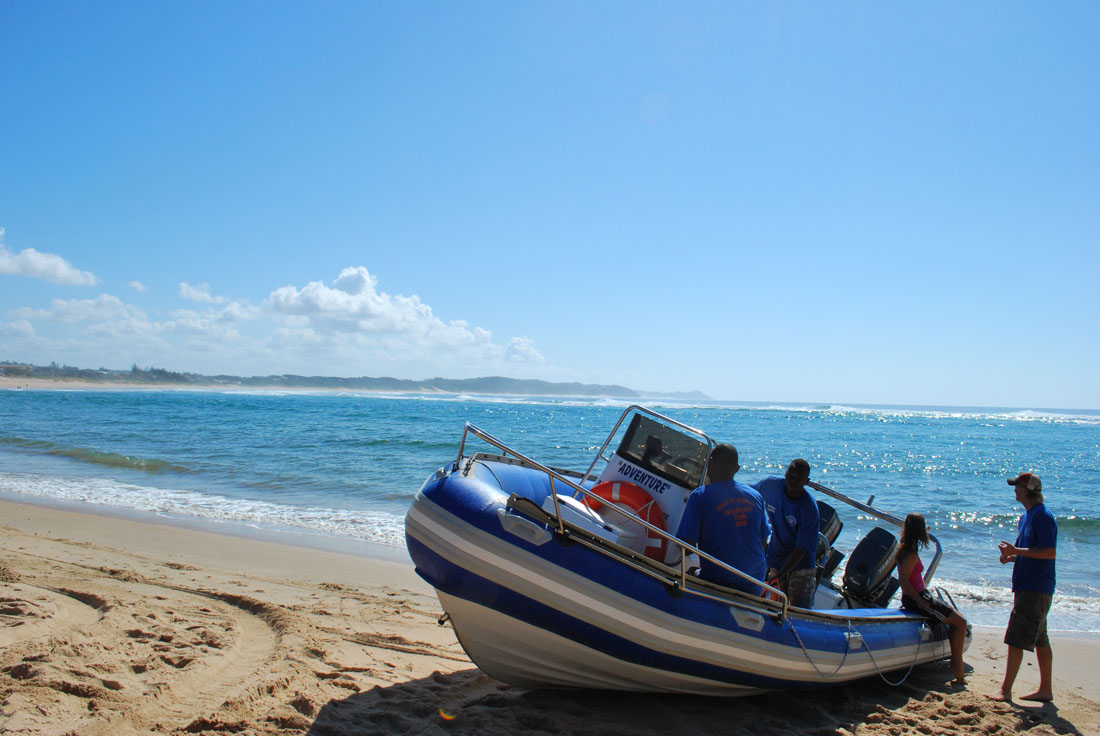 After being given our snorkel, masks and pair of fins we were driven to the beach where a motorboat was waiting. Ponta d'Ouro does not have a marina so the only way to get in is from the sandy beach.
We were then joined by divemaster Johan Cornelius and Antonio and Agosthinho who were in charge of the boat and gear.
And off we went.
Just getting into the ocean was a great adventure. Several of us helped turn the boat around and shove it headfirst into the pounding surf. After jumping a few waves we were soon out in the Indian Ocean.
We first motored south until we spotted the South African border in the form of a flag along the beach. After this little bit of sightseeing we turned around and headed north for a few miles until the boat suddenly stopped. There was a pod of dolphins nearby. We could see them swimming and playing, and they were coming straight toward us. We were given our last bits of instruction.
"If you swim quietly they will come to you. Do not chase them."
Just as if they had listened to Johan, they appeared as soon as we dove into the water. There must have been 40 individuals in the pod. They were everywhere. I looked down at the sandy ocean floor. It was covered with dolphins, swimming graciously away from us and coming back to examine us more closely. It was useless trying to keep up with them. The best thing to do was just be calm, float, and enjoy the view.
One of the dolphins swam past Hal and then swam towards me. As he got closer reality changed. Time slowed. It was only him and me. He stopped in front of me and he was so close I could have touched him. I almost did. But he looked straight into my eyes and I knew he wouldn't want that. Would I want to be touched by every living thing because I look cute? I refrained myself and we stared at each other happily for a few seconds more. Then the moment passed and he was gone.
Snorkeling at a Reef
After the dolphins left we motored to a shallow reef where we snorkeled for a while. We didn't manage to see any turtles or stingrays but we did see many colorful fish.
And the Verdict is…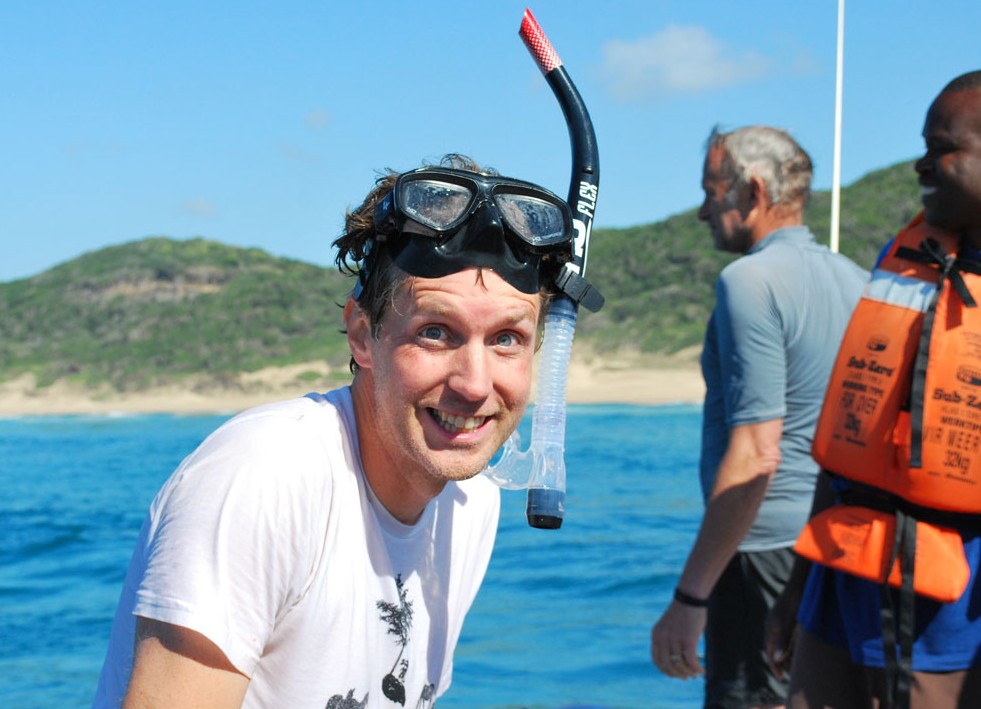 You can probably guess what the verdict is by the look on Hal's face in this photo …
I would definitely embark on another Back to Basics Adventure anytime. I just have to remember to pack my diving certificate with me so I can get even deeper.
One regret? Not to have carried an underwater camera.
Since the creation of the marine park only two operators are licensed to take you swimming with dolphins: Dolphin Encounter, and Ponta do Ouro Dolphin Centre. I was happy with the ethics of Back to Basics, but if you want to swim with wild dolphins, please support the licensed operators.
Ethical Marine Mammal Tourism
Before you embark in a dolphin swim please watch this video on ethical marine mammal tourism by Dolphin Care Africa, also based at Ponta do Ouro.
---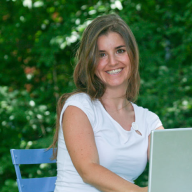 Cristina Garcia
Zoologist and wildlife photographer. She has worked in the field with jackals, wolves, cheetahs, & leopards. She serves on the Board of Directors of SEE Turtles, a non-profit sea turtle conservation organization.
Read her posts at Travel For Wildlife and see more of her work at Truly Wild, & Our Wild Yard.