National Wildlife Refuges are so underrated. It seems like our National Parks are always stealing the limelight. But with over 560 refuges across the US, acting as a network of habitats that benefit wildlife and provide recreational opportunities to visitors, they are certainly well worth a visit. More than 380 endangered or threatened species find refuge within them and migrating birds use them as essential stepping stones during their travels.
Still, every time we visit one, we hardly see another human being around. Which is probably our favorite thing about them.
Visiting Lower Suwannee National Wildlife Refuge
We had never heard of this refuge before. Even after our first visit to Cedar Key, we still knew nothing about the Lower Suwannee National Wildlife Refuge. It was only when we asked the lady at the Cedar Key Chamber of Commerce for ideas about where to see wildlife that she told us, "you should try the Nature Drive in the Lower Suwannee." She handed us a map (you can download the refuge map here) and off we went.
Just ten miles up the road from Cedar Key, the Lower Suwannee NWR encompasses 52,935 acres of land. And it is absolutely incredible. From pine forests to marshlands, from river estuary to cypress swamps, all these different habitats support an incredibly wide variety of animals. Black bears, raccoons, bats, armadillos, owls, anoles, alligators, osprey, bald eagles, woodpeckers, deer, bottlenose dolphin, otter, West Indian Manatee, wood ducks, turkeys, and more!
Not convinced yet? Consider this. During the four hours that we spent leisurely cruising the side roads of the Nature Drive, we only saw one other car. We were alone in this pristine wilderness all day. How's that for awesome?
Oh yeah, you'll see pretty native wildflowers too!
*This article may contain affiliate links. We receive a small commission at no extra cost to you.*
Driving the Lower Suwannee Nature Drive
This Nature Drive is only 9 miles long, but you will stop so many times to admire EVERYTHING, and there are so many little side roads you can check out, that it might take you a few hours to finish. So give yourself plenty of time, take water, snacks, and if you visit in the summer, don't forget your natural insect repellent! Just a heads up…there are no bathroom facilities. But if you exit at the north end and head a little further north to Fowlers Bluff you'll find signs for a very interesting little restaurant and general store right on the river.
When you start the Nature Drive you'll be greeted by incredible trees with spanish moss all over them. Time for your first stop to photograph these beauties!
To see the salt marshes at Lower Suwannee you'll need to turn onto McCormick Creek Road. If you have kayaks you can put in here. There is not much shade around here, so make sure you pack a hat and sunscreen!
Now you may be asking yourself, where are the alligators in the Lower Suwannee?
There are lots of alligators around. But you need to find fresh water to spot them. In the Lower Suwannee that means in one of the ponds or in the cypress swamp. Always take precautions when getting out of your car as they may be basking along the sides of the roads. They are much faster than you'd expect. Once you've checked for alligators, you can walk around and admire the deep dark swamp.
There they are! Finally, you've found your alligators. This couple was sunning together and didn't mind us taking photographs from the other other side of their pond.

The refuge has a few ponds where you can stop to look for wildlife. Some are by the side of the road, while others, like the one below, are viewed from an observation deck at the end of a boardwalk. Always remember, there's an alligator in there somewhere! Grab your binoculars.
Once you've had your fill of alligators, keep your eyes peeled for some of the refuge's smaller creatures. Some will cross the road right in front of you, and others will be hiding. Don't forget to check the ponds for turtles. This is the first Florida Softshell Turtle I have ever seen! Look at its neck, super long and flexible.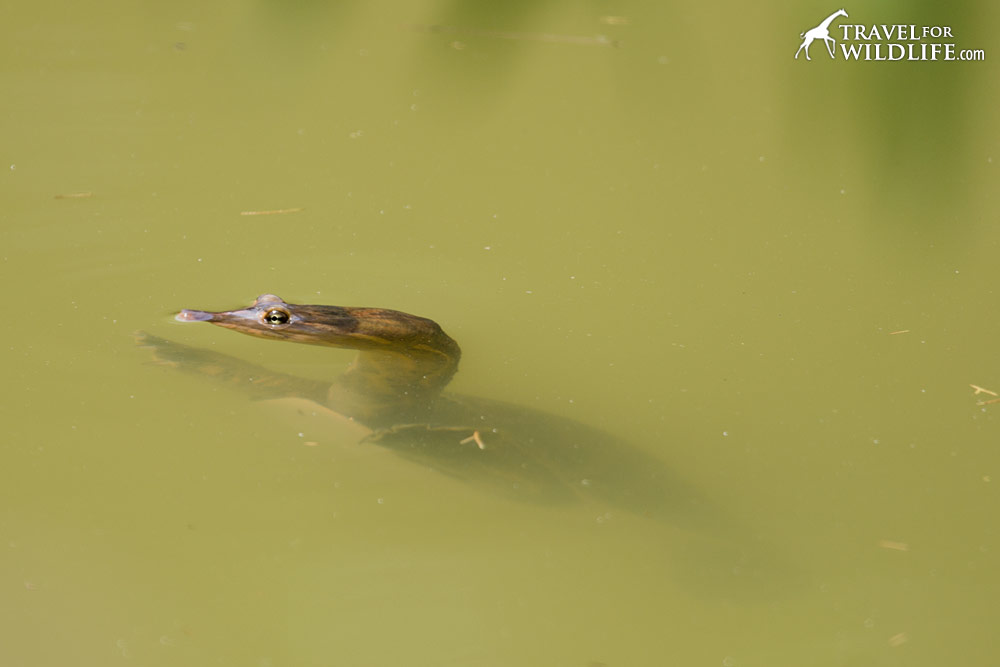 Pine forests make me happy. I just love their smell. Another reason why I loved Lower Suwannee is because of their beautiful pine forests. Though much of the existing pine forest is the remainder of old pine plantations, rangers are working hard to restore them to a more natural mix of trees. We didn't see any black bears, deer, river otters, or armadillos, but I am just happy to know they are out there, taking a nap under a bush somewhere.
But we did see a raccoon and a water snake crossing the road.
Walking the River Trail
This 0.6 mile trail is really the grand finale when visiting the Lower Suwannee. I bet fairies and gnomes live here. I could have stayed for hours.
After you've completed the Nature Drive, head north from the exit and you'll soon arrive at the road for the Park Headquarters and the River Trail. The first part is a regular trail but soon you'll arrive at a beautiful boardwalk suspended above the swamp. The boardwalk will end at a viewing platform overlooking the Suwannee River.
If you have a big lens for your camera, bring it. It is very useful for photographing flowers that are hiding deep in the swamp, and also great for bird photography.
Don't spend your whole time looking down into the swamp though. Remember to look up, and you just might find an owl staring back at you.
At the end of the River Trail there is a viewing platform where you can watch what floats by in the Suwannee River.
Where to Stay?
If you visit the Lower Suwannee National Wildlife Refuge and want to stay overnight, then your best bet is to stay at Cedar Key. This charming and quiet town is only about 10 miles from the south entrance of the nature drive.
We love the Faraway Inn, and have stayed there twice, where you can rent your very own cottage with sea views. They are pet friendly, have free use of kayaks and bikes for guests, and have a small beach in front of the Inn where horseshoe crabs nest in the spring.
I would personally stay at least two nights, so you can visit the refuge one day and spend the other day kayaking to the Cedar Keys NWR. Every time we've kayaked around Cedar Keys we've seen plenty of dolphins!
The next time you plan a trip to Florida, keep Cedar Key and the Lower Suwannee in mind. You'll feel like you've stepped into another world.
Love It? Pin It!