Bitterpan is one of the two wilderness camps in the Kgalagadi where you need a 4×4 to get there. This is the main reason why this camp is sometimes not full. Not all visitors to the park have 4×4's and they can't drive the road that leads to it. Be prepared for deep sand and steep sand dunes.
Another reason is perhaps the fact that the road that leads to the camp is just a one-way road, starting at Nossob camp and going on drives is not ideal. So if you want to go for a drive from Bitterpan, you will have to go on a long drive to the main road, around the 'block' back to Nossob, and back to camp. Bittercamp is not a camp to go on drives. It's a camp to relax and enjoy the wilderness, the views, and the company.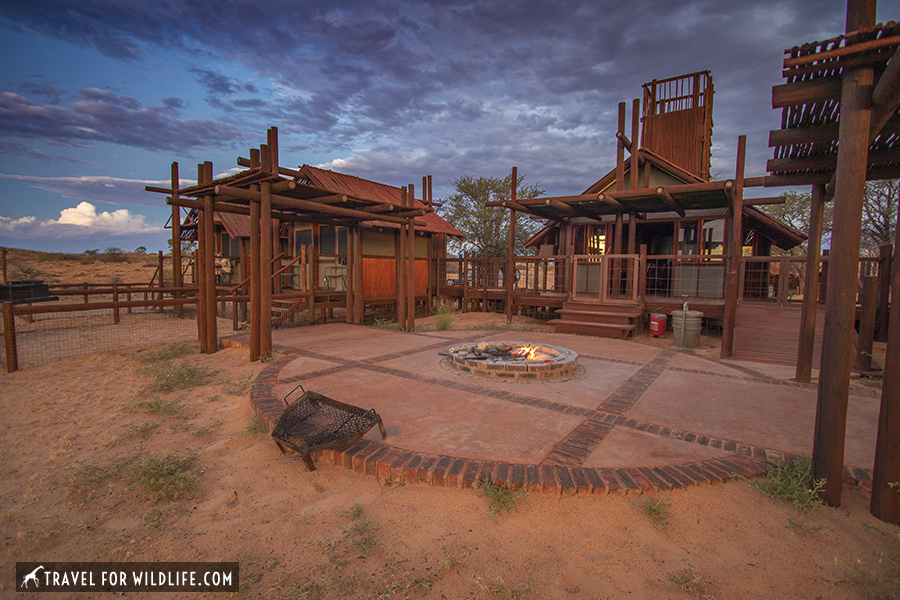 Just like Urikaruus, Bitterpan rooms are elevated above the ground. This stilted camp overlooks a huge salt pan and a small floodlit waterhole. The waterhole is down the hill from the camp, right at the pan's edge. It's pretty far from the camp, and not great for photography.
Our tip for wildlife photography is to include the salt pan in your photo composition. This is also the place for night photography and storm photography (if you are lucky!). Tip: look below your deck after sunset and you might find barking geckos hunting insects!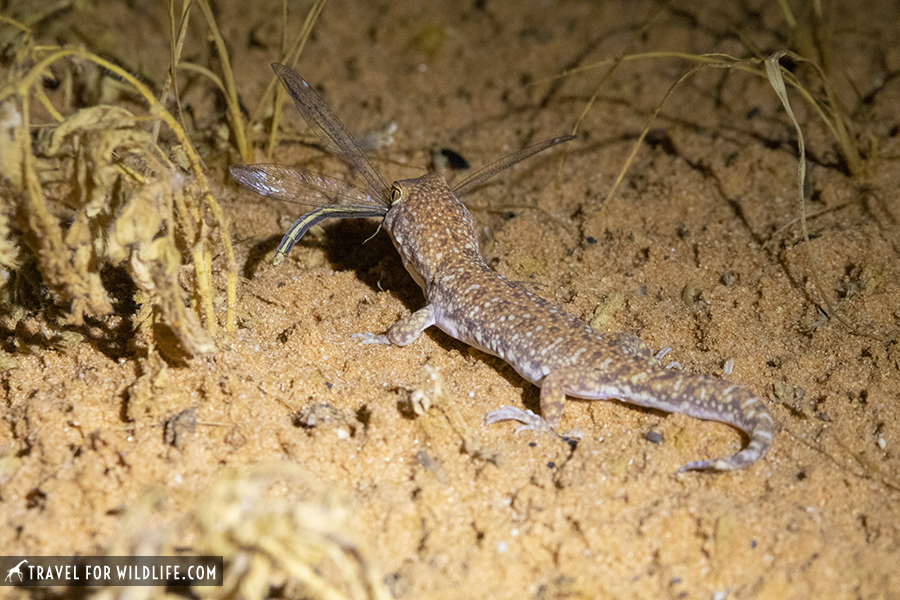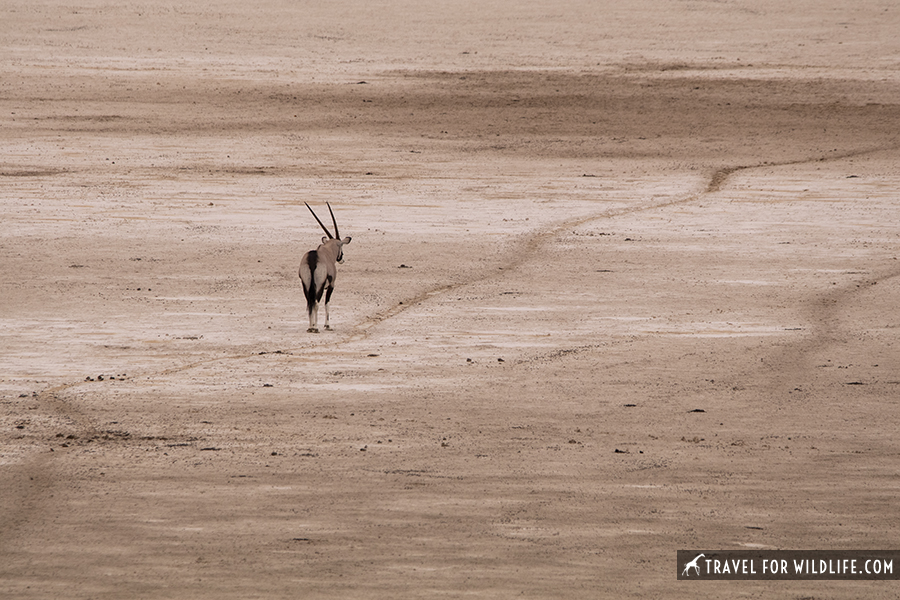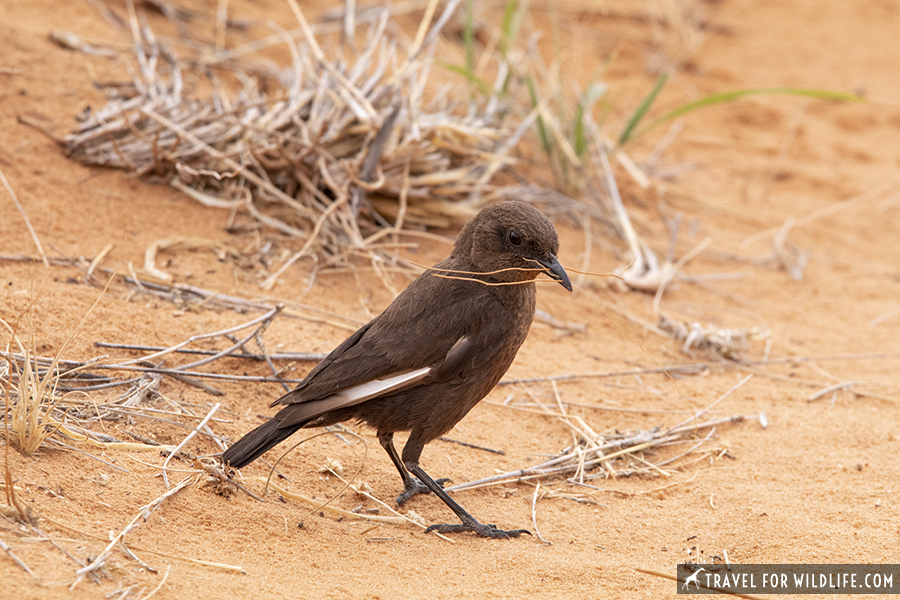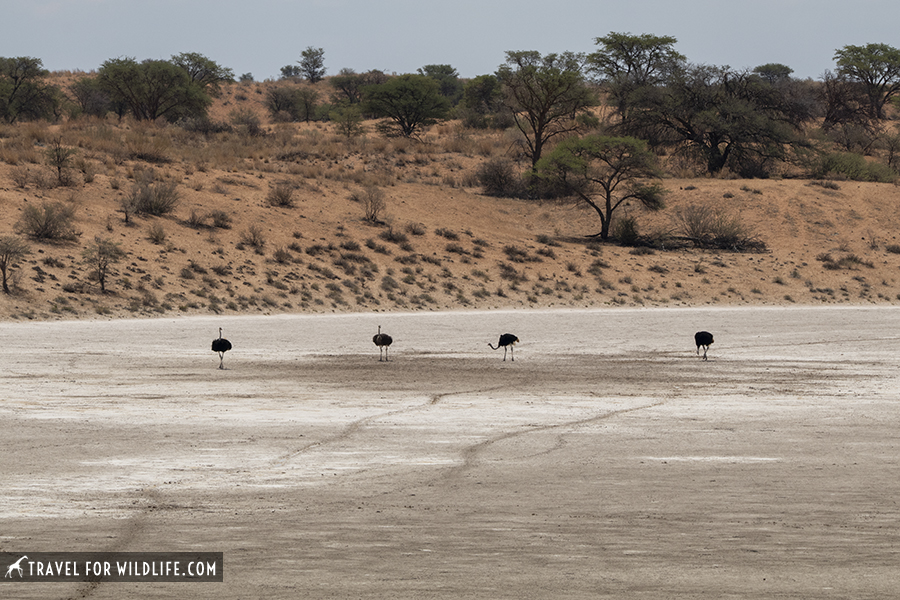 Bitterpan has four cabins, a common area, and the caretaker's cabin. The common area sits in the middle and there are two cabins on each side of it, connected with a raised wooden walk.
The cabins at Bitterpan are very different than the other cabins at the other wilderness camps. The cabins here are just a small room with two single beds, a deck, and a small braai area. The bathrooms are outside the cabin.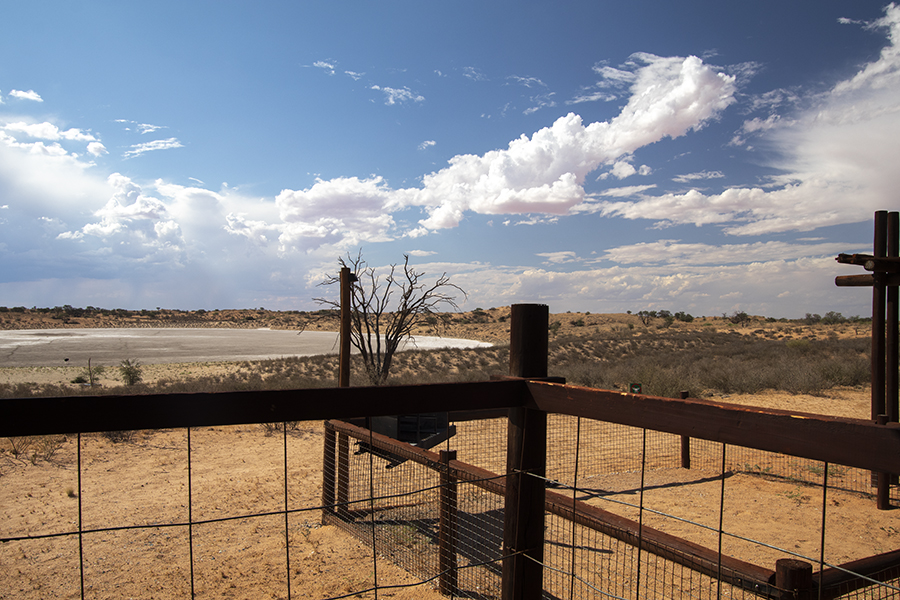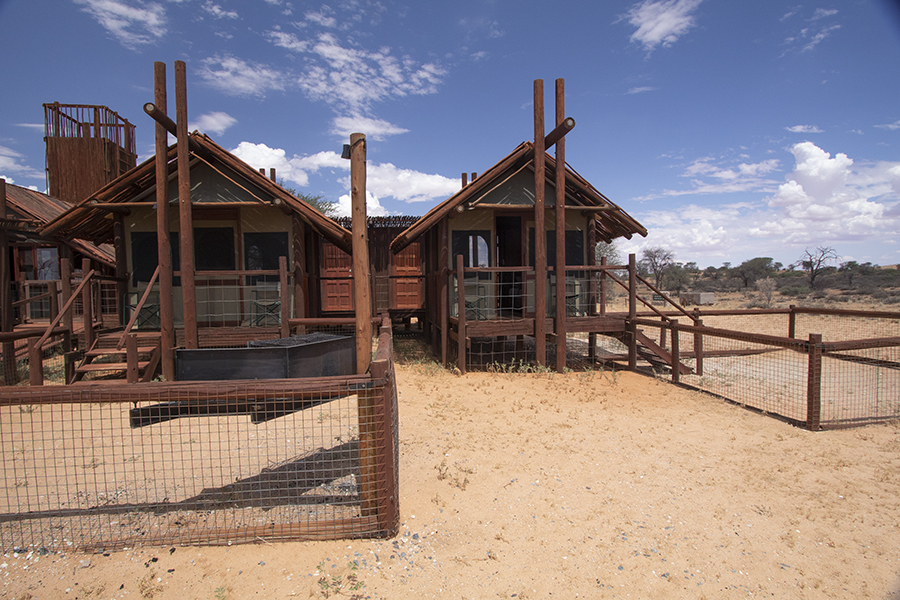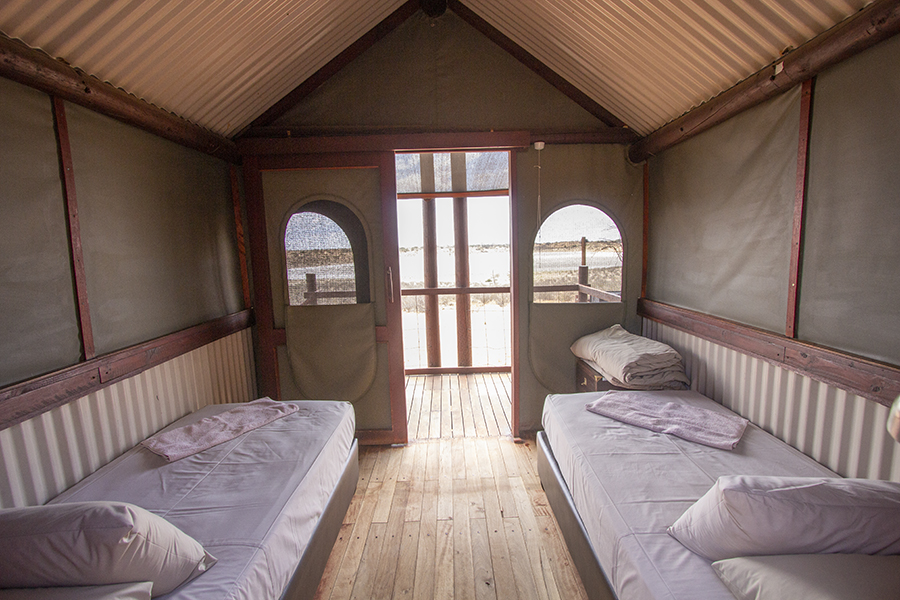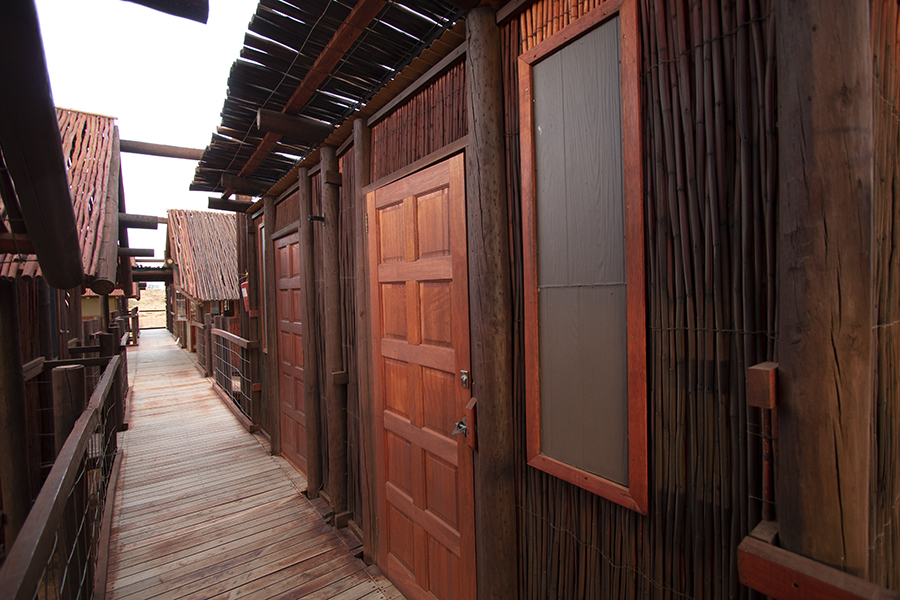 The kitchen is communal, and aside from each cabin braai area, there is the main area with a fire pit that is ideal for socializing with the rest of the guests.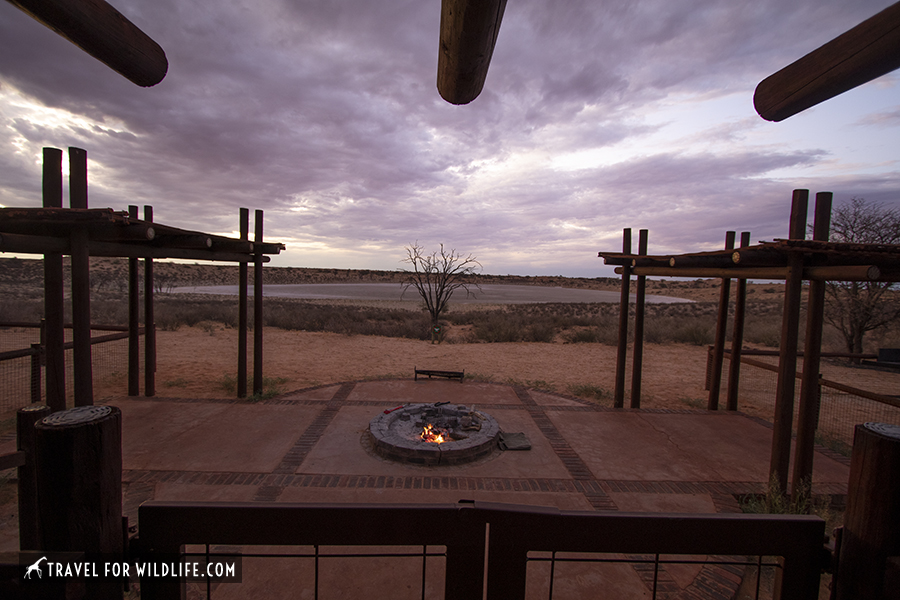 Before booking Bitterpan you should know that the cabins/rooms are only a couple of feet from the cabin next door, and the walls are half canvas, half metal. You should bring earplugs if you are a light sleeper.
This is the perfect camp to stay at if you are in a group (and if you are lucky to get all 4 cabins). If you like privacy, this might not be your favorite camp.
There is also a small hill where the water tank is that will give you great views of the pan. We visited on the way out as we didn't want to walk in case there was a lion or leopard nearby.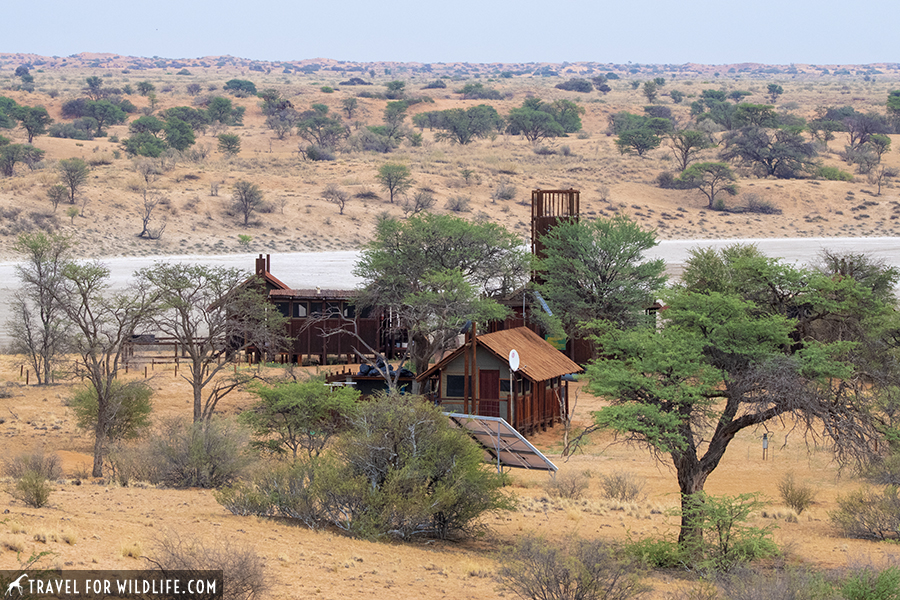 The night when we stayed, we were told by the caretaker that a leopard had visited the camp, and he was super kind to show us its tracks around camp. Nobody saw the leopard but it walked by one of the cabins to get down to the waterhole.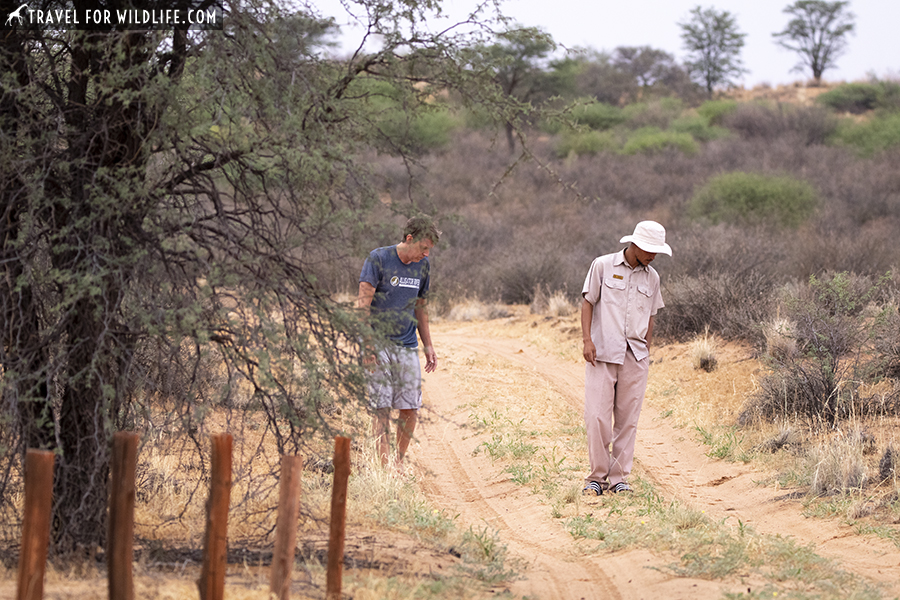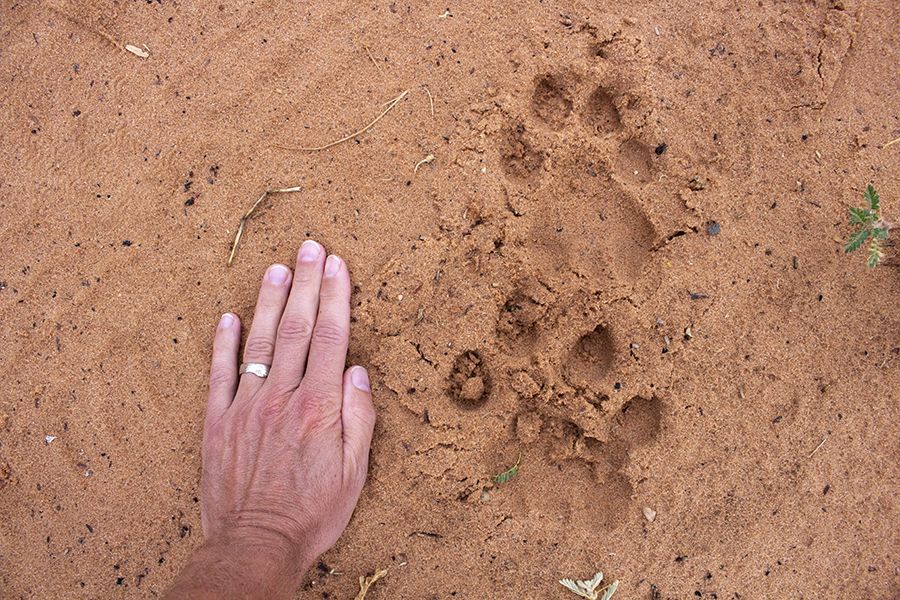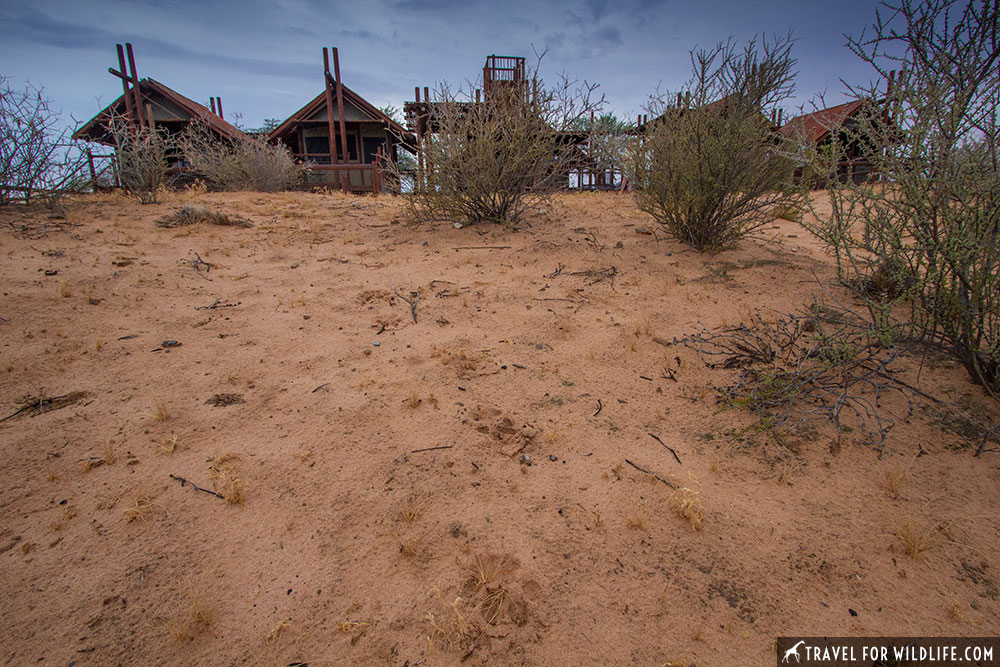 Also, that night we had a family of lions walk under our cabin at 2 am. We could hear the cubs calling one another while they walked by. We were lucky enough to get a short video of them as taken by our trail camera.
How to get to Bitterpan
To get to Bitterpan you need to start at Nossob camp.
The road from Nossob to Bitterpan is a one-way road and it is gated. When we went we were told that we couldn't leave before a certain time, I think it was 11. The road to Bitterpan is only 2h so I guess that this was done to avoid having guests arriving too early for the caretakers to get the rooms ready.
Only visitors with a reservation and driving a 4×4 will be allowed to go through the gate. If you have a trailer, note that trailers are not allowed on this road, but you can leave it at Nossob while you to Bitterpan. There's a spot in front of reception, but make sure to tell them you left it there. I've also heard that large 4×4 trucks like Unimogs are not allowed on this road either.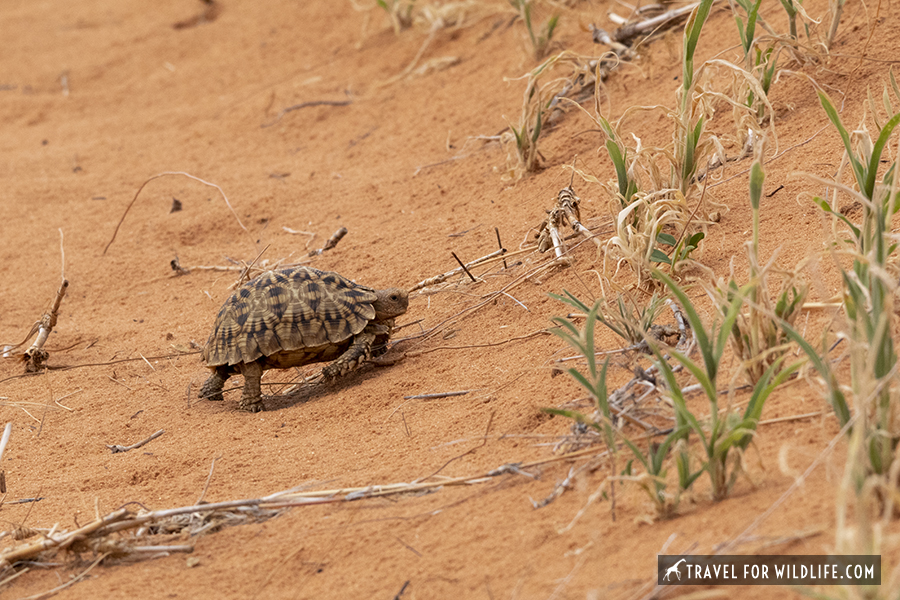 The drive to Bitterpan is nothing out of the ordinary, we had the good luck to see a Kalahari tent tortoise (also known as serrated tortoise) and were also incredibly fortunate to catch two Common ground agamas fighting. Lots of steenbok along the way, so keep an eye for those adorable antelopes.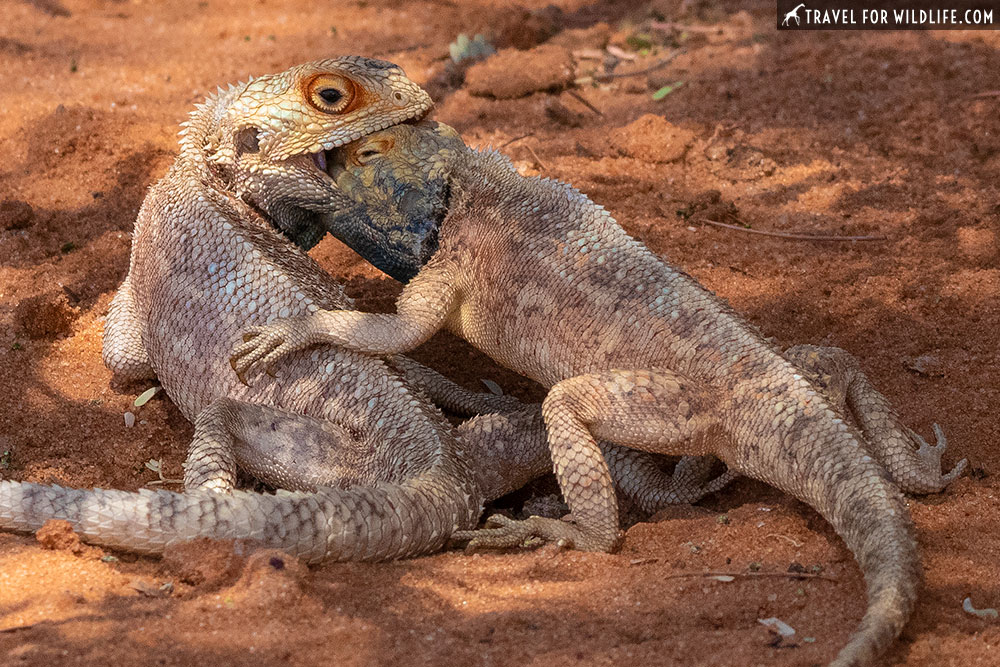 When you leave the camp you have a choice of two routes, both one-way. You drive to Mata Mata (67km) or you can take the shorter drive (18km) to Moravet on the upper dune road. Ask the caretaker about the conditions of each road.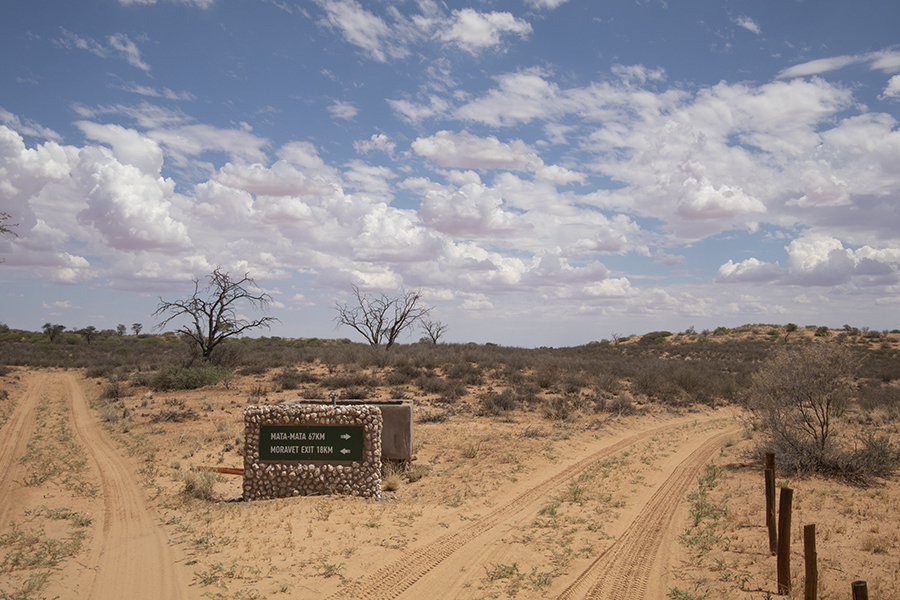 Please Note
No shop and no fuel at any of the wilderness camps. Make sure you fill up at Nossob or Mata Mara.
Bring your own drinking water.
No kids under 12 are allowed at any of the wilderness camps.
The same gate open/gate close times
This is an unfenced camp.
A caretaker is based at the camp.
No wifi or cell phone signal. If there's an emergency, the caretaker has a radio.
To book your Bitterpan cabin, visit Sanparks site.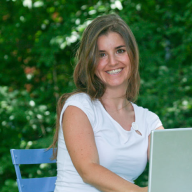 Cristina Garcia
Zoologist and wildlife photographer. She has worked in the field with jackals, wolves, cheetahs, & leopards. She serves on the Board of Directors of SEE Turtles, a non-profit sea turtle conservation organization.
Read her posts at Travel For Wildlife and see more of her work at Truly Wild, & Our Wild Yard.