*This article may contain affiliate links. We receive a small commission at no extra cost to you. If you enjoy our content and want to support Travel For Wildlife, please visit our shop Truly Wild.
We are so excited! We've been talking for months about creating our own wildlife tour company and we finally did it! Truly Wild Tours is here!
The essence of our tours
When we decided to create Truly Wild we had a vision. We dreamed of taking very small groups of people into the wilderness to see the animals we love. That's why our maximum number of guests is 6, sometimes as low as 2! We want our guests to feel, hear, and truly experience nature. And we want them to feel as though they are traveling with a few friends, not with a big tour group.
We also wanted to instill our tours with our own personal respect for all animals. We don't feed them, touch them, or bother them, and we always put them first. If we feel our presence is bothering them, we leave that sighting and find another one. Their survival comes first.
We are committed to wildlife conservation and it will be a big focus of our tours.
For more info on our practices, visit our Why Travel With Us page.
Our Florida Wildlife Tour
Our Florida Wildlife Tour will be our first tour. We've spent a great deal of time designing this great itinerary…and it is going to be more than FANTASTIC! We'll be staying at a swamp cottage right deep in Big Cypress, tracking Florida Panthers, sailing with wild dolphins in Key West, watching burrowing owls, camping in a pine forest in the Everglades, kayaking and snorkeling a reef in the keys and swimming with manatees. Oh yeah and staying at a beach front cottage in the beautiful Sanibel Island. How is that for cool!
Plus, we believe it is the only Florida Wildlife Tour out there! We found a couple of birding tours but none that would include such a variety of species: mammals, birds, reptiles, sea mammals!!! All in one tour.
Check out the fantastic tour calendar: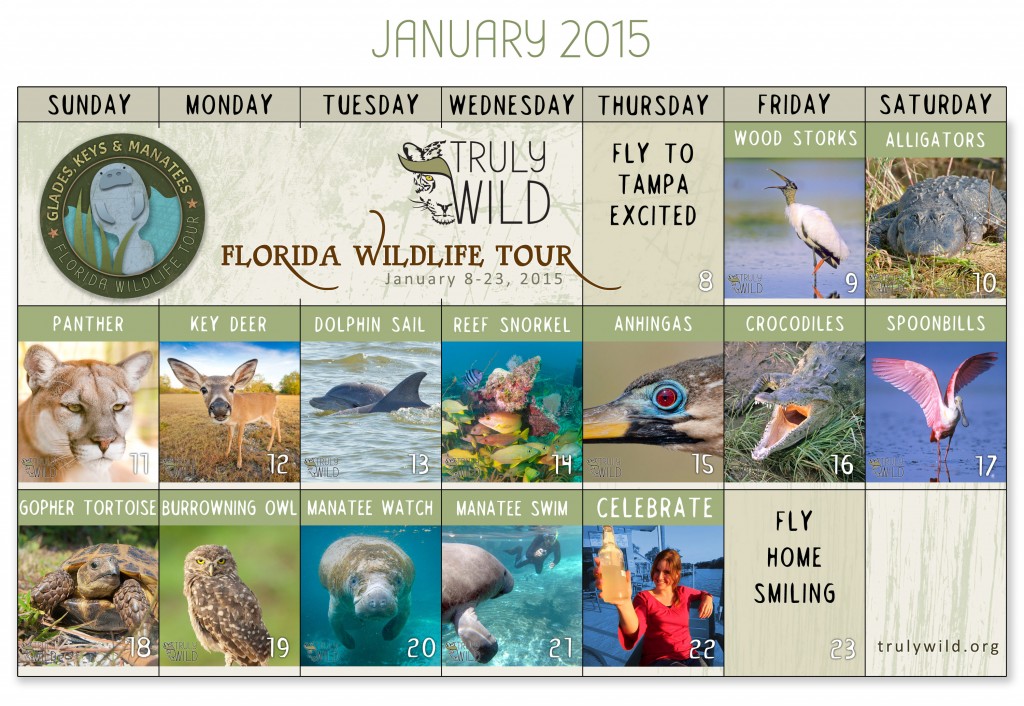 For this tour we've decided to only take 4 people for a simple reason. The cottage in Big Cypress has a capacity of 6. We love this place and we really want to stay there, show our guests these important wetlands and fall asleep to the sound of the swamp. This tour wouldn't be what it is without our 3 nights here.
We'll also be staying at private beach-front cottages in Sanibel Island and an ocean front house (you can snorkel right from the house) in the Florida Keys. We'll show you how to track big mammals, and we are going to try very hard to see a Florida panther. This is not your average wildlife tour. We are committed to making this an unforgettable experience for our guests.
As part of our commitment to conservation, we are donating $50 per guest to Save the Manatee which is working hard to protect manatees and their habitat.
The tour begins January 8, 2015 and the booking cutoff date is November 8, 2014.
What's Next?
North Carolina! We're designing a one-week tour for only two guests to explore the wildlife wonders of North Carolina. From the Outer Banks with its dolphins, sea turtles, shore birds, black bears, and red wolves, to the mountains in the west where beavers, elk, deer, and bears roam the vast tracts of forests.
After that we are going international! Two lucky guests will join us on an intimate wilderness tour of the southern Kalahari where we'll be back-country camping amongst big cats and other amazing predators. This is my favorite place in the world and as soon as you step into the Kalahari it will be yours as well!
Who's coming with us?