*This article may contain affiliate links. We receive a small commission at no extra cost to you. If you enjoy our content and want to support Travel For Wildlife, please visit our shop Truly Wild.
2015 was the year I really got into Instagram, and now it has become my favorite social media platform. It is so easy to share photos and connect to people with similar interests. It also has helped me become more critical with my own photos, allowing me to grow as a photographer.
Just before the end of the year, we found out which photos had been our nine most popular on Instagram. It is really interesting to see which ones people liked most. SUNSETS! (One third of our best photos were sunsets, not surprising.)
Here are our best nine.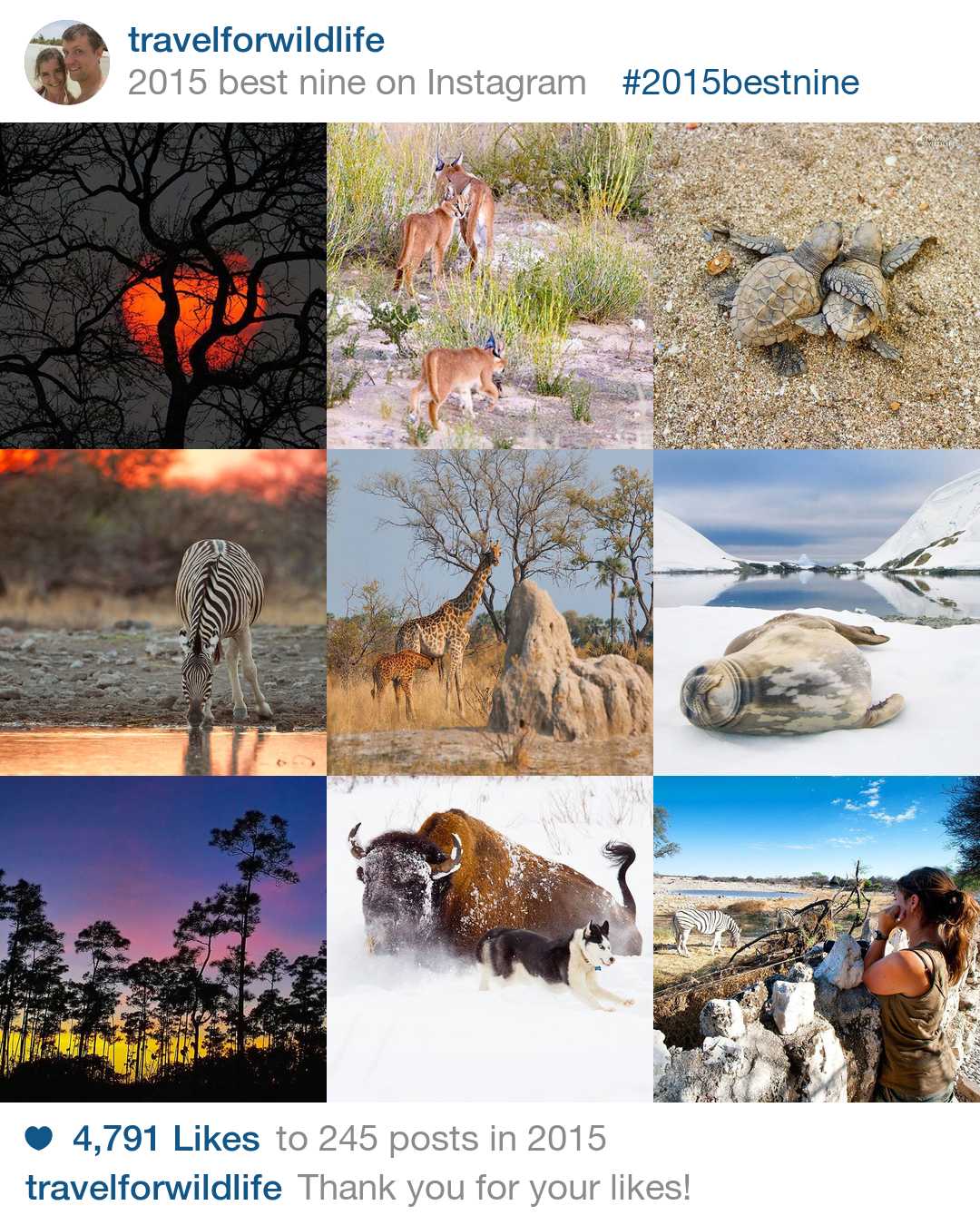 It has been fun to see other photographers best nine photos of 2015 on Instagram, but I missed hearing (reading) what really made that photo. What happened or how was that photo taken? So I decided to tell the stories behind each of our best nine photos of 2015.
In no particular order…
Sunset in Katima Mulilo, Namibia
This photo was taken while we were on our 7-month road trip around Southern Africa. We had just left Botswana and arrived in the little town of Katima Mulilo in Namibia. We found a really great camping spot by the Zambezi river. Across the river was Zambia. We could literally swim across the river and we'd be in Zambia. If the crocodiles would let us cross, of course.
I remember that evening very clearly. I had a terrible stomach bug. It was my own fault, since I asked the lady at the campground if we could drink the water. She said yes. A few hours later I was throwing up my soul in Katima Mulilo, so thanks for that, lady at the campground. NEVER trust strangers! Didn't my mom teach me that?
Anyway, we had our camping chairs facing the river and this fantastic sunset. Cool photo, since it was taken in Namibia but the tree is in Zambia.
Caracal Family, South Africa
One of our most memorable moments while on a safari. This was the last day of our last visit to South Africa. We were in the Kgalagadi Transfontier Park, nestled in the corner against Botswana and Namibia. The day was over but we didn't want it to be so we signed up for a sunset drive (if you want to be on the park roads after sunset, you have to do it with a guide). We had just started our drive when three reddish furry things crossed the road right in front of us. Gasp! It was a caracal with two of her grown kittens. Caracals are NOT easy to spot. This was more than a treat, this was a well-deserved farewell to South Africa. A great finale to our 2 month trip. The family stopped to stare at us for a second before they disappeared over a Kalahari sand dune. You can check out video of this sighting here.
It was the first (and only) time we have ever seen a caracal.
We will never forget this moment.
Olive Ridley Sea Turtle Hatchlings, Nicaragua
Last year, Hal was sent on assignment to Costa Rica and Nicaragua to do some photography for See Turtles and Paso Pacifico. While in Nicaragua he had the great honor of watching many tiny baby sea turtles being released from hatcheries and crawling back to the sea. These two Olive Ridley hatchlings were photographed at the famous La Flor beach and wildlife refuge. Though it may look like these two are sharing a friendly hug, one is really just happily trouncing over the other one on his way to the ocean.
Zebra at Sunset, Namibia
Namutoni is one of the famous waterholes in Etosha National Park, Namibia. Unlike most waterholes in Etosha, you can sit by this one 24 hours a day if you like because it is situated right next to one of the main camps. At night, it is floodlit so you can still watch the animals that come for a drink. Over the years, we've had incredible sightings in Etosha waterholes, like a lioness with the tiniest cub, a huge herd of elephants, hyenas, and even a black rhino suckling her calf right in front of us.
Sunsets are a magical moment in this waterhole as diurnal animals drink in a hurry so they can leave and avoid all the thirsty predators. This particular evening, we were watching a group of zebras when the sun hit that sweet spot and all its colors leaked into the sky.
Giraffe Calf Suckling, Botswana
A walking safari in Botswana is a must when you visit this beautiful country. We were lucky enough to take one during our mokoro tour in the Okavango. During this tour we learned about elephant bones, termite society, aardvarks, and we had an array of fantastic wildlife sightings. One of them, probably the most memorable, was this giraffe nursing her calf. What an incredible moment. We watched for a while from a distance, then we left them alone so as not to break the magic of this intimate moment.
Weddell Seal, Antarctica
Hal once spent a month sailing around Antarctica on a 55-foot sailboat with five South African men. During this amazing adventure he would jump into an inflatable kayak and paddle to shore and be the only human being around. He had intimate encounters with whales, penguins, and seals of all kinds, but the Weddell Seal was one of his favorites. They had such expressive faces and beautiful long whiskers and always seemed to be wearing a smile. And the background scenery is not too shabby either.
Everglades Sunset, Florida
This is one of my favorite photos because of the moment I took it. Hal and I were on our honeymoon in Florida (awww). We were camping in the Everglades National Park when we decided to take a short stroll just before dinner and see what animals we could see. The previous night we had heard owls hooting, and this night we were hoping to see a big mammal. While we walked through a stand of long leaf pines (pine trees are my favorite tree), the sun began to set. The most beautiful colors started to show and I was glad I brought my camera along to catch that perfect moment.
Bison and Dog, Yellowstone
This was one of the funniest moments we've had while watching wildlife.
We visited Yellowstone last January. It was Hal's present to me for my 40th birthday, so I could see wolves in the wild. While we were there we stayed in the cheapest motel in Cooke City, just outside the north east gate to Yellowstone. Just one mile from the gate there is a bison who hangs around and seems to live permanently in the Silver Gate community. Locals known him as Jackson the bison.
One day we were driving by him when we noticed he had a companion. A husky dog. Jackson just wanted to plow snow to get to some grass, but his new friend wanted to play and would jump in front of Jackson to make sure he was noticed. Most of the time Jackson just ignored the poor bored dog, but a couple times he obliged and moved his massive head towards him, as if pretending he was going to catch him, sending the dog on a running spree.
Watching Zebras in Etosha, Namibia
Finally, a photo with a person in it! (It's me.) This was taken at another of Etosha National Park's famous waterholes: Okaukuejo. This one also has a viewing area connected to a campground and you can walk right up to the low stone wall and watch creatures of all kinds come very close for a drink. I could sit by this waterhole forever.
Show us your favorite Instagram photo! Follow us and then tag us on it so we can see it!