*This article may contain affiliate links. We receive a small percentage of sales made through them at no extra cost to the reader. For more information see our privacy page.
Cool Backgrounds & Animal Wallpaper!
Everybody loves to open their [easyazon_link identifier="B01N9YOF3R" locale="US" tag="traforwil-20″]iPhone[/easyazon_link] or desktop computer and see beautiful nature wallpaper spring to life. It brings a smile to our faces and gives us something to stare at when we're zoning out at work. As a wildlife photographer I love to create cool backgrounds to help people connect with and appreciate wild animals and their habitats. So I decided to create 20 free cool backgrounds, including some full HD nature wallpapers for iPhone and some animals wallpaper. Each one can be downloaded at full size and then scaled to fit your device (if for example you're looking for wallpapers for iPhone).
I've also created a list of other resources to help you find cool backgrounds from other sites including wallpapers for iPhone and hd nature wallpaper from some of our favorite non-profit wildlife conservation organizations. I hope you find something that brightens your day! Also check out Adobe Stock that has tons of awesome wallpapers: you can get a free one month trial and get 10 free images on your first month!
---
20 Cool Backgrounds & Full HD Wallpapers for Mobile & Desktop, by Travel For Wildlife
A quick note on sizes. I've included each of these images at their full native size so they're big enough to fit virtually any display, even 4K screens in most cases. But any image can be pulled into any device and scaled/cropped to fit. I've compressed each image to be less than a 1MB download so as not to overwhelm the storage on your device. The vertical images work best as wallpapers for iPhone and the horizontal images are generally better for desktop backgrounds and laptop backgrounds. If you don't find an iPhone wallpaper you love, don't worry! I'll be releasing more soon! If you're not sure how to change iphone background, check out this article from apple support. And yes these make equally great wallpapers for Android. (Actually, I use them as wallpapers on my android phone!)
Please note: these images are all copyrighted property of Hal Brindley and Travel For Wildlife.com. They may only be downloaded for personal use and may not be reproduced or used for any commercial purposes. If you do want to license some of these images check out our pics on dreamstime.
---
And if you're looking for a new iPhone to put these cool backgrounds on, here are some good deals on refurbished unlocked iPhones you can buy from Apple on Amazon!
---
1) Black Bear Mother and Cub, HD Nature Wallpapers
A black bear cub nervously pokes his head out of the grass while his mother looks on in the Alligator River National Wildlife Refuge in North Carolina. This is an awesome place to see black bears! If you look closely you'll see the cub's nose and lips are stained purple from eating berries!
Download Black Bear Cub Wallpaper now.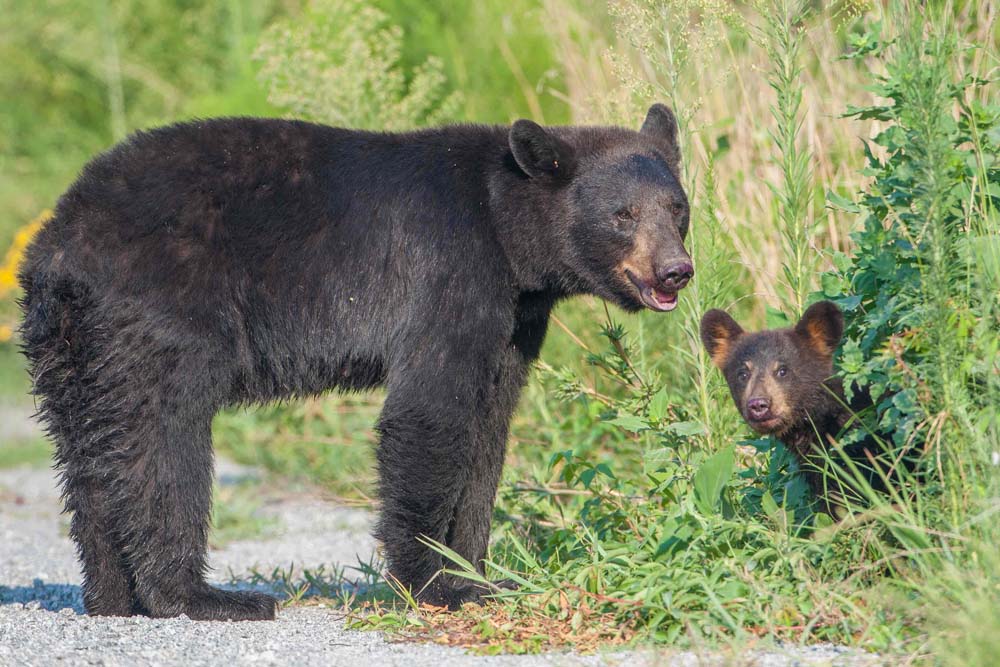 ---
2) Giraffe: Cool Backgounds
A young giraffe chewing on camelthorn seed pods at sunrise in the Kalahari Desert in Botswana. If you want to see giraffes in the Kalahari Desert, the Kalahari Tented Camp in the Kgalagadi Transfrontier Park is a great option. This image makes a cool backgrounds for iPhones!
Download Giraffe Wallpaper now.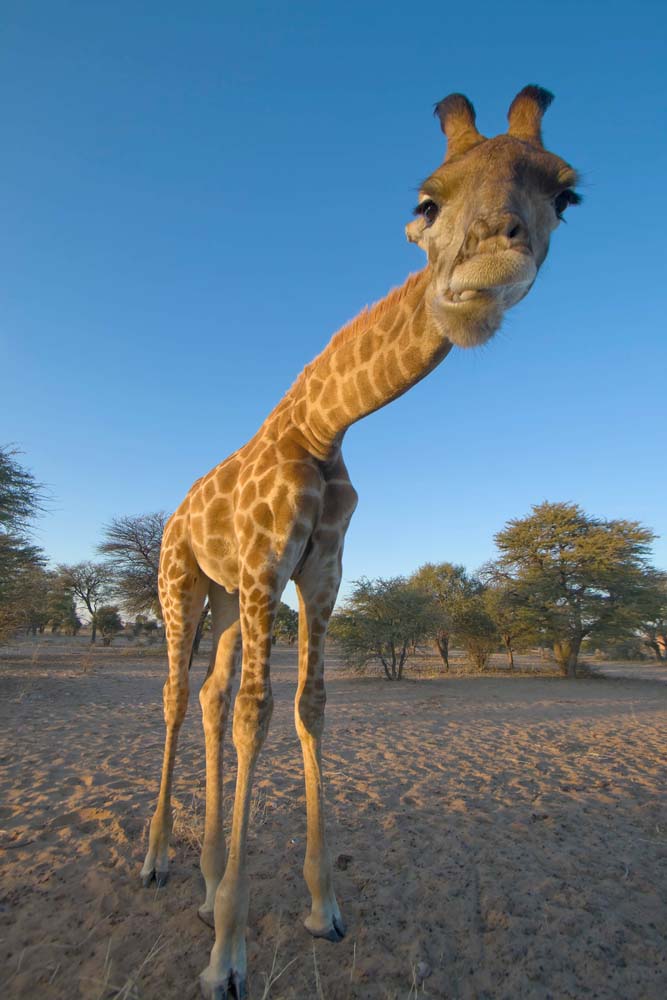 ---
3) Wild Dog Puppy, Animal Wallpaper
Cristina and I spent three months volunteering at a reserve in South Africa tracking cheetahs and leopards, but one of our other jobs was to monitor a family group of African Wild Dogs (also known as African Painted Dogs). We were the first ones to see the newborn puppies emerge from their den! It was an amazing experience! And this definitely makes for one of the cutest HD nature wallpapers on my list. You can check out a couple more pics in our Wild Dog Puppies gallery.
Download Wild Dog Puppy Wallpaper now.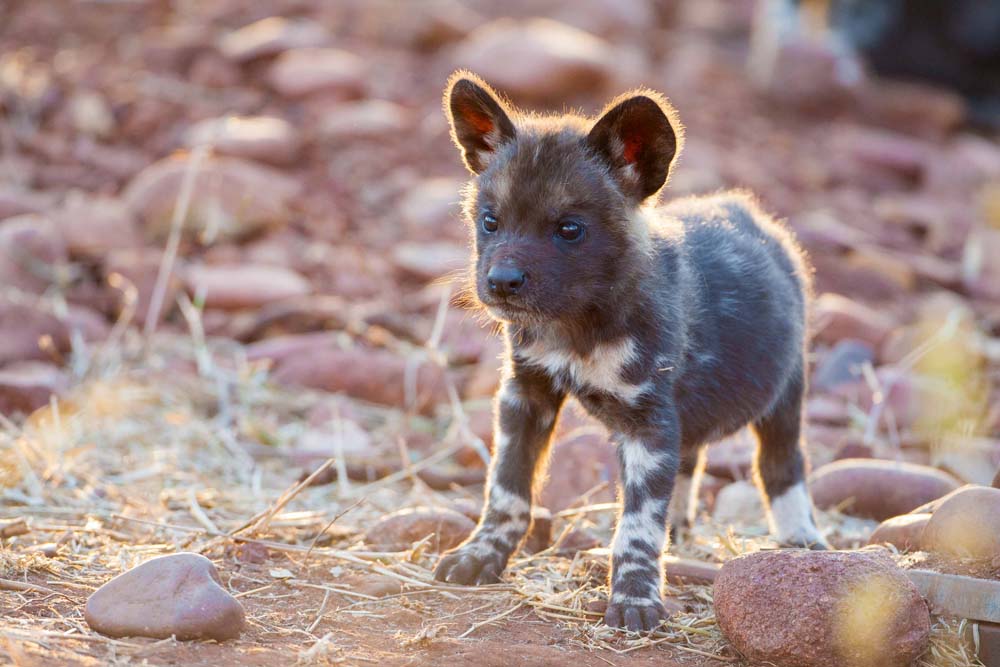 ---
4) Chinstrap Penguins on an Iceberg: Cool Backgrounds
I had the great privilege of sailing to Antarctica on a small sailboat and along the way I spotted these Chinstrap Penguins on a "bergy bit" in Cierva Cove on the Antarctic Peninsula. This is one of my favorite animals wallpaper for iPhone because there's plenty of room for icons.
Download Penguin Wallpaper now.
---
5) Lions Playing, Wallpaper for iPhones
A female lion approaches to greet the the male lion of the pride in Etosha National Park, Namibia. It seemed like this large pride captured a zebra every night. Check out our article What Do Lions Eat to learn more about these awesome predators. If you're looking for more cool backgrounds of lions, keep scrolling down to the bottom!
Download Playing Lions Wallpaper now.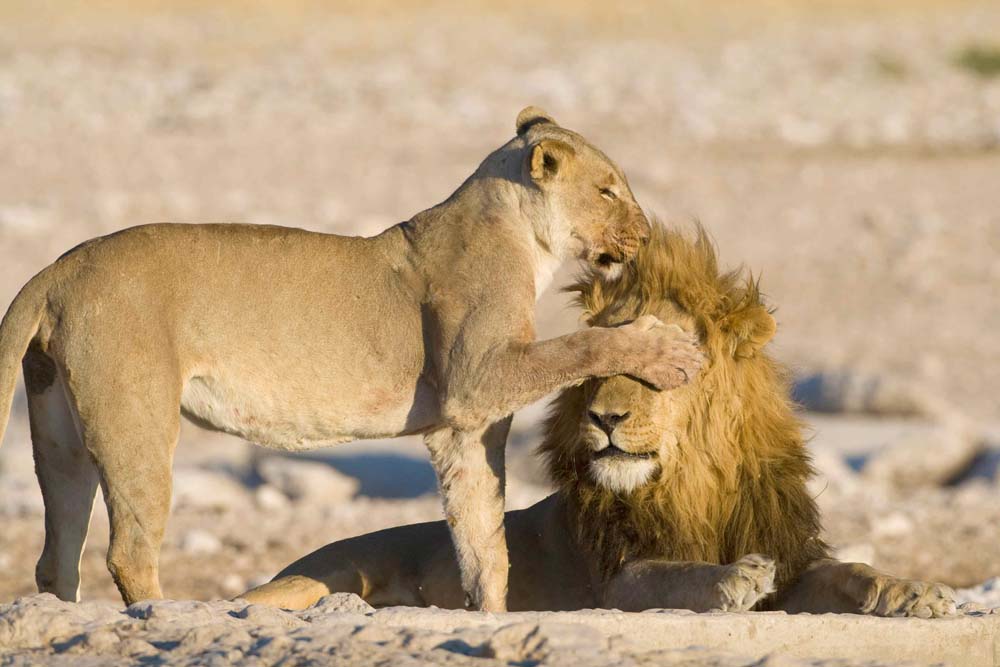 ---
6) Swimming Elephant: super cool backgrounds
Cristina and I watched a family of elephants playing and wrestling in this river for over an hour in Bwabwata National Park. (That's in the Caprivi Strip in Namibia.) They use their trunks like snorkels when they are under water! It must be nice to float when you're the heaviest land animal on the planet. Read our article What Do Elephants Eat to learn more about these incredible animals.
Download Swimming Elephant Wallpaper now.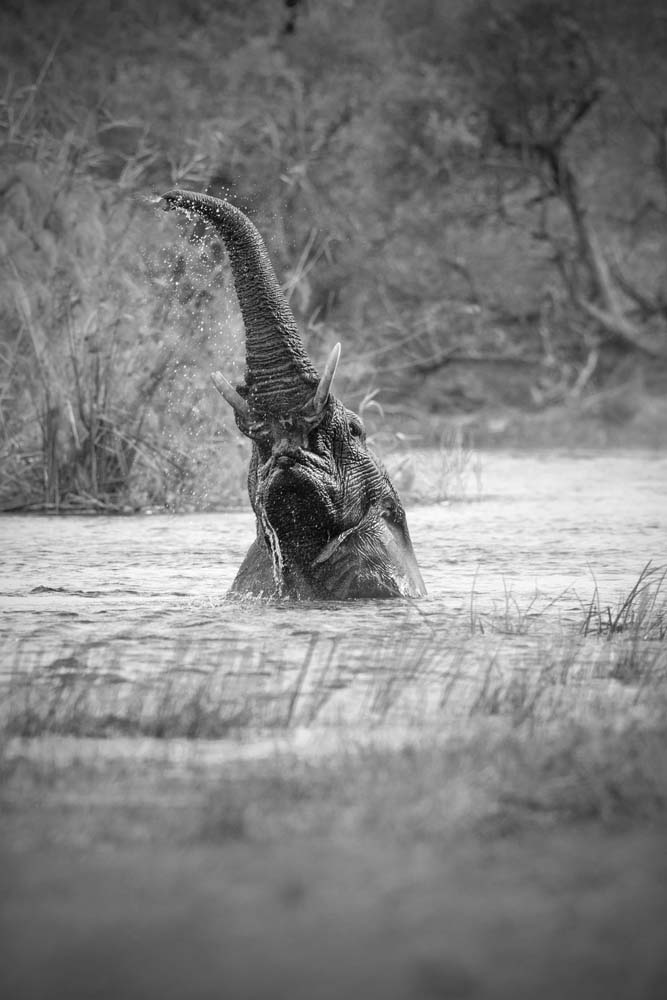 ---
7) Manatee: Cool Backgrounds for Desktop
Cristina and I got married on a boat in Crystal River, Florida, with manatees swimming all around us. I photographed this manatee in the Three Sisters Spring just an hour after our wedding. (I was snorkeling with my tuxedo on.) I love the wise old look on his face, it's another one of my favorite cool backgrounds that I use on my laptop. If you want to see manatees, check out our article How To Swim With Manatees.
Download Manatee Wallpaper now.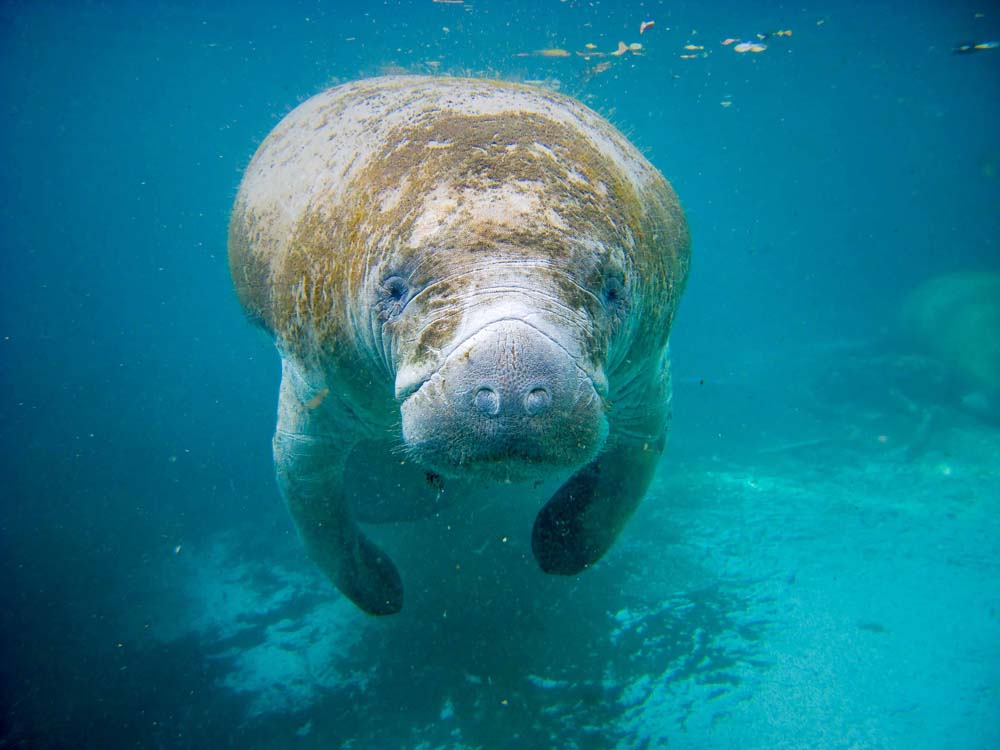 ---
8) Cuckoo With Frog, Cool Backgrounds for iPhone
I photographed this Guira Cuckoo with a frog in its beak, sitting on a fence post in the Pantanal region of Brazil. The Pantanal is a huge wetland area and is an awesome place to photograph birds (as well as some of my Favorite Animal Crossing Signs in the world!). This would make a great iPhone 6 wallpaper!
Download Cuckoo Wallpaper now.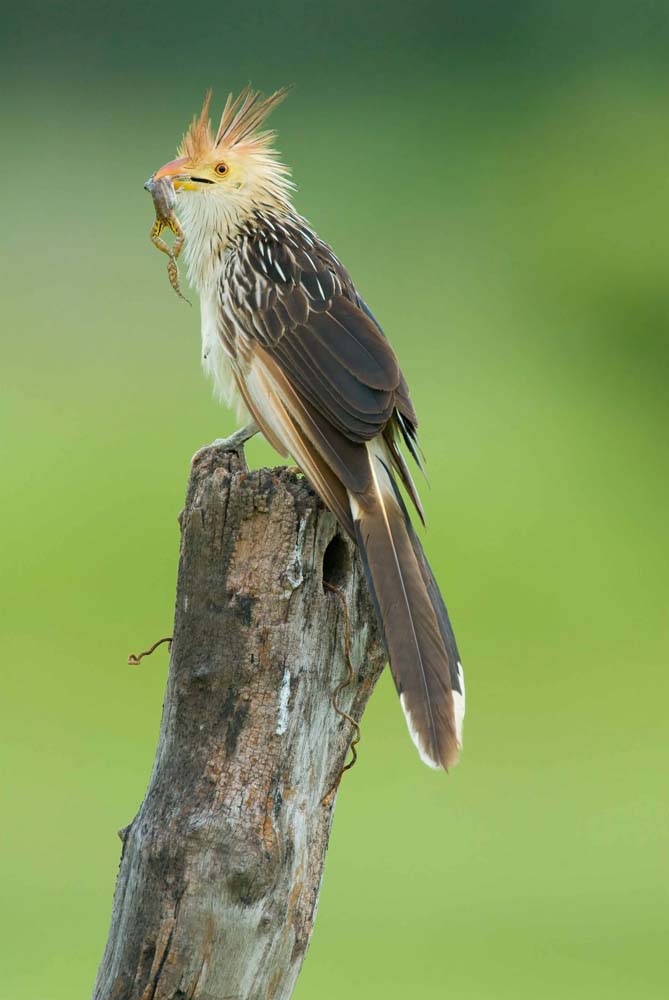 ---
9) Flying Bat, Cool Backgrounds
With only a small headlamp to light my way, I was exploring a tunnel under a Maya ruin in Tikal National Park, Guatemala, when a colony of Jamaican Fruit Bats, began flying right toward my face to try to scare me off. I snapped a few shots and then took their advice and got out of there. If you dream of searching for rainforest wildlife in Central America, check out our favorite ecolodges in Costa Rica. You can find tent-making bats right outside your room!
Download Bat Wallpaper now.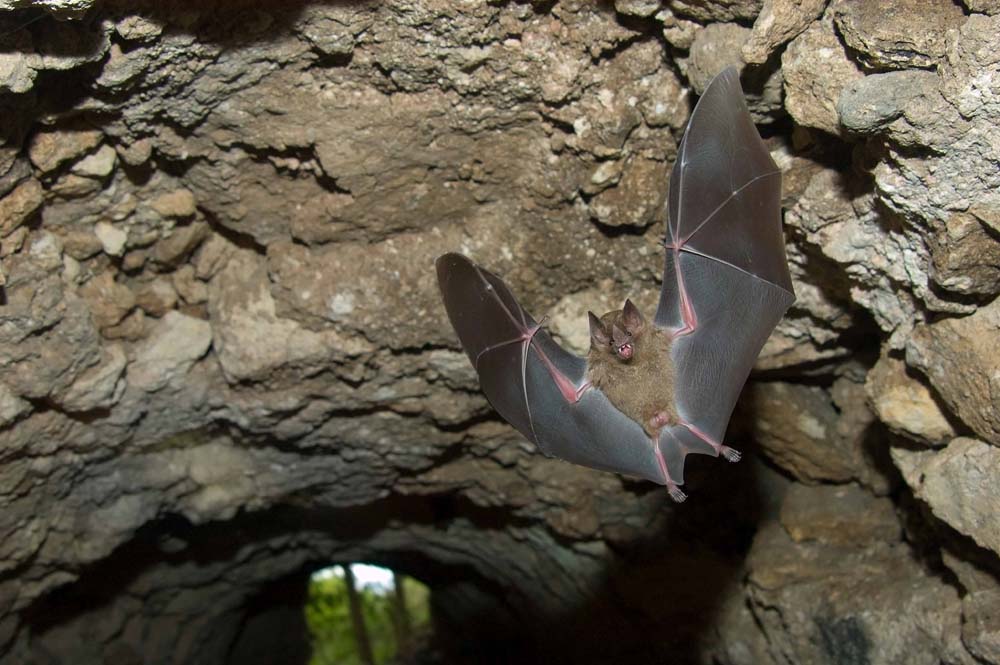 ---
10) Thorny Devil, Cool Backgrounds for iPhone
This tiny guy walked across the road in front of me while I was driving across the center of Australia toward Kings Canyon (near Uluru). I slammed on my brakes and pulled over to see what it was. A Thorny Devil lizard! As he walked off into the desert I photographed him against the brilliant red sands.
Download Thorny Devil Wallpaper now.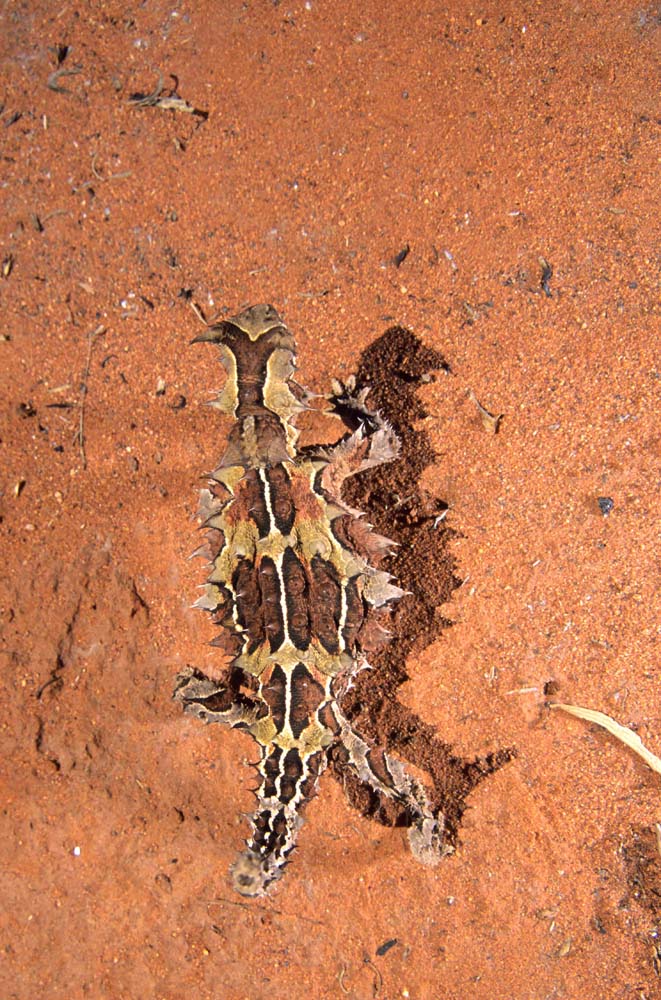 ---
11) Green Sea Turtle, Animals Wallpaper
Cristina shot this Green Turtle grazing on sea grass in the Bay of Akumal in the Yucatan Peninsula of Mexico. This is one of her favorite HD nature wallpapers that she's using right now on her laptop. Did you know people still illegally sell souvenirs made from endangered sea turtle shell in Central America? Make sure you learn how to identify turtle shell souvenirs before you travel to Central America or the Caribbean!
Download Sea Turtle Wallpaper now.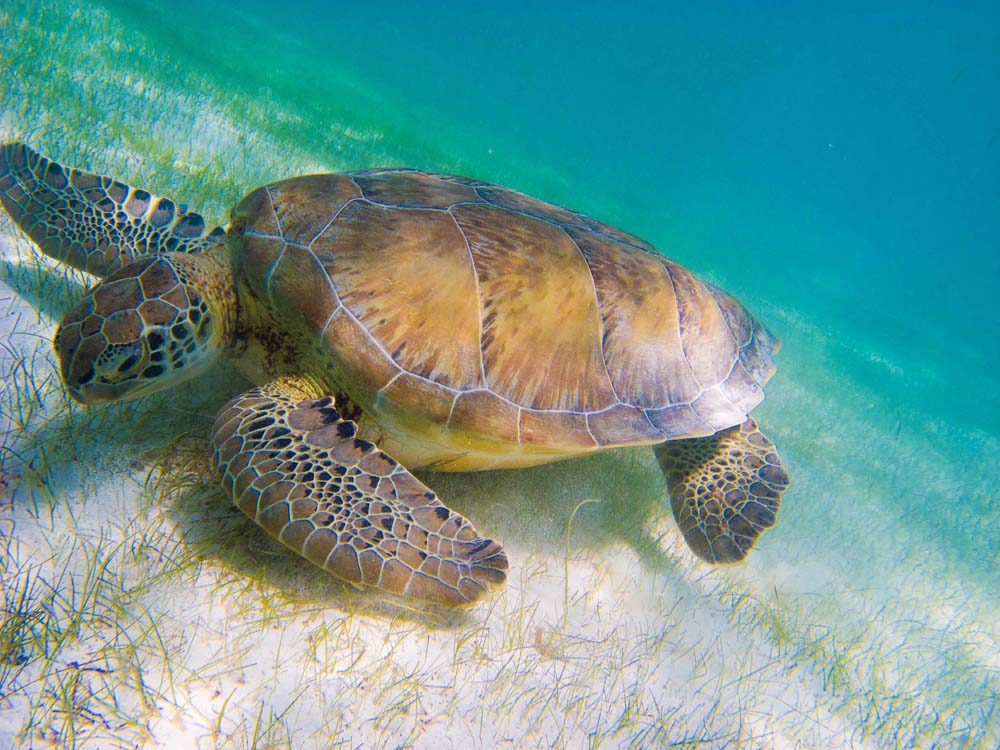 ---
12) Baby Burrowing Owl HD Nature Wallpaper
Burrowing Owls are active in the daytime so I had the great pleasure of watching many baby burrowing owls outside their burrows while visiting Brazil. This fuzzy juvenile Burrowing Owl is standing near its burrow in Palmital, Brazil.
Download Burrowing Owl Wallpaper now.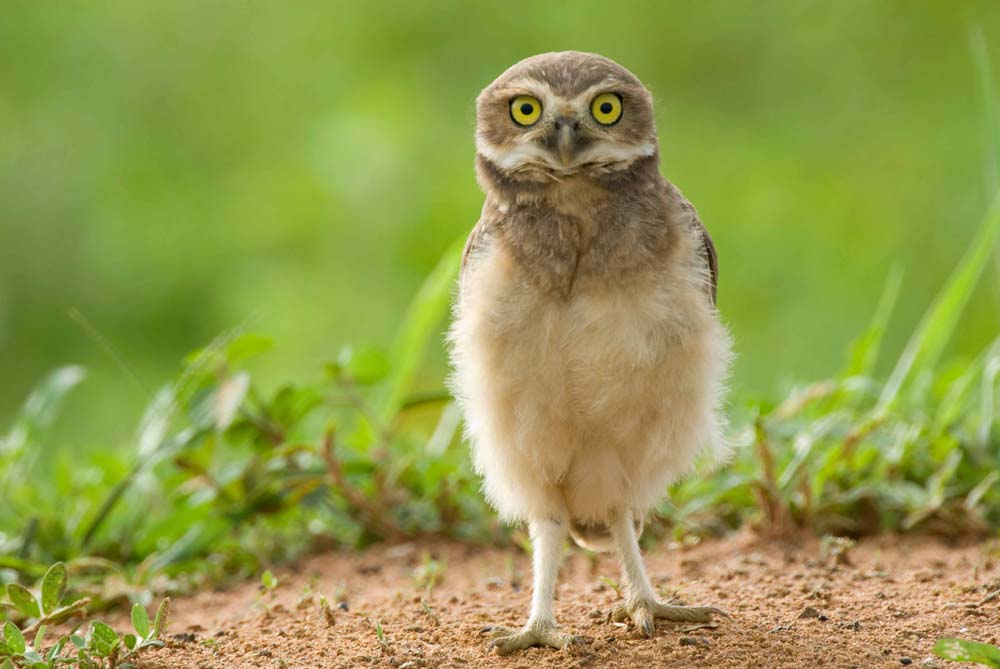 ---
13) Polar Bear Wallpapers for iPhone
This polar bear approached me while I was sitting in a pickup truck in Churchill, Manitoba, Canada. If you want to walk with polar bears in Manitoba, read our review of Nanuk Polar Bear Lodge. It's a once-in-a-lifetime experience! This one is perfect for hd wallpapers iPhone.
Download Polar Bear Wallpaper now.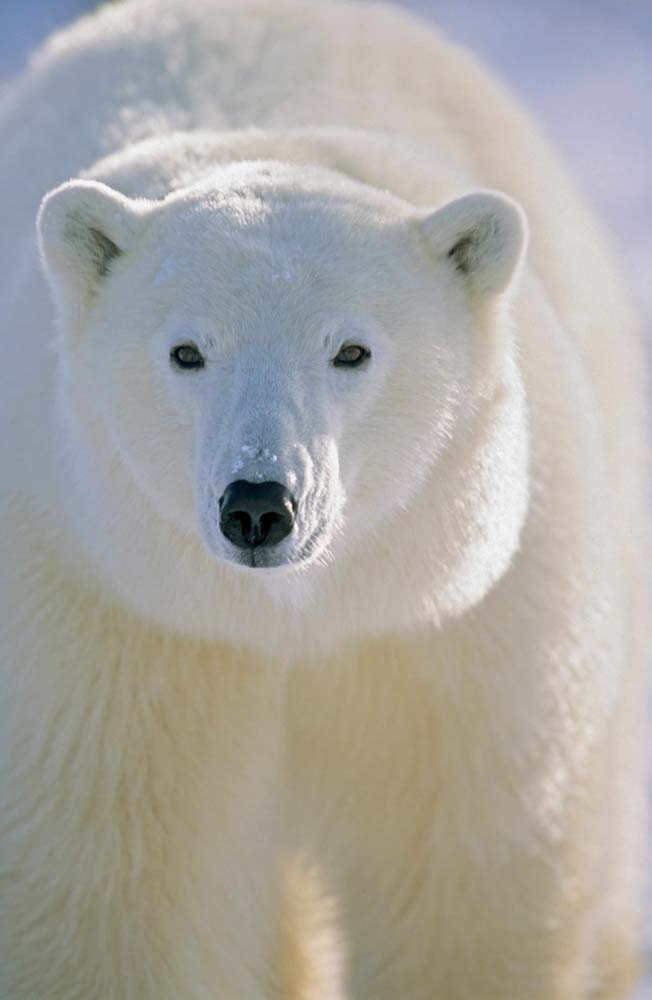 ---
14) Walruses on the Beach, Cool Backgrounds!
When I visited Round Island, Alaska I was the only human on the island beside the two caretakers. But I was far from alone. Thousands of male walruses were sunbathing together on the beaches, bellowing, snorting, burping, and farting and generally having a grand time. Read our walrus facts to learn more about these cool animals!
Download Walrus Wallpaper now.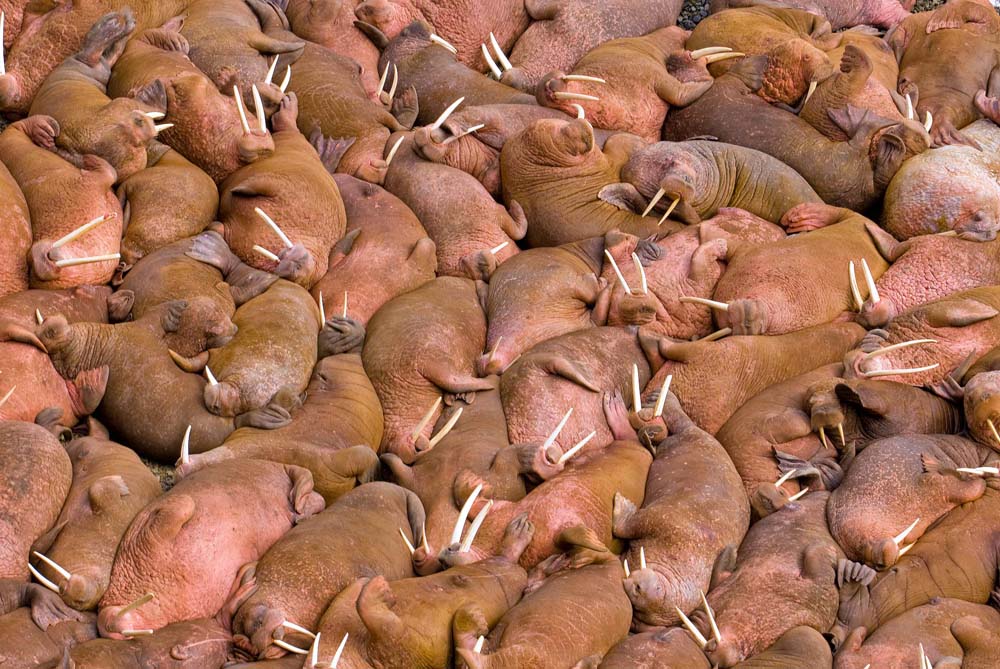 ---
15) Caracal HD Nature Wallpapers
The Kalahari Desert in Southern Africa is our favorite place to see big cats in the wild. It's fairly easy to see lions, cheetahs, leopards, and African wild cats. But the hardest one to spot is the Caracal. During our recent visit to Africa we got super lucky and spotted this beautiful Caracal on our last day in the Kgalagadi Transfrontier Park in South Africa. We spent ten minutes with him while he stretched and warmed in the morning sun. It was awesome!
Download Caracal Wallpaper now.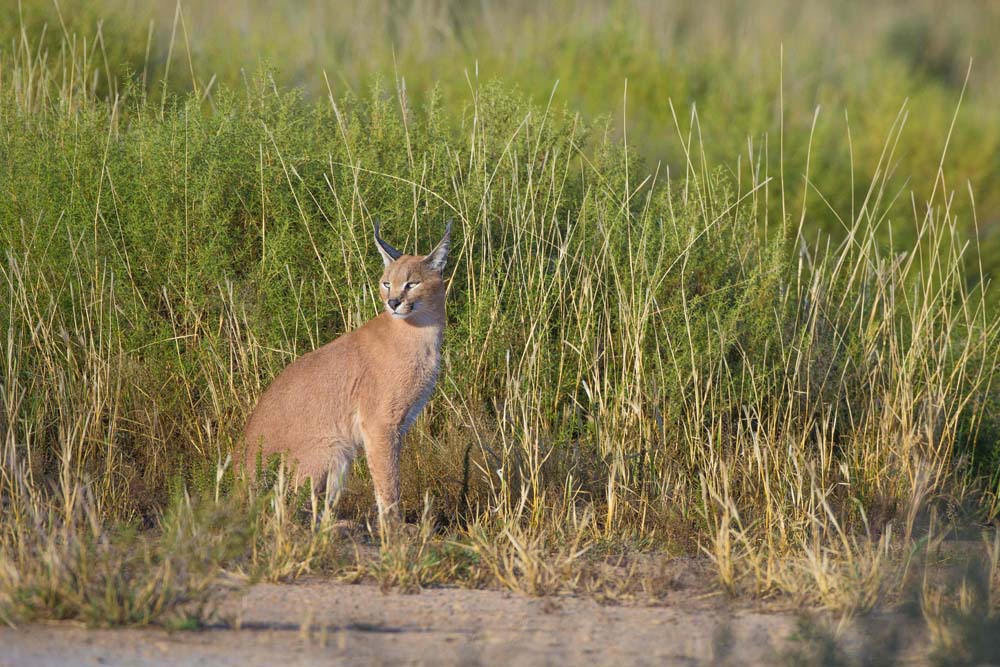 ---
16) Bugling Elk Wallpapers for iPhone
There's no sound in the world like the crazy screeching bugle of a male Elk during the rut. I photographed this elk bugling at sunset in Yellowstone National Park, Wyoming. If you want to have your own magical Yellowstone wildlife adventure check out these dreamy Yellowstone cabins and our Yellowstone travel gear guide!
Download Elk Wallpaper now.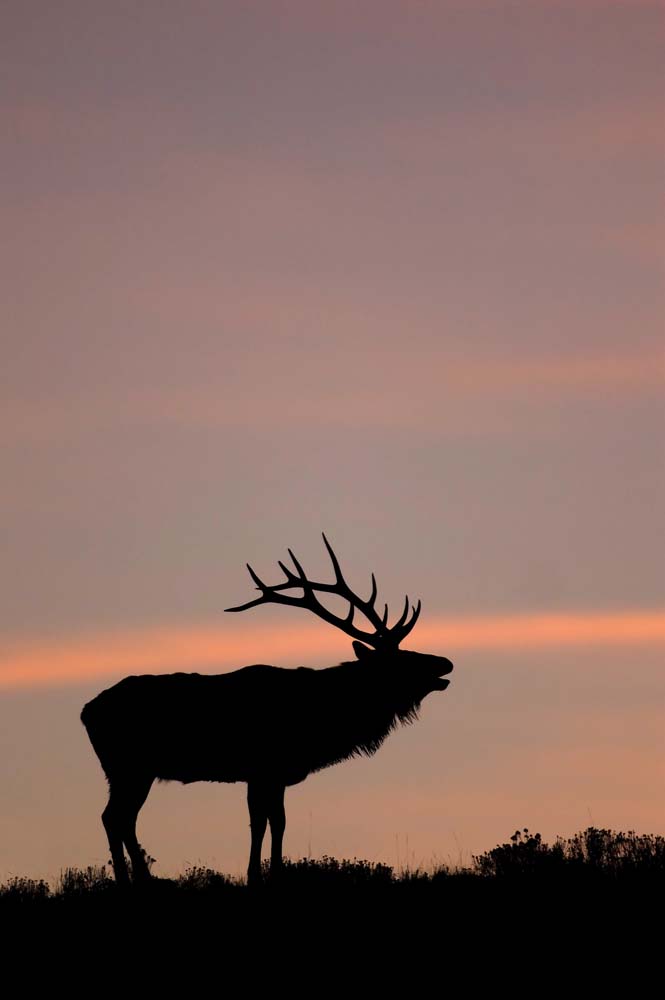 ---
17) Cool Backgrounds of Grizzly Bear
You have to enter a lottery to visit the McNeil River State Game Sanctuary in the Katmai Peninsula of Alaska. One year I was selected and small group of us spent four days walking together amongst dozens of Grizzly Bears. They show up at this river each year to hunt for fish during the salmon run. This is the largest concentration of grizzly bears anywhere on earth! On one rainy morning, this bear walked particularly close to check us out. Isn't she beautiful? I use this as one of the cool backgrounds for my Mac. Other great places to look for grizzlies are the Lake Louise Gondola in the Canadian Rockies, Nimmo Bay in the Great Bear Rainforest British Columbia, and Yellowstone National Park.
Download Grizzly Bear Wallpaper now.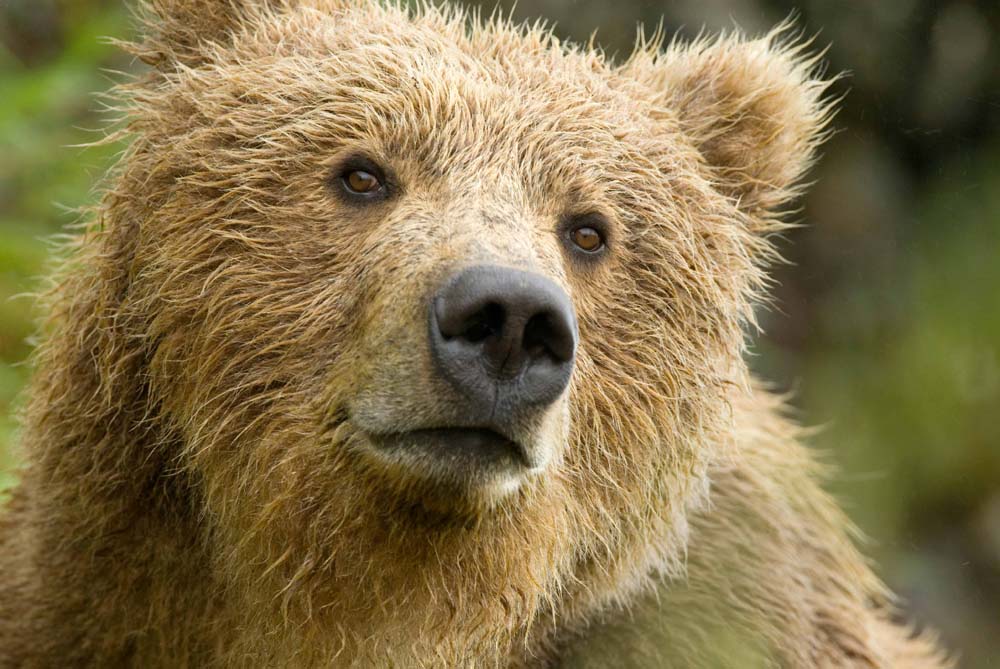 ---
18) Seagull Swallowing a Starfish iPhone Wallpaper
I was walking along the coast searching for sea otters in Montaña de Oro State Park, California when I spotted this Western Gull trying to swallow an Ochre Sea Star. He tried and tried and after about 20 minutes he finally succeeded! Afterwards his neck bulged out comically like a cartoon character. Is this the poster child for indomitable determination or for biting off more than you can chew? You decide.
Download Seagull & Starfish Wallpaper now.
---
19) Gentoo Penguin Family HD Nature Wallpapers
My favorite part about sailing to Antarctica was being able to walk alone amongst huge penguin colonies. They hardly acknowledged me and went about their business regurgitating krill to feed their fuzzy babies. These two Gentoo Penguin chicks are a little too big to snuggle beneath their mother, but that didn't stop them from trying. This is one of my favorite cool wallpapers I use on my laptop because it brings back great memories. Booth Island, Antarctic Peninsula, Antarctica.
Download Penguin Family Wallpaper now.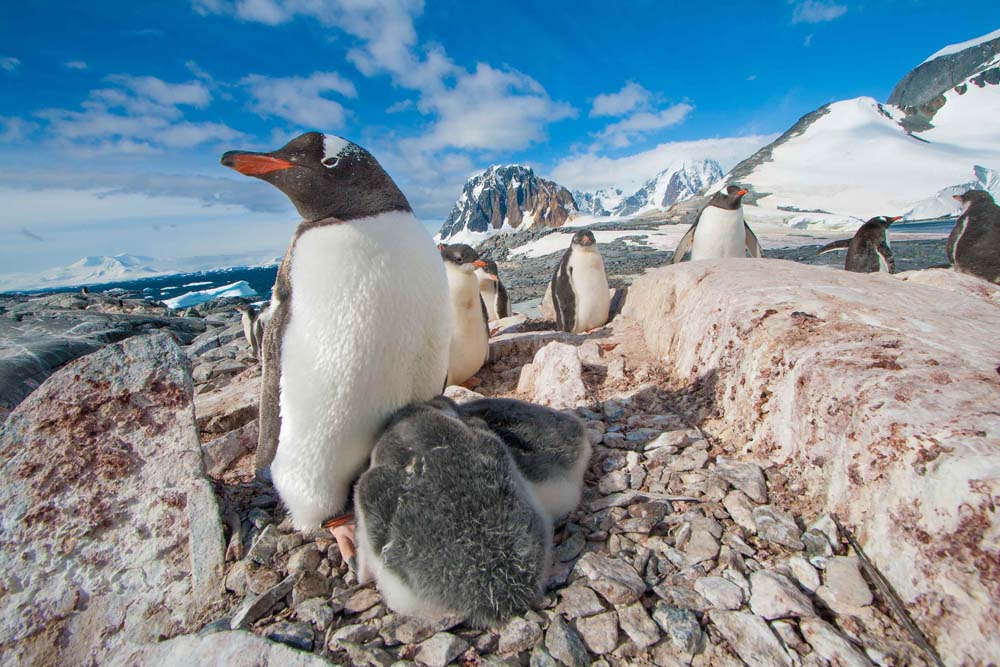 ---
20) Lion Cub and Mother, Cool Backgrounds for Desktop
This little lion cub stared bravely into my camera while her mother watched closely from the grass behind her in Kruger National Park, South Africa. It's a lot cheaper and easier than you might think to take your own self-drive safari in Kruger National Park and make sure you take some of our favorite safari guide books with you! That's the last one! I hope you enjoyed this collection of full hd wallpapers for mobile and desktop!
Download Lion Cub Wallpaper now.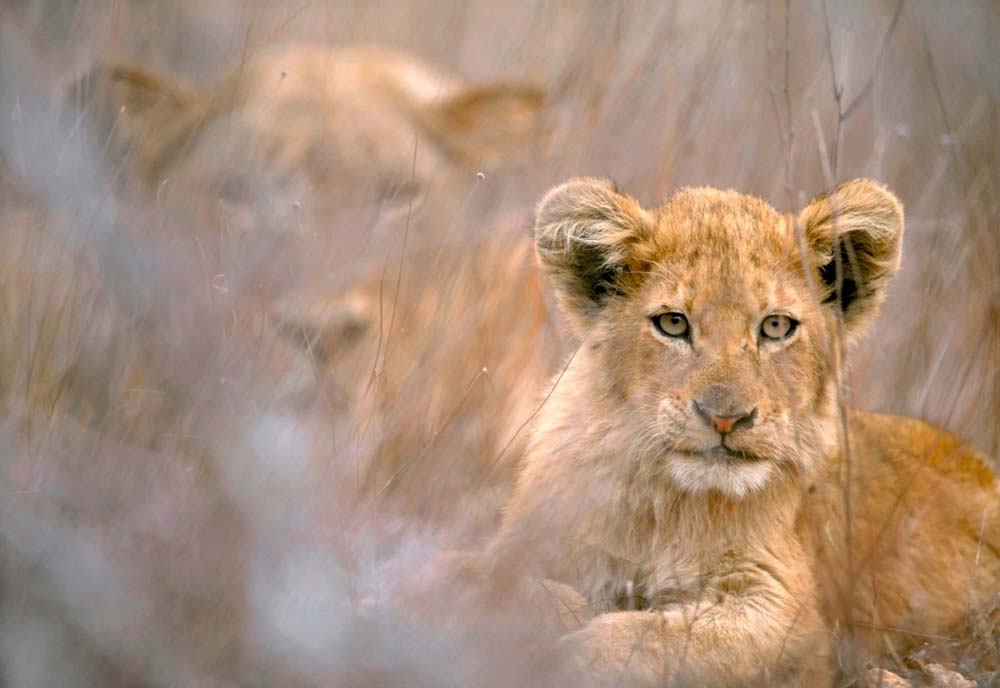 ---
More HD Nature Wallpapers for iPhone and Cool Backgrounds from Nature Organizations
Here's a list of great sites to find cool backgrounds and animals wallpaper. Unfortunately, not many provide full hd wallpapers for mobile or desktop, but they are still great photos from really good nature organizations. Support these guys!
The Nature Conservancy, Cool Backgrounds
TNC has an awesome selection of nature wallpaper available for free in their Nature Photo of the Month section. Hey, are you looking for some great wallpapers for iPhone? They've also compiled a cool selection of smartphone wallpaper that you can download from their Mobile Wallpaper page!
The Conservation Fund
The Conservation Fund has a nice little selection of animal cool backgrounds, landscape wallpaper, and scenery wallpaper. The Conservation Fund works primarily in the United States and has conserved nearly 8 million acres of land in 50 states. Check out the Conservation Fund's wallpaper collection.
National Geographic
National Geographic has a photo contest each year and offers a selection of them to download as wallpapers for iPhone or desktop or tablet wallpaper. The nature section has some especially cool backgrounds! You have to swipe through the images and click the small text links in the lower right corner of the screen to download them.
National Wildlife Federation
NWF has a great collection of cool backgrounds with all sorts of wildlife. They are only available in three sizes including an iPad size (none very high def unfortunately). Check out National Wildlife Federation's wildlife wallpapers!
Cool Backgrounds from World Wildlife Fund
WWF has a selection of beautiful animals wallpaper featuring wildlife from around the world. Check out all of WWF's beautiful backgrounds. My personal favorites are the Big Cat wallpapers and the Marine Life wallpaper. Note that you have to sign up for their email list to receive access to their cool wallpapers.
---
Best Size for Cool Backgrounds & Wallpapers for iPhones
When choosing the best size to make cool backgrounds or wallpapers for iPhone, I always prefer to provide the biggest possible size and allow the iPhone to scale it down and crop it. I've chosen my image sizes to be big enough to fit iPhone 6 wallpaper, iPhone 6 SE, iPhone 6 Plus, iPhone 7, iPhone 8, and iPhone 8 Plus. Hopefully even iPhone X!
Some Parallax wallpaper sizes for iPhones
iPhones
• for iPhone 4S
Screen: 960 x 640
Wallpaper: 1196 x 740
• for iPhone 5, iPhone 5C & iPhone 5S; iPod Touch 5th gen
Screen: 1136 x 640
Wallpaper: 1392 x 744
• for iPhone 6, iPhone 6s, iPhone 7, iPhone 8
Screen: 1334 x 750
Wallpaper: 1608 x 852
• for iPhone 6 Plus, iPhone 6s Plus, iPhone 7 Plus, iPhone 8 Plus
Screen: 1920 x 1080
(downsampled from 2208 x 1242)
Wallpaper: 2662 x 2662
• for iPhone X
Screen: 2436 x 1125
Wallpaper: ?
---
Here's a good reference page called iosres showing the resolutions and parallax wallpaper dimensions of various iOS devices if you'd like to try cropping images before importing them into your device.
---
Enjoy these cool backgrounds? PIN IT!
If you enjoyed this collection of cool backgrounds, please pin this image on Pinterest.